Apr. 25, 2019 07:00AM EST
Natalie Bebko (courtesy Bebko)
At 17, commercial standout Natalie Bebko ("Nat Bat") has already accomplished more in her career than most adults: She was an assistant choreographer for the 2016 BET Awards and has worked with tons of music greats, including Trey Songz, Flo-Rida, Sia, Mila J, and Big Sean. She trains with immaBEAST dance company and consistently breaks the internet by slaying in class videos. Catch her on Instagram, where she has a casual half a million followers, and read on for The Dirt!

Dancers Dish
Mar. 04, 2019 01:06PM EST
One of dancer Kristi Griffith's fitness shots (Wes Klain, courtesy Griffith)
Scrolling through your Instagram feed, you probably notice tons of awe-inspiring dance photos: a penché in front of a waterfall, a jeté over a busy city street. While these tend to get a lot of likes and attention, they may not be the best types of pics to send when you're trying to book a job. You want to keep the focus on what's most important to casting directors: you! So how do you find the right balance between eye-catching and professional? We talked to insiders across the dance world to find out.
How To
Feb. 03, 2019 07:05AM EST
Screenshot via YouTube
It's game day, dancers! We're talking, of course, about the Super Bowl—but maybe more importantly, about the always hilarious and thought-provoking commercials that air in between all the, um, sportsball. (Sorry, not a football person!) This year, it looks like we'll be blessed with at least three ad spots highlighting dance. Without any further ado, here's all the best dance going down later today during the commercial "breaks." (As if we'd take a break from watching, PLEASE.)
Dance on TV
Aug. 03, 2018 12:40PM EST
Screenshot Via YouTube
Ballet legend David Hallberg and hip-hop dancer Metter Towley may seem like an unlikely pair, especially on the dance floor—but Revlon's new "Lash Loudly" mascara campaign proves otherwise. The ad features Hallberg and Towley as they freestyle to the song "Flava" by Princess Nokia. And surprisingly, the contrasts between these two dancers and their dance genres actually compliments their individuality on and off the dance floor.
Dance Videos
May. 11, 2018 11:16AM EST
Get to know your inner Amazonian queen in these truly wild ensembles.
Modeled by Starr Dee and Arielle DiSciascio
Photography by Jayme Thornton
Dance and Fashion
Sep. 19, 2017 03:46PM EST
J.Crew's putting a whole new spin on its brand —literally. The popular clothing line's inspired ad campaign has a group of cute male models showing off their best moves in a series of playful dance battles. When we saw one of those models throw down the gauntlet with a rather impressive series of chaîné turns, we knew he had to be a trained dancer, and we were right: He's former New York City Ballet corps member Joshua Thew. Dancer and model Smith Reesie also shows off in a seriously impressive freestyle.
Dance News
Jul. 31, 2017 04:03PM EST
It's no secret that "So You Think You Can Dance" alum Carly Blaney—who's now Sidekick program director for 24 Seven Dance Convention, and who recently performed at the Grammys—can turn for days. We needed to know just how she does it. So we caught up with the pirouette princess to find out her tricks for becoming #turngoals. Give them a try!
Dancer to Dancer
Jul. 06, 2017 01:20PM EST
Carter Williams and Abby Werner at The Dance Awards (via @libbywilliams4 on Instagram)
Nationals are in full swing all across the country, and we are LIVING for the gorgeous social media posts they're bringing to our feed. Y'all are straight killin' the Instagram game!
Here are some of our favorite posts so far. Give them a look—you might even see some familiar faces. 😏
Dance and Fashion
Mar. 23, 2017 01:45PM EST
You're probably well aware that Ian Eastwood has spent 2015 putting out videos for his "Adultlessons" dance mixtape. We loved his Valentine's Day drop, featuring leading lady Megan Batoon, and he even mentioned the mixtape when we interviewed him for his July/August cover shoot with Keenan Kampa. Now, there are three videos out.
The latest is choreography set to Big Sean's rapping in Justin Bieber's "No Pressure." In the original music video, the camera cuts to Big Sean and away from Eastwood—which is kind of cool because you get to see Big Sean emphasize his lyrics with his own movements. But it's also kind of sad because who wants to tear their eyes away from Eastwood?
This video features what I can only imagine is Eastwood's insanely chill groove during the rap break—something he made while the camera was focused elsewhere. And of course, it looks amazing.
We can't wait until the next video comes out!
Dance News
Mar. 23, 2017 12:11PM EST
Yes, you read that right. Our favorite pre-teen celebrity is now a brand ambassador for Capezio.
Maddie's no stranger to fashion shoots, and she absolutely kills it in her Capezio photos. I mean, just look at this gorgeousness: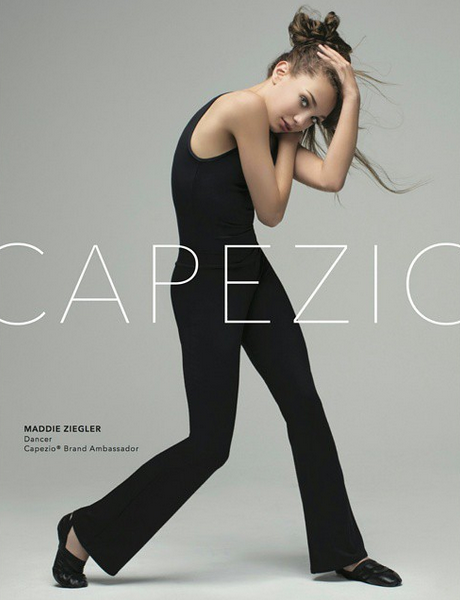 (Photo by Sinisha Nisevic via Capezio)
As usual, Maddie has a knack for switching up her look and body language to suit the moment, whether it's performing in one of Sia's emotionally draining music videos, walking the red carpet at an awards show or fashion event or posing in a fashion editorial. She and her #fiercehair are just unstoppable. Congrats, Maddie!
Dance News
Get Dance Spirit in your inbox
Mar. 23, 2017 11:38AM EST
On a scale of one to Beyoncé, 13-year-old Charlize Glass is pretty darn Beyoncé. Watching Charlize dance is like flipping through a series of perfect snapshots—each isolation of her body is that precise and finessed. And in 2014, a video of the young hip-hopper performing a Jose Hollywood routine to "Yoncé" got an Instagram shout-out from Queen Bey herself. That's just the cherry on top of Charlize's already impressive list of accomplishments, which includes performing on "The Ellen DeGeneres Show," winning first runner-up on "America's Best Dance Crew" with 8 Flavahz Crew and dancing in music videos for Willow Smith, Ciara and Justin Bieber. Most recently, Charlize has been traveling the country with The PULSE on Tour as a 2014–2015 Elite Protégé.
"It would be a dream come true to dance with Beyoncé. She's had such an impact on my career so far."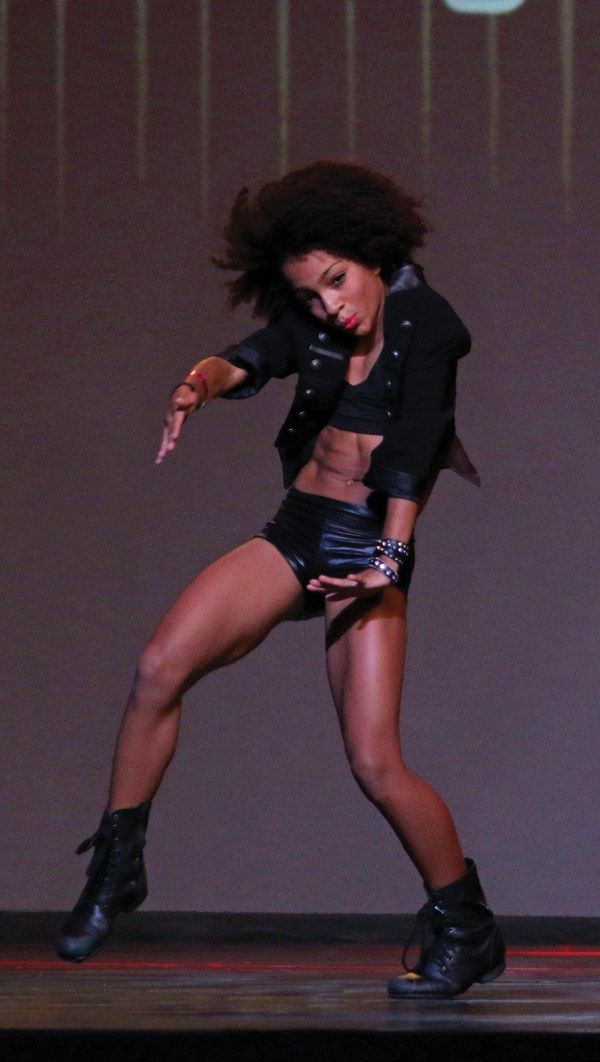 (Photo by Rick Clark Photography, courtesy the Glasses)
Fast Facts
Birthday: November 27, 2001
Hometown: L.A.
Dance studios: The Rage Complex, Academy of Dance Westlake Village, Soul Motion and Movement Lifestyle
Secret talent: "I like to speak in cat language to my four cats."
If she weren't a dancer, she'd be… a track and field sprinter.
Dance mentor: Marcelo Pacleb, the creator of 8 Flavahz Crew
Favorite meal: chicken, broccoli and rice with apple pie and cookie dough
Dream job: "I want to choreograph for major artists—or at conventions like The PULSE!"
Dancer to Dancer
Mar. 23, 2017 10:07AM EST
James Boyd wears  through suitcases almost as quickly as he wears through jazz shoes. "I'm already on my fourth—and this one's world class," jokes Boyd, who often spends up to five months at a time traveling on tour with the Bad Boys of Dance. "I've practically been living out of a suitcase since 2010." This year's schedule alone has given the Boys nine stamps in their passports, including England, Germany, Finland and Russia.
Dancing in a traveling company or on a commercial tour is a fantastic way to get paid to do what you love, while seeing the world. "When I'm 50," Boyd says, "I know I won't be kicking myself because I didn't travel enough."
Tour life sounds like a dream come true, and most of it is. But it also involves an exhausting schedule, very little sleep and tricky cultural and language barriers. Are you considering a gig on tour? Dance Spirit spoke with Boyd and two other well-traveled dancers to get the truth about this adventurous career choice.
Reina Hidalgo heads to Israel's Dead Sea (photo courtesy Hidalgo)
Culture Shock
Going from country to country poses challenges you won't face when touring the U.S. For starters, odds are you won't speak the languages of many of the places you visit. "You have to be creative when communicating," says Reina Hidalgo, who's spent the last 10 years on international tours with artists including Pink, Kylie Minogue, Rihanna and Missy Elliott. "You'll use a lot of sign language—maybe even draw a few pictures. It certainly teaches you patience."
And language differences are only the beginning. For picky eaters like Boyd, the lack of familiar foods may be the hardest thing to get used to. "I remember trying to find Cheetos in a grocery store in Europe," he recalls. "I finally found something that looked like Cheetos—but they tasted like onions." Ultimately, though, life on tour has taught James to become more daring with his culinary choices. He's even eaten a grasshopper. "You learn to embrace different cultures," he says, "and now I'll try anything."
A New Kind of Audience
Cultural differences extend to the theater as well. Graci Meier has been to five continents during her three seasons with MOMIX, and she's seen huge differences in the way audiences react to the company's choreography. "What one country finds funny, another country won't," she says. "And in Hong Kong, the audience entered so quietly, we didn't think anyone had come to the show—but there were 2,000 people out there! Italian audiences, on the other hand, are loud, flamboyant and fun."
One of Hidalgo's favorite things about theaters abroad is the absence of iPads and iPhones in the air. "Americans tend to get too caught up with filming, so they're not really in the moment," she says. "Overseas, they typically disconnect all technology, so most shows are just a two-hour party."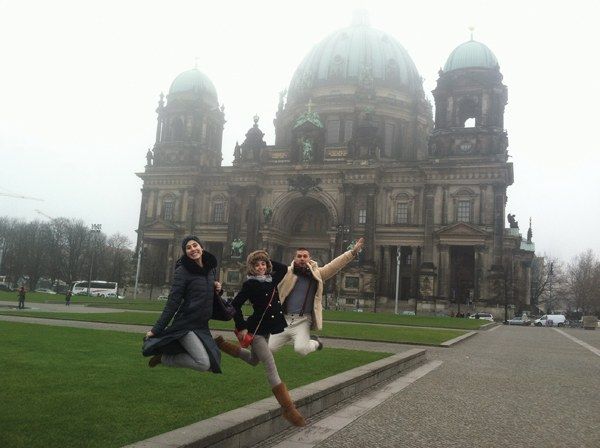 Graci Meier (left) tours Berlin, Germany, with two other MOMIX dancers (photo courtesy Meir)
Time to Explore
Some of the most exciting moments of international tours happen offstage—if you have free time, that is. Commercial tours can be particularly hectic, sometimes stopping in each city for less than 24 hours. A company, however, may stay in residency for a few days or more. MOMIX, for example, usually stays in each inter-national city for at least one week. "Depending on rehearsals, we're usually free in the mornings and afternoons on one-show days," Meier says.
Balancing work and play is key. Dancers want to see as much of each city as possible—but taking care of their bodies needs to come first. "If your foot or knee is bothering you," Meier says, "you shouldn't walk around all day sightseeing." Instead, she likes to go for a quick run on her first day in a new city. "It's one of the fastest ways to get a tour of a town," she says. "Then I know where I want to go back to and spend time when I can."
For Hidalgo, whose schedule doesn't always come with free days, bus rides are spent getting some much-needed rest so she can explore a city for the two or three hours before a call. But she also knows that sometimes sightseeing is just not possible. "If you've traveled for four days in a row, spending your day off sleeping is OK," she says. "I tell myself that if I don't have time to do everything I want, that's a reason to come back to that city."
"When you're in these spectacular places, it's sometimes hard to remember that this isn't a vacation—you're here for a job," Meier says. "But don't forget to enjoy it. Getting to do what you love while you see the world—I don't think there's anything better than that."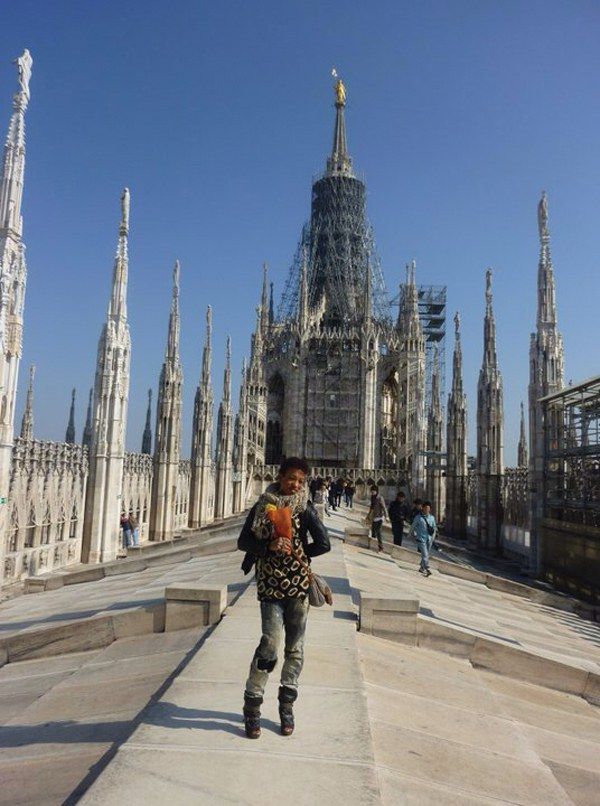 Hidalgo in Milan, Italy (photo courtesy Hidalgo)
Headed overseas? Even the simplest tasks can be tricky when you're halfway around the world. Here are some tips for getting the little things done.
Find the closest Laundromat. Most companies will take care of washing your costumes. But your day-to-day clothing will be your responsibility. "I always bring travel-size packets of Tide," says Graci Meier of MOMIX. "If worst comes to worst, there's always the bathtub."
Budget your cash wisely. Avoid sky-high ATM fees by taking out as much of the local currency as possible when you first land in a country, and then using it little
by little. "In Europe, I take out 500 Euros, then store 300 in the safe in my room," says Bad Boys of Dance's James Boyd. Don't carry too much with you at once—it's not safe.
Bring a small suitcase. When you're lugging all your stuff on airplanes, buses and trains, huge bags can be cumbersome. Meier is a big believer in the less-is-more technique when packing. Commercial dancer Reina Hidalgo brings a lot—but packs it all up wisely. "You have to prepare for different climates in different countries," Hidalgo says. To stay organized, she recommends Spacepaks that fit inside a suitcase.
Use apps to communicate. Meier recommends Word Lens, a free iPhone app that translates text to English when you hold your phone over it. But be warned: Translations need to be taken with a grain of salt. "We tried to order meatloaf off a menu in Germany," she says. "But when it came out, it was actually bologna."
Fight homesickness with the familiar. "Sometimes you need the comfort of a Starbucks or a McDonald's," says Boyd. "Luckily, you can find those almost anywhere."
Don't eat out every meal. Restaurants can get pricey, and the food isn't always prepared the healthiest way. Eating in can help you save money and eat better. "I actually bought a hot plate when we were in Europe, so I could cook in my hotel room," Meier says.
Use technology to stay in touch. Boyd uses Skype, WhatsApp, Voxer and iMessaging to call family and friends without racking up a huge phone bill. "I also like to go old-school and send postcards," he says. "It's easy and fun."
Don't forget your camera, and pack a journal to jot down your favorite things. "A year from now, you'll forget little details," Boyd says. "But if you write it down and take tons of pictures, you'll remember every trip."
Jan. 30, 2017 01:15PM EST
Choreographer Wynn Holmes (center) on set with Canadian band FOXTROTT, shooting the music video for "Shields" ( Gaelle Leroyer, courtesy Holmes)
Adagio. Marley. Rosin. Switch leap. You're more than familiar with a lot of theatrical-dance terminology. But do you know what an industrial is? A session fee? If you're looking to break into the world of commercial dance—think music videos, TV spots, promotional events—you'll need to learn, and fast. We asked some industry heavy-hitters to clue us in on what you'll need to know to book jobs and communicate like a pro on set.
Dancer to Dancer
Jan. 17, 2017 10:26AM EST
Lil Buck's impossibly smooth jookin has been making us question the laws of physics for years now. But his new commercial for Apple's AirPod, "Stroll," breaks those laws in a more literal way: It has him grooving up the sides of buildings, along shop windows, and on the underside of theater marquees.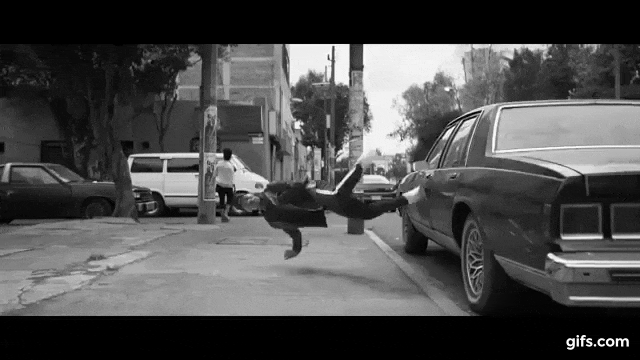 AND on the side of a car. Because of course.
If that sounds vaguely familiar, you're probably remembering Fred Astaire's classic "dancing on the ceiling" routine from the 1951 film Royal Wedding. Basically, "Stroll" takes the Royal Wedding number to the streets. And it's not an exaggeration to say that Lil Buck matches Astaire's level of blithe virtuosity. The ad's tagline is "practically magic"; we don't know much about the AirPods, but when it comes to the dancing, we'd suggest doing away with the "practically." It's magic, straight up.
(The song, by the way, is Marian Hill's "Down," which we have a feeling you'll be hearing alllll over the comp circuit in three...two...one...)
Dance News
Oct. 20, 2016 04:58PM EST
Courtesy Haley Fitzgerald
Haley Fitzgerald—aka the leading lady in some of our favorite Kyle Hanagami videos and dancer in Jennifer Lopez: All I Have in Las Vegas—has the inside scoop on dance-class style, plus advice for dancers building their own look.
Dance and Fashion