The OBC of Hamilton (photo by Joan Marcus)
PBS has released the 2017–2018 schedule for their Great Performances series of special, one-off TV events, and we think you'll want to sit up and take note—Hamilton and Cabaret and Holiday Inn, oh my! To make your appointment-viewing choices a little easier, we rounded up all of the danciest picks from the coming season. PBS = Perfect Broadway Spectacular. (Okay, we wish!)
Keep reading...
Show less
Michelle Fleet (center) and Company in Paul Taylor's Also Playing (Paul B. Goode, courtesy PTAMD)
When dancers audition for Paul Taylor Dance Company, they're often thrown by one particular request: to walk across the studio by themselves. "Paul can see a lot about a person by the way they walk," says Michelle Fleet, a veteran Taylor dancer. "But many people get cut at that point, because they're terrified—a walk can be so revealing."
Keep reading...
Show less
Fordham University's Expressions Dance Alliance (Nathan Tibet, courtesy Expressions Dance)
Whether you major or minor in dance, join a dance team or simply take a few extracurricular classes, there are myriad ways to continue your artistic journey in college. Sometimes, though, exactly what you're seeking isn't on campus—yet. That's where being in college comes in handy: You can start your own organization! Not only do student-run groups give you the chance to express your dancing self in unique ways, but you're also likely to gain leadership skills, hone your choreography chops and even make a few friends along the way.
Keep reading...
Show less
Choreography
Sep. 10, 2012 04:50PM EST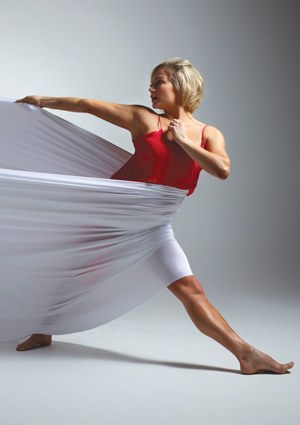 by Michael J. Moore
If you truly felt for Billy Bell during the "Mad World" number on "So You Think You Can Dance" Season 7, or gasped aloud at Witney Carson and Chehon Wespi-Tschopp's duet to "I Will Always Love You" on Season 9, you're in for a treat: Stacey Tookey, who choreographed both those memorable routines, has formed her own company. Still Motion, her diverse troupe of dancers, will perform plenty of Tookey's signature contemporary style. But the Emmy-nominated choreographer also has a whole lot more up her sleeve (including baton twirling!). Dance Spirit chatted with Tookey to get the scoop.
Dance Spirit: How did you make the decision to start your own company?
Stacey Tookey: After five years of seriously thinking about it, I finally decided, "This scares me, so I should definitely do it." And why not now? There's so much talent here in L.A., and there are so few venues for concert dance. If it weren't for my experience in companies [including Mia Michaels' company, R.A.W., and Parsons Dance Project], I don't think I would be who I am today. Companies are where dancers learn dedication and hard work. It's all about giving young performers opportunities.
DS: Will the choreography be similar to what we've seen from you on "SYTYCD"? 
ST: I obviously love contemporary dance, but my training and background are diverse. A lot of people don't know that. I was in a tap company, danced on an NBA cheerleading team, twirled baton competitively, figure-skated, was a Scottish Highland dancer, did Chinese dance, was in a German dancing troupe and trained in jazz and modern. Of course, "SYTYCD" has to label you, so there I'm a contemporary choreographer. But in my company pieces, I want to express more sides of myself. I want my audiences to walk away feeling like they've been through an experience.
DS: What do you look for in dancers?
ST: I work with energies. It's all about how dancers present themselves and how open they are to being vulnerable. As far as genres, I usually look for dancers who are versatile. But, I'll also feature artists who only do one thing really well, like Anthony Morigerato, who recently set the Guinness World Record for most tap sounds in a minute. I mainly look for special artists who are ready to go on a journey with me.
SAVE THE DATE: Stacey Tookey's Still Motion will present its first performance November 9-10 in L.A.
Apr. 20, 2012 11:48AM EST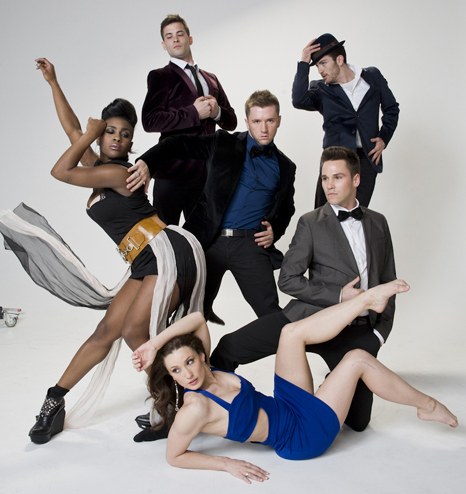 (Clockwise from left) Taja Riley, Kyle Robinson, Travis Wall, Teddy Forance, Nick Lazzarini and Jaimie Goodwin. All photos by Joe Toreno.
Travis Wall had a vision. He wanted to spend his days doing what he loves—creating movement—with his best friends. And rather than waiting for some director or choreographer to potentially make that happen for him, 24-year-old Travis took action.
Enter Shaping Sound, Travis' contemporary company. It's stacked with 26 talented dancers who include the leading man's roommates (Nick Lazzarini, Teddy Forance and Kyle Robinson), longtime muses (Jaimie Goodwin and Taja Riley), fellow "So You Think You Can Dance" alums (Allison Holker, Melanie Moore and Noelle Marsh) and favorite rising stars (former Dance Spirit Cover Model Search winners Kaitlynn Edgar and Alexa Anderson among them). Now, not only has the company put on two successful shows in L.A., but the dancers are also the stars of the Oxygen network's "All the Right Moves," a reality docu-series premiering with an eight-episode arc this summer. The show follows Travis, Nick, Kyle and Teddy as they launch the company and live together in Hollywood.
So where did the idea for a company come from, and how exactly is Travis making his lofty dance dreams come true? DS flew to L.A. this spring to sit down with the company's co-founders (Travis, Nick and Teddy), plus Kyle, Jaimie and Taja, to find out.
Dance Spirit: Let's start at the beginning. How do you all know each other?
Kyle Robinson: Teddy and I grew up competing with each other. I was older, so I would always hand down my title to him.
Nick Lazzarini: And I grew up competing with Travis.
Taja Riley: I've known Travis since I was 7. He's been my mentor since I walked into his mom's studio, and the rest is history.
Jaimie Goodwin: I started training at Denise Wall's Dance Energy [Travis' mom's studio] when I was 12. Travis and I were dance partners and we clicked immediately. Travis has always included me in his dreams. I've been there for it all.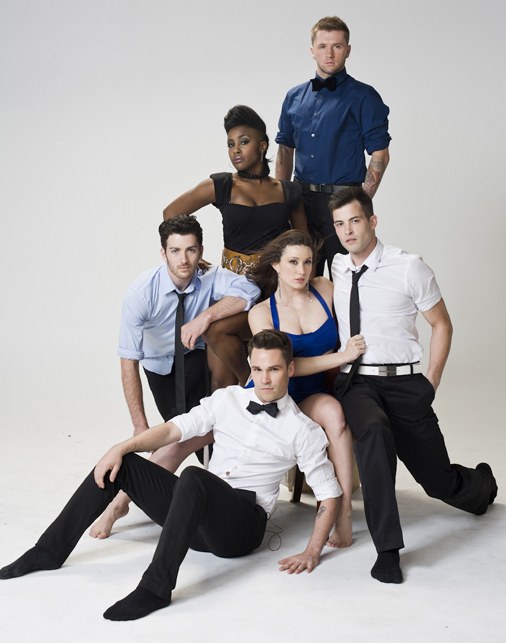 DS: Travis, why did you want to form your own company?
Travis Wall: When I first started getting hired to choreograph, I always had the same group of dancers with me. I wanted to create a company where if you hired Travis Wall, you knew what you were getting—this group of dancers.
Jaimie: Travis has always dreamed about doing something like this. I've been hearing about it since I was little! He would be like, "We're always going to be dancing together. We'll have our own company someday."
Teddy Forance: I remember Travis saying, "I don't want to just be a dancer. I want to be choreographing and in control of what's happening onstage."
DS: What was the next step?
Travis: I held an audition in L.A. last fall to put the group together. Four hundred dancers showed up, and 40 came to the callback.
DS: Did everyone have to audition? Even your best friends?
Travis: Everyone auditioned. [Travis, Nick and Teddy were all judges.] My friends knew they'd be in the company, but I wanted to see everybody dance. Plus, there were lots of people I hadn't seen in a while, like Noelle Marsh. I wasn't planning on using her, but she danced her life out for me at the audition. I had to hire her!
DS: What were you looking for in Shaping Sound dancers?
Travis: If I put you onstage by yourself, could you hold an entire audience's attention? I was looking for great personalities—ultimately, it's a company of best friends. Of course, it's also important that my dancers be technically strong. I grew up dancing with Jaimie—I like girls with pretty feet, nice long legs and open hips.
DS: Is being in Shaping Sound a full-time job?
Travis: If we have a show coming up, we rehearse heavily for a month, but I still allow everybody to do side jobs. I understand dancers. They need to make money. And I want their faces on TV! I want them on "Glee"! That makes our company better known. Plus, on the weekends we're all away on conventions—most of us teach or assist.
DS: Who does the company's choreography?
Travis: I did most of it for our premiere show in December, but Teddy and Nick had some pieces, too. It's a combined effort. I want everyone to choreograph! Eventually, I also want to hire guest choreographers.
DS: Any choreographers you're dying to hire?
Travis: Crystal Pite!
DS: What are your goals for the group?
Travis: It would be amazing for an artist like Jason Mraz to hire our company to go on tour with him and create a visual show while he's performing. I want Shaping Sound to be a brand name, like The LXD or the Jabbawockeez. Our mission is to really push contemporary dance on TV and in movies as much as possible. There are no limits to what we can do.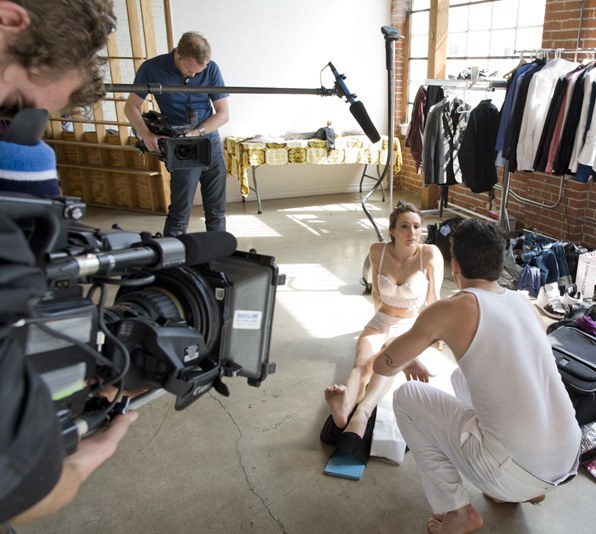 DS: Let's talk about the reality show, "All the Right Moves." Most of you have been on camera plenty doing things like "So You Think You Can Dance." How does this compare?
Jaimie: When you're watching your own life on TV, it forces you to learn a lot about yourself and see things from new perspectives. It's a huge gift to know we have the opportunity to share our talents with the world. Plus, being on a reality show with all of your friends—it's the greatest thing!
Teddy: I'm on cloud nine, just trying to soak it all up. I'm learning so much about who I am and where I want to go.
Taja: I never thought I'd be so exhausted from simply talking about my feelings! Every moment of my career is being eagle-watched through a lens and shown in peoples' homes. I've become more aware of the things I say and how I represent myself. I'm proud to be part of a change in the way people view art.
Travis: It's a lot of fun, but it's a roller coaster. I need to remember not to play to the cameras. They're supposed to be flies on the wall. They're on us all day—there are lights and cords all over our house. But there are no hidden cameras in the bathroom or anything!
DS: How real is your reality? Is anything scripted?
Travis: It's all real. And we don't need scripts—the four of us guys in one room is enough! We fight like brothers because we are like brothers. We also love each other like brothers. You're watching longtime relationships. We're not a bunch of strangers who were thrown in a house together.
Nick: It's hard work. You'll have an amazing conversation with someone and think you're ready to move on and a producer will come in and say, "That was great, now make that answer shorter and don't forget about where the cameras are." Now I know how the Kardashians feel!
ON SET WITH SHAPING SOUND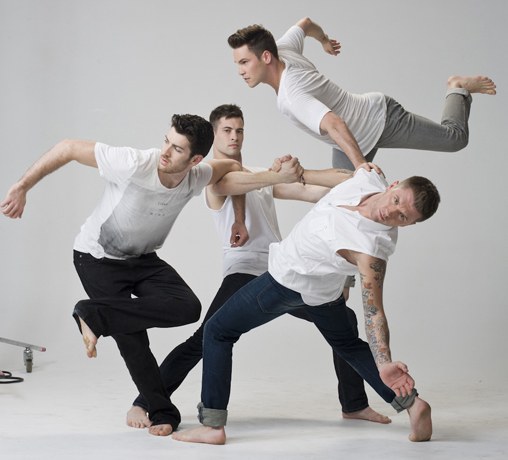 In the weeks leading up to the Shaping Sound cover shoot for Dance Spirit, it looked like the shoot day would be crazy. We were planning to pack L.A.'s Snow Studio with six dancers, two DS staffers, one hair and makeup guru, a photographer, his assistant and two dogs—plus an entire team of Oxygen channel producers, cameramen and sound guys. And on the morning of the shoot, Teddy and Kyle drove up in a U-Haul. They brought in their own props from Shaping Sound's December 2011 premiere, including a giant gold frame and a plush red velvet chair.
The shoot marked the first official day of filming for Oxygen's docu-series "All the Right Moves," so not only did Travis, Nick, Teddy, Kyle, Jaimie and Taja have to worry about getting their moves right for DS photographer Joe Toreno, they also had to do so while wearing microphone packs and staying in frame for the video cameras.
So was the day as crazy as we thought it would be? Not at all. That's what happens when you're working with a team of creative professionals—things just flow.
Travis carefully styled the dancers' looks for each shot and kept a close eye on every pose and shape, but everything worked because everyone rallied together to make it happen.
The dancers laughed—a lot—and supported each other throughout the day. When Taja curved her torso, showing off her unbelievably toned six-pack abs, Teddy hollered. When Jaimie—who is on the injured list recovering from knee surgery—threw her leg behind her into a perfect penchée, Travis went wild. Nick was the class clown, making jokes and demanding that everyone "smize more" (smiling with the eyes, à la Tyra Banks). Meanwhile, everyone bonded over crushes on Kyle, the quiet yet oh-so-dreamy one. (With his dark eyes and killer smile, we're happily on board the crush train, too.) There was no sense of competition, no asking to be "in the front."
By the end of the day, the concept of Shaping Sound made complete sense: Why would these dancers work individually when, together, they can create something truly magnificent? And that's exactly what they did that day.
Why "Shaping Sound"? Travis explains:
"I was on an airplane and I looked outside the window from the tarmac. There were these metal things on the edge of the runway, curving up. I wondered why it wasn't a flat wall, and then I realized there was a residential neighborhood on the other side of the wall. The walls were made that way to shape the sound from the planes upward rather than into the neighborhood. I thought that would be the coolest name for our dance company, since musicality is one of our biggest assets. So now we're Shaping Sound."
GET TO KNOW THE SHAPING SOUND DANCERS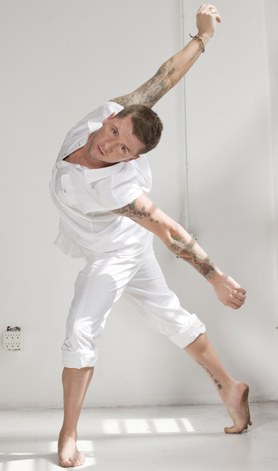 Travis Wall
Age: 24
His impressive background: Travis has been dancing "since birth" and grew up at his mom's studio (Denise Wall's Dance Energy). He competed, won numerous titles, moved to NYC at age 12 to do The Music Man on Broadway and was the "So You Think You Can Dance" Season 2 runner-up. He's been choreographing since he was 16, and he was the winner of the 2009 Capezio A.C.E. Award.
How he describes his choreography in one word: "Inspired"
Who would play him in Shaping Sound: The Movie? Zac Efron
Dance crushes: Sarah Pippin, Jayci Kalb and Melanie Moore. "And Kyle!"
Career highlight: Being nominated for an Emmy Award for his work on "So You Think You Can Dance"
Dream job: Choreographing for Beyoncé
His best advice: "No matter how high you go or how far you travel, always bring your friends with you."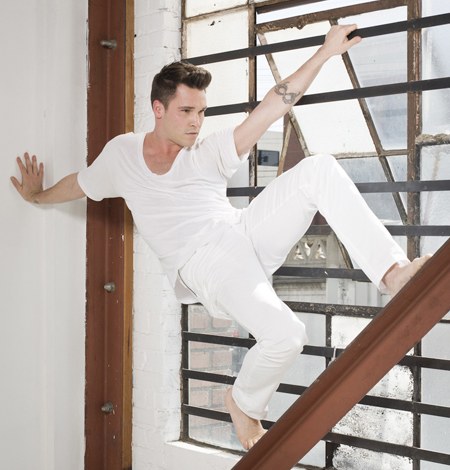 Nick Lazzarini
Age: 27
His impressive background: Nick grew up doing ballet, jazz, tap, acro, hip hop and lyrical. He competed and got his professional start early performing on the PBS kids show "Adventures with Kangaroddy." At 19, Nick moved to L.A., where he auditioned for "SYTYCD"—and won! He spent five years in NYC taking classes and auditioning for everything from Cedar Lake Contemporary Ballet to Broadway. Eventually he moved back to L.A. to work professionally.
Who would play him in Shaping Sound: The Movie? Misha Gabriel
Dance crush: Kyle Robinson
Career highlight: Winning "SYTYCD" Season 1
His best advice: "Have a strong knowledge of the basics. If you don't have a solid jazz and ballet background, your contemporary is going to suffer."
Did You know? Nick Lazzarini is the first dancer to appear on three Dance Spirit covers! Congrats, Nick!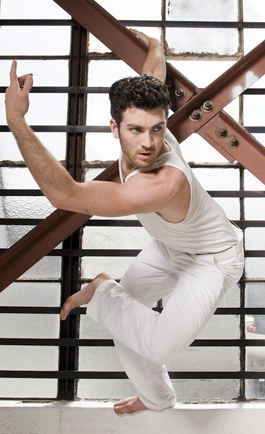 Teddy Forance
Age: 24
His impressive background: Teddy's family has owned a dance studio for 78 years, so he was "born into the bloodline." He competed throughout high school and spent his senior year dancing with Mia Michaels. He moved to Greece to work with the recording artist Anna Vissi, and then booked the Cirque du Soleil Delirium tour, under Michaels' direction. Since then, Teddy has worked with Janet Jackson, Kylie Minogue, Lady Gaga and Florence + the Machine.
How he describes his dancing in one word: "Instinctual"
Who would play him in Shaping Sound: The Movie? Orlando Bloom or Elijah Wood
Dance crushes: Cindy Salgado, Jillian Meyers, Dana Wilson and Mandy Moore
His best advice: "Dive headfirst with love and patience into any creative process."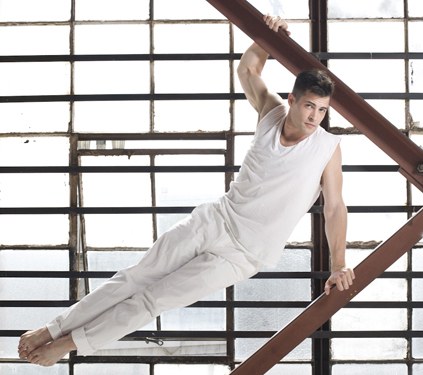 Kyle Robinson
Age: 25
His impressive background: Kyle started dancing at 11 at a competition studio. He worked with Aszure Barton & Artists and Hell's Kitchen Dance before graduating from The Juilliard School. He was recently on the first national tour of West Side Story.
Dance crush: Stacey Tookey
Who would play him in Shaping Sound: The Movie? Tom Hardy. "But I would be the dance double."
Career highlight: Going on as Riff in West Side Story at a tour stop in Arizona
His best advice: "Follow your passion."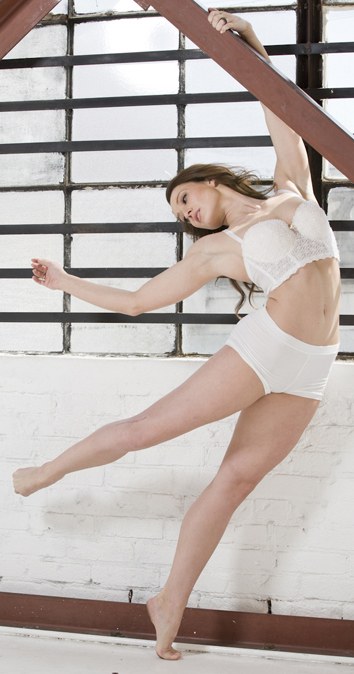 Jaimie Goodwin
Age: 24
Her impressive background: Jaimie grew up competing with Denise Wall's Dance Energy and says things "fell right into place" after graduation. She was spotted at a convention by Tyce Diorio, who hired her to do a McDonald's commercial. From there, she auditioned for "SYTYCD" Season 3, where she became a Top 10 finalist, and eventually an All-Star on Season 8. She was a dancer in High School Musical 3: Senior Year and toured Europe with the Bad Boys of Dance. She's done episodes of "Glee" and is a "groupie" in the Rock of Ages movie, out this June.
How she describes her dancing in one word: "Elegant"
Who would play her in Shaping Sound: The Movie? Rachel McAdams
Dance crush: Bryan Tanaka (her boyfriend!)
Her best advice: "The most valuable attribute a dancer can have is self-discipline. Stay determined and even the biggest speed bumps won't stop you."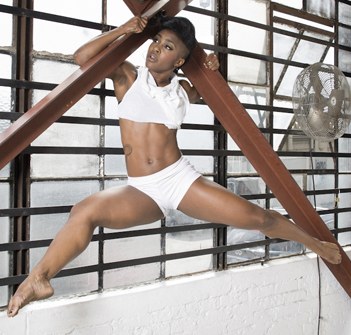 Taja Riley
Age: 20
Her impressive background: Taja started dancing when she was 7 at Denise Wall's Dance Energy, and began competing at age 10. She moved to L.A. at 16 to work with Brian Friedman, Mia Michaels and Wade Robson. By 17 she was dancing backup for Janet Jackson. She went on to work with Ne-Yo, Annie Lennox and Nicole Scherzinger. Taja has also performed on "Glee" and on the first season of "The X Factor" in the U.S.
How she describes her dancing in one word (or three): "Flows like water"
Who would play Her in Shaping Sound: The Movie? Stacey Dash
Dance crush: Hefa Tuita. "Always and forever."
Career highlight: Performing in Dublin, Ireland, with Nicole Scherzinger. "We finished the last number, but the crowd didn't know we were going to do an encore, so they started chanting ole, ole, ole, ole in unison. I cried. It was one of my proudest moments."
Jan. 19, 2012 01:43PM EST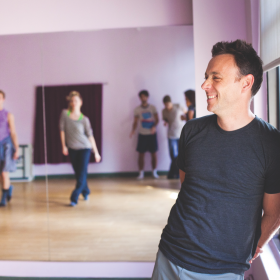 Larry Keigwin looks on during a K + C rehearsal.
Every time they walk into the rehearsal studio, KEIGWIN + COMPANY dancers must wonder what the heck they're about to become. Runway models? Birds? Aliens? Some bizarrely awesome combination of all three?
Helmed by fearless leader Larry Keigwin, K + C has produced a string of wildly different pieces since its birth in 2003—dances exploring everything from wedding-night jitters (Mattress Suite) to literal, coffee-induced jitters (Caffeinated). But all of them are distinctly, undeniably Keigwin. The choreographer's style is an unlikely but perfect blend of music-video pop, cabaret cheekiness, nightclub posturing and downtown modern dance. And the dancers who bring all that craziness to life? In a word: superhuman.
It might seem like Keigwin, who majored in dance at Hofstra University, has multiple personality disorder. But his works' various facets are really just an accumulation of his own experiences. "In high school, I started taking Graham technique as a way to get out of gym class—without even knowing it was Graham technique," says the native New Yorker.
"At the same time I was taking jazz at a local studio and performing in the high school musical, and then eventually dancing on 'Club MTV' as a backup dancer. Later I performed on Broadway and in downtown concert work in NYC. It's all in me." And Modern Keigwin, Broadway Keigwin and Commercial Keigwin aren't actually all that different. "I tend to see the connections between the various genres, rather than the differences," he says. "It's all under the universal heading of dance."
Keigwin's diverse style has attracted dancers eager—and able—to do it all. "I love that his work is extremely physical but also very dramatic," says Kristina Hanna, who joined K + C in 2009. "I have a background in musical theater, and it's so fun to be able to use that, as well as intense technique." The 12 K + C dancers aren't just pretty bodies to be molded, either: They're intricately involved in Keigwin's collaborative choreographic process.
"Usually we begin by improvising together in the studio, and things build from there," says Keigwin, who also dances with the company. "I take a lot of cues from the dancers, relying on each one's creative playfulness." (At the DS shoot, the K + C dancers even referred to movement phrases by the names of the dancers who inspired them: "Let's do the Ryoji [Sasamoto] phrase!" "How did the Kristina phrase begin again?")
The result is a company of intellectually curious artists with serious charisma. "You don't become a Keigwin dancer without a lot of personality!" says Matthew Baker, a company member since 2009. "I was drawn in by Larry's openness to communicate with his dancers. I've been lucky to find a situation where I feel like I can contribute artistically and also perform really exciting work." Kristina agrees. "Larry is constantly encouraging his artists to make their own choices," she says. "It's his choreography, but he wants us to make it personal—he wants it to be different every night onstage. There are always opportunities to explore and grow."
If these dancers sound supersmart, it's because they are: Nearly every member of K + C is a college graduate. In fact, working with college dancers is usually the way Keigwin finds new company members, since K + C doesn't hold many open auditions. "Formal auditions aren't my favorite," Keigwin says. "I prefer seeing someone in class or at school, where I can work with them and get to know them for a while." Since NYC-based Keigwin frequently choreographs pieces for The Juilliard School and New York University's Tisch School of the Arts, many of his dancers hail from those prestigious programs.
The K + C dancers are fiercely loyal to Keigwin—not just because they respect him as a choreographer, but because working with him is so darn fun. "I remember the exact moment I knew I wanted to dance for Larry," says Ashley Browne, who joined the company in 2007. "I was in college at NYU and he was choreographing our senior performance piece. He walked in and put on a crazy, cheesy Pat Benatar song. I was like, yes! So much of modern dance takes itself too seriously. Larry is a serious artist, but no matter where he goes, he's going to have a good time." And the company that plays together, stays together.
Next up on K + C's busy touring schedule are performances in Washington, D.C., in March and NYC in June. The NYC shows will feature three new—and, as usual, utterly different—pieces: a work inspired by contact sports, a group dance with a musical-chairs vibe and a solo for Keigwin called Panic. "When I was first starting up the company, I had all this anxiety about 'Are people going to like this?' " Keigwin remembers. "A friend said, 'Larry, just create what you'd want to see.' And that's what I'm always trying to do." Don't worry, Larry: We like it—a lot.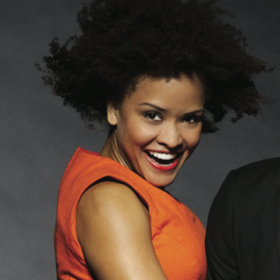 Photo by Nathan Sayers
Meet the K + C Cover Stars
KRISTINA HANNA
Birthday: October 7, 1986
Hometown: West Bloomfield, MI
College: The Juilliard School
Favorite dance movie: Flashdance. "I love underdog stories, and I love dancers
who are unafraid to take risks."
Who would play her in a movie: "I get Halle Berry a lot. But I have huge hair! So I don't know about that."
Dance idols: Brian Brooks, Crystal Pite, Kate Weare, William Forsythe
Dance crush: Fellow K + C dancer Gary Schaufeld
Hidden talent: "I'm getting to be a serious yogini. I'm pretty proud of my headstands and arm balances."
Little-known fact about her: "I have a fake tooth. One of my adult teeth just never grew in."
Advice for DS readers: "You can't fake an original. Be the first-rate dancer you are."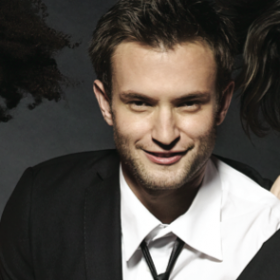 Photo by Nathan Sayers
MATTHEW BAKER
Birthday: September 12, 1985
Hometown: Ann Arbor, MI
College: Western Michigan University
Most-played song on his iPod: "Probably Rihanna's 'Disturbia.' It's my sit-up song."
Favorite food: "Sweet Baby Ray's BBQ Sauce—I'm obsessed with it. And Diet Pepsi. I can drink whole two-liter bottles at a time."
Who would play him in a movie: Robert Pattinson. "I actually dressed as him for Halloween last year."
Dance idols: Trisha Brown and Elizabeth Streb
Dance crush: Fellow K + C dancer Aaron Carr
Little-known fact about him: "I have a commercial driver's license. I've driven a school bus."
Advice for DS readers: "Always keep your sense of fun. You might be struggling, but having a sense of humor—and taking everything with a grain of salt—will put things in perspective."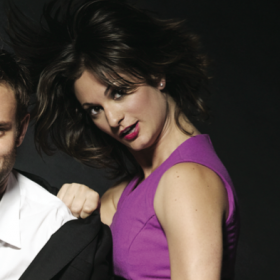 Photo by Nathan Sayers
ASHLEY BROWNE
Birthday: June 23, 1986
Hometown: L.A.
College: New York University's Tisch School of the Arts
Favorite movie: Sister Act. "There's something about Motown that really gets to me."
Must-see TV: "'Jeopardy,' because I'm a big nerd."
Dance idol: Susan Stroman. "I love her sense of theatricality."
Dance crush: Fellow K + C dancer Ryoji Sasamoto
Little-known fact about her: "I plan to own my own island someday."
Advice for DS readers: "If you can't find a job dancing, stay within the dance community. I started out on the administrative side for K + C. You'll figure out a way to make it work."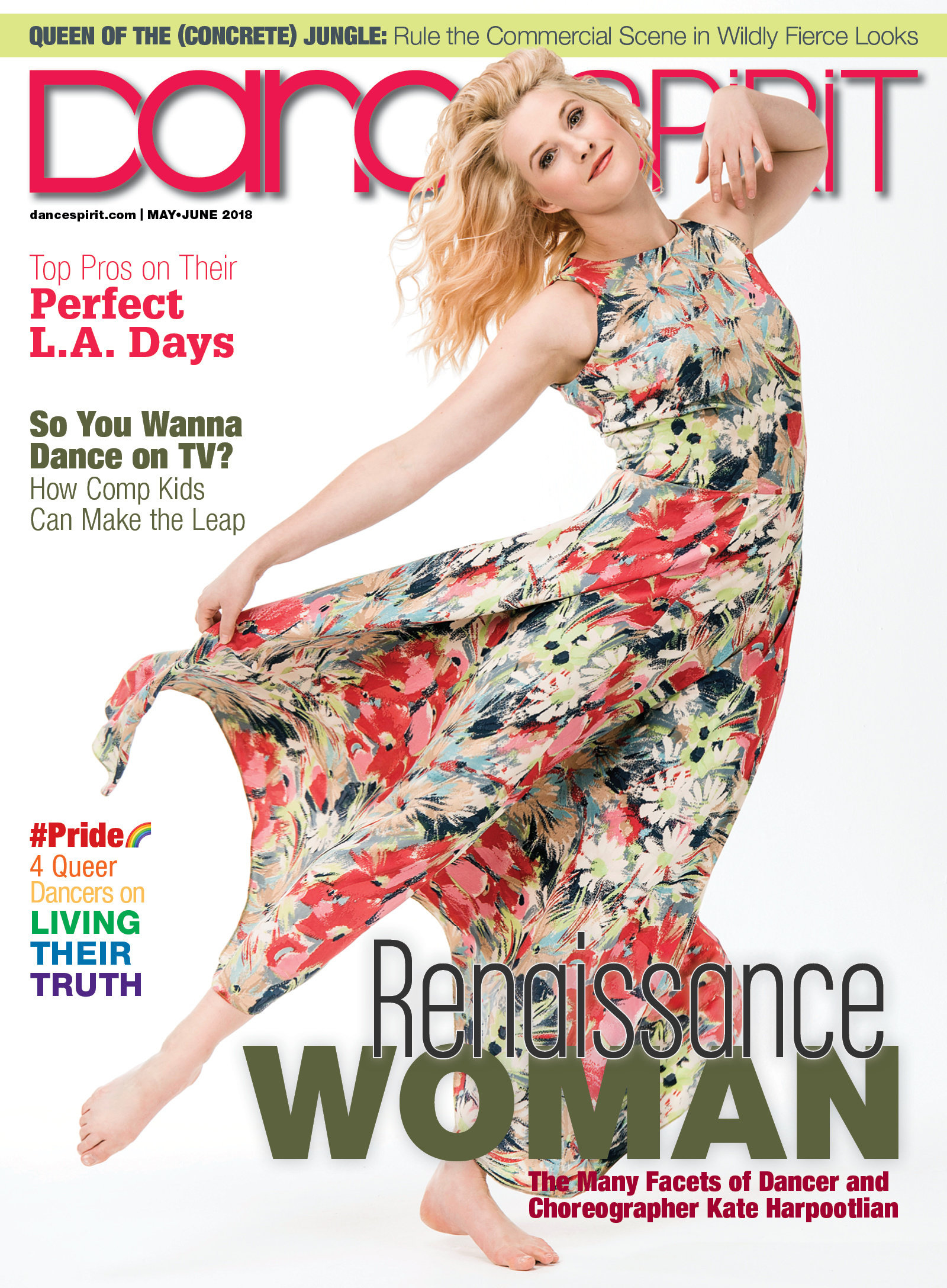 Get Dance Spirit in your inbox