This has already been a huge news week for the ballet world, and it just got even huger:
After 20 years in NYC, Complexions Contemporary Ballet—that extraordinary company pretty much every dancer we talk to dreams of joining—is making a big move. As of spring 2016, the troupe will call Atlanta home, according to a report in ARTSAtl.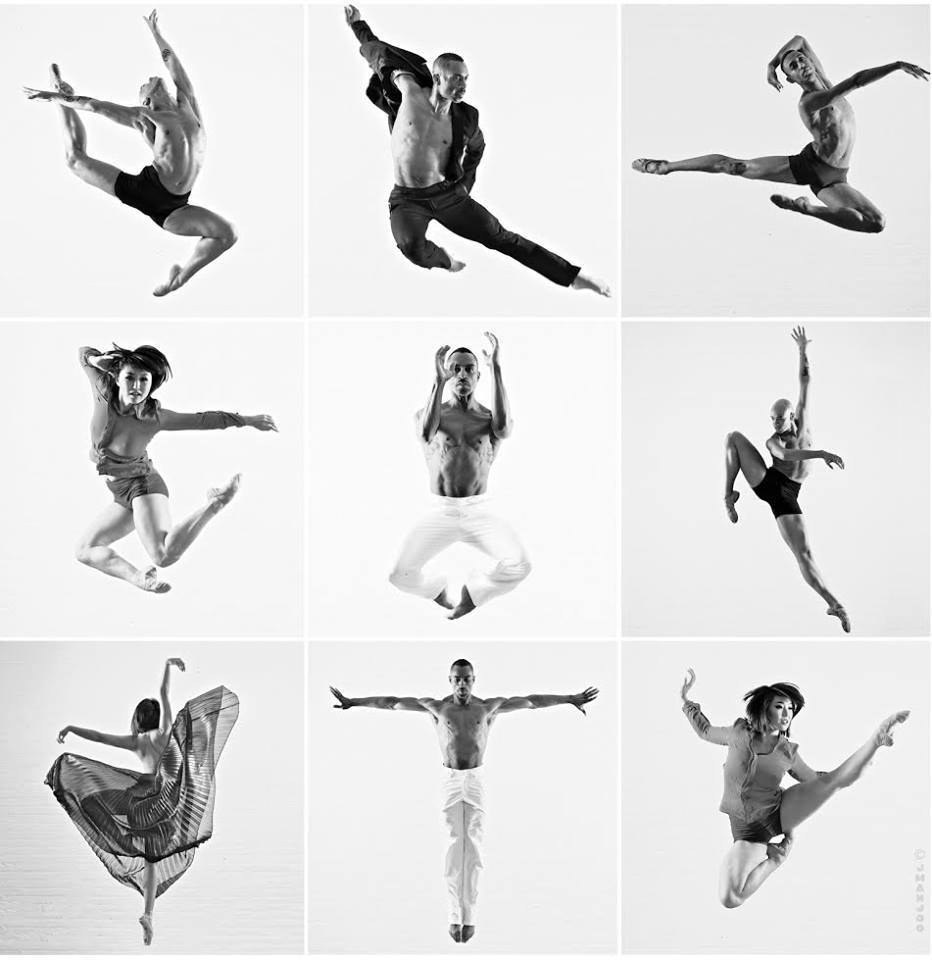 The stunning dancers of Complexions (photos by Jae Man Joo)
The decision took a lot of dance fans by surprise, but it also makes good sense. Yes, NYC is the dance capital of the country, but that means it's crawling with dance companies, who compete for audiences and funding. Dwight Rhoden told ARTSAtl that he and his Complexions co-director Desmond Richardson were looking for a "less saturated" dance community, and Atlanta fits that bill. Pretty much anywhere on the planet is less expensive than NYC, too; in Atlanta, the company will be able to afford its own studio space for classes and rehearsals, a major plus. And Rhoden and Richardson have made diversity a central part of Complexions' mission from the beginning, something Atlanta's multicultural (and increasingly artsy) population will definitely appreciate.
Complexions will perform in Atlanta this October before launching its first official ATL season in the spring. But never fear, NYC fans: The company will continue to mount its annual two-week season at the Big Apple's Joyce Theater. It'll still offer its popular NYC intensives, too, and there are plans to start up similar programs in Atlanta and Los Angeles.
It's an exciting time for the company—we're eager to see how it grows and changes in its new home!
A show of hands: Who would absolutely freak out if they were offered an apprenticeship with Complexions Contemporary Ballet? How about a full-time position with the Joffrey Ballet Concert Group? If you're anything like us, just the thought of performing with these coveted companies has your heart beating like crazy. So take a moment—breathe—and let us tell you about an exciting new opportunity.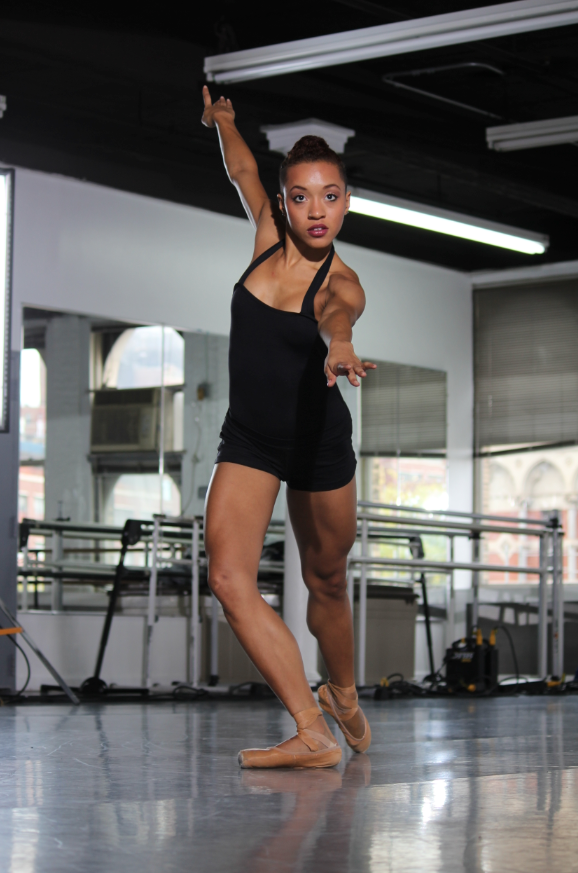 Are you up to the challenge? (Photo by Bround Creative, courtesy DanceOn)
DanceOn, the dance entertainment network that brought us the YouTube series "Dance School Diaries," launched a new contest today, along with the Joffrey Ballet School and Complexions, called Rise to the Challenge. The contest tests a dancer's ability to replicate a short phrase choreographed by Complexions' Desmond Richardson and JBS's Davis Robertson. Here's how it works:
YouTube videos of the eight challenge movements will be released in two chunks. The first four videos went live TODAY (November 12).

To enter, go the contest website and watch the four clips. (Bonus: This group of videos are demonstrated by gorgeous Complexions dancers. #Swoon)

Find one you think you can replicate? Film yourself doing the movement and post it to YouTube with #RiseToJBSChallenge before the first half of the contest closes on November 26.

DanceOn and JBS will choose one winner for each video.

Look out for DanceOn's announcement of the first four winners on December 1 on the contest website.
If your not feelin' any of the first four movement challenges, don't fret. Another four videos will launch on December 3 and run until December 17, with the final four winners announced on December 22.
CEO of DanceOn Amanda Taylor let DS in on pro tip for contestants: "Even though we're asking you to recreate a phrase, we want to see originality. Think about things like music choice, emotional connection, costume—make creative choices to stand out."
OK now for the part you've been waiting for: the prizes. Each of the eight winners will receive a two-week scholarship to the Joffrey Ballet School Summer Intensive!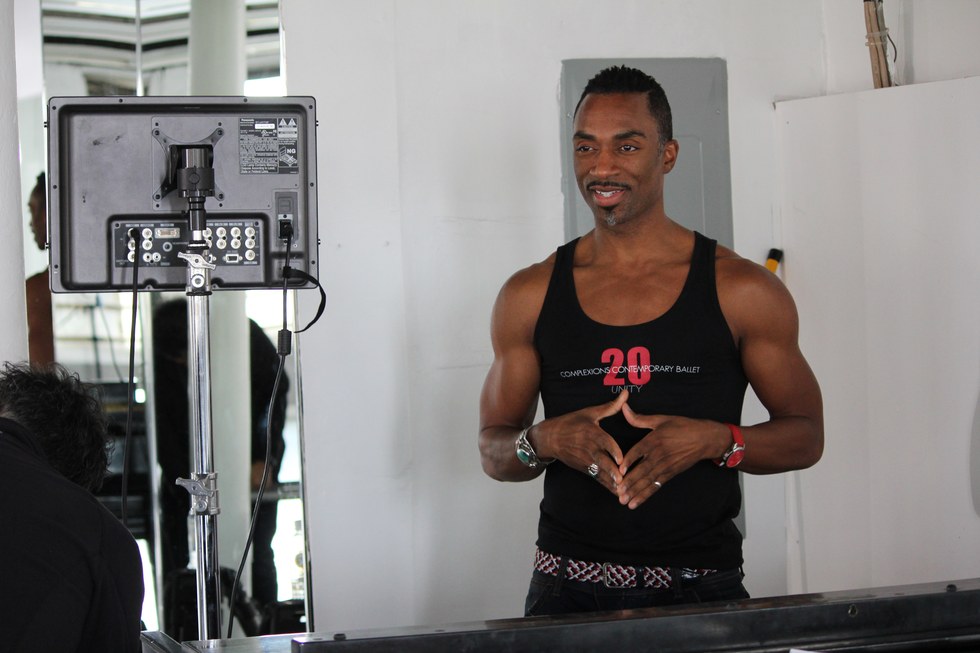 A chance to dance for Desmond Richardson? Yes, please. (Photo by Bround Creative, courtesy DanceOn)
But it doesn't end there folks. Remember how I was blabbing on about how exciting it would be to dance with Complexions or the Joffrey Concert Group? Well here's the kicker: Desmond Richardson will choose one grand prize winner (from the eight winners) to compete at the first ever Élite Dance Tournament in L.A., hosted by JBS and Complexions. The grand prize includes round trip airfare, four master classes and a chance to meet guest judge (you may have heard of him) Nigel Lythgoe.
One of the Élite Dance Tournament finalists will receive a Complexions apprenticeship, while another will receive a full-time paid position with the Joffrey Concert Group. But there are TONS of other prices to be earned, as well. According to artistic director of JBS Christopher D'Addario, there are over $100,000 worth of scholarships (including college scholarships) available! Check out the Élite Dance Tournament website for more info.
Phew. I think that pretty much sums it up! I'm exhausted just talking about all these incredible opportunities. So go ahead, pick your video, polish your moves, grab your camera (read: iPhone) and prepare to #RisetoJBSChallenge.
Last night at the Alvin Ailey Citigroup Theater, Lindsay Nelko—the Second Runner Up at the 2013 Capezio A.C.E. Awards—premiered her show Awakening as a part of the A.C.E. Awards Winners Festival. I count myself as lucky to have been in the audience, witnessing the next big step for this up-and-coming choreographer.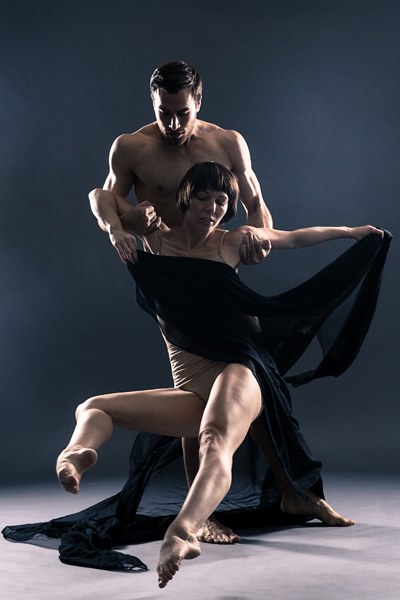 Joseph Kudra and Acacia Schachte appearing courtesy of Cedar Lake Contemporary Ballet (photo by Matthew Murphy)
Nelko has had an envious career so far as a freelance choreographer, and producing Awakening is another feather in her cap. Her absurdly talented and accomplished cast— with dancers from Cedar Lake Contemporary Ballet (oh hey, Ida Saki), Complexions Contemporary Ballet, Broadway and beyond—came together as a pickup company par excellence and delivered the evening, despite their stylistic differences.
I especially loved the section "Dysmorphia," which featured the women confronting and cowering from a mirror, and the section "Lifeline," which featured three lovely duets and bright, colorful banners stretched across the stage.
To be completely honest, I wasn't quite as thrilled with the piece's approach to partnering, which was traditional and bordered on basic. We know these dancers are crazy amazing, and I would have loved to see a little bit more inventiveness in the way they interacted with each other.
That said, the show was certainly an impressive accomplishment. Way to go Lindsay! We can't wait to see what you're up to next.
Choreography
Nov. 01, 2013 04:30PM EST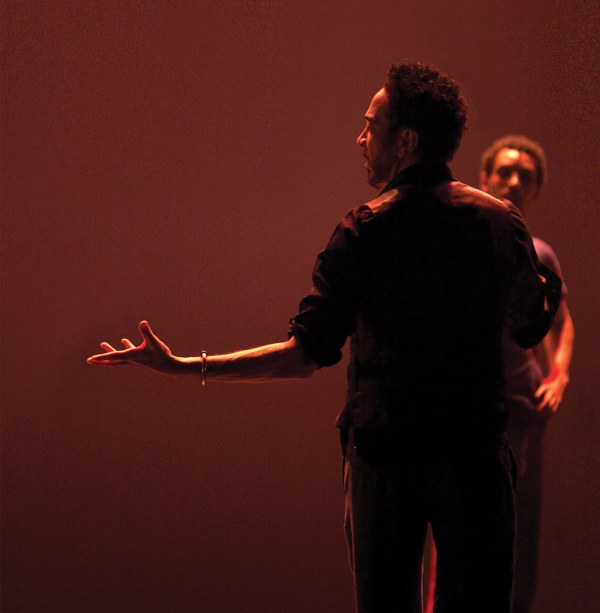 (by Rosalie O'Connor)
Although choreographer Dwight Rhoden is best known as a founding artistic director (along with Desmond Richardson) of Complexions Contemporary Ballet, it often seems like he's everywhere at once. Recently, he's set work on North Carolina Dance Theatre, Wendy Whelan and the Mariinsky Ballet. Rhoden was a principal dancer with Alvin Ailey American Dance Theater before fully channeling his energies into making new dances. So where does this prolific choreographer find his inspiration? Read on to find out.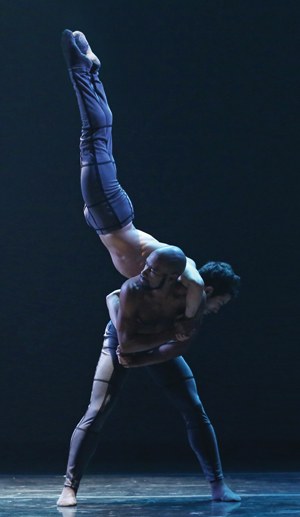 Complexions in Rhoden's The Curve (by Bill Herbert)
"The diversity of our company defines everything we do—it's why we're called Complexions. My choreographic choices are all about contrasting elements working together harmoniously. When I'm making an original piece, I take into account the people I'm working with. Many times, I've created dances out of what I felt would challenge my dancers as artists and help them grow."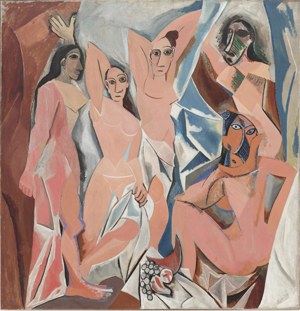 Picasso's Les Desmoiselles d'Avignon (© 2011 Estate of Pablo Picasso/Artists Rights Society, New York/Courtesy MOMA)
"I love going to The Museum of Modern Art in NYC to see the abstract expressionist work. I'm inspired by Picasso because of the complexity of his paintings. I never get tired of them."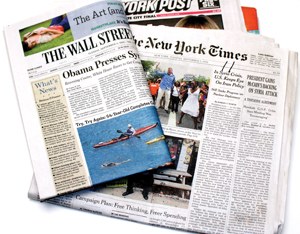 (by Josephine Daño)
"I'm a news junkie. I'm constantly inspired by what's happening in the world and how people react. Recently, I've been thinking about the unrest in the Middle East and the issues surrounding gay marriage. I'm hoping to address those in future works."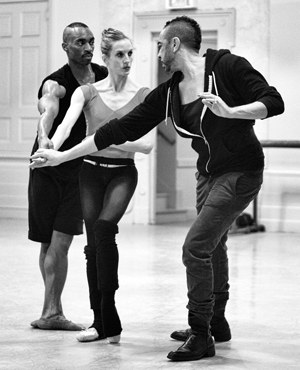 Working with Desmond Richardson and Wendy Whelan (by Jae Man Joo)
"I'm excited about nontraditional partnering. Not 'pick them up, put them down,' but a manipulation of the dancers' forms—how they're connected. I like to create pas de deux where the pair never disconnect from each other, yet are still dancing independently."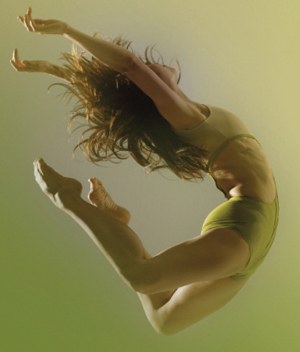 Carmina Burana (by Will Shively)
"When I choreographed Carmina Burana
for BalletMet Columbus, the jumping-off point was the ever-changing dynamic of the music. It's so rich that everyone who listens to it hears something different."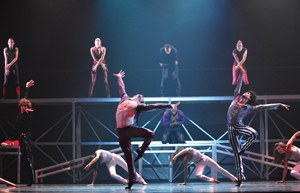 Othello (by Peter Zay)
"I choreographed an Othello for North Carolina Dance Theatre that placed the Shakespearean story in modern times. It's the action—not necessarily the original time frame—that's important."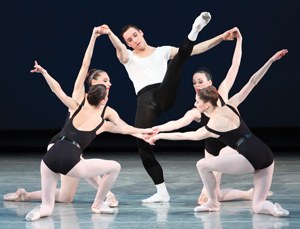 Pennsylvania Ballet in Balanchine's The Four Temperaments (by Alexander Iziliaev)
"Whenever I see George Balanchine's work, I learn from his astute construction and his pioneering spirit. His black-and-white ballets, especially, speak to me."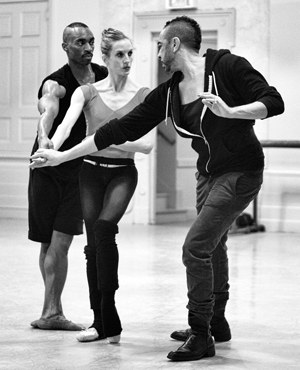 Working with Desmond Richardson and Wendy Whelan (by Jae Man Joo)
"Having the right rehearsal space has an influence on the final product. I like to work in places where there's sunlight and windows. I'm more inspired when I can feel the world outside the studio."
Ballet with a Twist
If you love ballet, but feel like the classics aren't for you, don't fret! COMPLEXIONS Contemporary Ballet's summer program will give you the foundation and structure of classical ballet, but also train you to work off-center and tackle many different dance styles. At COMPLEXIONS, you work with artistic directors Dwight Rhoden and Desmond Richardson every day, learning their original style and choreography. Attendees must be 13-18 years old with a strong background in ballet and modern. An audition is required. Dates: August, TBA at press time; complexionsdance.org/summer_intensive.php
Broadway Fever
Have you ever left a Broadway show feeling inspired and determined to be up on that stage, but unsure about where to start? The three-week intensive program offered by Broadway Theatre Project is a great jumping-off point! The teachers are masters of their craft, including living legends like Ben Vereen and Charlotte d'Amboise. All students must take classes in acting, dance, voice and writing. Students will also meet with representatives from colleges with musical theater programs and go through audition workshops with Broadway casting directors. The program is on the campus of the University of South Florida, and each session culminates in a student performance at the Tampa Bay Performing Arts Center. You must be at least 16 years old, and college students can apply as well! Auditions are live or by videotape. There's no better atmosphere
to learn how to succeed on Broadway than to be around those who have lived it. Dates: July 6-27; broadwaytheatreproject.com/home
Dance Conservatory Meets Hip Hop
Want to take your hip-hop skills to the next level and learn how to enter the professional world of commercial dance? Here's an opportunity for you: The Hip-Hop Dance Conservatory Summer Intensive in NYC offers technique classes, b-boy fundamentals, funkstyles, hip-hop dance theory, health and nutrition, field trips and choreography. At the end of the intensive you'll participate in a performance choreographed by faculty including Nicola Linge, who was an assistant producer for the 2007 MTV Video Music Awards. No audition required. Dates: June 30–August 30; hdcny.com/wst_page4.html
The Art of SLAM
Are you daring enough to fly through glass? Meet Elizabeth Streb, founder of Brooklyn's STREB Company. Through her studies of the human body and its possibilities (using science and math!) she has created a dynamic style of dance that defies gravity with grace. At her SLAM summer program—SLAM stands for Streb Laboratory for Action Mechanics—you can train in trapeze, aerial work and more in a safe and educational way. Students can take one weeklong workshop, or register for the whole summer! Open to ages 5-14, no audition required. Dates: TBA at press time; strebusa.org/index.html
Swing Your Way to Cirque du Soleil 
Sick and tired of hearing, "Don't try this at home?" If you want to dangle from wires, contort your body, dive from great heights and perform tricks on moving walls and wheels like Cirque performers do, now you can! For safe, top-notch training, head to the National Circus School in Montreal, Canada. It offers one- or two-week intensive programs for ages 9-12 and 13-17. Classes include circus arts, dance, and martial arts or acrobatic sports with an artistic component, such as artistic or rhythmic gymnastics, trampoline, diving and figure skating. You must mail in an admission form to be considered. Dates: Ages 9-12: July 14-20; Ages 13-17: July 21–August 1; enc.qc.ca/en/programs/program3.asp
Company Calling
It's not often that you get the chance to train with one of the country's most esteemed modern companies. The Paul Taylor Dance Company is in its 53rd year of breaking dance boundaries. Each summer, students can train in Taylor's distinctive style and learn the ins and outs of working with a professional company. The Taylor Intensives take place in NYC, and the faculty includes company alumni. Classes are given in Taylor style and repertory. No audition is necessary; however, an application must be completed, along with a teacher evaluation. Dates: June 30–July 25; ptdc.org/si_si.php
Round Em' Up
There's no better way to kick your tap butt into gear than with Vancouver's Tap Boot Camp, put on by the Vancouver Tap Dance Society. Tap masters Cheryl Johnson and Anthony Peters, who have shared the stage with legends like Jimmy Slyde and traveled with St. Louis Tap Festival, host this 30-hour, one-week intensive; also appearing as a guest artist is Shelley Stewart Hunt, who performed in the national tour of Cats. The goal: to build your technique, style and performance quality. Tap experience is necessary, ranging from advanced-beginner to advanced, and you must be between ages 9 and 16. On the first day of camp, you will be placed in levels based on your skill and experience. No audition required. Dates: July 21-25; vantapdance.bc.ca/summer-youth-boot-camp-ayodele.html
Ballet Goes Extreme
If you're ready to take your ballet training to the next level, Kaatsbaan's Extreme Ballet preprofessional summer intensive might be right for you. This program is for ballet dancers who are preparing to jump into the professional world. Located in Tivoli, NY, the secluded countryside provides a great atmosphere to stay focused on your training and glean advice from the roster of stellar teachers. Dancers at least 14 years old can audition at intermediate, advanced and preprofessional levels. Directed by former ABT star Martine van Hamel. Dates: June 16–July 5, July 6-26, July 27–August 16; kaatsbaan.org/extreme.html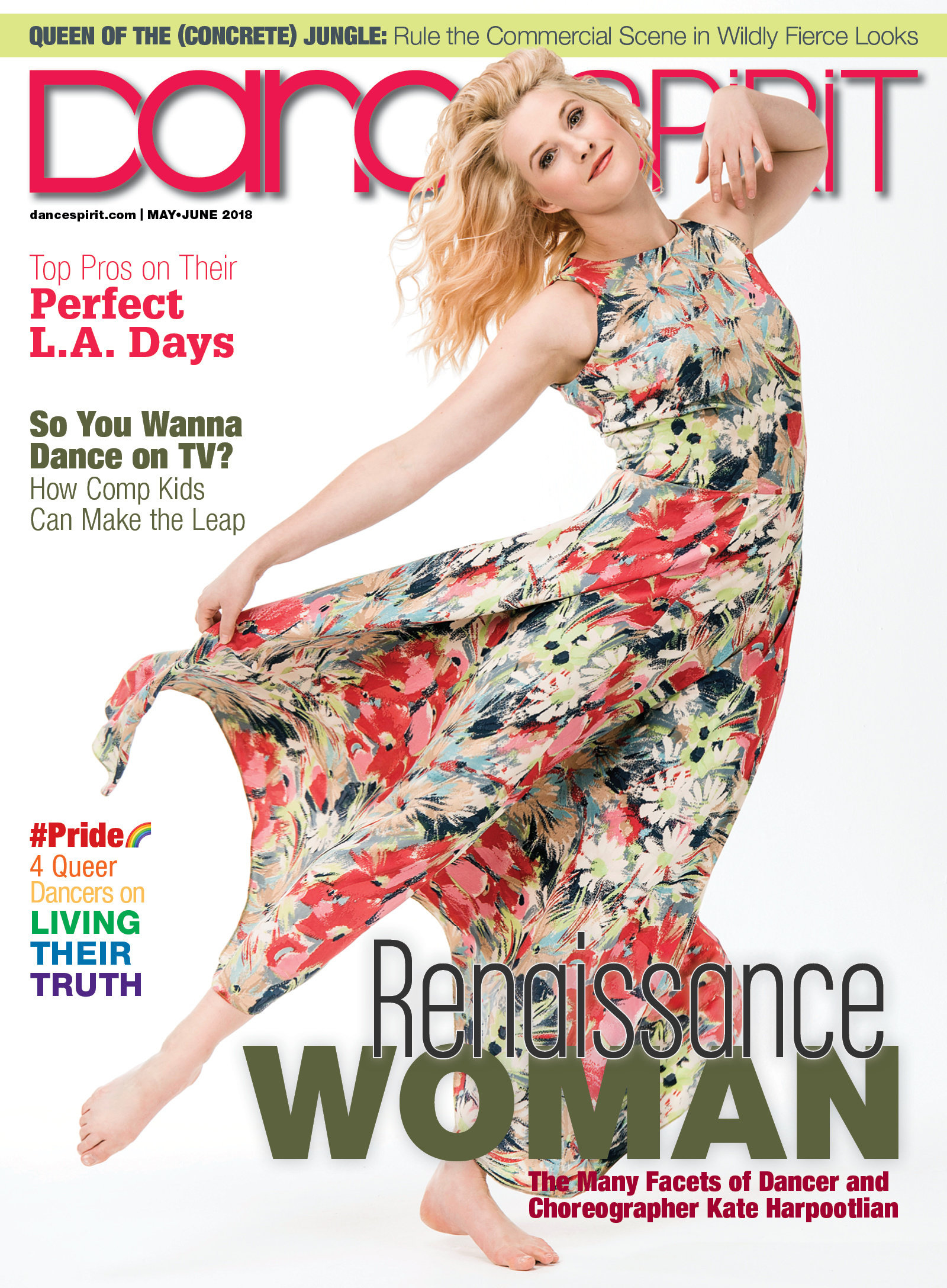 Get Dance Spirit in your inbox