Apr. 14, 2015 05:19PM EST
Imagine getting the chance to be choreographed on by Napoleon and Tabitha D'umo, and then performing in front of Nigel Lythgoe, Paula Abdul and Zendaya. Or getting invited to take classes with artists like Nick DeMoura and Tucker Barkley in L.A.
Sounds surreal, right? But these are real-life opportunities being offered by hip-hop–based organizations—Monsters of Hip Hop and Movement Lifestyle, respectively. Unlike traditional competitions and conventions, which cover everything from contemporary dance to tap, this newer wave of comps is laser-focused on hip hop, giving dancers the chance to explore its many styles, from flexing to krumping to breaking.
"The commercial hip-hop world is one of the most viable places for dancers to work professionally," says Monsters co-founder Andy Funk. "But when we started back in 2002, there weren't many opportunities for dancers outside of New York or L.A. to be seen and discovered, let alone to train." Those days are definitely over. Hip-hop–only events are quickly gaining popularity, and attendance is up in a big way. "I've seen a huge growth in hip-hop competitions and conventions over the last decade," says VIBE Dance
Competition CEO Jason Park. Thanks to shows like "America's Best Dance Crew" and "So You Think You Can Dance," Park says, "there's a vast interest in what was formerly a semi-underground community."
For choreographer Jillian Meyers, who's judged for VIBE and now teaches for both Movement Lifestyle's the TOUR as well as The PULSE on Tour, hip-hop–only events "offer a very different dynamic" from the traditional convention circuit. In addition to top U.S. dance crews, she says, "a lot of the crews come from all over the world," giving you an international perspective.
Here's the rundown on four top hip-hop comps changing the competition and convention industry.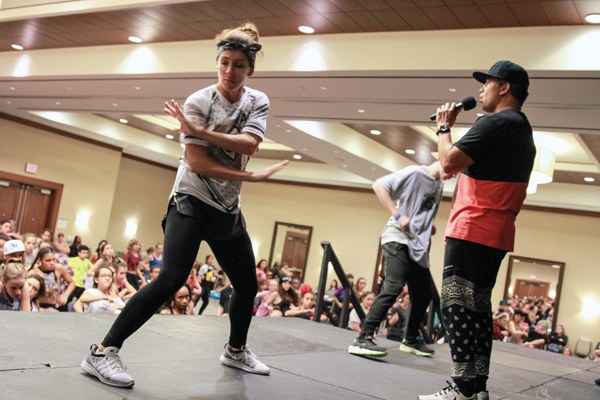 Tabitha and Napoleon D'umo teaching a Monsters class in Houston, TX (photo by Jennie Gonzales, courtesy Monsters of Hip Hop)
Monsters of Hip Hop
Directors: Andy and Becky Funk
What it is: Founded in 2002, Monsters of Hip Hop has been credited with sparking the hip-hop convention trend. Though Monsters' setup is traditional, its instructors—all seasoned industry pros—focus on commercial hip hop. Monsters alumni have worked with artists including Pharrell Williams, Lady Gaga and Beyoncé.
How it works: Monsters visits 16 to 20 cities each year, offering two-day dance workshops. In each city, four semifinalists are chosen for a chance to perform in the annual "Monsters Show" in L.A.
Classes offered: Commercial hip hop, street jazz, contemporary hip hop
Celebrity teachers: Tabitha and Napoleon D'umo, Parris Goebel, Kevin Maher, Luther Brown
Keeping it fresh: The new Choreographer's Cup competition gives rising choreographers the chance to win $5,000 and a guest teaching spot. Also awesome? Both Sony Music and Disney Talent Casting reps will be on site at many convention stops this year to scout for talent.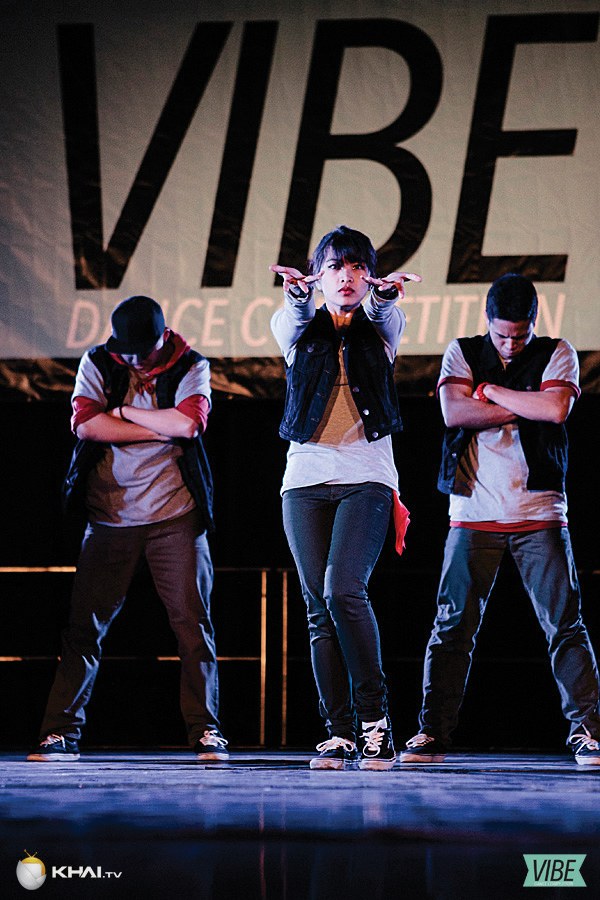 Dancers from The Company at Vibe XVIII (photo by Khai "Khai.TV." Nguyen, courtesy Vibe)
VIBE Dance Competition
CEO: Jason Park
What it is: It's easy to see why VIBE is celebrating its 20th anniversary this year—it's not only one of the very first but also one of the fiercest hip-hop competitions. Crews from all over the world gather at its two annual events to throw down for the top
prize: $2,000 cash, VIBE swag, a trophy and free registration (for U.S. teams) to the World Hip Hop Dance Championship.
How it works: A junior division competition is held in November in Redondo Beach, CA, followed by the main event, held in January in Costa Mesa, CA.
Celebrity judges: Ben Chung (from the Jabbawockeez), Natalie Gilmore (of Fanny Pak),  Hok Konishi (of "SYTYCD" and Quest Crew)
Keeping it fresh: In 2013, VIBE partnered with long-standing crew Culture Shock LA to provide funding for Culture Shock's youth dance programs.
What sets it apart: "Prior to the competition, VIBE highlights each performing crew to our fans and followers through various media," Park says. For instance, VIBE makes special online flyers that feature a crew's video footage and posts them on Instagram.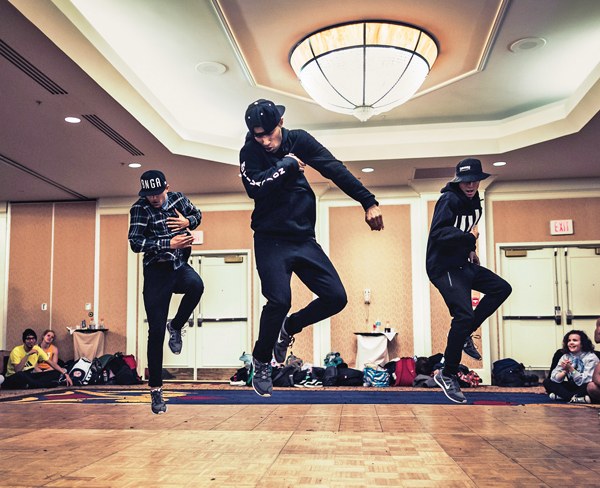 Norwegian Quick Crew dancers during an mL tour stop in New Jersey (Jino Abad, courtesy Movement Lifestyle)
Movement Lifestyle
Directors: Shaun and CJ Evaristo
What it is: Movement Lifestyle (mL) has expanded way beyond the classic competition/convention circuit structure. In addition to its nationwide tour, the company also operates two L.A.-based studios and a series of 21-day dance intensives. "We wanted to create a positive environment and a place that felt more like a home than a competition," Shaun says.
Format: Each tour stop is a two-day event, including classes and a Q&A session with the choreographers.
Styles/classes offered: Locking, popping, breaking, house and more
Celebrity teachers: Jillian Meyers, Keone and Mari Madrid, Miguel Zarate
What sets it apart: In each of the five or six cities Movement Lifestyle visits per year, no more than 300 dancers are admitted to ensure everyone receives tons of attention.
Keeping it fresh: Movement Lifestyle's recently opened second studio, mL One, is geared toward kids and adult beginners. It offers foundation classes that focus more on technique than choreography.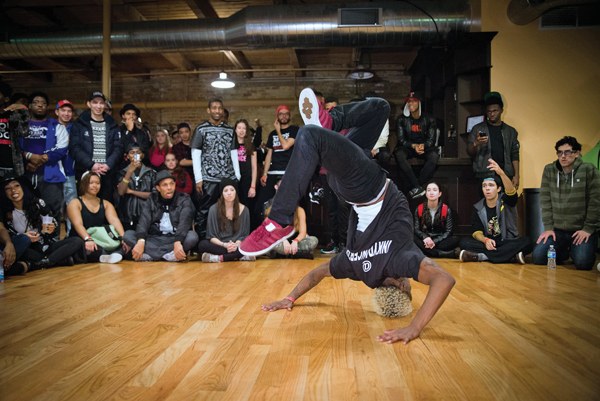 Dancers battling during WOD Chicago's Simple Mobile All-Styles event (Nathan Lee, courtesy World of Dance)
World of Dance
President: David Gonzalez
What it is: Considered the largest international urban dance competition, World of Dance hosts events that include a youth division (for crews only), an upper division (for dancers ages 18 to 25) and a celebrity exhibition, featuring "SYTYCD" and "ABDC" alums. Along with its massive event circuit, WOD also produces the WOD Network, a 350-channel online network that lets dancers showcase their videos.
How it works: WOD competitions, which tour to 40 cities each year, take place on weekends. Each event is capped off with performances by celebs like Fik-Shun, Les Twins and the Jabbawockeez.
Keeping it fresh: Last season, WOD began offering master classes in select cities on Sundays.
Celebrity judges/teachers: Chachi Gonzales (of I.AM.mE), members of the Jabbawockeez, Phillip "PacMan" Chbeeb, Jun Quemado, Parris Goebel, Lando Wilkins
What sets it apart: Along with the main-stage competition, WOD offers separate stages for dancers to battle each other and win prizes. "It's like the X Games," Gonzalez says.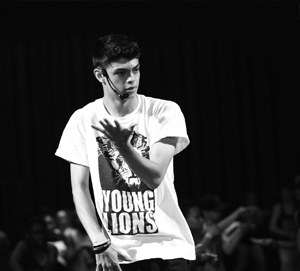 Eastwood teaching at The PULSE On Tour
"My mom always told me, 'Your goal should be to get paid for what you truly love to do,'" Ian Eastwood says. "Now I get to make her proud every day." This dancer/choreographer is living the dream, all right. You probably recognize him from "America's Best Dance Crew" Season 7, where he dominated the stage with Mos Wanted Crew. At 19, Eastwood has already danced in a commercial for Ubisoft/The Black Eyed Peas Experience, won Youth Choreographer of the Year from World of Dance and choreographed a music video for the group 5LP. The Chicago native has also taught his signature style across the globe, hosting regular events and workshops with Millennium Dance Complex, Coastal Dance Rage, Movement Lifestyle and The PULSE On Tour. Want to learn more about this rising superstar? Read on for The Dirt.
If you could choreograph for any performer, past or present, who would it be? Justin Timberlake or Justin Bieber. I feel like my style of movement would fit most naturally on them.
If you could dance with any performer, past or present, who would it be? JT is making a comeback, and I always used to dream of dancing next to him.
Must-see TV shows: "The Office" has been my favorite since I started watching the first season in middle school. And "Fawlty Towers," a British cult classic.
Favorite food: My dad's crabmeat eggs Benedict served with hash brown patties…only made on special occasions!
Something most people don't know about you: I have a life-sized Spider-Man cutout in my room that is staring at me right now.
Biggest guilty pleasure: Reading comic books!
If you weren't a dancer, what would you be? I would probably be a photographer. Click click!
One thing you can't live without: I couldn't live without art!
Favorite city in the world: Chicago. There are some close competitors like Rome, but you all need to go to Chicago. *Biased*
Who is your dance crush? *Insert deflective answer*
Do you have a pre-performance ritual? My shoes always have to be double knotted.
The studio I grew up with was big when it came to competing. It was our thing.
Conventions? Not so much.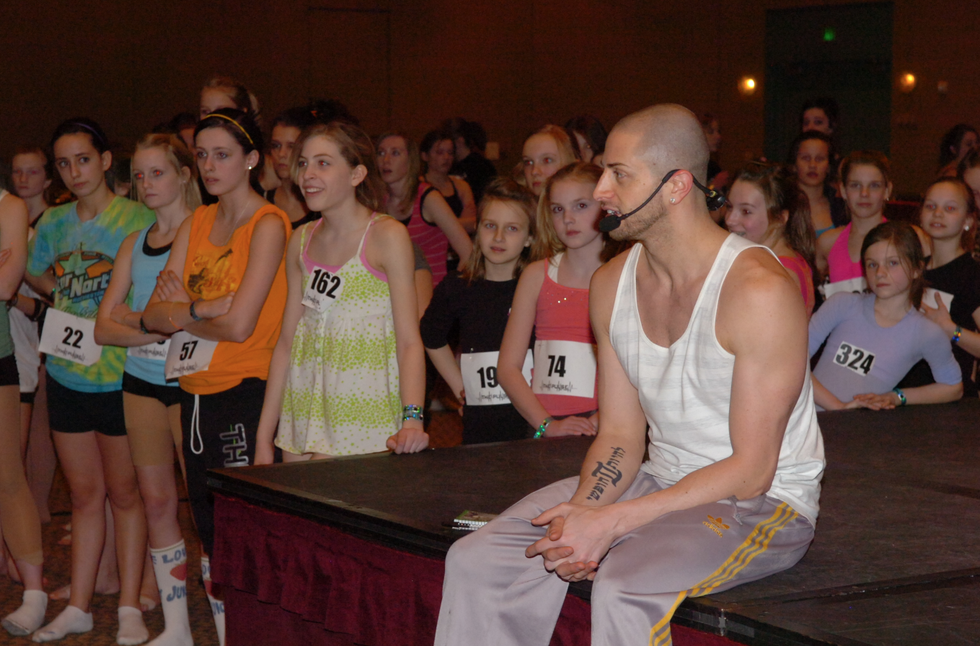 The first time I attended a convention class was at Headliners Nationals in Atlantic City, NJ. I was 12 or 13 at the time and had no idea what to expect.
I remember walking into the massive ballroom near our hotel and being confused. There was some wood paneling on the floor, but most of us would be dancing on carpet. Class didn't start for 20 minutes, but already there were rows upon rows of trendy-looking dancers occupying their space in the front section of the room.
So I stood in the back, and I couldn't keep up. We were being taught choreography at rapid speed and I was lost. This wasn't how we learned things back at my studio!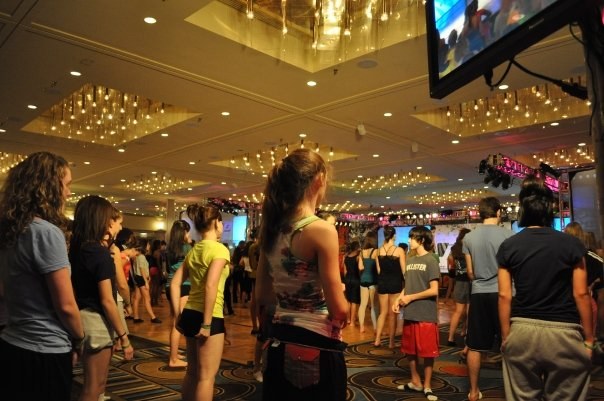 The experience was a positive one overall, but I certainly left the big ballroom that day feeling defeated.
Simply put: My first convention class totally kicked my butt.
And I don't think I'm the only one who's had that experience. While conventions are so much more popular now than they were when I was dancing not too long ago, there are still tons of studio dancers who haven't made their way into a big ballroom for a master class.
So what do they need to know? We're working on a story for an upcoming issue of DS that will address all your first-time convention concerns, questions, woes and, of course, pieces of advice.
Let us know where your head is at! Ask us your convention questions—or share your "been there, done that" words of wisdom for other dancers—and we'll address them in an upcoming article! Just leave us a comment below.
Competition
Aug. 10, 2012 05:21PM EST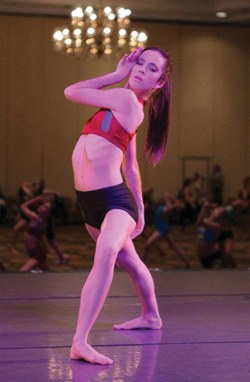 Madi Hicks demonstrates onstage during a convention class. (ProPix)
You've seen it before: That girl standing front and center in the convention ballroom, who seems to pick up the choreography without even thinking about it. She executes each combination perfectly the first time the music plays. The faculty members know her by name. How can this be? Well, it's her fourth city with the convention this season.
Traveling to multiple cities to attend the same convention is an increasingly popular trend. But why? And is it beneficial? We talked to some of the industry's leading competition and convention veterans to learn more.
Go For the Right Reasons 
Before deciding to attend the same convention in several cities, ask yourself what your motive is. Are you chasing a specific scholarship in hopes of winning a top title at Nationals? If so, you may want to rethink your approach. Lauren Adams, a long-time convention teacher and faculty member at the new convention 24 Seven, doesn't feel traveling to multiple conventions will help you win a national title. "If it takes you five tries in different cities to win the regional title, you're probably not going to win at Nationals," Adams says. "If I see a dancer in a couple of cities, I may be more likely to call her up onstage, but what I see in front of me that specific weekend is what I'm focused on." Christy Wolverton, owner of Dance Industry Performing Arts Center in Plano, TX, agrees: "If a dancer doesn't win the title the first two times, she probably isn't ready for it. There's something missing, and she needs to figure out what it is by getting back in the studio and getting to work."
In 2011, Madi Hicks won New York City Dance Alliance's National Teen Outstanding Dancer title having only attended one regional NYCDA convention in her hometown of Dallas, TX. "I really wanted to make the Top 10 at Nationals, but I didn't have the time or money to travel to other cities," Madi says. "I worked my butt off all year in the studio and was shocked when I won, because I knew that other girls had been to several cities." After winning, Madi spent the following regional season touring with the convention across the country. While she admits to seeing the same dancers in many of the cities she assisted, she says a lot of the dancers do it for reasons beyond winning scholarships. "Dancers care about their art and improving themselves," Madi says. "If you're going to every city, you need to do your best to grow—and not be worried about getting pulled up onstage or winning scholarships."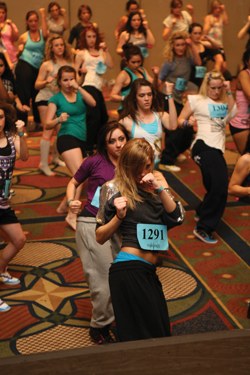 Dancers show off their moves at The PULSE On Tour.
Opportunities Await 
It's true that there are a lot of benefits to attending various cities in one season—beyond scholarships and titles. "You'll have more opportunities to make connections and establish relationships with artists early on," Adams says. "Conventions are a great pool for faculty to pull from when they need dancers."
Adams also feels they're a great place to be inspired. "Each weekend you can dance with and learn from a different group of talented people," she says. Adds Madi: "The dancers are so different in each city—they inspire me and make me grow. If I see someone who's especially amazing in jazz or ballet, I want to take what they have and use it to become better."
According to Adams, traveling to multiple cities is a great way for dancers to prepare for the professional dance world, even if they're learning the same combination in every city. "Each weekend dancers are exposed to a lot of material," Adams says. "Sometimes we're quick to want new combos instead of investigating and working through the material we're given. But in a professional setting, you're often working with the same choreography for months."
Consider the Consequences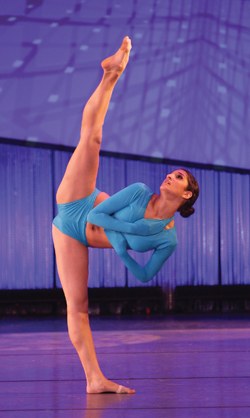 Ida Saki won NYCDA's National Outstanding Dancer title in 2009 after attending just one regional competition. (ProPix)
While Gil Stroming, owner of Break the Floor Productions (the parent company of JUMP, NUVO and The Dance Awards), agrees that traveling to several cities will help teachers get to know you better, he feels the time spent in your studio back home is crucial. "I don't encourage dancers to come to more than two cities each season," he says. "I'm a firm believer that good, consistent training at your studio is more important than convention hopping." He's seen many dancers leave their studios—or spend less time there—because they feel conventions are better training. "In my experience, the dancers who leave the studio that made them great tend to end up worse off," Stroming says. Wolverton, too, warns of the effect this trend can have on your overall training. "Dancers need to take class from as many people as possible, and conventions are inspirational in that way," she says. "But you still need a home studio you can come back to for your everyday training—especially ballet classes during the week."
If a heavy travel schedule is something you're considering, you also need to sit down with your parents and decide if it's a financially smart decision. Convention registration fees alone run up to $250, and that doesn't include competition fees, hotel costs, transportation or food. Wolverton feels the money could be better distributed. "Go to a good summer program, or travel to L.A. or NYC to take classes," she says.
It's also important to take into account the emotional and physical stress traveling and dancing all weekend, every weekend, can put on your body. "You have to realize how exhausting it can get," says Madi, who attends Booker T. Washington High School for the Performing and Visual Arts during the week. "When I first started touring with NYCDA, I thought I wanted to go to every city, but if you're in school and dancing at a studio, it can be tough." It's been a give-and-take situation for Madi. Because she was away from home most weekends, she was unable to dance in some of her school's showcases and didn't get to perform in The Nutcracker with her studio this year. But she says it's been worth it and plans to continue to frequent the convention scene in the coming season. "I want to be in my school's repertoire company, and I would like to compete," she says. "But my main focus will be going to multiple conventions—a lot of NYCDA cities, NUVO, JUMP and other conventions. I want to take from new teachers."
In the end, the decision to attend multiple cities with a single convention is one only you and your family can make. Conventions are a great opportunity to train with working professionals, but you have to choose the kind of role you want them to play in your training.
Dance Spirit
has teamed up with health and nutrition expert Caroline Lewis-Jones to bring you advice about how to keep your bod in tip-top shape. Caroline is a seasoned performer (she's danced with *NSYNC, Britney Spears, Mia Michaels, Dee Caspary and many more!), a certified holistic health coach and a personal trainer—plus she's currently teaching for Adrenaline conventions. This month, Caroline explains how you can eat healthy during jam-packed convention weekends.
—Michael Anne Bailey

Caroline says: "Every weekend at conventions, I see dancers eating fast food, pizza and entire boxes of cereal. Come on dancers: Do yourself a favor and bring a cooler! You need to fuel your body and mind with nutrient-dense, whole foods for optimum energy. Here are some of the foods I love to pack before heading to convention."
Baked sweet potatoes (Cook them Thursday night, and then pack them for the weekend.)
Plain, low-fat Greek yogurt with almonds, flax seeds and berries
A sandwich-sized bag filled with whole-grain cereal (I love Kashi GOLEAN Crunch.)
Whole-wheat pasta tossed with some of your favorite veggies and marinara sauce (It tastes good cold!)
Whole-grain bread with almond or peanut butter and sliced bananas or apples on top (Sprinkle on some cinnamon for extra sweetness.)
A whole-wheat tortilla wrap filled with hummus, veggies and black beans
Raw almonds, walnuts, pecans and pistachios mixed with dried fruit
Single-serve hummus and pretzel packs (I love Sabra) and a bag of raw veggies for dipping
A container filled with your favorite fruits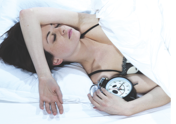 Choose to Snooze
According to a recent study at the University of Wisconsin—Madison, not getting enough sleep during your adolescent years does more than make you groggy. Researchers found that consistent sleep deprivation during your teen years may have long-lasting negative effects on the wiring of your brain. Yikes! According to the National Sleep Foundation, teens (ages 10–17) should be sleeping 8.5 to 9.25 hours each night. The next time you have an early morning rehearsal, get to bed early the night before and give your body the rest it needs. Your brain will thank you. —Michael Anne Bailey
Tanning Beds
It's January, you have a performance coming up and you're feeling pale and pasty.
The solution? Sunless tanning lotion—not the tanning salon. We've said it once (OK, maybe 10 times) and we'll say it again: tanning beds = danger. A new study published in
the Journal of Investigative Dermatology found that tanning beds might be causing even more harm than researchers originally thought. UVA1 rays (the kind most commonly used in tanning beds) penetrate a deeper layer of skin, making it more susceptible to the changes that cause skin cancer. Don't chance it. —MAB

Having a hard time remembering corrections from all of your various dance classes? Keep a dance journal. After each class, jot down any critiques your teacher gave you and review them before you take the class again.
Sign up for Caroline's free monthly wellness newsletter, here!
Sep. 16, 2009 12:02PM EST
Cabaret—Ooh, La, La!
Dancers dripping in bling brought sass to the stage! We saw sparkly bra-tops, corsets, fishnets and fringe, which are all reminiscent of the flapper style.
"I don't like dancing in layers because I feel restricted. At my studio, we buy our own bras and cover them with material. They look really nice onstage, especially when they have a lot of diamonds!" — Madison Booth, 15, dancer at Elite Danceworx in Toronto, ON, CAN (far right)
"Slips are comfortable and easy to dance in. It doesn't feel like you're wearing a costume."— Kayla Troughton, 16 dancer at Elite Danceworx in Toronto, ON, CAN (center)
Mad for Plaid
Convention goers piled on scarves, socks, shorts, backpacks and button-downs in plaid patterns. Checks please!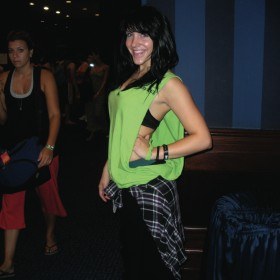 "At first I was like, 'why are dancers wearing scarves? It's 90 degrees in LA!' But the scarves are actually really thin and accent the rest of an outfit." —Shane Sparks, teacher at The PULSE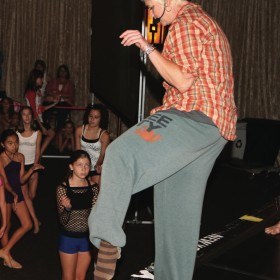 "All ages and levels were sporting plaid of some sort in classes at The PULSE on Tour this year. The most popular colors were yellow, red, purple, blue and black and white. We saw plaid button-down shirts, plaid shorts and dresses. I even saw a pair of red plaid shoes on one of the protégés in NYC. —April Cook, PR/Marketing Director at The PULSE
Femme and Fabulous
You got your girly-girl on and looked lovely in ruffles, lace, satin and pretty dresses.
"I'm wearing a vintage dress from the 50s. It's very housewife-esque: innocent and put together." —Danna Rosenfield, 17, (right) dancer at Bobbie's School of Performing Arts in Newbury Park, CA
Heavy Metal
Metallic booty shorts, dresses, leggings, sneakers and even unitards made dancers shine—literally!
"I would totally wear this dress to a homecoming dance or a formal dinner." —Naja Lee, 15, (right) dancer at Premier One Dance Academy in Chicago, IL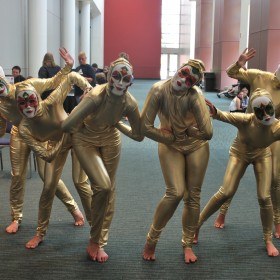 Each of these masks was hand-painted and customized for the dancers. Perhaps some competition for the JabbaWockeeZ?
Partnering
This year choreographers gave a nod to "So You Think You Can Dance" by adding partnering to their routines. We saw it in every style from ballet to hip hop.
"We do a lot of interesting lifts in this dance. Some people are in ballet slippers and some are in pointe shoes. It's modern ballet, and it's scary." —Kaylie Pearson from Excite Dance Company in Flower Mound, TX, on her Dracula-themed ballet routine
Breaking The Mold
Many studios played on the idea of high school stereotypes, from the popular clique to the geeks.
The dancers from Southwest School of Dance in Marshall, MN, are not friends until the end of the number when they flip their signs to show real names, indicating that they've broken down barriers. Their routine was titled "Labels" and they danced to Citizen Cope's "Let the Drummer Kick."
"Everyone is waiting on the world to change, but we're the ones to change it, and we're doing that through dance." —Fenton Fulgham, co-owner and choreographer at Revelation Dance Studio in Plano, TX, on his production number to John Mayer's "Waiting on the World to Change" about high school cliques
"This year, I've noticed a lot of novelty and character pieces, like 'Ring Them Bells' and 'Speaking French.' It's all about musical theater." —Amber Skipps from South Coast Performing Arts in Tustin, CA
"Every team brought its own individuality this year from the music to the choreography. We saw a lot of variety. The one thing that all the teams had in common was amazing choreographers and dancers with strong work ethics. Every team really pushed to the limit." —Rodney Chester, Trio Talent Agency, judge at LA Dance Magic
"What's been really big this year is that contemporary is totally outshining the other styles due to 'So You Think You Can Dance.' The tricks are now more than just kicks and turns. Teams are watching the moves on TV and making them their own. We've also seen a lot of lyrical hip-hop, probably thanks to Tabitha and Napoleon D'umo." —Harmony Flores from Dance & Cheer Stars in Manteca, CA
"We're seeing real contemporary, not just flopping around and falling on the floor. Choreographers are telling a story rather than just creating steps. The music editing has also improved greatly this year." —Rustin Matthews, judge at Hollywood Vibe
"Ever since 'So You Think You Can Dance,' I've noticed people are choreographing to slow songs and incorporating themed choreography. Themes make you want to pay attention. I'm very theme-oriented. I can't just get up there and do moves because moves don't mean anything. This is something that I hope people start catching on to, so that at the end of a piece people are like, 'I really felt that.'" —Shane Sparks, teacher at The PULSE
The songs of the season: "Halo" by Beyoncé, "The Garden" by Mirah, "Gravity" by Sara Bareilles, "Breakable" by Ingrid Michaelson, "Putting on the Ritz" by Irving Berlin, "Cell Block Tango" from Chicago, "When I Grow Up" by the Pussycat Dolls, "Rock This Party" by Bob Sinclair, "Mercy" by Duffy, "Slow Dancing in a Burning Room" by John Mayer, "Lost" by Anouk, "Thoroughly Modern Millie" from Thoroughly Modern Millie, "Ring Them Bells" by Bob Dylan, "Be Our Guest" from Broadway's Beauty and the Beast, "Cabaret" from Cabaret, "Whatever Lola Wants" from Damn Yankees, "Closer" by Ne-Yo, "Shy" from Once Upon a Mattress," "Celebration" by Kool & the Gang, "Boogie Shoes" by KC and the Sunshine Band, "Single Ladies (Put A Ring On It) " by "Beyoncé, "Uptown Girl" by Billy Joel," "Boom Boom Pow" by Black Eyed Peas, "Cool" from West Side Story, "Peanut Butter Jelly Time" by Buckwheat Boyz, "Innocence" by Bjork, "Champagne Supernova" by Angie Aparo, "Grace" by Kate Havnevik, "Feeling Good" by Michael Bublé...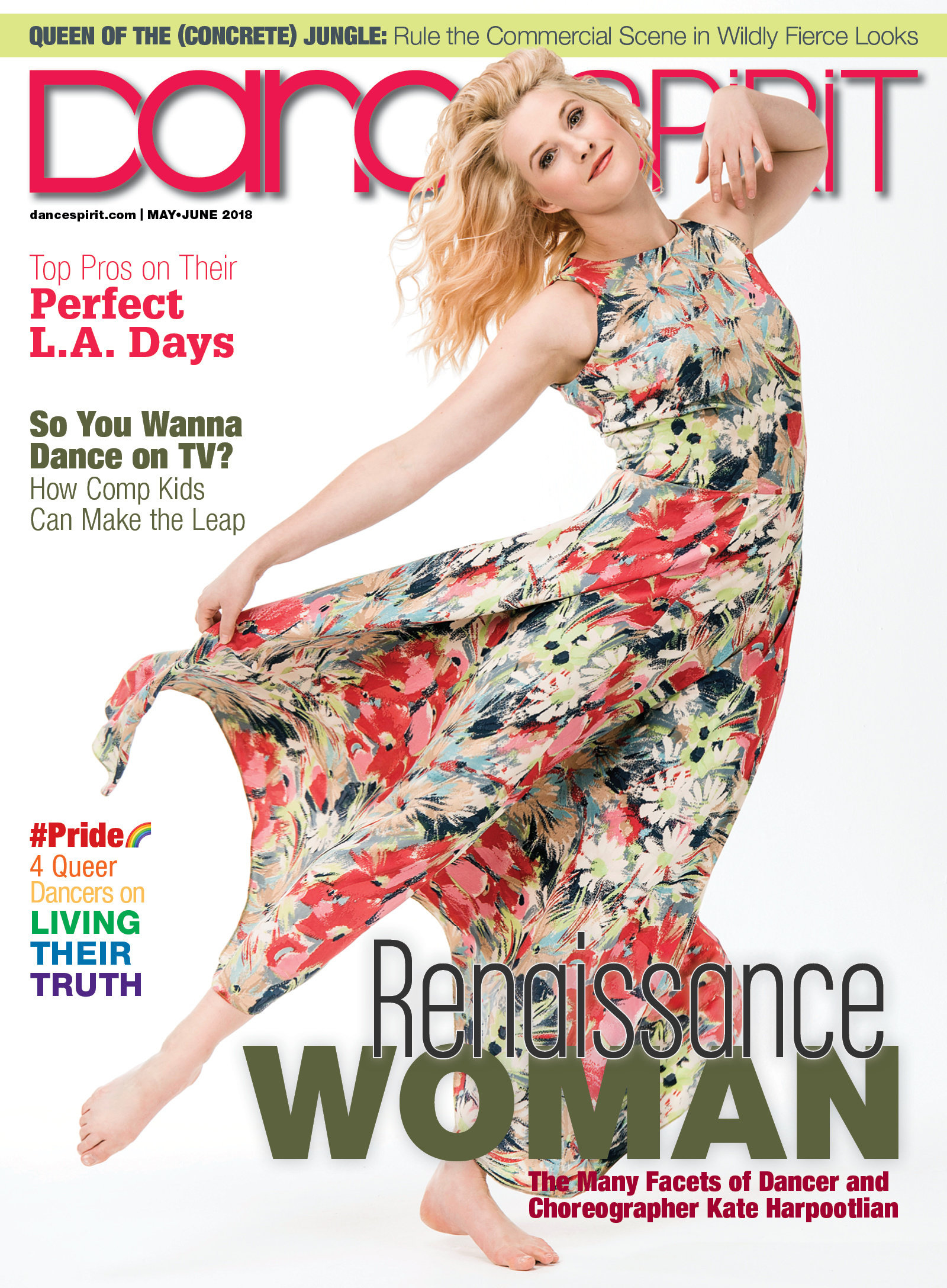 Get Dance Spirit in your inbox