Breaking news, Broadway babies! The Cats revival casting has finally been announced—and it's a fabulous who's who list of major dance celebs.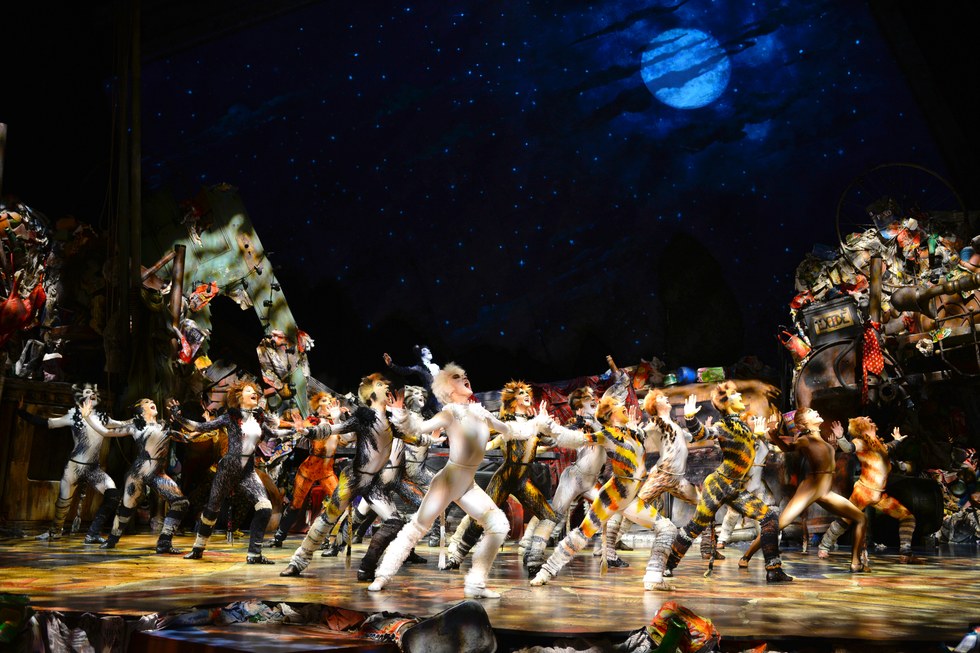 The London Cats revival (courtesy DKC/O&M)
Leading the way is the amazing Ricky Ubeda as Mr. Mistoffelees. The "So You Think You Can Dance" Season 11 winner is no Great White Way newbie: He made his official Broadway debut last year, when he joined the ensemble of On The Town. But it is his first time playing a major role—and showing off his singing chops solo!
The list also includes other On The Town alums: New York City Ballet soloist Georgina Pazcoguin as Victoria (aka the super graceful "white cat"), and Jess LeProtto (also of Newsies and "So You Think You Can Dance") as the mischievous Mungojerrie.
Other highlights? Shonica Gooden—fresh off her Hamilton run—will play Rumpleteazer; New York City Dance Alliance all-star Kolton Krouse will make his Broadway debut as Tumblebrutus; and fellow NYCDA kid Corey Snide, a Juilliard grad who was one of Billy Elliot's Billys, will play Coricopat.
One thing's for certain: This cast of A-list dancers + Andy Blankenbuehler's choreo is sure to = Broadway gold. The production officially opens July 31. Get your tickets now, and check out the full casting list here.
Oh my goodness, you guys: What a crazy, jam-packed, INCREDIBLE week it's been here in NYC! New York City Dance Alliance finished up its Nationals last night with an epic closing gala, capping off nine days of workshop classes and competition. And talk about talent! I'm still kind of overwhelmed by all of the amazing dancers—many of them familiar faces. Here are some of my top moments from NYCDA Nationals.
-First of all, you guys already know that the NYCDA faculty lineup is fantastic. Tony Testa? Melissa Hough? Chloe Arnold? Taja Riley? Andy Blankenbuehler? Dana Wilson? Joey Dowling? Cindy Salgado? Insanity—and those are just the people who were sitting directly in front of me at the gala last night. I loved seeing them cheer on each and every one of the competitors. I especially liked watching ballerina Hough as she relished the ballet dancers—like last year's National Mini Female Outstanding Dancer, Jasmine Cruz—and I had fun looking on as hoofer Arnold got way into some of the tap performances. (Also: Everyone on faculty is ridiculously stylish. Goodness, do I wish I could pull off a crop top like Arnold, or a trumpet ballgown like Dowling.)
-As for the dancers: There were so, so many standouts! I'm having a hard time narrowing down my list. But I especially loved the ones who thought just as much about what they were conveying as how they were conveying it—who gave equal weight to artistry and technique. Mini Female OD finalist Tate McRae paired gorgeous ballet training with a powerful, emotive onstage presence. Teen Female OD winner (congrats!) Jacalyn Tatro wowed with both her incisive legwork and her smoldering, sultry demeanor—she dared you to look away. Two of our Cover Model Search finalists, Christina Ricucci and Sarah Pippin, gave super-strong performances in the Teen Female OD and Senior Female OD categories, respectively (both made the top four!). And tiny tapper Luke Spring showed off not just incredibly fleet feet, but also irresistible charisma in his solo to Michael Jackson's "Dangerous." He earned the National Male Mini OD title—and a comparison, by director Joe Lanteri, to one Mr. Corey Snide, who won his own Mini OD title 10 years ago doing a tap routine to Jackson's "Bad." It was almost too perfect.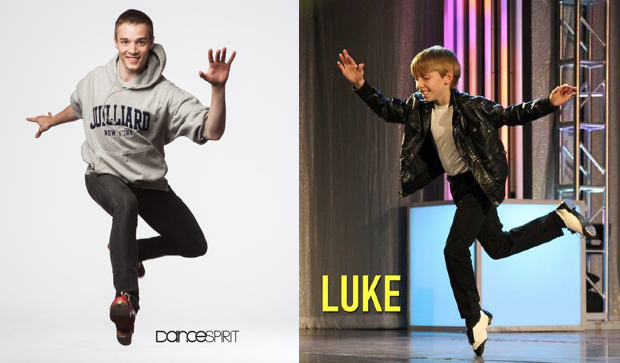 Twinning! (Left) 2004 National Mini Male OD Corey Snide, now a student at The Juilliard School, and (right) National Mini Male OD Luke Spring (left photo by Erin Baiano; right via NYCDA)
-As for the group routines: I love me some drama, but I have to say that my favorite numbers were the upbeat, hard-hitting ones, rather than the angstiest of the angsty. I was totally blown away by the take-no-prisoners ferocity (and the impressive unison) of the Westlake School for the Performing Arts dancers in their Teen group piece, "Royals."
-Let's talk about the college scholarships awarded at NYCDA this week, shall we? I was lucky enough to be part of the college scholarship audition process, so I can say from firsthand experience that the pool of college hopefuls impressed not just with their technique, but also with their eagerness and professionalism. Between NYCDA's college partners—which included the likes of Marymount Manhattan College, Point Park University and PACE University—and the NYC Dance Alliance Foundation, more than $4 million in scholarships were given to more than 50 deserving dancers. $4 million! That's a new record for NYCDA, and kind of a mind-boggling number.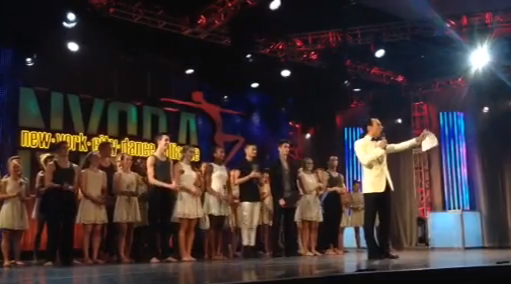 Lanteri onstage with all the scholarship winners (photo via NYCDA)
-Last but not least: NYCDA turned 20 this year! Naturally, they put together an adorable birthday video for the junior gala. But what really touched me was the number of NYCDA alums and former faculty who came out to celebrate the milestone. As Lanteri said last night, NYCDA is a real family—and once you're in, you're a member for life.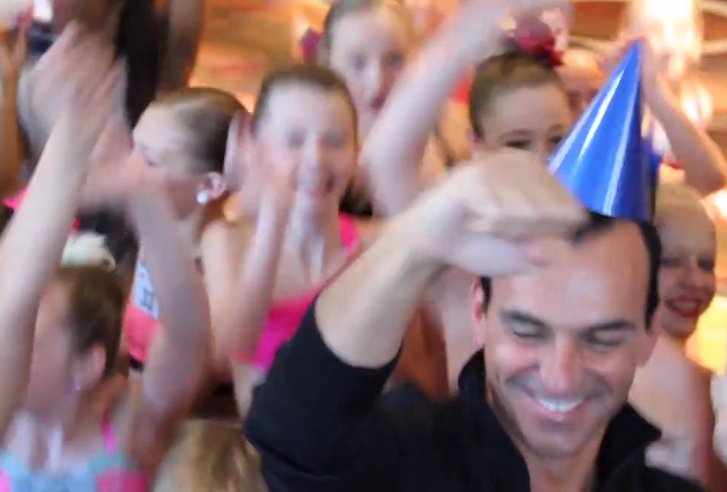 Few things make me as happy as Joe Lanteri in a party hat.
I remember my audition for Juilliard like it was yesterday. I can tell you which leotard I wore, where I stood at the barre—and that I didn't make it past the first cut.
I bring this up for two reasons:
1. It's college admissions season, when high school seniors anxiously await envelopes containing options and decisions surrounding their future. It's a terrifying time of year, and one that can be extremely exciting and heart-wrenching at the same time.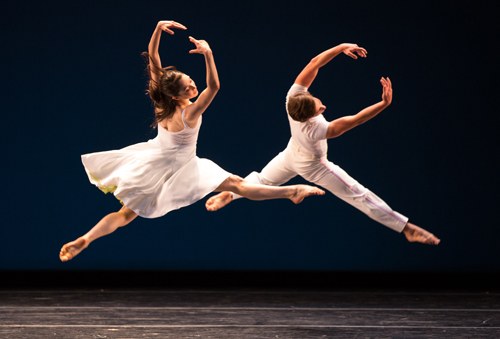 Juilliard students Daphne Fernberger and Lorrin Brubaker in Lar Lubovitch's Concerto Six Twenty-Two. Photo by Rosalie O'Connor
2. Juilliard's dance department celebrated another successful spring performance run this past weekend. Their sophomore, junior and senior dancers excelled in a repertory smorgasbord: Twyla Tharp's Baker's Dozen, Lar Lubovitch's Concerto Six Twenty-Two and Eliot Feld's The Jig Is Up. It was easy to forget the dancers were students and not professionals the way they tackled Tharp's wiggly phrasing and Lubovitch's flowing, expansive movement.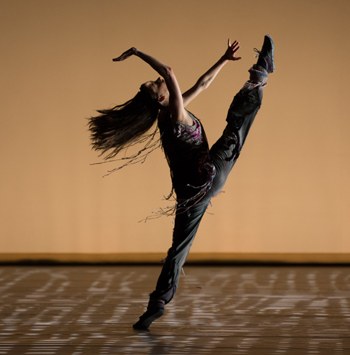 Juilliard's Kristina Bentz in Eliot Feld's The Jig Is Up.
Photo by Rosalie O'Connor
On Friday night, Dance Spirit's very own September 2013 cover guy (and Juilliard junior) Corey John Snide shimmied his way through Feld's quirky mix of Irish-jig-meets-Soul Train-meets-flower-child choreography.
While watching The Jig Is Up, I remembered one of Corey's quotes from the feature: "College has given me options for how I can make a living and feel fulfilled artistically. I'm not just trying to kick my leg up to my face anymore." He captures exactly what college dance has to offer. It's the time to explore everything we love—and don't love—about dance. It's awesome.
Choosing a school, however, is not always as awesome, or easy. When I was rejected from Juilliard, I was definitely disappointed in myself. But as they say, hindsight is 20-20, and I know now my reasons for choosing to audition there in the first place weren't exactly grounded. I didn't know Juilliard's rich history; I'd never seen a performance there; and I had no idea of which company I dreamed of joining after graduation. I hadn't considered what I truly wanted out of a dance education, compared to what the school—or any school for that matter—actually offered.
All classic mistakes.
But Dance Spirit is here to help. Check out "University of NYC" to find out what school in The Big Apple is really like. "Streamline Your College Search" offers countless tips to help you target your dream dance program. And look in your April issue for "I Have No Idea What I Want to Do After High School!" where you'll hear from five professional dancers about how they chose their paths—some heading to college and others directly to a career.
Want more? Sign up for the DanceU101 monthly newsletter to get program news and the "Real Deal" from college dance students delivered right to your inbox.
When I find out there is a video on the internet featuring Jakob Karr that I somehow haven't seen, my day is immediately halted. Must. Watch. Jakob.
Choreographer Lauren Adams recently released a new project she had been working on (and hinting at heavily on Facebook!). A project including Jakob Karrrrrrr!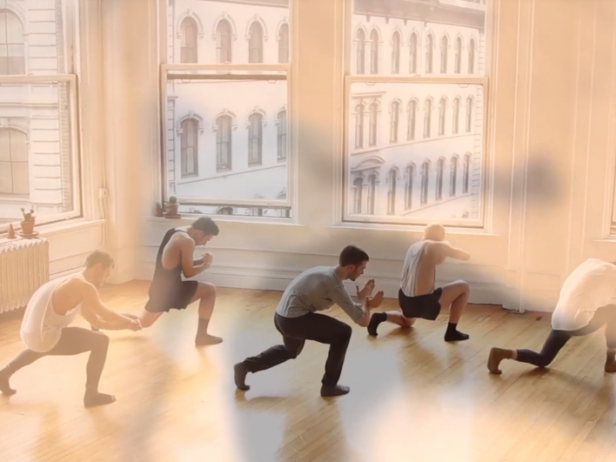 A shot from "Angel(s) on Fire"
But not just Jakob Karr. Also a whole handful of other awesome, strapping men: Jason Parsons (the bald, mysterious one), Joey Arrigo (the comp kid turned technical whiz), Corey Snide (the tapper who can also do everything else well, too), Austin Goodwin (the scruffy, captivating redhead) and Danny Tidwell (no intro needed, am I right?).
Adams directed and produced this piece, called "Angel(s) on Fire," and I keep watching it because there's so much to see. The video was filmed and edited by Allison Schultz, who does an incredible job shooting from crazy angles and layering the shots throughout the four-minute routine.
So yes, I have this love thing (from afar, of course) going on for Jakob, but I actually found myself most drawn to Corey Snide as I watched the "angels" in action. Corey, weren't you, like, just New York City Dance Alliance's Mini Oustanding Dancer? (You may also recognize Corey from our September 2013 cover—he's a Juilliard man now!)
The choreography seamlessly blends contemporary elements with tap-like movements, a boxing series and the guys playing with feathers.
Click here to watch "Angel(s) on Fire." I think you're going to like it.
Sep. 01, 2013 11:56PM EST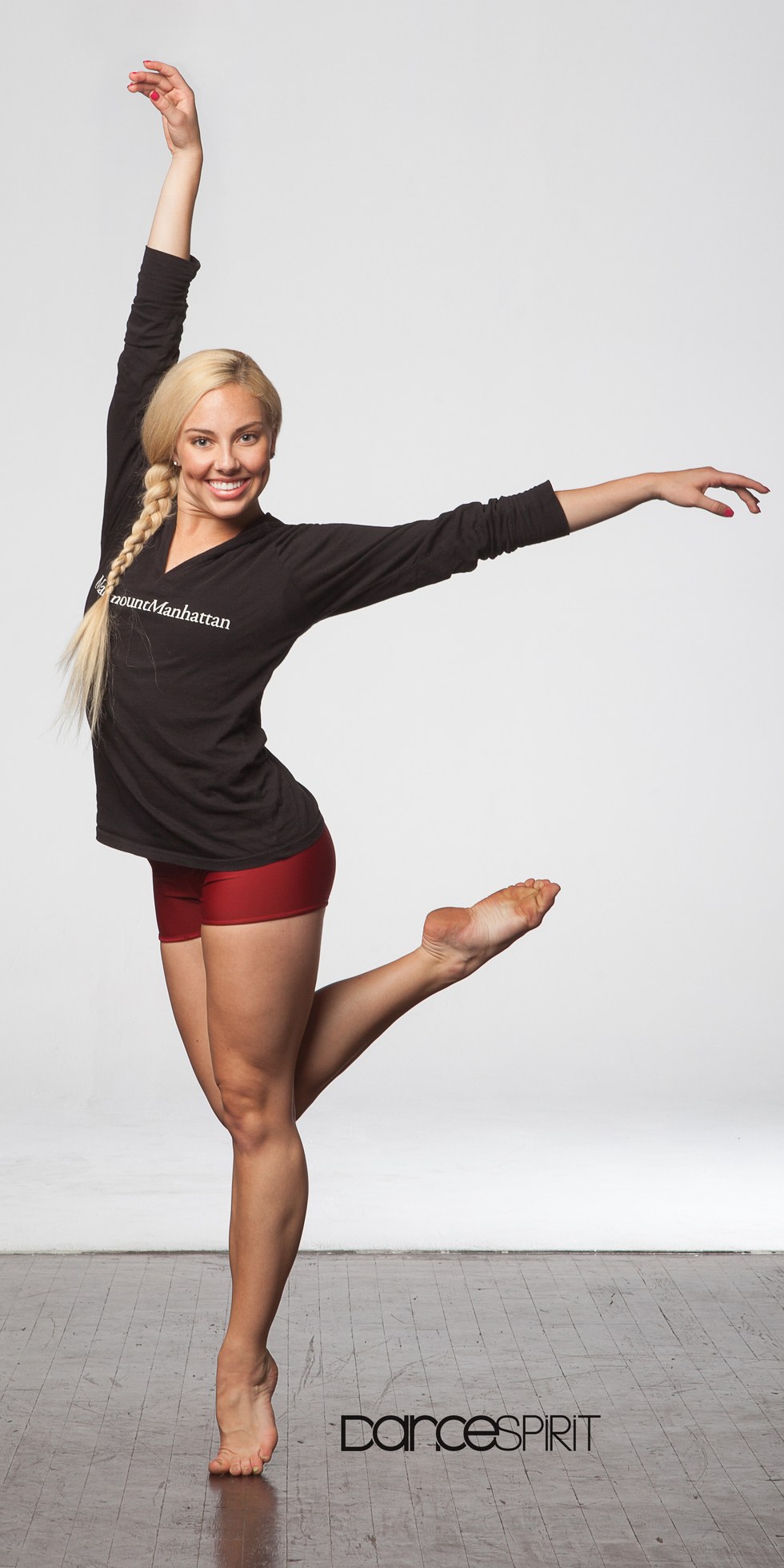 "When I came here, I was like, 'Have I ever danced before?' There was so much to learn, I felt like I didn't know anything." —Zoey Anderson, junior, Marymount Manhattan College (Photo by Erin Baiano)
My first Friday night at New York University, two second-year dance majors had some of us freshmen follow them through SoHo to a tiny triangular street corner. There was nothing there but a one-story building that looked ready for a demolition crew. I didn't know where we were or why. Then Savion Glover climbed onto the roof. He began tapping like a crazy man angry at his shoes—and my new classmates and I completely geeked out. Savion was jamming on a rooftop! For free! Just blocks from our school! Living in NYC was going to be awesome.
Some of the best college dance departments are located smack in the middle of the Big Apple, and for good reason. "If you want to immerse yourself in the center of the field, where the newest ideas about dance are being formed, where the best artists are practicing, where you can see a different show every night, NYC is the place to be," says James Martin, an associate arts professor in NYU's Tisch School of the Arts dance department. But going to college for dance in NYC is kind of like the Disneyland version of being a professional dancer in the big city: It's a larger-than-life experience and a much less risky option than arriving on 42nd Street with nothing but your resumé and dance shoes.
Not Your Normal Campus 
The first clues that NYC dance departments are unusual are the faces around the studio. These schools pluck the best of the best right out of the Big Apple dance scene: Allegra Kent teaches at Columbia University's Barnard College; Joe Lanteri is on faculty at The Juilliard School; and the dancers in the Ailey/Fordham BFA Program take class from a whole host of A-list instructors at The Ailey School. (Some students even have Alvin Ailey American Dance Theater company members as their mentors, which means you might find Alicia Graf Mack hanging around the dorms!)
Yes, colleges everywhere bring in high-profile adjuncts and guest artists. But NYC schools can do it more often because those people live just a few subway stops away. "Last year, Larry Keigwin, Chase Brock, Pascal Rioult and Pam Tanowitz set work on us," says Marymount Manhattan College junior Zoey Anderson. "These are big-time choreographers you want to know. We get to learn their movement and make a real connection with them." Some schools, including NYU, invite entire NYC-based companies for weeklong teaching residencies. Students meet not just the director but also the dancers, and start to build a network of industry professionals. "Seeing what these companies go through on a daily basis better prepares students for professional life," says Martin. "They know what's going to be expected of them."
And NYC's resources don't end there. Choreography and dance-writing courses might integrate local dance performances into the syllabus; dance-history classes can take students to museums or the New York Public Library for the Performing Arts. Through Juilliard's Educational Outreach programs, junior Corey John Snide has honed his performing and teaching skills in public schools. "It's not like I'm in a campus in the middle of nowhere," he says. "Juilliard is my gateway to NYC."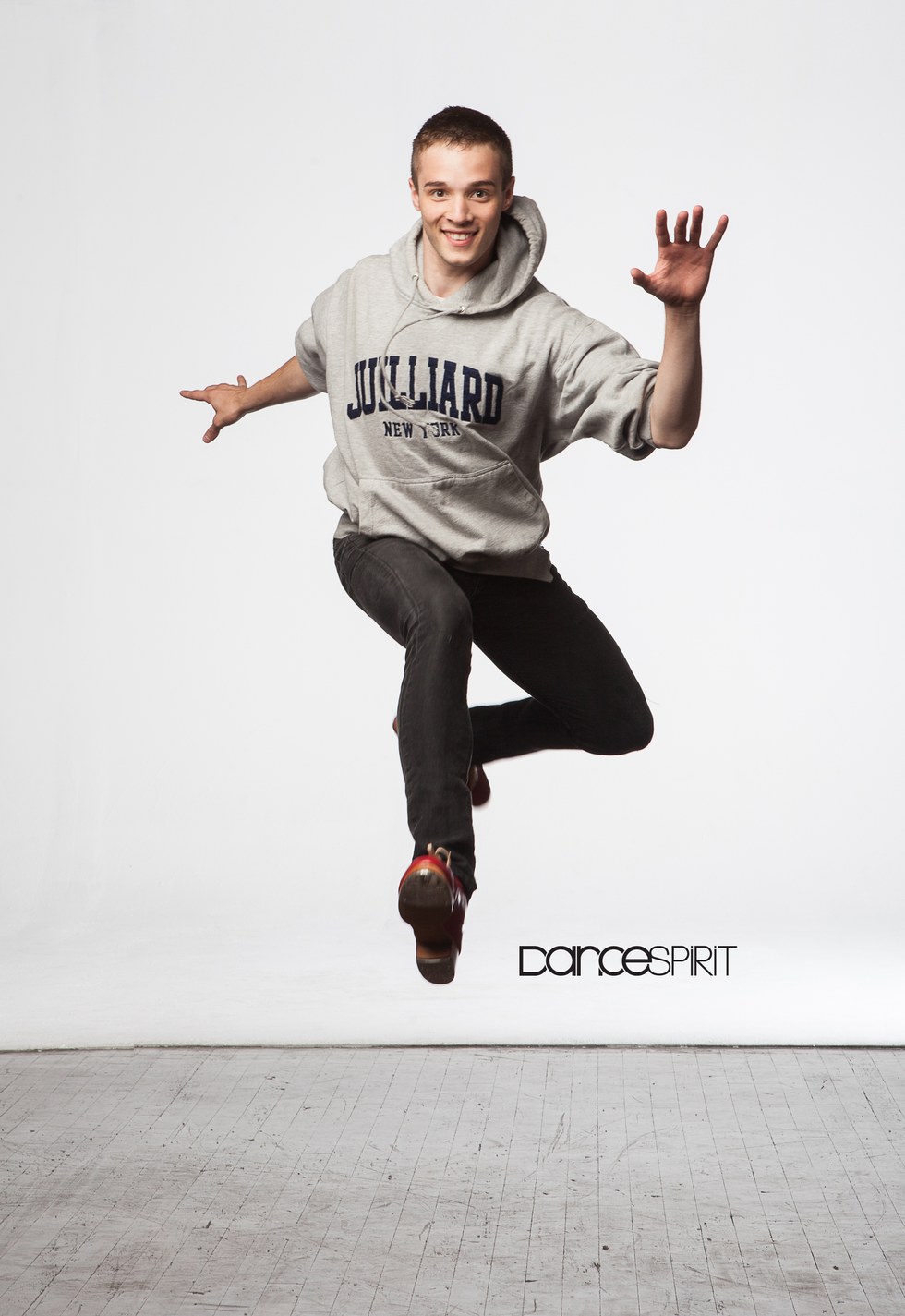 "I see as many performances as I can afford to. I've learned so much about what I like—and don't like—and where I might want to dance in the future." —Corey John Snide, junior, The Juilliard School (Photo by Erin Baiano)
Make Your Own Curriculum
In NYC, one of the best parts of going to school is leaving school. You can head to Broadway Dance Center to take the hip-hop classes your program doesn't offer, or load up on ballet at Steps on Broadway. (Just try not to gawk when you end up next to Wendy Whelan at the barre.) "I've been able to keep up my ballroom dancing and to take classes with people like David Parsons so I can learn his style before it's time to audition," says Zoey. Some classes can even take the place of an audition: After taking choreographer Marinda Davis' class at Peridance Capezio Center in 2011, Zoey performed with Davis in showcases around the city.
In addition to dancing, you can build your practical skill sets—and get an insider's peek behind the scenes. NYC college students' resumés might boast internships with The PULSE On Tour, American Ballet Theatre and Dance Spirit!
Intro to the Concrete Jungle
Moving to NYC can be overwhelming, even for people who love bright lights and bustling streets. But dancers who start off their big-city experiences in college have the support of a smaller community while they find their footing. "I'm so grateful to have a structured schedule set up for me, rather than just randomly picking up a class here and there," says Zoey. A college dance department helps guide dancers so they know where to find rehearsal space, how to set up auditions and what resources are available.
Being a student also hooks you up with all-important student deals. "Our teachers always have extra free tickets to see Ailey," says Ailey/Fordham sophomore Courtney Celeste Spears. "We also got to see Armitage Gone! Dance—and because it was through school, we met the choreographer, Karole Armitage." College classes may force you to see shows you wouldn't attend on your own—and possibly discover a company or new style you love.
The biggest perk for many dance majors is the chance to attend auditions while they're still in school, rather than waiting until after graduation. Fordham students, for example, are allowed to use professional experiences as credit toward their degrees starting junior year. And Juilliard even helps dancers network so they can be invited to auditions. Corey made it to the final round for Newsies last year, but decided to focus on school instead.
The kinds of auditions students go for might change over the course of their four years. "Being here has opened my eyes to possibilities that I didn't know about," says Courtney. She's not alone: The early exposure to NYC's dance scene often leaves students with entirely different goals than the ones they arrived with as freshmen. "Growing up, it was always just, 'I want to be famous,' " says Corey. "But I've realized I love teaching, and I want to use dance to help impoverished kids. College has given me options for how I can make a living and feel fulfilled artistically. I'm not just trying to kick my leg up to my face anymore."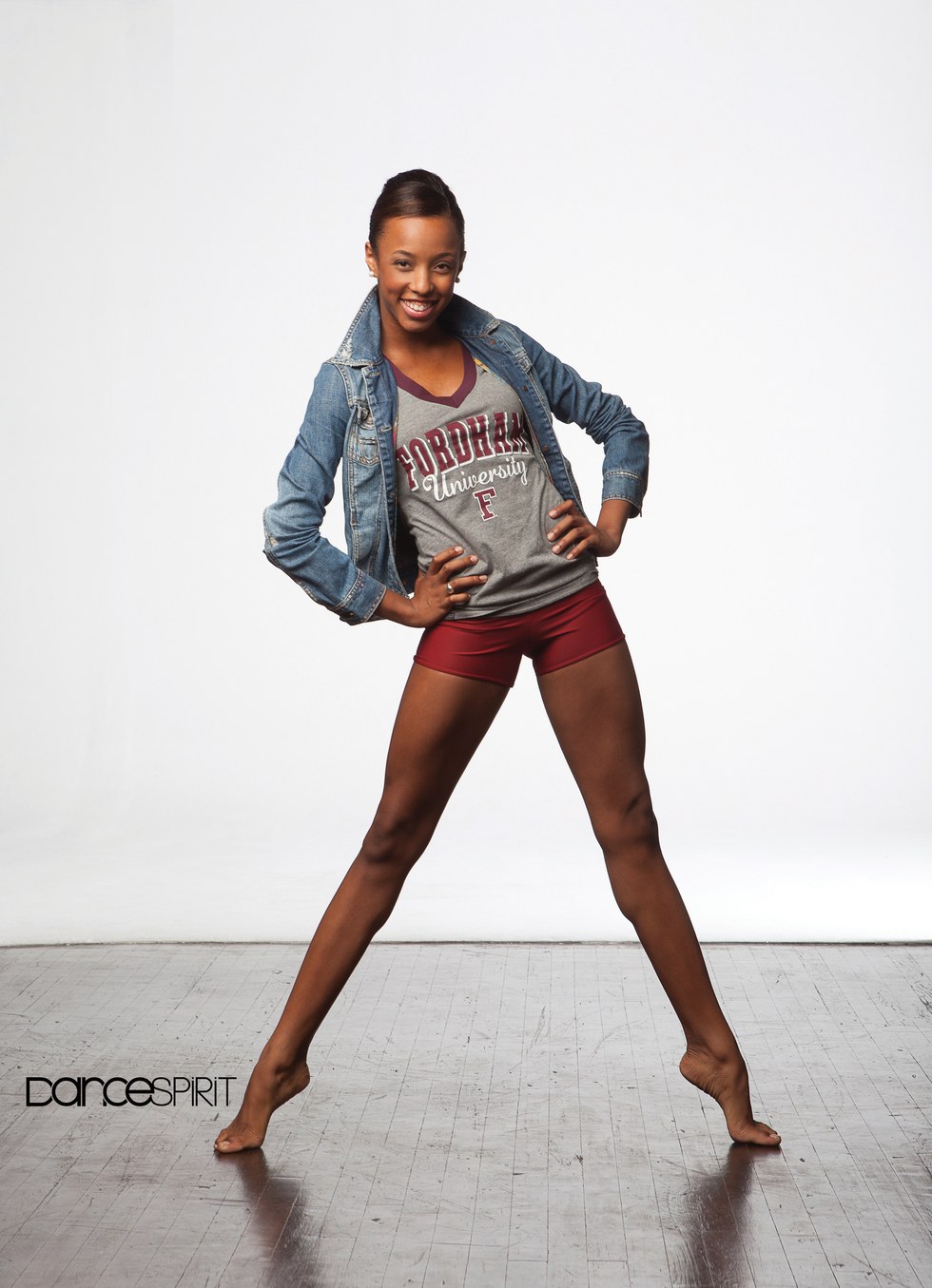 "I wanted to be in the middle of everything—see it all and be in it all—and surround myself with dancers who are just as driven as I am." —Courtney Celeste Spears, sophomore, Ailey/Fordham BFA Program (Photo by Erin Baiano)
Is NYC Right for You? 
Despite the unique advantages of dancing in NYC, going to college there means sacrificing many of the typical cornerstones of campus life. If you're looking for grassy quads, a big Greek culture or major sports teams to root for, NYC schools will be a disappointment.
And not every teenager is ready for the pressure or intense pace of day-to-day life in Manhattan. "Some students get overwhelmed and withdraw, and it's something that wouldn't have happened if they were in a different environment," says NYU Tisch School of the Arts associate professor James Martin. "If you need more time to find your confidence—and many artists do—New York can be hard."
It can also be distracting. Between the shopping, the nightlife and the entertainment, fun times are always just around the corner. Dancers have to resist the temptation to blow off classes or rehearsals for that party or film premiere.
For Courtney Celeste Spears, a sophomore in the Ailey/Fordham BFA Program who came from a small town outside Baltimore, the hardest part was not letting the amount of competition in NYC intimidate her. "It's easy to look at it and think, 'The odds are not in my favor,' " she says. Or you can take the approach that she's learned over the past year: "I use the competitiveness to help drive me more than I ever knew was possible."
The Stats
Ailey/Fordham BFA Program
Degree offered: BFA in dance
Number of applicants: 422 in 2013
Number accepted: 55 admitted and 29 enrolled in 2013
Focus: Core classes include ballet, Horton and Graham-based modern.
Location: Lincoln Center and Ailey's Hell's Kitchen headquarters
Training ground: Six current members of Alvin Ailey American Dance Theater came through the BFA program.
Notable alumni: Courtney Henry of Alonzo King LINES Ballet, Jacqueline Burnett of Hubbard Street Dance Chicago, Victoria Andrea Guajardo of MOMIX
Barnard College, Columbia University
Degrees offered: BA, minor or concentration in dance
Number of applicants: There is no separate dance department application or audition. 5,606 students applied to Barnard's incoming class.
Number in department: 36 majors and 12 minors
Focus: Emphasizes the intellectual and cultural exploration of
dance in a liberal arts setting
Location: Morningside Heights
Sister theater: The department partners with Bill T. Jones' New York Live Arts
Notable alumni: Michael Novak of Paul Taylor Dance Company, Jamie Scott of the Trisha Brown Dance Company, Anna Schon of Reggie Wilson/Fist & Heel Performance Group
The Juilliard School
Degrees offered: BFA, diploma in dance
Number of applicants: 550–600
Number accepted: 24 (12 men, 12 women) per year
Focus: Aims to produce contemporary dancers by training them equally in ballet and modern
Location: Lincoln Center
Subsidized summer travel: The summer grants program offers funding for student-driven outreach programs—anywhere from Cleveland to Kenya.
Notable alumni: Billy Bell of Cedar Lake Contemporary Ballet, Spenser Theberge of Nederlands Dans Theater 1, Frances Chiaverini of Morphoses
Marymount Manhattan College
Degrees offered: BFA or BA in dance
Number of applicants: 400 on average
Number accepted: 160 admitted; 75 enroll on average
Focus: Because the school emphasizes versatility, daily offerings include ballet, modern and jazz classes, plus tap, pointe or improv twice a week.
Location: Upper East Side
Scholarship help: More than 85 percent of MMC students receive some form of financial assistance.
Notable alumni: Jacob Michael Warren of Pilobolus' Shadowland, Abby Silva Gavezzoli of Parsons Dance
Pace University
Degree offered: BFA in commercial dance
Number of applicants: 207 in 2013
Number accepted: 57 admitted and 39 enrolled in 2013
Focus: Prepares dancers for professional work onstage, in television and in commercials
Location: Financial District
Showtime: Students have the opportunity to perform in over 50 departmental productions per year.
Notable alumni: Former Miss Teen USA Logan West; Miss Southern NY Madison Embrey; Megan Peterson of the Rockettes tour
Tisch School of the Arts, New York University
Degrees offered: BFA or MFA in dance
Number of applicants: 400–550 BFA candidates
Number accepted: 30
Focus: Trains students for careers in contemporary and classical dance
Location: Greenwich Village
In and out: The program is designed so undergrads can graduate in three years.
Notable alumni: Ian Robinson of Batsheva Dance Company, Christina Dooling of Complexions Contemporary Ballet, Jenn Freeman of Tayeh Dance
Apr. 23, 2013 11:03AM EST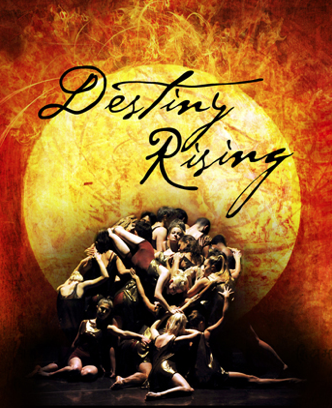 The annual Destiny Rising gala benefits the awesome New York City Dance Alliance Foundation, which is dedicated to helping young dancers fund their college educations. So how fitting is it that at last night's Destiny Rising performance, it was a college dance company that stole the show?
That would be the Conservatory Dance Company of Point Park University, which performed Garfield Lemonius' Memoirs. I have this terrible stereotype in my head of college dance groups doing sedate, solemn, stuffy pieces, but Memoirs allowed Point Park's beautiful dancers to show us the full range of their talents. Clad in flowing red dresses, the company's guys and girls tore through the intricate, emotionally wrenching choreography.
The best part? The cast included two of our favorite NYCDA alums, Kali Grinder and Victoria McWilliams, both recipients of NYCDA Foundation scholarships. And they were in top form. It looks like college has allowed them to both grow as dancers and mature as artists—and that's what the college dance experience is all about, Charlie Brown.
That's not to mention all of the evening's other fun performances. For the bunheads, there was the ABT Studio Company's exceptional Catherine Hurlin and Oliver Oguma in the kicky Flames of Paris pas de deux, followed by New York City Ballet's Brittany Pollack and Jonathan Stafford (real-life couple alert!) in the White Swan pas. For the contemporary buffs, there was Cedar Lake standout Jon Bond's lush The Devil Was Me, featuring several other CL dancers (including our baby-who's-all-grown-up-now, Ida Saki). And for everyone, there was Grace Buckley's gleeful Sing, Sing, Sing, starring the likes of Amber Jackson, Corey Snide, Ryan Steele and Jakob Karr. They dared us to stop smiling. I couldn't.
Want to find out more about the NYCDA Foundation and how you can apply for scholarships? Take a look at the organization's website.
Last night, DS assistant/fashion editor Michael Anne Bailey and I got all decked out —I wore jeans, actually, but she was decked out and looked super cute — to attend the New York City Dance Alliance Foundation's Destiny Rising show at The Joyce Theater in NYC.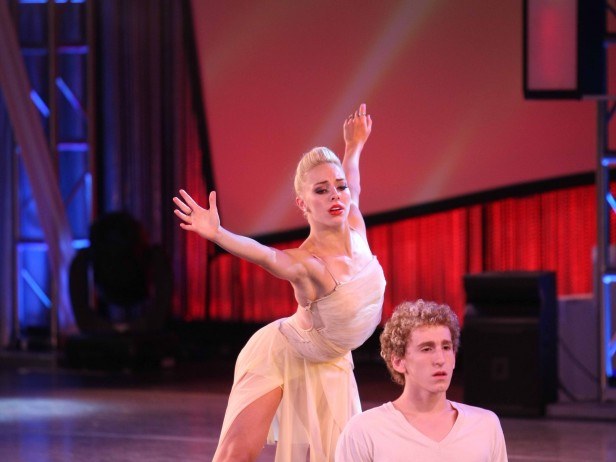 In honor of NYCDAF's first anniversary, last night's show boasted a star-studded roundup of choreographers and performers, many of whom are New York City Dance Alliance faculty and alumni (including New York City Ballet principals Tiler Peck and Robert Fairchild and Houston Ballet's Melissa Hough and Garrett Smith).
The people watching in the audience was, as with any NYCDA event, spectacular. But the real action happened onstage, and Michael and I are here to recap all the fun for you...
Alison: ‪OK, so last night we went to the New York City Dance Alliance Foundation's Destiny Rising show at The Joyce. How would you describe the night in one word?
Michael: ‪Progress. The foundation is really taking groundbreaking steps that will help young dancers get the training and education they need to be successful — not just in their 20s, but for the rest of their lives.‬
Alison: Totally. One of my favorite parts of the night was actually the video they played recapping some of the amazing scholarship opportunities NYCDAF has presented to dancers since its inception.‬
Michael: ‪I loved that, too! I actually got emotional watching it — I know the scholarships will change lives. We talk about the importance of formal education in DS all the time, but to hear Susan Jaffe speak‬ about how a lack of education initially held her back after an extremely successful dance career, really brought the issue home.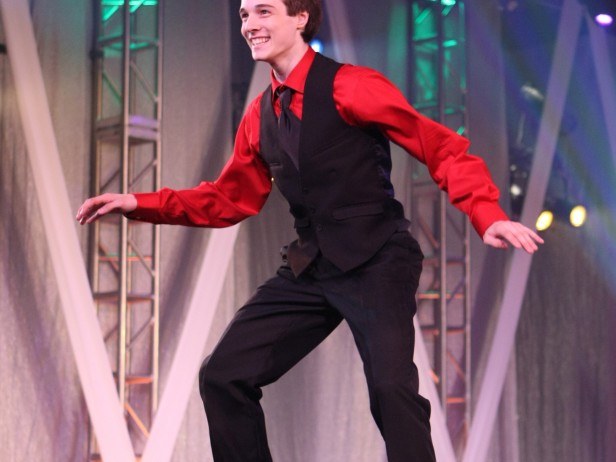 Alison: Yes! I love that she admitted that. And we got to hear from Corey Snide, who was the first-ever Astaire Award scholarship recipient. He's a freshman at The Juilliard School now, and he's flourishing there, thanks to NYCDAF.
Michael: ‪Let's talk about the dancing. Did you have a favorite number?
Alison: Catherine Hurlin!‬ I have always loved watching Catherine, and last night she performed a variation from Flames of Paris. She was just so sweet and easy to watch. That girl is a star, and I'm so glad she's getting awesome training at the Jacqueline Kennedy Onassis School at American Ballet Theatre.
Michael: ‪She was my husband's favorite! He kept talking about her performance all the way home
Alison: Here's the thing:‬ There were a ton of contemporary numbers last night. Lots of instrumental music. When Catherine came out in her bright-white tutu and flashed that giant smile of hers, it was just fun. It was a nice change of pace.
Michael: ‪I couldn't agree more. I was blown away by Melissa Hough and Garrett Smith from Houston Ballet. And when I realized that Garrett had choreographed the piece, I couldn't believe it! Her technique, passion, and dedication to the piece were unmatched.
Alison: I absolutely agree. Melissa Hough is another one of my favorites — all of my favorite dancers right now are ballet dancers who grew up on the comp scene. Go figure.‬
Michael: And it's so fun to see a ballerina in bare feet every once in awhile. Melissa Hough is so versatile, which I definitely think comes from growing up on the comp scene.‬
Alison: Camille A. Brown's piece was fantastic, too. She's hilarious, and even my boyfriend got into her solo.
Michael: I loved loved loved Camille A. Brown's piece. I had never seen her perform and was absolutely wowed. She draws you in like a true entertainer.
Alison: ‪What was particularly amazing about her performance was that we couldn't see her face the entire time, but she was still so expressive. Her hat was down over her eyes, but she didn't need to connect with the audience visually. Her movement spoke volumes. She's a really unique performer.
Michael: ‪I've never seen anything like it. And I would die to see it again!‬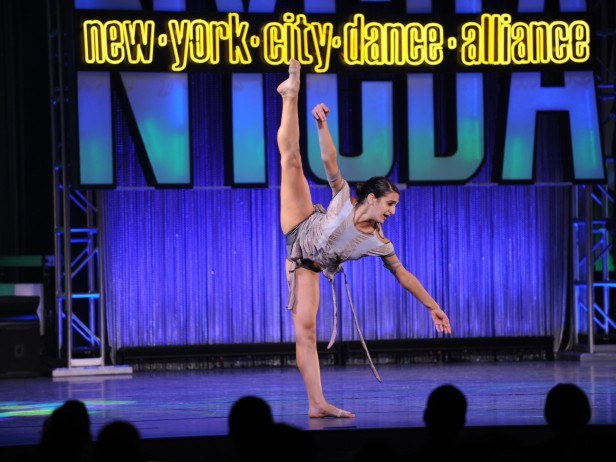 Alison: ‪So can we talk about how incredible our former Cover Model Search finalists were last night? Two of my favorite performers of the night: Ida Saki and Zoey Anderson. Those girls are insane.
Michael: ‪YES!!! It's so fun to see how much they've grown since attending Tisch (Ida) and Marymount Manhattan (Zoey). Zoey danced in a number with probably 30 other girls and I only watched her. Zoey has always been an outstanding performer, but now her movement quality and technique are becoming more and more flawless.
Alison: ‪Zoey is gorgeous. Absolutely stunning. And Marymount is working for her. She's grown a ton since we saw her for the CMS. I didn't love the number Ida was in, sadly — it just wasn't my style, and I wanted the show to kick off with something a little more upbeat — but the choreography really played to Ida's strengths.‬
Michael: ‪I agree. I'm a bit bored with most of the contemporary pieces I'm seeing lately. Everything is starting to look the same: the music, the choreography, the performance quality.‬
Alison: ‪Absolutely. Dear choreographers: We get it. We see what you're doing. We're ready for large group jazz numbers now! Love, DS‬
Michael: ‪Ha ha, just something new and innovative, please! I'm ready to be wowed again, and I know these choreographers are talented enough to do it! That said, I left last night with an even greater respect for the NYCDAF, Joe Lanteri and the dance community in general — young dancers are in good hands!‬
Alison: ‪Yes, at each event Joe's passion for the arts truly comes through. He knows each NYCDA kid by name, and that blows my mind. He knows which studio they're from, what the name of their solo is and where they're thinking about going to college. He's so invested in their futures, and as an audience member, it's a total pleasure to witness.
Michael: ‪I couldn't agree more. What a wonderful night it was.‬
Alison: ‪Have I mentioned I have a huge dance crush on Joe Lanteri? No? It's clear though, right?‬
Michael: ‪Ha ha, yes, Alison, we know. But I'm pretty sure it's a general Dance Spirit crush.
Alison: ‪On that note, thank you, Joe, for a wonderful night, and thank you Michael for being a great show-seeing partner.‬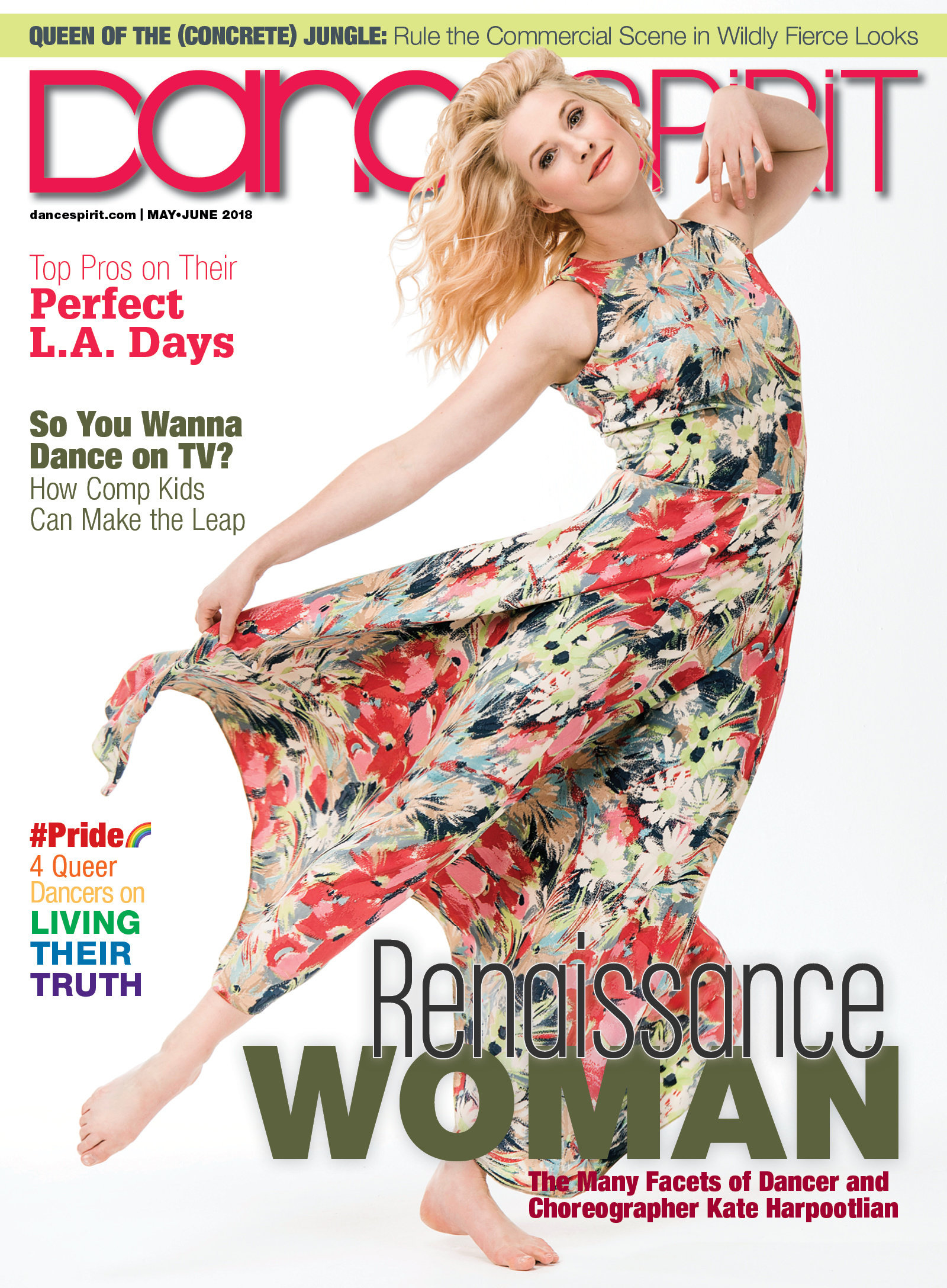 Get Dance Spirit in your inbox