@chloelukasiak via Instagram
Happy Halloween, dance friends! Wearing costumes is part of our job description, so when we get the chance to create our own, it's no surprise that we get a little #extra (in the best way, of course). Check out some of our favorite dancers' spooktacular ensembles.
Keep reading...
Show less
@sab_nyc via Instagram
Halloween is only a day away and that means its time to get serious about finding the perfect costume. A lot of you dancers need costumes that are both fun and functional so that you can go straight from the dance class to the streets, without missing a beat. Here are nine of the most creative, yet versatile ensembles that'll allow you to enjoy Halloween festivities without compromising your dance training.

Keep reading...
Show less
Mar. 23, 2017 01:31PM EST
There's nothing like an over-the-top costume to take a performance to the next level. An extreme look can help create a character, intensify choreography or maximize a dancer's beauty. But dramatic dance fashions—which might include anything from an epically huge skirt to an elaborate bead cape—can also be difficult to manage. Here, five dancers discuss the challenges and transformative aspects of their most out-there costumes.
Yuan Yuan Tan
Principal, San Francisco Ballet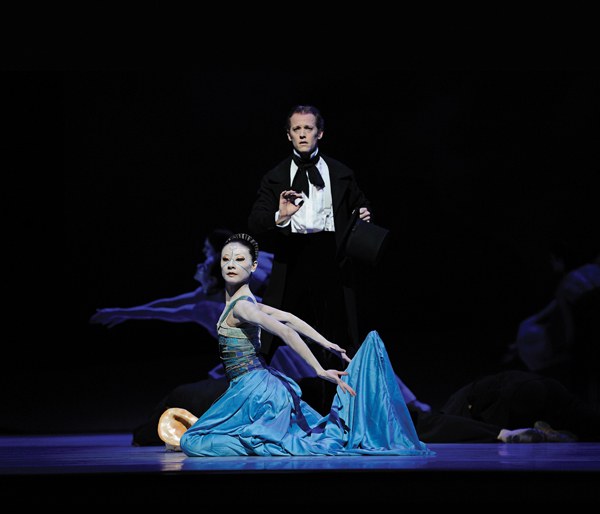 Tan and Lloyd Riggins in Neumeier's The Little Mermaid
(Photo by Erik Tomasson, courtesy San Francisco Ballet)
"My costume for the title role in John Neumeier's The Little Mermaid is definitely challenging. The 'tail'—which is actually a pair of extremely long pants—is very easy to trip on. Onstage, I have to be aware of how it might impact other people. But it's such an important element of the performance. In rehearsal, I worked very closely with Mr. Neumeier, whose direction gave me the courage to embrace the mermaid character and take it on fully. By the time I started working with the costume, I was already the mermaid mentally. Putting it on made my transformation complete. It added another layer to the character and made my interpretation much more emotional."
Karina Gonzalez
Principal, Houston Ballet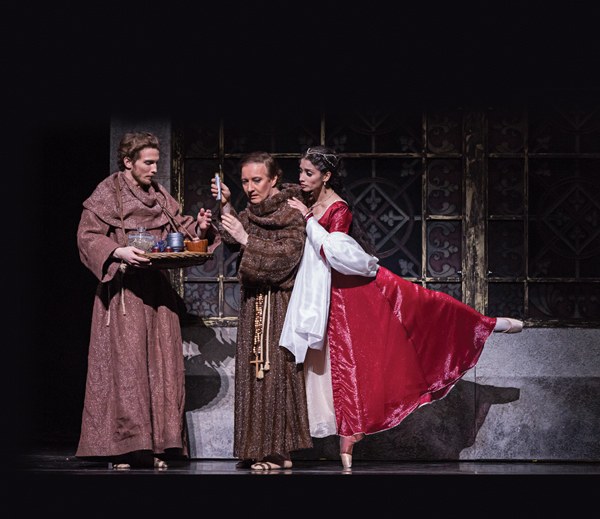 (From left) Gonzalez, Steven Woodgate and Rhodes Elliott in Romeo and Juliet (Photo by Amitava Sarkar, courtesy Houston Ballet)
"When I played Juliet in Stanton Welch's Romeo and Juliet, I was privileged to have costumes made for me. So from the beginning, I felt attached to them. They're so beautiful—the designer, Roberta Guidi di Bagno, paid attention to every detail. The biggest challenge is that they're period costumes, so they're made from a ton of heavy material. In rehearsal, most of the time I'm only wearing leotards and tights and maybe a skirt. When
it's time to dance in costume, I have to get used to all the extra stuff. It's just fabric everywhere!"
Fana Tesfagiorgis
Alvin Ailey American Dance Theater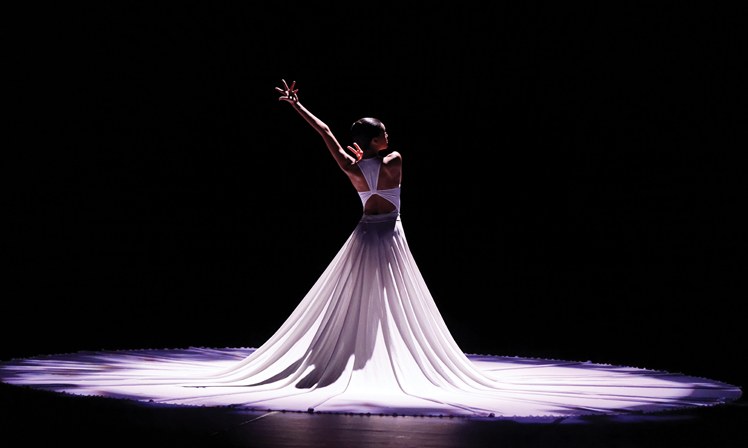 (Photo by Pierre Wachholder, courtesy Alvin Ailey American Dance Theater)
"My costume for Jessica Lang's Splendid Isolation II is a big, beautiful, dramatic skirt. I quickly learned that it has a life of its own, especially when I turn or walk. I have to stay grounded, keep my feet planted and use a lot of toe tricks to adjust the fabric without the audience noticing. But the beauty of live theater is that you have to adjust to the flow of each moment without panicking or losing your intent. The solo is very ethereal. Wearing such a massive skirt makes me feel like I'm reaching beyond myself, like I'm dancing through the clouds."
Jennifer Chicheportiche
MOMIX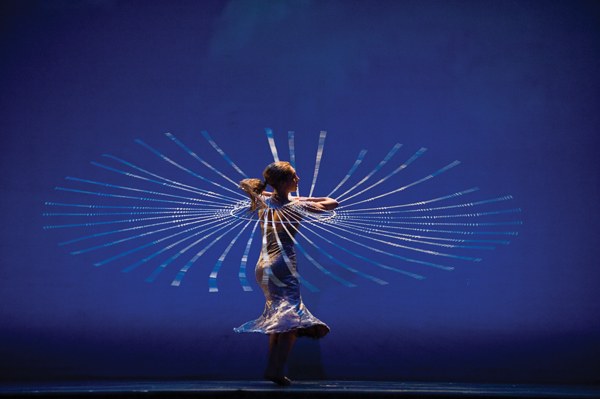 (Photo by Max Pucciariello, courtesy MOMIX)
"I have a five-minute solo in Botanica where I'm wearing a 14-foot-long curtain of beads. It's attached to my shoulders and whirls around me as I spin. We call it 'Big Skirt.' I've probably performed the solo 500 or 600 times, and it's still tricky, every time. If I don't spin fast enough, the beads end up tripping me. Sometimes the weight of the costume makes me lose my balance, or the beads get tangled. And I can't get too close to the wings or the audience—I don't want anyone to get hit! But eventually the costume becomes part of me. Over the course of the solo, its movement takes on more importance than the actual movements of my body."
Mary Lyn Graves
Ririe-Woodbury Dance Company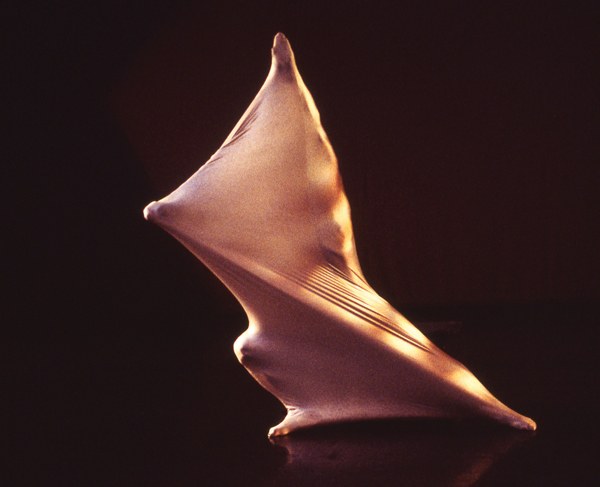 (Photo by Fred Hayes, courtesy Ririe-Woodbury Dance Company)
"The Ririe-Woodbury Dance Company performs a lot of Alwin Nikolais' historic works. Sometimes we're wearing costumes that are decades old. In Nikolais' choreography, the costumes are an integral part of the movement vocabulary. Often, they're an extension of a kinetic idea. For instance, in Noumenon, created in 1953, each dancer is encased in a silver elastic bag that stretches with her, catching the light as she moves. It's a complete transformation of the body."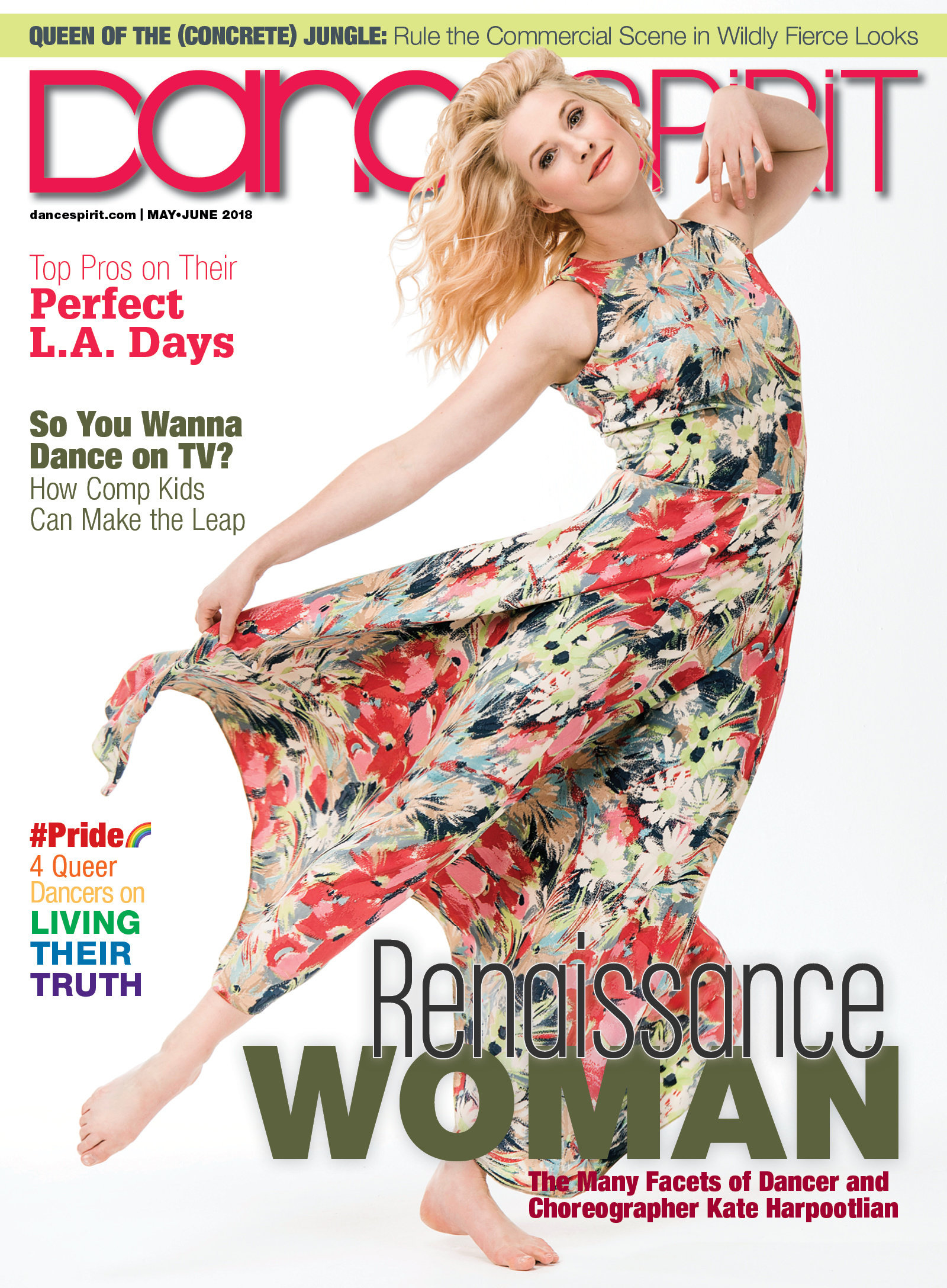 Get Dance Spirit in your inbox