Last week, we all got a sneak peek at New York City Ballet's most recent fashion collaborations. This week, we have a chance to get even closer to the costumes created by top couture designers for the company's fall gala on October 30.
NYCB released a video going behind the scenes and into the costume workshop as these amazing creations come to life. Maybe this will give you some far-out fashion inspiration for the week!
Today in ballet news that makes us happy: The New York City Ballet fall gala was last night, which means the Dance Spirit office ground to a halt this morning as we all drooled over photos of the gorgeous dresses (onstage and off).
As with years past, NYCB paired couture designer with choreographers. For fall 2016, the lineup included Annabelle Lopez Ochoa with Rosie Assoulin, Lauren Lovette with Narciso Rodriguez, Justin Peck with Dries Van Noten and Peter Walker with Jason Wu. We've been waiting oh so patiently to see the costumes evolve from sketches, and become real.
Keep reading...
Show less
You know what I want for my birthday? A box full of supermodel Karlie Kloss and Les Twins. We could just hang out, have a dance-off, become bffs. It might sound weird at first, but really think about what hanging out with these tall and talented folks would be like: #squadgoals times one million, amirite? Also, I'm pretty small and I could definitely fit in a box with the three of them.
As it turns out, British Vogue understands that my birthday wishes must be met, so the magazine packed Karlie and Les Twins into a too-cute video that features some sweet moves and a lot of smizing...in a box.
Fashion and dance continue to feed off one another and the trend is nowhere near slowing down. And when it's especially irreverent, like this video, I can't wait to see more.
Sometimes a girl wants to dream about wearing a stunning couture gown. Sometimes a girl wants to dream about wearing a radiant tutu. And sometimes that girl is a New York City Ballet dancer and she gets to live both dreams at once, wearing tutus designed by couture houses.
As usual, New York City Ballet gets to have all the fashion fun. The company regularly collaborates with high-fashion designers who create costumes for gala performances and premieres. (Joseph Altuzarra, for example, designed costumes for the 2013 premiere of Christopher Wheeldon's A Place for Us, and this past spring, Dutch designer Iris Van Herpen crafted some dark and glittering costumes for Benjamin Millepied's Neverwhere.) It makes sense that dancers would inspire people who make art objects for the body.
To our delight, Mary Katrantzou is designing costumes for NYCB's 2014 Fall Gala, along with other fashion rock-stars, including Carolina Herrera, Valentino, Thom Browne and Sarah Burton, the creative director for Alexander McQueen.
Check out one of Katrantzou's sketches for Justin Peck's fall NYCB premiere. Her website describes the principal man's costume as a "lace bodysuit" (!) and the tutu as translucent. We can't wait to see the real thing!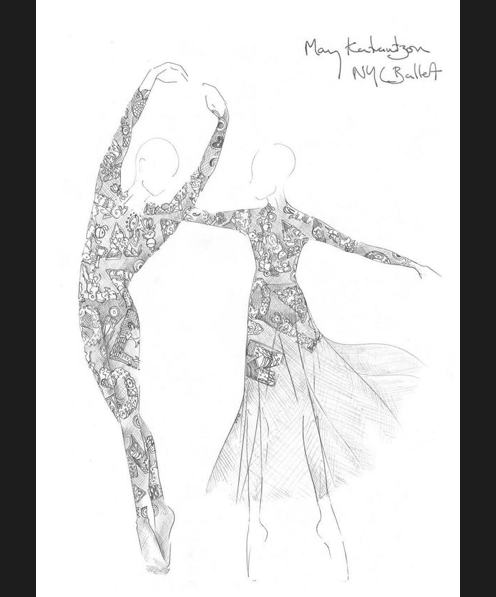 Mary Katrantzou for the New York City Ballet
NYCB's fall gala will be September 23. For more info and tickets, visit nycballet.com.

This summer, I was lucky enough to be in Washington D.C. during the National Gallery of Art's exhibit "Diaghilev and the Ballets Russes, 1909–1929: When Art Danced with Music." It was a glorious feast of Stravinsky, Nijinski...all the skis! But I have to admit, I was quite shocked when I saw another familiar name in the exhibit: Coco Chanel, who designed the costumes for Nijinski's Le Train Bleu back in 1924.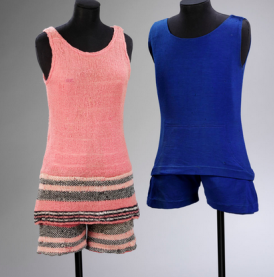 Costumes designed by Coco Chanel for Le Train Bleu in 1924 (© Victoria and Albert Museum, London)
I guess I never really realized that big time fashion designers ever collaborated with choreographers. I mean...it makes sense. I've watched enough "Project Runway" to know that how the clothes move is super important. So why not put high fashion on ballerinas, the best movers out there?
But since joining the DS family in September, I've learned a lot about dance. (And here I was thinking I was already an expert...) For instance, I've learned that New York City Ballet has collaborated with Gilles Mendel, Stella McCartney, Rodarte and Mendel, Valentino Garavani, Joseph Altuzarra and most recently, Prabal Gurung, Iris Van Herpen and Olivier Theyskens. NYCB ballerinas, I am the most jealous.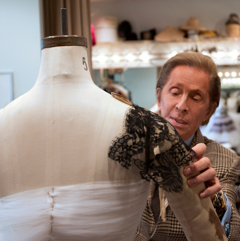 Valentino (left) and costume director Marc Happel working in the NYCB Costume Shop (Photos by Paul Kolnik)
And now, the National Ballet of Canada is following suit (pun intended), working with Canadian designers Jim Searle and Chris Tyrell of Hoax Couture for their Innovation programme, which runs November 22-28.
Turns out, fashion-dance collaborations aren't as simple as throwing couture on a dancer. The designers have to consider the choreographer's vision, the dancers' priorities and sheer practicality, in addition to their own design aesthetic. In this case, the two designers began by sitting down with choreographer and former director James Kudelka to listen to the music and brainstorm ideas. When Kudelka mentioned one word that inspired them--"fluttery"--Searle and Tyrell ran with it.
In case you can't pop over to Canada this week, here's a preview of the resulting design: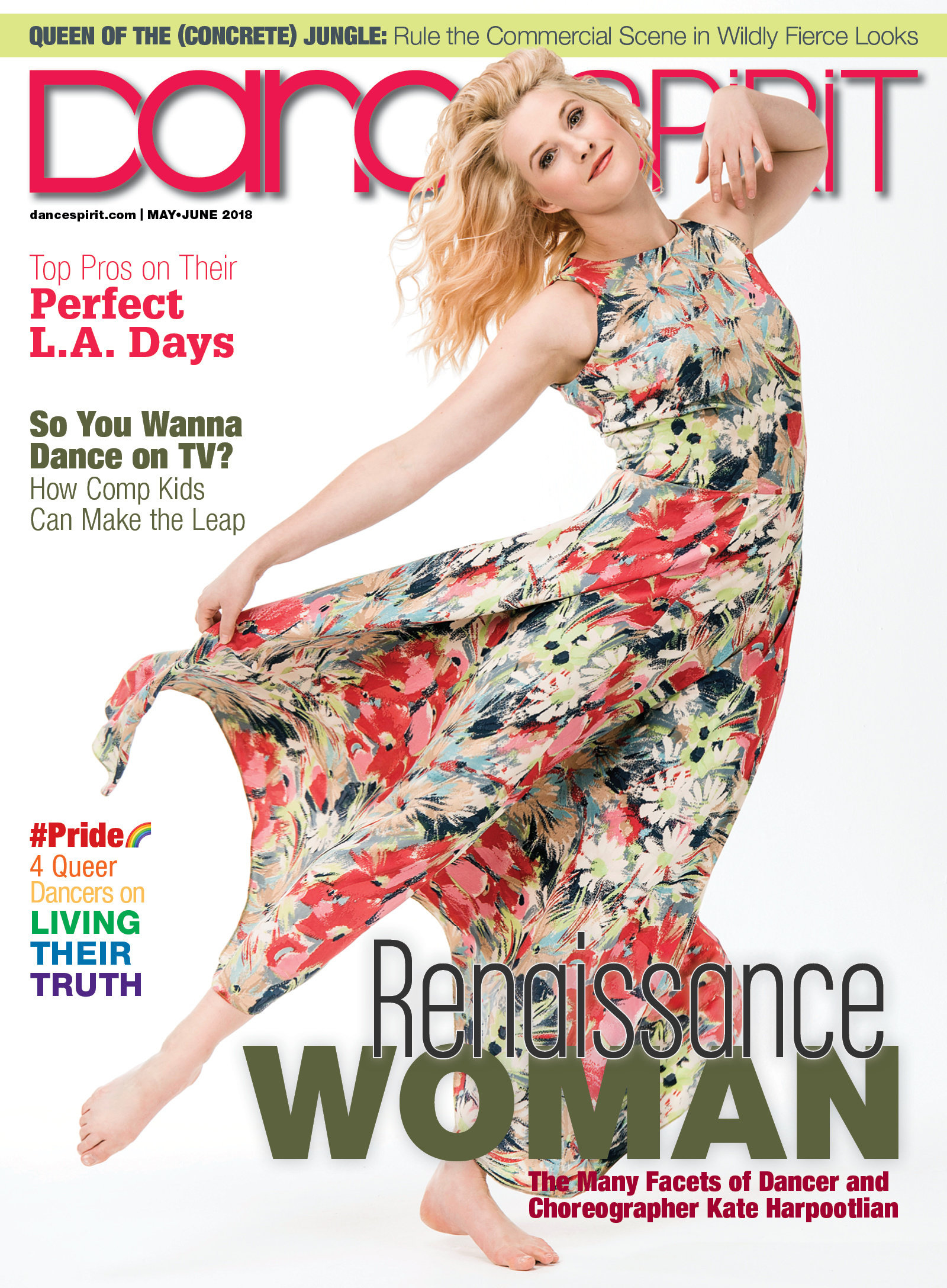 Get Dance Spirit in your inbox