(photo by Jim Lafferty)
Amanda LaCount was born to move. The second the music comes on at her Dance Spirit cover shoot, the bubbly 17-year-old is shimmying her shoulders and tossing her hair. When she launches into a full-out freestyle to Whitney Houston's "It's Not Right But It's Okay," you can't take your eyes off her.
And yet with every gig she lands, Amanda is challenging some of the dance world's longest-held biases. "I'm curvy," she says, "and I like being curvy. My body is not a bad thing. It's who I am." Here's how Amanda went from talented tot to hardworking pro—and from insecure preteen to body-positive role model.
Keep reading...
Show less
Class at the University of Southern California Glorya Kaufman School of Dance (photo by Ema Peter, courtesy USC)
If you closed your eyes and pictured dance paradise, what would it look like? Maybe you'd start your morning in rehearsal with a renowned contemporary choreographer, and then work on a dance driven by computer programming, and then run to a music video audition, and end the day discussing the impact of African dance styles on American pop culture.
Guess what? That dance paradise isn't just a dream. It's the University of Southern California Glorya Kaufman School of Dance, a young program that's already attracting some of the most talented dancers around—for good reason.
Click here to meet Alyssa Allen, Simrin Player, and Jake Tribus, three of USC's standout students.
Keep reading...
Show less
Photo by Lucas Chilczuk
Click here to get the inside scoop on the film High Strung: Free Dance!
Juliet Doherty has been at home in the studio and the spotlight since before she could walk. The 21-year-old comes from a long line of dancers: She practically grew up at the school her grandmother owned, Fishback Studio of the Dance in Albuquerque, NM, and her mom was her longtime teacher. As a young student, Doherty competed at the world's toughest ballet competitions and performed as Clara in the Radio City Christmas SpectacularRadio City Christmas Spectacular. Eventually, she left Albuquerque to train at the San Francisco Ballet School for three years, and then she danced with Phoenix Ballet for two years.
Along the way, Doherty discovered another great love: acting. In 2014, she was part of the cast of the Susan Stroman–directed musical Little Dancer (alongside Tiler Peck). And in 2017, she appeared in her first film, On Pointe—playing, naturally, an ambitious young dancer.
Now, Doherty's on the big screen again, starring as Barlow in High Strung: Free Dance. Plus, she has a new city to call home: NYC. Doherty sat down with us to talk about the film, her transition into acting, and what's next.
Keep reading...
Show less
Photo by Lucas Chilczuk
With several Shaping Sound tours and TV credits like "So You Think You Can Dance," "Dancing with the Stars," and "Boardwalk Empire" to her name, you wouldn't expect Kate Harpootlian to be refreshingly down-to-earth. But that's exactly how she is: As soon as you start talking to the gifted dancer and choreographer, it becomes clear that she doesn't take herself too seriously. And she's happy to tell hilarious stories to prove it. (Ask her about the time she did a Mr. Peanut impression when Mia Michaels asked her to improvise, or the time she starred in a Japanese makeup commercial and had to do grand pliés wearing one pointe shoe and one flat shoe.)
That mixture of humor and grace is evident in Harpootlian's growing body of choreographic work. Her one-act show Better Late Than Never, for example, which premiered last summer, has a jazzy, West Side Story vibe, offsetting heavier moments with touches of whimsy. "There's always a balance in my work," Harpootlian says. "I want to use humor to balance out the darker aspects. It's like one of my friends once said: 'You make me laugh, and then you make me feel bad for laughing.' "
Keep reading...
Show less
(From left) Mean Girls dancers Riza Takahashi, Ben Cook, Kamille Upshaw, Jonalyn Saxer, DeMarius R. Copes, and Stephanie Lynn Bissonnette (photos by Erin Baiano)
Get in, losers. We're going to Broadway.
OK, not losers, actually—more like the bajillion die-hard fans of Tina Fey's 2004 cult hit Mean Girls, who've been wearing pink every Wednesday since a musical adaptation of the film was first teased back in 2013.
Now their world is like a cake filled with rainbows and smiles, because Mean Girls the musical, which had a trial run in Washington, DC, last fall, is set to open at Broadway's August Wilson Theatre April 8. And in a very grool twist, it turns out the show—with direction and choreography by Casey Nicholaw and a book by Fey herself—is delightfully dancey.
Keep reading...
Show less
Remember Emily Hoffman, aka Em, from our November 2013 cover story?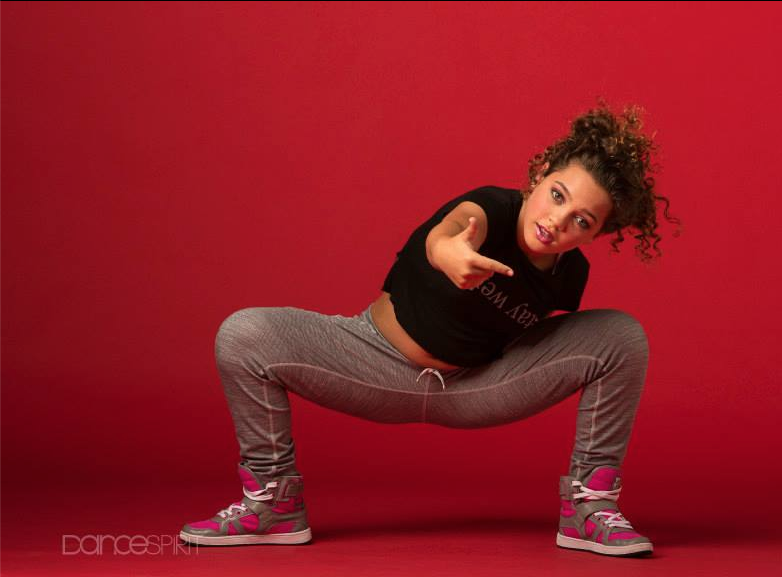 (Photo by Erin Baiano)
We loved watching this b-girl move on the set of our "Little Girls in a B-Girl World" shoot. So naturally, we're thrilled she just posted a new video of her performing a hip-hop solo at The PULSE on Tour last summer.
Guys, this girl is a BEAST. She hits hard and gives us allll the stank face and swag. (Can we be Em when we grow up, please? Thanks.)
Enjoy!
Dec. 11, 2012 02:54PM EST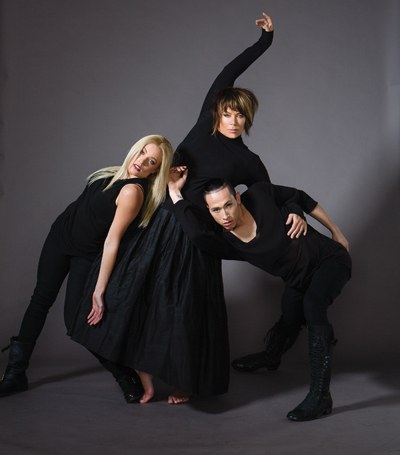 (L to R) Ryan Ramirez, Mia Michaels and Chaz Buzan.                         All photography by Joe Toreno
Last October, Ryan Ramirez and Chaz Buzan, both 20 at the time, arrived at their Dance Spirit shoot in L.A. with bright eyes and eager spirits. Chaz looked at the massive studio—complete with a view of the Hollywood sign—and yelled, "We are going to live today." He assessed his clothing options as Ryan took to the hair and makeup chair. Both were ready to go, but neither wanted to make decisions about what they should do or how they would look. That would wait until the boss arrived: Mia Michaels.
Mia is known for being tough on her dancers, and Chaz and Ryan's reluctance to step on her toes indicated that the day might be tense. When Mia walked in the door, though, the scene was anything but uncomfortable. Chaz and Ryan attacked her with hugs and squeals of "Mama Mia!" It had been more than a year since the trio had united, but it was as if they'd had a sleepover the night before.
The rest of the day was a whirlwind. Despite being different sizes, Mia, Chaz and Ryan all shared clothes and shoes (though the Manolo Blahnik pumps Mia had hand-delivered to the shoot stayed firmly on her own feet). As they moved for the camera—dancing only, "no posing," on Mia's orders—the three often became so intertwined that Mia had to untangle herself from the "game of Twister."
Together they moved as a unit in a style that is uniquely Mia, creating impossibly intricate shapes with their bodies and alternating between moments of quiet stillness and explosive jumps. During breaks, they laughed and joked, but when the camera was on, they were all business.
Both Ryan and Chaz have endured their share of criticism from Mia since they started working together, and they're constantly pushing themselves to impress her. That day, it was clear that Mia is tougher on her dance assistants than on anyone else—but she also respects, adores and supports them along the way.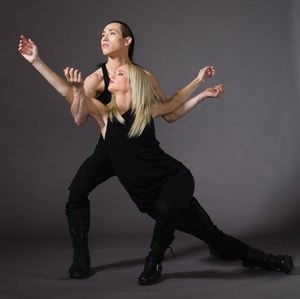 "Ryan had her own voice at a very young age. I felt connected to her—she was this beautiful bird that hadn't even begun to fly." —Mia Michaels
Ryan grew up performing with Teen Dance Company in Northern California and knew quite well who Mia Michaels was. "She used to come in to set pieces on our studio," Ryan says. "Every year I'd audition to be in her dances, and every year I'd get cut." She wasn't discouraged, though: "I was young," Ryan says. "It was cool just to be auditioning for her."
Ryan's big moment came when she was 16 and performed her solo at The PULSE On Tour, where Mia was on faculty until 2011. "Instead of getting score sheets, we stood onstage while the choreographers critiqued us," Ryan recalls. "Mia just looked at me and said, 'I want you to assist me. Will you?' I obviously said yes, and a couple months later, I got a text from Mia asking me to assist her on 'So You Think You Can Dance' Season 4."
"When Chaz is onstage, people are like, 'What is going on?' He's a freak of nature." —MM
Unlike Ryan, Chaz didn't idolize Mia growing up. He was raised in Phoenix, AZ, and started doing cheerleading competitions with the Arizona Angels Studio when he was 13. He had no ballet training, but began attending conventions with encouragement from the Angels owner.
When then-14-year-old Chaz met Mia at The PULSE, he didn't have any expectations. "I'd heard her name, but I didn't know who she was," he says. He was immediately infatuated, though. "I wanted to be onstage with her," he says. "I said, 'Whatever I do, I will dance with her.' " One year later, that's exactly what Chaz did at The PULSE Nationals in NYC. Mia asked Chaz to join her in the senior room where she was teaching a class. "I did an improv piece onstage with Mia and her assistants," Chaz says. "They were pulling my arms and feet in every direction, grabbing and twisting me. I decided I wanted to experience that every day." After Chaz performed a solo at The PULSE in Denver, CO, a few months later, Mia approached him. "She said, 'I've had you hanging in my closet for some time now. It's time to take you down.' She got my contact information and that was it."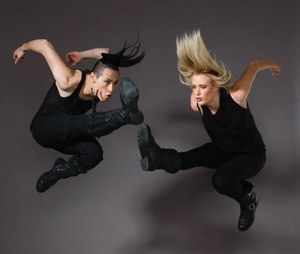 "We're a powerful trio. Where one person has a weakness you find another person's strength. They're my two special aliens." —MM
That year, while Mia and Ryan traveled the world together, Chaz was still working to earn a permanent spot as one of Mia's must-hires. "I thought I was already an assistant," Chaz says about the first time he danced onstage with Mia. "But I wasn't. I was an apprentice, which is different." When Mia had both Chaz and Ryan help her at a PULSE event in Chicago, Chaz was gutted when, after class, Mia invited Ryan to join her in the green room while he was asked to "wait in the ballroom." "Mia said, 'Know your place here. You have to earn your assistant position.' I had tears in my eyes. So I worked my butt off that weekend—I had bruises everywhere and the skin was coming off the tops of my feet." Chaz wasn't demoralized: He was determined to prove himself. "After that, I was onstage with Mia and Ryan every weekend," he says.
Chaz insists he wasn't anxious the first time he assisted Mia. "I've always felt like her choreography was made for my body," he says. Ryan, however, confesses she was "so nervous" the first time, and slightly in awe. Five years later, she still feels that way. "She deserves the best," Ryan says. "I want her to be happy. And I know I can be replaced."
"I said, 'You need to go away, go grow up, and when you're ready to be a professional, you can come back.' He was devastated." —MM
Both Chaz and Ryan have been replaced. For Chaz, that career-changing moment came when he was assisting Mia with a group routine on "SYTYCD" Season 5. "There were three days of rehearsal, but I only did one before she let me go," Chaz says. "She told me I was young, weak and unfocused, and said I had a lot of growing up to do. My world shattered, but I understood." Chaz didn't see or speak to Mia for the next year, but he took what she said seriously, adding ballet classes to his training. "I came back stronger," he says, "and she never let me go after that."
When Ryan was fired, she saw it coming. "I was helping Mia at a workshop, and I knew I wasn't dancing my best," she says. "I wasn't meeting her expectations, or my own. She texted me afterward and said I needed to take a break." Ryan and Mia went a year without talking, and Ryan decided to audition for "SYTYCD" Season 7. While she didn't make it on the show that season, her audition brought her back to Mia. "She saw the story I told about our relationship during my audition interview. She said she missed me, thanked me for speaking so highly of her and asked me to start working with her again," says Ryan, who auditioned for "SYTYCD" again during Season 8 and made the Top 20.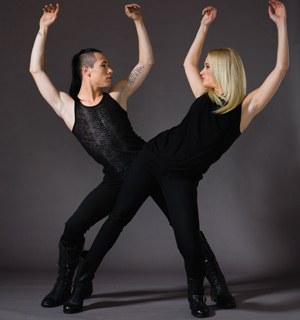 "They are the epitome of perfection when it comes to my work." —MM
Assisting Mia comes with career-enhancing side effects. "People hear I'm Mia's assistant, and they assume I'm good. The title comes with credibility," Ryan says. It also requires a great deal of commitment and, in Chaz and Ryan's cases, major sacrifices: Both dancers left high school due to the demands of their assisting jobs. Ryan left halfway through her junior year and finished classes online, while Chaz left sophomore year and "never looked back," he says.
Still, Ryan and Chaz say the sacrifices and hard work are worth it. When they're called to assist, they'll gather the day—or hours—before a class to learn a combination. "Sometimes we're in Mia's hotel room, moving the couches so we have room to dance," Chaz says. "She comes up with an idea and an outline of what she wants," Ryan adds. "From there she'll describe things and see what they look like on us." Then, the assistants are by Mia's side as she teaches the choreography to a room of dancers.
"We're taking the class, too," Chaz says. "She's devoted to watching the dancers, but there are times when she'll watch us. And she'll scream at us! 'More turnout, Ryan. Chaz, use your legs.' I can get compliments on my technique elsewhere. Mia yells at me for more. When I don't think I can move anymore, she's like, 'Go jump over those 12 chairs.' "
Mia takes care of her dancers offstage, too. If a studio or company doesn't offer an assistant fee, Mia will pay her assistants out of her own pocket. "In the workplace, she has the upper hand," Ryan says. "In our personal lives, she treats us as friends and equals."
Being Mia's assistant doesn't mean the jobs are constantly flowing, though. Neither Chaz nor Ryan have ever performed Mia's work for an audience. And while Mia may recommend them for jobs, they still have to audition like every other dancer.
"They will be in my life forever." —MM
Assisting Mia is what Ryan calls "a roller coaster of emotions." She says she's had some of the best moments of her life with Mia, and while the job is "a lot of pressure," she doesn't plan on going anywhere anytime soon. Chaz plans to stick around, too. "When I'm 80 years old, I will still be teaching Mia's thoughts about movement and life," he says.
Regardless of what the future holds, Ryan and Chaz know how valuable the assisting job is. "She changed the path of my career," Ryan says. "She pushes me because she knows I can be better and wants me to be better. If she didn't care—if she didn't think I was good—she'd give up. Those moments when it's scary—that's when I grow."
Oct. 08, 2012 12:17PM EST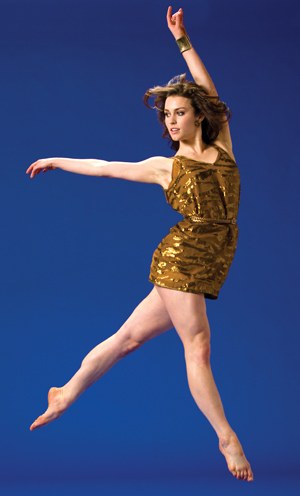 Photography by Joe Toreno
Kathryn McCormick's dance life seems pretty fairytale-esque: The 22-year-old native of Augusta, GA, was the top girl on "So You Think You Can Dance" Season 6, which earned her a gig on the Academy Awards. She later nabbed a recurring All-Star role on "SYTYCD," and this past summer she made her big-screen debut as the leading lady in Step Up Revolution.
But despite the eventual successes, the beginning of McCormick's life in L.A. was anything but a dream. Her first gig on the movie Fame turned out to be a bust, and it took a series of failed auditions before she finally won the hearts of the judges on "SYTYCD." Still, she refused to give up on her dance dreams—and she told us why in this exclusive Q&A.
How did you get started dancing?
Kathryn McCormick: I started before I was even born—my mom danced while she was pregnant with me! A few years later, she opened a dance studio, The Dance Connection, in Georgia, and I started taking lessons there when I was three. Later, my mom closed the studio, so I switched to the studio she grew up at, Augusta West.
Eventually I got into competitions and conventions. I remember taking class from [Step Up Revolution co-star] Misha Gabriel and thinking, "He's so hot!" After graduation, I traveled as a Tremaine Dance Convention apprentice.
At what point did you decide you wanted to make dance a career?
KM: When I turned 18 I didn't even know if I was capable of dancing professionally because I didn't know anyone who'd done it. I decided not to go to college, which was hard. But I didn't want to waste that time when I could be pursuing something I really wanted to do. It was a leap of faith, but I wanted to dance.
How did your parents feel about your decision?
KM: They were supportive. My mom had wanted to dance professionally but didn't because she had kids so young. My dad had gotten close to becoming a pro golfer, but he had to support our family, so he went into the cable industry. My parents wanted me to pursue my dreams since they didn't get to pursue theirs.
What did you do to get closer to your dream?
KM: I decided to train at a ballet school and teach at my studio to save money to get to L.A. I knew my technique wasn't strong enough—there was so much I didn't know about my body that I needed from ballet. I was the oddball in class with a ponytail and tan tights.
When did you get your big break?
KM: Keith Clifton, a choreographer I'd met doing competitions, offered to recommend me to his dance agency, McDonald/Selznick Associates in L.A. I didn't even know what a dance agent was!
I met with them and they gave me a contract right away. I didn't realize it was going to be the beginning of something huge. Two weeks later, I got an audition for Fame.
Very appropriate! Did you book it?
KM: I booked a gig as one of 30 featured dancers, which meant I had to move to L.A. for four months. My first week in L.A., I found out they'd cast too many dancers, and I was only going to have one day of work. I hung up the phone so discouraged. I had no friends, no car and no reason for being there.
How did you deal with that disappointment?
KM: I started riding the bus to EDGE Performing Arts Center every day, taking as many classes as I could in hip hop and other styles in which I didn't have much experience. But I didn't book any jobs for six months, so I did extra work on movies like Couples Retreat while my family continued to help me financially.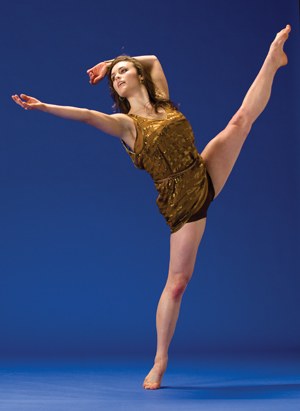 Perseverance seems to be a recurring theme in your dance journey—you auditioned for "SYTYCD" three times before you made it. 
KM: The first time, I went with a group to audition for Season 5 just for fun. When I got in front of the executive producers, I was a mess. I got cut right away. Then my mom invited me to join her on a trip to Denver, adding, "By the way, 'SYTYCD' is having an audition while we're there. You should try again." This time, I got further and danced for the judges. When I got cut, I never thought I'd audition again.
What changed your mind?
KM: A few months later, my mom convinced me to audition for Season 6. When I got on the floor, the music kept messing up. I remember standing on my mark and getting so anxious. I told myself, "Don't do this. Get out of your head." I said a prayer, and when I opened my eyes, the music came on. After I danced, the producer said, "We want to see more of that!"
You made the show and got paired with Jonathan "Legacy" Perez. What was your reaction?
KM: My first thought was, "Oh no, he's a B-boy. We're so different." But I couldn't have asked for a greater partner. He changed me as a performer. I used to be so technical—
I didn't like to freestyle. Legacy taught me to let the moment take over. He'd do things like throw his keys at me to try to get me to react spontaneously. He'd say, "I'm going to press play and you're going to dance." I was so uncomfortable. Finally, when I let myself go and freestyled, he was in tears. He showed me how to trust myself.
And then you came back to rock it as an All-Star.
KM: I didn't expect to be the last Season 6 girl standing. After the show, I auditioned for Burlesque and was cut right away, which was humbling. So when "SYTYCD" asked me to be an All-Star, that blew my mind.
How does being an All-Star differ from competing?
KM: People think you must not be nervous anymore. Not true! As an All-Star, the pressure's on: You have to be confident to support your partner. It's about learning to be selfless in your dancing, which is a different mindset, but it's just as challenging.
When did you get word of the Step Up Revolution role?
KM: In July 2011 my agent said they wanted me to audition for the role of Emily. I went in and hit it off with the casting director, and then I met with the director and producers. It's a different energy than a dance audition—all eyes are on you in this tiny shoebox. I left feeling like I didn't get the part, but ended up getting a callback where I had to pair up with the male lead, Ryan Guzman.
What was the final audition like?
KM: There were just two chairs and some cameras, and we had to do a scene while they shot different angles and tested our chemistry. Before Ryan and I went in, I was shaking, but once we got inside, everything clicked. We had a moment, and I felt so connected to Ryan and so comfortable.
How did you find out you got the part?
KM: Two days later, I got a call from [director] Scott Speer, Adam Shankman and Jen Gibgot on three-way. Scott was like, "Hey, I wanted to thank you for coming out. We appreciated your time. I'm sorry, but…you got the role of Emily!" He tricked me and I was speechless.
I freaked out. Auditioning alone was conquering a fear—I never even thought about actually getting the part.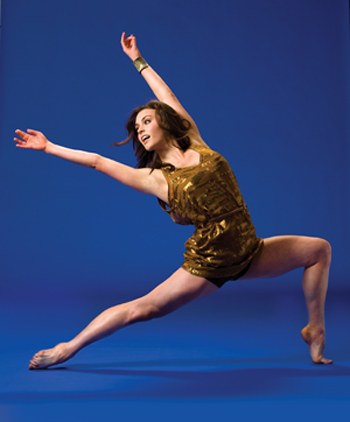 Did you do anything to prepare once you knew you'd been cast?
KM: Two days after I found out, I texted Scott asking, "What do I do now?" I thought you had to memorize the whole script right away! He told me to eat healthy and get in the best shape possible. I thought, "That's it?" But when he said the 3-D could be unforgiving, I put on my running shoes and ran around the block!
What were rehearsals like?
KM: The first month was dance training, from 9 to 5 every day. The mob would be in a room with Ryan, then Ryan would run over and do a duet with me, and then I'd go back and learn mob choreography. It was crazy having so much time to learn something. It allowed me to dive into the character more.
Which scene was the most real for you?
KM: When Emily is doing her final audition and it's supposed to be a duet but winds up being a solo. Emily's not always 100 percent in her dancing, so I had to let myself wobble or fall, which was hard with my perfectionist mentality. [Choreographer] Travis Wall would say, "No, that's too spot-on. You have to mess up." I needed to have that insecurity because that's how Emily was feeling.
What was it like seeing yourself on the big screen?
KM: The first time I saw the movie I was with Ryan, Misha and Scott. My heart was pounding. I didn't let myself be critical—I was just like, "I'm going to enjoy this."
Is acting part of your career plan now?
KM: The film definitely pushed me in a new direction. I'm dancing and taking acting classes and trying to do it all. Along with being a "SYTYCD" All-Star again, I just did a music video for a group called Vienne to bring awareness to human trafficking, and I have a few more projects in the works. I'm trying to train so I'll be ready for whatever comes next.
KATHRYN'S CO-STARS DISH
Stacey Tookey ("SYTYCD" choreographer and friend): "Kathryn is always at the top of my list when I'm looking for a dancer or assistant. She's completely invested in whatever she's doing—a quality I don't often find in young dancers. She's the perfect mix of passion, talent and beautiful spirit—you could say
she's my muse."
Jonathan "Legacy" Perez ("SYTYCD" partner): "We carried each other into the Top 10—as soon as I saw she was my partner, I was like, 'Let's go all the way.' She looks ahead and doesn't let anything discourage her."
Misha Gabriel (Step Up Revolution co-star): "I was completely inspired by Kathryn's work ethic on set. She pushed everyone around her to become better. Even though her technique is exquisite, Kathryn works at it like she doesn't have it yet. Watching her dance in the film is mind-blowing."
Get Dance Spirit in your inbox