Travis Wall dancing in moving LGBT tribute (via Shoshana Bean on YouTube)
Dance legend and choreographer Travis Wall is championing the LGBT community in one of the most brilliant and moving ways possible: Through dance. In a music video (which Wall conceived, directed, produced and choreographed) for the acoustic cover of "This Is Me" from The Greatest Showman, broadway star Shoshana Bean sings as Wall performs a heartfelt dance that pays tribute to the LGBT community. Wall dances with homophobic insults written all over his face and chest, which are then replaced with words of affirmation and empowerment.
Keep reading...
Show less
Popular
Dec. 07, 2017 03:16PM EST
Instagram via @lindseystirling
Lindsey Stirling may not have won "Dancing with the Stars," but that hasn't kept the violinist from showing off the stellar dance moves that took her all the way to the finale. In her new holiday release, "Carol of the Bells," Stirling transforms the classic carol into a feast for the eyes. And while the fabulous Addie Byers, Ashley Gonzales, Savannah Timeus, and Maleca Miller may technically be her backup dancers, their emotive artistry takes center stage.
Basically, this video is proof that you can take the star out of "Dancing with the Stars," but you can't take the dancing out of the star! Let Stirling's performance transport you to a magical winter wonderland:
Keep reading...
Show less
Photo by Joe Toreno
After 13 seasons, "So You Think You Can Dance" viewers probably thought they'd seen it all. From "Ramalama (Bang Bang)" to Bollywood, Travis Wall to tWitch, it seemed like there couldn't possibly be any room left on Mary Murphy's Hot Tamale Train.

Then came 19-year-old Lex Ishimoto. When Lex showed up at the show's Season 14 NYC auditions with an improv solo in lieu of a choreographed routine, the judges were shocked—and then brought to their feet by his show-stopping creativity. From there, the jaw-dropping moments kept coming. In week one of the live shows, Lex busted out a super-crisp tap (!) routine. In his Episode 12 solo, he pulled off a triple (!) tour en l'air. And in Episode 14, he and fellow finalist Taylor Sieve revealed that they'd been dating on the down-low (!!!).
To dance insiders, Lex's name isn't new: It first popped up in playbills when he joined the national tour of the musical Billy Elliot at age 11. Last year, he was featured in Sia's "The Greatest" music video, and he's toured with Travis Wall's critically acclaimed contemporary company Shaping Sound. But now, Lex is officially a household name as America's Favorite Dancer—and has a first-class ticket on that Hot Tamale Train.
Keep reading...
Show less
Feb. 11, 2013 12:12PM EST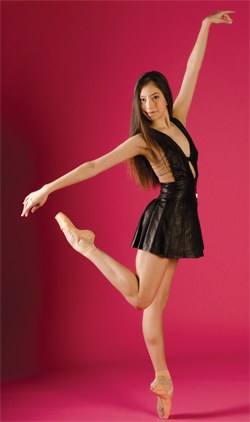 All photos by Richard Battye
Odds are, the first time you saw Alys Shee, she was doing fouettés. There's a now-famous YouTube clip of her nailing dozens of them, peppering the string with musical triples and doubles.
Oh, and that video was taken when Alys was 13. Yup: At an age when most dancers are still adjusting to pointe shoes, Alys was mastering feats that make many principal dancers shake in their tutus. So you probably won't be surprised to hear that today, at 18, Alys has already won multiple medals at prestigious competitions, including the junior gold at last year's Helsinki International Ballet Competition; spent a year as a member of American Ballet Theatre's second company; made guest appearances in leading roles in works like Don Quixote and Le Corsaire at ballet companies around the world; and, this past fall, joined the Birmingham Royal Ballet, where she's a rising star.
Alys is blessed with a ballet-ready body—legs for days, luxurious extensions, an innate turning ability—but it's not just her natural talents that have landed her on the dance world's A-list. This is a girl who, rather than enrolling at a big ballet school, carved a unique training path. This is a girl who was savvy enough to have her own website before she was old enough to drive. This is a girl who has been as fearless about taking charge of her career as she was about those fouettés. Alys is, in other words, a girl on her way to becoming a thoroughly modern prima.
The Gutsy Student
Before she devoted herself to ballet, Alys tried "pretty much everything else"—from skating to Irish step dancing to tap. But when her aunt put her in ballet classes at a church in her hometown of Toronto, Canada, Alys knew she'd found her calling. "There was just something about it," she says. "I was in love."
By 9, she was training seriously at Toronto's Academy of Ballet and Jazz, run by Nadia Veselova Tencer, who became a mentor. In theory, the natural next step would have been a move to Canada's National Ballet School. But the NBS schedule conflicted with Alys' academic classes. Since her parents didn't want her to put school on the back burner, Alys decided to continue studying with Tencer.
That's not to say she took things easy. "I'd go from 4 in the afternoon until 10 at night," Alys remembers, "and I'd take all the different levels, from the beginner classes to the advanced ones."
She also took as many classes as she could at another local studio, Dance Teq—which is where former Royal Winnipeg Ballet star Evelyn Hart first spotted her. "One of my friends was teaching at Dance Teq, and he pulled me into his class and said, 'I think this little girl needs you,' " Hart says. "I saw this tiny 12-year-old, with huge eyes and a giant bun, doing everything as well as—if not better than—anyone else. I instantly had a soft spot for her." Hart admired Alys' courage. "She had no fear; she was just dancing," Hart recalls. "And those beautiful long limbs—you took one look at her and thought, She has everything!" After the class, Hart talked to Alys' mother about taking Alys on as a private student.
"Evelyn and I started with an hour and a half five days a week," Alys says, "and then it was two hours, and then we added Saturday, and then it was three hours. Eventually we were just working until we felt we were done." Hart's advice provided the perfect counterpoint to the group classes Alys continued to take at the Academy of Ballet and Jazz. "The Academy gave me strong technique, and then Evelyn made sure I understood everything from within my own body," Alys says.
The Stage Beast
Alys' unconventional training program was doing wonders for her technique—but it didn't give her many opportunities to perform. "I needed a way to get onstage and learn what that was like," she says. "Also, I knew I wanted to eventually dance all over the world, in Europe and America—and to get visas to travel, I was going to need to have proof of my talent." The solution to both problems? Ballet competitions, which gave her chances to perform and to earn the medals that would streamline the visa process.
And earn medals she did: junior silvers at the Moscow International Ballet Competition, Cape Town IBC and USA IBC, plus the grand prix at the Star of the 21st Century IBC and, to cap it all off, her Helsinki IBC junior gold. "She took to the stage like a duck to water," Hart says. "She's a stage beast." Alys was also able to make many friends at competitions, despite the high-pressure, cutthroat environments. "From the time she was a young teen she had a good sense of who she was, so she could talk to people," Hart says. "I call her my bunny—she's this sweet thing who gets along with everyone."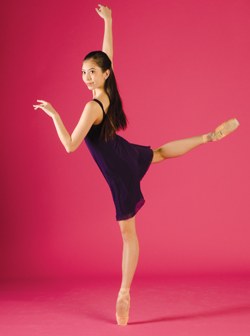 The International Explorer
Alys spent two summers at American Ballet Theatre's NYC intensive, and eventually auditioned for second company ABT II. She earned a contract, and, at 15, began a whirlwind year in NYC. "There was a lot of emotional growth," Alys says. "You're figuring out that this isn't school—you don't have a teacher constantly correcting you. You learn not to rely on anyone else for success."
Though she enjoyed her time at ABT, Alys was feeling the pull of Europe. "Everything is so close over there—you can hop on a train and see all these different companies." She also wanted to flex her contemporary muscles. "European ballet companies have a lot of young choreographers who are working in a wide range of styles," she says. "They're cool and experimental."
Alys had connections to Birmingham Royal Ballet—friends she'd made through an exchange between The Royal Ballet School and ABT II had joined the company. So she sent a YouTube clip to director David Bintley, who invited her to take class with the troupe. Assistant director Marion Tait was impressed by the teen's abilities. "She was extraordinary," Tait says. "And she was calm in class, not unnerved by the pressure." The company offered Alys a contract.
Since joining, Alys has had moments in the spotlight—she was quickly cast as the Hungarian Princess in Swan Lake and the Winter Fairy in Cinderella—but she's also had to figure out how to be the perfect second villager from the left. "The biggest learning curve for Alys was becoming a member of the corps de ballet," Tait says. "Her first role was as one of 18 swans in Swan Lake, and she had trouble constantly looking in one direction and staying in line." She doesn't suffer, however, from the look-at-me syndrome that plagues many competition veterans. "She's not flashy," Tait says. "Your eye goes right to her—but she draws it in a subtle way."
The Smart Dancer
Alys' dream of traveling the world is coming true: She's toured the U.K. with BRB, and she's done lots of guesting on her own. She danced both her first Kitri (in Don Quixote) and her first Medora (in Le Corsaire) at South African Ballet Theatre. How does she land those guesting jobs? "It's mostly connections I've made at competitions," she says. "The Cape Town IBC director is connected with the South African Ballet Theatre, so that's where those invitations come from. And once you start guesting, you meet more people who invite you to guest."
It also didn't hurt that Alys Shee was becoming a well-known name in the ballet world, thanks to her website, YouTube channel and use of social media, as well as several well-timed newspaper profiles. She claims she fell into it all accidentally—"The website was a school project!"—but Hart gives her more credit. "She called the Toronto Star when she was 12 to tell them she was going to ABT's summer program, and it was a great opportunity for a story," Hart says. "She was so smart about it."
Regardless, today Alys fully understands the importance of branding yourself. "In Evelyn's day, the only way to see a Russian ballerina was if she came to your city and performed," she says. "Now everyone can see you online. It's important for dancers to be aware of the influence of the internet."
The Normal Kid
When she's not living the ballet dream, Alys is a down-to-earth teenager, albeit a remarkably independent one. She lives on her own in Birmingham and spends a lot of time Skyping with her family and her boyfriend, a dancer with The National Ballet of Canada. "She's a normal kid," Hart says. "There's this very mature artist, and then there's this sweet young woman who loves to laugh—and looks great in a killer pair of heels."
Alys recently finished up high school online and started online university courses. But when it comes to dance, her future is wide open. "I've never planned on being in a certain company or living in a certain place," she says. "It's just about working with people I admire, and growing along the way. That's how I've always approached things."
"Alys may have had an easier path if she'd followed the usual route, joined a big school and then its company," Hart says. "But because she did it her way, she's been to South Africa, Moscow and Helsinki; she's performed in amazing venues and joined a great company. And my bunny's done it all on her own."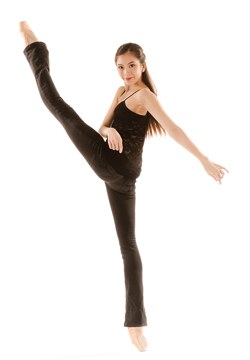 FAST FACTS
Birthday: July 4, 1994. "I was at intensives in NYC for four summers, so I got fireworks on my birthday four times!"
Most-played on her iPod: The Killers' Hot Fuss album
Favorite movie: A Beautiful Mind
Favorite dance movie: "I used to be so in love
with Center Stage. My favorite character was Sascha Radetsky's, of course!"
Must-see TV shows: "The Walking Dead," "Dexter," "The Big Bang Theory"
Favorite food: "That's a toss-up between baked goods—cookies, brownies and cupcakes—and McDonald's. My standard order is chicken nuggets, fries and a large Coke."
Who would play her in a movie? "Angelina Jolie—but really because she's one of the only actresses I know! I'm pretty out of it. To see her do ballet and get all Black Swan would be fun though."
Non-dance hobby: "I love to bake. My specialty is chocolate chip banana bread.
I also like to make cookies for the whole company."
Three ways to describe her dancing: "Graceful, musical, a work in progress"
Three words that describe her personality: "Loud, bubbly, sarcastic"
Her advice for DS readers: "Make sure you're always true to yourself. Don't do things because you're told to do them, but because you believe in them. And stay healthy—no career is worth sacrificing your health."
THOSE FABULOUS FOUETTÉS
Alys Shee's YouTube fans aren't the only ones bowled over by her turning talent. Count mentor Evelyn Hart as part of that group, too:
"I remember when we were working on the Black Swan pas de deux for a competition. I said, 'Let's leave the fouettés alone and focus on the artistic part for a while'—because when I was dancing, those fouettés were like Mount Everest. So we focused on the artistic side of it first. Then one day I said, 'OK, let's just take a look at the fouettés.' And she got up and did 32 doubles, with no trouble at all. I was like: 'OK, that'll do!' As a teacher,
there are some things you just don't touch."
Follow Alys where it all started—online!
Twitter: @pddprincess
YouTube: youtube.com/user/pddprincess
Her website: alysshee.com
Jan. 10, 2013 03:00PM EST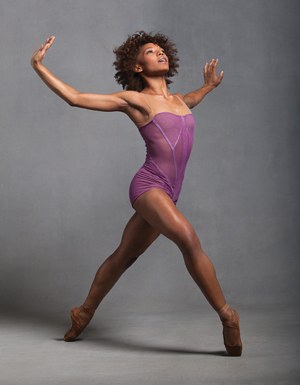 Photography by Erin Baiano
New Complexions Contemporary Ballet dancer Samantha Figgins is a showstopper. During the company's recent Joyce season in NYC, she wowed critics and audiences alike with her impeccable technique, emotional intensity and ability to layer a hip-hop sensibility on top of classical training. She bopped through Camille A. Brown's hip-hop piece Memories with boundless energy and joy. In company co-founder Dwight Rhoden's The Curve, Samantha's movement filled every musical phrase to the brim. Throughout the performances, her face was a palette of emotion—but whenever  she broke into her huge smile, her love of dancing was undeniable. Personality plus crazy skills? Check!
Rhoden says he just had to have Samantha's style and passion in his company. "When I first saw Samantha in a master class, I thought, 'Wow.' She has a majesty and elegance about her that doesn't take away from her being able to interpret grounded movement," he says.
Now, the 23-year-old Washington, D.C., native is enjoying being a standout in a company of stars. So how'd she get so cool and talented? DS sat Samantha down to find out.
The Take-Charge Twins
Samantha and her "built-in best friend," identical twin sister Jenelle, jumped into ballet classes at age 5, following their older sister Dionne's lead. Though she enjoyed it, Samantha admits she wasn't thrilled by the discipline. So she didn't mind when they left classical dance behind three years later and started to run track and perform with their school's dance team instead.
But by the time they were 13, the girls were back on the ballet path, auditioning for the Duke Ellington School of the Arts, a performing arts high school. "Though we hadn't had formal classes for a few years, dance was still there for me," Samantha says. "Watching my sister Dionne travel the world as a soloist with Dance Theatre of Harlem had shown me that I wanted to be a dancer. I knew Ellington would be the place to start honing my craft because it's focused on shaping potential, not teaching kids who are already formed artists."
At Ellington, Samantha developed a serious work ethic and fell further in love with the art and athleticism of classical ballet. Later in high school, she discovered modern dance. "I wanted to do them together even though I hadn't quite seen it done yet," she says. "When we choreographed on our own, I explored combining the two."
And despite the inevitable comparisons and occasional friendly competition, Samantha says having her twin there to encourage and bolster her was invaluable. "Sometimes it would get tense at home, because as twins we're constantly compared to each other," she says. "But we would be upset for five minutes and then realize how much we appreciated each other. If she got a role, I'd learn it as an understudy and vice versa. It was a challenge sometimes, but it made our relationship stronger. She's fierce."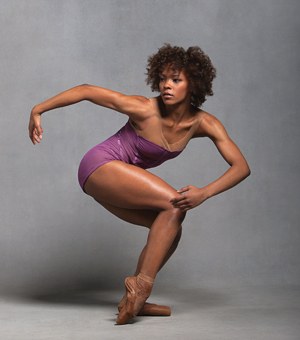 The Point of Purchase
When college choices were on the table, Samantha looked for universities that would fulfill both her academic and artistic ambitions. SUNY Purchase fit the bill.
College turned out to be a time for Samantha to expand her artistry. "I had always thought I wanted to go off and dance hard all the time," she says, with her trademark giggle. "But at Purchase I was able to bounce ideas off people and figure out who I was as an artist. I learned I don't just want to be a dancer. I want to make a statement, have a process, use ideas and feelings."
It was also at Purchase that Samantha honed her exceptional performance quality. "I worked on being a chameleon, being able to adapt to the choreographer and add my perspective to his or her vision," she says. "Dance is a human artform and I wanted that to stand out in my dancing—that there's something to relate to beyond legs and lines. It's not just about tricks. It's about a story and the emotions behind the dance."
Samantha adds that she also came into her own socially at Purchase, enjoying a "normal" college life, even though she stayed focused on dance. "The person you are outside of dance is the person you are as a dancer," she says. "If you don't know who you are and you're not comfortable with yourself, you'll have a hard time becoming different characters onstage."
Complexions Calls
After graduation, Samantha weathered a few hard knocks, like getting cut from Broadway auditions and not making the Dance Theatre of Harlem main company (where Jenelle is currently a member). But her determination and belief in her abilities to "do it all" kept her driven. "I came to NYC and didn't quite know what I was going to do," she says. "But I networked, took classes and asked Dionne to help point me in the right direction." (Dionne is a former Complexions company member herself and recommended Samantha to the Complexions founders.)
Partly following Dionne's recommendation and partly obeying her own instinct, Samantha decided to take a Complexions master class at Steps on Broadway in June 2011. "Desmond [Richardson, one of the company's co-founders] saw me in the master class and we exchanged information right there," she says. "Later that week, he invited me to attend the summer intensive on scholarship, and I started that three weeks later." Complexions was a fit for Samantha right away. "I saw that the company did what I was looking for," she says. "The dancers perform every style."
During the intensive, Samantha was offered an apprentice spot with the company and started learning the repertoire the final week. "She was cast in things immediately," Rhoden says. "After she came to our summer course, I thought, 'As soon as I have a slot for a woman, she's in.' My work fit her and I'm always looking for that inexplicable quality of being just right. I knew I wanted to find a place for her. Samantha is versatile, bubbly and animated, but also focused and professional."
Later in 2011—much to her delight—Samantha was made a full Complexions company member. "The company's work is that perfect mix of ballet and modern I've always dreamed of," she says.
"Samantha's only challenge might lie in the fact that she's a perfectionist," Rhoden says. "Sometimes you just have to let it go in the studio, and she's learning to let the process be. But it's a good problem—she wants results!"
Samantha eventually hopes to choreograph, dance backup for her favorite singer Rihanna and perform more commercial work (she has already danced in the movie Bolden!). Whatever she does, Samantha is set on being "the strongest artist I can be—in my own way."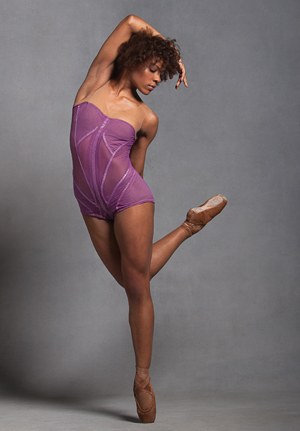 FAST FACTS 
Birthday: August 31, 1989
Most-played artist on her iPod: Rihanna
Who would play her in a movie: Zoë Saldana
Favorite dancer of all time: Sylvie Guillem
Favorite Class: Andrea Long's ballet class at Dance Theatre of Harlem
Something people don't know about her: "I can sing jazz and soul music."
Strangest thing in her dance bag: "I have a stamp that says 'Every little thing counts.' I put it on my hand to help me remember that sometimes."
Dance crush: Danny Tidwell
Her idol: Michael Jackson
Performer she'd have loved to work with: Josephine Baker
Dance BFF: Jenelle Figgins
Dance mentor: Dionne Figgins
The best advice she's ever received: "Trust your gut. Don't be afraid of your instincts."
Advice for DS readers: "Approach everything you do with positivity, love and faith."
Complexions Contemporary Ballet: Daring to be Different
Interested in Samantha's new home, Complexions Contemporary Ballet? Here's the scoop on the daring troupe:
•Complexions was formed in 1994 by Dwight Rhoden and Desmond Richardson to "create a forum where dancers could explore and be created on," Rhoden says. "We wanted a place where the differences between dancers—backgrounds, training and outlook—could be celebrated and serve as contagious inspiration." Diversity, versatility and energy are the troupe's trademarks.
•The repertoire of Complexions is largely Rhoden's work, which requires extreme athleticism. Pieces by William Forsythe, Camille A. Brown, Jodie Gates and Jae Man Joo are also performed.
•Rhoden says he looks for dancers who demonstrate impeccable ballet
technique, versatility, passion and a desire to explore.
•If you're interested in being part of Complexions, make sure your ballet
technique is top-notch. Explore contemporary and jazz styles, too, and try to attend the company's summer intensive before the annual audition, which
is usually held in late March or early April.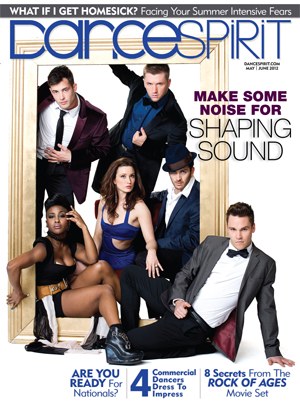 We had a blast shooting our May/June cover with Shaping Sound in L.A. earlier this year. You've seen the photos, you've read the story, but what you probably didn't know is that the "All the Right Moves" film crew tagged along at the photo shoot to document the day for the show.
You'll be able to see the whole episode featuring the Dance Spirit shoot when "All the Right Moves" returns on Tuesday, August 21, but for now, you can enjoy this sneak peek.
See our behind-the-scenes video of the Shaping Sound shoot here!
Commercial
Aug. 10, 2012 06:00PM EST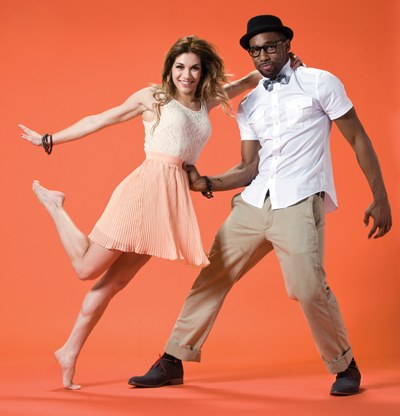 by Joe Toreno
The story of Stephen "tWitch" Boss and Allison Holker's relationship reads like the plot of a "So You Think You Can Dance" number: Boy meets girl. Boy and girl crush on each other but engage in an epic series of missed signals, which keeps them apart. Boy and girl finally get the courage to dance with each other—and fall in love. It's a fitting comparison, since tWitch and Allison are among "SYTYCD"'s most popular veterans and All-Stars.
It's been two years now since this adorable pair got together, and they made their dancing debut together this summer on Oxygen's "All the Right Moves" reality show. Now all they need is a catchy hybrid name. (tWitchison? AlWitch?) We caught up with the charismatic couple in L.A., where they gave us all the details on their oh-so-sweet love story.
Dance Spirit: So how did this all start?
tWitch: It happened at the end of "SYTYCD" Season 7. She says she made the first move.
I was completely oblivious to it. I'm really thickheaded.
Allison: I didn't just make one move—I made, like, 10 moves and he wasn't seeing them, so I had to put myself out there even more. From the first week of "SYTYCD" as All-Stars, I thought he was the cutest guy ever. His personality was so fun.
DS: It's surprising you two hadn't met before.
tWitch: Well, let's bring it back to Season 2. Our good friend [and Season 2 contestant] Ivan Koumaev had a party and invited a bunch of us. We met there for the first time, but Allison doesn't remember at all! Meanwhile, I had blond hair and piercings, so I'm not sure how you'd forget me, but that's neither here nor there. We met again during Season 7, but didn't say a word to each other the whole season. So that's why I had no idea, because she wouldn't talk to me and I thought she wasn't interested. She did catch me checking her out in the hallway once…
Allison: Like, bad. He did a triple take and Ade [Obayomi] called him out on it.
tWitch: So she knew the interest was there on my part.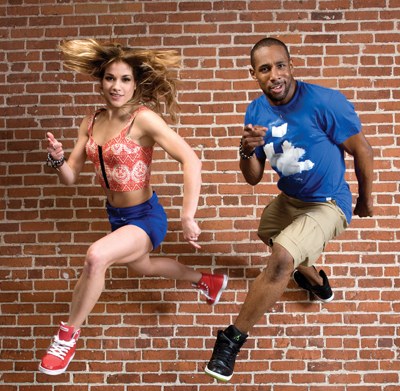 by Joe Toreno
Allison: The whole rest of the season, I would be like, "Heyyyy," and brush up against him. We'd be in rehearsal, and I'd be grabbing his butt and trying to touch his arms. I'd say, "You missed a few 8-counts. Let me teach you." He wasn't feeling me at all.
tWitch: In my defense, it was a dance rehearsal where all of the girls in the piece had to hold my arms and move with me.
Allison: Outside of rehearsals, we avoided each other. Both of us are very social and were friends with all the other All-Stars. The whole season, he was legitimately the only person I didn't speak to. We'd be sitting in a room together and it would be this awkward moment like, "Okay, I'll just stretch right now or read a book" instead of saying hi.
DS: So what was the turning point for you two?
Allison: The All-Stars went to the Step Up 3D premiere, but Stephen went separately because he was in the movie. I looked down the red carpet and saw him standing there in this nice gray suit and glasses—he looked so hot. When he walked up to say hi, I got embarrassed and hid behind Ade! Then, at the party, I met his mother and brother and even danced with him a little bit. I was geeking out. That was the first night we were out together at the same place. So I finally made my move, and he asked for my number.
tWitch: I did get the number…but I didn't call.
Allison: So then I got his number and texted that I was proud of him and that he looked great that night.
DS: So how is it even a debate who made the first move? Seems pretty clear that it was Allison!
tWitch: Here's the thing: If I say hello and she doesn't even respond…there were lots of those moments! I didn't know how to read her. Plus, I'm terrible at those things. There will never be a day where I'm like, "Yeah, that girl was feelin' me."
Allison: I was nervous! So, anyway, when the Season 7 wrap party came, I knew it was the last night I would see him. I was like, "Geez, I guess I have to be stronger about my moves." I hadn't planned on going because I'm a mom and don't really go out and party. But when he texted to see if I was going, I was ready and in the car! I showed up and people were trying to say hi, but I was on a mission to find this guy. I saw him at the other end of the room, and he pointed and did this little "come here" motion. We went upstairs and danced for three hours straight.
tWitch: We danced the entire night, and we've been together ever since.
DS: Let's talk about both of you being in the dance industry. Does it affect your relationship?
Allison: We've worked a lot of the same jobs, but we're in completely different styles. So even though he knows and has worked with all of my friends and vice versa, we don't cross paths that often unless we choose to. There are choreography and teaching jobs where people say they'd love to have both of us, but it's up to us if we want to put ourselves in that position.
tWitch: It's nice to have common ground to connect on, but it's also nice to have the dichotomy of two different genres. We're very close-knit, but we still have our own things.
Allison: In my past relationships, it's always been really tricky. People will say they're cool with me traveling or doing jobs, but really, if someone doesn't understand that lifestyle, it can cause bitterness. Being with someone who travels just as much as
I do and understands my work hours and that I have a daughter—and that I have to balance all of that—means we don't have the problems most couples in our industry do.
DS: How much do you travel?
tWitch: We travel every single weekend for conventions—we leave on Fridays and come back on Sundays.
Allison: The first year, we had a Skype relationship. It proved how much we were committed to each other because we'd be on different schedules and we still planned out what hour we'd speak every night. After Season 7, I went on tour with "SYTYCD" for three months, and directly after that, he went on tour with The LXD. Then I moved to Toronto to do Cobu 3D, and he went to Miami to film Step Up Revolution. In our first year of dating we were separated for nine months.
DS: So what was the glue holding you together?
tWitch: Communication was the glue because, honestly, there was nothing else. We didn't get to spend much time with each other. Thank God for Skype, email, picture texts, any form of communication. The LXD tour was international, so when I couldn't call, I would write pages and pages of emails.
DS: How would each of you describe the other's dance style?
tWitch: I was a huge fan of Allison before we even started dating. She is so incredibly expressive that it goes beyond just watching her—you feel her. I've been brought to tears a couple times by her dancing on "SYTYCD," specifically the "Fix You" number [with Robert Roldan during Season 7] and the "I Know It's Over" duet with Marko [Germar] during Season 8.
Allison: If I could describe him in one word…he's a beast. He moves and the whole floor shakes beneath him. When you're dancing next to him, you're inspired to be bigger and dance your fullest. He moves every inch of his body, and it's intriguing and fun to watch. But what makes him so strong is that he's really sensitive. He's a hard, aggressive dancer, but there is such a love for everyone watching him. He's not just a krumper who's in your face—it's more like, "Come in with me and see my soul."
DS: Do either of you ever get jealous when the other does a sexy duet?
tWitch: Ballroom is hot—you have to get up close and personal and the dude has to know what he's doing, leading a lady around, and having swag. It's sometimes hard to come to grips with another guy making my girl look good. Jealousy is absolutely healthy, but it's more like, "Man, I wish I could do that," because she's so hot.
Allison: And he can. He's led me around the ballroom—don't let him fool you! He doesn't usually do duets, but during Season 8, he and Sasha [Mallory] did this hot number and they looked so good together. I got a little insecure. Then our producer told me that on show day, they'd be kissing. I wanted to cry! But he was totally messing with me.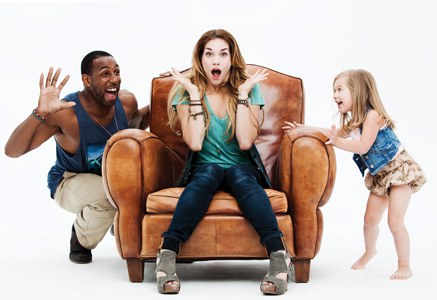 Allison's daughter, Weslie, gets in on the family fun. (by Lee Cherry)
DS: Allison, at what point did tWitch meet your daughter, Weslie?
Allison: He met her first before we were dating, at rehearsals and tapings. When we got together, I was very careful. I know now that he's my forever, but I had to make sure of that. I didn't allow them to really hang out until six months in, and even then it was slow and for small periods of time. Eventually it grew to where it is now—it's like she has a second daddy. Their relationship is so beautiful, it makes me want to cry. She loves him so much, and he is such a good example of what a man should be.
tWitch: She's my little dude. She doesn't like that I call her a dude, but she's my little dude.
DS: What's your best advice for dancers who might date a co-star?
tWitch: Remember that your life doesn't become your significant other's and vice versa. Sometimes people put their own plans on the back burner, and when they realize those things may have gone awry, they begin to resent the other person.
Allison: There might be moments of jealousy, like, "You're working on that project or with that person, and I really wanted to do that." The best thing to do is communicate. We talk out everything. Put it out there and say, "I'm sorry if I'm acting this way. It's not your fault."
DS: What's next for you two?
Allison: I love being onstage, but I'd prefer to be on the producing and directing side. He wants to be on the performing side, so I'd love to create a project around him that
I could direct.
tWitch: I'll always love dance, but
right now I'm focusing on acting. We're both in transitional periods where we're looking at all our options. It's exciting because possibilities are opening up
every day.
DS: How do people react when you tell them you're dating?
tWitch: The funniest ones are people asking us when we'll start having dancing children. But there have been some beautiful, heartfelt reactions from people who've known us for years—William Wingfield, Joshua Allen and Comfort [Fedoke]. Comfort loves us!
Allison: Travis Wall and Teddy Forance are two of my best friends and have seen me through many ups and downs with the men in my life. When they found out I was dating Stephen, tears welled up in their eyes. They were so excited for me to have such a great man. My parents love this guy. All the people in my life really respect him, and they love what he brings to the table for me and what he brings out of me.
tWitch: At the recent Shaping Sound show, a lot of people found out we were together and were elated.
DS: As are we!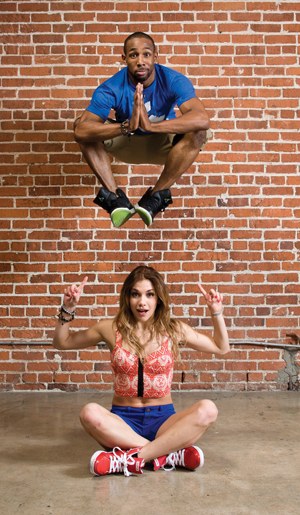 by Joe Toreno
FAST FACTS
To test how well Allison and tWitch know each other, we asked them to fill out each other's Fast Facts questionnaires! Unsurprisingly, they passed with flying colors. See their responses below:
tWitch (completed by Allison):
Three words that describe you: Internal, sensitive and bundle of joy!
Who would play you in a movie? Will Smith or Lil' C
Favorite dancer of all time: Wade Robson
What is the first thing you do in the morning? Turn off Allison's alarm clock—because she always sleeps through it.
Celebrity crush: Zoë Saldana
Dance BFFs: Comfort Fedoke and Will Wingfield
Non-dance hobbies: Comics, Rubik's Cube, going to McDonald's
Allison (completed by tWitch):
Three words that describe you: Goofy, chatty, mom
Who would play you in a movie? Emma Watson
Favorite dancers of all time: Mary Ann Lamb and Teddy Forance
Something people don't know about you: I'm a Harry Potter fanatic!
What is the first thing you do in the morning? Let tWitch turn off the alarm clock, and then drink a diet Dr Pepper.
What is the last thing you do before you go to bed? Read to Weslie.
What is the strangest thing in your dance bag? A sorcerer's wand.
Dance BFFs: Ade Obayomi, Travis Wall, Teddy Forance & Courtney Galiano
Non-dance hobbies: Sorcery, arts & crafts, skipping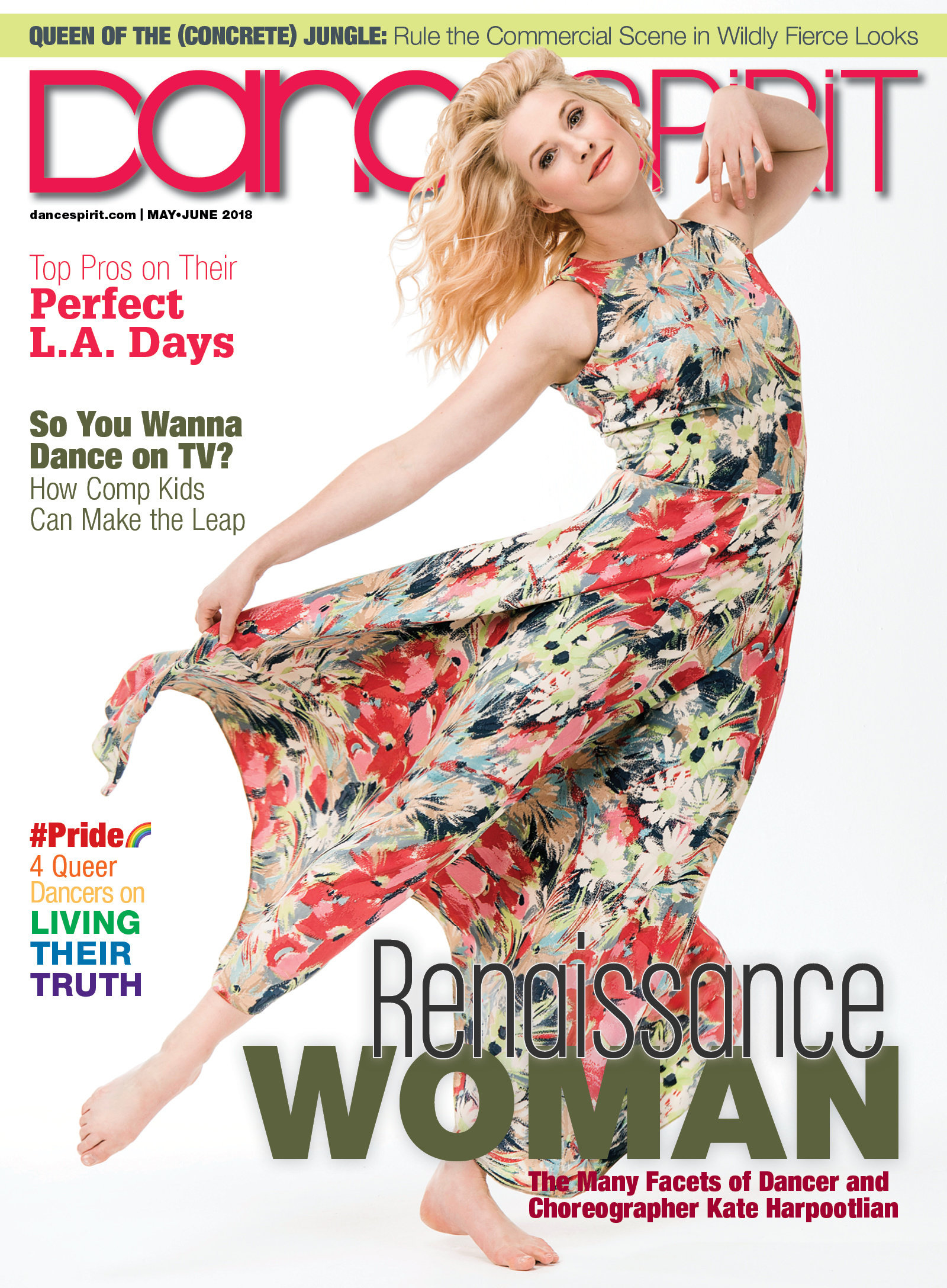 Get Dance Spirit in your inbox