Photo by Erin Baiano
We've all seen the videos on Instagram: a professional ballerina, casually perched atop a BOSU ball, développé-ing like it's no big deal. When done properly, BOSU ball exercises are both insanely impressive and incredibly effective for strengthening your core, ankles, and overall stability. Dance Spirit turned to Joel Prouty, a NYC-based personal trainer and injury prevention/exercise-conditioning specialist, for his top three BOSU ball moves, ranging from easy to hard.
Photos by Erin Baiano. Modeled by Lauren Post, dancer with American Ballet Theatre.
Keep reading...
Show less
Mar. 23, 2017 10:07AM EST
George Balanchine's Agon is one of the hardest ballets for dancers to learn, thanks mostly to its incredibly complex score. Igor Stravinsky's tricky phrasing and frequent tempo changes can baffle even experienced dancers. But at San Francisco Ballet, corps member Shannon Marie Rugani has no problem following Stravinsky's music. Why? Because she plays the piano, drums, ukulele, guitar and harmonica, in addition to composing her own pieces of music.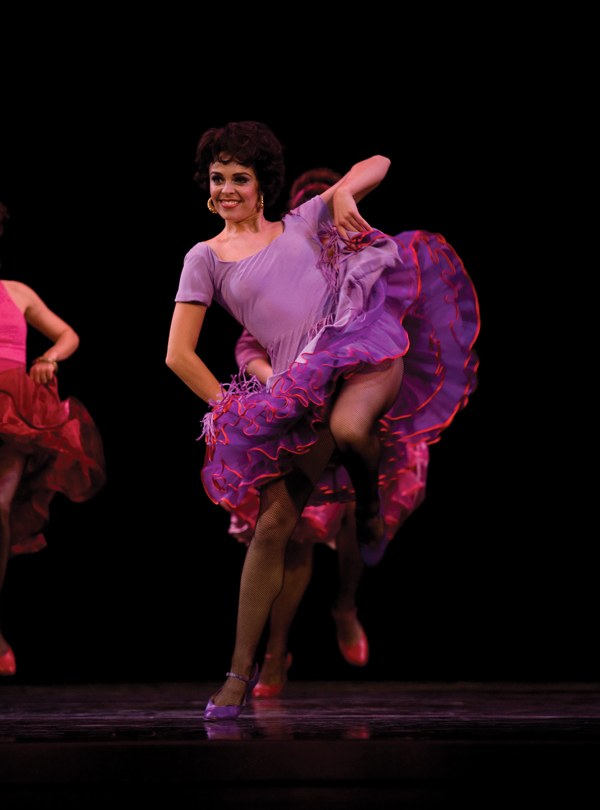 Shannon Marie Rugani in West Side Story Suite with San Francisco Ballet (Chris Hardy, courtesy San Francisco Ballet)
You don't have to be a virtuoso like Rugani to benefit from studying music. Reading notes, playing an instrument, familiarizing yourself with the musical canon and learning music history can change the way you interpret choreography and help you stand out from dancers who don't have a musical background. In many ways, studying music is as important as the cross-training you do at the gym—you're just strengthening your musical mind instead of your body.
Musicality vs. Musicianship
Everyone knows dancers should be musical, but sometimes that quality is hard to define. In his classes, Jeffrey Middleton, music instructor at the School of American Ballet, helps dancers improve their musicality by developing their musicianship. "Musicality in a dancer means having sensitivity to the rhythm, line and mood of a piece," Middleton explains. "Musicianship is about having a good ear, learning to play an instrument and developing a knowledge of music."
The first part of his class takes place at the piano, where students learn to count, read and try to make music. The second part is general music history—studying pieces that were written specifically for dance or used for choreography. Though his classes target ballet students, Middleton says that music lessons are beneficial for all dancers. "It's about becoming a better listener and putting music in a particular context," he says.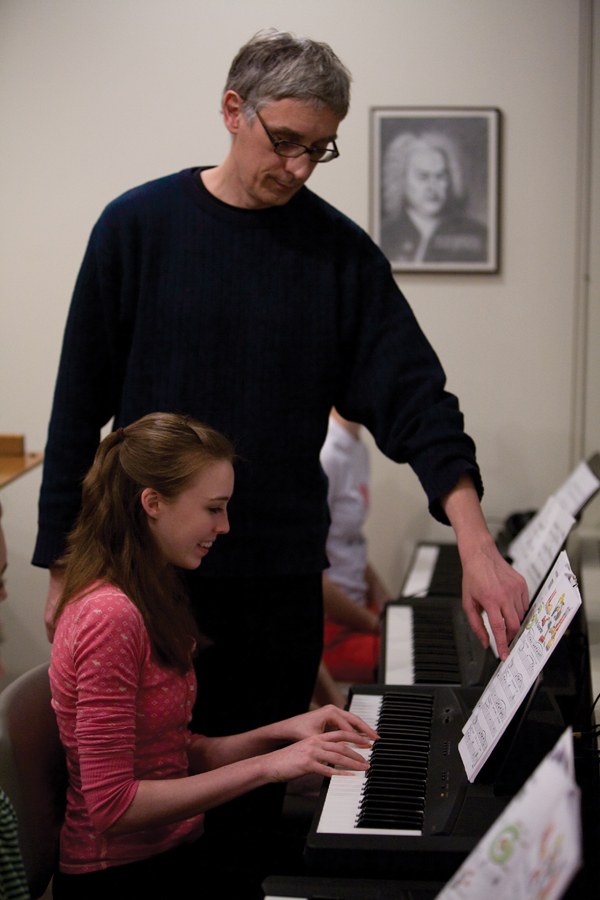 Jeffrey Middleton leads music class at the School of American Ballet (photo by Rosalie O'Connor)
The Benefits of Musical Training
Studying music gives you a better idea of rhythm and phrasing. It helps you distinguish elongated notes from staccato (short and fast) notes. You'll learn to hear when something is softer or louder and to listen to the silence between notes. "All of that gets translated into your body," says Daisha Graf, a commercial dancer and recording artist who studied piano growing up. Musical knowledge, she says, also helps you pick up choreography faster: The more you can hear, the more easily you can associate steps with sounds.
Hearing different aspects of the music, like flowing melodies or pulsing undercurrents, allows you to shape your movements to match the score, too. "Everything has to be connected, or the people watching aren't going to be inspired or moved," says Leah Faircloth, a 17-year-old competition dancer at CC & Co. Dance Complex in North Carolina. Leah says that her training in piano and cello has made it easier for her to break down rhythms for dance, especially in tap routines. "I have an advantage for learning timing and dynamics," she says. "That lets me just dive into the choreography, instead of thinking about what comes when."
At Central Pennsylvania Youth Ballet, founding artistic director Marcia Dale Weary notices that her most musical students play an instrument. Their exposure to classical music studies at home or at school affects the way they express themselves in the studio. "I see that they dance from their souls," she says, "that they are able to sing the music."
Studying on Your Own
If music classes are beyond your financial or geographic reach, there are other ways to improve your musicianship. Dale Weary suggests seeking out classical music recordings and listening to them at home or in the car. "Classical is much more complex than pop music—you have to listen to it over and over," she says. Get familiar with the syncopated work of Scott Joplin and George Gershwin, as well as that of classical composers like Brahms, Beethoven and Rachmaninoff. World music, especially polyrhythmic African music, is helpful, too. "Many styles focus on different rhythms, and you can learn from each one," Graf says. "Go beyond what you're used to hearing."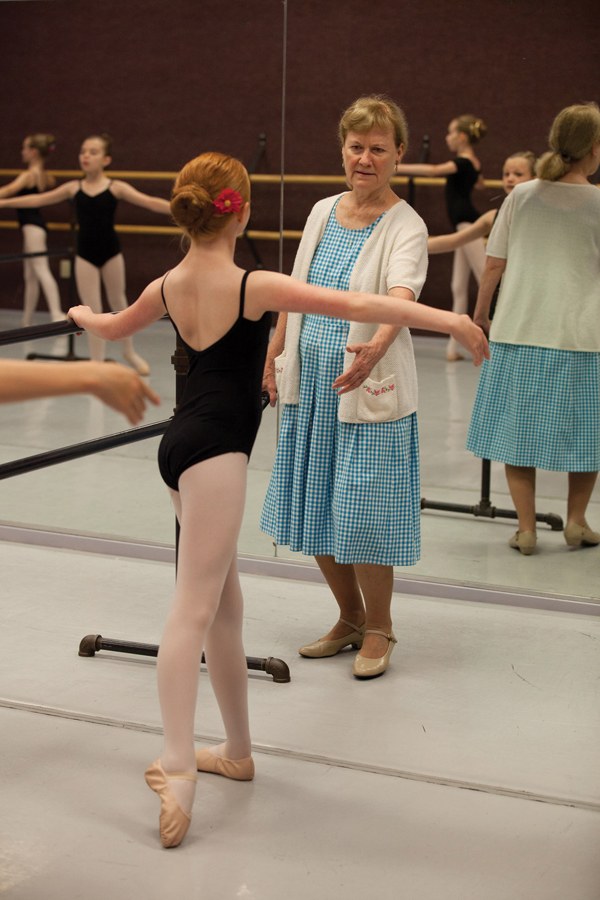 Central Pennsylvania Youth Ballet's artistic director Marcia Dale Weary teaching class (photo by Rosalie O'Connor)
Rugani recommends YouTubing music theory videos. "There are so many videos and teachers to choose from," she says. You can even pick up a cheap keyboard and a simple theory book so that you can practice. Piano apps for tablets and smartphones can also be helpful. Feeling ambitious? If you can swing it, Middleton suggests getting a drum set. "Drums are the best thing to explore if you're a dancer," he says—they're great tools when it comes to understanding rhythm and counts.
Try not to get frustrated if you don't notice an improvement in your musicality right away. "Musical development is very slow, and sometimes you feel like nothing is happening," says Middleton. "But over the long term, it becomes a part of your growth. Eventually, the musical side of dance will come naturally to you."
We're constantly looking for new ways to cross-train, and professional ballerina Kylie Shea just hardcore inspired us with this intense pointe shoe-meets-treadmill situation. Behold:
That takes some serious balance, ankle and core strength—major kudos, Kylie. Have any favorite cross-training methods? Tell us in the comments! Happy weekend, y'all.
Courtesy AQUA Studio NY
As a dancer, cross-training is a non-negotiable aspect of staying healthy. But sometimes the prospect of another dreary gym session is…less than inspiring. Banish boredom and take a cue from these three pros—a ballet dancer, a modern dancer and a Broadway performer—who shake up their cross-training with unusual activities. We asked Kendall Alway, DPT, a physical therapist who runs SF Performing Arts Physical Therapy and is the associate director of the ODC Healthy Dancers' Clinic in San Francisco, CA, to weigh in on the effectiveness of each method. Look no further for exciting cross-training regimens that can keep your dancer body challenged, balanced and injury-free.
Keep reading...
Show less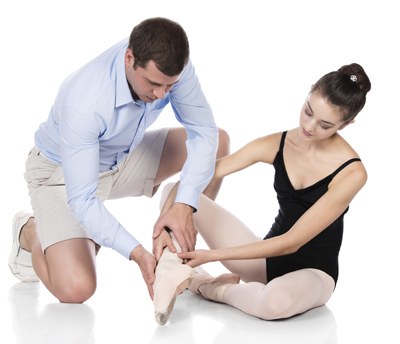 Speak up about any pain you might be feeling and get it checked by a professional.
Photo by Nanette Grebe/Thinkstock
Do you ever wonder if you are getting enough calcium? What about enough sleep? Did you know it's possible overstretch your legs to the point of injury?
Those were just a few of the topics addressed at last night's Injury Prevention Workshop, part of the Complete Dancer Series at the School at Steps in NYC. During the event, we heard from a professor of orthopedic surgery, a representative from the Harkness Center for Dance Injuries, a Pilates instructor and New York City Ballet principal Sara Mearns about what dancers can do to prevent injuries and enjoy long, strong and healthy careers. Dance Spirit was there to get the lowdown:
Women accrue more than half of their skeletal mass during puberty. What does this mean? We need to increase our calcium intake as much as possible since it can help prevent stress fractures now, and osteoporosis later. We also need lots of protein. Now, this doesn't mean you need to scarf down a hamburger and seven glasses of milk with dinner each night. Green leafy veggies are a better source of calcium than milk. Try adding some kale to your morning smoothies—you won't even know it's in there.
According to The Harkness Center, 60 percent of all dance injuries are chronic—caused by overuse (or misuse) over a long period of time—like tendonitis, bursitis, or stress fractures. (Compare that to 35 percent of acute injuries—one-and-done-type injuries, like ankle sprains.) So this means three things:
Robin Powell leads a Pilates demonstration.
Photo by A. Greenwald, courtesy The School at Steps.

Working correctly with proper technique and alignment, plus dancing on good flooring, can help prevent chronic injuries caused by misuse. Think about this: One dancer does 200 jumps in one class. Umm...that's a lot of stress on your joints!

Taking class all the time without any other activity is not healthy. Work in parallel, too—not only turnout. Play sports. Go to yoga class. If you do the same motions over and over again, you're creating muscular imbalances which can lead to injury. Strengthen your whole body—not just a few select muscles.

Fatigue is a HUGE cause of injury. You get injured when you're tired—when your muscles and joints are tired and when YOU are tired. So...
Get lots of sleep. Teen dancers need 9.25 hours every night. It may seem like a lot, but it can help.
From left: Dr. Andrew Price, Leigh Heflin, Robin Powell, Sara Mearns and Kate Thomas.
Photo by A. Greenwald, courtesy of The School at Steps.

As dancers, we are often "Type A" people—and perfectionists. Stress can be a healthy motivator for us. But stress also makes us tired. So remember that our parents and our teachers are our allies, not our enemies. If you feel extremely tired in class one day—maybe you woke up four times the night before and then didn't get to eat breakfast—tell someone! If you try to push through a hard class and you're not all "there," you could be putting yourself at risk for injury.
Think of your muscles like Play Dough. When it's cold and right out of the tub, the dough breaks easily when stretched. You have to mush it and mold it before it becomes pliable and stretchable. So after a long day of class and rehearsal, don't go home and stretch more—you'll be too cold. Plus, your body needs time to repair so you can be at your best the next day. Eat, do your homework and chill out. Save the stretching for the studio.
If you feel something, say something. If something hurts, speak up and tell your teacher. Overuse injuries are often easier to fix if they're caught early on. Of course, lots of times dancers are just sore. So how do you know when "sore" is really an injury? A good rule of thumb is that if it hurts for more than five days, see a doctor or medical professional. Chronic injuries are hard to detect, but if the soreness keeps happening, or it goes away and comes back more intense, there's cause for concern. Make an appointment ASAP—sometimes you won't be able to be seen for a few more days—and tell your teachers.
Take time off. It's suggested that all athletes need three months off to perform at their highest level. This doesn't mean you have to suddenly become a couch potato for three months each summer. But schedule a week here or there when you don't dance. Take Pilates, do yoga, go bike riding. Stay active, but stay out of the dance studio. It may sound blasphemous, but it can really help in the long run.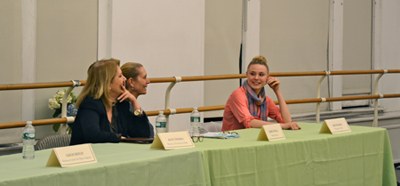 Sara Mearns spoke about her injury prevention regimen: a full-body massage using foam rollers and balls every morning following a hot shower.
Photo by A. Greenwald, courtesy The School at Steps.
Want to find out more? The Harkness Center for Dance Injuries (in NYC) offers one-on-one injury prevention assessments. They're free! You can make an appointment to look at your flexibility, strength, mobility or hypermobility and discuss what you need to stay healthy. Check their website for more info and details.
I'm sad to admit it, but I never learned how to ski.  I guess I just spent too much time in ballet class. So now I find myself all grown up and without this skill that everyone else seems to have. This weekend, despite intense fears of uncontrollably hurdling down an icy mountain, I headed up to Vermont to try my hand at the sport.
My ski instructor started the day by asking my 5-person beginner class about our athletic backgrounds. Finding out that I was a former dancer made him very happy. "Your balance must be excellent!" he said. This raised my confidence a little. Then, he taught us how to "pizza." I'm sure that's not the official term, but it's basically turning in to make your skis the shape of a pizza slice. To someone who's spent her whole life being told to turn out, this felt very unnatural. Confidence back to zero.
Once we actually got on the mountain, I discovered that a good sense of balance, strong calves and an ability to follow directions—all things I got from dance class—really helped. And, though my ballet teachers would cringe at the thought, turning in began to feel more and more natural. I finished the day feeling pretty great about my ski abilities. I never even fell!
Then I discovered this…
I think I need a couple more lessons before I attempt a skiing ballet, but at least I know there's an awesome sport out there for dancers/skiers. And, however impossible it may seem, it's always good to have something to strive for.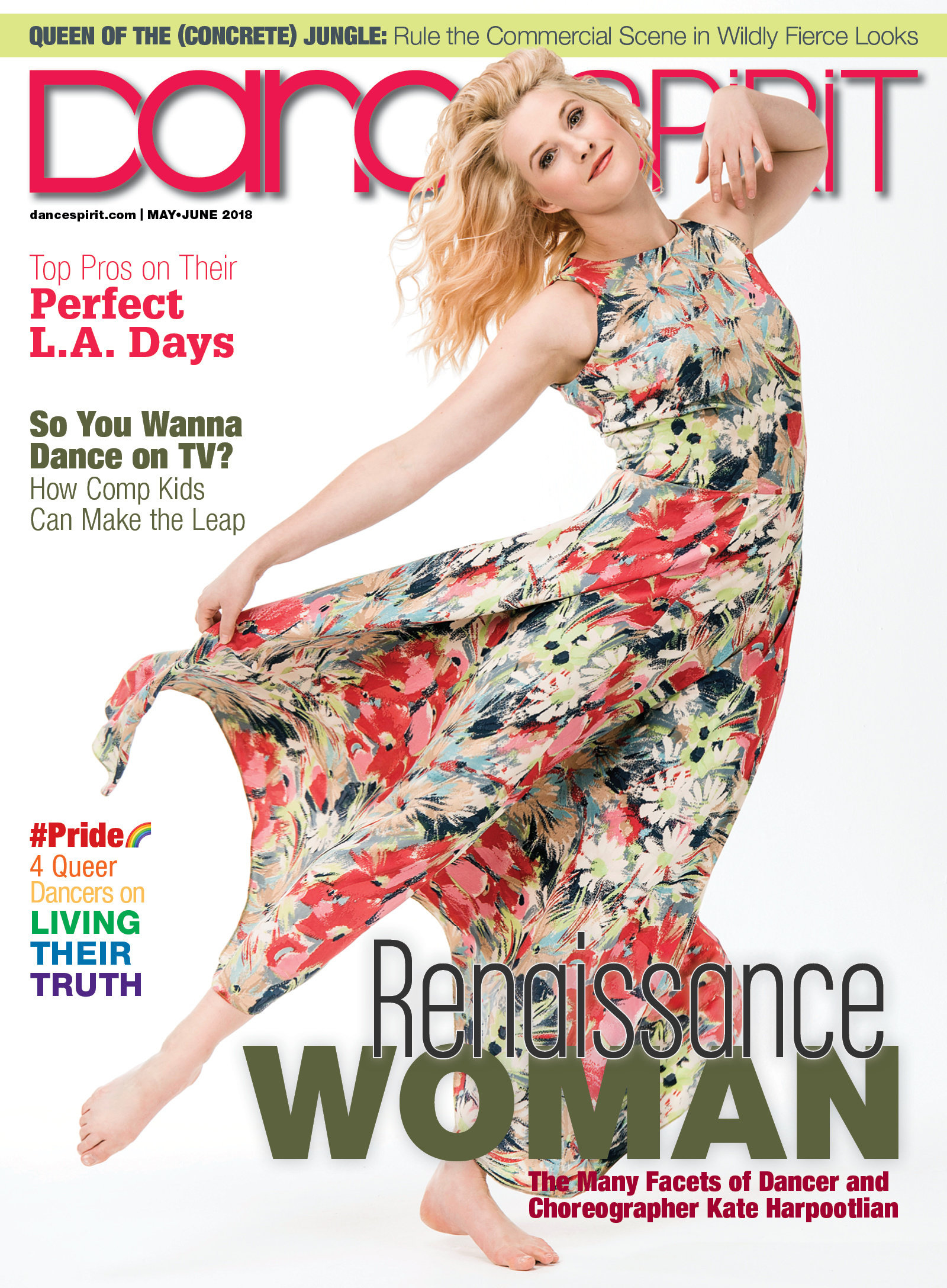 Get Dance Spirit in your inbox