Fashion
Mar. 23, 2017 04:13PM EST
Keep reading...
Show less
Shirley Temple—the child movie star of the 1930s, who, essentially, made dimples and golden ringlets a thing—passed away Monday night at the age of 85. This is big news considering the huge (and super cute!) contribution she made to the dance world.
When you were just a wee tapper, did you do your first routine to the tune, "Baby Take a Bow"? If you did, you have Shirley Temple to thank. At 6 years old, she starred in the film, Stand Up and Cheer (1934), and performed "Baby Take a Bow" alongside adult tap dancer James Dunn. Take a look (and wait til you get to about 1:15...she makes the most darling face ever!):
Awwwwwww. Did your heart melt? Mine did.
A year later she made more cinematic history by performing next to Bill "Bojangles" Robinson in the film The Littlest Colonel (1935). It was the first time that a film featured an interracial dancing duo, and it was so successful that they starred in three more movies together. Here's the super famous stair dance from The Littlest Colonel, when Robinson persuades little Shirley to head upstairs to bed:
Here's another great dancing moment from their third film together, Rebecca of Sunnybrook Farm (1938):
You can't have a round-up of Shirley Temple moments without this ditty from her 1935 film Curly Top:
Or this number, "On the Good Ship Lollipop" from Bright Eyes (1934):
And did you know that to celebrate her 10th birthday, a restaurant in Hollywood created the first Shirley Temple, the nonalcoholic drink with lemon-lime soda, grenadine and a maraschino cherry? She drank the first one that night, washing down a slice of a 25-layer cake.
Let's all have a Shirley Temple today in her honor.
Any time Chloe and Maud Arnold—aka our favorite tapping sister duo—gift us with another Syncopated Ladies video, we get excited. Really excited. But today, they've given us something even better: stellar tapping, plus a discussion of the history of tap and why the art form still resonates. Their new video is part of TheRoot.com's Dances of the Diaspora series, which explores dances that originated in or were influenced by African culture.
We know, we know—any time you hear the word "history," you're inclined to roll your eyes and zone out. But the Arnolds' video is worth watching. You'll learn that tap is a purely American genre. You'll learn about its roots in slavery. You'll learn that it was passed down improvisationally, from foot to foot. "Nothing was written...unlike ballet, there is no syllabus," Maud says.
Check out the full interview below to learn more surprising facts, and for some fab footage of Chloe and Maud tapping a cappella—which we could watch them do for days on end.
Ah, Independence Day. (Or as we like to call it around here, Indepen-DANCE day—it never gets old!) A whole 24 hours of hot dogs, corn on the cob, Popsicles, fireworks and red white and blue everything. Let's get this partay started!
To get us all in the spirit, here's part two of Dance Spirit's roundup of the most 'merican of Americana dance-odes.
1. Created in 1944, Martha Graham's Appalachian Spring brings us right to the heart of the American frontier, exploring the lives of two pioneer newlyweds. It's not super flashy, but add in Aaron Copland's iconic score, and it's a perfect recipe for celebrating the American dream.
Here's the Martha Graham Dance Company performing it last summer at Saratoga Performing Arts Center:
2. Agnes de Mille's Rodeo: The Courting at Burnt Ranch is also fueled by Copland's music. You might recognize his famous "Hoedown" movement in the fourth section, popularized by beef commercials in the early 1990s. (Oh, the 90s.) But the music gets me every time—it just screams America!
Here are the dancers of Colorado Ballet riding their imaginary horses in the first scene:
3. Ready for more pioneer goodness? Here's "Laurey's Dream Ballet," from Rodgers and Hammerstein's Oklahoma! Agnes de Mille choreographed the original Oklahoma! on Broadway in 1943, and in the clip below, you'll see the work of American Broadway darling Susan Stroman.
(A quick fyi: This is from the 1998 West End revival. I know, I know—British. Sorry. But it's also the version with Aussie Hugh Jackman, and American or not, you just can't look away...)
4. Let's fast forward a couple decades to Paul Taylor's Company B. It's set to the delightful musical stylings of the Andrews Sisters. Boogie on, bugle boy!
Here are excerpts of Miami City Ballet in the work:
5. And finally, there's a new celebration of our country's origins in town. Lin-Manuel Miranda's Hamilton, which opens on Broadway on July 13, drops us smack in the middle of the American Revolution. Is there a better way to commemorate our nation's history than with a dramatization of the founding fathers themselves? ...anyone?...anyone?... NOPE.
Look in your July/August issues for an interview with Hamilton's choreographer, Andy Blankenbuehler.
Happy Fourth, y'all!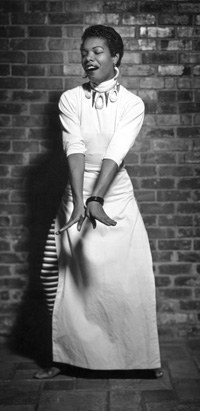 Maya Angelou
Photo via pbs.org
By now, you might have heard that the legendary Dr. Maya Angelou passed away last night at 86. And while you're probably most familiar with her work as a civil rights activist and an American author (with masterworks like I Know Why the Caged Bird Sings), you might not have known she was also a celebrated dancer and singer.
In the 1950s, Angelou was pretty entrenched in the American modern dance scene. She studied modern dance in San Francisco with Anna Halprin—where she met another legend: Alvin Ailey. The two became dance partners and formed an act called Al and Rita. Angelou also performed in a Calypso revue in 1957 Brooklyn, NY, produced by modern dance great Geoffrey Holder—alongside Ailey and Donald McKayle. (Years later, Angelou read her poem "When Great Trees Fall" at Ailey's funeral in 1989, and when McKayle received the prestigious Scripps/ADF Award in 1992, Angelou was there to present the award.)
In 1957, Angelou produced a solo album titled Miss Calypso, and that same year she appeared as herself in the film Calypso Heatwave. You can see a piece of it in this clip from Oprah's "Super Soul Sunday," starting at 1:54.
Sep. 20, 2013 12:03PM EST
Here's a fun little Friday video for you: Time magazine, inspired by the hullaballoo over Miley Cyrus' twerktastrophe at the VMAs, has put together a history of "forbidden" dances. Forget grinding: In the late nineteenth century, even the waltz was considered risqué, because its "closed hold" meant partners were—gasp!—actually touching each other. Like, for extended periods of time.
The video is a pretty nifty look at how what's considered acceptable public behavior changes over time. The one thing that never changes, though, is that if you give a "scandalous" dance a few decades to cool off, it'll probably become totally standard. You know how your mom did the twist at your cousin's wedding? In the '60s, it was definitely not considered mom, or wedding, appropriate. (Not sure what that means about what moms will be doing at weddings 50 years from now...)
Take a look—and happy Friday!
Mar. 27, 2012 11:37AM EST
In a little more than a minute and a half, this video takes you through a hundred years in British style—and dance. It zooms from Charleston-ing '20s flappers to preppy '50s swing babies to punked-out children of the '80s. Created last year to announce the opening of Westfield Stratford City shopping center in London, it's a clever bit of filmmaking that's especially great because it puts dance right where it should be: at the center of it all, as important to each era as the clothes were. Check it out!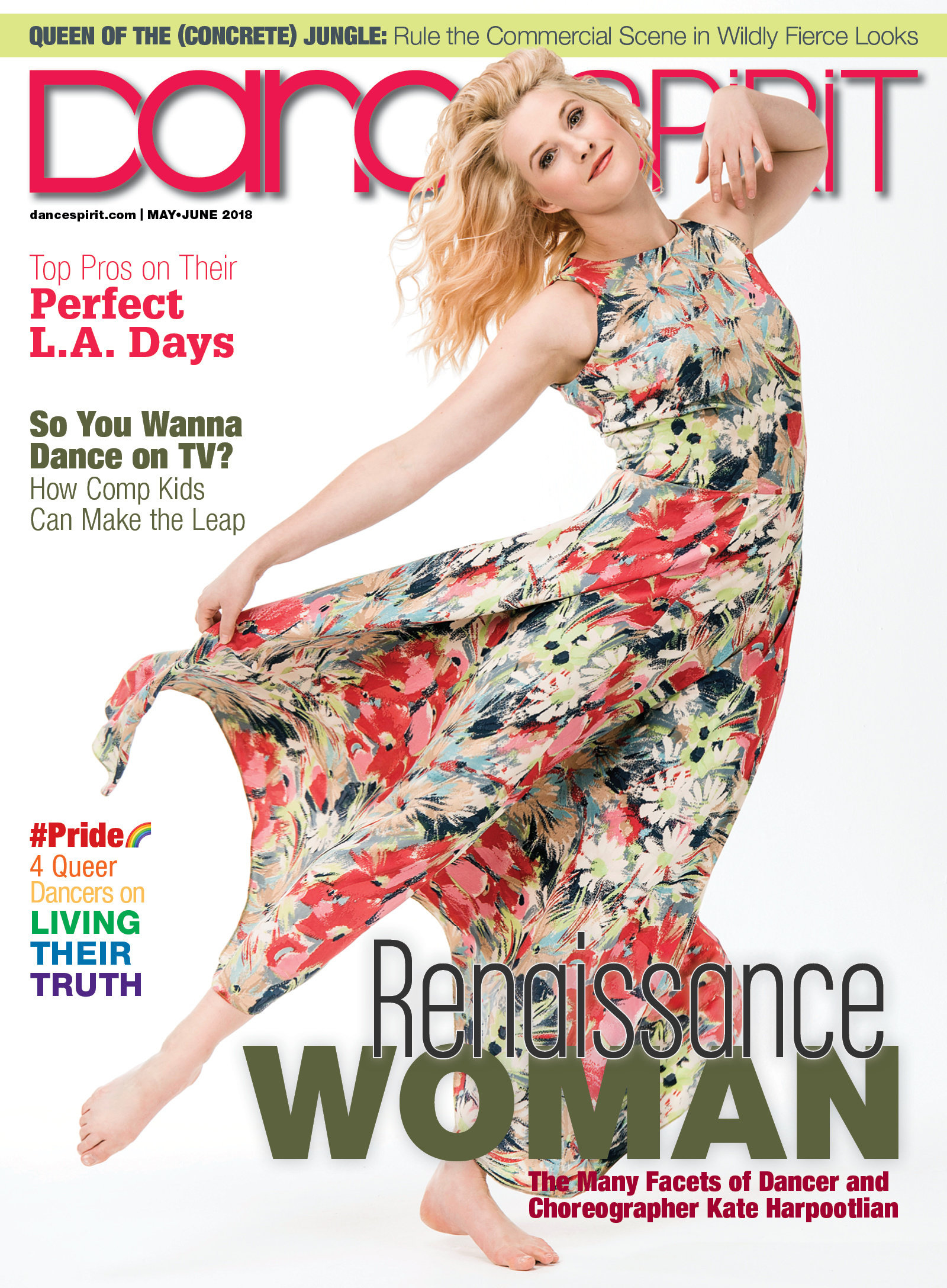 Get Dance Spirit in your inbox