How do you sum up an evening that includes performances of stage-shaking passion; heartfelt speeches that make you laugh and then make you ugly cry; and an inescapable sense of beautiful, joyful, warm-and-fuzzy #dancerlove?
You can do it the way legendary Merce Cunnigham dancer Valda Setterfield did it last night: By declaring that there's nothing better than being in a room full of dancers, whom she called the world's bravest, most generous souls. (Not too shabby.) Or you can do it in six words: Welcome to the Dance Magazine Awards.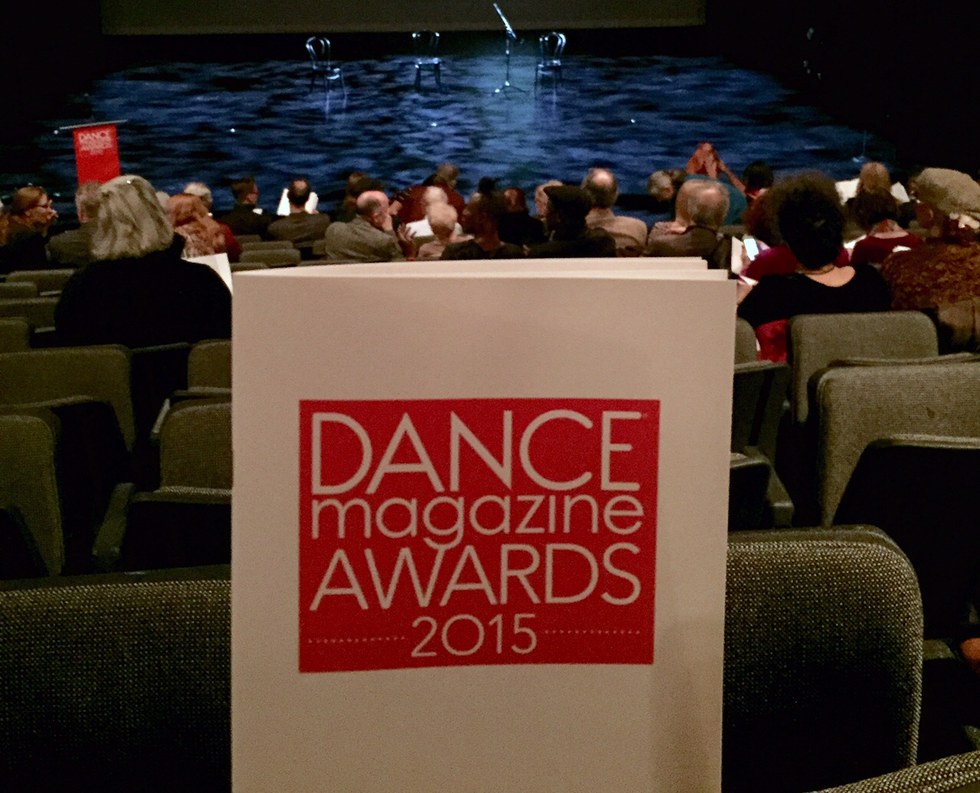 Yay!
Last night's ceremony marked the DM Awards' 61st anniversary, and this year's crop of honorees included luminaries from all corners of the dance world. None other than Mikhail Baryshnikov graced the stage to present the evening's first award to Karen Kain, one of the National Ballet of Canada's loveliest ballerinas and now its artistic director. Kain was one of the first people Baryshnikov met after he defected from Russia, and the two have kept up a beautiful friendship for decades—though Baryshnikov lamented in his speech that he was too short to ever dance with her. (That honor went, instead, to slouches like Rudolf Nureyev.)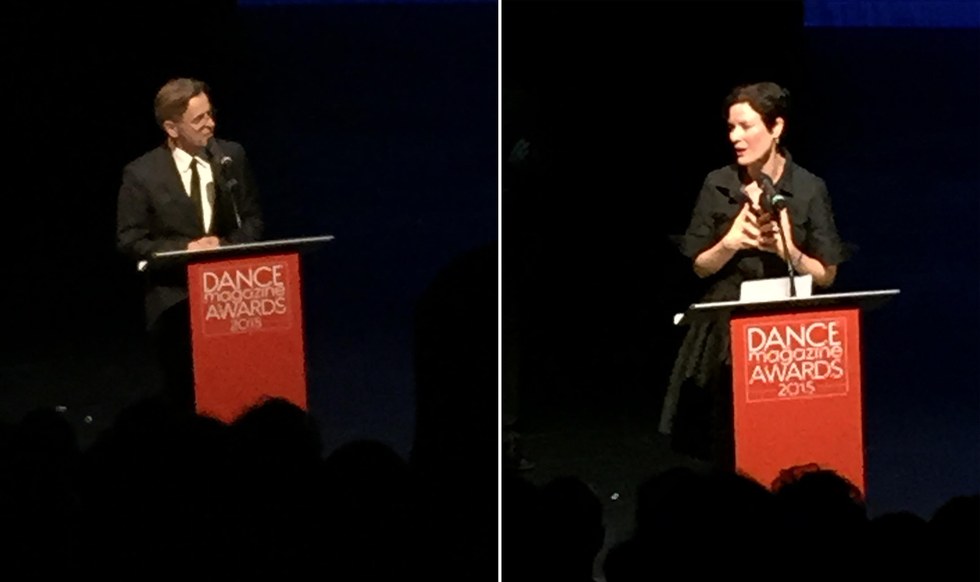 Baryshnikov and Kain: BFFLs.
Also representing #teamballet was honoree Marcelo Gomes, the gorgeous American Ballet Theatre principal and choreographer who charms the heck out of both audiences and his adoring ballerinas. We were treated to a pas de deux from Gomes' recent premiere for ABT, AfterEffect—lushly danced by Cassandra Trenary and Thomas Forster—that put Gomes' deep understanding of the intricacies of partnering on display. And recently retired ABT star Julie Kent made a sweetly teary speech in which she noted that even babies "immediately feel safe in Marcelo's arms, just as I do." D'awwwwww.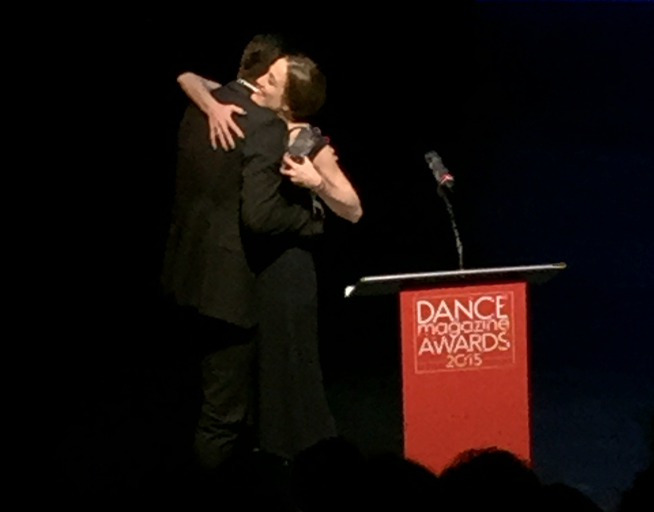 Kent in her safe place
Setterfield (wearing the world's most amazing plaid pantsuit ensemble) paid tribute to David Vaughan, a dancer who basically invented the job of "dance archivist" and has served in that role for Merce Cunningham's company since 1976. Now 91, Vaughan shows zero signs of slowing down: In his lovely acceptance speech, he talked about the fact that his old friend, dance artist Pepper Fajans, had convinced him to return to the stage next month. May we all be that awesome in our tenth decade.
We saw a vividly drawn excerpt from honoree Jawole Willa Jo Zollar's Walking with 'Trane—a  musing on John Coltrane's legacy—performed by Zollar's company, Urban Bush Women, which is celebrating its 30th anniversary this year. Zollar spoke movingly about the fact that reaching a "point of stability" in one's career was actually a bad sign: On a heart monitor, ups and downs indicate a pulse, while death is a stable flatline. She urged everyone to embrace life's natural rises and falls—though now, she added, whenever she's feeling low, she can look at her Dance Magazine Award and say, "Jawole Willa Jo Zollar, you are a bada**." FACT.
The highlight of highlights for me, though, was watching flamenco virtuosa Soledad Barrio blaze through Solea, accompanied by three masterful musicians (and the "Olés!" of the appreciative crowd). Tattooing the stage with her heels, slicing the air with her arms, searing our souls with the depth of her passion, Barrio illustrated exactly what the DM Awards are all about (Charlie Brown): honoring the most extraordinary of extraordinary dance artists, the people whose brilliance is life-enhancing and life-affirming and, sometimes, life-changing.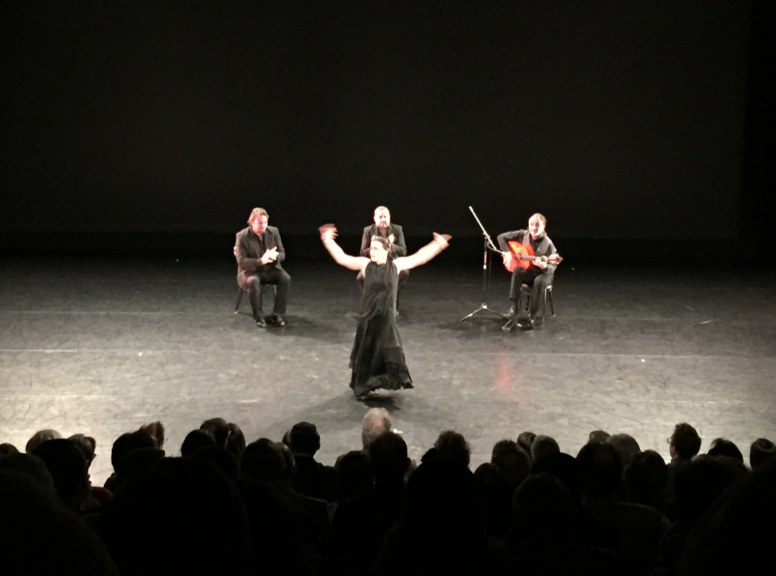 Olé, Sole!
Check out video highlights from the awards here:
Mar. 23, 2017 07:56AM EST
Last night, a verrrry impressive group of dance-world celebrities gathered at NYC's Ailey Citigroup Theater for the Dance Magazine Awards, honoring Patricia Wilde, Mats Ek, Yuan Yuan Tan, Philip Glass and Martha Clarke. The DM Awards are always pretty extraordinary, and this year was no exception. Here are our top five highlights from the star-studded night.
5) Patricia Wilde's acceptance speech. Wilde, a longtime New York City Ballet dancer and former artistic director of Pittsburgh Ballet Theatre, told the kinds of stories that make our ballet-nerd hearts incredibly happy—like that time Salvador Dali made her a very unusual headpiece (whoa!), and that time George Balanchine mentioned a new section of choreography she had yet to learn 30 minutes before she went onstage (eek!). It was a fabulous lesson in ballet history, as lived by one of the greats.
4) Mats Ek's tribute video. Two words: Sylvie Guillem. The selection of clips featured a fantastic group of women—including Ek's wife, Ana Laguna— performing the choreographer's tender, funny works. But it was Guillem, that crazy queen of the ballerinas, who made the most lasting impression—especially in an excerpt from Ek's Smoke. Here's a longer clip of Gullem in the piece:
3) Yuan Yuan Tan in After the Rain. Two of the most memorable works featured last night were set to the same piece of music, Arvo Pärt's Spiegel im Speigel—not a coincidence, really, given how beautiful and dreamy and all-around amazing it is. One of our favorite dance videos of all time is Tan and fellow San Francisco Ballet principal Damian Smith performing After the Rain, Christopher Wheeldon's perfect take on the Pärt piece, at sunset at the 2010 Fire Island Dance Festival. Wheeldon presented Tan's award last night, and it seemed only fitting that that gorgeous After the Rain clip was the highlight of her tribute video. Here's the whole thing:
2) Alessandra Ferri and Herman Cornejo performing part of Martha Clarke's Chéri. Man, it was such a ballet paradise last night! To honor Clarke, ballet stars Ferri and Cornejo showed us an excerpt from Clarke's new dance-theater work, Chéri, which opened Sunday night. And oh goodness, talk about chemistry. You could feel the heat radiating from these two glorious dancers during their steamy bedroom pas de deux.
1) Philip Glass's acceptance speech. OK, pretty much everyone in the audience was trying to hold back squeals from the moment Glass took the stage. He's such a legend, and his amazing music has given dance and dancers so much. But then Glass proceeded to talk about how much dance has given him, and we all just melted. In case you need a little reminder of how perfectly Glass and dance go together, here's Les Ballets de Monte Carlo performing the last section of Twyla Tharp's In the Upper Room:
Congratulations to all the awardees! We've got a slideshow of photos from the ceremony (all by Christopher Duggan) below, and click here for video highlights from the evening.
[portfolio_slideshow nowrap=0 thumbs=true timeout=4000 showtitles=true showcaps=true showdesc=true]
Last night, basically the entire dance world got gussied up and headed to NYC's Ailey Citigroup Theater for the 60th (!) Dance Magazine Awards. How did the DMAs celebrate the big 6-0? By honoring no fewer than SIX incredible artists: Brenda Bufalino, Tony Waag, Larissa Saveliev, Wayne McGregor, Luigi and Misty Copeland. Here are the top highlights from a night that was basically all highlights.
1. We got to see three of the six awardees perform. Tap icons Bufalino and Waag did a little soft-shoeing (and, in Waag's case, singing!) alongside dancers Felipe Galganni and Lynn Schwab in an excerpt from All Blues/Tacit/Latin, a piece originally made for the American Tap Dance Orchestra. And the one and only Copeland took our breath away in Toccare, a ridiculously sexy ballet choreographed by fellow American Ballet Theatre dancer Marcelo Gomes. Odds are, even if you haven't seen the piece live, you know it through incredible photos like this one: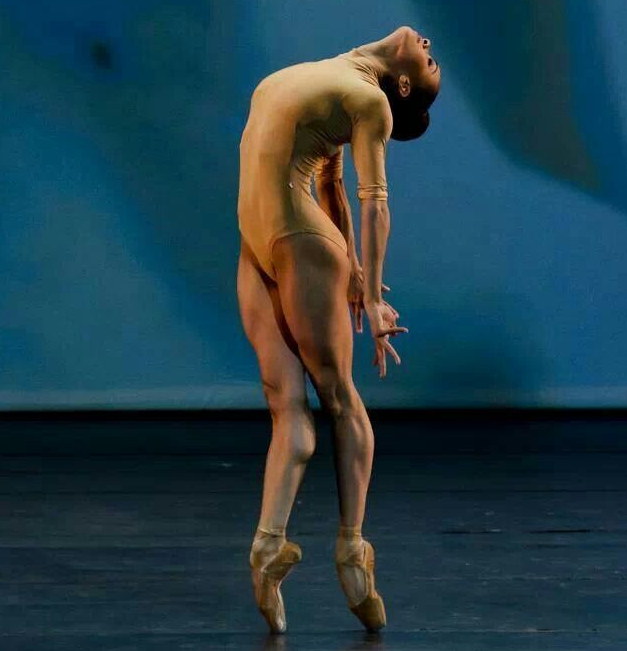 Holy legs, Misty. (photo by Liza Voll)
2. There was a world premiere. Gomes was basically an honorary awardee last night. We saw not only his Toccare, but also a brand-new Gomes ballet, La Mort d'Ophélie, starring ABTers Sarah Lane and Sterling Baca. Made in tribute to Saveliev, it was gently, dreamily melancholy.
3. We were reminded, yet again, of why we're obsessed with Wayne McGregor. Alvin Ailey American Dance Theater's Akua Noni Parker and Jeroboam Bozeman blazed through an excerpt from McGregor's electric Chroma. (You can watch The Royal Ballet perform the same excerpt here—and believe me, you should.) There really is nothing like his wiggly, wacky, wild choreography. Though McGregor couldn't be there in person to accept his award, his beamed-in acceptance speech—an eloquent tribute to all of his collaborators, and a call for support of young artists—showed off the powerful mind behind the magic.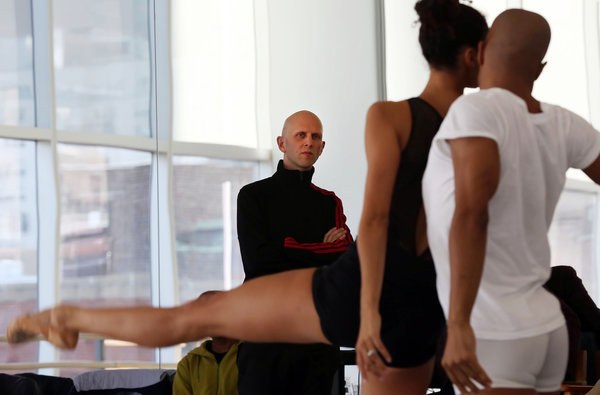 McGregor rehearsing Chroma at Ailey (photo Andrea Mohin/New York Times)
4. The whole audience did Luigi's classic warmup. The man himself is recovering from surgery and was unable to make the ceremony, sadly. But protégé Francis Roach, accepting on Luigi's behalf, got the dancer-filled crowd on their feet to do the first few familiar steps of the Luigi warmup—the perfect tribute to the jazz legend.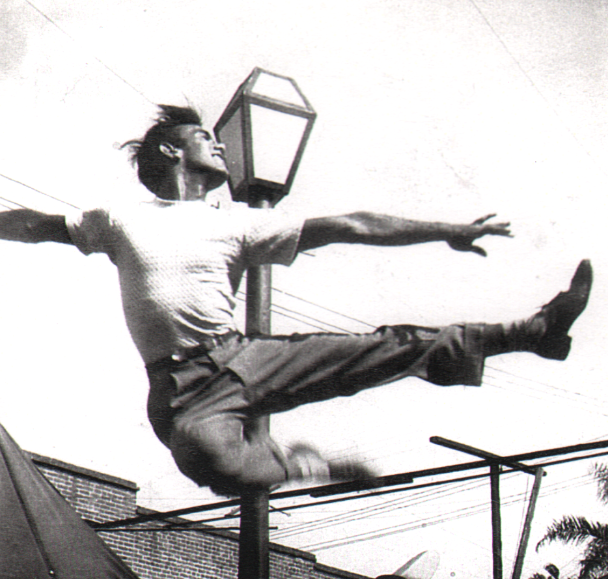 Luigi in his prime, behind the Falcon Studios in Hollywood (photo by Edith Jane)
5. Raven Wilkinson made everyone cry. The wonderful Wilkinson, who presented Copeland's award, was the only African-American dancer to perform with the Ballets Russes, and has become a mentor to Copeland. She quoted Eleanor Roosevelt—"The future belongs to those who believe in the beauty of their dreams"—and praised not only the beauty of Copeland's exquisite dancing, but also the beauty of her dream of a colorblind ballet world.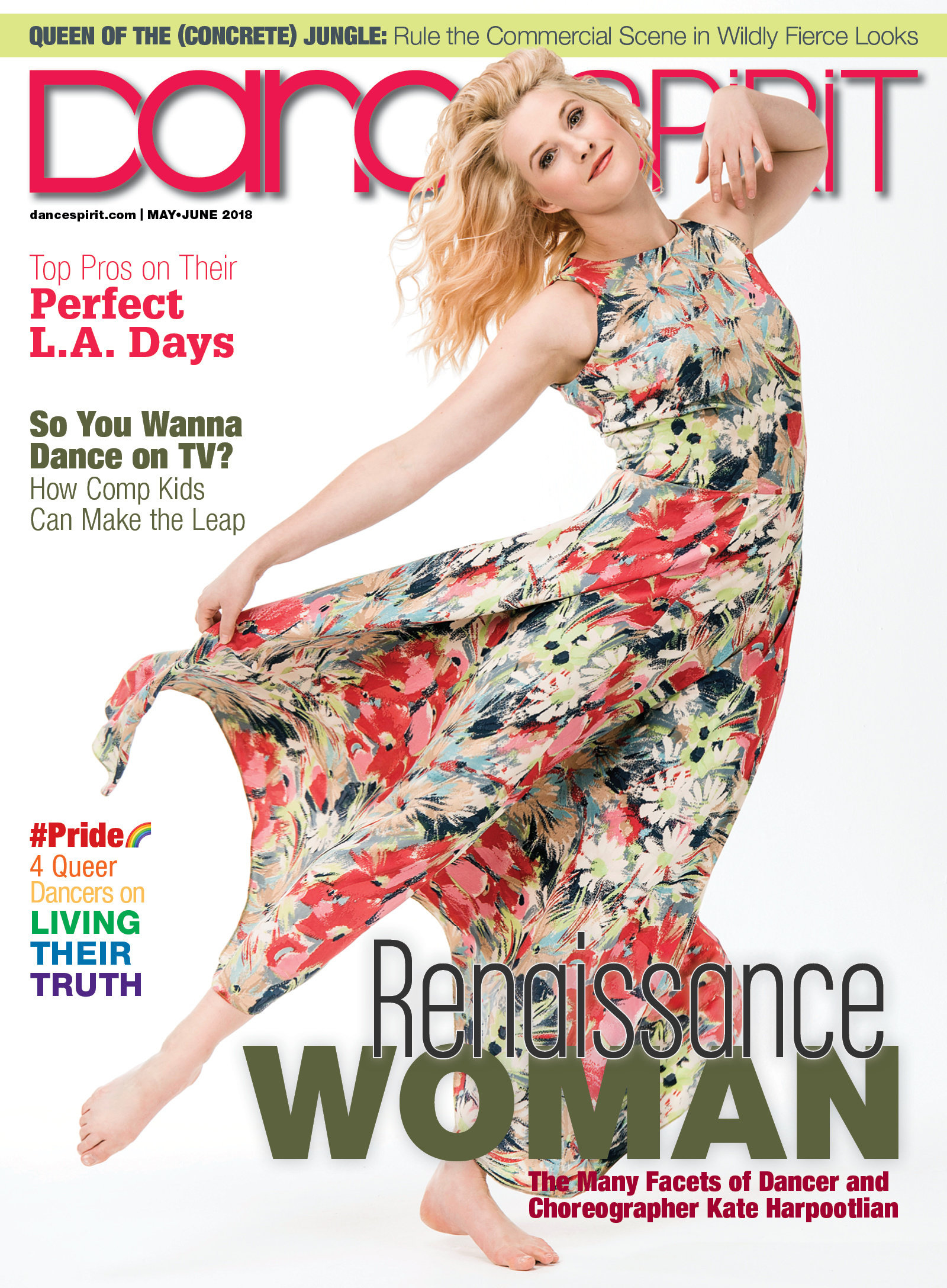 Get Dance Spirit in your inbox