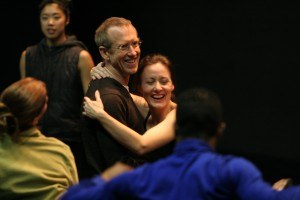 William Forsythe with Jodie Gates, the director of USC's Glorya Kaufman School of Dance.
(photo by Ian Carney)
You may have read that legendary choreographer William Forsythe is leaving his company to join the faculty of the new BFA program at University of Southern California's Glorya Kaufman School of Dance. (The school will enroll its first class for the fall 2015 semester.) Forsythe will be leading composition and improvisation courses and mentoring the USC International Artist Fellows—a program for emerging artists. He'll also serve as the the artistic advisor to the school's Choreographic Institute.
The university has also announced that dancers will have the opportunity to work with professors and students at USC's School of Cinematic Arts—particularly with the animation department. This is super cool, especially since we already know what amazing things happen when dance and animation meet (ahem, Duet). The collaboration, however, has already started: Take a look at the School of Dance's website, which was created by cinematic arts associate professor Mike Patterson.
Is college on your mind? Check out the Dance Magazine College Guide. It's got tons of helpful info on college admissions, auditions, finances and programs nationwide. And if you want to stay up-to-date on the latest college and university dance news, you might consider signing up for the monthly DanceU101.com newsletter. Get tons of info about college dance delivered right to your inbox. Click here to sign up.
It's that late-summer time of year when a lot of you, especially you high school juniors and seniors, are starting to have college-related meltdowns. Your minds are swirling with questions—important ones. What school might be the best fit for you? How should you go about narrowing down your list of colleges? Should you major in dance? Which programs will prepare you for the ballet world, or the musical theater world, or the modern world, or the commercial world?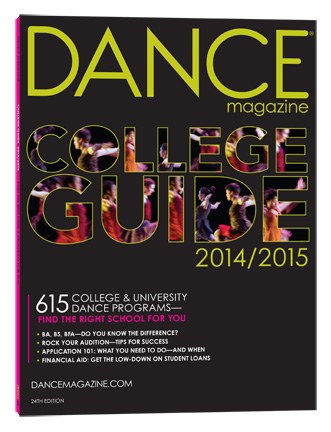 Yes, it's stressful. But don't start hyperventilating just yet: We're here for you! First of all, in about a week, our college-themed September issue will be hitting your mailbox, and it's jam-packed with advice about the oh-so-fraught application process. But there's another resource available right now: the 2014/2015 Dance Magazine College Guide.
The DMCG, aka the College Mothership, is the educated dancer's guide to dance education. It features an easy-to-understand directory of 615 (!) dance programs, with color-coded information about the styles and degrees each one offers. It also includes financial advice and tips about merit-based scholarships; a step-by-step college prep timeline that walks you through the application process; advice from the likes of Sonya Tayeh; and so, so much more.
Where can you find this magical thing, you ask? Right here. Order your copy—and then take a few deep breaths. It's going to be OK!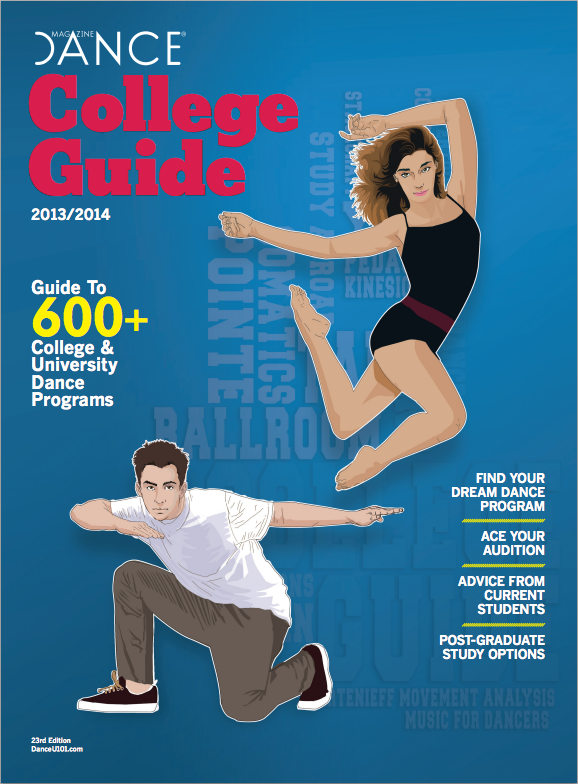 College-bound dancers, I know there are a lot of questions on your mind right now: Where should I go to school? Should I major in dance? What are college auditions like? How will I pay for my education? What jobs can I get with a dance degree?
First of all, stop freaking out. Everyone in your situation feels a little overwhelmed, and that's OK.
Second, check out the look-no-further-because-all-your-questions-are-answered-right-here book, the Dance Magazine College Guide. Seriously, it has everything you need. And the brand-new edition for 2013–14 is hot off the presses this month!
What can you expect? The College Guide is full of helpful articles that take you through every step of the process—from applying to auditioning to campus life to graduation. Plus, it includes info on more than 600 dance programs, so you can find the one that's a perfect fit for you. It doesn't get much better than that.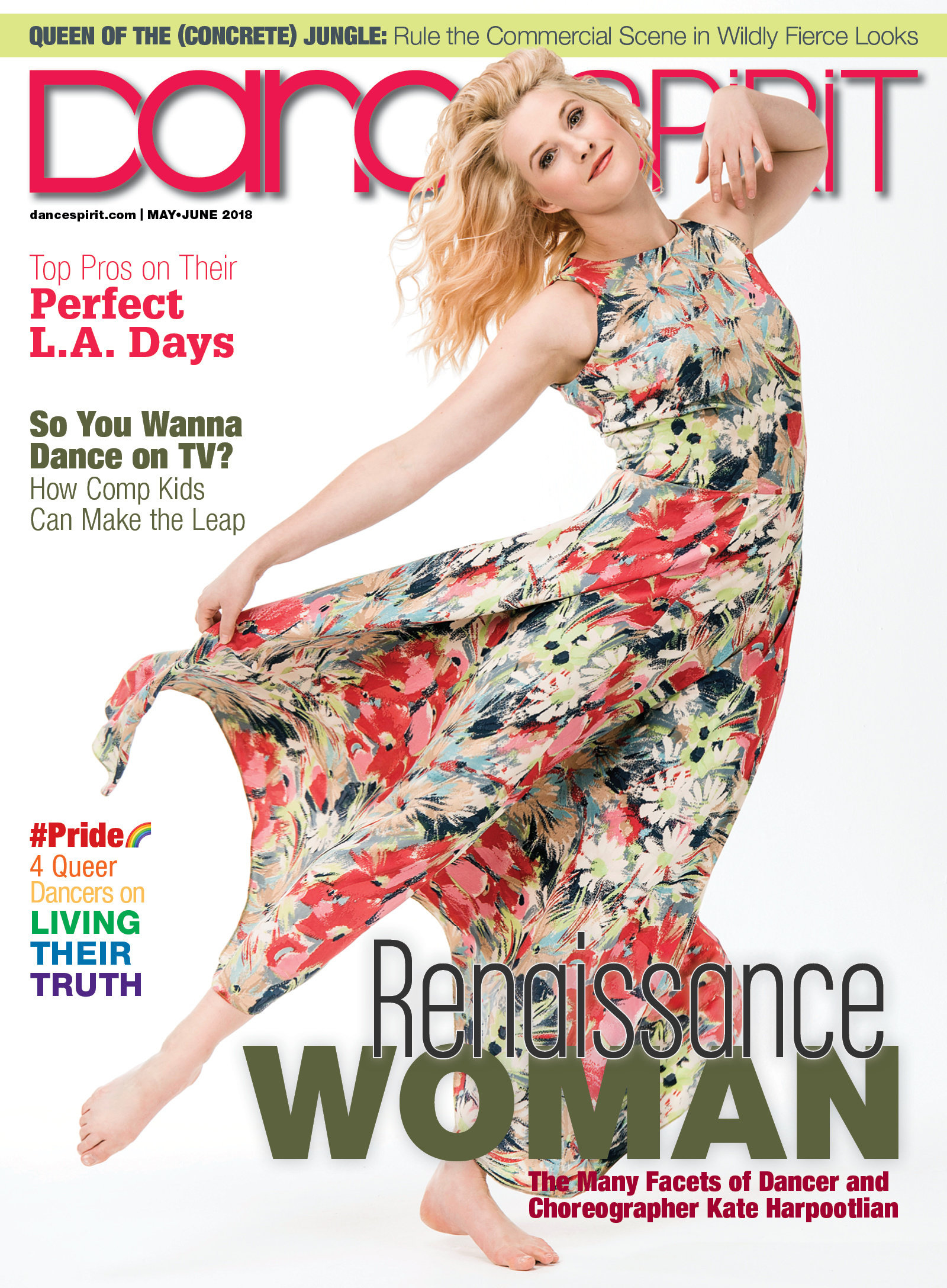 Get Dance Spirit in your inbox