Screenshot via YouTube
To say it's been a great few weeks for dance movies is an understatement—we found out mere days ago that "Driven to Dance," starring Juliet Doherty, was streaming on Netflix. And now, in what can only be described as the single best way to start the weekend, "I Dream of Dance" is streaming on Netflix.
Keep reading...
Show less
Doherty in Driven to Dance (MarVista)
Keep reading...
Show less
Maddie Ziegler may be a teen, queen, dancing machine—however, her dance movie knowledge isn't quite on the level of her actual dance skills. Maddie took Teen Vogue's dance-movie quiz where she had to explain the plot and name some of the characters of specific dance movies. While some of the movies she was tested on were iconic dance flicks, Maddie points out she was born way after many of them were made.
Keep reading...
Show less
Just for Fun
Aug. 02, 2018 02:05PM EST
Including Dance Academy: The Comeback, naturally. (ZDF Enterprises)
We're deep in the lazy, hazy days of summer—and there's no better time to kick back, relax, and watch one of the many dancetastic movies that've come out recently. Which should you add to your queue? Here are eight must-watches.
Keep reading...
Show less
Just for Fun
Jun. 29, 2018 10:00AM EST
Colder weather is (finally) here, which means it's time for a good dance movie binge. But which iconic films should you put on? To narrow your search, we went ahead and ranked 30 of the greatest dance movies of all time.
Of course, we know a list like this is bound to be controversial—so if you disagree with our lineup, have at it in the comments!
Keep reading...
Show less
Just for Fun
Jun. 29, 2018 10:00AM EST
Colder weather is (finally) here, which means it's time for a good dance movie binge. But which iconic films should you put on? To narrow your search, we went ahead and ranked 30 of the greatest dance movies of all time.
Of course, we know a list like this is bound to be controversial—so if you disagree with our lineup, have at it in the comments!
Keep reading...
Show less
Photo by Lucas Chilczuk
Click here to get the inside scoop on the film High Strung: Free Dance!
Juliet Doherty has been at home in the studio and the spotlight since before she could walk. The 21-year-old comes from a long line of dancers: She practically grew up at the school her grandmother owned, Fishback Studio of the Dance in Albuquerque, NM, and her mom was her longtime teacher. As a young student, Doherty competed at the world's toughest ballet competitions and performed as Clara in the Radio City Christmas SpectacularRadio City Christmas Spectacular. Eventually, she left Albuquerque to train at the San Francisco Ballet School for three years, and then she danced with Phoenix Ballet for two years.
Along the way, Doherty discovered another great love: acting. In 2014, she was part of the cast of the Susan Stroman–directed musical Little Dancer (alongside Tiler Peck). And in 2017, she appeared in her first film, On Pointe—playing, naturally, an ambitious young dancer.
Now, Doherty's on the big screen again, starring as Barlow in High Strung: Free Dance. Plus, she has a new city to call home: NYC. Doherty sat down with us to talk about the film, her transition into acting, and what's next.
Keep reading...
Show less
Juliet Doherty and Thomas Doherty in High Strung: Free Dance (photo by Jo Bee, courtesy Michael Damian)
Click here to get the inside scoop on High Strung: Free Dance's leading lady, Juliet Doherty!
High Strung: Free Dance, the sequel to 2016's epic High Strung, is about to hit theaters. We've got all the details on the super-dancy film.
Keep reading...
Show less
Boylston in the Red Sparrow trailer (via YouTube)
The much-anticipated ballet thriller Red Sparrow hits movie theaters today, March 2. The film tells the story of a fierce Russian ballerina, played by Jennifer Lawrence, who's recruited by the Sparrow School, a secret Russian intelligence service that trains young people to use their bodies and minds as weapons. Expect lots of suspense, but also lots of dreamy dance scenes, thanks to Lawrence's dance double, American Ballet Theatre principal Isabella Boylston; Lawrence's dance partner, Sergei Polunin; and choreography by New York City Ballet's Justin Peck.
Keep reading...
Show less
Misty Copeland in a still from A Ballerina's Tale, streaming now on Netflix
Winter break has finally arrived! When you're not busy hanging out with your family or finishing up Nutcracker performances, we know you'll make time for some good old-fashioned binge-watching. And Netflix and Hulu have you covered, with a wide array of dance films and shows to add to your queue. Here are our top picks.
Keep reading...
Show less
Get Dance Spirit in your inbox
The latest original musical to grace the big screen, The Greatest Showman follows the life and times of P.T. Barnum, and the events that inspired him to create the famous Barnum & Bailey Circus—often dubbed "The Greatest Show on Earth"—in the mid-1800s. Hugh Jackman stars as the entertainer, joined by celebs like Zendaya (who plays a graceful trapeze artist) and Zac Efron (who plays a circus performer and love interest to Zendaya's character). As Barnum assembles a dazzling spectacle of performers, the cast gets to participate in some epic dance numbers, choreographed by Ashley Wallen. Here, Wallen gives us the behind-the-scenes scoop on the film's moves.
Keep reading...
Show less
Quiz
Nov. 13, 2017 11:54AM EST
Whether you're a musical theater buff or someone who lives for the Step Up franchise, you have to admit that dance movie scenes are often (all too) representative of real life. Here are five of our favorite scenes that, despite being silly and/or fantastical, somehow manage to reflect how we feel.
1. Did you just get cast in your dream role? Ace a test? Is "You Can't Stop the Beat," from Hairspray, running through your mind right now? It's an amazing anthem to sing to yourself when you feel unstoppable.
2. The warehouse dance scene in the original Footloose is legendary. This is how we deal with casting disappointments when nobody's watching.
3. "Good Morning," from Singin' in the Rain is so cheerful that it's easy to forget the song is sung by exhausted people who have just pulled an all-nighter. But anyone who says they don't do a victory dance when they come up with a great idea is lying.
4. Does the audition scene in Flashdance perfectly capture all of our audition anxiety? YES. But like any successful dancer, Alex shows exactly why she's unique—and it wins her a spot at a prestigious art school. Also, her high-cut leo and legwarmers are everything.
5. "We Go Together" from Grease perfectly encapsulates our feelings at the end of the school year or a summer intensive, or after a show closes: We're both relieved and sad that everything is over, but we know we've had an amazing bonding experience with our friends and colleagues.
Want more Dance Spirit?
Not a huge college basketball fan? Yeahhhh...me neither. But I can't help feeling a little left out come March, when it seems like everyone in the world is busy keeping tabs on some elaborate March Madness bracket.
Enter Pacific Northwest Ballet, the company that's already proven it knows how to make the dance and sports worlds collide in delightful ways.
Yesterday, PNB launched a dance-friendly take on the bracket bonanza: "Dance Madness," a cute online survey that lets us nerds vote for our favorite dance movies. In today's preliminary round, for example, we can make flick picks in the "Golden Age" (think Singin' in the Rain and Funny Face) and "Millennium" (Step Up, Billy Elliot) categories. New prelim categories will be introduced daily until Tuesday, March 15. At that point the March Madness-style fun will truly begin, with the top contenders bracket-ing it out for the title of Best Dance Movie of All Time.
(Ahem: CENTER STAGE. If Center Stage doesn't win this thing—well:)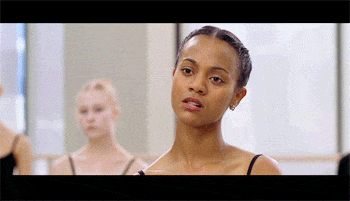 Click here to play!
It seems like only yesterday we were raving about the super-adorable Disney Channel original Teen Beach Movie. In reality, though, it's been close to two whole years since the made-for-TV musical had our hearts singing with its summery dance-filled numbers. Choreographed by Christopher Scott (of "So You Think You Can Dance" and "LXD" fame), it featured "SYT" alums Kent Boyd and Mollee Gray and our gorgeous L.A. tour guide, Jessica Lee Keller.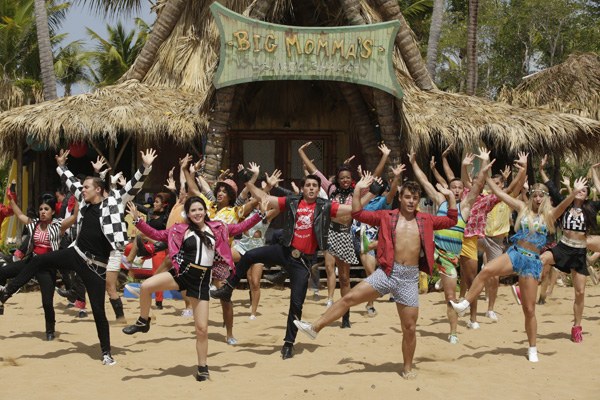 Teen Beach 2! (Disney Channel/Francisco Roman)
It's about time for another, right? Teen Beach 2 hits the small screen this Friday, and Scott is back at the dance-helm of this surf-inspired spectacular. Dance Spirit spoke with him about the sequel.
Dance Spirit: Do you have a favorite part of Teen Beach 2?
Christopher Scott: "Gotta Be Me." It's really a dancer's number. It takes place in a gymnasium, and I was able to showcase everyone's individual talents. I found out what everyone was capable of when making the first film, so this time around I was able to push the dancers to their ultimate limits.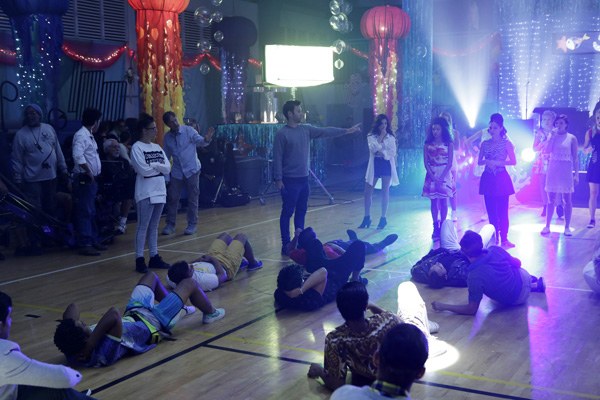 Christopher Scott (center, pointing) choreographing "Gotta Be Me" for Teen Beach 2 (Disney Channel/Francisco Roman)
DS: Creating musical numbers for Disney seems pretty different from your other projects, like "The LXD."
CS: It is, but the theater world is where I fell in love with dance. I'm actually a big musical theater nerd. Teen Beach has a lot of references to West Side Story, and that's the first musical I performed in.
DS: Is your process different when you're creating work for "SYT" compared to Teen Beach?
CS: No matter what I'm doing, there's a story involved and a reason for the dance. When I'm working with the dancers on "SYT," I don't really take into account of what the dancers are or aren't able to do—it's a contest and they have to live up to expectations. But when I'm choreographing for something like Teen Beach, I'll tailor the movement to the dancers I'm working with. There's more collaboration.
DS: Do you have any advice for Dance Spirit readers who are hoping to work in Hollywood?
CS: Take advantage of all the new technology and platforms available today. You can easily shoot a movie on your iPhone in your living room—just go out and start making work. There's no reason not to get started now.
Check out the trailer for Teen Beach 2 below, then set your DVRs for Friday, June 26 to catch the premiere!
Ahh. Visually striking dance movies—there's nothing like them. From the 3D, Academy-Award nominated Pina to the probing, New-York-City-Ballet-behind-the-scenes, Ballet 422, movies that take the awesomeness of dance to a new visual level are always the best ever. Well, dance-on-camera fans, rejoice! There's a new film coming out this month that promises to be extremely bold and beautiful.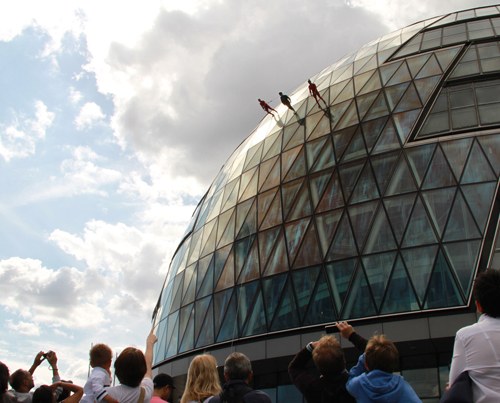 Members of STREB Extreme Action performing "Sky Walk," as part of the London 2012 Cultural Olympiad.
(photo by Esy Casey)
Born to Fly: Elizabeth Streb vs. Gravity comes out next week, after rave reviews at the SXSW Film Festival this spring. Following Streb and her STREB Extreme Action dancers movers, the film highlights the choreographer's contributions to dance, art and the quest for human flight—though sometimes at the cost of her company members' safety. But as Streb (aka the Evel Knievel of dance) says in the film, "Anything too safe is not action." Plus, it's insanely exciting—talk about a serious adrenaline rush—to watch the dancers bounding from incredible heights, spinning in a human hamster wheel and rappelling from buildings. Take a look at the trailer below—we promise, you'll be hooked:
Dying to see Born to Fly? Click here for a list of showtimes.