Quick, who's your favorite ballerina?
It's nearly impossible to choose just one. If I was forced to narrow my list down to my top five, I'd have to include Royal Ballet principal Lauren Cuthbertson.
Not only is she the absolute picture of English refinement and classicism, she's also one of the most down-to-earth ballerinas out there. And one look at her Instagram will convince you she's hilarious, too.
In Portrait of a Dancer, a new video by Andrew Margetson, we get to see Cuthbertson almost fully recovered from a devastating foot injury she sustained in 2014. On her Instagram, she notes that she'd only been back in pointe shoes for a week (!) when this film was made. There are a few, very slight, wobbles, in her dancing but you can see her strength shine through.
Oh, and we are LIVING for that balance at the very end. How's that for some weekend inspiration?
As you know, French artist JR collaborated with New York City Ballet on 2014's Les Bosquets, a dance that combined ballet and jookin'. It was inspired by a housing project in Montfermeil on the outskirts of Paris—the epicenter of social and political protest in 2005.
I love JR's work. I'm totally obsessed with his Instagram and am consistently intrigued by his politically charged art works, which are often executed on an epic scale. That's why I'm so curious to see what his latest film is all about. Les Bosquets is inspired by the stage production of the same name, and it will premiere at the prestigious Tribeca Film Festival on April 18.
So far, I can only tell you that it includes Lauren Lovette in a white tutu and pointe shoes, a ballet corps dressed in mod-ish pop art unitards (looking more like a scary army than a flock of swans), Lil Buck jookin' up a storm and buildings being demolished. How will all these elements be combined in a narrative that tackles racial inequality, poverty and the status of an immigrant in today's world? Who knows? But I'm excited to find out!
The Dance Camera West Film Festival kicks off tonight in L.A., celebrating and promoting dance in film. The festival runs through June 13, though the majority of events take place this weekend. Super-cool highlights? Performances by L.A.'s BODYTRAFFIC and L.A. Contemporary Dance Company; a YouTube panel discussion with Tony Testa, Vincent Paterson, Jon Chu and Ian Eastwood; and screenings of films that feature artists like Storyboard P, Daniel Cloud Campos, Sergei Polunin, Daniel Ezralow and Pandit Chitresh Das and Jason Samuels Smith. To say the least, it's going to be awesome. (Get the full schedule here.)
This year's festival also marked the inaugural CalArts@Dance Camera West Emerging Artists Competition. Sponsored by Dance Camera West and the dance and film divisions of California Institute of the Arts, the competition welcomed films from high school and college dancers. Four winners were announced earlier this week: Ohio State University's Daniel Diller was named first runner-up for his film Up. Side. Down. exploring skateboarding movements; second runner-up Amber Schmiesing from Elon University presented Concert in D Minor, a film inspired by Mozart's life; and Palo Alto High School student Kristen Carey received special recognition for Inside My Mind, a work that dives deep into the world of Irish dancing. Juilliard dancer Nobel Lakaev took home first place and a cash prize for his film Behind Closed Doors.
The winners' work will be screened June 8 at REDCAT, in Downtown L.A. Can't make it? Watch a few excerpts from Nobel's Behind Closed Doors below. (FYI: The video goes dark for a little over a minute at 1:30...but it picks back up. Enjoy!)
It's not hard to think of the dozens (upon dozens) of fashion and dance collaborations over the past few years. But what's one thing we never saw coming? The marriage of dance, film and...perfume.
Of course, it's no surprise that super-cool Kenzo designers Humberto Leon and Carol Lim dreamed up this video to launch Kenzo's new perfume. Leon worked with New York City Ballet resident choreographer Justin Peck on the costumes for his ballet New Blood and Peck choreographed for Leon and Lim's other design project, Opening Ceremony, during its New York Fashion Week runway show in September 2015. Clearly the Kenzo/OC designers have the dance bug.
For this project, they tapped legendary film director Spike Jonze, Leftovers actress Margaret Qualley and choreographer Ryan Heffington (of Sia fame). As you can imagine, the result is awfully strange and extremely awesome. As you might not imagine, Qualley can really move. You go girl! We had no idea, and now we can't wait to see her in some music videos or other dance-y projects.
Check out the Kenzo video below:
Want more Dance Spirit?
Hey dance family. How are you doing? The world has seemed like an especially tough and scary place over the past few weeks, and it's okay to feel rattled. Fortunately, we're lucky enough to have dance—it sees us through good times and bad.
So, for your #FridayFeels, please enjoy this beautiful video of Kent Boyd and Will Jonhston, choreographed by Tyce Diorio. It shows two men in a relationship, maybe on the brink of breaking up. As they dance to X Ambassadors' "Unsteady," it becomes clear that the couple is going through a lot right now.
Grab your tissues, give this a watch and then go hug someone you love.
Have you ever played exquisite corpse? It's a drawing and writing game where each participant adds a sentence and image to a story, based only off of what was drawn or written immediately before. The end result is usually as wacky as it is interesting.
Now stretch your mind a little bit, and imagine the same process as a dance. Filmmaker Mitchell Rose did just that in his film Exquisite Corps (taking the "e" off the end makes it a ballet pun, get it?), and the result is nothing short of spectacular. Many of the most important choreographers of the last thirty-ish years are featured, like Elizabeth Streb, Bebe Miller and Doug Varone, along with newer faces like Sidra Bell, Zoe Scofield, Faye Driscoll and Kyle Abraham. Check it out:
Our November cover stars, choreographers extraordinaire and married lovebirds Keone and Mari Madrid are working on a new video series called "Water."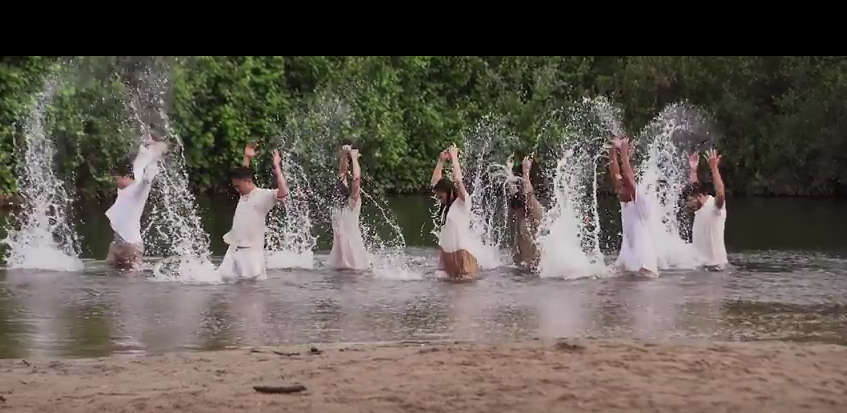 (Still from "Water Pt. 1")
The two have talked a lot about their Christian faith and how it features in their choreo and dancing, and the "Water" videos are clearly a testament to that. But the videos also feature stunningly beautiful cinematography and amazing dance crews—and are ultimately about forgiveness and empathy, appropriate themes for the season.
Enjoy!
Sep. 17, 2015 09:44AM EST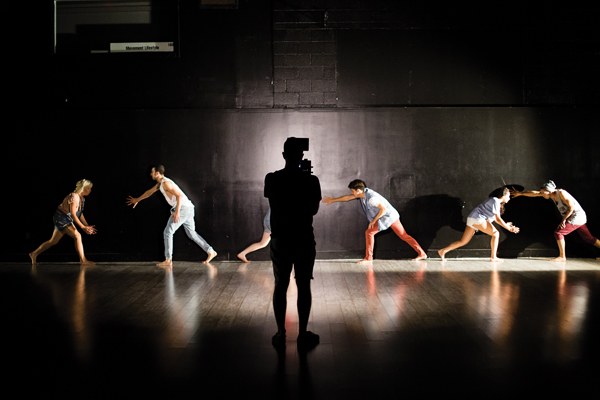 (Photo by Joe Toreno)
Choreographer Kyle Hanagami rarely holds casting calls: He's already got an awesome crew of seven dancers who star in his frequently viral dance videos. This spring, five of those dancers—Whitney Bezzant, Guero Charles, Brandon Dumlao, Haley Fitzgerald and Ashley Gonzales—gathered at L.A.'s Movement Lifestyle dance studio to shoot a new video, set to the song "Youth," by Daughter. (The missing two had good excuses: They were off shooting VH1's "Hit the Floor" and touring with Taylor Swift!)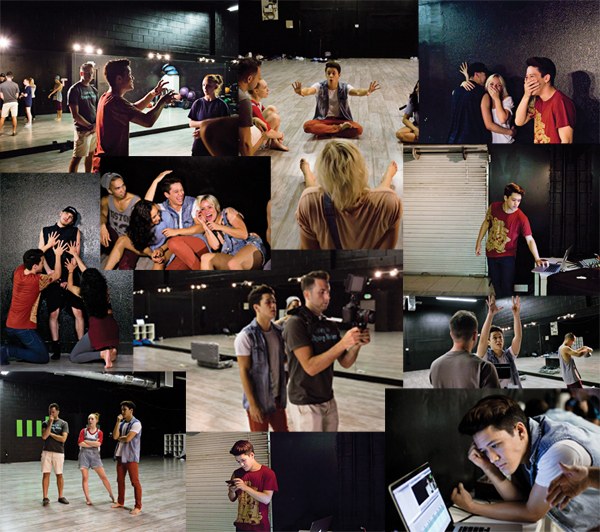 (All photos by Joe Toreno)
Though Hanagami often shoots straight choreography vids—his most popular being "Yoncé," an ode to Queen Bey that's gotten more than 9 million views—this shoot was for one of his high-concept pieces, which are more like short films. "It was based around the idea of how frustrating life can be," Hanagami says. "I walked in knowing some of the camera shots, the lighting I wanted and the feel of the song, but I had zero choreography. We just got in the studio and did what felt natural."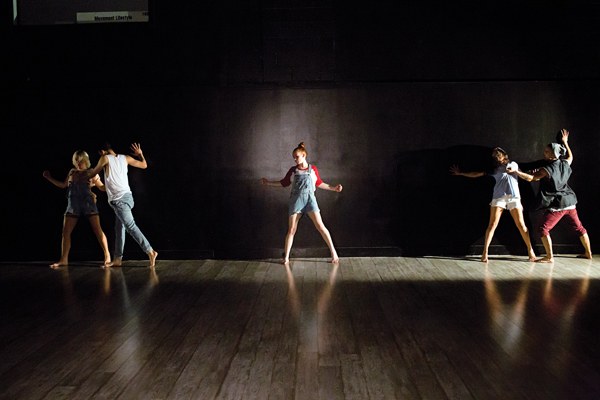 (Photo by Joe Toreno)
The outcome? An emotional, intense exploration of relationships, which Bezzant calls "darker and more personal" than anything Hanagami has done before. The look of the video fits the mood: Most of the shots were filmed against the black walls of the studio, and the lighting was minimal. "We wanted a candid, Blair Witch-meets-American Apparel feel," Hanagami says.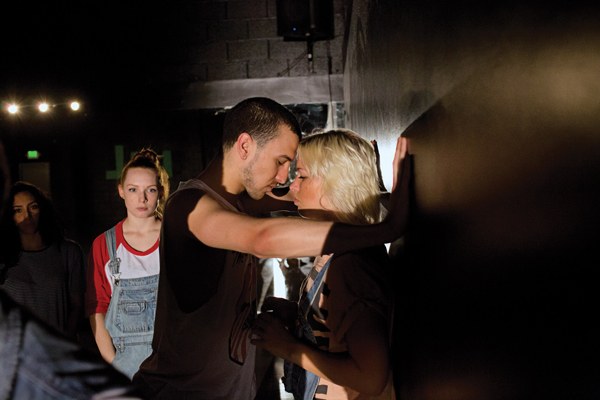 (Photo by Joe Toreno)
The dancers went to a pretty dark place, too. One scene required them to yell and scream at each other, which was a challenge for the close-knit bunch. "It took us a while to get it," Bezzant admits. But the resulting footage is powerful.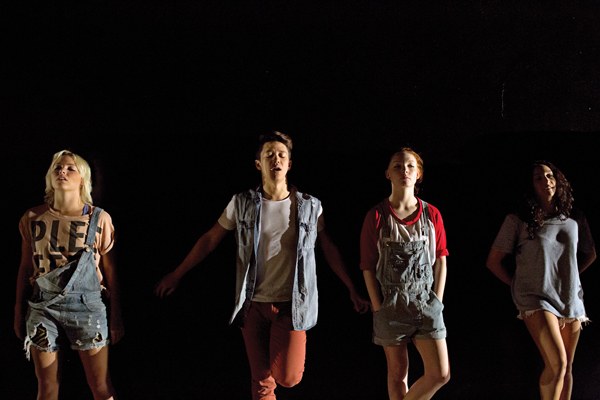 (Photo by Joe Toreno)
What's the secret to Hanagami's YouTube success? Passion. "Many people don't realize that most of the dancers who are popular on YouTube don't do it to become famous," Hanagami says. "They have a vision they want to share with people."
Click here to watch "Youth."
Ah, late summer. When family vacations make a mockery of your last few days of freedom. When every moment you share at the pool with your friends feels tinged with tragedy because you'll soon be stuck in a classroom. When you'd settle for endless stifling humidity if it meant never hearing your alarm go off at 6am, ever again.
Are you stressed yet? Well, you shouldn't be. Back-to-school doesn't have to be #theworst—think of all the ways you'll improve as a dancer this year! In honor of a little Friday zen chillout/back-to-school de-stressor, check out these two videos produced by Pacific Northwest Ballet.
Gabrielle and Jimena are two students who attended the PNB summer program this year. In true PNB fashion, the videos are dreamy and inspiring, and the dancers are beyond gorgeous.
Are you relaxed yet? Good.
Get Dance Spirit in your inbox
Our friend (and ballerina obsession) Juliet Doherty is the star of a new dance film short with cinematography by Will Fryar. The goal of the film, called Opið, is to "merge the worlds of dance and film to elevate both art forms." With Juliet involved, how could it do anything but? And the film itself is as gorgeous as she is. It features stunning lighting and colors, and desert scenery to complement her perfect lines.
When Juliet's character, a girl who is struggling to "overcome the emotional walls she has built and find true freedom," finally dances out into the world, you'll hardly be able to suppress a spontaneous "YAS JULIET!" I couldn't. Enjoy!
I never get tired of seeing beautiful dance films shot in innovative locations. Fortunately, artists everywhere never get tired of making them. Here's a new video to add to your list of favorites: Haut Vol, directed by Louis de Caunes, featuring Paris Opéra Ballet dancers Leonore Baulac and Alistair Madin. Google translate tells me that the title means "flying high."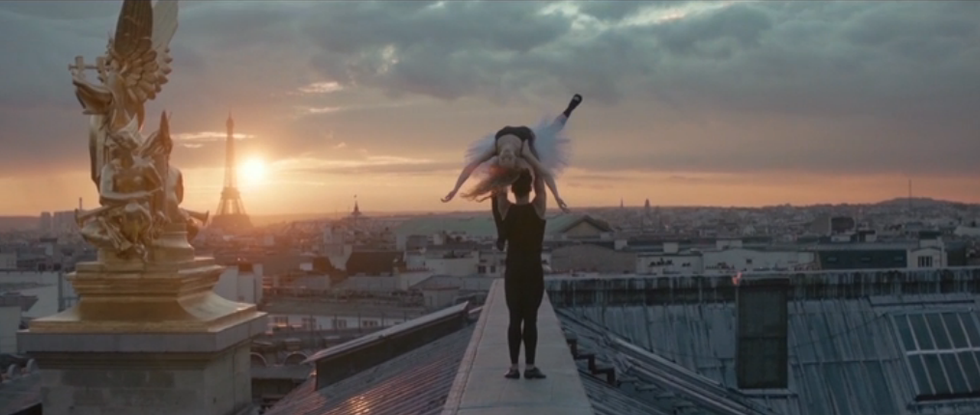 Still from Haut Vol, directed by Louis de Caunes
It's short and stunning, and kind of like ballet-meets-Inception—which, now that I think of it, should totally be a thing. I especially appreciate how it manages to be visually interesting as a film, while maintaining the integrity of the dancers' movements. (Isn't it always THE WORST when a dance film cuts off someone's line?) Click here to check it out.
P.S. This film also serves as a love letter to Paris, a city going through a very difficult time right now. We're so happy to see something that reminds us of passion and beauty in the midst fear and uncertainty. Here's to the celebration of artistic expression.
Jacob Jonas may be from California, but he's got a New Yorker's heart. The choreographer first wowed NYC audiences in 2013, when his piece In a Room on Broad St. won third place at the Capezio A.C.E. (Award for Choreographic Excellence) Awards. And while in town a year later (to present an evening-length version of In a Room), the choreographer—who's also a budding filmmaker—got some pretty amazing shots of the City that Never Sleeps.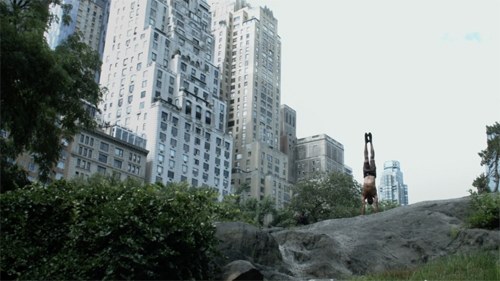 Tranquility amid the chaos—a still from Lucid in New York

The resulting film, Lucid in New York, perfectly captures quintessential NYC scenes. The across-the-subway-platform tableau? Check. Central Park greenery against the skyscraper-filled skyline? Check. Views of the water, the High Line and crowded plazas? Triple check. Plus, all of the "I-want-to-go-to-there"–inducing shots feature Jacob Jonas The Company dancers, making the whole thing even more enticing. Check it out:
Dance often helps us explore our emotions and internal life, but sometimes, it inspires us to explore the outside world too. The GLANCE Project takes on that challenge through a collaboration among many different artists: dancers Cyril Choukroun, Hugo Vigliotti and Matthieu Botto of the Paris Opéra Ballet; music producer Jonathan Amic; and film gurus Adi Koish, Gordon Ghenassia, Guy Gosha  and Tamara Mamon.
The film was shot in Habima Square, in the heart of Tel Aviv, Israel. The public space is known for being the arts hub of the city, and the men of the Paris Opera Ballet explore it on foot and on skateboards (yes, the dancers nail their arabesques while balancing on moving skateboards).
There's something about the skateboarding and fountain splashing and (maybe unintentionally) funny improving that makes the pure ballet steps stand out against their pedestrian backdrop—it almost makes sense that someone would do barrel turns around a public fountain just because they feel like it. Check it out, and don't blame us if you feel tempted to saut de chat down an empty sidewalk.
Today, members of the Royal Ballet are performing an amazing mixed program during Deloitte Ignite, which is a month-long contemporary arts festival at the Royal Opera House in Lo—wait, what? You're saying you can't make it to England on such short notice? Well, do I have news for you.
Today's Royal Ballet performance will be live-streamed at 6:50 pm London time (that's 1:50 pm if you live on the East Coast). And there's a lot to watch. The program, Sampling the Myth, will include excerpts from Apollo, The Firebird, The Dying Swan, Matthew Bourne's Swan Lake and Wayne McGregor's Raven Girl. And as if that weren't enough, there will be a premiere by choreographer Aakash Odedra and three dance films with choreography by Robert Binet, Charlotte Edmonds and Kim Brandstrup.
Here's a little taste of the magic that's to come. First, a short promo video for the event:
Now for something a little more meaty. Check out this video of Sarah Lamb and Eric Underwood rehearsing Raven Girl with Wayne McGregor:
And here's Odedra in rehearsal with dancers for his new work, Unearthed, based on the Greek myth of Prometheus:
Sampling the Myth will be streamed live on the Royal Ballet's YouTube channel, or on the Royal Opera House's website. Happy Saturday!
Ahh. Visually striking dance movies—there's nothing like them. From the 3D, Academy-Award nominated Pina to the probing, New-York-City-Ballet-behind-the-scenes, Ballet 422, movies that take the awesomeness of dance to a new visual level are always the best ever. Well, dance-on-camera fans, rejoice! There's a new film coming out this month that promises to be extremely bold and beautiful.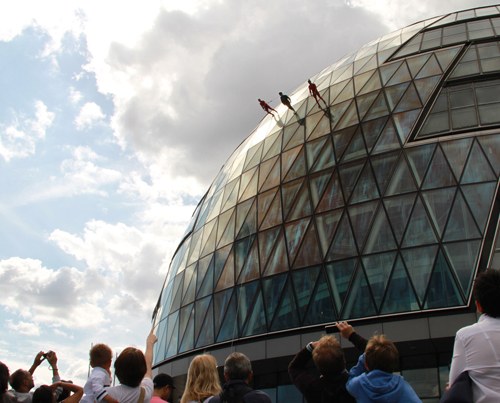 Members of STREB Extreme Action performing "Sky Walk," as part of the London 2012 Cultural Olympiad.
(photo by Esy Casey)
Born to Fly: Elizabeth Streb vs. Gravity comes out next week, after rave reviews at the SXSW Film Festival this spring. Following Streb and her STREB Extreme Action dancers movers, the film highlights the choreographer's contributions to dance, art and the quest for human flight—though sometimes at the cost of her company members' safety. But as Streb (aka the Evel Knievel of dance) says in the film, "Anything too safe is not action." Plus, it's insanely exciting—talk about a serious adrenaline rush—to watch the dancers bounding from incredible heights, spinning in a human hamster wheel and rappelling from buildings. Take a look at the trailer below—we promise, you'll be hooked:
Dying to see Born to Fly? Click here for a list of showtimes.