Today's guest post comes from Francesca Harvey, a student who came to NYC recently with Live! Starring...You!—a pop-culture media organization that trains teen reporters to cover people in the spotlight—for National Entrepreneurship Week.
Tony Dovolani and brothers Maksim and Val Chmerkovskiy have been famous in the ballroom world for a long time. It's only in recent years that the trio—and several other ballroom champions—have become Hollywood celebrities.
That's what appearing on "Dancing with the Stars" will do for you.
For Tony, Maks and Val, their "DWTS" fame has also drawn attention to their business. With three other business partners, they own four Dance With Me studios: one in Manhattan's SoHo neighborhood, and others in Long Island, New Jersey and Connecticut.
Now, they want to expand the studio across the country.
After all, there seems to be a need.
"One of the things we run into as we travel across the country is everybody is asking us for lessons," Tony told me during a recent interview at the SoHo studio.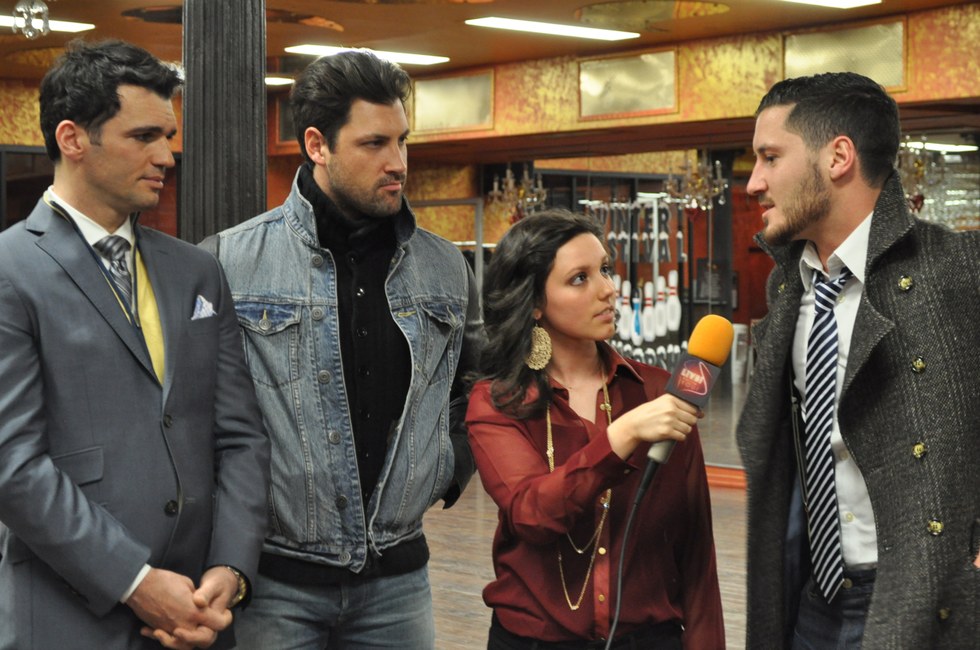 Francesca with Tony, Maks and Val. Not a bad place to be! (Photo by Tim O'Shei)
The guys have developed a teaching system that blends their individual approaches and styles. They instruct their own teachers in that system so all their students are learning the same way.
"Now, all of our teachers believe in the same system," Tony said. "They're taught by us. If you walk into our studio, you're getting a combination of Tony, Maks and Val."
Our interview also included a dance lesson with Val! We thought it was pretty cool that we got to dance with him one week before he was paired with "Shake It Up" star Zendaya Coleman for the next season of "DWTS." (Tony is paired with Wynonna Judd, while Maks isn't participating in the next season.)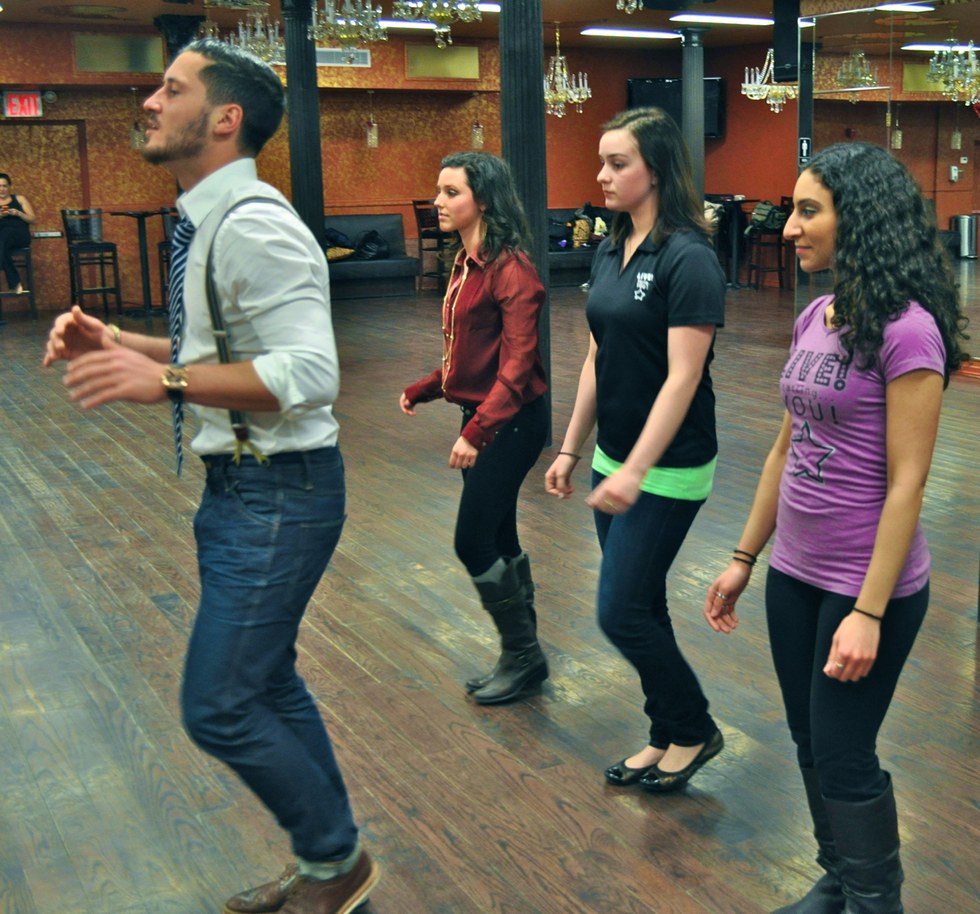 Learning how to groove with Val! (Photo by Tim O'Shei)
If you want to find out how we fared, click here to read our story and watch the video on the Live! Starring … You! site.
But ask Tony, and he'll tell you they can turn anyone into a dancer!
"We've developed a system where there's not one person we can't teach," he said. "If you can walk, we can teach you how to dance."
Francesca Harvey is the student editor of LiveStarringYou.com and a junior at Mount St. Mary Academy in Buffalo, NY.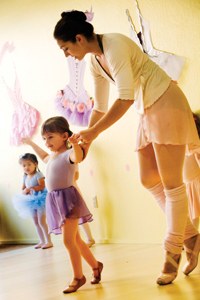 Custer Weeks (right) teaches children age 18 months to 8 years old. (Andrew Weeks Photography)
When she was 10, Genevieve Custer Weeks founded a fantasy dance studio in a corner of her basement. Her parents even installed wood floors, mirrors, a barre and a curtain in their Madison, WI, home. After her next-door neighbor and best friend, Jaime Madden, checked in imaginary students, Genevieve would close the curtain and begin her classes.
Eighteen years later, Tutu School is the realization of that childhood dream. Custer Weeks, now 28, has been a professional ballet dancer since she was 20. She launched Tutu School, which focuses exclusively on young children (8 years old and younger), in San Francisco in 2008 while continuing to dance professionally. She opened a second location in Larkspur, CA, in 2009. With dedication, fearlessness and creativity, Custer Weeks has created an environment where she can introduce a new generation of dancers to the artform that has captured her imagination for more than two decades.
Early Training
At age 15, Custer Weeks' parents allowed her to move to Chicago to live with Daniel Duell and Patricia Blair, her teachers at the School of Ballet Chicago. She had fallen in love with dance thanks to early training with various schools in Madison, and at the time of her move, she had already been making the three-and-a-half-hour commute to Chicago once a week for more than two years. The move allowed her to double her dance course load, and she started spending at least 20 hours a week in the studio.
During that period, Custer Weeks also began teaching at the school. She worked primarily with 6-year-olds and adults. "She was an instinctive, natural teacher. Her students adored her," says Blair. She also educated herself about dance. Duell says Custer Weeks carefully read every dance book in his library, including company histories, biographies of famous dancers and even performance programs. "In retrospect, it's clear she was gathering knowledge and developing character traits necessary to found a school," he says.
In 2002, Custer Weeks joined Oakland Ballet. The company folded in 2006, however, and she became a freelance dancer. To supplement her income, she resumed teaching ballet at a number of Bay Area dance studios. She was particularly drawn to pre-ballet classes. "It's the joy that's there at the beginning that I want to nurture and enrich," she says. Then, during a lull between freelance gigs in the summer of 2007, she told her husband, photographer Andrew Weeks, that someday she'd like to open a ballet school focused entirely on young children. His response: "Why are you waiting?"
Starting Tutu School
Once she believed she could do it, Custer Weeks jumped headfirst into the project: She wrote a mission statement, rented a location for the first studio and secured a line of credit from a bank. Tutu School opened its doors in San Francisco the following February.
But getting the school off the ground was still a challenge: Once she took care of all the business-related issues, she had to figure out how she'd train the kids! Custer Weeks feels strongly that no matter how young, every student deserves age-appropriate training, rather than a boiled-down version of ballet technique classes. "I have seen too many wonderful students abandon ballet altogether when it became too serious too quickly," she says. She created her own curriculum that combines creative movement, ballet, storytelling, art and classical music, with specific story ballets woven through each class. She decided to introduce each story ballet by playing the ballet's music, reading the story aloud and providing coloring pages inspired by the tale. "Our 4-year-olds don't just know all about Odette and Princess Aurora, they also know that Tchaikovsky wrote the scores for both Swan Lake and Sleeping Beauty," Custer Weeks says.
Spreading the Word
Once the studio was ready to go, Custer Weeks devoted herself to branding. As the school's name indicates, she has been savvy about using the lure of the tutu to draw ballerinas-to-be to the studio. She hit the pavement and blanketed San Francisco's toddler hotspots with postcards featuring a young girl in a purple tutu waving a wand. Custer Weeks designed the postcard herself with her target audience firmly in mind. "Our marketing emphasizes the fact we are a uniquely focused dance school, and that we cater to a very specific, special group," she says.
Custer Weeks feels that her focus on young children has propelled the school's quick growth. "I think it's been much more successful because we have a niche," she says. Today, more than 450 students are enrolled at Tutu School. Combined, the two studios offer 60 classes a week, taught by six teachers.
How Does She Do It?
In balancing the demands of two locations, family life and a professional career, Custer Weeks has realized the importance of surrounding herself with people she trusts and asking for help when she needs it. When she was getting her business off the ground, she recruited her girlhood friend Jaime, who left a job at a university in NYC to become Tutu School's administrator. "I'm also lucky to have my husband," she says. "We are both entrepreneurs and have flexible schedules. We have late nights in our offices, and each week we have to figure out who is in charge of our baby, but we have the flexibility to support each other's businesses and careers."
Although Custer Weeks continues to dance professionally, she has adjusted her idea of what her performing career will be. She limits her professional schedule to a few programs a year in Madison, where her parents can watch her son (and where she is a hometown favorite). "It's getting to class each day and finding time to train that's hard," she says. "I'm still looking for a way to juggle it."
From a financial perspective, having a successful business that supplies her with a comfortable income has been a pleasant change from the life of a freelance dancer. "I used to joke with my husband that, when I was dancing, I was bringing home grocery money. Now we're a real two-income family," says Custer Weeks. "That's been empowering."
Hope to follow in Genevieve Custer Weeks' footsteps by opening your own studio someday?
"Dancers starting their own schools should root their venture in whatever core principles and passions made them choose a career in dance in the first place," Custer Weeks advises. "I became a dancer because of what I felt as a child dancing around my parents' living room to Tchaikovsky, Beethoven and sometimes Bob Dylan. I created Tutu School because I want every child to have a place where they can experience what I did. Having such a strong sense of purpose at the center of my business has been vital to its success."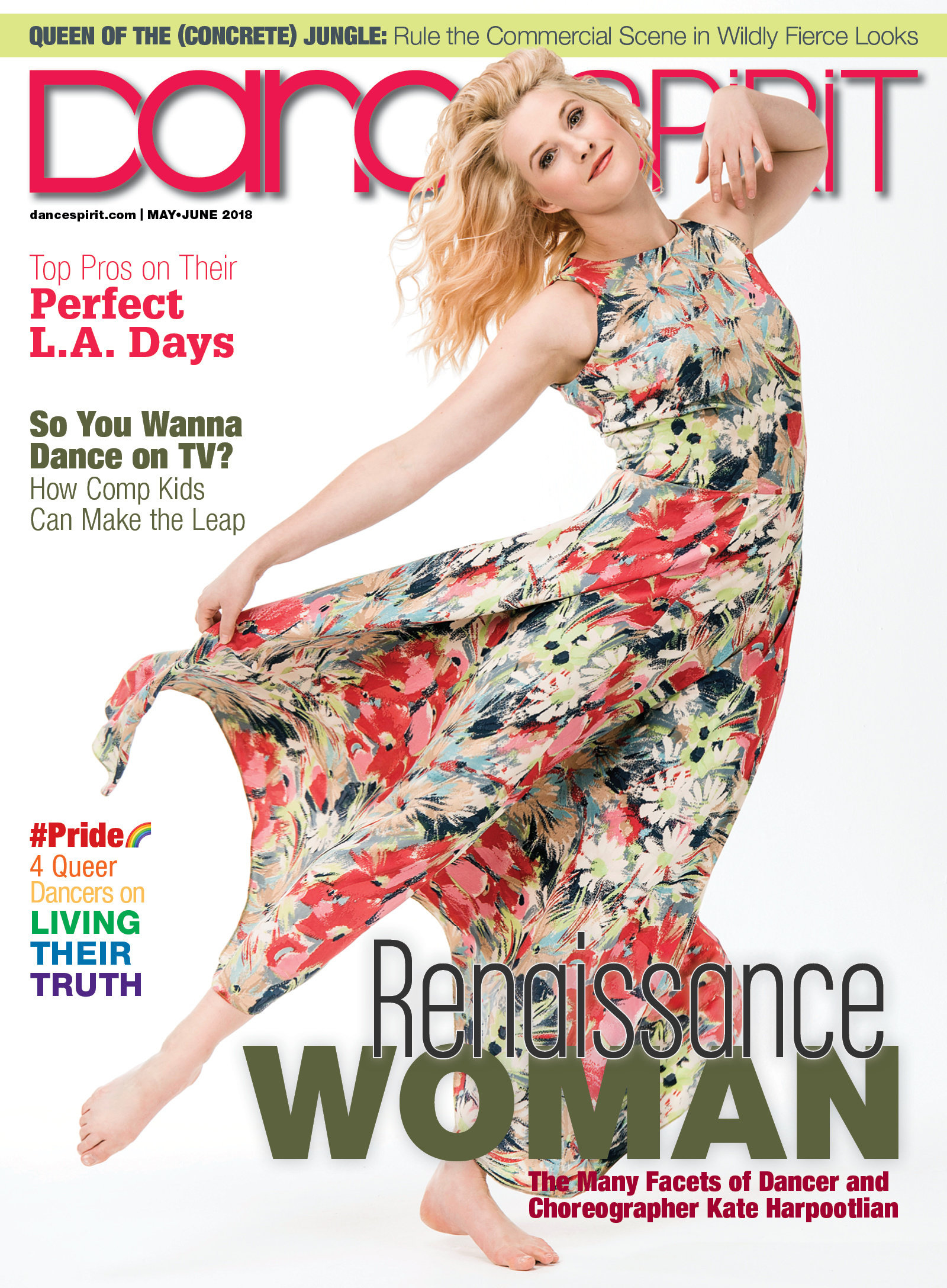 Get Dance Spirit in your inbox