Hello all you lovely, creative people! Are you possibly the world's next choreographic genius? Do you want $15,000 to produce your very own show? Of course you are—we've seen how much talent y'all have!—and of course you do. Which makes us especially happy to announce that the 2016 Capezio A.C.E. Awards competition is now accepting submissions.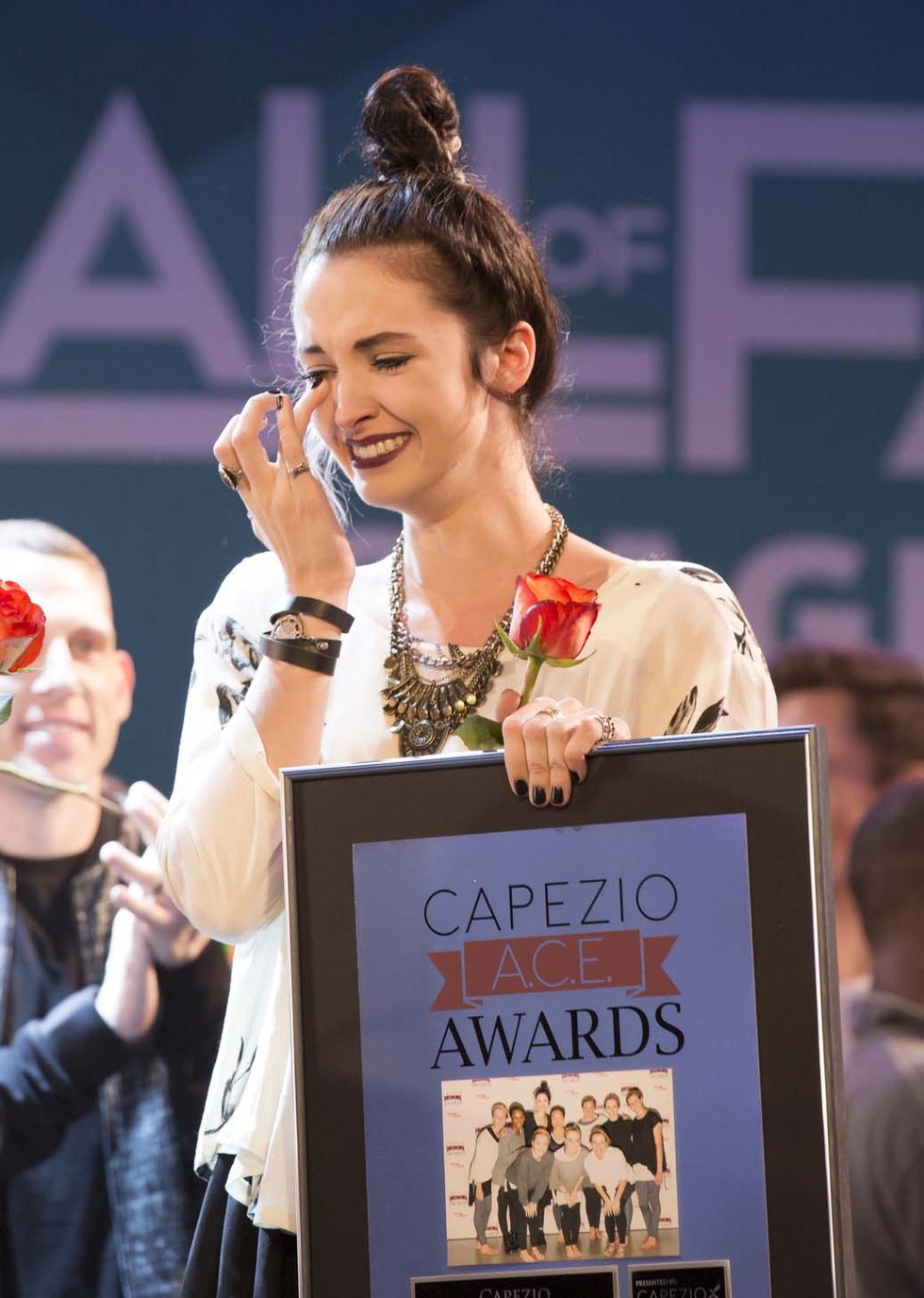 Here's last year's winner, Kirsten Russell, receiving her prize. YOU WANT TO BE THIS HAPPY! (photo by Joe Toreno)
A little background: Each year, the A.C.E. (Award for Choreographic Excellence) Awards invites 15 gifted dancemakers to present their best work at the Dance Teacher Summit. Three winners from that group, chosen by reps from Capezio and Dance Teacher magazine, receive funds to produce a full-length show, with $15,000 being the top prize. And in case you're wondering just how legit the A.C.E. Awards are, please note that past winners include Travis Wall, Peter Chu, Al Blackstone, Melinda Sullivan and Talia Favia. BOOM.
Anyway, entering the contest is easy: Just upload your best choreography video to dancemedia.com anytime between now and May 2. 15 semifinalists will get to present their choreo at the NYC Dance Teacher Summit, which will be held July 29–31; winners will be announced there. Questions? You can find all the rules and regulations (plus more delicious details about the prizes) here.
Get uploading, everybody. And if you need a little inspiration, take a look at last year's winning entry, Kirsten Russell's brilliant "Islands":
Last night at the Alvin Ailey Citigroup Theater, Lindsay Nelko—the Second Runner Up at the 2013 Capezio A.C.E. Awards—premiered her show Awakening as a part of the A.C.E. Awards Winners Festival. I count myself as lucky to have been in the audience, witnessing the next big step for this up-and-coming choreographer.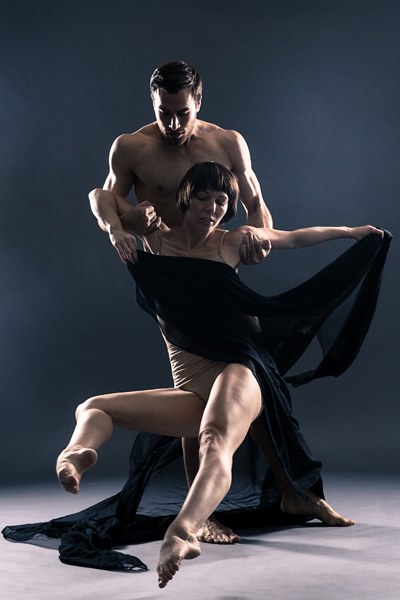 Joseph Kudra and Acacia Schachte appearing courtesy of Cedar Lake Contemporary Ballet (photo by Matthew Murphy)
Nelko has had an envious career so far as a freelance choreographer, and producing Awakening is another feather in her cap. Her absurdly talented and accomplished cast— with dancers from Cedar Lake Contemporary Ballet (oh hey, Ida Saki), Complexions Contemporary Ballet, Broadway and beyond—came together as a pickup company par excellence and delivered the evening, despite their stylistic differences.
I especially loved the section "Dysmorphia," which featured the women confronting and cowering from a mirror, and the section "Lifeline," which featured three lovely duets and bright, colorful banners stretched across the stage.
To be completely honest, I wasn't quite as thrilled with the piece's approach to partnering, which was traditional and bordered on basic. We know these dancers are crazy amazing, and I would have loved to see a little bit more inventiveness in the way they interacted with each other.
That said, the show was certainly an impressive accomplishment. Way to go Lindsay! We can't wait to see what you're up to next.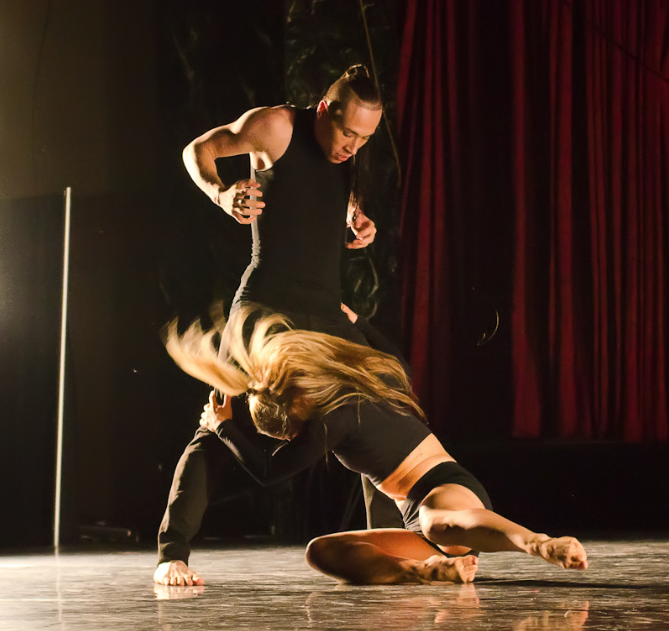 Chaz Buzan in Talia Favia's The Difference Between Action and Words (photo by Kyle Froman)

It felt pretty glamorous to be a DS editor this weekend. We all dressed to the nines for the 2014 Capezio A.C.E. (Award for Choreographic Excellence) Awards—one of the highlights of the Dance Teacher Summit, an impressive annual extravaganza presented by our friends over at Dance Teacher magazine. Fellow editor Nicole and I were both first-timers at the event, and we didn't know quite what to expect. Man, were we in for a treat.
The show featured the works of 19 budding choreographers, all finalists vying for this year's big prizes. The winner receives a $15,000 production budget for their very own, evening-length show in NYC, produced by Break the Floor, while first and second runners-up win $5,000 and $3,000 production budgets, respectively. So naturally, all of the choreographers brought their A-games.
Honestly, we haven't been able to stop talking about it since. Nicole and I sat down this morning to debrief.
Maggie: So let's talk Saturday night. How would you characterize the overall vibe of the evening?
Nicole: Super high energy. It was so cool to walk into a ballroom full of dance lovers and professionals, all on the edge of their seats waiting for the show to begin.
Maggie: I completely agree. It was awesome to see that high energy carry into the choreography—especially in the musical theater pieces. Derek Mitchell's We Both Reached for the Gun and Caleb Teicher's A Little Moonlight didn't skip a beat. So much fun.
Nicole: The contemporary pieces were also really strong. I especially enjoyed the complex partnering in Jessie Hartley Riley's No Need to Fear. Our 2014 CMS finalist Alyssa Allen ROCKED that piece.
Maggie: And what about Jake Tribus and fellow CMS finalist Sarah Pippin in Kristen Russell's The Cave? Talk about a feel-good piece. I loved the sweeping movement across the stage—it felt like they were frolicking in a field.
Nicole: Totally. But let's talk about the big winners of the night. Second runner-up Emma Portner's Let Go, Or Be Dragged—I really appreciated the way she incorporated elements of street dance in a contemporary piece. Plus, the super-solid ladies partnering was quite impressive.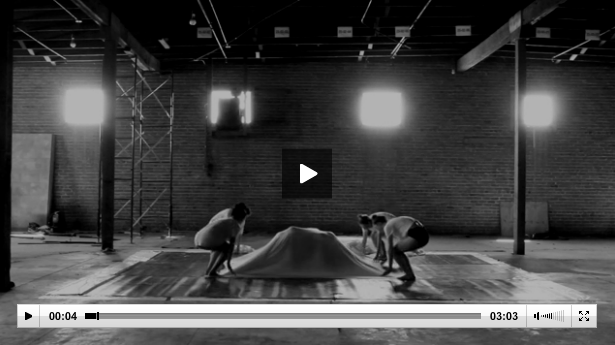 Portner entered the competition with another piece: Come Back, Let Me Under!
Maggie: I agree. I thought her movement quality was especially unique. I applaud her dancers for pulling off such complex, idiosyncratic movement with complete precision.
Nicole: First runner-up Cherrise Wakeham's She was completely different but equally impressive. It was romantic and gentle and lovely.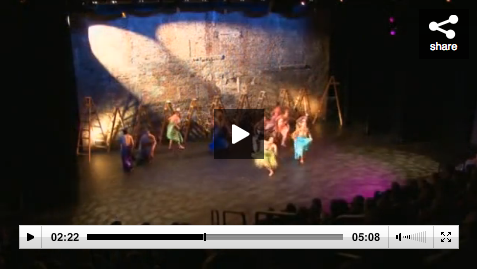 Maggie: And those skirts. Where can I get one? But the big winner of the night was Talia Favia. Her piece, The Difference Between Action and Words, was extremely powerful. The dancers used tape to convey the feeling of being silenced or controlled.
Nicole: The dancers just went for it. It was probably the most technically demanding choreography of the evening. Shout out to January 2012 cover guy Chaz Buzan, who was a real standout in the piece.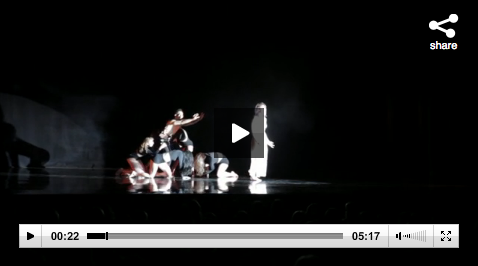 Favia entered the competition with another excerpt: The Difference Between Sinking and Drowning.
Maggie: Chills. Saturday night also featured excerpts from last year's runners-up: Lindsay Nelko, Jacob Jonas and Andre Kasten. We really saw how much development can happen in a year!
Nicole: Such a cool part of the evening. I'm really looking forward to seeing more of them during this week's Capezio A.C.E. Awards Winners Festival!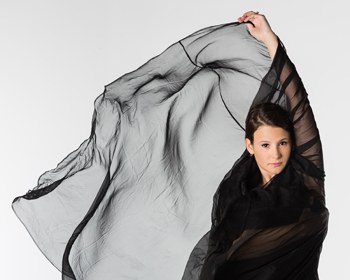 Lindsay Nelko
(photo by Kristen Sawatzky)
At last year's Capezio A.C.E. (Award for Choreographic Excellence) Awards in NYC, Lindsay Nelko tied for third place, winning $3,000 to produce her own show in conjunction with Capezio and Break the Floor Productions. Next week, we'll see the fruits of that partnership: Nelko will present the world premiere of her evening-length work, Awakening, at Ailey's Citigroup Theater on August 6 and 7.
Nelko, who has choreographed for "The X Factor" and "So You Think You Can Dance," has made some top-notch connections over the course of her career, so it's unsurprising that the cast of Awakening is pretty spectacular. Of the 24 dancers, eight are appearing courtesy of Complexions Contemporary Ballet, four are current or former members of Cedar Lake Contemporary Ballet, and others have performed with San Francisco Ballet, Miami City Ballet and the Bad Boys of Dance. It's a seriously out-of-this-world roster.
Dance Spirit caught up with Nelko to learn more about Awakening.
How would you describe the show?
Awakening is loosely based on my life, and on the moments of realization—or awakening—in certain feelings or events. There are 18 small narratives woven together that depict those feelings, including sadness, anxiety, joy, friendship and young love. There's also the theme of awakening in terms of sleep. The show moves between reality, the dream state and hypnagogia, which is the state between wakefulness and sleep.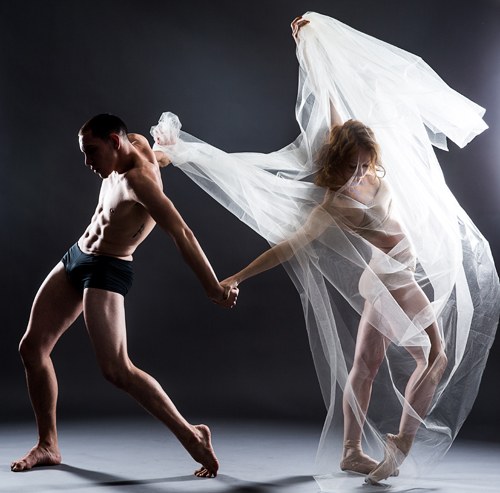 (L to R) Mark Caserta and Casey McIntyre appearing courtesy of Complexions Contemporary Ballet in Lindsay Nelko's Awakening
(photo by Matthew Murphy)
That seems pretty deep.
It is! I've been inspired by my life's journey. I feel like artistic work frequently stems from our selves. It's been like therapy to have my own show. I've been able to dive deeper, bring those experiences to life through incredible dancers and share it all with a wider audience.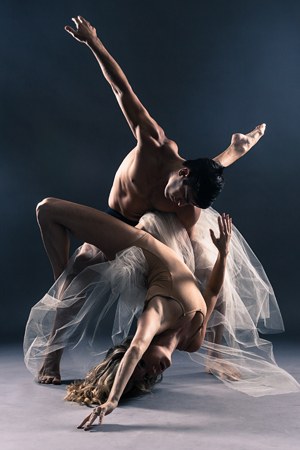 Um, wow.
Jeffrey Sousa and Ashley Fitzgerald in Awakening
(photo by Matthew Murphy)
How has Awakening evolved over time?
Well, the process really started in May 2013, when I created and workshopped Awakening for the Royal Winnipeg Ballet. (Then I presented an excerpt at the A.C.E. Awards.) At that time, however, not all of the pieces were finalized, and I've since added a few more to the work. And while my first cast was amazing, I've been blessed to have an incredibly diverse cast this time around. There will be 18 classical and contemporary ballet dancers, in addition to modern, jazz and musical theater dancers. It's going to be an interesting mix, but also a truer representation of my work.
Can't wait for August 6? Watch a clip of Awakening from last year's ACE Awards below, and click here for more information.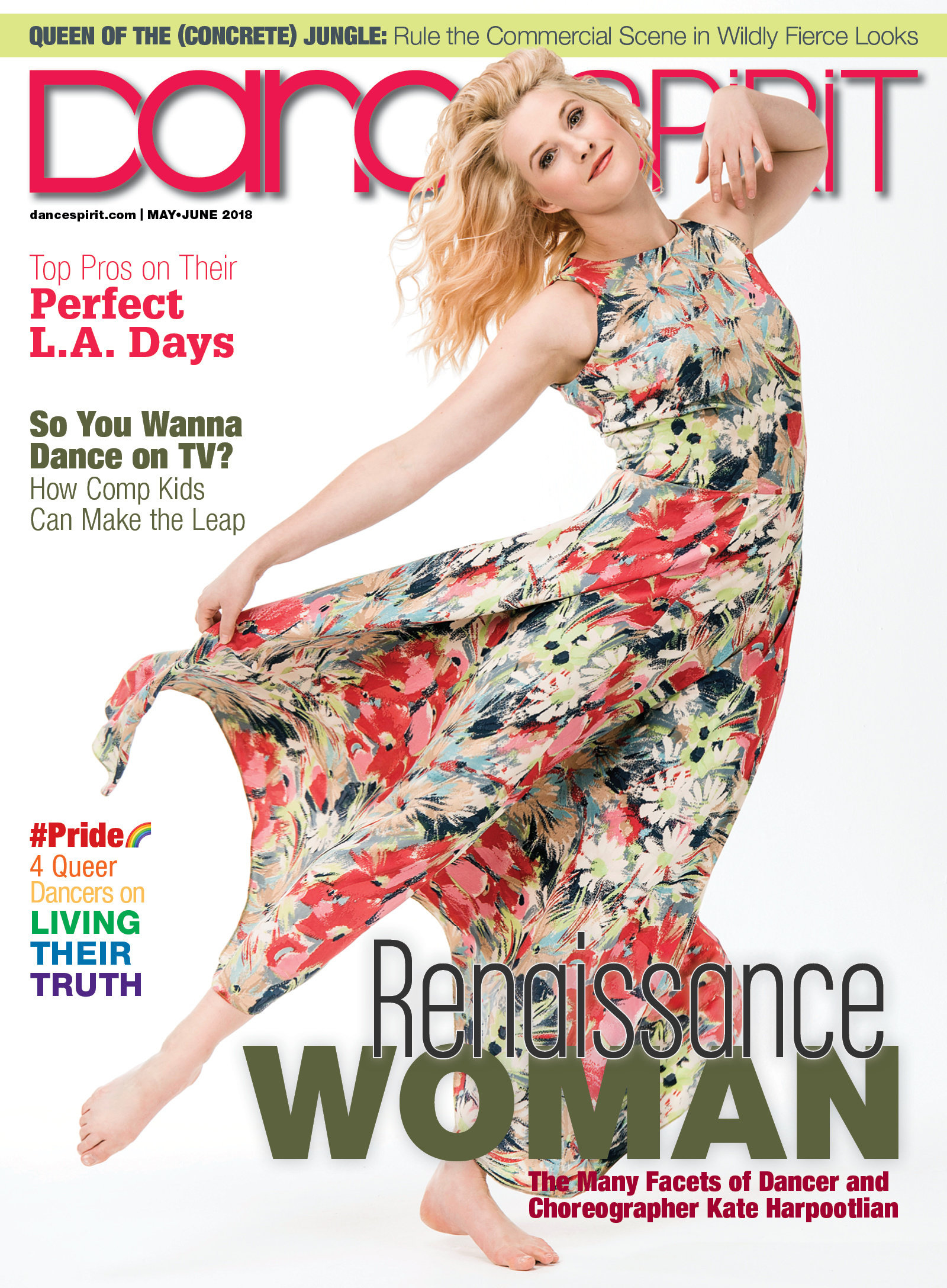 Get Dance Spirit in your inbox