Here's the thing about "Dancing with the Stars": These days, it seems like the pros have become celebrities in their own right, shining just as bright as the starlets and boy-banders and Olympic athletes they partner. And how great is that? In what other context could world-class ballroom dancers achieve such huge mainstream fame? Just look at Derek and Julianne Hough, for goodness' sake—they're everywhere, and it's amazing.
Last night's episode opened with one of the shows' most devoted pros, Mark Ballas, taking center stage to perform his first solo song, "Get My Name." In sound and look, Ballas seemed to be channeling JT, which is something I'll never discourage. But I'm really in this for the dancing, which means I was even more excited by his smokin'-hot swing dance interlude with the smokin'-hot Witney Carson. (Can we also talk about the amazingness that is the "So You Think You Can Dance"/"DWTS" overlap? It's fun to see some of the best "SYT" ballroom dancers—especially BFFs Witney and Lindsay Arnold—in their natural element 100% of the time over on "DWTS.")
I won't get into Abby Lee Miller's guest judging (ehhh), but I will say I was sad to see Danica McKellar go home last night. Both she and partner Val Chmerkovskiy are class acts. (McKellar has also been my fitness inspiration for the past few months. Dang, Winnie Cooper!)
In case you missed it, I'll leave you with video of that Mark Ballas extravaganza. Enjoy!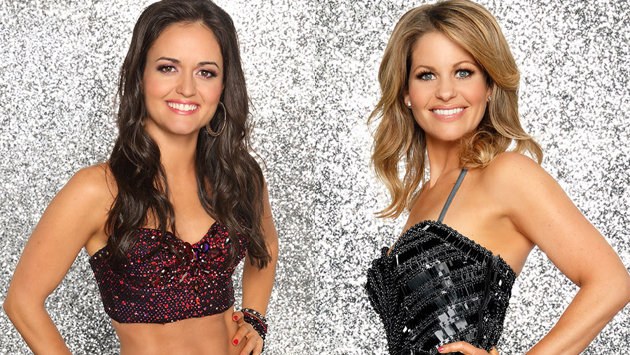 Danica (left) and Candace (ABC/Craig Sjodin)
So far, Season 18 of "Dancing with the Stars" has been all about the friendly rivalries. At first, everyone was talking about ice-dancing partners (and Sochi gold medal winners) Charlie White and Meryl Davis. But this week, a new "DWTS" rivalry surfaced...or rather, a really old one. Of course, we're talking about fellow '90s child stars Danica McKellar and Candace Cameron Bure.
While the two came from different shows (Danica from "The Wonder Years" and Candace from "Full House"), it turns out they co-starred in the movie Camp Cucamonga back in 1990. And here's the crazy part: They played dance rivals in the movie! In it, Candace's character struggles with some dance moves, and Danica's character steps in and basically steals her part. DRAMA.
Check out this 10-minute clip of the movie. The danciest parts happen at 0:38 and 3:38, but we recommend watching the whole clip because: 1. '90s fashion is hilarious 2. '90s acting is hilarious 3. Steve Urkel (aka Jaleel White) raps and 4. Jennifer Aniston plays a camp counselor. Enjoy!
"Dancing with the Stars" announced its cast for Season 18 earlier this morning, and holy moly we're excited. Not only did our suspicions about Olympians competing for the mirror ball trophy come true, but the list of athletes involved is even better than we had hoped.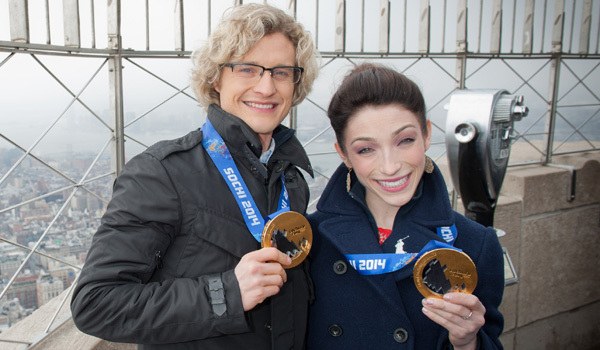 Charlie White and Meryl Davis sport their gold medals at the Empire State Building last week. Photo via OK! Magazine.
First up is Meryl Davis and Charlie White, Sochi's ice dancing gold medal winners (USA! USA! USA!), though they won't be paired together—Meryl will dance with Maksim Chmerkovskiy (#TeamMaksyl ...eh, we'll work on that one) and Charlie will dance with Sharna Burgess. Next is Paralympian Amy Purdy, a snowboarding champ who is also a double amputee. She'll be paired with the unstoppable Derek Hough (is there anything he isn't doing these days?).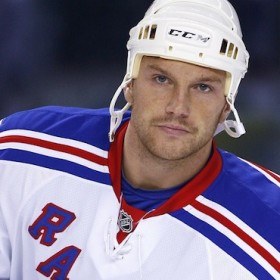 Sean Avery, before he retired from hockey. Photo by Larry MacDougal/The Canadian Press
Dancing with Karina Smirnoff is Sean Avery, the NHL dreamboat who's played for the New York Rangers, the Detroit Red Wings, the Los Angeles Kings and the Dallas Stars. Rounding out the sports category is Diana Nyad, a long distance swimmer who is the only person in history to go from Key West to Cuba—that's 110 miles—without stopping and braving sharks, jellyfish and exhaustion. Let's just say her partner, Henry Byalikov, better bring it.
Of course, what would the show be without a smattering of TV celebs? This season does not disappoint. Two words: Winnie Cooper. Another two words: D.J. Tanner. That's right, Danica McKellar from "The Wonder Years" and Candace Cameron Bure from "Full House" will be going neck and neck in just two weeks. Winnie Danica will dance with Val Chmerkovskiy and D.J. Candace will work with Mark Ballas.

(R to L) Kevin Arnold (Fred Savage) and Winnie Cooper (Danica McKellar) in "The Wonder Years"; D.J. Tanner (Candace Cameron Bure) in "Full House"
Cheryl Burke will be paired with Drew Carey, whom I can't believe hasn't been on the show yet. And Real Housewife of Atlanta NeNe Leakes (also known as Roz Washington on "Glee") will be swept off her feet by Tony Dovolani.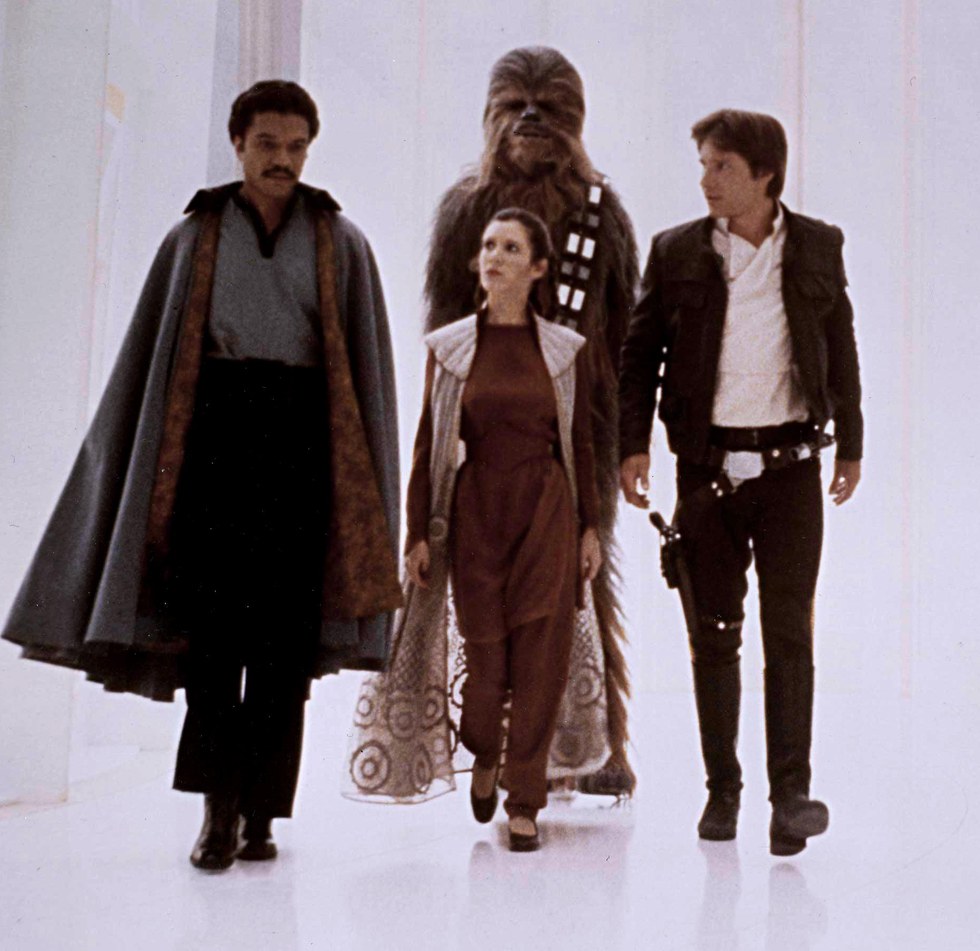 (L to R) Lando (Billy Dee Williams) with Princess Leia (Carrie Fisher), Chewy and Hans Solo (Harrison Ford)
Star Wars nerds rejoice: Billy Dee Williams (you know him as Lando Calrissian) will also dance, paired with British musical theater vet Emma Slater.
Cody Simpson is the youngest competitor. At 17, the Aussie pop singer will dance with Witney Carson, the Season 9 "So You Think You Can Dance" bombshell from Utah. And James Maslow, the 23-year-old sweetheart from Nickelodeon's "Big Time Rush" will be competing with Peta Murgatroyd. From the looks of this picture of the duo out on the town earlier this February, it may be a match made in "DWTS" heaven: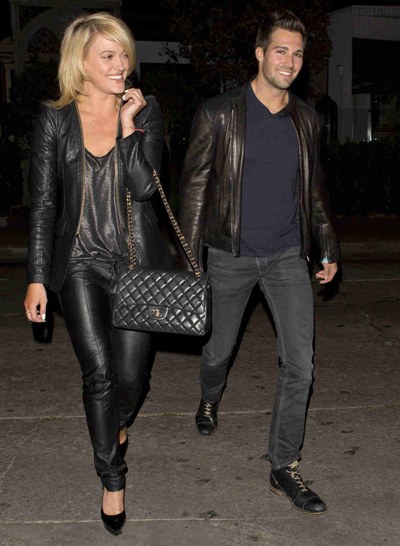 Peta and James leaving a restaurant in West Hollywood in early February. Photo by SPW/Splash News
All in all, it's going to be a great season. Who are you most excited to see? Any early predictions? Don't forget to set your DVRs (or just tune in!) for the two-hour season premiere, March 17 at 8 pm ET on ABC.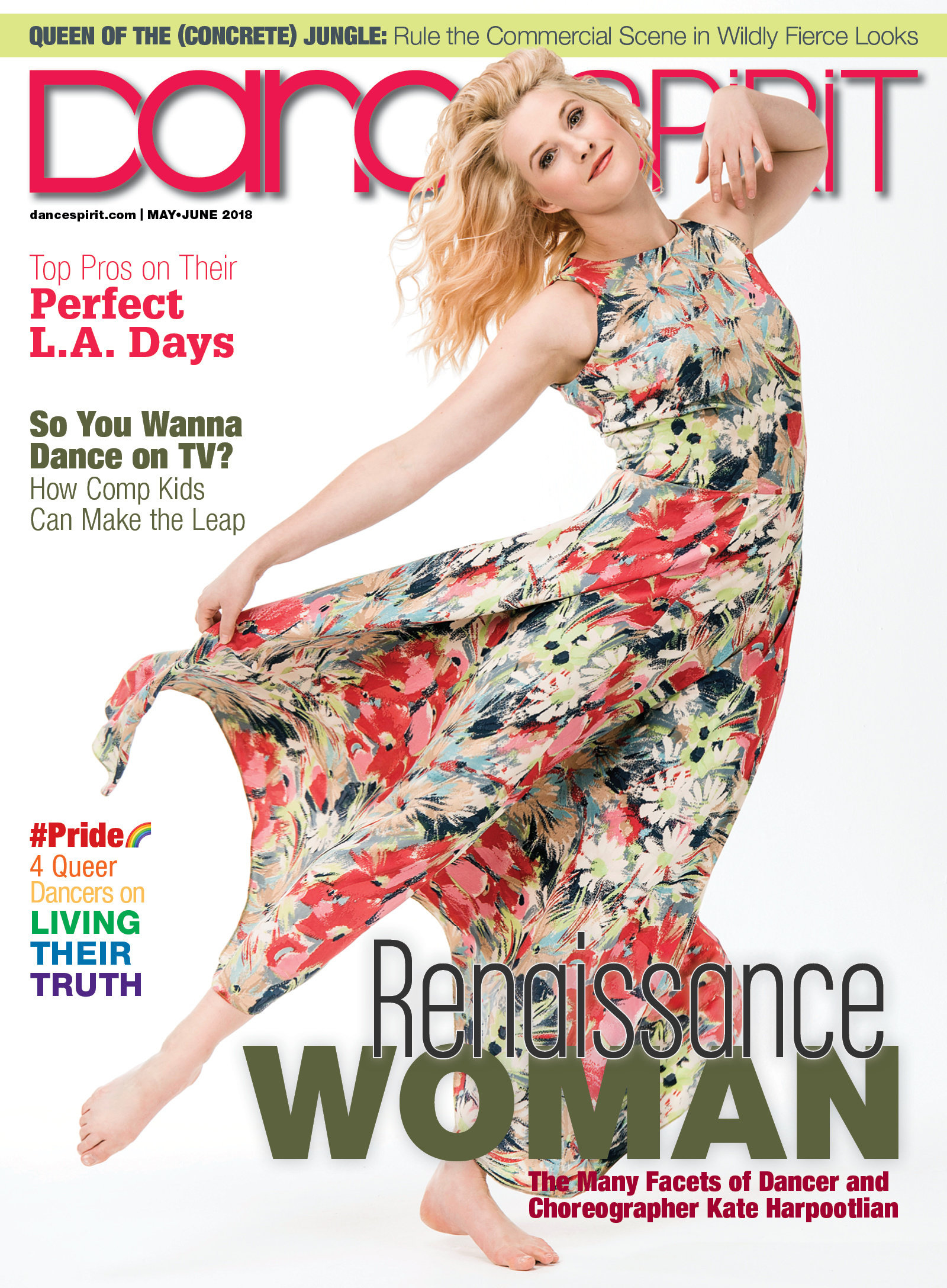 Get Dance Spirit in your inbox