Mar. 23, 2017 04:32AM EST
The year 2011 was filled with show-stopping onstage moments and exciting offstage drama. Whether you were captivated by New York City Ballet star Sara Mearns' 32 fouettés in Swan Lake or danced along in your seat as Sutton Foster led the Broadway cast of Anything Goes through a series of time steps, there's no doubt you were entertained. Here are the people who kept us on the edge of our seats in 2011.
—Alison Feller
In Ballet
Sarah Lane. Photo by Gene Schiavone.

When Natalie Portman won the Best Actress Academy Award for her role as a twisted-but-talented ballerina in Black Swan, she neglected to thank her dance double, American Ballet Theatre's Sarah Lane, in her acceptance speech. Later, Lane stood up to the movie industry by demanding credit for her work.
New York City Ballet principal Jenifer Ringer danced the Sugar Plum Fairy role in the company's Nutcracker, last year, and while most gave her a standing ovation, New York Times dance critic Alastair Macaulay remarked in his review that it looked as though she'd "eaten one sugar plum too many." Ringer quickly became a role model for women everywhere when she went on "Oprah" this February to discuss the critique and proclaim that she thinks her body is just fine. So do we, Jenifer. Rock on!
As if Alexei Ratmansky wasn't already the busiest man in ballet, he just extended his contract as American Ballet Theatre's resident choreographer through 2023.
Company tours are a lot of work. This year Ballet Nacional de Cuba embarked on its first U.S. tour in five years, hitting four cities along the way.
American Ballet Theatre principal (and star!) David Hallberg became the first American dancer to enlist permanently with Moscow's Bolshoi Ballet.
The Broadway production of Wonderland. Photo by Paul Kolnik.

Everyone wanted to go down the rabbit hole: Productions of Alice in Wonderland popped up everywhere, from ballet stages (The Royal Ballet, The National Ballet of Canada and Royal Winnipeg Ballet all showed versions) to Broadway (Wonderland was short-lived, but the choreography by Marguerite Derricks was quirky and fun).
On Broadway
Apparently Harry Potter can sing and dance—or at least his real-life alter-ego can. Daniel Radcliffe drew massive crowds and rave reviews when he starred in How to Succeed in Business Without Really Trying. No magic wand needed.
The Book of Mormon. Photo by Joan Marcus.

The Book of Mormon was easily the most controversial debut on Broadway this year. The show, penned by "South Park" creators Trey Parker and Matt Stone with Avenue Q co-writer Robert Lopez and choreographed by Casey Nicholaw, may have offended some audiences, but it impressed the Tony Award voters and took home nine honors, including Best Musical.
On the Comp Scene
Joe Lanteri, executive director of New York City Dance Alliance, changed 44 young dancers' lives this summer when he presented $2.8 million in college scholarships. Go get those diplomas!
Selecting the DS Cover Model Search finalists is never easy, but this year there were three dancers who stood out: Kaitlynn Edgar, Maddie Swenson and Zoey Anderson. All three hail from the competition circuit, and all three were wildly impressive.
On TV
Melanie Moore won the title of America's Favorite Dancer on "So You Think You Can Dance" Season 8 and landed on the cover of DS!
When Beyoncé revealed her baby bump at the MTV Video Music Awards, she proved she runs the world—and so do her choreographers, Frank Gatson, Sheryl Murakami and Jeffrey Page. The trio won the VMA for Best Choreography for Beyoncé's "Run the World" video.
When Laurieann Gibson wasn't throwing together award-winning choreography for Lady Gaga, she was starring on her own TV shows on E! and BET. We're not necessarily on board with her screaming fits and harsh treatment of her dancers, but we do respect her moves.
Amanda and D'Angelo on "Live to Dance." Photo by Monty Brinton.

Paula Abdul's "Live to Dance" wasn't a hit, but it introduced us to D'Angelo Castro and Amanda Carbajales, who became the show's champions. These tiny dancers won us over with their personalities and technique.
Lil' Buck may have been the coolest guy to get us talking this year. He starred in Janelle Monae's "Tightrope" video and helped make jookin' mainstream. His "Swan" performance alongside Yo Yo Ma? Breathtaking.
On the Big Screen
Natalie Portman accepts her Oscar for Best Actress. Photo by A.M.P.A.S.

She may not have done all the dancing as Nina, but Natalie Portman's Black Swan performance was definitely Oscar-worthy. Plus, she met Benjamin Millepied, her boyfriend-turned-fiancé and father to her child, Aleph, on set.
While no one can truly replace Kevin Bacon, Kenny Wormald proved that he's a stud with smooth moves in this year's remake of Footloose. Plus, his onscreen chemistry with costar Julianne Hough made us want to drag our own boyfriends to dance class.
In First Position, audiences get a glimpse at the behind-the-scenes action at the Youth America Grand Prix finals in NYC. The documentary and its stars—Michaela DePrince, Joan Sebastian Zamora, Miko and Jules Fogarty, Aran Bell and Rebecca Houseknecht—received rave reviews at the Toronto International Film Festival.
In Modern Dance
Bill T. Jones + Dance Theater Workshop = New York Live Arts. We love a good collaboration.
When Judith Jamison retired as artistic director of Alvin Ailey American Dance Theater, Robert Battle was handed the reins to the prestigious modern company. We can't wait to see what he does with the group in 2012.
Feb. 25, 2013 12:44PM EST
I expected the borderline-inappropriate jokes. I expected the appearance by Ted (sighhhhh). I even kind of expected the tribute to boobs on film.
But what I didn't expect from Seth MacFarlane's turn as host of the Academy Awards was a whole bunch of dance numbers. Dance! And here I was thinking the Busby Berkeley-style opening to "Family Guy" was a joke! Who knew that Mr. MacFarlane, the modern master of the fart joke, was a legitimate song-and-dance man?
Anyway, I think I'm not alone in feeling that the dancing elevated what could otherwise have been a very "meh" Oscars show. Let's run down all of the fun dance-y numbers, shall we?
We got off to a strange but, let's be honest, hilarious start with the boobs song. I know, it's terrible and tasteless and everything everyone hates about Seth MacFarlane, but c'mon. It was funny, and not less so thanks to the troupe of tux-clad backup dancers.
Next up, my personal favorite: Charlize Theron (who studied at NYC's Joffrey Ballet School!) and Channing Tatum channeling Ginger Rogers and Fred Astaire in an elegant foxtrot that was even better for being totally unexpected.
Then we were treated to a cute little softshoe by Daniel Radcliffe and Joseph Gordon-Levitt. Harry Potter's dance skills could use a little polishing, but points for effort—and Gordon-Levitt looked pretty darn legit. (Remember that time he redid the entire "Make 'Em Laugh" number from Singin' in the Rain on "Saturday Night Live"? I'm striking out in my search for video of the performance, but trust me: It was amazing.)
And then there was that big ol' reworking of "Be Our Guest" from Beauty and the Beast. It wasn't the biggest hit of the night, but I'm never really going to knock any production of a classic Disney song. Plus it featured some of DS's fave dancers, including Alex Wong, Spencer Liff, Cody Green and Jaimie Goodwin.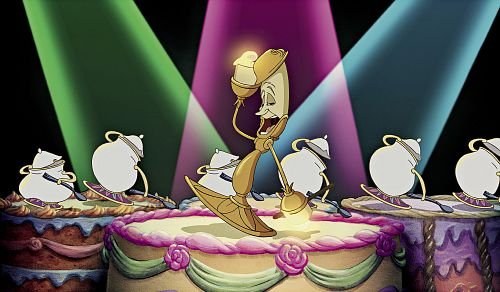 (I can't find any good video of this number, so you'll have to settle for a screenshot from the original instead. Just pretend Lumière is Seth MacFarlane. Not such a stretch, actually.)
Last but certainly not least: Catherine Zeta-Jones and a Fosse chorus in "All That Jazz" from Chicago. Girl's still got it! And it was another chance for our dancer friends to show off a little, too.
My only regret is that Bradley Cooper and Jennifer Lawrence didn't get to re-enact their so-bad-it's-awesome dance from Silver Linings Playbook. But I guess the two of them had other things on their minds, what with being nominated for Academy Awards and everything.
(Side note: Jennifer Lawrence. You are amazing. You basically fell on your face last night and it only made everyone, myself included, love you more. I feel like you and Emma Stone and maybe Sandra Bullock should hang out and be awesome and funny and super-stylish together.)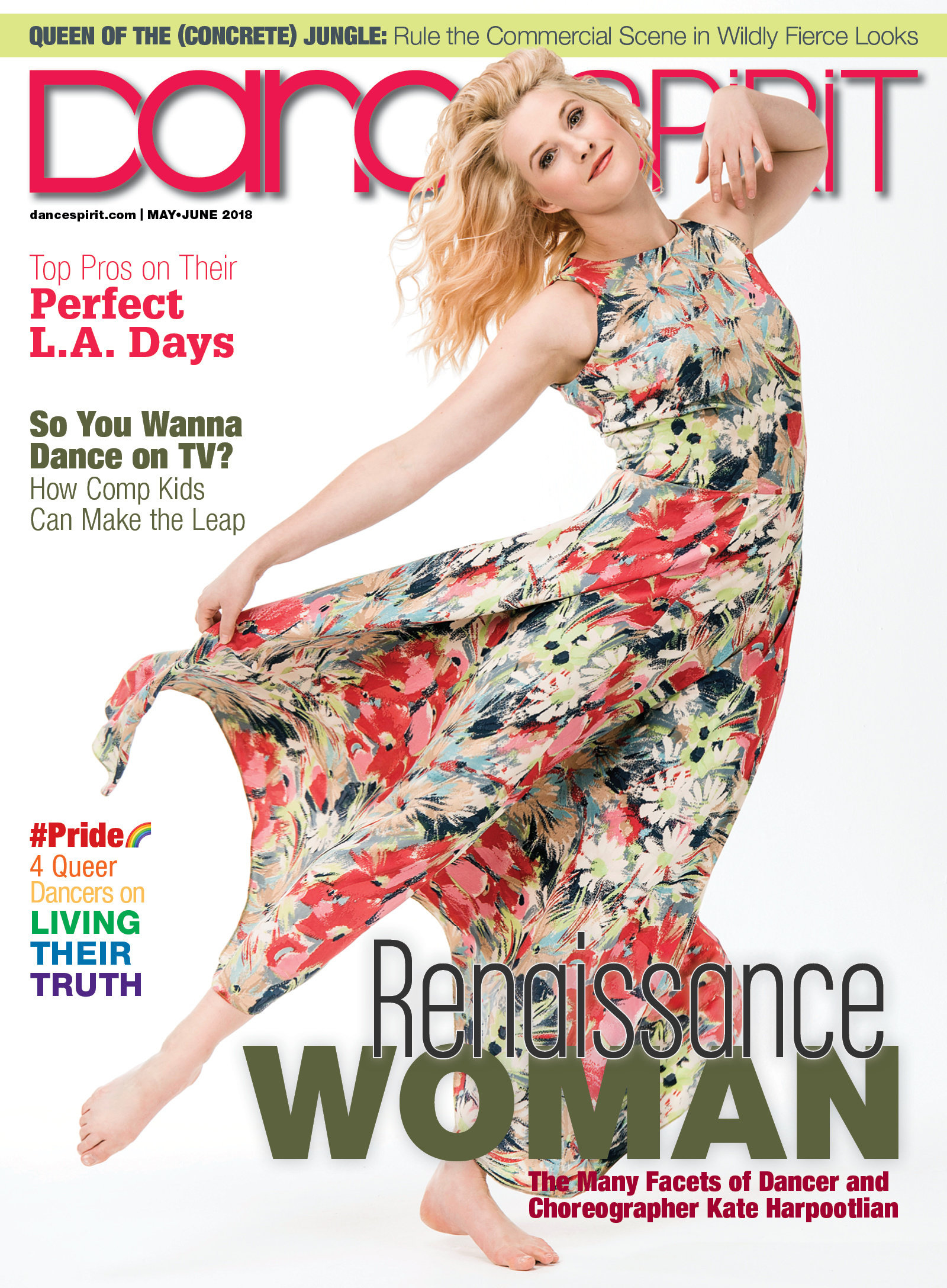 Get Dance Spirit in your inbox