Mar. 23, 2017 08:09AM EST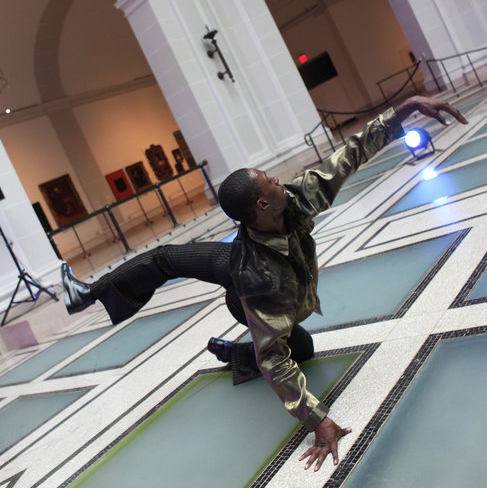 The amazing Storyboard P, who'll perform in the "Unreal Hip-Hop" program (photo Julieta Cervantes/NYTimes)
The Jacob's Pillow Dance Festival just announced the lineup for its 2014 season, and whoa, you guys: It's totally fantastic.
Every summer dancers and dance companies from all over the world descend on Becket, MA for the historic festival, which is celebrating its 82nd birthday. This year more than 52 companies will perform between June 14 and August 24.
Here are just a few of the highlights:
-Unreal Hip-Hop, a program featuring the likes of Storyboard P (check out his New Yorker profile!) and Ephrat Asherie
-Ballet 2014, a group of New York City Ballet standouts directed by amazing NYCB principal Daniel Ulbricht
-A world premiere by our friend Michelle Dorrance's Dorrance Dance group
-A "festival within the Festival" celebration of renowned choreographer Mark Morris and the Mark Morris Dance Group
And that's just the tip of the iceberg, folks. Check out the whole lineup here. We'll see you in MA in June!
Jul. 01, 2014 05:00PM EST
In the last few years, Daniel Ulbricht has been pretty busy. In addition to his work as principal dancer at New York City Ballet, his pickup company, Stars of American Ballet, has toured internationally since 2013. This summer, the group will make its debut at the historic Jacob's Pillow Dance Festival in a program called Ballet 2014. Ten dancers will perform both classic ballets (like Jerome Robbins' Fancy Free) and more contemporary work, by choreographers Christopher Wheeldon and Benjamin Millepied. Ulbricht has also commissioned a new pas de deux from rising choreographic star Emery LeCrone. The duet features NYCB corps members Russell Janzen and Emily Kikta. DS spoke with Kikta to get the inside scoop.
Dance Spirit: How would you describe the pas de deux?
Emily Kikta: It's very romantic. The music is a Rachmaninoff cello sonata. It's on pointe, but not too classical. Emery's movement is so natural and expressive.
DS: It must be exhausting to have extra rehearsals on top of your full schedule with NYCB. Do you have any free time?
EK: Luckily, Emery works very quickly, and we knocked out a lot of the piece in one rehearsal. Since then, Russell and I have been finding time to rehearse ourselves—sometimes in the morning before class, or at night when we aren't performing. So I do have a tiny bit of free time.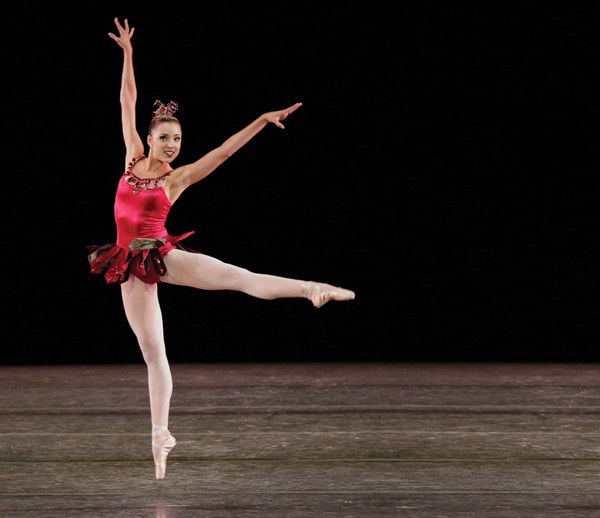 Emily Kikta in "Rubies" from George Balanchine's Jewels
(photo by Paul Kolnik)
DS: What would you say is the best part about performing in Ballet 2014?
EK: Since I'm in the corps at NYCB, I'm usually only featured in solo roles. I haven't really performed a true pas de deux yet. Plus, Daniel's team of dancers is so amazing. To be in a group with them is such an honor—I feel like I'm not worthy!
DS: What's most exciting about Ballet 2014?
EK: The program will show how versatile ballet dancers can be. One small group of people is doing both classical and contemporary work—work that's hard, romantic and energetic.
Jacob's Pillow is also such a cool venue. There'll be so many other artists and companies there—it's a whole culture. It's actually going to be my first time performing there. I can't wait.
There's something uniquely awesome about watching a live dance on a proscenium stage—the immediacy of it, the fact that the dancers are making something happen right in front of your eyes. But do you ever wish there were a more interactive way to experience a dance show? It'd be fun to be involved in the making itself, right?
Well, now you can be, thanks to a new app created by the 2wice Arts Foundation. Passe-Partout features New York City Ballet dancers Daniel Ulbricht and Justin Peck dancing eight different one-minute duets and solos, all choreographed by Peck. (If you're not obsessed with his choreography yet, trust us—you will be, and soon.) It gets cooler: The app allows you to mix and match those pieces, overlaying them in various combinations. There are 40,000—count 'em!—40,000 possible dances to be made, and the making is up to you.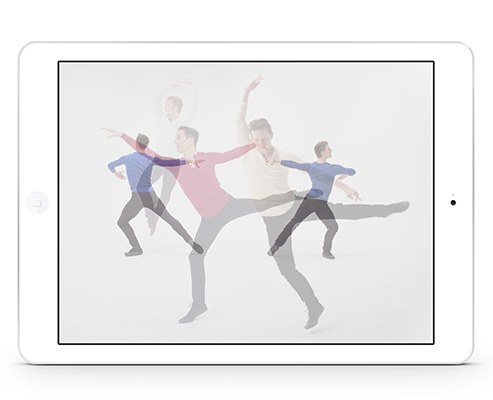 Each dance features accompaniment by former NYCB dancer Aaron Severini. The musical snippets highlight either the clarinet, piano, harp, harpsichord, marimba or percussion, and they're layerable—all of the various melodies go together, interlocking like so many puzzle pieces. So as you create your dance collage, you're creating a musical collage, too. How neat is that?
If you're having a hard time imagining what all of this actually looks/sounds like, check out the video below. (The New York Times also did a great article about it yesterday, complete with another video.) You can purchase Passe-Partout at the App Store for just 99 cents.
Like many of you, I'm guessing, seeing The Nutcracker every year was a major holiday tradition growing up. My studio never put on our own production, so my BFF Becky and I would go to a different show each winter with our moms.
We started small by seeing a Nutcracker at St. Paul's School in Concord, NH. I was young, it was my first Nut experience, and my mind was blown.
Eventually, we upgraded: We took a drive south to see Boston Ballet's Nutcracker. Mind = further blown. Whether on a small school stage or a much larger one, The Nutcracker was instantly magical to me, and it was a crucial part of my early dance experience. I became obsessed with the Tchaikovsky score, and I always picked a really lavish dress to wear to the show because being fancy was important at The Nutcracker.
It wasn't until I moved to NYC and started working at Dance Spirit that I saw the granddaddy of them all: New York City Ballet's production of George Balanchine's The Nutcracker.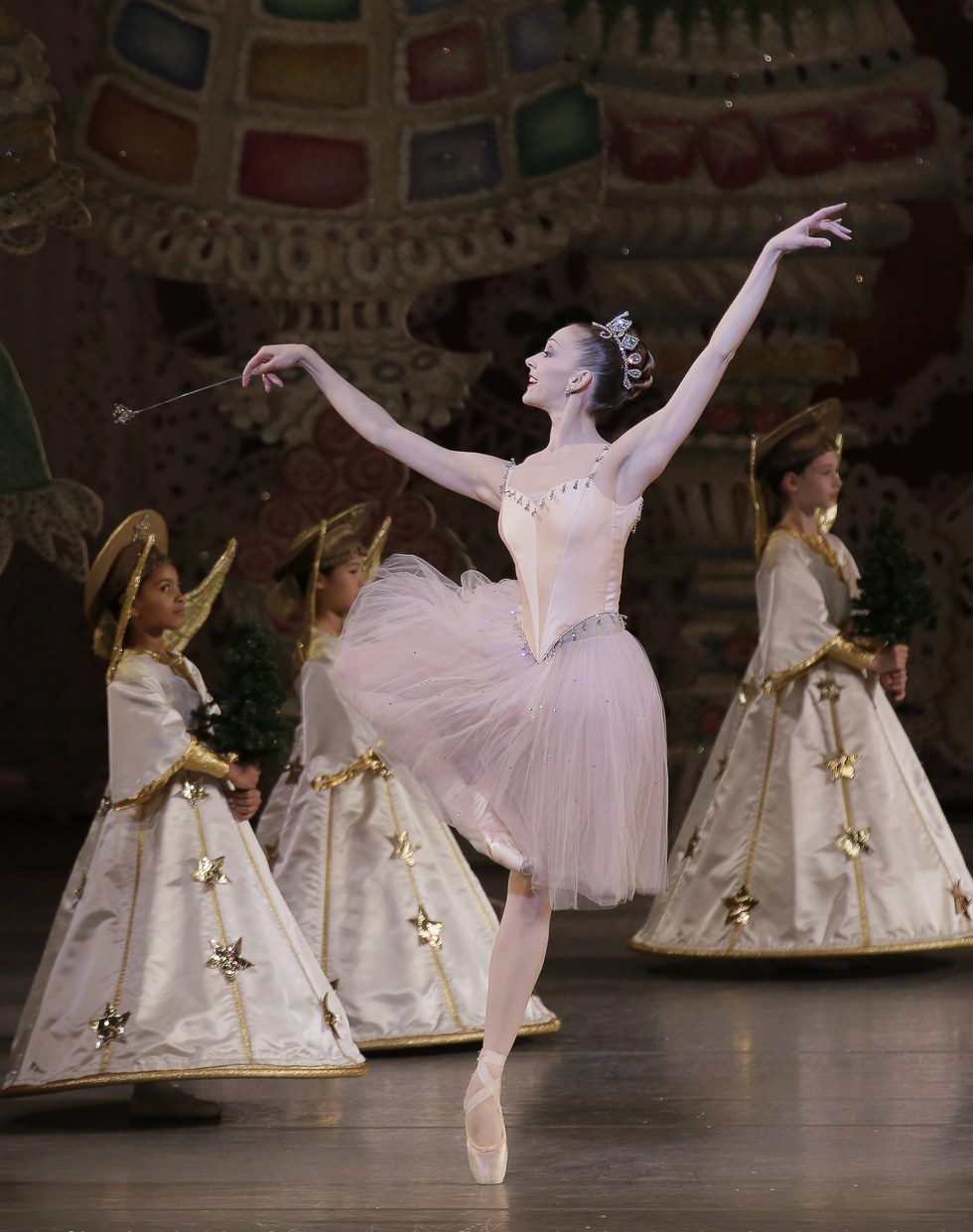 Maria Kowroski in George Balanchine's The Nutcracker. Photo by Paul Kolnik.
NYCB principal Maria Kowroski danced the Sugar Plum Fairy role, and I remember thinking it was physically impossible to have legs that long and feet that archy—and yet there she was, in all her perfect ballerina glory, being promenaded around by her cavalier.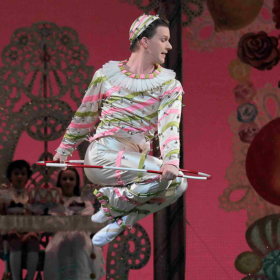 Daniel Ulbricht in George Balanchine's The Nutcracker. Photo by Paul Kolnik.
Fellow principal Daniel Ulbricht led the hyper-peppy Candy Canes, while former Dance Spirit cover girl Kathryn Morgan, then a corps de ballet dancer, stood out during the snow scene.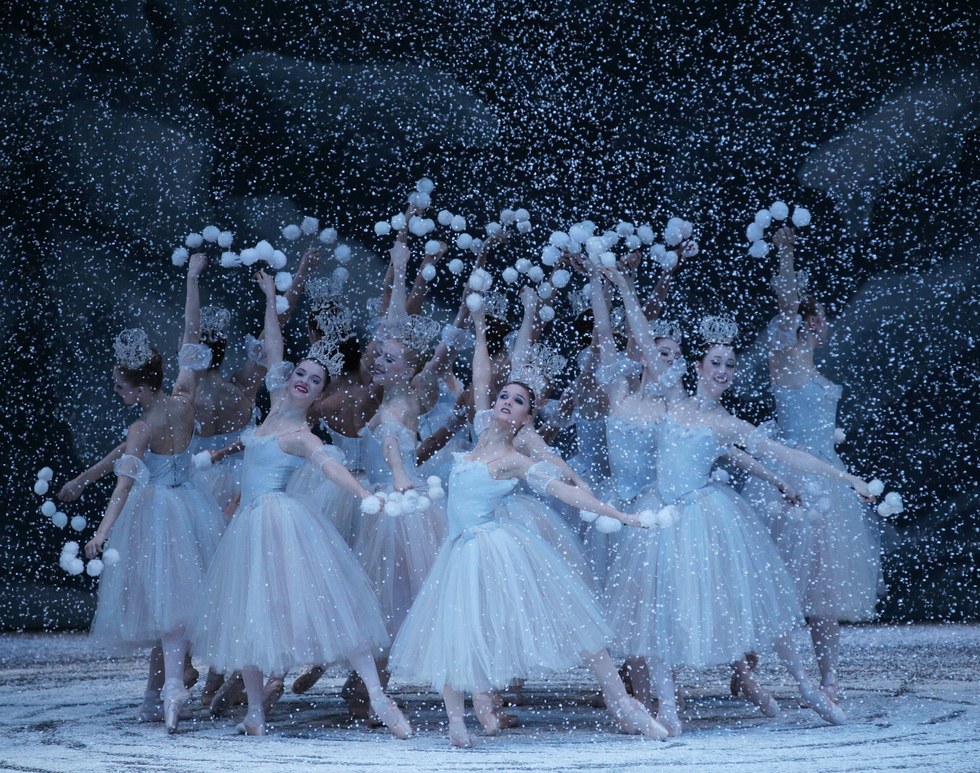 My beloved snow scene. This is New York City Ballet in George Balanchine's The Nutcracker. Photo by Paul Kolnik.
Ah, the snow scene. It makes me cry every time because it's just so beautiful. The Nutcracker is the holiday season to me, and I can't wait to continue my annual tradition by seeing NYCB's production again next week. In the meantime—until I get my Land of Sweets fix—I'll be happily prancing around the office humming all that good music and forcing the rest of the DS staff to share their favorite Nutcracker memories with me. And then I'll share them with you...
"The 'Dance of the Bonbons' was the first piece I almost performed onstage—I chickened out last-minute when I saw Mother Ginger's massive skirts! It wasn't until college that I had the opportunity to dance in The Nutcracker again. The wait was totally worth it: I got to dance 'Arabian,' a role so powerful and mysterious. I still get chills every time I hear the music." —Maggie McNamara
"I have hundreds of wonderful Nutcracker memories. But the reason the ballet is special to me is less about a single moment and more about the way it became a yardstick. Every year, between the ages of 7 and 18, I came back to it; every year, there were new parts to discover, or old parts to rediscover. It was the way I measured my progress, and it always had something new to teach me. (Still does!)" —Margaret Fuhrer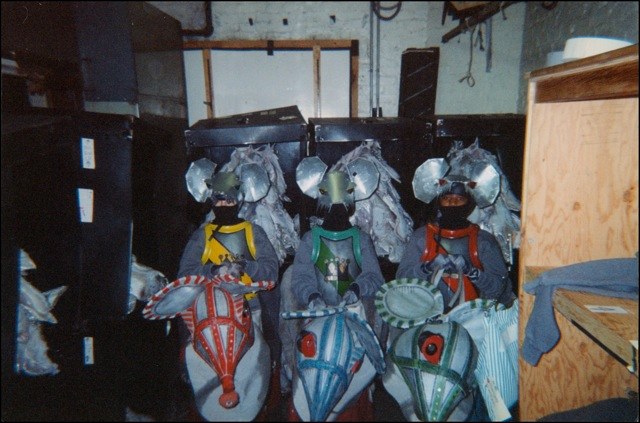 Rachel (center) as a Cavalry Mouse
"I was in the children's cast of The Joffrey Ballet's Nutcracker for a few years. My last time auditioning, I had grown too tall to technically be a kid, but they offered me the part of a Cavalry Mouse—or a mouse who's riding another mouse like a horse. The part was easy, I didn't have to spend hours on my hair and makeup and the audience went wild whenever we galloped our way into the Battle Scene. When I'm in the audience to this day, I always cheer loudest for those Cavalry Mice." —Rachel Zar
"The Nutcracker combines two of my favorite things: Christmas and ballet. I saw the Joffrey's production almost every year growing up, and loved coming home and dancing by the fire in my living room, holding my own nutcracker doll and wearing a satin nightgown like Clara." —Meggie Hermanson 
We want to hear your Nutcracker stories! Share your favorites in the comments below—and happy Nutcracker season!
Apr. 01, 2013 11:46AM EST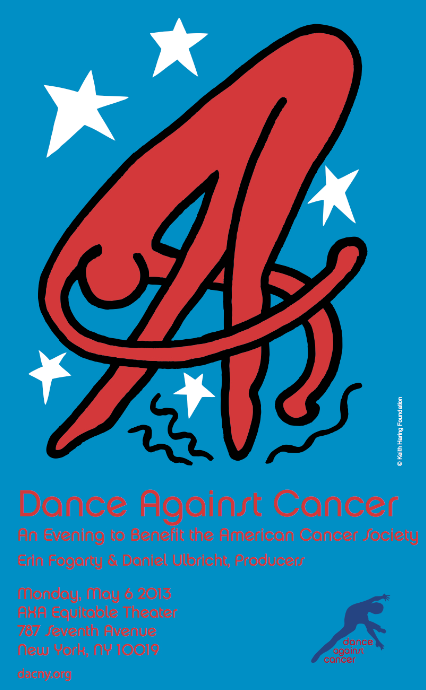 This year's Dance Against Cancer poster features an original drawing by artist Keith Haring.
A dance gala is always a good thing. But an impressively star-studded dance gala for a very important cause? It doesn't really get better than that.
The third annual Dance Against Cancer benefit, hosted by the American Cancer Society and produced by Erin Fogarty and New York City Ballet principal Daniel Ulbricht, will be held on May 6 in NYC. Like the last two galas, it'll feature performances by some of the dance world's best and brightest, many of whom have personal connections to the cause.
And I do mean best and brightest. The lineup is incredible: NYCB's Maria Kowroski, Wendy Whelan, Tiler Peck, Lauren Lovette, Robert Fairchild, Tyler Angle, Gonzalo Garcia and Daniel Ulbricht; American Ballet Theatre's Misty Copeland; Alvin Ailey American Dance Theater's Alicia Graf Mack and Matthew Rushing; Martha Graham Dance Company's Katherine Crockett and Lloyd Knight; and Lar Lubovitch Dance Company's Clifton Brown and Attila Csiki. There'll also be a special sneak peek at Christopher Wheeldon's Cinderella, performed by San Francisco Ballet's Maria Kochetkova and Joan Boada, and world premieres danced by Lil' Buck and ABT's Herman Cornejo.
Watch this beautiful, touching video describing Dance Against Cancer and its mission, with testimonials from many of the dancers who'll be performing at the gala. Then click here to find out more about the show and buy tickets. (Not in NYC? There's also an option to simply donate to the American Cancer Society.)
Mar. 29, 2013 10:44AM EST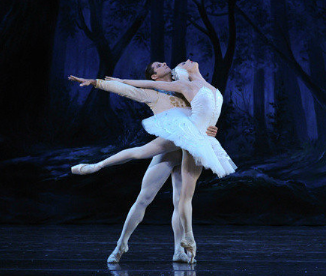 ABT's Veronika Part and Marcelo Gomes in "Swan Lake," part of the gala program. (photo Siggul/Visual Arts Masters)
Nobody puts on a ballet gala quite like Youth America Grand Prix. Their must-see performances routinely feature bold-faced names from all over the world. Watching all those ballet superstars sharing a single stage is one of those experiences that'll give you goosebumps.
Well, here's your chance to see one of the competition's most impressive galas for the price of a movie ticket. Emerging Cinemas—which has been broadcasting some seriously impressive shows recently—will beam YAGP's "Ballet's Greatest Hits," performed earlier this year in Tampa, FL, to movie theaters nationwide this Sunday, with an encore showing on Tuesday.
You don't want to miss this, guys. The lineup includes New York City Ballet's Ashley Bouder and Daniel Ulbricht, Alvin Ailey American Dance Theater's Alicia Graf Mack and Antonio Douthit, San Francisco Ballet's Maria Kochetkova and Taras Domitrio, American Ballet Theatre's Veronika Part, Marcelo Gomes, Hee Seo and Stella Abrera, National Ballet of Canada's Greta Hodgkinson, Dutch National Ballet's Matthew Golding and Boston Ballet's Alejandro Virelles. Phew!
Not enough starpower there to tempt you? a) You be crazy, and b) wait! There's more: The broadcast will also be hosted by "So You Think You Can Dance" producer Nigel Lythgoe and feature interviews with soon-to-be Paris Opéra Ballet director Benjamin Millepied and the ever-awesome ABT soloist Misty Copeland.
Visit the Emerging Cinemas website to find a participating theater near you!
Apr. 25, 2012 11:45AM EST
There's something mystical about the relationship between a ballerina and her pointe shoes. Finding the right pair is like finding the right pas de deux partner: The chemistry has to be perfect. I remember thinking of my pointe shoe fitter as my guru—she got me (or my feet, anyway).
After the Capezio 125th Anniversary Gala on Monday night, which paid tribute to the dancer-shoe connection, I rediscovered this New York City Ballet video profiling principal Megan Fairchild through her shoes. It's fascinating. (And adorable: It turns out that senior principal Wendy Whelan is Fairchild's "shoe mentor." She helped Fairchild find the best way to sew her ribbons.)
My favorite part of the video is when the dancers visit the Freed of London factory to get to know their "makers," the craftsmen who create their precious shoes. That's a rare occurrence: Usually makers and dancers never meet. At the Capezio gala, American Ballet Theatre's Craig Salstein, playing fellow ABT dancer Nicole Graniero's "maker," did a sort of fantasy duet with Graniero that was surprisingly poignant. In the end, New York City Ballet's Daniel Ulbricht swept in as Graniero's "real" partner. And yet I found myself rooting for Salstein. A good partner is one thing. But a ballerina isn't a ballerina without the right pair of shoes.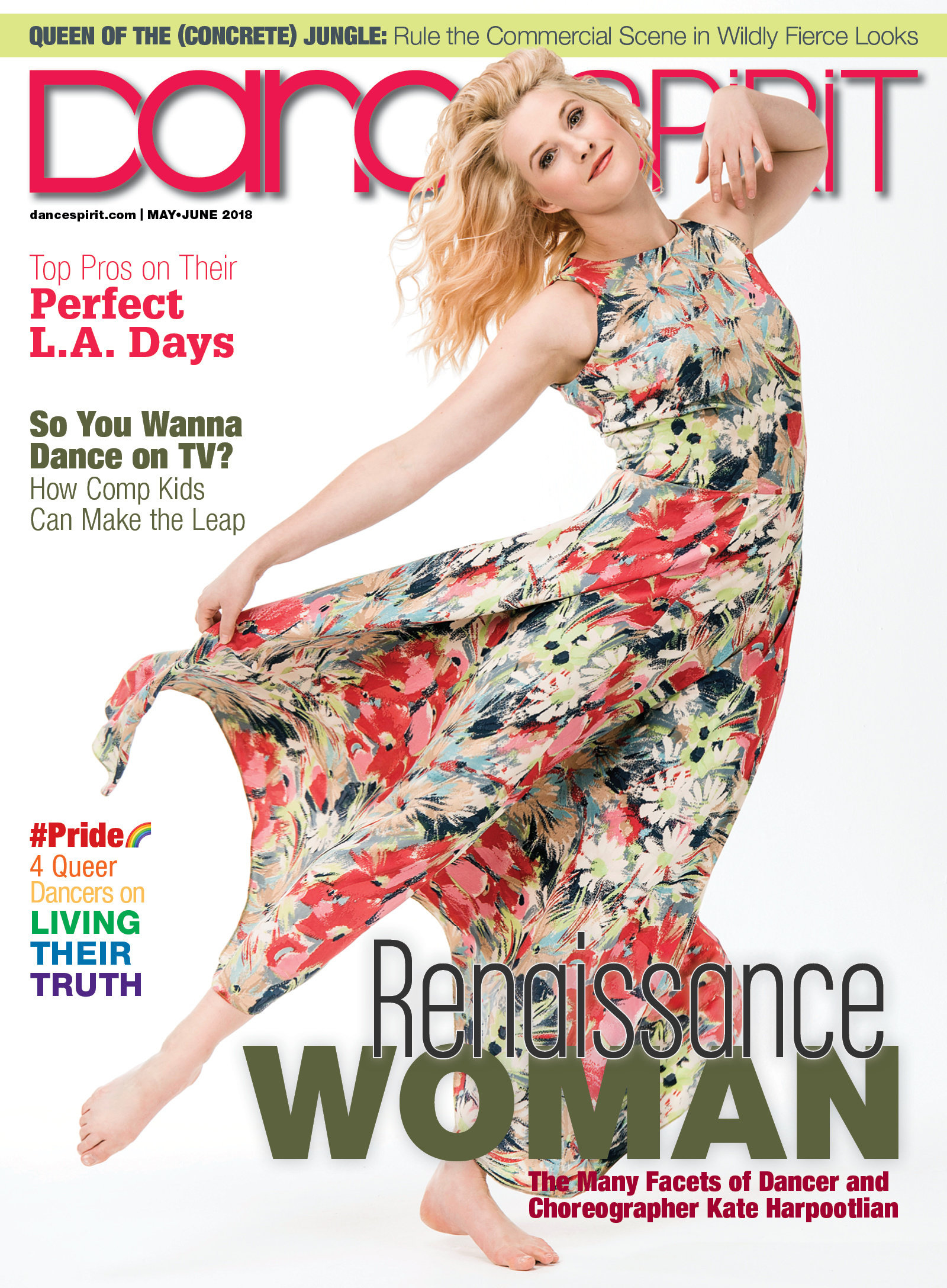 Get Dance Spirit in your inbox