Whoa, guys. We're kind of still recovering from the incredible intensity of The PULSE on Tour's Final Night Gala, held yesterday in NYC.
The thing is, we came in thinking we were prepared for the awesomeness. We know how great The PULSE faculty is. When you have the likes of Cris Judd, Dave Scott, Ian Eastwood, Dee Caspary, Gil Duldulao and Tricia Miranda (to name just a few!) putting together pieces for some of the country's most talented dancers, you know you're in for a good time.
But we weren't prepared for just how good it would be. The PULSE dancers had less than a week to learn their routines, but they performed with the polish of experienced pros. We particularly loved the old-school romance of Judd's piece, set to Billy Joel's "Scenes from an Italian Restaurant," and the ferociousness of Duldulao's hard-hitting (literally—baseball bats were involved) number set to some classic '90s hip hop. (As you've probably figured out by now, we're all about a good #throwback.)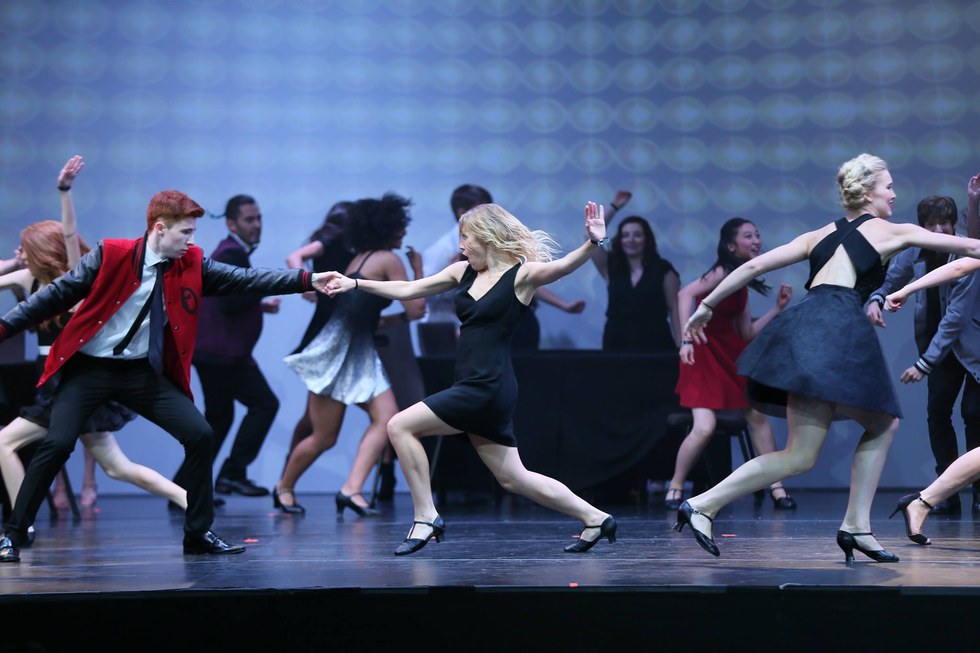 Rocking out to Billy Joel in Cris Judd's piece (photo via The PULSE)
There were also several knockout guest performances. Zendaya, one of our favorites of the moment, showed off some impressive dance skills while performing her hit song "Replay," backed by a crew of PULSE dancers. Flight Crew, a jump-roping (!) team currently competing on "America's Got Talent," did some unbelievable things with jump ropes. And a remarkable group of Elite Protégé alums celebrated The PULSE's 10th anniversary by reuniting for a piece by the fabulous Rhapsody James. (One of the sweetest moments of the night was the faculty's outsized reaction to that performance. Those dancers were once their students, and now they're earning A-list jobs all over the world.)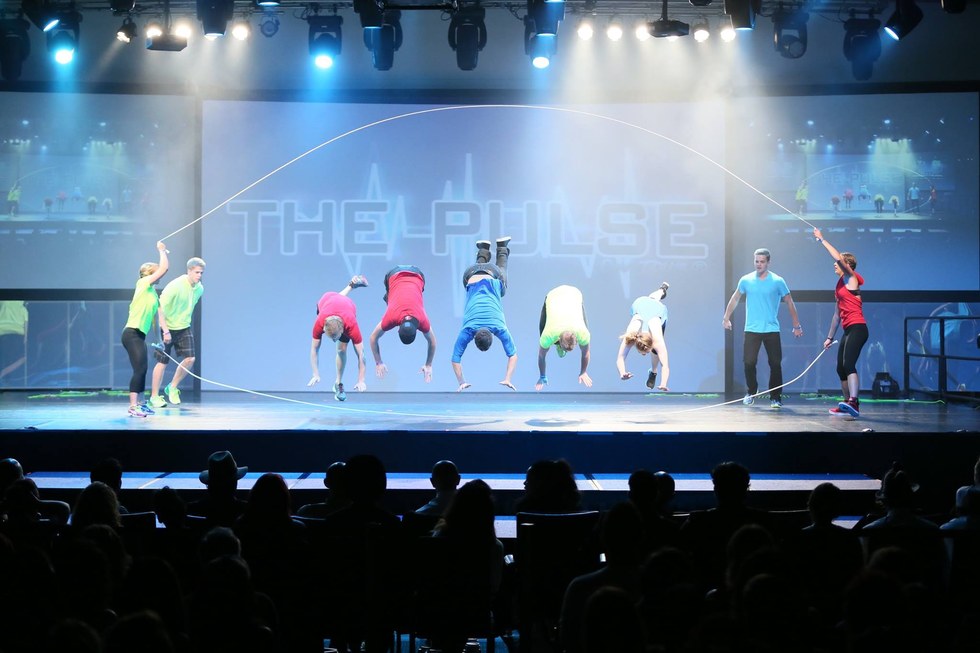 Flight Crew mid-flight (photo via The PULSE)
Emotions ran high as it came time to announce the 2014-2015 crop of Elite Protégés. 13 talented dancers—including Charlize Glass, Kierstyn Tupa, Elyssa Cueto and Trevor Takemoto—earned yearlong scholarships to The PULSE, plus opportunities to assist the convention's faculty. Congrats, everyone! We're so excited to see what amazing things you'll get up to this year.
I've gotta say, " So You Think You Can Dance," last night's show was a little underwhelming. On a scale of 1 to 10, the Top 16's talent level is about a 13. But the choreography—on average—scored close to a 6 in my book. Obviously, there were the exceptions, like Mandy Moore's routine to "Foolish Games" by Jewel (#throwback!), and Nakul Dev Mahajan's spirited Bollywood number, "Dilliwaali Girlfriend." But a lot of the show was just, eh. So, let's just skip to the good, shall we? Here are my top five highlights from last night's show: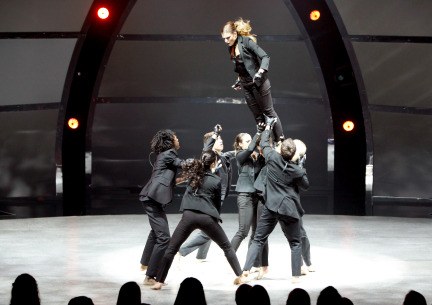 Bridget, Carly, Jacque, Jessica, Marcquet, Ricky, Rudy and Teddy in Travis Wall's routine to "Love Runs Out" (photo Adam Rose/FOX)
1. The group routines. Beginning with Mandy Moore's jazzy and sultry "Take Me to the River," the large and mini group pieces were the clear highlights of the evening. Travis Wall's band of outlaws dancing to One Republic's "Love Runs Out" was particularly captivating: The grittiness and raw intensity read really well on screen. After the performance, Nigel mentioned the Emmy Awards—could this be Travis' year (again)?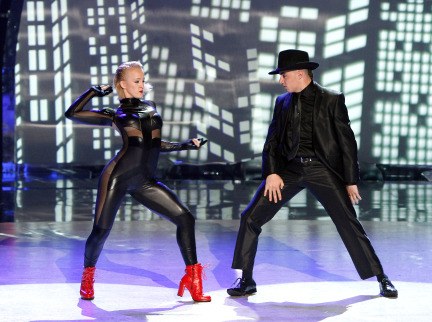 Work it, Tanisha! (photo Adam Rose/FOX)
2. Tanisha Belnap. This girl. Like guest judge Misty Copeland noted, it was clearly Tanisha's night. Not only did her performance in Dave Scott's "Good Kisser" completely kill it, her featured role in Sonya Tayeh's group number to Bjork's "So Broken (Live)" showed a completely different side of this young artist. She may have been in the bottom six this week, but this firecracker clearly isn't going home anytime soon.
3. Cat Deeley's one liners. It seems like Cat always knows just what to say, even when a duet totally tanks. But when things go well, Cat's humor is on point, and her jokes last night did not disappoint. From the line after Travis Wall's "The Leaving Song"—"Talk about getting up on the wrong side of the bed!"—to her Waynes World-esque scene change and her note about Ricky Ubeda's "guy-liner," the British babe had me laughing through it all.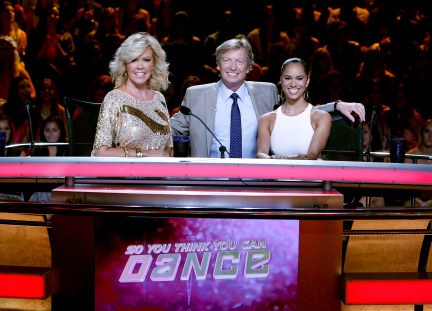 Mary Murphy, Nigel Lythgoe and Misty Copeland (photo Adam Rose/FOX)
4. Misty Copland as a guest judge. Last night, the American Ballet Theatre soloist continued her reign as best guest judge. Her criticism was spot on, and her corrections were specific enough for each dancer to apply next week. Also: Can I please have your arms, Misty?
5. Baby pictures! The episode included footage of each dancer as a tiny mover and shaker. Needless to say, everyone was adorable. But I'd like to make two special shout-outs: Jacque's pink fur get-up and Emily's march to her own drum. Awwww!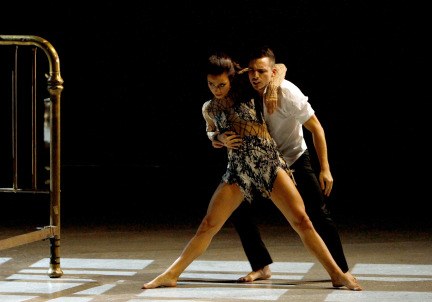 Bridget and Emilio—and the bed. But why was it even there?
(photo Adam Rose/FOX)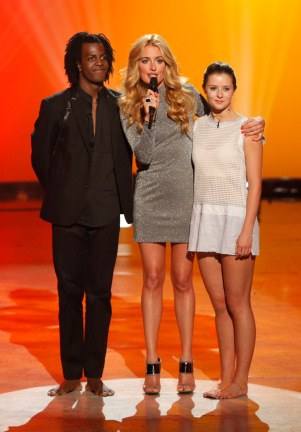 We'll miss you Marcquet and Brooklyn!
(photo Adam Rose/FOX)
Of course, there were also a few awkward moments last night. And I'm not just talking about Brooklyn and Marcquet's untimely leave from the show. (I know, I know, almost everyone has to leave at some point. But Marcquet had the chops to go all the way, and Brooklyn's hip-hop performance in Willdabeast's choreography showed her jaw-dropping versatility. #Unfair.) But the real awkwardness? The useless bed post in Travis Wall's "The Leaving Song," as well as the chair in Dmitry Chaplin's "I Put A Spell On You." We've asked what competition judges hate to see the most in dancers' routines, and uncorrelated and unused props almost always rank near the top. So what gives?
Next week, four(!) dancers will have to leave at the end of the show. Bummer, right? In the meantime, what did you think of last night's episode? What was your favorite moment? Let us know in the comments, and come back next week for our recap of the Top 14 episode.
OK, clearly it's no secret we love dance movies. I mean, the Step Up movies (can't wait 'til Step Up: All In!), Battle of the Year, Teen Beach Movie...we could go on. There's just something magical that happens when you combine a dramatic plot line (romance! rivalry! revenge!) with a killer dance number. So naturally, any time we hear about a new dance flick, we get pretty stoked.
Ladies and gents, allow us to introduce you to High Strung. Written by American actor, singer, and producer Michael Damian (and co-directed by his wife and former dancer Janeen Damian), High Strung follows the relationship of a hip-hop violinist performing in the subways of NYC, and a ballerina on scholarship at Manhattan Conservatory of the Arts. Apparently, the two team up with a dance crew called SwitchSteps, so we're thinking that means some pretty awesome hip-hop and ballet dancing.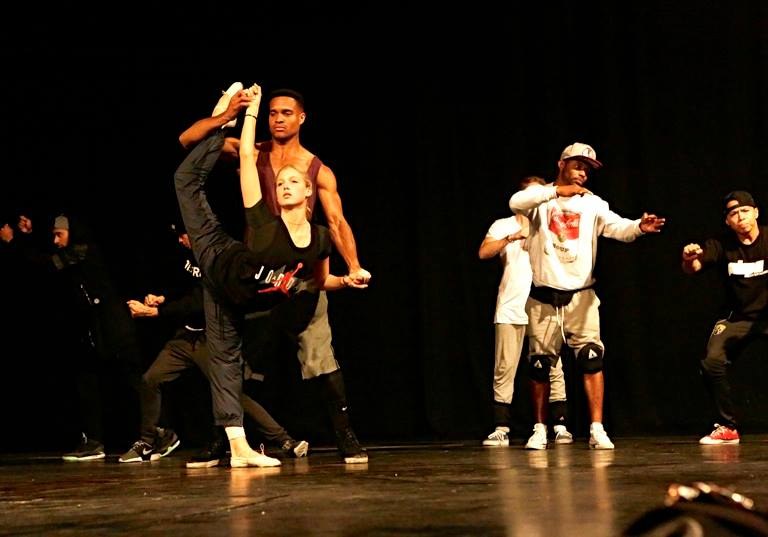 Keenan rehearses for High Strung (photo via Facebook)
But what we're most excited about are the names behind this project, with...
...Dave Scott, who also did choreo for Battle of the Year and Step Up 2: The Streets, as the choreographer...
...Mariinsky ballerina extraordinaire (and March 2012 cover girl!) Keenan Kampa as leading lady...
...and hip-hop stars Ian Eastwood, Comfort Fedoke, and Marcus Mitchell (of SwitchSteps) also in featured roles.
Right now, the movie is only in filming stages, and it isn't set to premier until Summer of 2015. BUT writer Michael Damian is super active on the film's Facebook and Twitter pages, posting behind-the-scenes pics, videos, and teasers as the crew films in Romania.
Check out this video of rehearsals for the finale scene (a 10-min scene which took three days to film!):
Looks like they're having too much fun.
Stay tuned for more dance-movie updates next week!
Sep. 01, 2013 04:40PM EST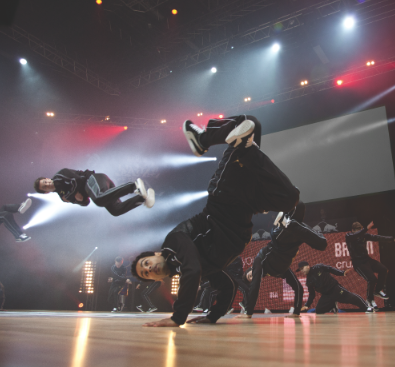 Dancers on the set of Battle of the Year (by Elohim Carrau)
Move over, Step Up: There's a new dance movie in town. Battle of the Year stars singer Chris Brown and features real b-boy crews from all over the world. Dance Spirit chatted with choreographer Dave Scott (who's also worked on You Got Served and Step Up 2: The Streets) about the film, which hits theaters September 13.
What is Battle of the Year about?
Dave Scott: It's based on a documentary from 2007 called Planet B-Boy, and we shot the majority of the footage at the actual Battle of the Year competition in France with crews from around the world.
What was it like working with b-boying newbie Chris Brown?
DS: The movement was hard for Chris, especially since we put together an all-star crew to represent America with dancers from a bunch of amazing crews. Everything dancers can do on their feet, these b-boyers can do upside down on their hands. Chris worked hard to earn the other dancers' respect as a crew member. And he did more than just dance—he acted his butt off.
Do you think the movie will show viewers a new side of b-boying?
DS: B-boy battles are like the X Games of dance. Yes, b-boying is entertaining—you've seen it on commercials and in other films—but seeing the b-boy lifestyle makes you understand why the movements are so aggressive. I want viewers to really respect the style and see it as a sport. This isn't something you can just get up off the couch and do.
Jul. 24, 2013 09:30AM EST
Last night's show was crazy.
CRAZY.
At first I thought it was going to be the episode when the season hit its stride. We saw several solid, undeniably awesome routines. The dancers, as a whole, were looking great. Even the costume team was on fire. Things were on the up-and-up.
But then we witnessed a shameless act of "So You Think You Can Dance" thievery. And when I saw the way the judges reacted to it, I almost lost my darn mind.
I went into this episode feeling a little "meh" about the whole "SYTYCD" enterprise. I came out of it a screaming-at-my-TV mess. Yay?
OK. I've had the night to simmer down. Now that I can type coherent sentences again, here are my Top Five Moments:
1. The opening number became an interesting experiment in perception. On my TV, at least, the show started out with no sound. (Some poor tech crew was not having a good time last night.) What did I see? The Top 16 in Lady Gaga-y getups and face tattoos, doing rough-and-raw choreography that depicted what appeared to be a tribal ritual involving Jasmine as a sacrifice. Based on all that, I assumed the music would be propulsive, aggressive, even scary. But then the audio kicked in (yay!), and lo and behold—it was swoony and moody instead. The dance took on a totally different tone. Nifty, right? It almost made me want to play the routine over and over on mute, setting it to different songs each time. But I'll leave that to you guys:
2. Travis Wall's piece for Jenna and Tucker demonstrated the proper way to use props. OK, yes: The song he chose is called "Hangin' By a Thread," and we started out with Jenna literally hanging from the ceiling by red threads. Travis Wall, master of subtlety. But those tethers ended up adding a beautiful aerial dance component to the piece, and what could have been a run-of-the-mill contemporary routine became something pretty great. I think "SYTYCD" choreographers often do better when they give themselves a prop that's actually a "problem"—that complicates a routine instead of just decorating it. It keeps them from falling into old, stale habits. And Jenna was just gorgeous, as usual.
3. Along those same lines, we had Dee Caspary's "ladder" piece for Haley and Curtis. Like Travis' routine, it felt like a circus hybrid, and I mean that in the best way. The ladder that terrified the pants off Hayley (I don't blame her—that thing did not look stable) ended up being just as effective as Travis' tethers. Props like these could be considered gimmicky in another context, but we're dealing with two-minute routines here. They need gimmicks if they're going to achieve any sense of coherence in 120 seconds.
4. On the other end of the spectrum, we had Makenzie and Paul's gimmick-less Dave Scott routine. Well, OK, the whole 1920s theme could be considered a gimmick. But (fabulous) costumes aside, this was just a good old-fashioned, well-choreographed hip hop piece. There wasn't anywhere for Makenzie and Paul to hide, and they didn't need to. They were fantastic. Especially Makenzie. How does that girl keep ending up in the bottom? VOTE, people!
5. Tyce Diorio ripped off Wade Robson, and I wanted to punch everyone in the face.
Let's begin at the beginning here.
When, before the break, Cat cheerily announced that Amy and Fik-Shun would be doing a "hobo jazz" routine, I thought, Oh, cute—shades of Wade Robson's hobo-y "Cabaret Hoover" routine from Season 3. Unconcerned, I went back to reading about Will and Kate's baby on trashy gossip websites.
Then the piece started, and
HOLY CATFISH IT WAS ACTUALLY SET TO A SONG FROM THE TRIPLETS OF BELLEVILLE SOUNDTRACK, JUST LIKE WADE'S PIECE.
And the costumes were kind of the same. And—gulp—a few of the movements might have been, too.
My jaw literally dropped. I kept trying to think of ways this could be OK. I mean...I guess Amy and Fik-Shun were sexy hobos, if that's a thing, as opposed to Wade's unhinged hobos? Or maybe this was Tyce's loving tribute to Wade? The overlap seemed so blatant that I was sure the judges would give some kind of explanation (or make some kind of accusation) during their critiques.
I was wrong. They went crazy. They said it was the greatest thing Tyce had ever choreographed. They stopped one step short of praising his originality. And I started yelling unprintable things at my television.
Look: Amy and Fik-Shun are two of my favorites on the show, and their performance of the piece was great. I don't know what else to say except that I hope they're still around after next week, which it seems like they will be, so that's good. But just how short is your institutional memory, "SYTYCD?" (Also, I miss Wade.)
In the end, BluPrint and Mariah went home. That's about right, I guess. I wasn't really processing thoughts well by the time their names were announced.
How do you all feel about the elimination? And what did you think about the hobo jazz piece? Am I totally overreacting? (Probably.)
Tune in next week, same time, same place, for our recap of the Top 14's performances!
Aug. 10, 2012 05:40PM EST
In honor of Dance Spirit's 15th birthday, we decided to check in with a few of our favorite past cover stars. They wrote to us about how being on the cover changed their careers. Memories!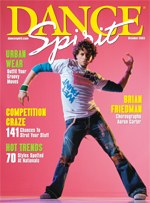 Brian Friedman,
October 2003
"When I was asked to be on the cover, I was thrilled. I felt like I'd finally made it. Looking back, it was only the beginning of my choreography career, and so much has happened since. My work has evolved in a beautiful way, and that cover so many years ago gave me the confidence to chase my destiny. Thank you, Dance Spirit, for believing in me and my dreams!"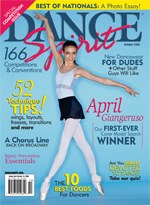 April Giangeruso,
October 2006 and March 2011
"Never in my wildest dreams did I believe I would be on the cover of a magazine. When I learned I had won the first Cover Model Search contest—and that so many people had supported me—I got a huge confidence boost. Six years later, I feel blessed to be dancing for my dream company, American Ballet Theatre, where I'm surrounded by inspiration."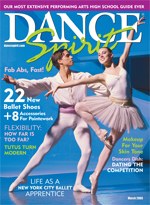 Tiler Peck,
March 2005
"Dance Spirit was the first cover I'd ever been on, so it opened many doors for me. It made me a recognizable face and name, and gave me the confidence to continue reaching for my dance goals. It humbles me to think I share the cover of this special magazine with so many other inspirational and talented artists."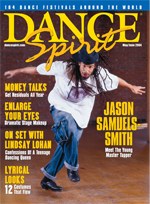 Jason Samuels Smith,
May/June 2004
"It was extremely humbling and gratifying appearing on the cover—it was my first appearance in any major publication. I felt as if not only I, but tap dance as a genre, had won a victory in the fight for visibility and acknowledgement."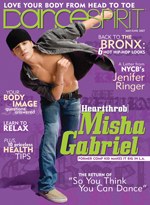 Misha Gabriel,
May/June 2007
"I grew up reading Dance Spirit, so it was an honor to be recognized by my community and by such a strong voice in the dance world. Thanks, DS!"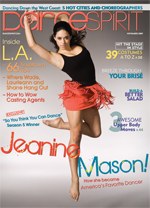 Jeanine Mason,
November 2009
"I remember first appearing in DS in a tiny photo from Nationals—it was the most exciting moment of my life! Then, seeing my "So You Think You Can Dance" cover was the realization of my dream to be a role model and to inspire others as I have been inspired. Being a part of DS has been one of the greatest honors of my life. The magazine will always be an integral part of my journey."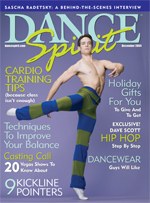 Sascha Radetsky,
December 2004
"I'm grateful to have appeared on the cover of Dance Spirit. The magazine is relevant, influential and, most of all, a lot of fun. Congratulations to the DS staff on reaching this milestone!"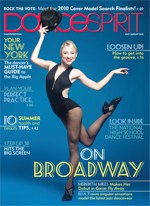 Meredith Miles,
July/August 2010
"Being on the cover gave me exposure to a large group of people I might not have reached otherwise. The media attention I received helped document an exciting time in my career."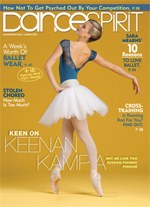 Keenan Kampa,
March 2012
"Being on the cover was such an honor. It afforded me the opportunity to reach a huge dance readership beyond the ballet world. The amount of support and encouragement I've received has been overwhelming. I'm leaving for Russia with a support system I never imagined."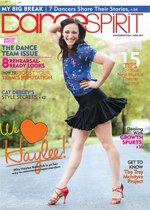 Haylee Roderick,
April 2011
"Being able to reach out to younger dancers, to inspire or guide them, is very rewarding. DS does an incredible job staying current with what's going on in the dance world—and it has the sweetest staff there is. [Editor's note: We're blushing!] Being a cover girl is an honor I will always remember and be proud of."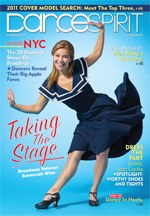 Savannah Wise,
July/August 2011
"My dancer friends from when I was young couldn't believe it. 'You're on the cover of what?!' was a pretty common response. When you're a performer, your work is primarily onstage. Since most of my family lives far away, it's really cool when I get to share what I'm doing with them from miles away. That cover is framed in my living room."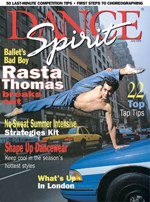 Rasta Thomas,
June 2000 and September 2007
"Dance Spirit reaches a younger generation of dancers as well as seasoned professionals, so being on the cover twice was exciting because that's what my show, Rock the Ballet, is all about. My wife, Adrienne [Canterna] (a DS cover girl in November 1998), and the Bad Boys of Dance are dedicated to sharing our love for dance around the world, and that's exactly what DS does. Keep doing what you're doing, DS—you're the best!"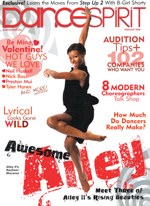 Rachael McLaren,
February 2008
"I was over the moon when I learned I'd been selected for the cover! It gave me the boost I needed to believe in myself. It also helped me realize how much support I had from family, teachers and friends who were proud of my achievements."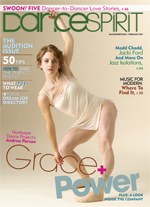 Andrea Parson,
February 2011
"My experience on the cover taught me that you don't have to be a perfect dancer to be on the cover of a magazine. You just have to be honest and happy with who you are and how you move."
Mar. 11, 2011 02:20PM EST
Pick any outlet in the commercial dance industry, and Dave Scott has had his hand in it. From live TV to mega-hit movies, the hip-hop choreographer has become a staple on the scene. Scott—who, at 6' 4", towers over most of his dancers—has received critical acclaim for his work on the big screen, including a Fred & Adele Astaire Award and an American Choreography Award. He has choreographed major dance films, including You Got Served, Stomp the Yard and Dance Flick, and was a co-choreographer on Step Up 2: The Streets. On the small screen, he's served as a guest choreographer on "The Wade Robson Project," "Step It Up and Dance," "Dancing with the Stars" and "So You Think You Can Dance." (He created the memorable "Forever" routine for tWitch and Comfort during "SYTYCD" Season 4.) Plus, Scott is an in-demand teacher at conventions and is on faculty with Monsters of Hip Hop and The PULSE On Tour. DS got him to dish The Dirt!  —Alison Feller
What did you want to be when you were a teen? In the NBA! I got skills.
What's your biggest guilty pleasure? Crab legs and lots of butter.
Favorite city in the world: San Francisco
Favorite dancer of all time: Poppin Pete
Who would play you in a movie? Will Smith
Who is your dance crush? Mia Michaels
What is your pet peeve? I hate when people don't fill the ice trays.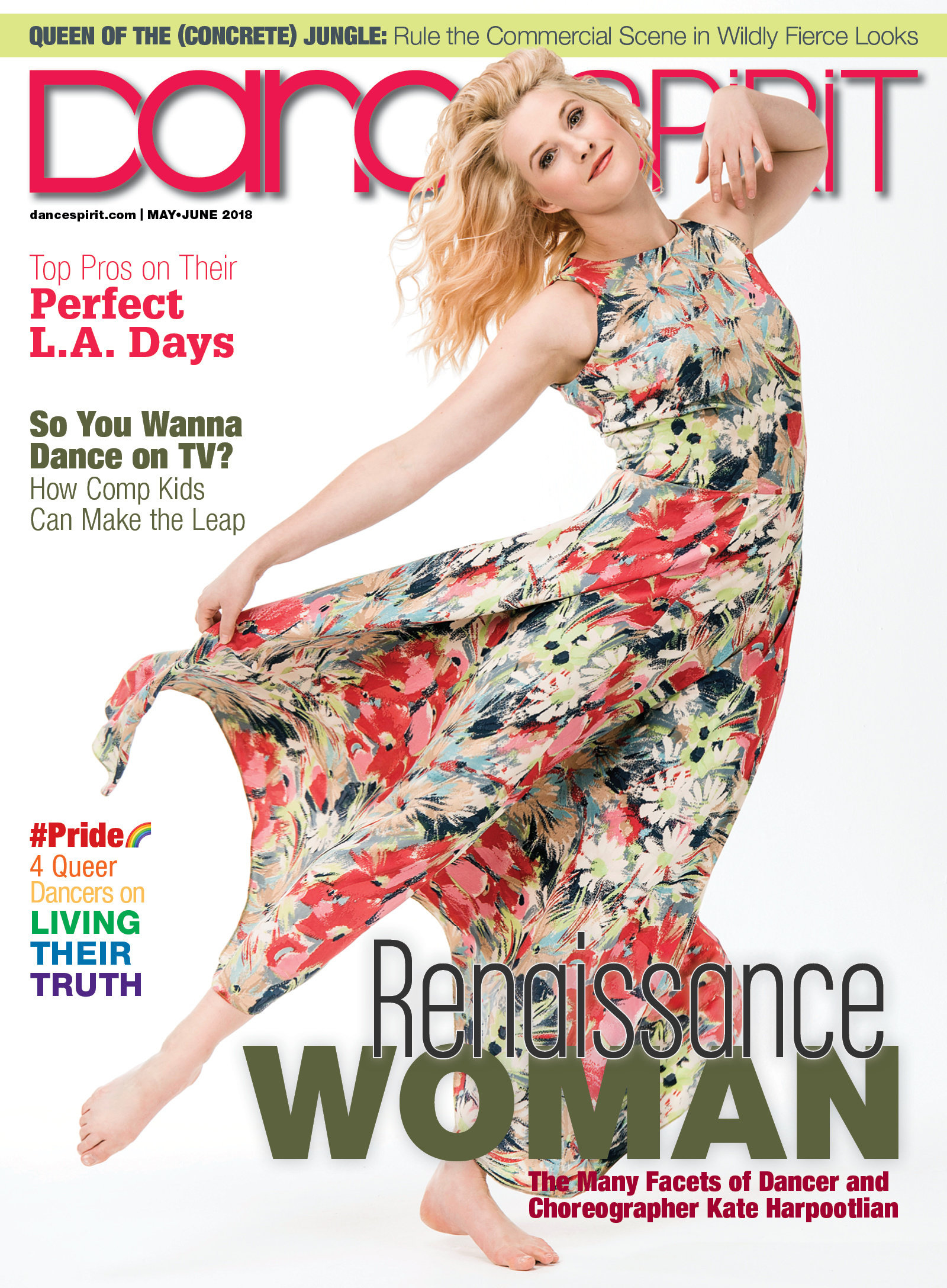 Get Dance Spirit in your inbox