Jun. 21, 2019 11:54AM EST
Irina Kolpakova in the studio with Katherine Williams. Photo by Quinn Wharton for Pointe.
Being coached by a treasure like former Kirov prima Irina Kolpakova is an experience most dancers only dream of. But company members at American Ballet Theatre have been the lucky beneficiaries of her wisdom since 1990. Thanks to Instagram, where pros like Gillian Murphy and James Whiteside share snippets of their sessions with Kolpakova, any ballet lover can be a fly on the wall during rehearsals with the famed ballet mistress.

Site Network
Aug. 03, 2018 12:40PM EST
Screenshot Via YouTube
Ballet legend David Hallberg and hip-hop dancer Metter Towley may seem like an unlikely pair, especially on the dance floor—but Revlon's new "Lash Loudly" mascara campaign proves otherwise. The ad features Hallberg and Towley as they freestyle to the song "Flava" by Princess Nokia. And surprisingly, the contrasts between these two dancers and their dance genres actually compliments their individuality on and off the dance floor.
Dance Videos
Jul. 20, 2018 11:14AM EST
Nov. 10, 2017 12:19PM EST
Screenshot via Business Insider
Jun. 01, 2017 10:14AM EST
Mar. 23, 2017 11:11AM EST
Last night, "The Colbert Report" came to a close. But Stephen Colbert isn't one to go out with a whimper. Instead, the final episode of his genius political show featured an epic musical finale, with appearances by about a gagillion guest stars who sang and danced their little hearts out.
Prominent among them were none other than Lil Buck and David Hallberg—who, naturally, had the best dance moves of the entire group. (Hallberg even waltzed with Katie Couric, as one does when one is a dancer standing next to Katie Couric.)
But who has better hair?
Seem a tad random? It isn't, actually! Both of the dance stars made memorable guest appearances on "The Colbert Report" in the not-so-distant past. Last year, Lil Buck walked Colbert through the entire history of Memphis jookin (which is totally fascinating), complete with demonstrations. And back in 2011, shortly after Hallberg announced he'd be joining Moscow's Bolshoi Ballet, he got Colbert to don tights for a little balletic duet. Bless you, Stephen Colbert, for calling attention to some of the coolest people in the often-overlooked dance world.
Check out last night's song-and-dance number below—and then take a little walk down memory lane and watch the original Lil Buck and David Hallberg segments. We'll miss you, "Colbert Report"!
Mar. 23, 2017 09:42AM EST
The Russians are coming! The Russians are coming!
Actually, they're already here: Moscow's famous Bolshoi Ballet has arrived in NYC for more than two weeks of performances.
"Bolshoi" literally translates to "big"—which is perfect, because this company doesn't do anything small. They've brought three huge productions with them to the Big Apple: classics Swan Lake and Don Quixote, and an over-the-top man-candy festival known as Spartacus.
It's a chance for New Yorkers to see ginormous stars, especially the world-renowned Svetlana Zakharova.
Zakharova being her usual unreal self in Don Quixote (photo by Gene Schiavone)
We'll also finally witness Zakharova's much-talked-about partnership with David Hallberg, the American Ballet Theatre star who's made the Bolshoi his second home.
High drama: Hallberg and Zakharova in Swan Lake (photo by Damir Yusupov)
And we'll get a good look at up-and-comers like gorgeous Olga Smirnova, who at just 22 has already earned thousands of rabidly devoted fans.
Classical perfection: Smirnova in "Diamonds" from Jewels (photo by Damir Yusupov)
Time for some real talk: The past couple of years haven't been so great for the Bolshoi. Early in 2013,  director Sergei Filin was attacked by a masked man who threw acid on his face, leaving Filin nearly blind. The resulting investigation revealed a lot of disturbing—sometimes downright scary—information about Bolshoi politics.
But Filin, who after many surgeries has regained some of his eyesight, is back at the Bolshoi's helm. (He was even a judge at the Youth America Grand Prix finals this spring.) And it's a good sign that most of the press the group has been getting recently concerns dancing, rather than scandal. Here's hoping that the company's ugliest moments are past—so we can get back to obsessing about its truly fantastic artists.
The Bolshoi Ballet performs through July 27 at Lincoln Center. Click here to learn more!
Feb. 24, 2017 11:15AM EST
My ballet boyfriend David Hallberg has a new love Down Under, and it's low-key breaking my heart. Okay, I'll be a little less melodramatic (and maybe explain what I'm talking about): Hallberg, who's basically a real-life Apollo of ballet, has been recovering in Sydney ever since he suffered a pretty gnarly ankle injury in 2014.
David Hallberg (photo by Henry Leutwyler)
Cue two and a half dark, dark years for those of us who love seeing him onstage with American Ballet Theatre, where he's a principal danseur. The bright light at the end of the Hallberg-less tunnel was next month's premiere of Alexei Ratmansky's Whipped Cream, in which he'll dance the role of Prince Coffee. *swoons*
But now there's news via The New York Times that the land of dingoes and didgeridoos still gets to keep Hallberg—at least, for part of the year. The Times reported this morning that the Australian Ballet has named Hallberg their first-ever international resident guest artist. David McAllister, the artistic director of Australian Ballet, says that means Hallberg "comes to Australia every year and performs with us in selected repertoire and he has very generously also agreed to do some coaching and mentoring during these visits."
Well, don't forget how much your American fans miss you, Hallberg. Oh yeah, and don't be surprised if we decide this is a great excuse to take a trip down under. G'Day, Australian Ballet!
Dec. 08, 2016 11:30AM EST
Hallberg back in 2012 (Matthew Karas for Dance Magazine)
How much have we missed American Ballet Theatre and Bolshoi Ballet star David Hallberg? SOOOOOOOO MUCH.
The gorgeous dancer suffered a serious ankle injury back in 2014, which was the beginning of a dark period in many devoted Hallbergians' lives. But we really started to worry about a year ago, when he shaved his famously luscious locks and then essentially disappeared—not just from the stage, but also from NYC, and even from Instagram. Let's just say that many prayers were sent to the dance gods on his behalf.
Then, a few months ago, there was a glimmer of hope: It looked like Hallberg was back in the ballet studio. And a couple of weeks ago, we got the news we'd been waiting for: An Australian dance critic revealed Hallberg would be returning to the stage December 13, dancing Franz in the Australian Ballet's production of Coppélia.
Naturally, there was much rejoicing.
This week, the Sydney Morning Herald published an interview with Hallberg in which he talks about how he's spent the past year. Basically, he moved to Australia and devoted himself completely to his recovery—a long, grueling, mentally devastating process. "Emotionally, some days I was just going by the words of my team and not my own self-belief," he told the Herald. "I was lost mentally but something inside me kept fighting. It took an army of people to get me back on stage. It wasn't just me. It really took the positive reinforcement of the entire team to say, 'you are doing this, this is happening'."
Hallberg's Coppélia performance will actually be his debut as Franz, which makes sense in a way—a fresh start for his fresh start. We are, to put it mildly, profoundly jealous of Sydney's balletomanes. (Here's hoping Hallberg finds his way to NYC soon.)
Welcome back to the stage, David. May you never have to leave it again!
Mar. 18, 2015 02:45PM EST
Bad news first: David Hallberg had to cancel his spring season performances with American Ballet Theatre. He had surgery on his foot a few months ago, and apparently jumped back into things a little too quickly—so he's taking the time to make sure his injury heals properly. This is a total bummer for all of us NYC ballet fans, who were looking forward to seeing his perfect technique light up the stage at the Met.
Hallberg flying in one of the Bolshoi's studios (photo by Henry Leutwyler)
Now for the good news: Hallberg is serving as the dance director for the very first Festival of the Desert in Palm Desert, CA, which is happening today! Though he won't dance in the festival, he's helping to bring dance to an area that doesn't usually attract a ton of starpower, and he's doing it with style— New York City Ballet principal Maria Kowroski is slated to dance something by George Balanchine, while American Ballet Theatre principal Veronika Part will dance a more contemporary ballet piece by Lar Lubovich.
Hallberg's cross-cultural ballet career (trained at the Paris Opéra Ballet School, currently dances with ABT and the Bolshoi Ballet) has helped him understand the importance of bringing art to different communities. "I want the Palm Springs area and Southern California to experience extremely high quality art in various disciplines," he told Palm Springs Life magazine. We're all about it—but heal up Hallberg! We want to see you back on the stage, too.
Get Dance Spirit in your inbox
Jun. 21, 2013 07:00AM EST
Ballet superstar David Hallberg has put on yet another hat: National Spokesperson for Ballet in Cinema, which brings some of the best ballet companies in the world to the big screen and main-stream audiences. (It seems like he's everywhere I turn these days—and I'm not complaining!)
As part of his involvement in Ballet in Cinema, Hallberg is starring in The Dancer, a short film directed by Pierce Jackson, that opened last Sunday. In it, he talks about how he views ballet, and he even tells about wanting to be a tap dancer before he discovered The Nutcracker! Plus, there are lots of gorgeous slow-motion clips of him and his dynamite technique.
This short film will run alongside all of Emerging Pictures' Ballet in Cinema and Opera in Cinema screenings through the remainder of 2013. Click here for the schedule.
Dance News
Mar. 28, 2013 10:36AM EST
American Ballet Theatre and Bolshoi Ballet principal David Hallberg has been a pretty major ballet star for a pretty long time now. But he's also becoming a bona fide star of the fashion world.
Not that that's a surprise, really: Hallberg is a beautiful guy, in addition to being a beautiful dancer, and seems to have a curious mind eager to explore things outside the realm of ballet—fashion included. But even with all his natural gifts, I'm not sure anyone knew just how great he would be at modeling. Because seriously, you guys: He's great. It's almost eerie.
Recently, Hallberg has appeared in two major fashion outlets: He payed homage to some of the masters of modern dance in the ballet-themed Spring/Summer 2013 issue of Carine Roitfeld's CR Fashion Book, and then channeled the iconic Vaslav Nijinsky in the April 2013 issue of American Vogue. Both spreads manage to appeal to dance people and fashion people alike.
Take a look!
(CR Fashion Book photos by Kacpar Kasprzyk; Vogue photos by the one and only Annie Leibovitz.)
[portfolio_slideshow nowrap=0 thumbs=true timeout=4000 showtitles=true showcaps=true showdesc=true]
Feb. 07, 2013 11:26AM EST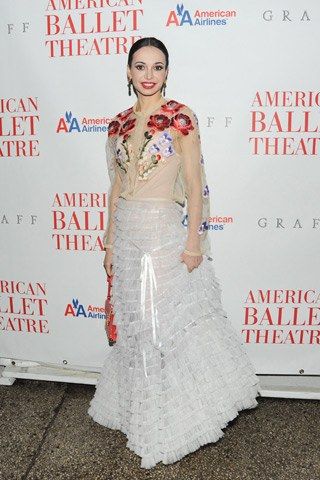 So, remember when New York City Ballet honored designer Valentino at a big gala that was attended by a gazillion movie stars, and it was awesome?
Well, American Ballet Theatre just announced the details of its Metropolitan Opera House gala this May, and it sounds like it's going to be equally glittery. Yay!
Providing the high-fashion connection is Christian Dior Couture, which is sponsoring ABT's gala. No word yet on whether or not that'll involve designing costumes for the ballets performed, but hey, at the least our favorite ballerinas will probably be decked out in some gorgeous Dior gowns at the dinner afterwards.
And what high-wattage stars will be attending? Honorary chairs Caroline Kennedy and Blaine Trump, for starters. But take a look at this honorary committee list: Kim Cattrall, Jennifer Love Hewitt, Stacy Keibler, Lea Michele, Kelly Rutherford, Zoë Saldaña, Ashlee Simpson, Aaron Sorkin, Stephanie Szostak and Uma Thurman. Straight A-list.
Finally, of course, there are the stars us nerds care about most: the company's principal dancers! And the gala cast list is enough to make your knees weak: Roberto Bolle, Herman Cornejo, Irina Dvorovenko, Marcelo Gomes, David Hallberg, Paloma Herrera, Julie Kent, Gillian Murphy, Natalia Osipova, Veronika Part, Xiomara Reyes, Polina Semionova, Hee Seo, Daniil Simkin, Cory Stearns, Ivan Vasiliev and Diana Vishneva. We haven't heard what they'll be dancing yet, but frankly even if they all just came out and stood next to each other onstage we'd be happy.
See you on the red carpet on May 13! Or, uh, no, we probably won't be walking the red carpet. But we'll definitely be stalking it. Close enough!
Jan. 28, 2013 11:25AM EST
Sara Mearns is back! The gorgeous New York City Ballet principal has been out for eight months—eight months—with a back injury. But a couple of weeks ago she was finally able to return to the stage, and we were finally able to recover from our SMearns withdrawal.
The news gets even better: Sara has decided to document her comeback in a series of weekly video blogs for The Huffington Post called (cutely) "Barre None." Why? Because, as she explains in her introduction,
"...what you see on the stage does not begin to capture what ballet or our lives are all about. You see the performance, but what you don't see—the rehearsals, the costume designs, the frazzled nerves, the learning of a new ballet, the constant travels around the world, the injuries and the oftentimes long, painful road to recovery that lead us to wonder if this is the injury that can end a career—it's all a part of what we do and who we are."
Her debut video, which went up on Friday, is a series of little confessional-style updates over the course of her first day back in the swing of things. She gives us a tour of her dressing room (which includes a photo of her with her idol, Natalia Makarova), shows us her super-dramatic stage makeup, talks about her nerves as she prepares to dance the "Waltz Girl" in Serenade for the first time, and then gives us a post-performance recap, showing off some beautiful flowers from her "good friend David Hallberg" (the American Ballet Theatre/Bolshoi Ballet superstar—because of course, of course they're friends). She also wears a fabulous babushka scarf that I need, like, right now.
Take a look—and visit HuffPo each Friday for a new video from Sara!
Dec. 26, 2012 07:00AM EST
Tonight CBS broadcasts the 2012 Kennedy Center Honors—and one of the honorees is a true ballet legend.
There are many incredible ballerinas dancing today, but nobody can ever quite measure up to Natalia Makarova. She first rose to fame at the Kirov Ballet in the 1960s, but after she defected from the USSR in 1970, she became an international superstar. Though she's tiny and delicate, she nevertheless had a steely technique and a huge, passionately dramatic presence onstage. A frequent partner of fellow stars Mikhail Baryshnikov and Rudolph Nureyev, she captivated audiences around the world.
But you don't have to take my word for it. Here she is showing off her exquisite control and dramatic sweep in Odette's variation, from a 1980 performance of Swan Lake:
And to give you a sense of not only her formidable technique, but also her sly sense of humor, here's a clip from the 1985 documentary In a Class of Her Own, in which Makarova narrates footage of herself in ballet class—mercilessly.
We can't wait to see Makarova celebrated tonight— especially since the ceremony (taped a few weeks ago) features performances by a slew of current ballet stars, including Alina Cojocaru, David Hallberg, Tiler Peck, Angel Corella, Julie Kent, Marcelo Gomes and Veronika Part. Tune into CBS tonight at 9/8 c to watch all that awesomeness.
And for those of you who just can't wait: Here's a sampler of classic Makarova photos. Enjoy!
[portfolio_slideshow nowrap=0 thumbs=true timeout=4000 showtitles=true showcaps=true showdesc=true]