Whoa, guys. We're kind of still recovering from the incredible intensity of The PULSE on Tour's Final Night Gala, held yesterday in NYC.
The thing is, we came in thinking we were prepared for the awesomeness. We know how great The PULSE faculty is. When you have the likes of Cris Judd, Dave Scott, Ian Eastwood, Dee Caspary, Gil Duldulao and Tricia Miranda (to name just a few!) putting together pieces for some of the country's most talented dancers, you know you're in for a good time.
But we weren't prepared for just how good it would be. The PULSE dancers had less than a week to learn their routines, but they performed with the polish of experienced pros. We particularly loved the old-school romance of Judd's piece, set to Billy Joel's "Scenes from an Italian Restaurant," and the ferociousness of Duldulao's hard-hitting (literally—baseball bats were involved) number set to some classic '90s hip hop. (As you've probably figured out by now, we're all about a good #throwback.)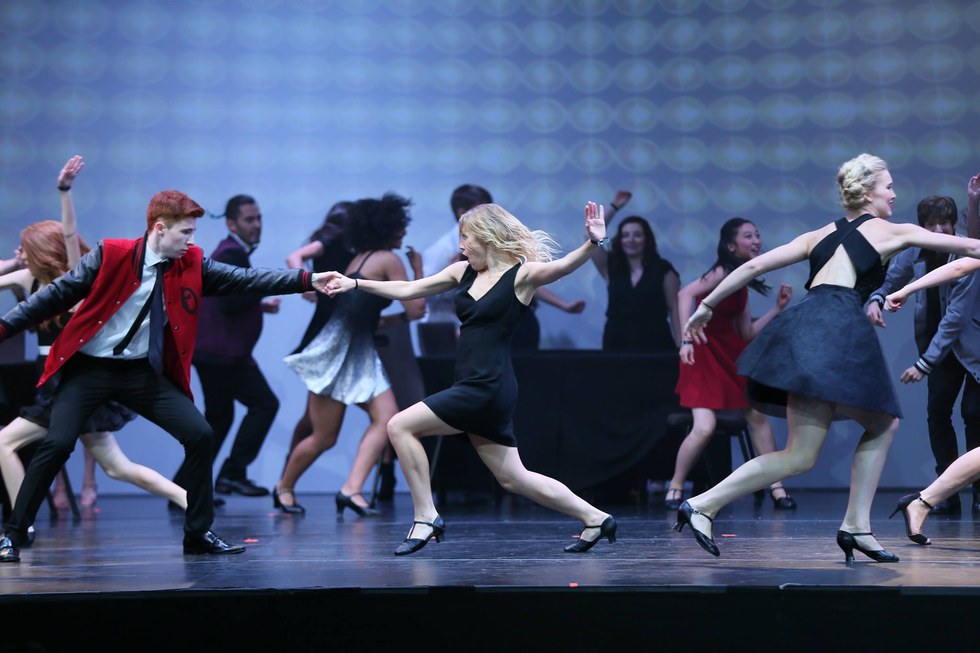 Rocking out to Billy Joel in Cris Judd's piece (photo via The PULSE)
There were also several knockout guest performances. Zendaya, one of our favorites of the moment, showed off some impressive dance skills while performing her hit song "Replay," backed by a crew of PULSE dancers. Flight Crew, a jump-roping (!) team currently competing on "America's Got Talent," did some unbelievable things with jump ropes. And a remarkable group of Elite Protégé alums celebrated The PULSE's 10th anniversary by reuniting for a piece by the fabulous Rhapsody James. (One of the sweetest moments of the night was the faculty's outsized reaction to that performance. Those dancers were once their students, and now they're earning A-list jobs all over the world.)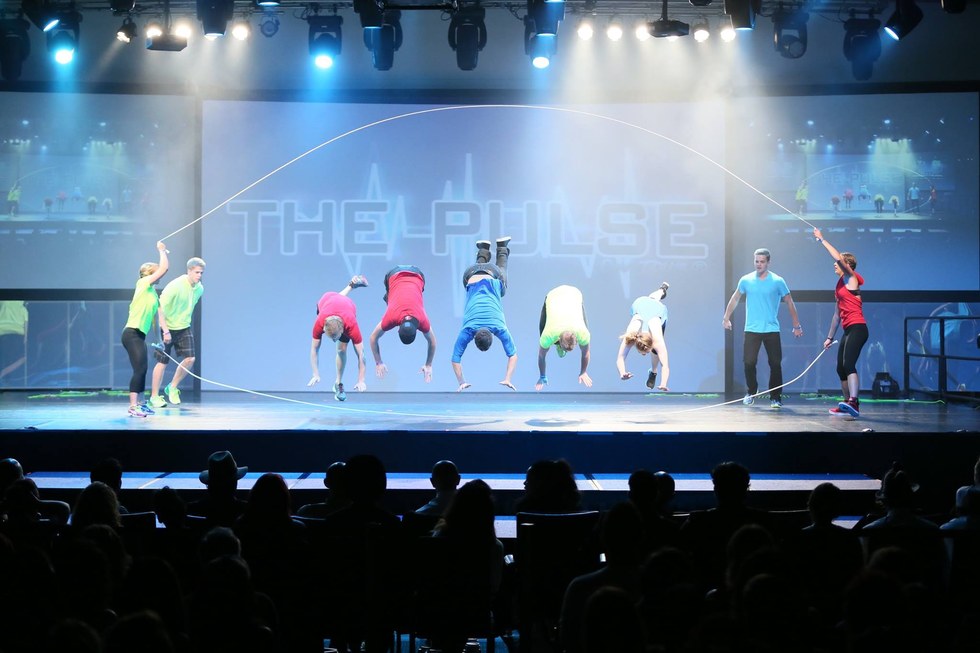 Flight Crew mid-flight (photo via The PULSE)
Emotions ran high as it came time to announce the 2014-2015 crop of Elite Protégés. 13 talented dancers—including Charlize Glass, Kierstyn Tupa, Elyssa Cueto and Trevor Takemoto—earned yearlong scholarships to The PULSE, plus opportunities to assist the convention's faculty. Congrats, everyone! We're so excited to see what amazing things you'll get up to this year.
Jul. 24, 2013 09:30AM EST
Last night's show was crazy.
CRAZY.
At first I thought it was going to be the episode when the season hit its stride. We saw several solid, undeniably awesome routines. The dancers, as a whole, were looking great. Even the costume team was on fire. Things were on the up-and-up.
But then we witnessed a shameless act of "So You Think You Can Dance" thievery. And when I saw the way the judges reacted to it, I almost lost my darn mind.
I went into this episode feeling a little "meh" about the whole "SYTYCD" enterprise. I came out of it a screaming-at-my-TV mess. Yay?
OK. I've had the night to simmer down. Now that I can type coherent sentences again, here are my Top Five Moments:
1. The opening number became an interesting experiment in perception. On my TV, at least, the show started out with no sound. (Some poor tech crew was not having a good time last night.) What did I see? The Top 16 in Lady Gaga-y getups and face tattoos, doing rough-and-raw choreography that depicted what appeared to be a tribal ritual involving Jasmine as a sacrifice. Based on all that, I assumed the music would be propulsive, aggressive, even scary. But then the audio kicked in (yay!), and lo and behold—it was swoony and moody instead. The dance took on a totally different tone. Nifty, right? It almost made me want to play the routine over and over on mute, setting it to different songs each time. But I'll leave that to you guys:
2. Travis Wall's piece for Jenna and Tucker demonstrated the proper way to use props. OK, yes: The song he chose is called "Hangin' By a Thread," and we started out with Jenna literally hanging from the ceiling by red threads. Travis Wall, master of subtlety. But those tethers ended up adding a beautiful aerial dance component to the piece, and what could have been a run-of-the-mill contemporary routine became something pretty great. I think "SYTYCD" choreographers often do better when they give themselves a prop that's actually a "problem"—that complicates a routine instead of just decorating it. It keeps them from falling into old, stale habits. And Jenna was just gorgeous, as usual.
3. Along those same lines, we had Dee Caspary's "ladder" piece for Haley and Curtis. Like Travis' routine, it felt like a circus hybrid, and I mean that in the best way. The ladder that terrified the pants off Hayley (I don't blame her—that thing did not look stable) ended up being just as effective as Travis' tethers. Props like these could be considered gimmicky in another context, but we're dealing with two-minute routines here. They need gimmicks if they're going to achieve any sense of coherence in 120 seconds.
4. On the other end of the spectrum, we had Makenzie and Paul's gimmick-less Dave Scott routine. Well, OK, the whole 1920s theme could be considered a gimmick. But (fabulous) costumes aside, this was just a good old-fashioned, well-choreographed hip hop piece. There wasn't anywhere for Makenzie and Paul to hide, and they didn't need to. They were fantastic. Especially Makenzie. How does that girl keep ending up in the bottom? VOTE, people!
5. Tyce Diorio ripped off Wade Robson, and I wanted to punch everyone in the face.
Let's begin at the beginning here.
When, before the break, Cat cheerily announced that Amy and Fik-Shun would be doing a "hobo jazz" routine, I thought, Oh, cute—shades of Wade Robson's hobo-y "Cabaret Hoover" routine from Season 3. Unconcerned, I went back to reading about Will and Kate's baby on trashy gossip websites.
Then the piece started, and
HOLY CATFISH IT WAS ACTUALLY SET TO A SONG FROM THE TRIPLETS OF BELLEVILLE SOUNDTRACK, JUST LIKE WADE'S PIECE.
And the costumes were kind of the same. And—gulp—a few of the movements might have been, too.
My jaw literally dropped. I kept trying to think of ways this could be OK. I mean...I guess Amy and Fik-Shun were sexy hobos, if that's a thing, as opposed to Wade's unhinged hobos? Or maybe this was Tyce's loving tribute to Wade? The overlap seemed so blatant that I was sure the judges would give some kind of explanation (or make some kind of accusation) during their critiques.
I was wrong. They went crazy. They said it was the greatest thing Tyce had ever choreographed. They stopped one step short of praising his originality. And I started yelling unprintable things at my television.
Look: Amy and Fik-Shun are two of my favorites on the show, and their performance of the piece was great. I don't know what else to say except that I hope they're still around after next week, which it seems like they will be, so that's good. But just how short is your institutional memory, "SYTYCD?" (Also, I miss Wade.)
In the end, BluPrint and Mariah went home. That's about right, I guess. I wasn't really processing thoughts well by the time their names were announced.
How do you all feel about the elimination? And what did you think about the hobo jazz piece? Am I totally overreacting? (Probably.)
Tune in next week, same time, same place, for our recap of the Top 14's performances!
When I see a dancer I love, I tend to get a little obsessed. Like after the first time I saw Sarah Pippin perform at competition, I could. not. stop. watching. her. videos.
Productivity goes straight out the door and I'm hooked on researching. Photos, videos, things I can watch or print and hang at my desk...you get it.
My latest?
Tiler Peck.
Sweet, romantic, awesome Tiler Peck.
You know her story: Former comp kid takes the ballet world by storm and flies through the ranks at New York City Ballet, nabbing herself a principal dancer title.
And you know about her love life, too, right?
She's dating fellow NYCB hottie (and principal) Robbie Fairchild.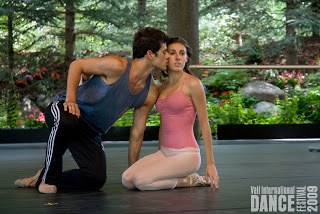 I imagine their life together is perfect and filled with pink tights, pointe shoes and well-trained puppies.
I saw Tiler perform the lead role in NYCB's production of The Sleeping Beauty on Friday night and now all I want to do is watch more from her...and pretend to be her.
Enjoy this clip of Tiler and Robbie dancing a Dee Caspary contemporary routine (cool!) at last year's Vail International Dance Festival.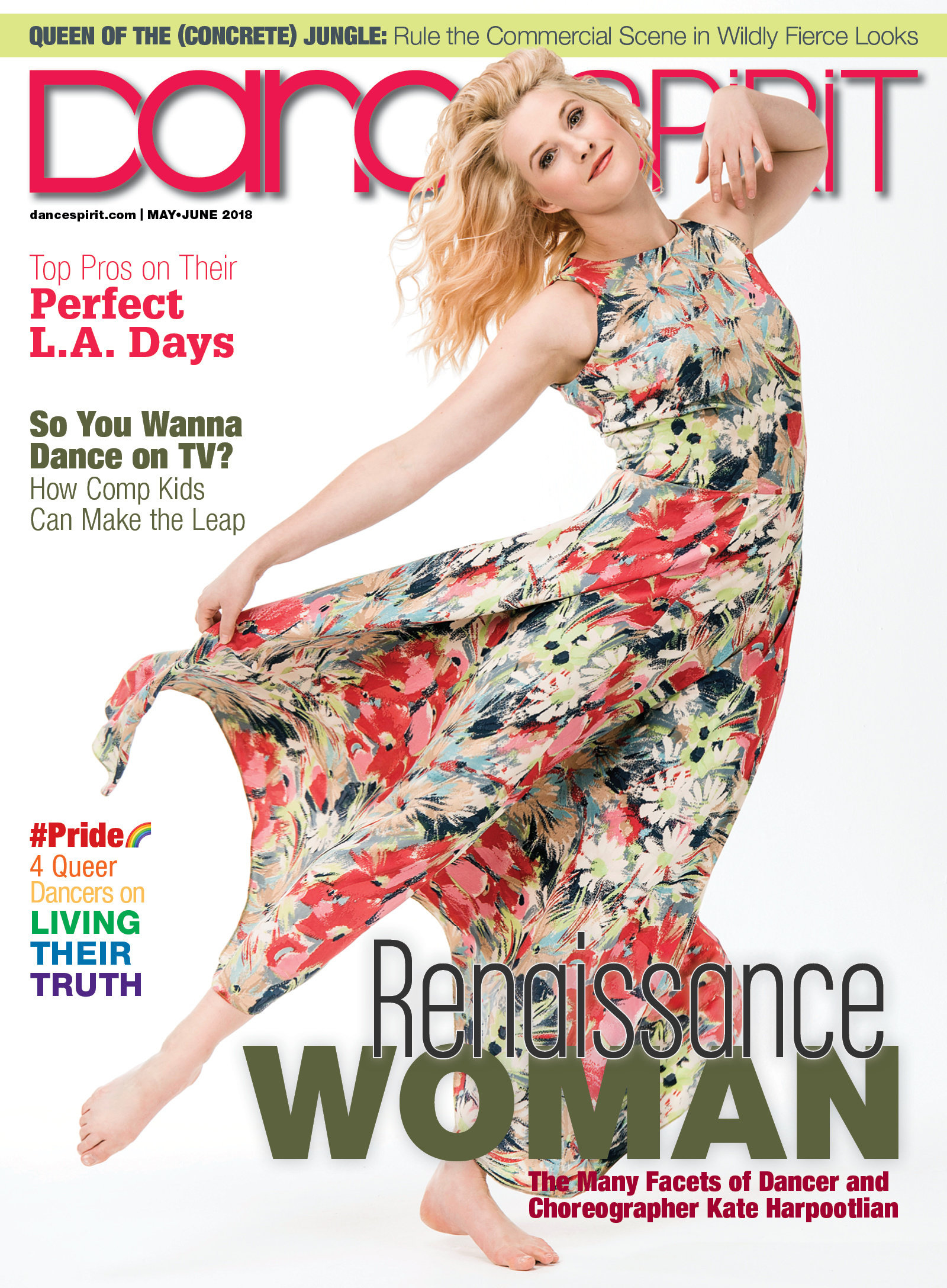 Get Dance Spirit in your inbox