Juliet Doherty (photo by Joe Toreno)
Keep reading...
Show less
This has already been a huge news week for the ballet world, and it just got even huger:
After 20 years in NYC, Complexions Contemporary Ballet—that extraordinary company pretty much every dancer we talk to dreams of joining—is making a big move. As of spring 2016, the troupe will call Atlanta home, according to a report in ARTSAtl.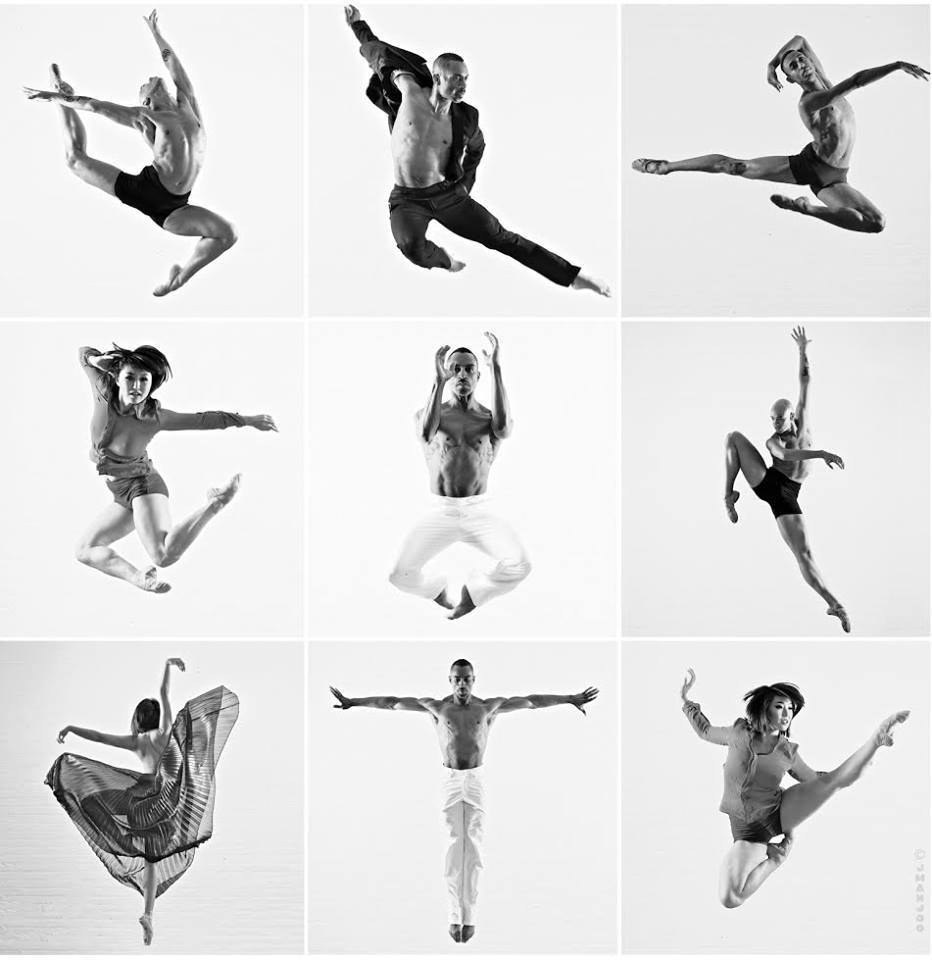 The stunning dancers of Complexions (photos by Jae Man Joo)
The decision took a lot of dance fans by surprise, but it also makes good sense. Yes, NYC is the dance capital of the country, but that means it's crawling with dance companies, who compete for audiences and funding. Dwight Rhoden told ARTSAtl that he and his Complexions co-director Desmond Richardson were looking for a "less saturated" dance community, and Atlanta fits that bill. Pretty much anywhere on the planet is less expensive than NYC, too; in Atlanta, the company will be able to afford its own studio space for classes and rehearsals, a major plus. And Rhoden and Richardson have made diversity a central part of Complexions' mission from the beginning, something Atlanta's multicultural (and increasingly artsy) population will definitely appreciate.
Complexions will perform in Atlanta this October before launching its first official ATL season in the spring. But never fear, NYC fans: The company will continue to mount its annual two-week season at the Big Apple's Joyce Theater. It'll still offer its popular NYC intensives, too, and there are plans to start up similar programs in Atlanta and Los Angeles.
It's an exciting time for the company—we're eager to see how it grows and changes in its new home!
A show of hands: Who would absolutely freak out if they were offered an apprenticeship with Complexions Contemporary Ballet? How about a full-time position with the Joffrey Ballet Concert Group? If you're anything like us, just the thought of performing with these coveted companies has your heart beating like crazy. So take a moment—breathe—and let us tell you about an exciting new opportunity.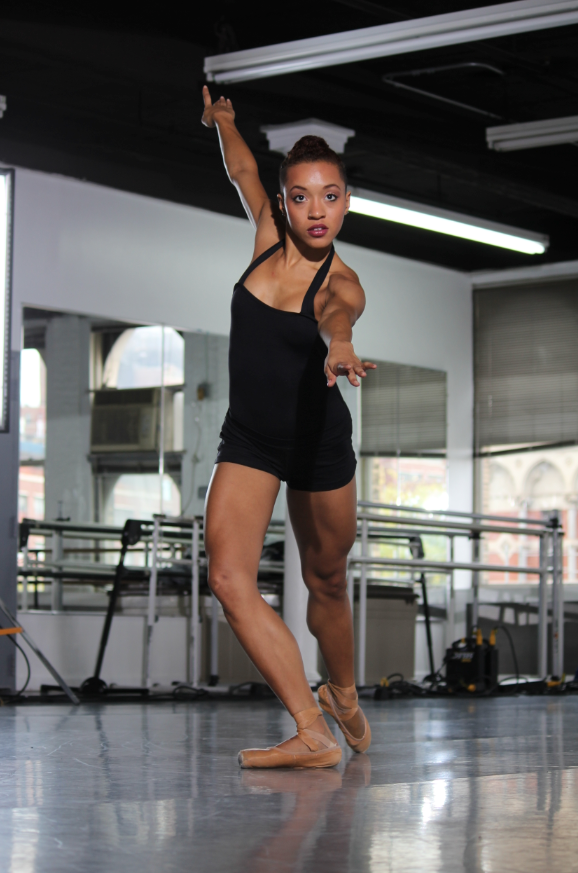 Are you up to the challenge? (Photo by Bround Creative, courtesy DanceOn)
DanceOn, the dance entertainment network that brought us the YouTube series "Dance School Diaries," launched a new contest today, along with the Joffrey Ballet School and Complexions, called Rise to the Challenge. The contest tests a dancer's ability to replicate a short phrase choreographed by Complexions' Desmond Richardson and JBS's Davis Robertson. Here's how it works:
YouTube videos of the eight challenge movements will be released in two chunks. The first four videos went live TODAY (November 12).

To enter, go the contest website and watch the four clips. (Bonus: This group of videos are demonstrated by gorgeous Complexions dancers. #Swoon)

Find one you think you can replicate? Film yourself doing the movement and post it to YouTube with #RiseToJBSChallenge before the first half of the contest closes on November 26.

DanceOn and JBS will choose one winner for each video.

Look out for DanceOn's announcement of the first four winners on December 1 on the contest website.
If your not feelin' any of the first four movement challenges, don't fret. Another four videos will launch on December 3 and run until December 17, with the final four winners announced on December 22.
CEO of DanceOn Amanda Taylor let DS in on pro tip for contestants: "Even though we're asking you to recreate a phrase, we want to see originality. Think about things like music choice, emotional connection, costume—make creative choices to stand out."
OK now for the part you've been waiting for: the prizes. Each of the eight winners will receive a two-week scholarship to the Joffrey Ballet School Summer Intensive!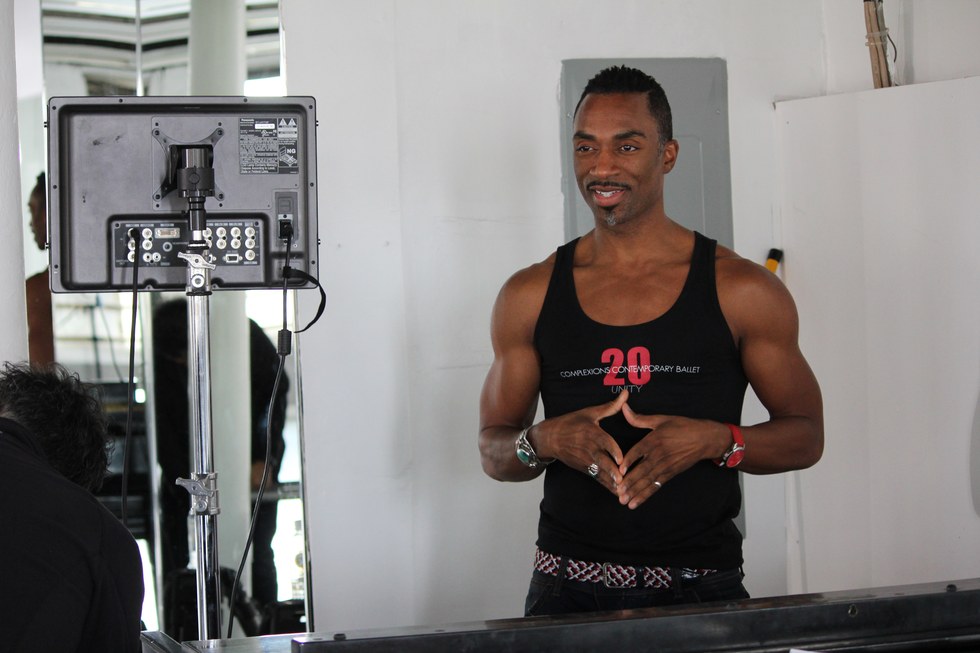 A chance to dance for Desmond Richardson? Yes, please. (Photo by Bround Creative, courtesy DanceOn)
But it doesn't end there folks. Remember how I was blabbing on about how exciting it would be to dance with Complexions or the Joffrey Concert Group? Well here's the kicker: Desmond Richardson will choose one grand prize winner (from the eight winners) to compete at the first ever Élite Dance Tournament in L.A., hosted by JBS and Complexions. The grand prize includes round trip airfare, four master classes and a chance to meet guest judge (you may have heard of him) Nigel Lythgoe.
One of the Élite Dance Tournament finalists will receive a Complexions apprenticeship, while another will receive a full-time paid position with the Joffrey Concert Group. But there are TONS of other prices to be earned, as well. According to artistic director of JBS Christopher D'Addario, there are over $100,000 worth of scholarships (including college scholarships) available! Check out the Élite Dance Tournament website for more info.
Phew. I think that pretty much sums it up! I'm exhausted just talking about all these incredible opportunities. So go ahead, pick your video, polish your moves, grab your camera (read: iPhone) and prepare to #RisetoJBSChallenge.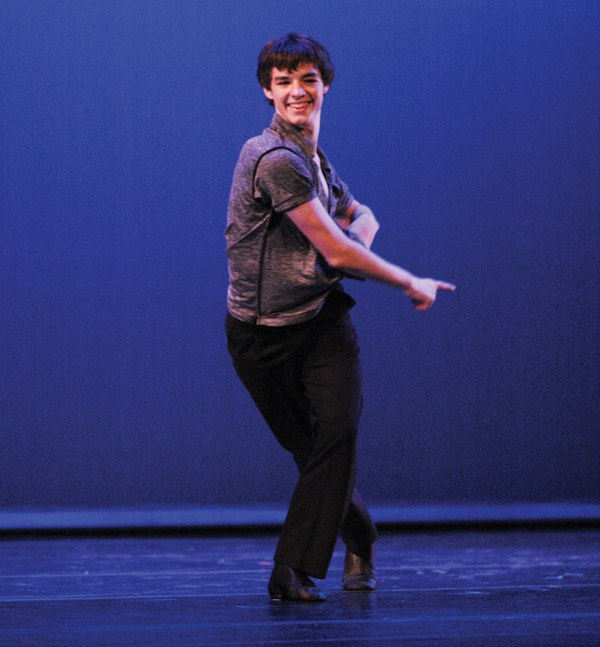 A young Billy Bell at YoungArts Week 2008 (by Juan Cabrera)
As of this week, applications for the National YoungArts Foundation's 2014 program are officially being accepted! The list of now-famous YoungArts alumni is a long one: Longtime Alvin Ailey dancer Linda Celeste Sims was a 1994 YoungArts Winner for dance, and choreographic genius Billy Bell was also a winner (in 2008), to name just two. So the thought of applying might have you quaking in your jazz booties. But the career-advancing opportunities offered by this program are way too amazing to be missed. YoungArts participants invariably go on to make their dreams come true—at The Juilliard School or American Ballet Theater, on the Great White Way or on "So You Think You Can Dance." Still need more motivation? Read on for 5 reasons that "Apply to YoungArts!" should be #1 on your summertime to-do list.
YoungArts accepts applications for a whopping six different disciplinary categories: ballet, modern, jazz, tap, choreography and world dance. So whether your skills lie in bourrées or Bharata Natyam, YoungArts is ready and eager to recognize your talent and accomplishments.
The 2014 application is available online through October 18. So you've got plenty of time (almost five months!) to make sure that audition video shows off all of your awesome technique and artistry.
You could be on TV! The Emmy-nominated HBO series "YoungArts MasterClass" is full of inspiring scenes from YoungArts Week, when finalists travel to the organization's Miami headquarters to learn from the best of the best. Thanks to YoungArts, you could find yourself dancing with the likes of Bill T. Jones, and then watching your career-changing experience play out on national television.
Don't want to be a performer for your entire career? No problem! Tons of YoungArts alumni have used the knowledge and connections they gain from the program to branch out within the dance world. Co-founder of Complexions Contemporary Ballet Desmond Richardson trained with YoungArts, and so did American Ballet Theatre's CEO Rachel Moore.
One word: networking. And not just with fellow dancers. YoungArts offers training, scholarships and performance opportunities to 15-18 year olds who show exceptional ability in all areas of the arts. As a YoungArts Finalist, you'll meet phenomenal singers, musicians, actors, designers, writers, visual artists, filmmakers and photographers from across the country. Who knows? Some of them might one day be artistic collaborators of yours.
So what are you waiting for? Apply now for your spot in the next generation of YoungArts Finalists!
Dec. 17, 2010 01:50PM EST
No dancer is perfect. Maybe you're more flexible on your right side than on your left, or perhaps you just can't seem to nail all four sounds in your double pullbacks. Don't despair—even the pros have weaknesses and off days. The key is finding new tactics to help you continue to improve. We got 16 of the most talented people we know to dish about exactly what you need to do—from daily tricks to life lessons—to become the best dancer you can be.
Alex Wong
As dancers, we put our bodies through a lot of stress, so it's important to get enough sleep. Your body needs to replenish and recharge itself. When I get enough sleep, my body and mind are rested and are more able to learn new information.

Don't hide under bulky dance clothes. It's important for you and your teachers to see what's going on underneath them. Once your body is warm, ditch the warm-ups and stop covering up.

Learn what you're good at and work to make that even better. Don't stop when you've reached the same level as everyone else. If my feet aren't good enough, if I'm not flexible enough or if I'm too short, I know that I'd better make up for it with something else!
Desmond Richardson
Stay hydrated. I like Zico coconut water. It replaces your lost electrolytes quicker than regular water and has more potassium than a bunch of bananas!

Eat well. Make sure you're eating enough proteins and lean meats and not eating too much sugar. When my body is at its best, I'm at my best.
Keltie Colleen
Watch other dancers. Instead of staring at yourself in the mirror, take a look around. See what things your peers are doing and copy what you love. You don't just learn from your teachers—you learn from your classmates, too.
Joey Dowling
Learn how to follow directions. You can get a job just by listening to a director in an audition and simply doing what he or she asks you to do.

Be realistic about what you look like, how you eat and how much you exercise. If you want to get into a ballet company, the reality is that you need the right body type. As you grow up, your body will go through changes and you may not even notice. Put in the work to stay in shape. You don't want to get cut at auditions because of your body.

Be different!
Gillian Murphy
Be intellectually curious. Read, go to museums and attend live performances as often as you can. These experiences will expand your imagination and thereby your artistic taste and dimension as an individual and dancer.
Heather Morris
Figure out what makes you happy when you're performing. Then keep doing it.

Perform—whether it's singing, acting or dancing—as much as you possibly can, wherever you can, so you can get over your nerves. You don't want to be shocked or nervous when you're called upon to perform.
Ida Saki
Try cross-training. As dancers it often feels like we have no time to do anything extra, but participating in different activities has done wonders for my dancing.

It's OK to step down a level in order to go back to basics. If you notice you're not turning out your leg all the way, don't be afraid to lower it in order to strengthen your turnout.

Create scenarios in your mind as you're dancing. What are you moving through? Pudding? Water? Sand? What are you surrounded by? Thinking these things through will give your dancing more depth.
John Jasperse
Respect your body's pain. I see young dancers who feel like they have to push through their pain. Don't mistreat your body—this career requires longevity. In a funny way, injury is your best teacher because it's your body's way of telling you something is wrong. Pay attention to your injury instead of getting angry about it. Learn what you're doing wrong to your body so that you can prevent it in the future.
Tiler Peck
Strengthen your core muscles so you're able to engage your legs for fast footwork while keeping your upper body free and lyrical.

You don't want your pointe shoes to be louder than the music. I bang the bottom of my shoes before every show so when I jump, the shoe is softer and doesn't make as much noise.

Find certain moments in the choreography to flourish in. You can't dance a ballet at the same energy level throughout the whole piece or you'll get tired. Find moments that you can put all your energy into to highlight the steps.
Chelsie Hightower
Keep nutrition bars in your dance bag. Lärabars are my favorite.

Be a good person. Choreographers may hire people based on their talent, but they re-hire them because of the type of person they are. There are thousands of talented dancers out there—it's who you are that makes you stand out.
Jeanine Mason
Introduce new types of exercise to your routine. Yoga and Pilates have helped correct injuries and alignment issues I've had with my body.

Be ambidextrous. If you're only exercising one side of your body, your muscles will build unevenly.

Make your own trail mix. Raisins and almonds are great sources of energy. I also include M&Ms!
Brenda Bufalino
Put your whole self into practicing. Work on the rudiments of technique, but don't practice mechanically.

Learn a variety of time steps. It will help you choreograph and compose in different time signatures and improve your improvisation.
Andy Blankenbuehler
The best tips for becoming a great dancer might be things you don't learn in the studio. Watch people's body language on the street. Watch how fearless children are. Watch how people interact. Those are the kinds of real life things that we should aspire to capture in our dancing.

Learn about music. Know the difference between a quarter note and a sixteenth note, and know what a crescendo is. Learn the terminology and then see how it applies to your dancing. Music is your roadmap.

Real life is about many different emotions—frustration, relief, impatience, joy. Strive to show all of these in your dancing. Don't just dance performances about angst and anger. That's limiting and unoriginal. Audiences are moved by new interpretations of things they recognize from their own lives. To be great dancers and great performers, we need to be great analysts of life.
Debbie Allen
Dancing isn't a hobby, it's a way of life. Being a dancer defines how you spend your time and your money. To dance is to be disciplined.
Julie Kent
Don't skimp on meals. Develop good eating habits now and they will last you your whole life.

The most interesting part of your dancing is you! You need technique in order to express yourself, but it is not the end goal. Use your own personality in your dancing, and it will be more rewarding for you and more enjoyable for everyone to watch.
Misha Gabriel
Develop good networking skills. Some choreographers don't like to hold auditions, so make a point of getting to know choreographers by taking their classes. You'll create long-lasting professional relationships.

Stay aware of the quality of your dancing. Don't get wrapped up in booking jobs and building your resumé—you have to keep training, taking class and building your dance skills.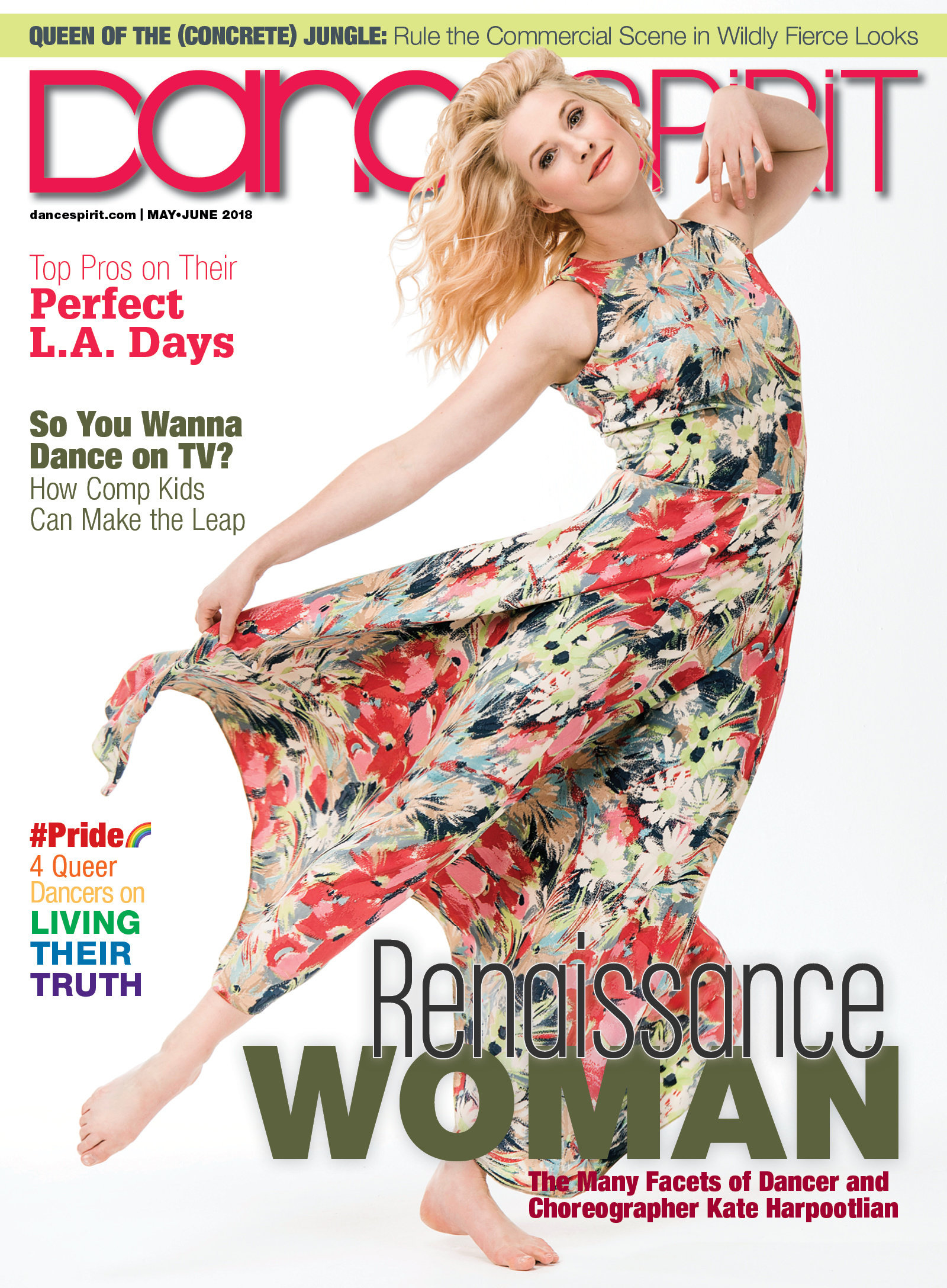 Get Dance Spirit in your inbox