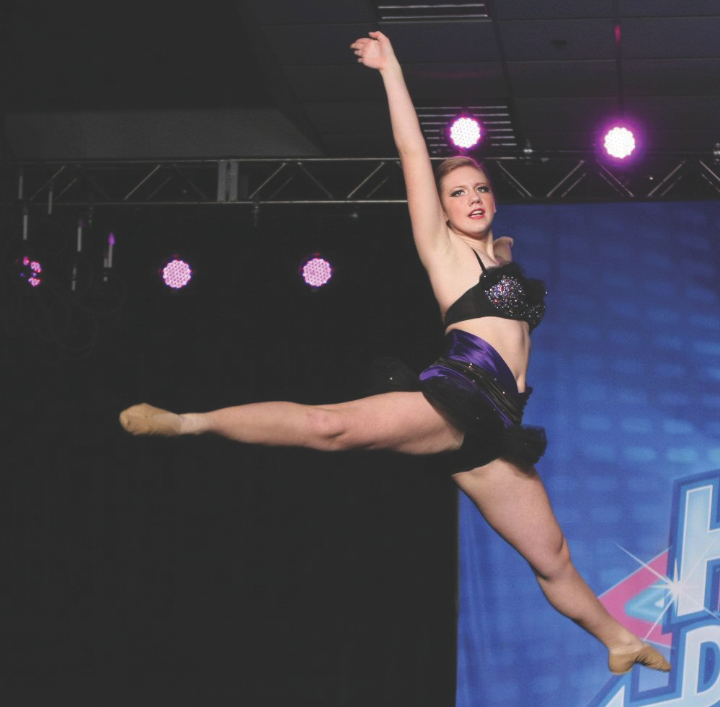 Kelsie competing (courtesy Hall of Fame Dance Challenge)
I was 10 when I first knew something was wrong. I was dancing at a dress rehearsal, and suddenly, without warning, I couldn't breathe. It was terrifying. My teacher called an ambulance, and I was rushed to the emergency room. My throat had swollen shut and my lips were big and puffy, so the doctors assumed I'd had an allergic reaction. They diagnosed me with allergies to ibuprofen and naproxen, as well as exercise-induced asthma, and sent me home.
After that, similar attacks happened every few months or so—and my allergy medications were doing nothing to help. I could tell an attack was starting because I'd get tired and dehydrated, and then my body would start to tingle. But I was baffled as to what was triggering them because I wasn't taking the medications I was supposedly allergic to and attacks didn't always happen during physical activity. There was no pattern. Sometimes I'd even be sleeping and the swelling would wake me up.
I found refuge in dance class. I was on the competition team at Nouveau Dance Company in Plainfield, IL, and I loved being able to walk into the studio and forget about everything else. But every time I got an attack, I'd have to take time off, which made it harder to keep up with my teammates.
By my freshman year in high school, my attacks had increased in frequency and involved swelling in my lips, cheeks, nasal passages, hands and neck. I also started having chronic abdominal pain, and my stomach would go from flat to extremely distended within minutes. It was painful, and I was embarrassed to go out in public. Eventually, I was having some sort of swelling or difficulty at least once a day. Still, no one could tell me what was wrong.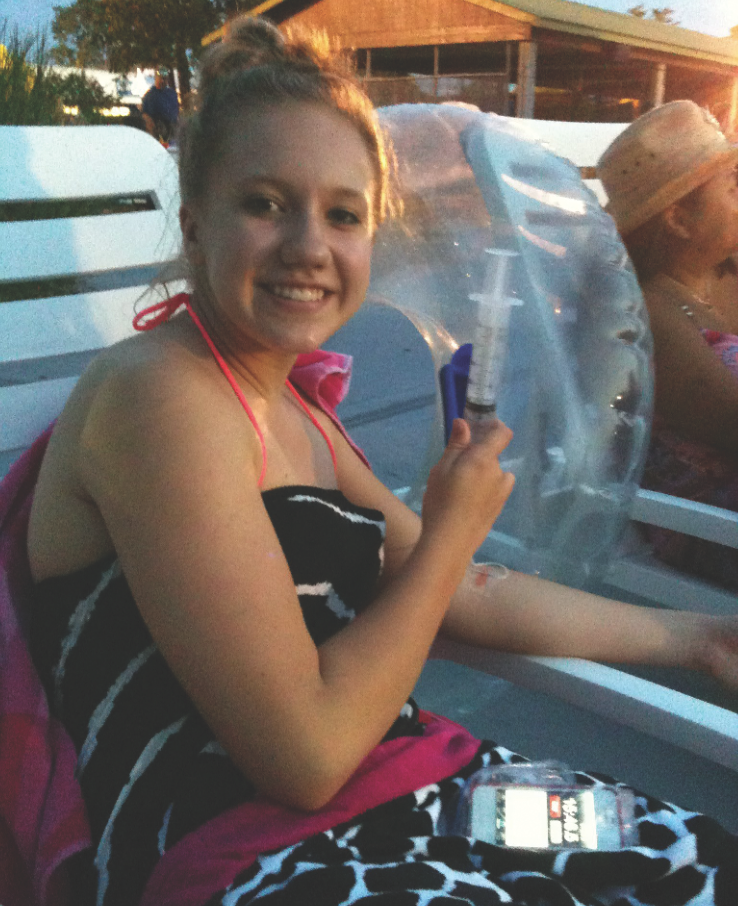 Kelsie giving herself an infusion poolside
Finally, in November 2011, doctors landed on a diagnosis: hereditary angioedema (HAE). HAE is a very rare disorder, so my doctor had to send me to a specialist. The disease causes my internal tissues to swell unpredictably. There's nothing I did to cause it, and, as of right now, there is no cure. There's also no known trigger, so I couldn't eliminate anything from my day to cut back on attacks. I just had to treat the symptoms as they came with two medications, both injections. One had to be administered by a nurse, and the other I could do on my own.
In terms of school and dance, my doctors told me I could do whatever I was able to, which wasn't much. It became difficult to last a full day at school, so I had to have tutors come in the evening—which meant no dance classes. Even when I could make it to the studio, the pain and swelling made it hard for me to dance full-out. Within three months of my diagnosis, I was taking all my courses at home online. Worst of all, I had to forfeit the rest of the competition season. I remember my first time walking into the studio after announcing I wasn't going to continue. Every dancer was crying, and they gave me the biggest hugs.
That summer, some friends introduced me to the Shorewood HUGS foundation, home of Huggables, a dance program for kids with Down syndrome. I started teaching six dancers ages 8 to 12 every Sunday for 45 minutes. These kids became like little sisters to me. We began with basic positions and stretching, and this year, I introduced tap. In January, my high school put on a benefit for HAE awareness, and my students were able to perform. I was so proud.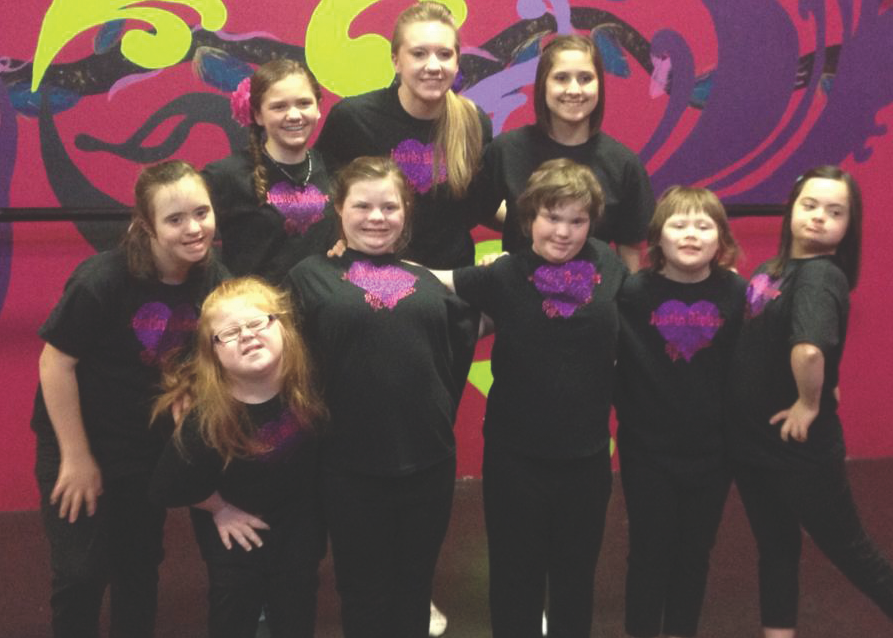 Kelsie (center) with the Huggables
The Huggables are the perfect way for me to keep my love of dance alive, and teaching is a nice distraction from the fact that my attacks are getting worse. Now they last for three or four days, even with treatment. Then I have only a few days to recoup before the next one starts up. In February, I had to stop dancing completely. I stay as involved as possible with my studio, doing hair and makeup for the dancers, supporting the company at competitions and helping my teacher make costumes. Not being able to dance is devastating, but I'm still a part of the team.
People always say, "You don't know what you've got till it's gone." I took things for granted, and I regret that now. All I want to do is step back into the studio and work hard and sweat and give everything I have, but I can't.
Still, I haven't given up hope. My dance teacher is determined to get me onstage, and I have doctors in Chicago, L.A. and Boston on my team, working hard to get me back into school and the studio on a regular basis. My dream is to go to University of California, Los Angeles, and then medical school. Eventually, I want to help others with HAE. And there's no way I'm giving up on dance. I'm going to go back, whether it's next season or in college. It's going to happen.
Click here to learn more about HAE by reading our exclusive interview with Dr. G. Wendell Richmond, one of Kelsie's doctors.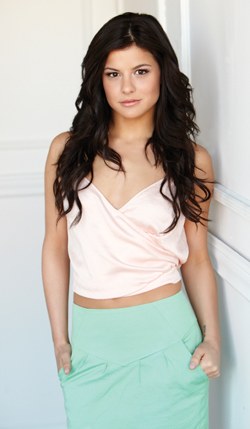 The "So You Think You Can Dance" tour is an unreal experience. During the three months on the road, we perform almost every night in sold-out venues filled with thousands of supportive fans.
The "SYTYCD" Season 7 tour, in the fall of 2010, was going amazingly well until October. That's when the lower half of my body started to feel numb. It's difficult to describe the feeling (or non-feeling) exactly, but it was like a mix between pins and needles and when you get Novocain at the dentist. During the same time, I started to get an electric sensation down to my toes when I put my chin to my chest. Although I couldn't think of a particular moment of injury, I figured maybe I had herniated a disc. After all, we were doing six performances a week, which was hard on our bodies.
Since I never experienced pain during these episodes—the symptoms were always just nagging discomforts—I didn't mention any of this to a doctor. I tried to overcome the feelings as best I could, with regular stretching and body care. By mid-March, I thought I was getting better because I began to regain feeling in my legs (though I never felt 100 percent). But then later that year my entire right side started to go numb. That's when I realized something was seriously wrong.
My grandmother has multiple sclerosis, a chronic autoimmune disease that affects movement, sensation and bodily functions. I watched her live with the disorder and knew many of the symptoms of MS overlap with the symptoms of a herniated disc, like the numbness and tingly feelings I was having. So when I finally went to the doctor over Christmas, I asked to be tested. I had a gut feeling I had the disease, but he said he doubted my test results would come back positive. There have been no studies proving MS is hereditary, although some studies show that many people with MS have family members who have the disease.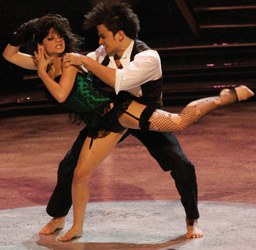 Performing a jazz routine with Mark Kanemura on "SYTYCD" Season 4 (Kelsey McNeal/FOX)
I got a series of MRIs done, and my inkling was correct: The films showed plaque on my spinal cord and lesions on my brain, confirming MS. When the doctor told me the news, I was upset, but I also felt a sense of clarity. I had a diagnosis and could start treating the disease. My first question was, "Will it affect my dancing?" But my doctor said, "The best thing for you is to keep dancing and keep your muscles strong." I definitely didn't have any objections to that!
At first, I was apprehensive about sharing the news of my diagnosis. This disease comes with the assumption that you'll get progressively worse and perhaps eventually become immobile. (MS attacks the myelin covering your nerves. Without that, your brain can no longer convey messages along the nerves to your muscles, which stops the muscles from working.) I was afraid people would think I could no longer do the things I've always been able to do or that they wouldn't hire me.
However, because of advances in medicine and research, there are many things a person with MS can do to prevent this from happening. I get an injection called Rebif three times a week. Rebif is used to prevent episodes of symptoms and slow the development of disability in patients with relapsing-remitting MS, which is the type I have (my grandmother has primary-progressive MS). Rebif isn't my favorite thing, but it's what I need to keep myself healthy, along with eating right and exercising.
I occasionally experience certain symptoms, like tingling or feeling off-balance, if I'm upset or stressed—stress is one reason relapses occur. But I'm currently in remission and able to dance. Since I was diagnosed, I've filmed episodes of "Glee," I've danced with Al Pacino in a new movie called Stand Up Guys (that was a whole lot of awesome!) and I've performed on "Dancing with the Stars." I was in the Rock of Ages movie, and I've traveled with "SYTYCD" doing Season 9 auditions. Plus, I started my own dance convention with my family called The BEAT. Some of the teaching faculty are former "SYTYCD" contestants, including Stephen "tWitch" Boss, Allison Holker, Dominic "D-Trix" Sandoval, Robert Roldan, Ade Obayomi and William Wingfield. I found out about my MS diagnosis the day after our first BEAT event in NYC. I was grateful for the timing. The BEAT gives me a chance to surround myself with family, friends and dance no matter what course MS takes.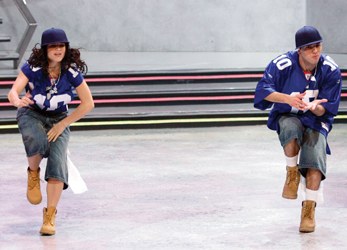 Performing a hip-hop routine with Gev Manoukian on "SYTYCD" Season 4 (Kelsey McNeal/FOX)
After receiving my diagnosis, I decided I wanted to help raise awareness about MS, so my brother and I teamed up with the National Multiple Sclerosis Society and started a foundation called BEAT MS. Now a portion of every BEAT registration will go toward the organization, which funds MS research. The society also provides people like my grandmother with nurses, helps pay for costly MS medication and hosts the MS Walk every year all over the U.S. This year my friends on both coasts took part in the walk and raised more than $20,000.
I have good days and bad days, but I've learned a lot about life that I don't think I would have otherwise. Since MS is an anxiety-driven disease, I'm trying to stop worrying (I'm a worrywart by nature) about my future. I'm also learning not to obsess about my past, wondering what I could have done better. I'm working on enjoying the now.
During the "SYTYCD" tour in 2008, I got a tattoo across my feet that, when I stand in first position, reads, "I walk forward with certainty that my dance is secure." Those words apply to my life now more than ever.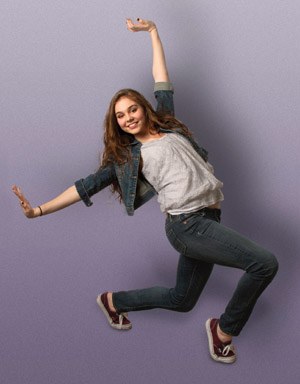 Olivia Mendez (By Kyla Heinz)
Olivia Mendez, 15, has a big dream: She wants to become a professional commercial dancer one day. And with her charm, impressive work ethic and passion for dance, she seems well on her way. But there's more to Olivia than meets the eye: She has type 1 diabetes, which means she constantly has to monitor her blood sugar level to keep herself healthy. How does she manage? Olivia tells DS what it's really like for a dancer living with diabetes.
I love dancing more than anything in the world. My mom put me in my first dance class when I was 5, and at 7 I joined In The Spotlight studio in my hometown, Waldwick, NJ. By the time I was 11, I knew I wanted to be a dancer.
The summer before I turned 13, I got to perform at the Tremaine Dance Conventions Nationals in Orlando, FL. Soon after, my health started to deteriorate. At first I thought I was just run-down—I felt weak and faint. Then, even though I was eating, I began losing weight (I dropped to 74 pounds). I felt thirsty all the time, even though I was drinking constantly, and I was too tired to dance, even though I was sleeping all the time. I often felt nauseous and sometimes even vomited. I visited the doctor several times but was never diagnosed with diabetes. My parents and I figured it had to be swine flu because that was all over the media at the time.
One day in early August of 2009, I woke up feeling nauseous and tired, as usual. But I soon became so hot that I walked out to our kitchen and lay down on the tile floor to try to get cool. When my mother found me lying there, she rushed me to the doctor, who sent us straight to the hospital. By the time I arrived, I was too sick and dehydrated to walk. The doctors could barely draw blood to run tests because my veins were collapsing.
I was so out of it that I don't remember much of what happened next. I know I was in intensive care for four days, where the doctors finally managed to hook me up to an IV to rehydrate me and slowly return my blood sugar  level to normal with a combination of glucose, insulin and fluids. When I woke up, I immediately asked my doctor: "Can I still dance?"
My doctors reassured me that the answer was, yes, I could still dance. But I had type 1 diabetes. Because it had been ignored for so long, I also had diabetic ketoacidosis, which meant my glucose level had become so high I had been close to dying. I was so scared. I kept thinking, "Why is this happening to me?"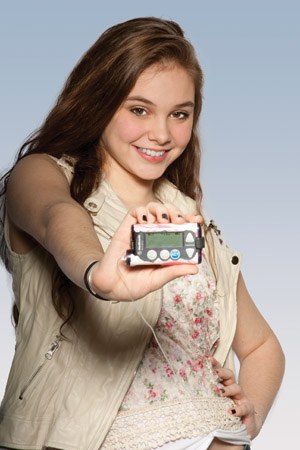 Olivia shows off her pump. (By Kyla Heinz)
I spent the next few days in the hospital learning about diabetes and how to deal with it, and meeting my new team of doctors. The disease was overwhelming and scary at first, but now it's just part of my life.
The toughest change is that now I have to check my blood sugar when I wake up, before I eat or exercise and before bed. I do that by pricking my finger with a needle and pressing my finger to a test strip, which I feed into a meter that tells me my glucose level. I use that information to calculate how much insulin I need, which is put into my body by an insulin pump. There's a tube inserted into my skin at my hip that allows the insulin to enter my bloodstream. I change the insertion location every two or three days and take it off when I shower or dance. I don't need to wear it when I'm dancing because exercise helps to balance out glucose levels. If I had insulin constantly going into my body during dance, my blood sugar would drop too low. The pump is also bulky, so it would get in the way.
At first I was worried I would have to eliminate foods from my diet, but it turns out I just have to count how many carbohydrates each food has and then calculate how much insulin I need to keep my blood sugar in check. Eating at restaurants can be tough, because I don't know the carb count of all of the menu items, and there's a risk I'll overestimate or underestimate. Also, I can't eat lots of junk food without worrying about it like my friends.
If my blood sugar levels get too high, my body could suffer long-term effects like blindness and nerve damage. But I don't let these things get me down. One thing that keeps me positive is knowing I can have a dance career as long as I take care of myself like I am supposed to.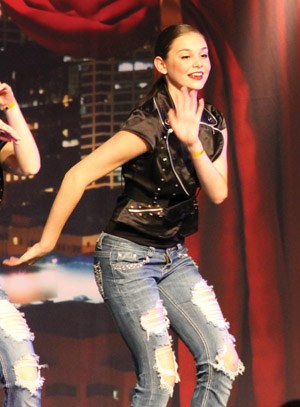 Olivia taps onstage at  Tremaine Dance Conventions. (Courtesy Tori Duga)
Right now, I'm dancing every day, and I love my crazy schedule! I started high school a year ago at the Morris County School of Technology, where I'm part of the Academy for Visual & Performing Arts. I take classes at Broadway Dance Center in NYC because they have a children and teen program that works well with my school schedule. I'm part of the AIM youth performance company at BDC, and we dance from about 9 am to 9 pm on weekends. I do contemporary, hip hop, ballet, jazz and modern, but hip hop is definitely my favorite.
Dancing for so many hours every day means I have to be extra-careful with my diabetes. If my blood sugar gets too low in class, I won't be able to focus or see clearly. When that happens, I have to sit out for a few minutes and eat something. Summer intensives can be particularly difficult because there isn't a lot of time to monitor my blood sugar and I have to be really disciplined. I hate to be "that girl" who sits out, so I'm always careful to make sure teachers and choreographers know about my disease.
I'm only one of two people in my school with diabetes, and I find, in general, that many people don't know much about type 1 diabetes. My friends tend to worry about me if they see me eating anything with sugar, and will ask, "Are you sure you can eat that?" I find that I need to explain my pump a lot, but that's OK. It's important to me to spread awareness about diabetes and to raise money for a cure. I try to participate in walks for diabetes every year, which I love because I get to meet so many other diabetics.
I thought my diagnosis would mean the end of dance for me, but I'm determined not to let it get in my way. I tell myself I'm the one who controls the disease, not the other way around. If all goes well, you'll see me dancing backup at the Grammys one day!
DIABETES FAQ:
What is diabetes? Diabetes is a lifelong disease in which the body either can't make or process insulin, a hormone that converts sugar into energy. Without insulin, sugar stays in the bloodstream, and the body starts to shut down because it doesn't have access to the fuel it needs to function.
What's the difference between type 1 and type 2 diabetes? A type 1 diabetic can't produce insulin, while a type 2 diabetic can usually produce it but can't use it effectively. Type 1 diabetes is most often diagnosed in children and teens, which is why it was previously called juvenile diabetes.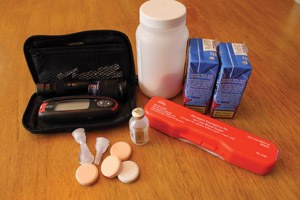 A diabetic's toolkit includes test strips, a meter, insulin and juice boxes (for quick carbs). ( (By Kyla Heinz)
What causes type 1 diabetes? Scientists think it may have to do with both genetics and environmental triggers, but the exact cause is unknown. There is nothing that a type 1 diabetic "did" to cause the disease.
What are the symptoms? Like Olivia, a type 1 diabetic will feel tired, thirsty and hungry all the time. He or she may lose weight and have to use the bathroom frequently. If diabetes goes untreated too long, diabetic ketoacidosis can result, causing stomachaches and vomiting, or even a diabetic coma or death.
Is there anything diabetics can't eat or do? As long as they're careful, people with diabetes can eat whatever they want (in moderation) and continue to do the same activities as before their diagnosis.
I think I may have diabetes. What should I do? Go see your doctor! You'll be given a glucose test to determine whether or not you have diabetes. Check out diabetes.org
for more information.
Many young dancers may not realize the importance of bone health and what they can do now to build a strong skeleton. Osteoporosis, which means "porous bones," is a bone-thinning disease caused by a lack of bone minerals, primarily calcium. The seeds of osteoporosis are planted in childhood, adolescence and young adulthood. During these years, the right combination of exercise and nutrition can build bone to last a lifetime, or poor eating and activity habits can greatly increase your chances of getting the disease. Now is the time to debunk the myths, update your thinking and evaluate your diet and exercise regimen.
MYTH #1: I'm too young to be worried about my bones. The most rapid formation of bone occurs between the ages of 13 and 24. Peak bone mass—the highest bone content of your life—is reached between 25 and 30. Although bone continues to renew itself, from this age on, you'll experience a natural decline in bone density, which will accelerate at the time of menopause. Since relatively little bone mineral can be added to the mature skeleton, it follows that the key time to put bone "in the bank" is before age 30. The higher the deposit, the more you'll have to draw from throughout your life. Note, however, that low bone density can cause problems even for young adults. One study by Dr. David J. Sartoris, the director of bone densitometry at the University of California at San Diego, reported in the San Diego Union-Tribune in 1998, showed that 55 percent of 18–25-year-old females had dangerously low bone density; 15 percent met the clinical definition of osteoporosis.
MYTH #2: Osteoporosis only affects older women. Unfortunately, young women and men are also at risk. Men can develop osteoporosis at any age, especially if they have a chronic condition that requires treatment with medications such as steroids. However, since they tend to have bigger bones, gain more bone mass than women during adolescence and adulthood, and lose less bone later in life, they are generally at lower risk than women. For some dancers, disordered eating (that is, inconsistent or restrictive eating habits) and the excessive physical activity demanded by a rigorous training or performing schedule may create a stress condition in the body that alters hormone levels, shuts down the reproductive system, disrupts the normal menstrual cycle and begins to weaken bones. The combination of amenorrhea (cessation of your period), disordered eating and osteoporosis is known as the "Female Athlete Triad." (For more on amenorrhea, see "Problem: Missed Periods" in DS November 2005). It's possible for a 20-year-old woman to have bones as if she were 60.
MYTH #3: Osteoporosis isn't a very common or serious disease. According to the National Osteoporosis Foundation, an estimated 10 million Americans are affected by osteoporosis and 34 million more by osteopenia (low bone mass, not yet osteoporotic). Twenty percent of those affected by osteoporosis are men. The consequences are life-changing and can include stress fractures (small breaks in the bone), particularly of the hips, spine, wrists, shins and, especially for those who dance on pointe, the toes. Spinal fractures generally manifest later in life. Weakened bones can fracture spontaneously without any injury or trauma, simply because they are too fragile to support the weight of the body. While the relationship between bone density and stress fractures remains unclear, poor nutrition and amenorrhea increase the risk, as does a sudden change in frequency, intensity or duration of training. One study of ballet dancers showed a significant increase in fracture risk when they trained more than 5 hours a day.
MYTH #4: If I had osteoporosis, I would know it. Not necessarily. This silent disease progresses slowly and painlessly over time without symptoms. As the bone gradually diminishes in strength and structure, it becomes increasingly fragile. In fact, the first sign that you have osteoporosis may be a fracture. The only way to know for sure is to have a bone density test, which is generally recommended for women around the time of menopause, but may be performed on young individuals depending on circumstances. Certain people are more likely to develop osteoporosis than others. Risk fractures include being female; family history of osteoporosis; having a small, thin frame; smoking; personal history of multiple stress fractures; and amenorrhea. If you take the injectable contraceptive Depo-Provera, you may experience a loss of bone density. (Research shows that this loss appears to be temporary and reverses when the drug is discontinued.) If you have several risk factors, speak to your doctor to see if you should be tested. The gold standard of bone density tests is the dual-energy X-ray absorptiometry, or DXA. Once you're positioned on a special table, a scanner moves over your body measuring bone density at your spine, hips and wrists. It's completely painless, takes about 15 minutes and emits approximately five percent the radiation of a standard chest X-ray.
MYTH #5: The more I dance, the stronger my bones will be. The effect of exercise on the bones is site-specific. As weight-bearing exercise that involves high-impact jumping, dance provides an excellent stimulus to the upper region of the thighbone or femur, provided that training isn't excessive. Dance provides less stimulus to the spine, because the effect of ground-vibration forces diminishes as they travel up the skeleton. Additional strength training for the upper body may be necessary for dancers who don't use their arms in a weight-bearing fashion. (For exercises, see "Awesome Arms" in DS September 2005.)
MYTH #6: If I don't eat enough calcium, I can compensate by exercising harder to increase bone density. Adequate calcium plus regular exercise have an additive effect on bone. In other words, you can't compensate for a deficiency in one by increasing the other. Calcium needs change over the course of a lifetime, being greatest (1,200–1,500 mg) during childhood and adolescence, pregnancy and breastfeeding, and after age 50. From ages 25 to 50, the recommended daily intake is 1,000 mg, provided you aren't pregnant or breastfeeding. (One cup of nonfat milk has about 300 mg of calcium; one cup of spinach has about 245 mg.) Make up the difference for calcium shortages in your diet by taking a supplement.
MYTH #7: Since osteoporosis runs in my family, I can't do much about it. It's true that your ability to make bone is strongly influenced by genetics, but good nutrition and exercise habits during formative years can significantly lower your risks. Even if you don't have a family history of osteoporosis, unhealthy behaviors during peak bone-building years, including smoking and excessive alcohol consumption, may override any genetic tendency toward higher bone mass. Both smoking and alcohol depress the bone-building function at the cellular level. Smoking increases bone breakdown, while alcohol abuse is associated with numerous other factors that contribute to low bone mineral, including poor nutrition, malabsorption of calcium, vitamin D deficiency and parathyroid dysfunction.
Joan Pagano is certified by the American College of Sports Medicine and manages Joan Pagano Fitness Group, a group of health and fitness specialists in NYC.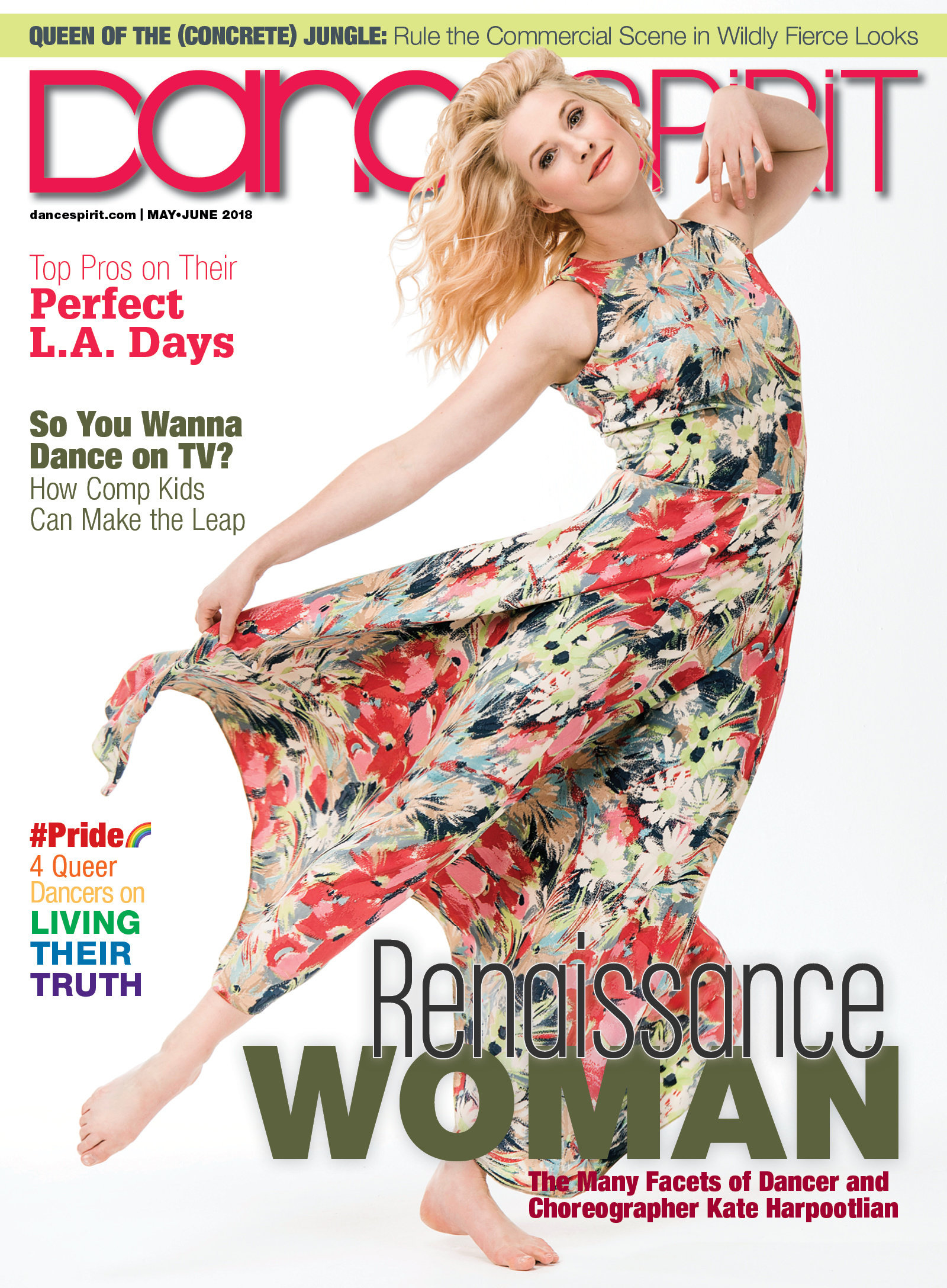 Get Dance Spirit in your inbox