Feb. 20, 2019 07:00AM EST
Getty Images
Nadine Kaslow, a psychologist who works with dancers at Atlanta Ballet, says one of the most common questions she's asked is, "What should I do if I think my friend has an eating disorder?" Research shows that, compared to the general population, dancers are three times more likely to suffer from eating disorders. Experts agree that early detection and treatment is crucial. Unfortunately, while adults—like teachers and studio directors—should be keeping an eye out for warning signs, the people most likely to first notice a dancer's issues with food are her friends at the barre.
So what do you do if you suspect a friend is suffering? You don't want to be accusatory, but you know eating disorders are cause for great concern. At the very least, Kaslow advises you to trust your instincts and do something, whether it's confronting your friend directly or speaking to an adult. "If you're worried about someone, you should take it seriously," she says. "You can't be a bystander—the longer somebody waits to get an eating disorder under control, the harder it is."
Mind
Dec. 14, 2018 02:54PM EST
Photo by Camryn Elizabeth, courtesy Djouliet Amara
At age 23, Djouliet Amara is a successful professional dancer signed with a talent agency in NYC. She's studied at The Ailey School and even danced in "Memoria" with The Alvin Ailey American Dance Theatre. Having performed at City Center and appeared in numerous commercial campaigns for brands like Forever 21, Refinery29, and Danskin, it would appear that Amara is living a life most dancers only dream of. But as glamorous and successful as her career has been, Amara's journey to this point has not been an easy one. Her biggest challenge was her battle with an eating disorder that nearly cost Amara her career. Find out how this dancer found body acceptance and, in so doing, uncovered a dream she never knew she had. —Katherine Beard
Warning: This story may be triggering for those who have suffered or are suffering from disordered eating.
Dancer to Dancer
Oct. 01, 2013 04:30PM EST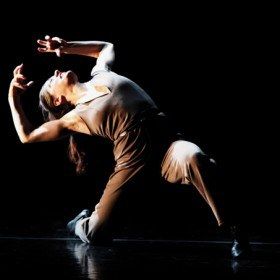 Christina Ilisije in a recent performance of Kate Skarpetwoska's A Stray's Lullaby (by Masato Kuroda)
I wish I could say I didn't fulfill the dancer-with-an-eating-disorder cliché, but I can't. My struggle started when I was a dance-crazed teenager, nitpicking more than just my technique in the mirror. As a type-A gal, I thought of losing weight as a way to take control of one more element of my life. Perfection was what I was after, and I thought every pound lost would bring me closer to it. My goal was to get into good shape, and to me that didn't mean improving my stamina or strength, but appearing more "dancerly."
The problem reached another level when I started as a dance major at Marymount Manhattan College. The summer before my sophomore year, I enrolled in a course on nutrition. The class opened up my mind to a better, healthier diet, but I took its lessons to an extreme. I read every ingredient on nutrition labels and became tediously aware of serving sizes. I stopped listening to my body's signs of hunger and analyzed my meals as if I were being graded. Any time I absent-mindedly snacked on trail mix, I felt consumed by guilt.
I became extremely thin—too thin by anyone's standards. At 5' 5", I weighed about 100 pounds. Upon my return to Marymount in September, teachers took note of my deteriorating figure. "Christina, you look so thin. Don't lose any more weight, please." To me, this was a compliment. While it was easy for me to look at people with more severe cases of anorexia—their bones protruding harshly—and know they were sick, I was proud of my new figure. I was in denial, convinced there was nothing wrong with my body and that my pitifully constrained dinners were what a dancer should be eating. I'm scared to think how close I was to extreme anorexia—probably much closer than I realized.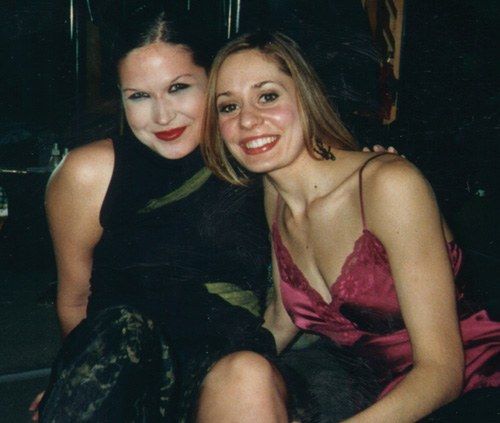 Ilisije (right) at her thinnest in college (courtesy Christina Ilisije)
The most tragic part? I felt great. I felt on top of my dance game when I was truly at the bottom. Once I knew I was skinny, I took class with a liberated state of mind, riding the wave of my positive body view. Finally, when I spotted myself in arabesque in the mirror, I didn't think, Ugh, that belly and thigh are a bit unfortunate. Instead, I was free to sail effortlessly in a promenade, focusing on luxuriating in my épaulement instead of scrutinizing my body. And as my college training continued, my technique got better, which in my mind proved my bogus equation: thinness = better dancing.
At the end of spring semester, my parents came to see me perform. After the show, they were near tears. They told me I needed to put on weight and they were going to get me help. Seeing their urgency about an issue I thought didn't exist made me reconsider what I was doing to my body. My parents were right. It had been nearly a year since I'd started my misguided efforts to get in "dancer shape," and I had become weak and withered. I hadn't had a period in nine months, and I knew in my gut that my body was shutting down. Gratefully, I accepted their intervention.
I saw a therapist to help sort through the emotional turmoil and wrap my mind around the seriousness of the issue. I realized that potentially ending my dance career—because of lost bone density and an increased risk of injury, both side effects of my dangerously low body weight—frightened me almost as much as putting on weight. My therapist repeatedly reminded me to view food as a source of nourishment and emphasized the importance of fueling my bones and muscles to allow them to do what I requested of them. I was never formally diagnosed with a disorder, but I became aware that my perception of my body wasn't aligned with reality.
I dove full force into my recovery, and when it came to food, I didn't limit myself. I increased my portions and didn't finish a meal until my belly felt full. Food still came with a whopping side of guilt, but I kept trying to convince myself that my new eating habits were necessary. Seeing the poundage creep onto my scrawny frame while maintaining a sense of self-pride was a challenge. Those five extra pounds made me feel like I was wearing a balloon suit.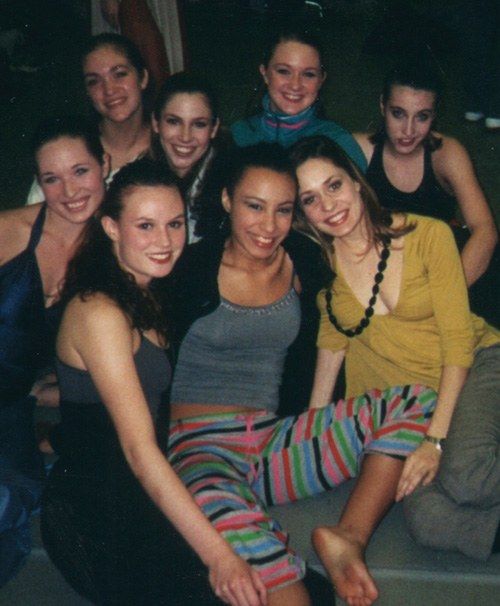 Ilisije (front right) with friends at Marymount Manhattan College (courtesy Christina Ilisije)
Along my road to recovery, I became heavier than I'd been before I was sick. I intuitively felt I would need to go further in the opposite direction before I could balance myself and feel my healthiest. But I let this new heavier body limit my dancing because I felt no pride in it. It was a distraction that took me out of the work and into the mirror, concerned with the appearance of my movement instead of the movement itself. The honest truth is my mind hadn't made as much of a shift as I had hoped.
But I repeatedly recited to myself, "I have to fuel my body. This is me, and I'm beautiful." With these self-loving mantras and a lot of patience, I started to believe the asexual, prepubescent look was not all that and a bag of chips (let's be real, it was no chips!). The clothes that once sagged on my wilted tushie had a field day with the comeback of my bubble butt. At first, I gawked in the mirror with a tinge of disgust at my new curves, but I gradually embraced that womanly figure. There was no "aha" moment. It took time before I was able to own my body and shed my mental balloon suit.
While I was in the midst of this mental battle, life threw me other tests. During a phone call with a director about an upcoming season, she asked if I planned on getting in shape for it—"You know, slimming down," she said. I went on the defensive and told her I wasn't willing to drop pounds and sacrifice my health. It was a proud moment, but the harsh reality was that I wasn't in my best shape. Negotiating the fine line between healthy eating habits and obsessive ones was too sensitive an issue for me. Slowly, I faced the fact that I needed to make sure my physique was strong, lean and functioning at its best for dance jobs.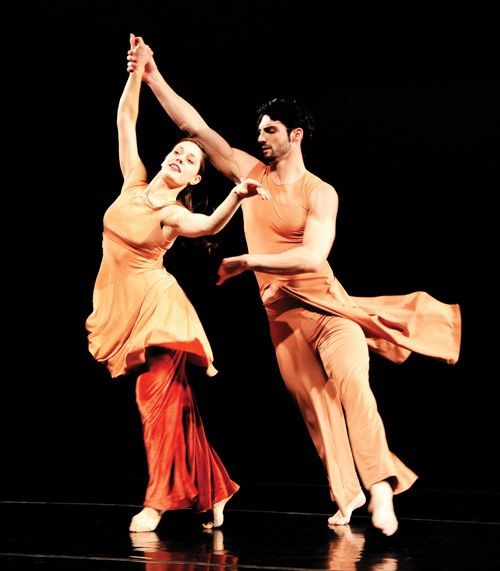 With Jason Macdonald in Parson's Swing Shift (by Masato Kuroda)
In 2010, I joined Parsons Dance. Now, for the most part, the physical work I do on a daily basis helps me achieve the necessary strength, stamina and flexibility. Other times I have to step up my game and fuel my body carefully to make sure I feel at my prime. I still consciously opt for nutritious foods. I eat when I'm hungry and stop when I'm full—for the most part. I eat chocolate, and I like it. Heck, I love it, and I may occasionally eat one too many Godiva truffles
in the confines of my apartment. Yes, there are still times when I mumble to myself, "Did you really need to eat that much?" However, these mental slip-ups are few and far between, and I have faith that one day they'll subside into my dark past completely. And these days, when I'm coming back from an off-season and notice my figure is a little rounder, I have deeper patience with myself. I'm well aware I'm a beautiful woman and artist at a healthy, ideal-dancer-weight-for-me of about 130 pounds (a guesstimate, since I don't step on a scale unless I'm at the doctor).
This is my challenge to other dancers who take drastic measures to change their bodies: Choose to see your beauty, and, for heaven's sakes, use the mirror as a tool to sharpen your technique, not to see if your thighs look fat. There has to come a point when you stop worrying and let dance take over. If you want to reach your fullest capacity as an artist and a person, working to maintain a healthy relationship with food is a battle worth fighting.
Dancer to Dancer
Feb. 11, 2013 10:18AM EST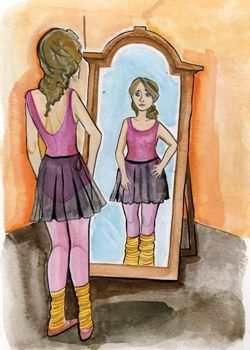 What you see isn't always what you get: Dancers with body dysmorphic disorder have a distorted perception of their appearance. (Illustrations by Lealand Eve)
When dance student Monica developed hips a few years ago, she began struggling with new insecurities. Now 15, Monica remembers staring unhappily at her body in the mirror. "Eventually, I didn't even want to put on a leotard, because I didn't want anyone else to see the part of me I was so insecure about," she says. "I felt like I stuck out because my body looked so different."
Monica's experience is common in the dance world, where self-esteem issues are widespread. But for some dancers, the feeling that their body isn't right goes much, much deeper. People with a condition known as body dysmorphic disorder see defects where there aren't any, and view physical differences from their peers as major flaws. They can experience symptoms of depression or anxiety just from looking in the mirror or seeing a photo of themselves.
"Body dysmorphic disorder involves an excessive preoccupation with one or more body parts," says Dr. Linda Hamilton, a psychologist who works primarily with dancers, including those at New York City Ballet. "A minor or imagined defect will cause acute stress that's ongoing—you'll almost never feel comfortable with your appearance in some places, like class." How can you know if your body image issues are leading you in this dangerous direction? Read on.
What Causes Body Dysmorphic Disorder? 
While eating disorders such as anorexia and bulimia also concern body image issues, Dr. Nadine Kaslow, a psychologist who works with dancers, explains that body dysmorphic disorder is not about overall body size or feeling fat, but rather about a specific body part feeling "wrong." Not every dancer with a poor body image is at risk of developing BDD.
In many cases, BDD goes hand in hand with clinical depression or an anxiety
disorder. The condition might be triggered by experiencing multiple traumatic events, such as harsh comments from a teacher about a disliked body part. BDD symptoms can emerge when combined with factors like self-criticism and low self-esteem. That's what happened to 22-year-old dancer Danielle, who developed mild body dysmorphia as a teen. "I'm taller than most girls I've danced with, with long, lanky legs but a short, squatty torso," she says. "I feel gangly and chubby at the same time. I hate to watch videos of myself dancing. I'll deliberately look at anyone else in the frame." At her lowest point, Danielle even experienced panic attacks about her appearance. Only when she shared how she was feeling with a friend did she discover that her body concerns went beyond the average dancer's experience.
What Are the Symptoms? 
Warning signs of body dysmorphia include:
Obsession with certain body parts. People with BDD can't stop thinking about their "problem area." The specific obsession will differ from person to person: It could be the shape of their nose, the thickness of their thighs, the size of their breasts, or almost anything else.
Preoccupation with an imagined defect or deformity. BDD sufferers often genuinely believe something is wrong with them, or that they are deformed, even if they look completely normal.
Distorted perception of appearance. People with BDD can seem out of touch with reality when it comes to their bodies. Kaslow explains, "If you ask a person with severe body image distortion to close her eyes and move her hands to where she thinks her hips are, she might put her hands way wider than her hips. She's perceiving something different than what's actually there." While people with anorexia or bulimia may also experience this distortion, with BDD it will be focused on one or more specific body parts.
Desire to have surgery. It's very common for people with BDD to fantasize about having surgery to correct their "defect." Unfortunately, BDD sufferers who do have cosmetic surgery often aren't satisfied with the outcome, and may become even more depressed or anxious as a result.
For dancers, these symptoms can be devastating. You might avoid dance classes and auditions, afraid to have people look at and critique your body. You might change how you dress or experience extreme anxiety about having to wear form-fitting dancewear. You might suffer panic attacks, like Danielle did. As the condition progresses, you might be unable to go to school or even leave the house, thanks to concerns about your "ugly" or "deformed" appearance. People with severe BDD also often have suicidal thoughts. That's why it's so important to catch symptoms early and take steps to resolve body image issues before they become worse.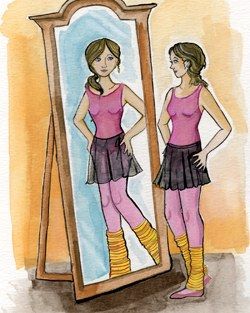 Overcoming body dysmorphic disorder isn't easy—but with proper treatment, you'll begin to see what everyone else sees (your gorgeous reflection
in that mirror!).
How Is BDD Treated? 
The most effective treatment for BDD is psychotherapy. "The goals are to try to improve self-esteem, introduce a more realistic perception of the body, address perfectionism and stop self-punishment," Kaslow says. If you're also diagnosed with depression or anxiety issues, you may be prescribed medication for those conditions.
If you're suffering from BDD, or if you realize you're heading in that direction, there are a few steps you can take on your own, as well. Be aware of when you feel most anxious or depressed and try to avoid those situations if possible. Distract yourself when you're getting obsessive about your body; when Danielle feels anxiety coming on, she'll shift her focus to another activity, like watching a movie.
Most importantly, don't keep your pain to yourself. Tell a friend or a trusted adult how you're feeling. They can help you find the professional treatment you need. Talking to someone can mean the difference between a life-long struggle and a healthy, fulfilling relationship with your dancing body.
Health & Body
Get Dance Spirit in your inbox