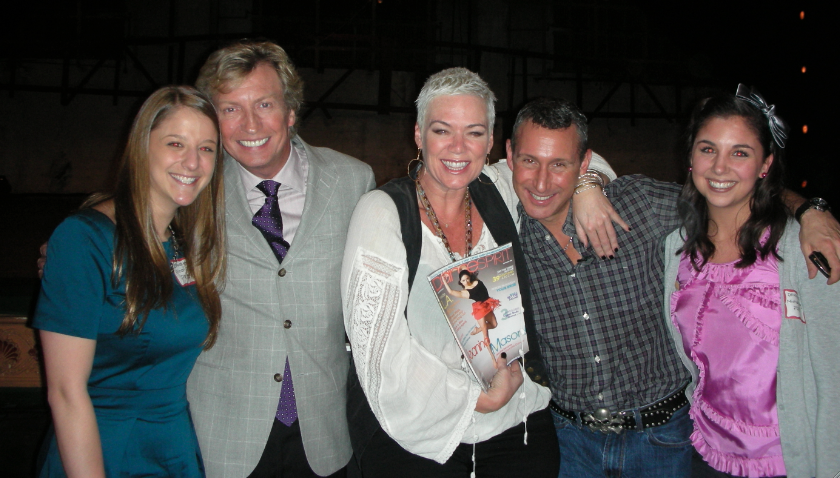 DS editor in chief Alison Feller (far left) and me at "So You Think You Can Dance" auditions in NYC.
Yesterday was my last day as a Dance Spirit editor. I'm so sad to be leaving my dream job, but I'm thrilled to welcome a darling baby ballerina into the world. So naturally, I've been thinking a lot about my time at DS.
When I began my DS internship four and a half years ago, I never could've imagined how much I would fall in love with dance and my favorite dance publication. At the time, I thought I knew a lot about dance—I'd grown up training in most styles and competing at competitions like New York City Dance Alliance, JUMP, Starpower, etc. Plus, I had a National Dance Alliance championship ring on my finger from my college dance team days.
Boy, was I wrong.
After four years of working at DS and attending countless amazing dance events in NYC and around the country (New York City Ballet at least 5 times a season—this job definitely has its perks!), I still don't know everything about dance (really, who does?). But, my eyes have been opened to styles and companies I never even dreamed of.
Without further ado, five things I learned at Dance Spirit:
1. If you have a dream job, go for it! My teenage self never would've dreamed that in 10 years I'd be living in NYC and writing for the magazine I obsessed over every month.
2. Don't be afraid to admit you don't know who a dancer/choreographer/producer is. This may be the best piece of professional advice DS editor in chief Alison Feller ever gave me. The dance world is extensive and there are always emerging choreographers and performers. If you pretend to know someone you actually know nothing about, chances are you'll end up looking ridiculous. Just say: "I'm not familiar—tell me about him/her." You'll learn so much!
3. If you think you're not a "modern" person, think again. You probably just haven't seen your kind of modern performance yet. The first time I saw KEIGWIN + COMPANY perform Megalopolis I flipped out I loved it so much. I couldn't wipe the goofy grin off my face for hours.
4. Dance can always be a part of your life, even if you stop performing. It's a strange transition to go from the stage to the audience, but it's also wonderful. Figuring out who your favorite ballerinas/tappers/Broadway performers are is so much fun! Go to dance events, watch dance videos and, of course, keep reading Dance Spirit!
5. No one's ever too old to love Dance Spirit. Technically DS is a teen magazine, but I know I'll continue to read it cover to cover for the rest of my life. It's such a fun, exciting tool to help you grow as a dancer and stay involved in the dance community.
Can you tell I love DS? Thank you for being such loyal readers!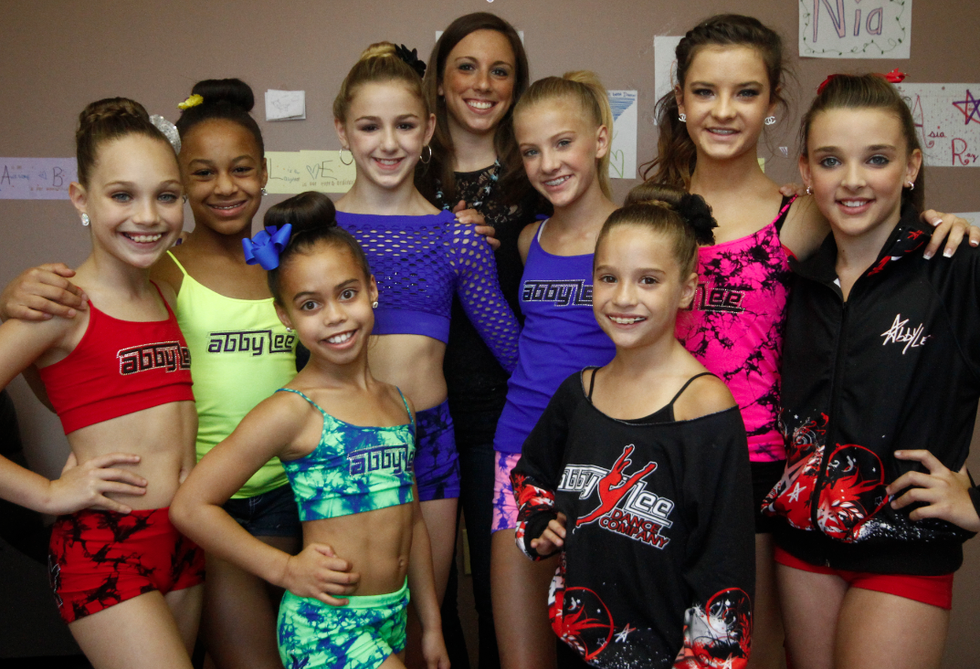 On set with all the ALDC kids! (Photo by Nate Powers)
Last night's "Dance Moms" episode featured a very special guest: Dance Spirit! So instead of our usual recaps, I'm going to give you a rundown of five things you didn't see on TV—but I did.
1. You know those moments when the kids and moms are speaking directly to the camera about what's happening? That's called an "On the Fly" or "OTF." And though it may appear that they're done against a wall of brightly colored costumes, they're not. They're actually filmed outside the studio on the grass. And they really are done on the fly! Cast members get almost no warning before they're called away to share their thoughts.
2. Those plot twists are planned—but not everyone is in on them. When Jill came for a "surprise" visit to our photo shoot? The only one who was shocked was Melissa. Jill and Kendall were waiting outside the house for more than an hour before entering, hanging out with the crew. The producers had cooked up the whole thing. And yes, even I knew it was coming.
3. The kids are generally nowhere near the mama drama. And that's a good thing. Maddie told me that as soon as the fury begins, one of the moms will whisk the children out of the room. And remember that scene in last night's episode where Abby calls Jill down to yell about Kendall? It seems like Kendall is right there, hearing it all, but really Gianna had moved Kendall and Maddie into a corner to run the choreography—and stay far away from the mayhem. Of course, they'll see it later on TV… but it's the thought that counts.
4. This show has really good editors. After all, they have to cut a full week of footage into one hour. They can also make it look like you're reacting to anything that's said in whatever way they want. How do I feel about that?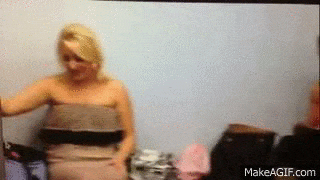 5. Beyond all the fancy camera work and editing, some of it actually is real. I saw real emotion, real hard work and real smiles from all the kids on set. And we really were there to capture a day in the life of Maddie for our November issue. "Why just Maddie?" you ask? It seems a lot of the dance moms had the same question. We chose Maddie because we see some serious potential in her. If she stays in class (which she promises me she's doing), she has the skills and the commitment to make it in the dance world when her time on "Dance Moms" is a distant memory.
Want more behind-the-scenes details from the show? Maddie spills it all in our November issue. Get excited!
Commercial
Jun. 11, 2013 11:15AM EST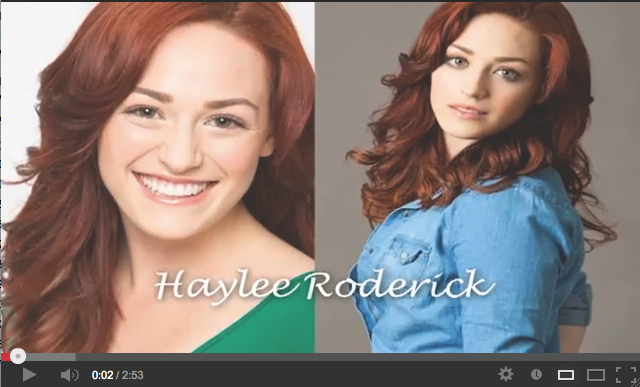 L.A.-based Haylee Roderick has been strutting her stuff on the commercial scene, dancing everywhere from "Glee" to the Academy Awards, for a while. But despite having an agent and killer talent, she was missing one more essential item: "Producers, directors and my agent were constantly asking to see my dance reel," Haylee says. "I kept putting it off, thinking I should build up my resumé. But with so many creatives asking for it, I knew it was time this year. I just finished it, and I've already submitted it for a union project—something I couldn't have even auditioned for without a reel! It's essential for any professional dancer in L.A."
In today's media-heavy dancescape, a reel is an absolute must. It will give prospective agents, casting directors and choreographers a sense of how you move, your style and strengths as you choose to present them. Plus, with creative teams facing budget cuts, production logistics and scheduling issues galore, reels make it easy for them to see you—and possibly hire you!—even if they can't hold a traditional audition. Sending a reel can also be the best way to be cast in a company or show that's far away. Here's how you can get your own reel together.
Choosing Your Footage
• Showcase your strength, whether it's your chameleon-like versatility or a single specialty. "If you're a versatile dancer, include all the genres you shine in," says JC Gutierrez, director of the dance and on-camera department at L.A. agency McDonald/Selznick Associates. "But make sure your reel is separated by style, so if you're applying for a jazz job you can say, 'Fast-forward to 1:33.' " MSA agent Shelli Margheritis adds, "If you have a niche, show off. You're a b-boy? Let's see your best tricks!" If you aren't trained in a certain area, don't sweat it—and don't include it.
• Be the star. "Solo footage is preferable to a shot with 10 other dancers, even if
it means renting a studio and choreographing a few pieces," says professional dancer and freelance dance-reel editor Shane Rutkowski. If you do choose to use performance footage (a great option if the piece is well-rehearsed and you're highly visible), make sure it's a high-quality recording and you're the focus of the shot. "If another dancer stands out more, it becomes that dancer's reel," Gutierrez says.
• If you have an agent, use him or her as a sounding board to help you choose the best clips and the order in which you should place them.
• Include your name and headshot at the beginning of the reel. If you're represented, end with your agency's info. If not, offer your professional email address or website, but never your phone number or mailing address—remember, you'll be posting this online.
Music Matters
• Choose your audio wisely. The music behind your clips sets the tone and can say a lot about who you are as a performer.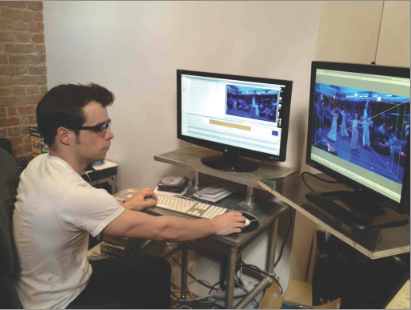 Dance-reel editor Shane Rutkowski in action
• Use only one song for all of your clips to avoid distracting the viewer. It's OK if the dancing in the clips doesn't always match the beat of the song perfectly—just make sure there are accents throughout the reel where the two do match up. If you're working with an editor, there are many tricks he or she can use to make the accents work.
• "Music can be tricky, especially with copyright issues," Rutkowski says. "If you have a friend who can create music for you, that's a great option. Choose a song that's not overpowering or distracting. Instrumental is a good choice because it often has different sections that can correspond to different types of movement."
• Avoid any possibly offensive material.
• Choose up-tempo music to catch the viewer's attention.
Order and Length
• Make your reel punchy and to-the-point by putting your best clip first. A busy casting director may only have 15 seconds to watch, so show your strengths immediately. Ending with a high-energy clip is a great way to wrap things up.
• Include different energy levels so the reel doesn't become monotonous. You could start with a jazz section, follow with a ballet piece and end with some fierce hip hop.
• Shorter is better. Your entire reel should be between one and a half and three minutes.
Editing 
• If you're tech-savvy, you may be able to create your own reel with clean editing and streamlined effects. But remember, less is more. Don't overdo it with flashy transitions and special effects.
• Hiring an editor, like Rutkowski, can be a smart move. Even though it might cost you a bit, it's an investment, just like your headshots. You'll most likely be paying an hourly rate, so do research to find out what friends in your area have paid.
• If you use an editor, go prepared! Have all your clips ready (and in the same format, if possible) and write down timecodes of the spots you want to use. It will save you time and money.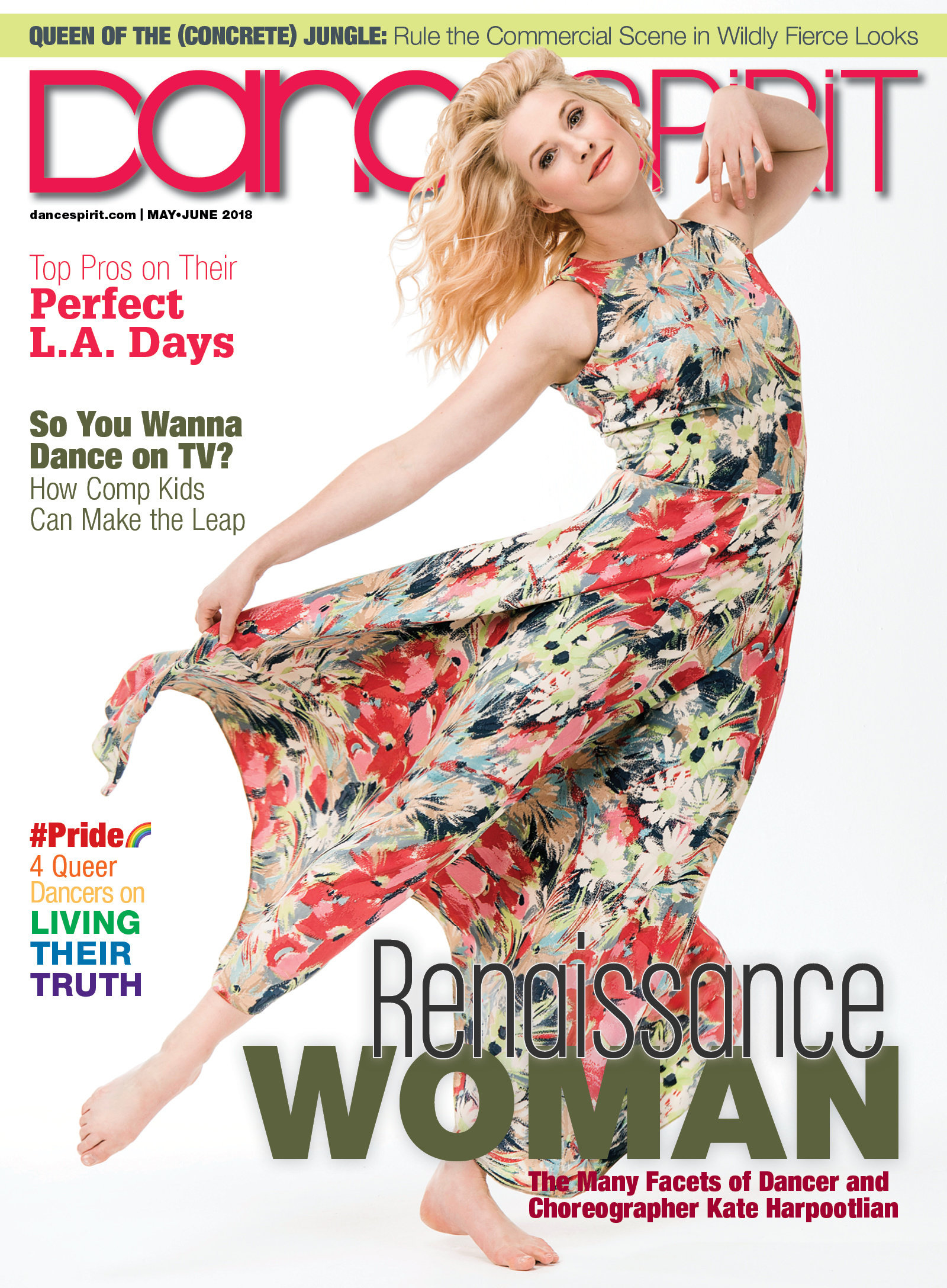 Get Dance Spirit in your inbox