Edward Villella, a former dancer with New York City Ballet and one of the most celebrated American danseurs (not to mention the former artistic director of Miami City Ballet), is returning as co-artistic director of "Shall We Dance on Ice"—a show that features both ballroom and ice dancing. Villella has been choreographing for ice dancing, of late, so he seems like the right guy to bring a critical eye to the show.
"Shall We Dance on Ice" will feature several champion ice dancers, including everyone's favorite from Season 18 of "Dancing With the Stars." That's right, Season 18 winner Meryl Davis and skating partner Charlie White (the two also happen to be the first Americans to win a gold medal in ice dancing...nbd) will appear on the show, along with fellow Olympic ice dancing champions Marina Anissina & Gwendal Peizerat and a host of other top skaters from around the world.
Of course, Meryl has proved her chops on the ballroom dance floor, too. Here's hoping she'll join her former "DWTS" partner Maksim Chmerkovskiy and our friend Chelsie Hightower, along with the other dancers appearing on the show.
Tune in to ABC on Saturday, March 7, at 4:00pm EST to catch the action.
Oct. 29, 2013 10:31AM EST
Edward Villella is basically a ballet saint. For years an incredibly charismatic principal dancer with the New York City Ballet, he went on to become the founding director of Miami City Ballet.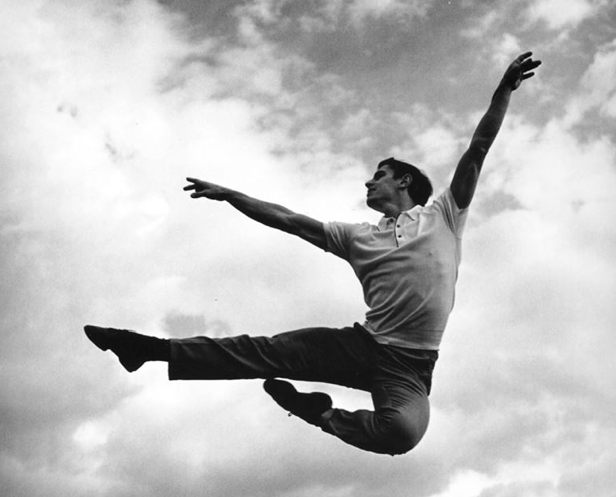 Villella photographed by Philippe Halsman in 1961
Now Villella is back in his native NYC, and his latest project involves...ice dancers.
Not where you thought I was going, is it? But in a way it makes total sense. Villella is married to former Olypmic figure skater Linda Carbonetto, after all. And there's always been a bit of natural overlap between the ballet and figure skating worlds. (Ever get the urge to slap pointe shoes on Olympic figure skaters? No? Just me? Well, it's at least true that the strongest ones are well-versed in ballet.)
Villella created his new piece, Reveries, for the Ice Theater of New York, which features some of the world's best ice dancers. He chose to choreograph to the Élégie from Tchaikovsky's Suite No. 3—a piece of music made famous by Villella's former director, George Balanchine. And according to the very nice New York Times review, there are hints of Balanchine throughout Villella's work.
An ice dance by a former ballet star paying tribute to a masterful ballet choreographer: Unexpected? Totally. Awesome? Definitely.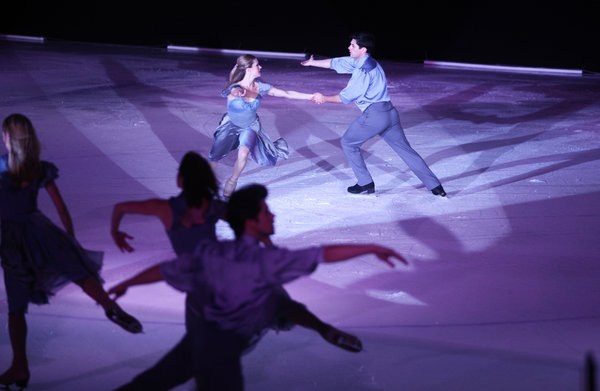 Kim Navarro and Brent Bommentre performing "Reveries." Photo Julieta Cervantes/NYT.
May. 11, 2012 12:36PM EST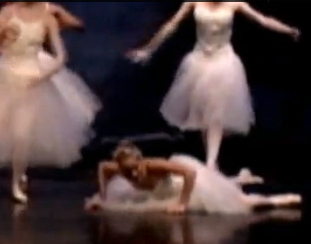 We all have nightmare stories about falling onstage. Mine happened when I was 16, dancing my first real soloist role in my first real tutu ballet. I was supposed to enter with a big, beautiful grand jeté. But on opening night, something went wrong. My back foot slipped as I attempted to push off for the jump, and I went down—hard. Even worse? I made this weird, involuntary "pfffffff" noise with my mouth as I fell.
Oh, the misery! I cried and cried afterward. Twelve years later, thankfully, I'm able to laugh at it all.
This morning I came across this collection of "ballet bloopers" on the Huffington Post. And yes, my first reaction to the slips, trips and spills was hilarity. I giggled for a good five minutes. (Sorry, cubicle mate.)
But then I had an epiphany: I realized that I appreciate it when dancers fall onstage. And not in a mean, schadenfreude kind of way.
I know that sounds weird. Hear me out.
First: Usually when a dancer falls, it means she's GOING FOR IT. Safe dancers don't faceplant, generally speaking, but they're also never all that exciting. Dancers who take risks might end up on their tushes—but when they do pull off whatever crazy stunt they were bold enough to try, it's an incredible rush (for them and the audience). Legendary ballerina Suzanne Farrell was famous for her dramatic wipeouts. Of course she was. She never did anything halfway, which is exactly what made her so magnetic onstage.
Second: It's easy to think of dancers as superheroes. How could mere mortals pull off the spectacular feats they accomplish onstage? But when they fall, they regain some of their humanity. And that's a good thing. Nobody wants to watch a robot perform. We want to watch people—flawed, complicated, messy people. The best artists aren't trying to convince us they're perfect; they're trying to make us feel something. And it's pretty hard for a robot to make you feel.
So when you fall—because we all do—don't be like 16-year-old me. Let the initial shock pass, and then be proud that you were dancing hard enough to end up on the floor. Maybe even take a little bow, as danseur Edward Villella apparently used to do after a flub. Above all, know that the people in the audience—though they may gasp or chuckle for a second—are rooting for you.
Do you have a story about falling onstage? Tell us in the comments!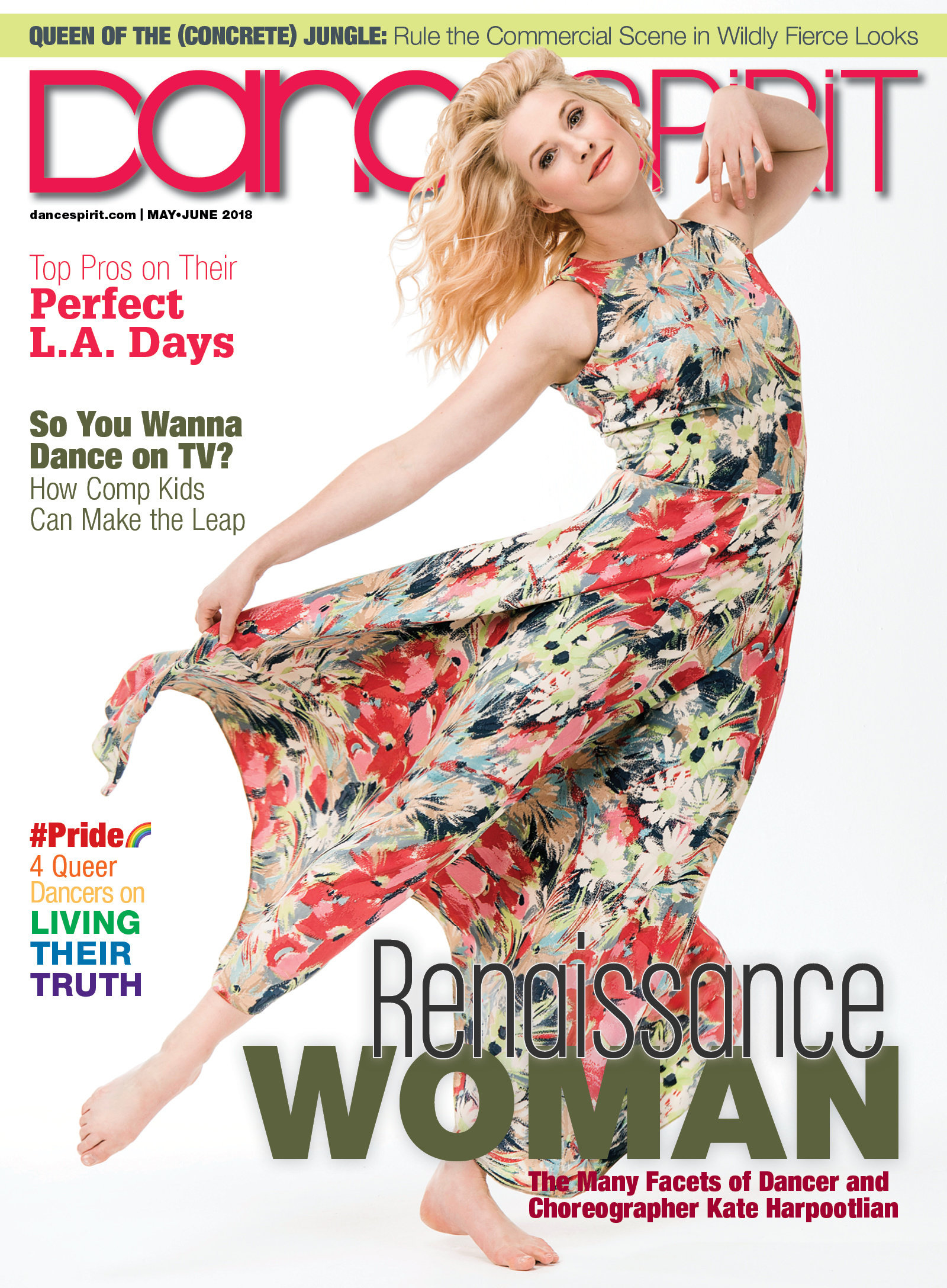 Get Dance Spirit in your inbox