Oct. 10, 2017 12:24PM EST
Drew Scott and Emma Slater (Screenshot via YouTube)
Not to pull a Captain Obvious or anything, but the "Most Memorable Year" episode of "Dancing with the Stars" is always, um, super-memorable. Each celeb performs in a number that recalls (often painful or extremely difficult) personal memories, and the result is an emotional doozy. Celebs are crying, pro partners are crying, I'm not crying, YOU'RE CRYING!
Keep reading...
Show less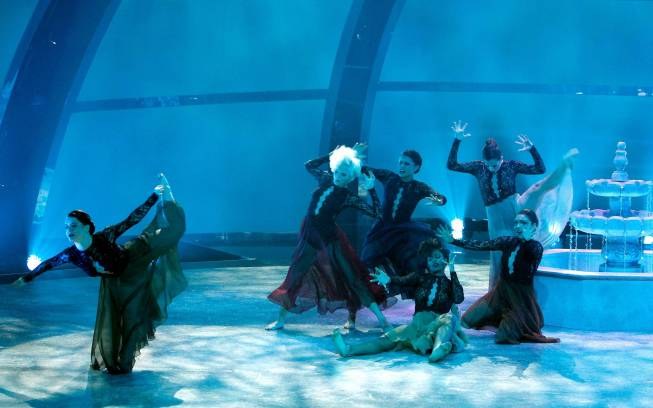 Stacey Tookey transforms the girls. (Adam Rose/FOX)
This episode didn't start off well: For the second week in a row, it was bad news bears for the boys. Tucker (no!) has an infection in his knee and can't compete this week. Then, who's in danger? Almost all of my favorites! Amy, Malece, Jenna, Tucker, Nico, Alan. Sigh… As soon as the dancing started, though, the episode got much better. This group is the Top 12 for a reason, and number after number just looked amazing! It was hard to choose, but here are my top 5 moments from this week's show:
1. The battle-for-your-life solos. Not that I ever want to see amazing dancers in the bottom, but one perk is that we got to watch them dance! Tucker, it seems, had made a miraculous recovery and danced flawlessly. Amy showed off her firecrackery self. Malece was beautiful, and Alan was just too cute. Can't we keep them all?! (P.S. Can we discuss how the judges saved Jenna AGAIN? Not that I don't love me some Jenna, but this is getting a little predictable.)
2. Hayley found her inner Gypsy. It's no secret that Hayley is one of the most technically perfect dancers on the show, and when combined with Nico's charm and Sean Cheesman's choreography, it's magical. Then there was that leg grab/lift/throw/flippy thing. Whoa!!! I'm going to go ahead and dub that the best leg grab/lift/throw/flippy thing on "SYTYCD" ever. But seriously, it was amazing. Standing ovation!
3. Pirates of the Paso Doble. Jenna and Tucker (who apparently coats himself in Axe body spray before rehearsals. All bad.) were paired up for this striking Jean-Marc Genereax number. Due to Tucker's injury, Alex Wong (yay!) fills in. Jean-Marc is certainly at his best when he's choreographing a paso. And I missed you Tucker, but these two made a great pair. Fierce pirate fun, I say. And, as if it couldn't get any better, Nigel told the Best. Joke. Ever. "Why are pirates called pirates? Because they argghhhhh." I'll be giggling at that one all day.
4. Fik-Shun and Amy waltzed it up. Confession: When a couple pulls the Viennese Waltz, it's often my cue to take a break and get a snack. But these two kept me captivated. As Amy said, it was the perfect way to rap up their partnership. So lovely—and so different from their kooky personalities! Mary said there were technical issues, but I certainly didn't notice them. And we knew after this piece (because Nigel and Kenny Ortega essentially told us so) that Amy would be saved, and we'd say goodbye to Malece. Way to ruin the surprise, guys!
5. Stacey Tookey turned the girls into women. My goodness, I love Stacey Tookey. You know who else I love? These girls! The final six formed such a cohesive, technically strong group, and as Mary said, there was no weak link. This fountain of youth-inspired dance will go down as one of my favorite group routines. I couldn't take my eyes off the TV. Another well-deserved standing ovation!
When it came down to elimination time, Nigel gave Malece and Alan the boot, but told them he still wanted them to go on tour. So here you have it, boys and girls, your TOP TEN DANCERS! Amy, Aaron, Jasmine, Hayley, Fik-Shun, Makenzie, Jenna, Nico, Paul and Tucker will kick off the tour on October 1! We'll be there. Will you?
We can't wait for the All-Stars to join the show next week. But in the meantime, enter our "SYTYCD" finale sweepstakes contest—you could win a trip to the Season 10 finale! And don't forget to let us know what you thought of this week's episode in the comments!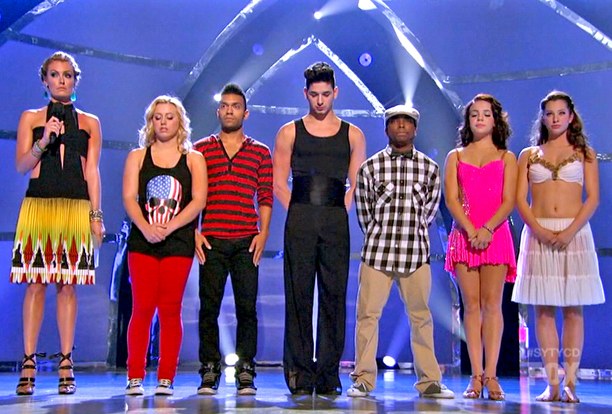 The Bottom 6: Mariah, Carlos, Alan, Jade, Brittany and Makenzie. (FOX/Adam Rose)
"First is the worst, second is the best…" Okay, so the first part of that saying might not be true here (last week's episode was pretty amazing, too), but I'm willing to bet that this second episode with the Top 20 is the best so far this season! There were so many jaw-dropping moments last night (even if we did have to say goodbye to Brittany and Carlos in the first five minutes—what?!), it's going to be tough for me to pick my own Top 5. But seeing as "SYTYCD" is a competition, it seems only right to spotlight the best—and the craziest—of the best…
1. Makenzie's in danger?! Wait, no, she's saved by the judges! This just floored me. After all the critical acclaim Makenzie had racked up in previous weeks, she'd landed squarely in my sights as the girl who was going to kill it technically—and on a regular basis, too. I mean, she practically radiates consistency, right? While it seemed that America didn't initially agree with me, the judges took pity on this utter diva, immediately bailing her out. Thank goodness for that, because the fembot/mad-scientist routine she later danced with Paul promises more mesmerizing performances from her in the future.
2. Speaking of mesmerizing, there must've been something in the water this week at "SYTYCD." Nearly every routine was smolderingly sexy, from Stacey Tookey's sensitive and intimate choreo for Nico and Alexis, to Jenna and Tucker's blazing hot cha-cha. And can we talk about how Curtis grabbed Hayley's derrière for, like, ten years during their aggressive jazz number? Pretty sure that crossed the line from sultry/awesome to just kind of awkward.
3. Guest judge Christina Applegate gets full marks for awesomeness! Mary and Nigel (but especially Mary) can sometimes get a little carried away with the gushing. Of course I agree that "SYTYCD" contestants are out-of-this-world talented. But really, there are only so many ways to say, "Oh my gosh, you're a really good dancer and I love the way you just danced!" Christina brought a breath of fresh air to the judges' panel by humbly offering constructive criticism. While also offering her fair share of compliments, she also suggested paying attention to a song's lyrics (not just to its instrumental elements) and to focus on telling the story of a Broadway piece. I couldn't agree more. Thanks for stopping by, Christina!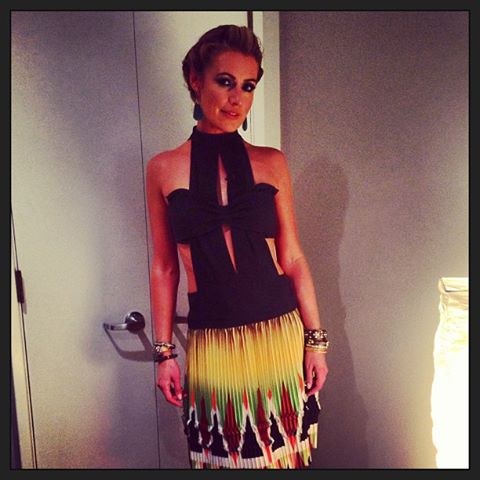 4. A rare fashion miss from Cat Deeley. Please tell me I'm not the only one who thought that quasi-bikini top just didn't work. Maybe I was just disappointed because I love to see Cat in all her super-blonde glory, and her braided chignon this week confined those gorgeous waves. Here's hoping next week's Cat-tire is as chic as usual—and incorporates some form of sparkle!
5. Mariah and Carlos' contemporary routine to Ellie Goulding's "Dead in the Water." For me, this dance represented all that is good in the world of contemporary dance. I'm talking cool lifts, genuine portrayals of emotion, poetic lyrics, and moments that simply take your breath away. In that instant when Mariah sat frozen on Carlos' shoulders, her arms raised helplessly, I'm pretty sure I had a mini contemporary catharsis. (Yes, I just invented that term. But I think you know what I mean.) Adding to the piece's high emotional level was the fact that Carlos had already been eliminated, and Mariah barely escaped elimination herself. Oh, reality TV. Why must you pluck at my heartstrings so?
Yikes! I really didn't mean to end on such a gloomy note. If you now find yourself in need of a smile, I highly recommend Fik-Shun and Amy's adorable bellhop dance. If bouncy Nappytabs hip hop on a luggage cart doesn't cheer you up, I don't know what will.
Don't forget to enter our "SYTYCD" finale sweepstakes contest—you could win a trip to the Season 10 finale!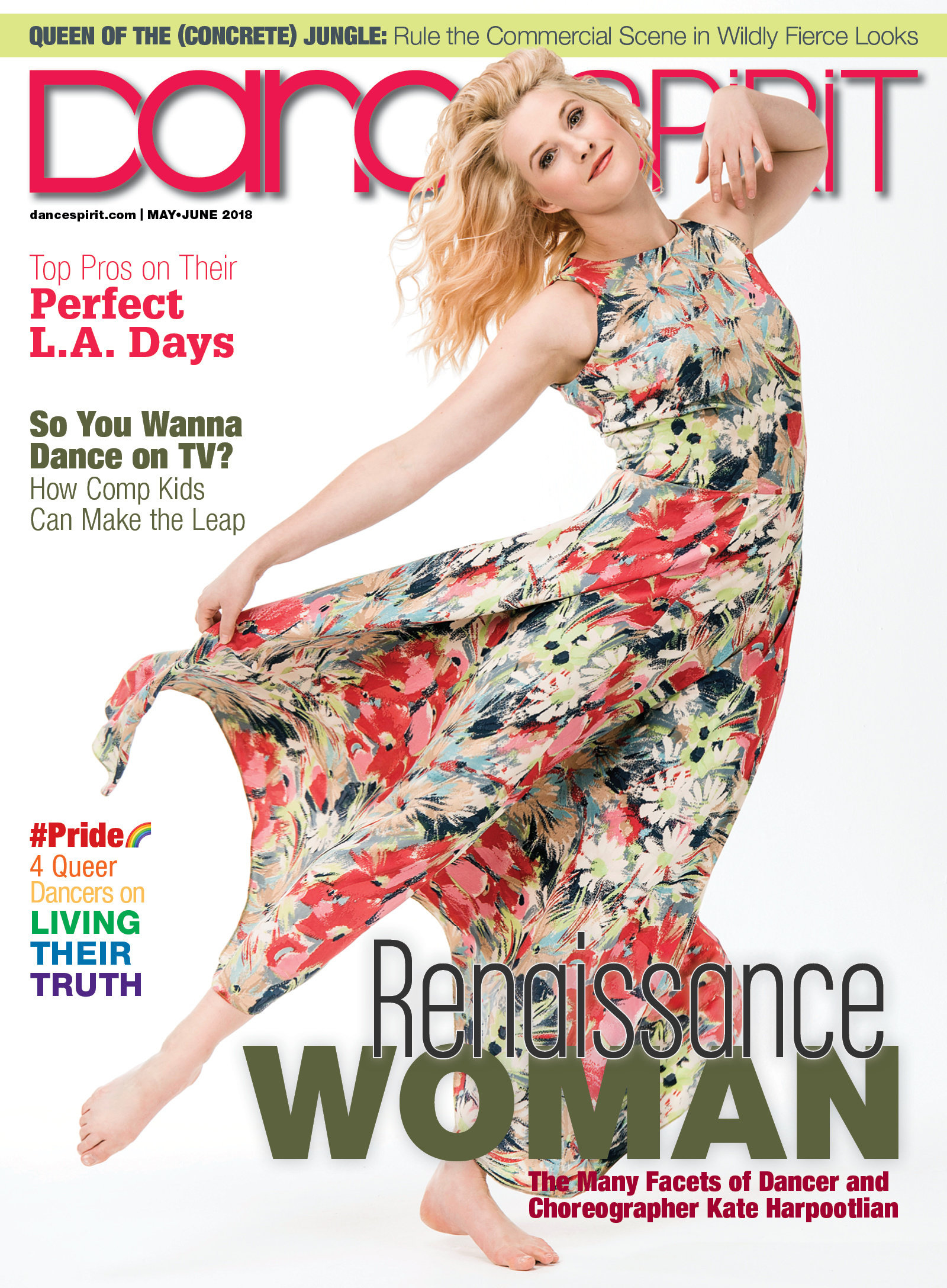 Get Dance Spirit in your inbox