May. 29, 2018 10:06AM EST
Watch tWitch teach people how to dance and just try—JUST TRY—to keep from smiling. (via YouTube)
We are forever here for the sweet best-friendship of Ellen DeGeneres and dance superhero Stephen "tWitch" Boss, still going strong. And now that enduring love has spawned a new series: "tWitch, Please...Help Me Dance!" Produced by the Ellen Digital Network, it features Mr. Boss teaching some slick moves to people in need. Because who wouldn't want tWitch to give them a complete dance makeover—especially if they were, say, trying to impress their classmates at prom, or propose to the love of their life?
Dance Videos
May. 15, 2018 12:17PM EST
Screenshot via YouTube
Other than being one of the nicest and funniest people on earth, Ellen DeGeneres also happens to have a knack for spotting talented dancers. Thanks to the comedian's dance obsession, world-class dancers like Tiler Peck, Lex Ishimoto, and Travis Wall have performed on her hit talk show "Ellen," with dance all-star tWitch retaining a permanent role as the show's DJ.
Just for Fun
May. 15, 2018 12:17PM EST
Screenshot via YouTube
Other than being one of the nicest and funniest people on earth, Ellen DeGeneres also happens to have a knack for spotting talented dancers. Thanks to the comedian's dance obsession, world-class dancers like Tiler Peck, Lex Ishimoto, and Travis Wall have performed on her hit talk show "Ellen," with dance all-star tWitch retaining a permanent role as the show's DJ.
Just for Fun
Nov. 06, 2017 10:16AM EST
Tiler Peck on "The Ellen DeGeneres Show" (via YouTube)
There are certain people in the dance universe who can just do no wrong. One of them is Ellen DeGeneres, the ultimate dance fangirl, who regularly features our favorite dancers (including her bestie, tWitch) on her ever-fabulous TV show. Another is Tiler Peck, the insanely versatile New York City Ballet principal who we've never seen give a less-than-jaw-dropping performance, even when she's in tap shoes.
In a way, it was only a matter of time until Peck made her way to DeGeneres' much-danced-upon stage. But when the moment actually came—during last Friday's ep—it was even more epic than we anticipated.
Dance Videos
Apr. 26, 2017 05:55PM EST
When über-talented duo Chelsie Hill and Josh Killacky dropped their collab video a few weeks back, we were blown away—and so was Ellen DeGeneres. Naturally, DeGeneres (who's not-so-secretly the biggest dance fan ever) invited them to perform "Ellen" and the result was absolutely incredible.
Popular
Mar. 23, 2017 02:42PM EST
Did you see Drake on Ellen?
No, literally: Did you see teeny-tiny Drake dancing ON TOP OF Ellen?
You guys, this is the best.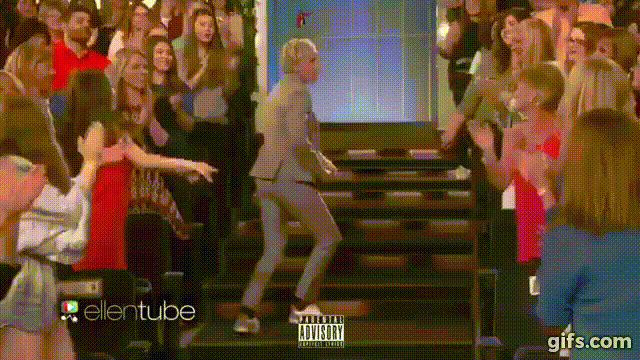 Look: Wednesdays are rough. We know that. But thanks to Drake and Ellen DeGeneres, we now have a meme to get us through this Wednesday and possibly all the Wednesdays to come.
Allow us to explain.
Drizzy is set to appear on "The Ellen DeGeneres Show" next week to promote his latest (very good) album, Views. And because he's the internet's most meme-friendly rapper —or, at least, the rapper with the best sense of humor about all that (*cough* Kanye)—the fine, fine folks at "Ellen" decided to create a trailer for his appearance featuring a pint-sized Drake grooving atop a dancing DeGeneres. Which is every bit as amazing as it sounds.
How amazing? Mini Drake starts out boogying on Ellen's shoulder. Sensing a better platform for his moves, he scrambles up the back of her head. Ever the crowd-pleaser, he then slides oh-so-gracefully down her arm so he can join the fans' dance party.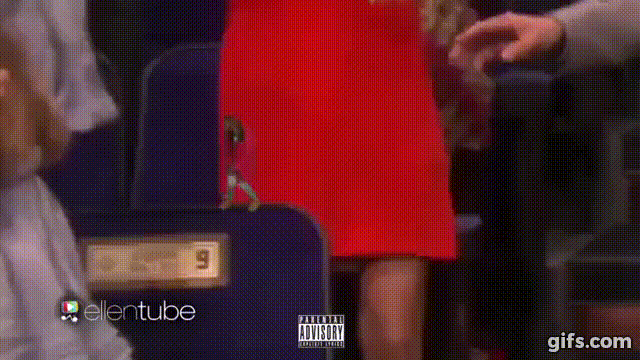 We'll stop talking now so you can just enjoy this thing, which is our favorite thing since Paula Deen started riding on things. Catch Drake on (get it? GET IT??) "Ellen" next Wednesday, May 18.
Dance News
Mar. 23, 2017 11:44AM EST
We all know Ellen DeGeneres is a major dance fan—she's definitely done her part to help bring dancers to national prominence by inviting them to perform on her show. I'm not arguing that an appearance by super-sibs Derek and Julianne Hough counts as dancer outreach (they certainly don't need any help with notoriety), but it's always good to see dance on "The Ellen DeGeneres Show"—no matter how low or high profile the performers are.
On Monday we told you that the Hough's MOVE Live Tour is back. Their appearance on "Ellen" was to drum up excitement for the tour—and we're definitely excited.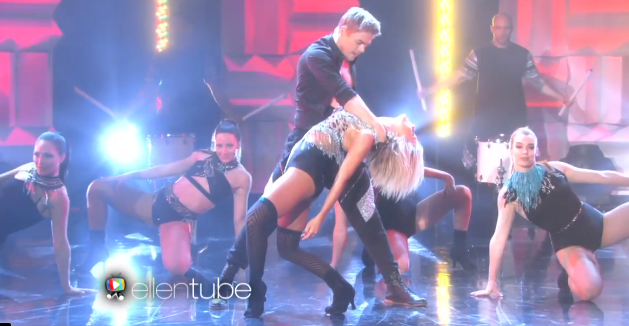 With their usual flair (and by flair I mean fringed crop tops and a drumline), the Hough siblings Latin-style-hip-hop-jazz-funk fusioned their way through a typically high-energy performance. Was it too much for daytime TV? Or was it just en-Hough?
Click here to watch the performance, and let us know what you think!
Dance News
Mar. 23, 2017 09:20AM EST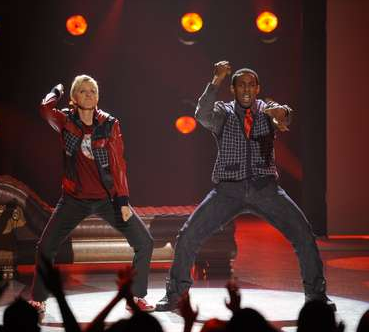 Let's face it: Ellen's got swag.
The friendship between tWitch and Ellen is kind of adorable. We've been in love with the pair ever since Ellen made her surprise "SYTYCD" appearance, filling in for the injured Alex Wong to perform that infamous Nappytabs routine.
They need a cute friend name like tWitchison. tWitchellen? Eh...we'll go with it.
On this season of "The Ellen DeGeneres Show," we've gotten to see lots of tWitchellen, because tWitch was a recurring guest DJ on the show. On Wednesday, Ellen took a moment to thank him for bringing joy and dance to the show week-after-week, and to tell him how much she loves him (awwww!!). And tWitch had a little thank you for Ellen, as well. Naturally, it came in the form of dance:
Recognize some of your favorite "SYT" alums? It was the perfect gift for Ellen, given her love for "So You Think You Can Dance." Plus, it came on the morning of the show's Season 11 premiere! Well timed, tWitch, well timed.
Dance News
Mar. 23, 2017 06:05AM EST
So, if we started doing a weekly "Ellen DeGeneres amazingness" update, would you all be OK with that? Yes? Good. I thought so.
In that case, here's this week's installment: Bradley Cooper taught Ellen how to waltz on her show a few days ago.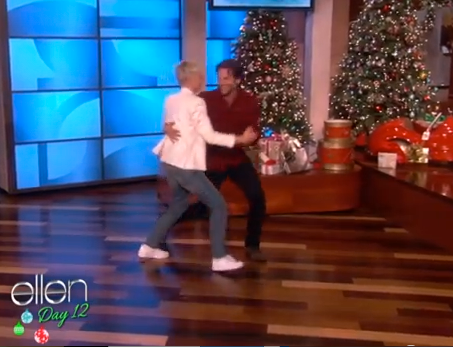 That sounds strange out of context, but if you've seen Silver Linings Playbook, Cooper's latest movie, it makes a bunch of sense. In the film Cooper plays a man who's just returned home from a psychiatric facility, and who rediscovers himself with the help of a) Jennifer Lawrence, who is uh-ma-zing as a depressive widow, and b) ballroom dance. Weird on paper, awesome in reality. Or at least movie reality. (And the film features some legitimate world-class ballroom dancing too, which is fun.)
Anyway, Cooper actually did do a fair amount of dancing in the movie. And if you have any connection to dance, however tenuous it may be, lord knows you're gonna be showing off your moves on "The Ellen DeGeneres Show." Cooper chose to display his skills by giving Ellen a waltz lesson.
The result was equal parts adorable and awkward. Take a look!
Jan. 27, 2017 07:00AM EST
Can we talk about how wonderful the tWitch—Ellen DeGeneres bestfriendship is? They've hearted each other for ages. (Remember their epic duet, with Ellen doing a verrry impressive Alex Wong impression, during the "SYT" Season 7 finale? Yeah, that was SEVEN YEARS AGO). tWitch has even served as a featured DJ on "The Ellen DeGeneres Show" for the past few seasons. Their dance-based love for each other knows no bounds.
So it's only fitting that Mr. Boss would get his boss a delightfully dancey birthday present. tWitch surprised Ellen, who turned a totally unconvincing 59 yesterday, with a celebratory performance featuring some of his friends from 24 Seven. (We see you, Hefa, Randi and Kaycee!) They broke it down old school—like, running man, walk-like-an-Egyptian old school—to the equally old school and oh-so-appropriate "It's Your Birthday" by Luke. A a giant breakthrough wall of wrapping paper was also involved, which, many bonus points.
"What more perfect gift for Ellen than the gift of dance, right?" tWitch told the audience. "It is my honor to give such a gift to such a kind, genuine, generous person." 💕💕💕
Enjoy the lovefest, friends:
Dance News
Get Dance Spirit in your inbox
Jan. 12, 2017 11:39AM EST
We love it when world-class dancers visit "Ellen"—which, given Ellen Degeneres' delightful dance obsession, happens just about every day. But a Shaping Sound "Ellen" performance? That's next-level stuff. Especially when it features a number from the company's new show, After the Curtain, and stars Travis Wall himself.
It happened this week, and it was exactly as good as you'd imagine. Set to Son Lux's "This Time," the number included an old-timey typewriter, a creepy light-up book, some very fabulous 1920s wigs and a whole lotta paper. Basically it was Chicago meets Newsies meets The Great Gatsby, as re-imagined by crazy-genius TWall.
Take a look!
Dance News
Oct. 31, 2016 10:16AM EST
We're guessing you or someone from your dance posse has dressed up/is currently dressed up as Sia-mode Maddie Ziegler. It's one of the preferred last-minute Halloween costumes for dancers, after all (nude leo, blonde wig, crazy face, go!)—including, last year, American Ballet Theatre principal Isabella Boylston. But we have to admit that we never expected noted Halloween enthusiast Heidi Klum, known for her super-duper maximalist costumes, to channel Maddie Z.
Leave it to Ellen DeGeneres, another Halloween devotee, to make that happen. For today's episode of "The Ellen Show," the dance-loving DeGeneres had Klum play the Maddie to her Sia. And they didn't stop at costumes: The two also did their own rendition of Sia's "Chandelier" video, complete with Klum's, um, interpretation of Ryan Heffington's choreography.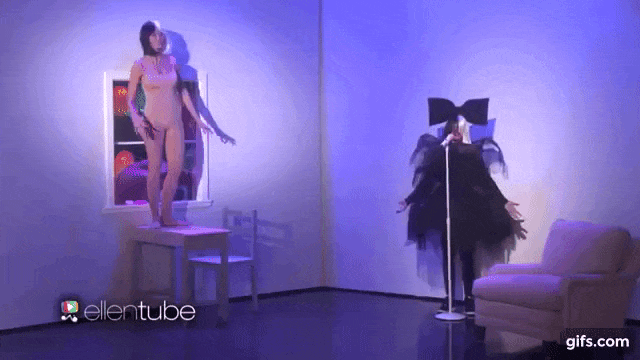 Is Heidi Klum secretly a great dancer? Nah. But the pair managed our expectations by confessing to rehearsing for a grand total of seven minutes—and the deliberately goofy result is actually kind of fun, in the way that everything Ellen touches is fun.
Happy Halloween, friends! ?
Dance News