Oct. 15, 2015 07:35AM EST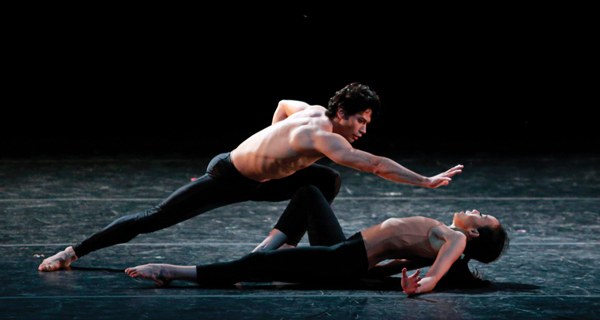 Herman Cornejo and Fang-Yi Sheu (photo by Erin Baiano, courtesy New York City Center)
Limón Lovin'
This year marks the Limón Dance Company's 70th anniversary season, and what better way to celebrate the iconic modern choreographer than with a big party? October 13–25, dance companies from around the globe—including The Royal Danish Ballet and the Bavarian State Ballet—will perform some of Limón's seminal work at The Joyce Theater. Nine student-dance companies will also take the festival stage, including dancers from Southern Methodist University, who'll perform Limón's There Is a Time. "It really speaks to the importance of the work when it's experienced on this level, with so many professional companies," says Patty Harrington Delaney, SMU's chair of dance. Will students get to mingle with company members? Longtime Limón Dance Company dancer Ryoko Kudo is hopeful for those kinds of interactions: "It would be wonderful if this opened more doors to collaboration and if we could continue to work together," she says.
Get more info: joyce.org
Choreography Gone Couture
New York City Ballet's 2015 fall season (September 22–October 18) features world premieres by choreographers Robert Binet, Kim Brandstrup, Justin Peck (his ninth for the company!), Troy Schumacher and Myles Thatcher. And for the fourth year in a row, NYCB's fall season is celebrating the dance–fashion connection. Six internationally acclaimed designers—including Zuhair Murad and, for Oscar de la Renta, Peter Copping—will create couture costumes, to be unveiled at the NYCB gala on September 30 at Lincoln Center.
Get more info: nycballet.com
Six Tappers at Sea...on Broadway
If you've never heard of the musical Dames at Sea, you're not alone. Those who have only know it as the off-Broadway show that put Bernadette Peters on the map in 1968. But this month, Dames at Sea finally gets its Broadway debut, with Randy Skinner at the helm as both director and choreographer.
Dames at Sea follows a day in the life of a girl from Utah who arrives in NYC with big Broadway dreams. Sound familiar? "The show pays homage to three old movie-musicals, including 42nd Street," Skinner explains. (He earned a Tony nomination for choreographing 42nd Street's 2001 Broadway revival.) Like 42nd Street, Dames at Sea is loaded with dance numbers, but it's surprisingly low on cast members. "There are only six performers," Skinner says. "We expanded a lot of the musical arrangements to add more dancing, so I had to find performers who could sing, act and really dance. They go from tap to ballroom to jazz. And there's no chorus to back them up!"
Get more info: damesatseabroadway.com
A NYC Tradition
Now in its 12th year, New York City Center's Fall for Dance Festival kicks off September 30. Twenty companies (and many freelance artists) will be featured in five carefully curated programs—and each ticket costs just $15. Highlights include a brand-new work by Michelle Dorrance and the NYC premiere of former Martha Graham Dance Company principal Fang-Yi Sheu's piece for herself and American Ballet Theatre principal Herman Cornejo.
Get more info: nycitycenter.org
Mark your calendars: The Royal Ballet's Sleeping Beauty will be broadcast in movie theaters nationwide on Thursday, March 20 at 7 pm. Whether you go with your main squeeze or make it a night on the town with the gals, the chance to watch Sarah Lamb as Aurora will not disappoint.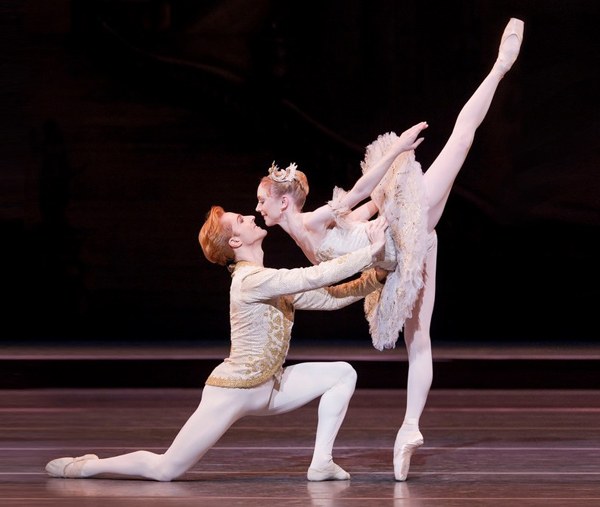 Sarah Lamb with Steven McRae in the Royal Ballet's Sleeping Beauty. Photo by Johan Persson/ROH
If you're weighing a potentially long trip to the theater against the fact that Thursday is a school night, just keep in mind that Sleeping Beauty is the final ballet of the 2014 Royal Ballet Cinema season. And if you need a little more encouragement, take a look at this clip from Act III with Elizabeth Harrod and Paul Kay. No one can resist the adorable White Cat and Puss-in-Boots pas de deux:
Convinced? Check out a list of participating theaters and get tickets here.
As we suspected, the 2014 Winter Olympics' opening ceremony Friday night was nothing short of sensational. A flashy and mind-boggling revue spanning Russia's rich history, it had all the ingredients necessary for a Broadway-sized spectacle—multiplied by a bajillion. Special effects? Check. Amazing sets? Check. Wacky costumes? Check. Far-out symbolism that was slightly over everyone's heads? Check!
Missed it? Here's a rundown of our five favorite moments (excluding the ever-trending snowflake-to-ring debacle):
1. Svetlana Zakharova. Need we say more? The Bolshoi star appeared during the section representing Russia's Imperial age with a tribute to Tolstoy's War and Peace.  Plot line? Didn't matter—once Zakharova displayed some leg and foot action, the night was complete.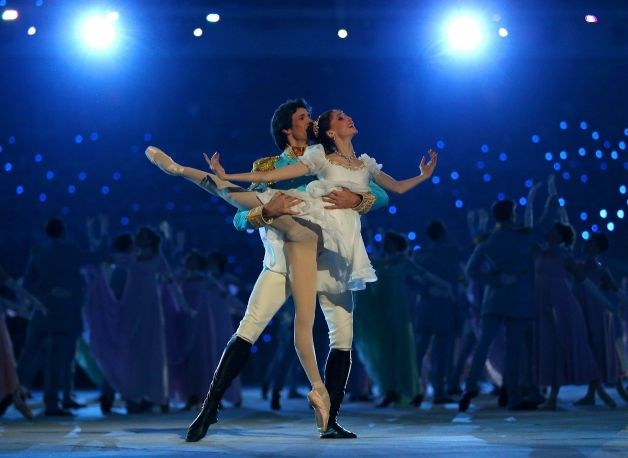 A heavenly pas de deux: Danila Korsuntsev and Svetlana Zakharova. (Photo Paul Gilham/Getty Images via ctpost.com)
2. Ivan Vasiliev. Also part of the War and Peace dance break, he broke the mold with this manège: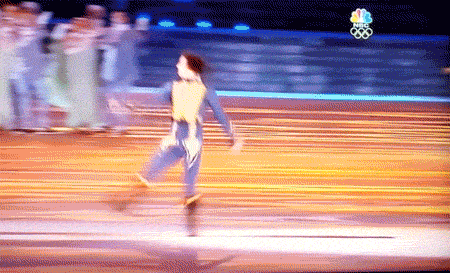 Swoon. (Gif via Vanity Fair)
3. The human-size hamster wheels plus all the dance and theatrics during the Age of Industrialization section.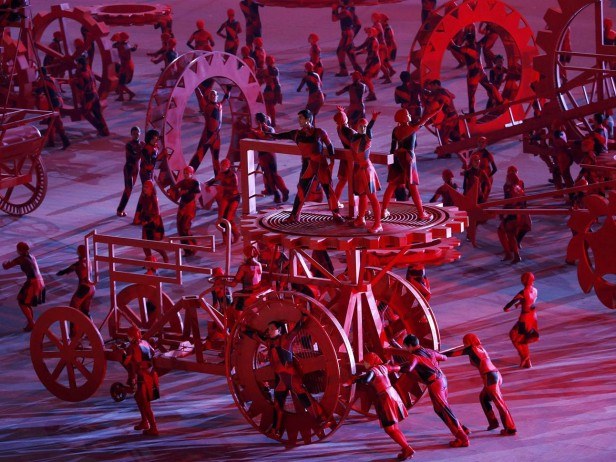 Not sure what this contraption would make...but all the moving parts were super cool. (Photo by Grigory Dukor/Reuters, via nbcnews.com)
4. These light-up roller-skaters and sky-bound illuminations: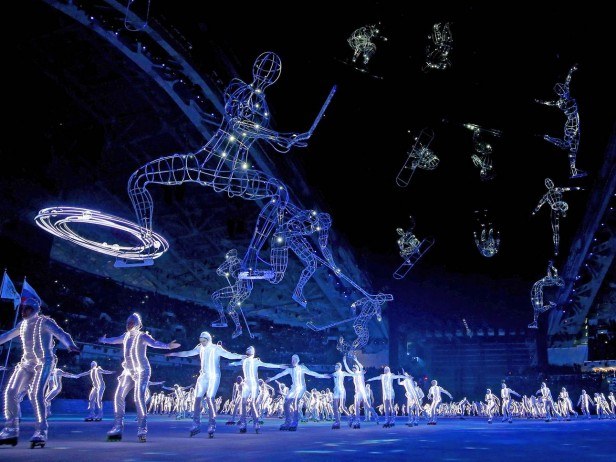 White unitards are rough—LEDs make them better. (Photo Ryan Pierse/Getty Images via nbcnews.com)
5. That moment when we thought it was over, but then Mariinsky star Diana Vishneva appeared and twirled to music from Tchaikovsky's Swan Lake, MOMIX-style (the ceremony's choreographer, Daniel Ezralow, was one of MOMIX's original dancers and choreographers):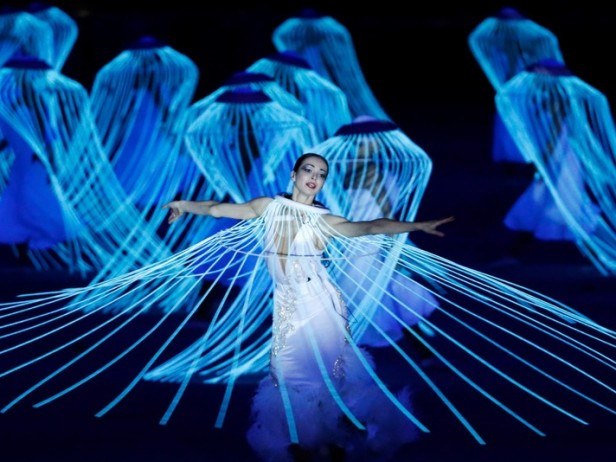 The whirling Vishneva. (Photo REUTERS/Brian Snyder via yahoo.com)
Bonus: Team USA's promenade into Fisht Olympic Stadium. USA! USA! (PS: If anyone has an "in" at Ralph Lauren, I'd love a complimentary USA sweater. Thanks!)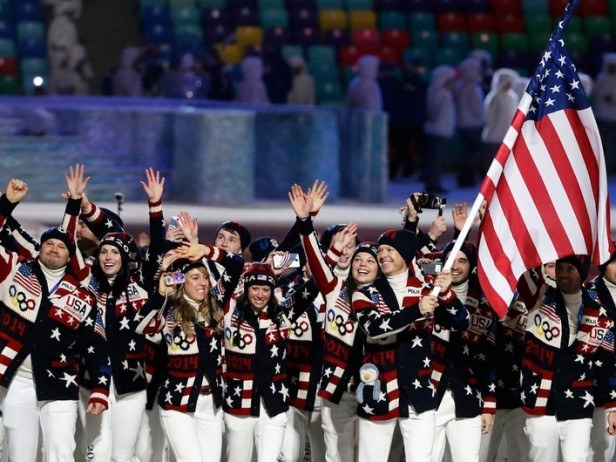 USA! USA! USA! USA! (Photo via mashable.com)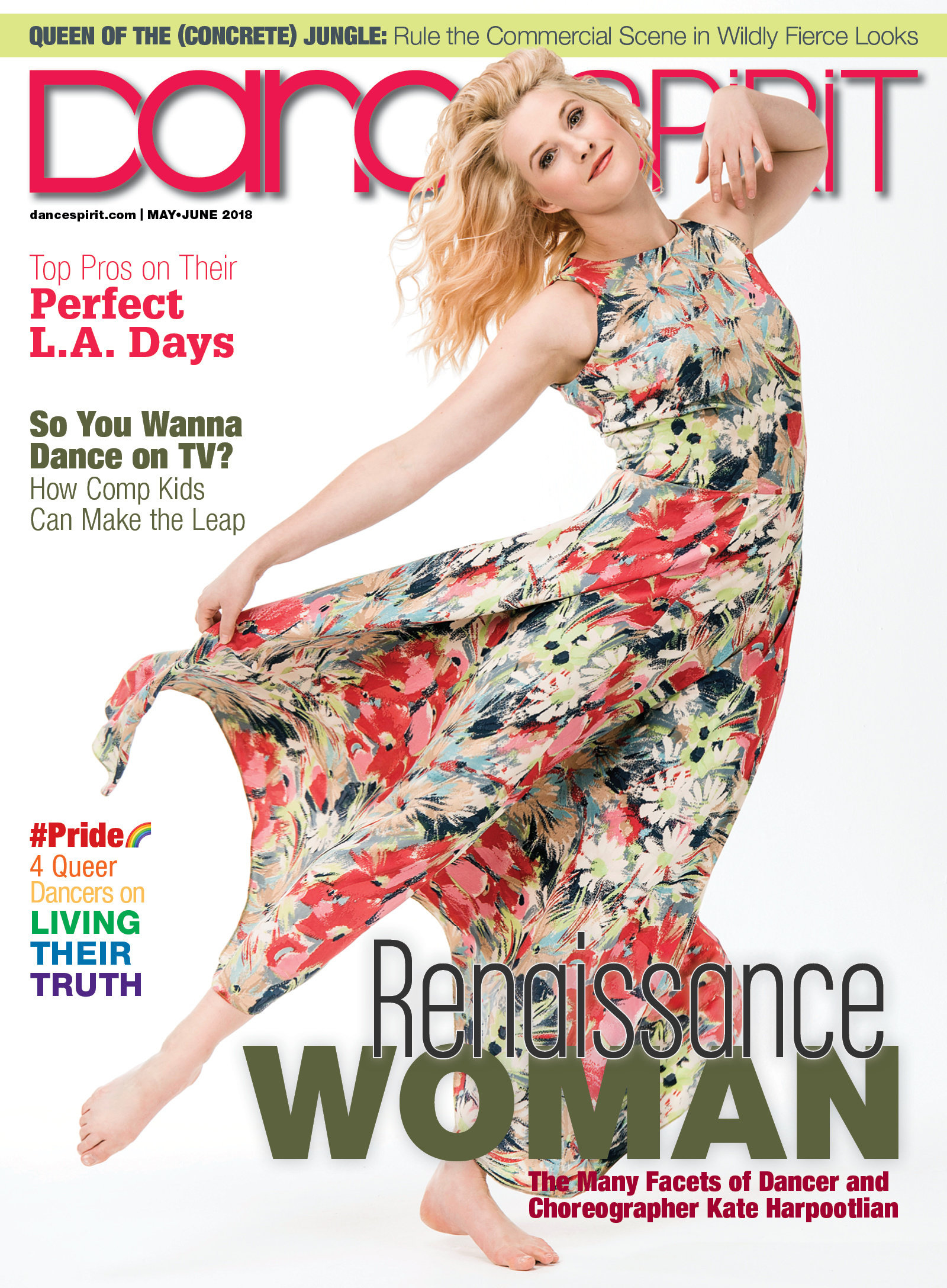 Get Dance Spirit in your inbox