ABT JKO School student Miuka Kadoi shoiwng off her beautiful line (photo by Kenneth Edwards)
Contemporary phenom Christina Ricucci has super-flexible hips, which means she can stretch her legs to unbelievable heights. But when she noticed herself making contorted positions in class, Ricucci realized she was approaching her extensions all wrong. "I went back to the basics in class, squaring my hips and using my turnout," Ricucci says. "I learned to create proper positions, rather than whacked-out versions of them."
Some dancers are so wonky they have a hard time supporting their high legs, while others struggle with limited flexibility. But no matter your facility, you can find a balance of stretch and strength to achieve your fullest range of extension. It's not about how high (or not) your legs can go: It's the quality of the movement, and how you get those legs up, that counts.
Keep reading...
Show less
Jayme Thornton
In our "Dear Katie" series, former NYCB soloist Kathryn Morgan answers your pressing dance questions. Have something you want to ask Katie? Email dearkatie@dancespirit.com for a chance to be featured!
Keep reading...
Show less
Ballet
Jan. 01, 2015 12:34PM EST
Jayme Thornton
When done well, a serene penchée can be magical. But while it's meant to look effortless, the extended arabesque is deceptively difficult to master, requiring control, strength and flexibility. DS talked to three professionals about the most common penchée problems—and how to avoid them.
Keep reading...
Show less
It's a frustrating conundrum: Even the bendiest dancer will have low développés if she doesn't know how to engage the correct muscles. All too often, the bulky quadriceps try to take over during extensions to the side or front. While these muscles can be very strong, they don't let you access your turnout—and this means your hip gets stuck once your leg reaches 90 degrees.
Your inner-thigh—or adductor—muscles, on the other hand, are the perfect tools for the job. When properly strengthened and engaged, they'll help you access your full turnout and extension. DS looked to Abigail Bales, a personal trainer who has worked with dancers on Broadway, for three exercises that target these elusive yet essential muscles.
You'll need: A Thera-Band resistance tube and a small towel
Half-Moon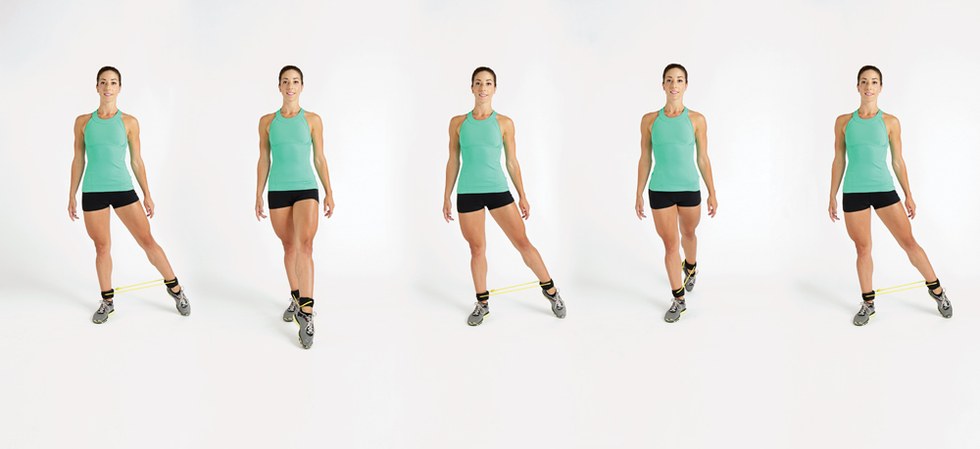 1. Attach each foot to a handle of the Thera-Band resistance tube. Stand with your feet in parallel first position and your arms by your sides. Extend your left leg to the side in a parallel tendu, with the foot pointed.
2. Keeping your foot pointed and just slightly off the floor, rond-de-jambe your left leg to the front, simultaneously rotating your leg so that it's turned out by the time you reach the front.
3. Rond-de-jambe your left leg back to the parallel side tendu position. Your left toes can touch the ground to help you stabilize.
4. Continue the rond de jambe en dehors, rotating your left leg outward as you carry it to the back.
5. Reverse the rond de jambe, returning your left leg to the parallel side tendu position. Do 3 sets of 10 repetitions on either side.
Bales Says: "Really rotate your working leg as you bring it from the side to the front and the side to the back. Imagine your inner thigh pushing against the resistance generated by the Thera-Band."
Curtsy Lunge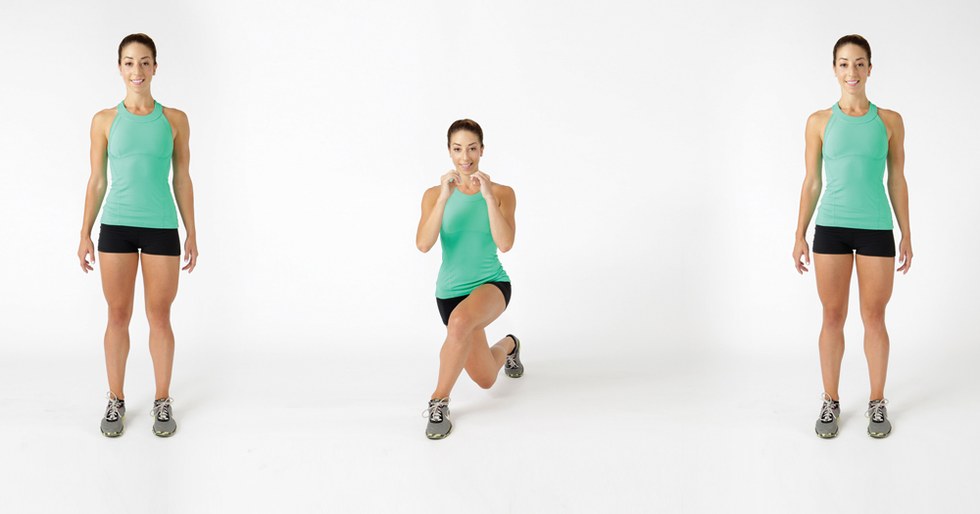 (Photo by Jayme Thornton)
1. Stand with your legs in parallel first position and your arms by your sides.
2. Bring your right leg behind you on a crossed diagonal, keeping your hips and shoulders square to the front, and lunging so that your legs form two right angles. Bring your fists in front of your face to help you stabilize. Cross your leg as far as you can without altering the alignment of your hips and shoulders.
3. Return to the starting position. Do 3 sets of 15 repetitions on each side.
Bales Says: "To keep your front leg parallel and your inner thighs zipped and engaged, think of directing your weight to the inside of your front foot. Your front knee should stay
in line with your front toes."
Sliding Rear Lunge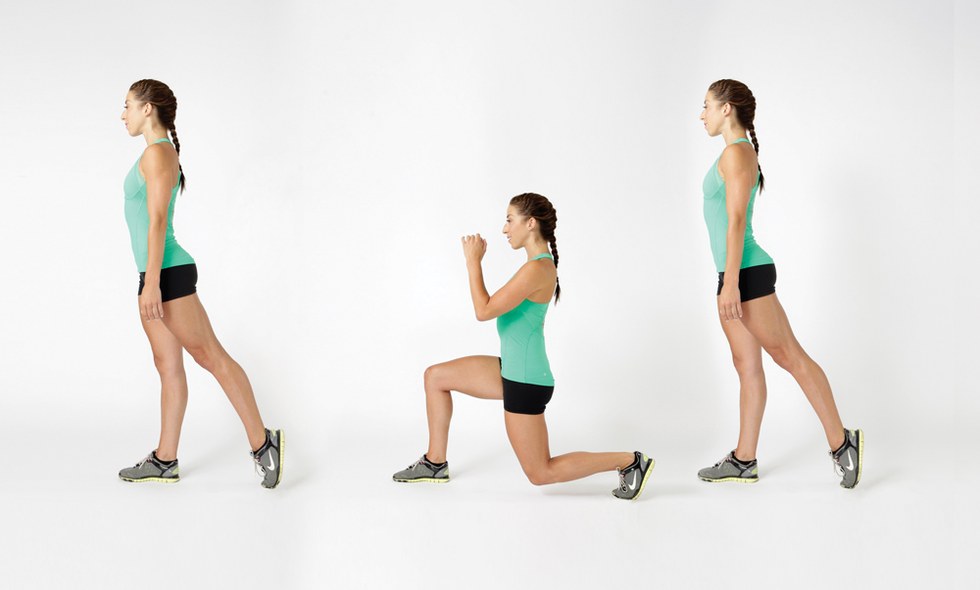 (Photo by Jayme Thornton)
1. Stand with your feet parallel and hips-width apart, and place a small towel underneath the toes of your left foot. With your arms by your sides, transfer your weight to your right foot and extend your left leg back into a parallel tendu, keeping your toes in demi-pointe to maintain contact between the ball of your foot and the towel.
2. Keeping your shoulders and hips square, slide your left foot back into a low lunge, bending both legs so they form two right angles. Bring your fists in front of your
face to help you balance.
3. Return to the tendu position, pushing through the heel of your right foot to help engage the inner thigh muscles of your right leg. Do 3 sets of 12 repetitions on each side.
Bales Says: "As you lunge back, shift your weight into your back foot. This will protect your front knee by making sure it doesn't go past your front toes."
Contemporary
Nov. 01, 2014 03:30PM EST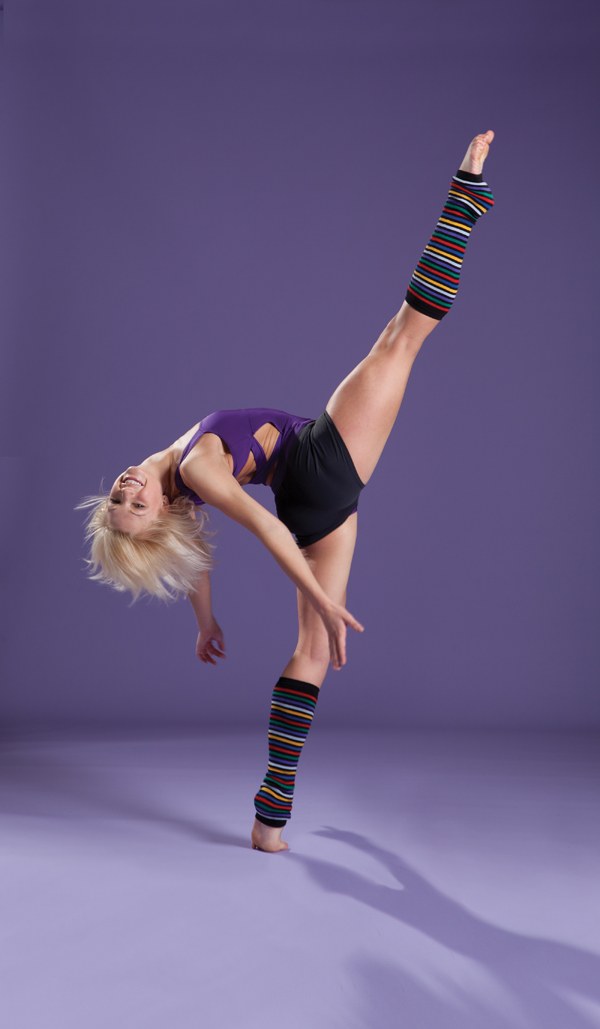 Kaitlynn Edgar's luscious layout (photo by Erin Baiano)
Everyone understands the appeal of the tilt: It's flashy, it's dramatic and it shows off the extension you've worked so hard for. But when it's time to freestyle, many contemporary dancers start tilting all over the place. "To me, tilts have become less impressive over time, because now everyone does them," says Mandy Moore, "So You Think You Can Dance" choreographer and JUMP Dance Convention contemporary teacher. "They've become a circus trick—the 'wow' factor is gone."
Feeling the tilt guilt? DS to the rescue: Here are three other moves that are just as exciting, and just as flattering to your extension. You don't have to erase tilts from your vocabulary, but try mixing these in once in a while!
1. The Layout
This is a jazz oldie that can translate into contemporary gold. "Nobody does them anymore, but as the climax of a phrase, they're really effective," Moore says. The slight bend in the bottom leg lets you crank your working leg impressively high, and the deep backbend adds extra drama.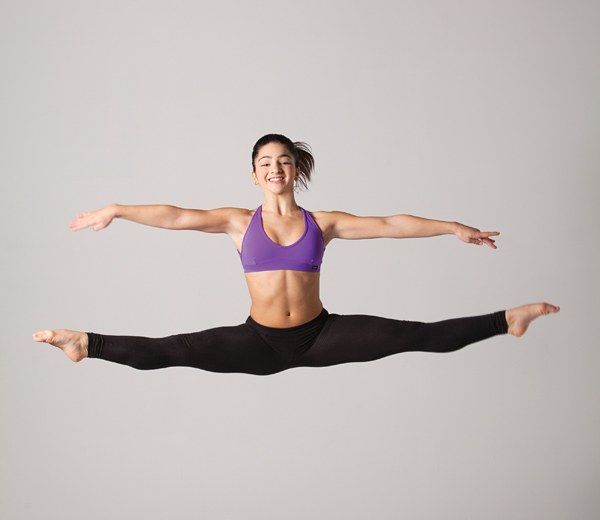 Daniella La Rosa's spectacular side leap (photo by Erin Baiano)
2. The Side Leap
"When a side leap is done well, it looks like you're just floating," Moore says. She adds that side leaps are great for less-bendy dancers, since jumping requires the short, fast-twitch muscles that Gumbys tend to lack. And since it's only viewed from the front, a side leap can create the illusion of a super-flat side-split—even if you don't quite have one yet.
3. The Hands-on-Floor Penchée
When your hands are on the floor, you can push into them as you battement back. That gives you a lot of leverage—which means you'll be able to get your leg higher than usual. (For that I'm-so-flexible-I'm-practically-a-contortionist look, try bending the working knee after your leg reaches the top of the battement.)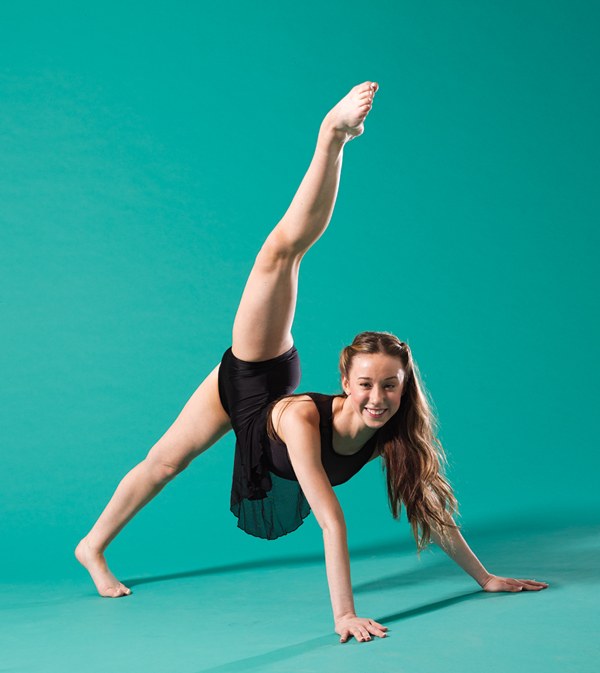 Hayden Hopkins' perfect penchée (photo by Nathan Sayers)
The Right Way to Tilt
Mandy Moore doesn't object to tilts when they're used in a way that makes sense musically and choreographically. "Rarely does a piece of music seem to be saying, 'Stop here and tilt!' " she says. "But when a tilt is incorporated smoothly into a phrase, it can be beautiful. If you do a jump that lands in a coupé and progresses into a développé tilt, for example, that looks gorgeous, because the tilt follows logically from the preceding movements. And if the tilt hits a high point in the music, that's even better. You don't want a tilt to be a cheap thrill that takes you out of the world you're creating onstage."
Have you ever seen a ballerina's arabesque and thought, Wow, her back is so flexible—does she even have a spine? Believe it or not, a bendy back isn't the only key to a killer arabesque. "Dancers who focus exclusively on stretching often fall into improper alignment, crunching the lumbar spine and splaying the ribs to maximize arabesque height," says Rachel Hamrick, a conditioning expert and former professional ballet dancer. "To achieve the desired aesthetic, you need strength in the hamstrings, inner thighs, abdominals and back, as well as flexibility in the hip flexors." (All photos by Nathan Sayers.)
Practice the following four exercises, which focus on stretching and strengthening these supporting muscle groups, and you'll be passing 90 degrees in no time!
You'll need: an FLX Ball or a medicine ball and a Thera-Band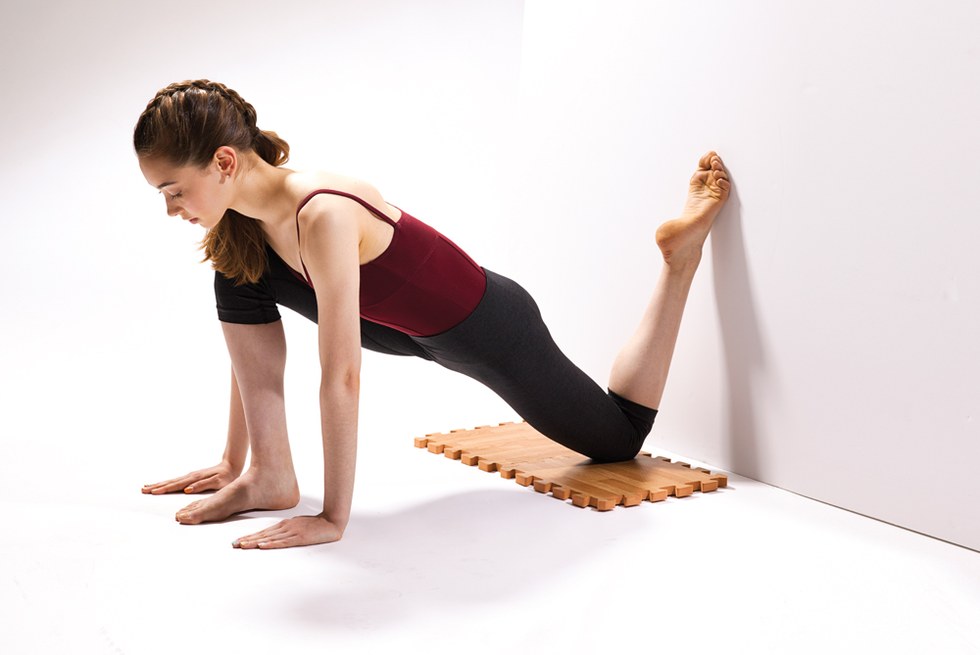 Hip Flexor Lunge
Plant your left knee in the corner where the wall meets the floor, with the top of your foot pressed against the wall. Step your right leg forward and bend it at a right angle, so your knee is directly above your ankle. Place your hands on either side of your right foot. Keeping both legs parallel, push your hips forward and down. Hold for 10–15 slow breaths. Repeat the stretch twice on each side.
Hamrick says: "If you're performing this exercise on a hard floor, place a towel or mat under your knee to cushion it."
Modifications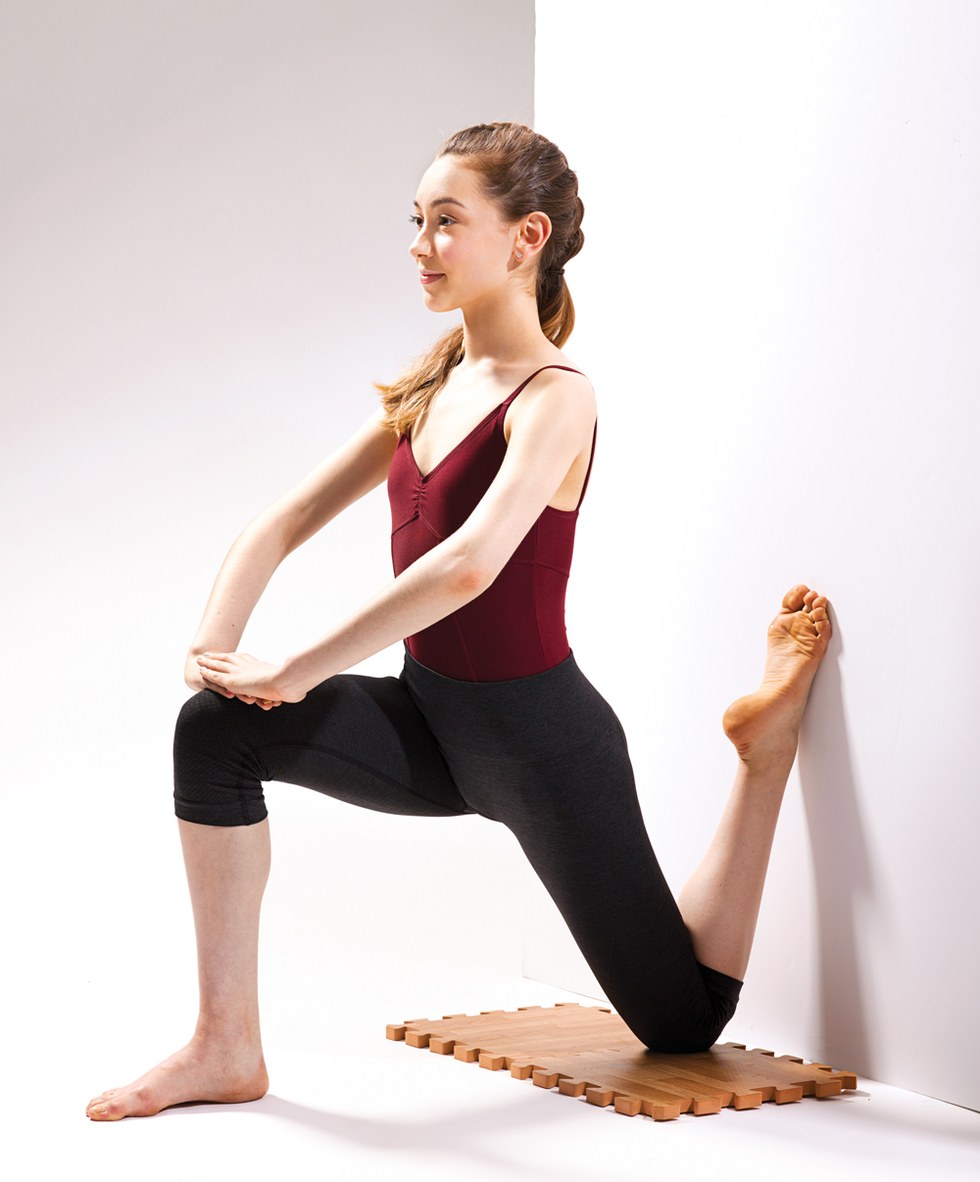 Modification 1:
For extra stretch, keep your legs in the same position, but place your hands on top of your right thigh. Push your hands away from your body to lift your chest, keeping your shoulders relaxed as you sink your hips forward.
Hamrick says: "Lengthen through the left hip flexor so that your pelvis is vertical."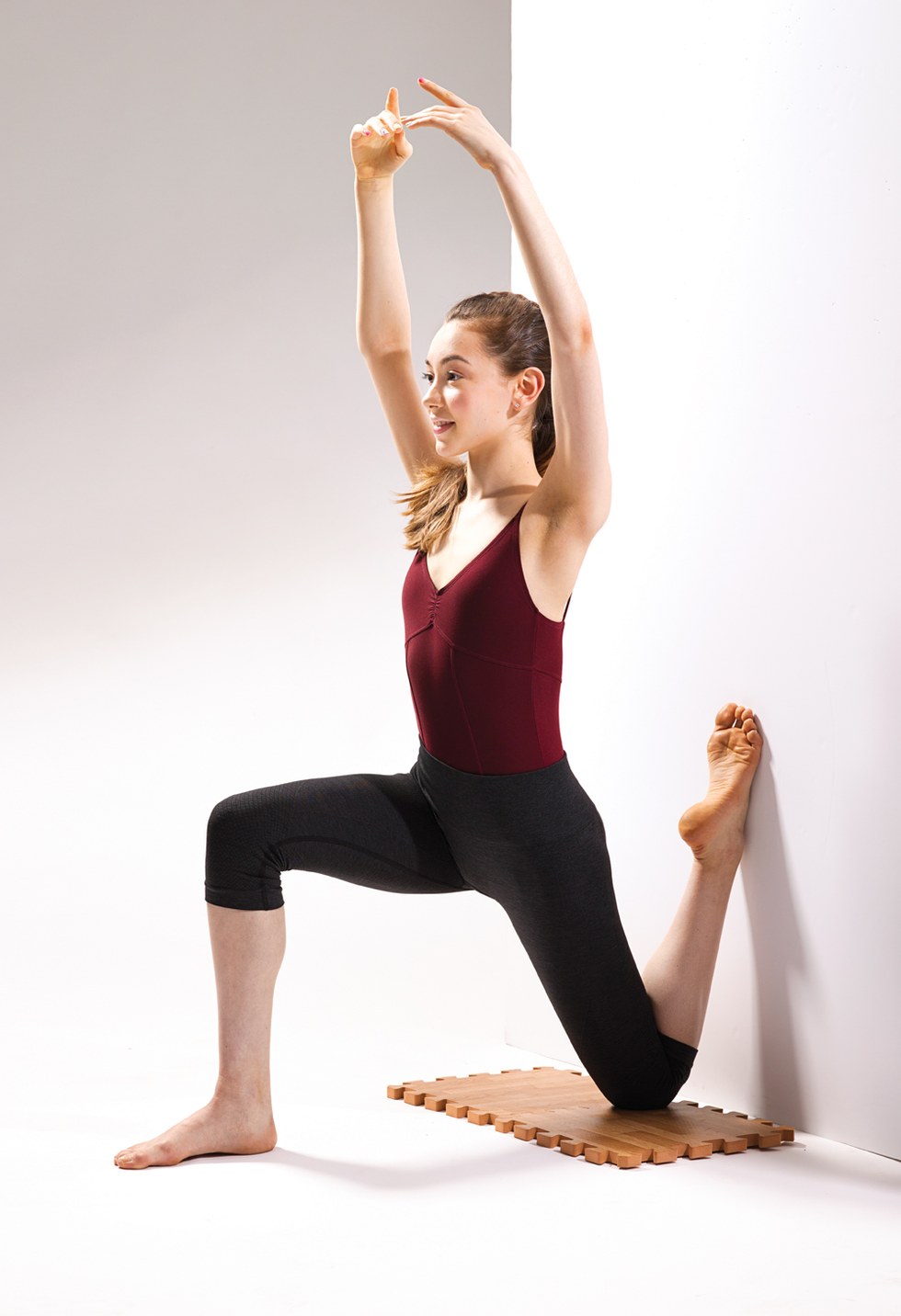 Modification 2: For an even more intense stretch, bring your arms up to fifth position. Engage your abs and lift your chest to avoid splaying your ribs.
Hamrick says: "Imagine stitching your inner thighs together to keep your right knee in line with the midline of your body."
Hamstring Curl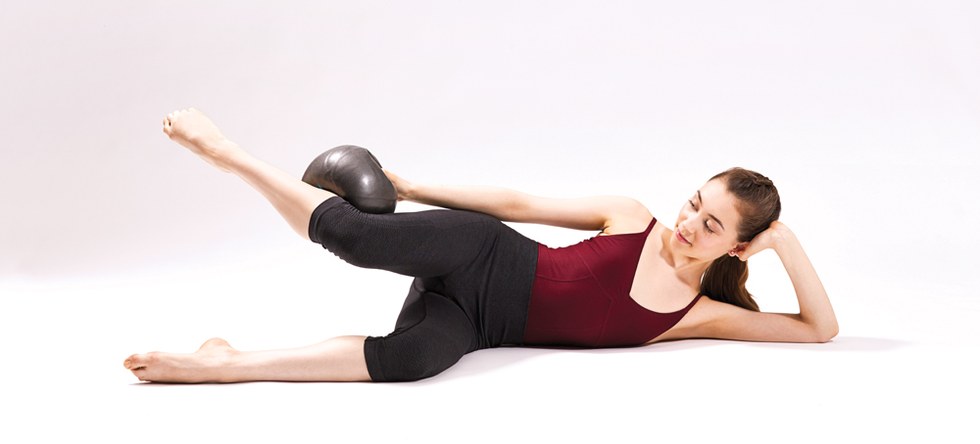 1. Lie on your left side, resting your head in your left hand. Place your knees in front of your hips and your ankles directly below your knees, forming two right angles. Lift your right leg slightly so that your legs are hips-width apart, and use your right hand to place the ball behind your right knee.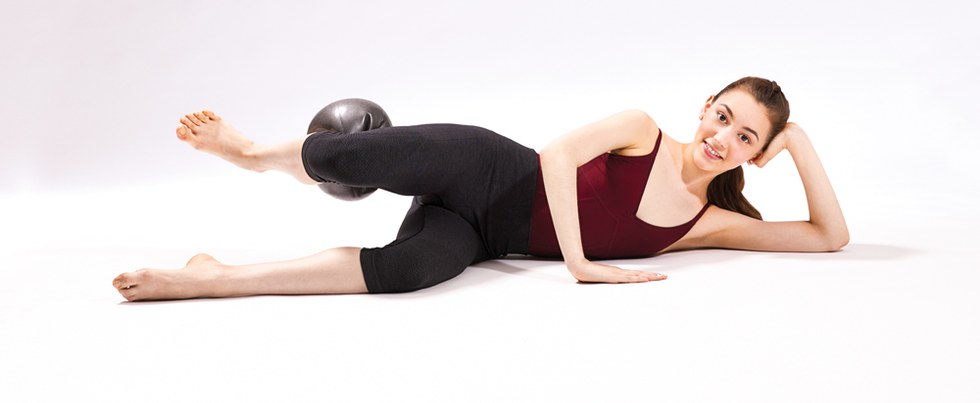 2. Flex your right foot and squeeze the ball behind your knee, feeling the activation of your hamstring and the connection between your right heel and sitz bone. Place your right hand on the floor in front of your belly button to stabilize yourself.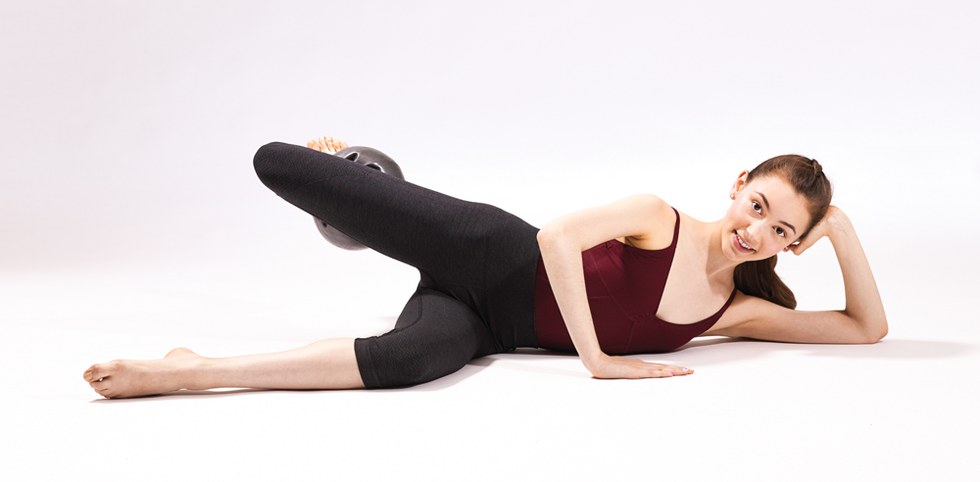 3. Initiating from your hamstring, move your right leg back without changing the alignment of your pelvis or spine. Pulse your heel backward five times, keeping your leg parallel.
4. Return to the starting position. Repeat 10 times on each side.
Hamrick says: "Engage your abs to keep your torso from arching and activate the inner thigh muscles to keep your legs parallel and hips-width apart."
Spinal Extension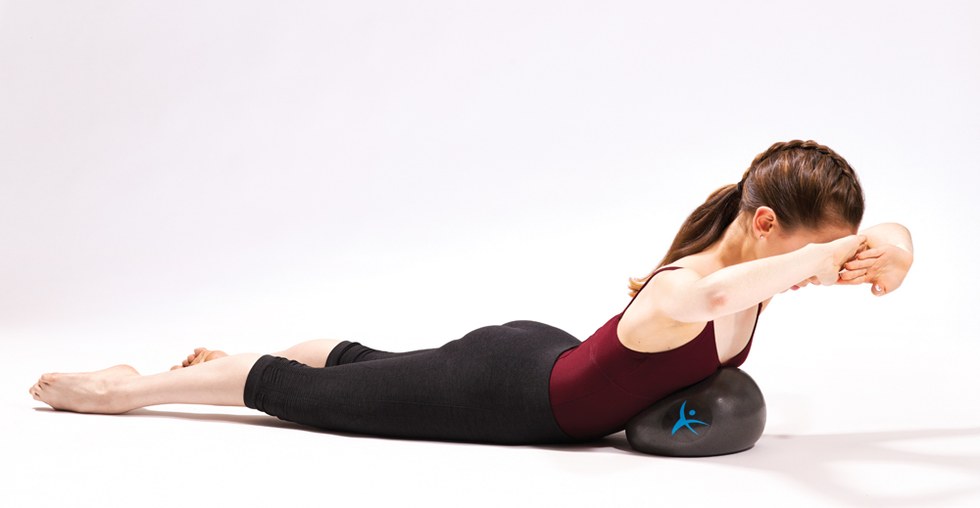 1. Lie on your stomach with your legs turned out and your feet pointed, hips-width apart. Place the ball under your chest. Stack your hands on top of each other and rest your forehead on them, keeping your elbows out to the sides and your neck in line with the rest of your spine.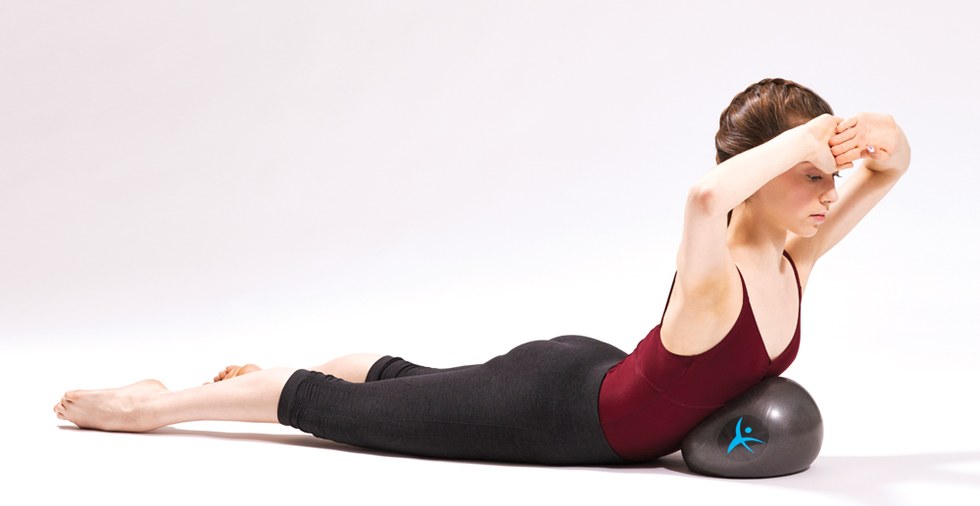 2. Inhale and lift your torso, keeping your gaze straight in front of you.
3. Lower with control to your starting position. Do three sets of 10 reps.
Hamrick says: "Don't crunch in your lower spine to lift your torso. Imagine your spine lengthening as you rise."
Modification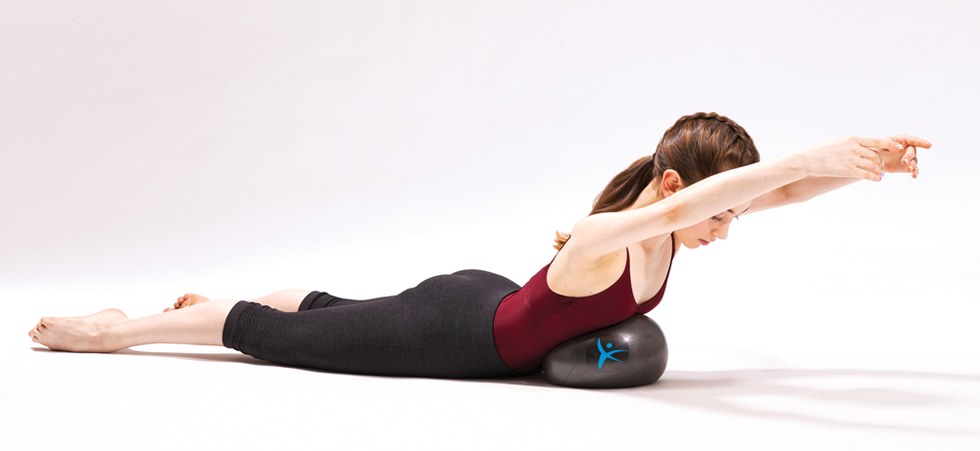 1B. Start in the same position, but hold your arms out in fifth.
2B. Inhale and lift your torso, keeping your shoulders drawn down your back and your neck long.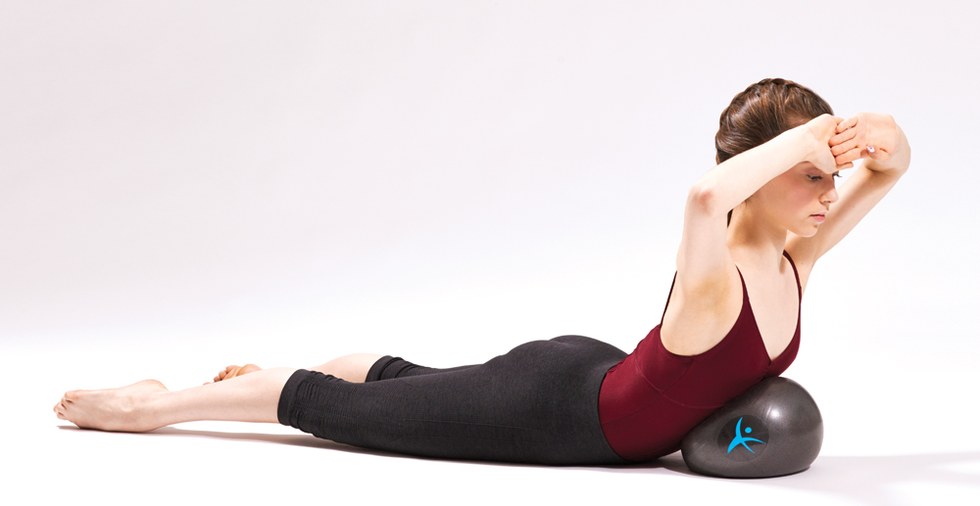 3B. Lower with control to your starting position. Do three sets of 10 reps.
Hamrick says: "Don't puff out your lower abs to push yourself up. Imagine hollowing them out so they don't touch the floor throughout the exercise."
Single Leg Lift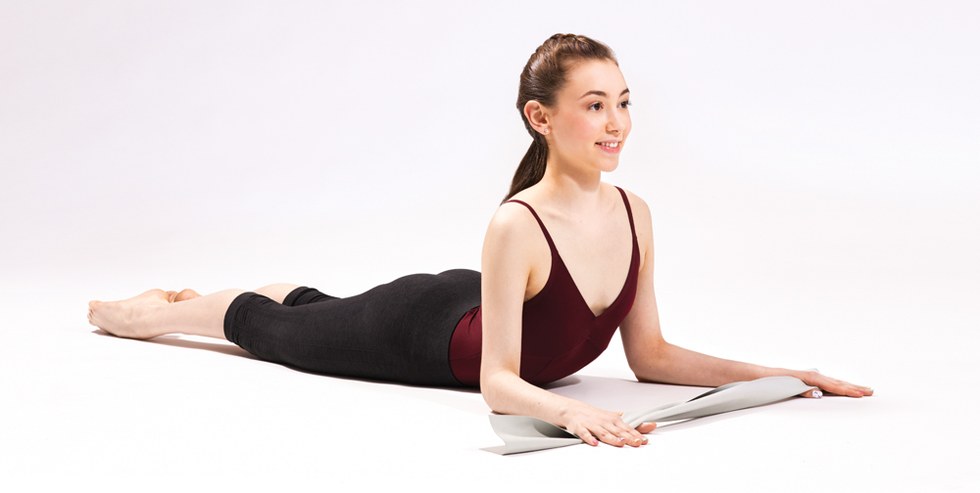 1. Lie on your stomach with your legs hips width apart and turned out, and your feet pointed. Fold the Thera-Band in half lengthwise and hold one end in each hand. Prop yourself up on your elbows, placing them by your sides, underneath your shoulders. Place your forearms at a slight outward angle to create resistance in the Thera-Band. Press down through your arms and feel your chest pulling forward.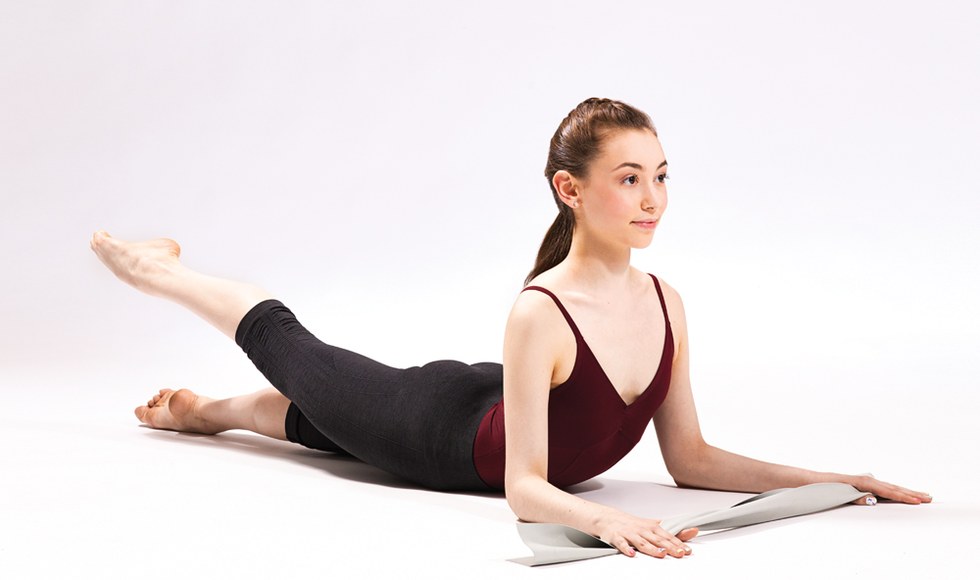 2. Maintaining your external rotation, lift your left leg about one foot off the floor.
3. Lengthen your leg as you lower to the starting position. Do two to four sets of 10 reps on each leg.
Hamrick says: "Keep your spine long throughout this exercise. Don't allow the lifting of your leg to cause you to crunch in your lower back. Hold your abs, and imagine lengthening to bring your leg up, rather than lifting."
Whether you're rocking pink tights or booty shorts, a pair of toned hamstrings can be your best accessory onstage. Strong hamstrings give you a long, lean look by evening out your thighs and keeping your quads from getting bulky. Even better? They power développés that reach toward the sky, not the horizon. "Once your leg passes 90 degrees, it's the hamstrings—not the quads—that hold it there," says Jessica Sander, a personal trainer and freelance dancer in NYC. "They're the keys to high extensions."
Build these exercises into your routine three to four times a week, and you'll start to see—and feel—results in about a month. Just make sure you don't simply go through the motions. "The hamstrings don't always fire on their own—other parts of the body like to take the work," warns Sander. "So for all of these, pay close attention to your form."
You'll need:
1. a stability ball
2. a set of 10-lb. weights
Do each move 15–20 times. Rest, then repeat.
Dead Lift
Stand in parallel with your feet directly under your hips. Hold a 10-lb. weight in each hand, with your palms facing your thighs.
Hinge from your hips with a flat back and lower the weights to just above your feet, keeping your hands close to your shins and your head in line with your spine. Initiate from your hamstrings to slowly return to the standing position.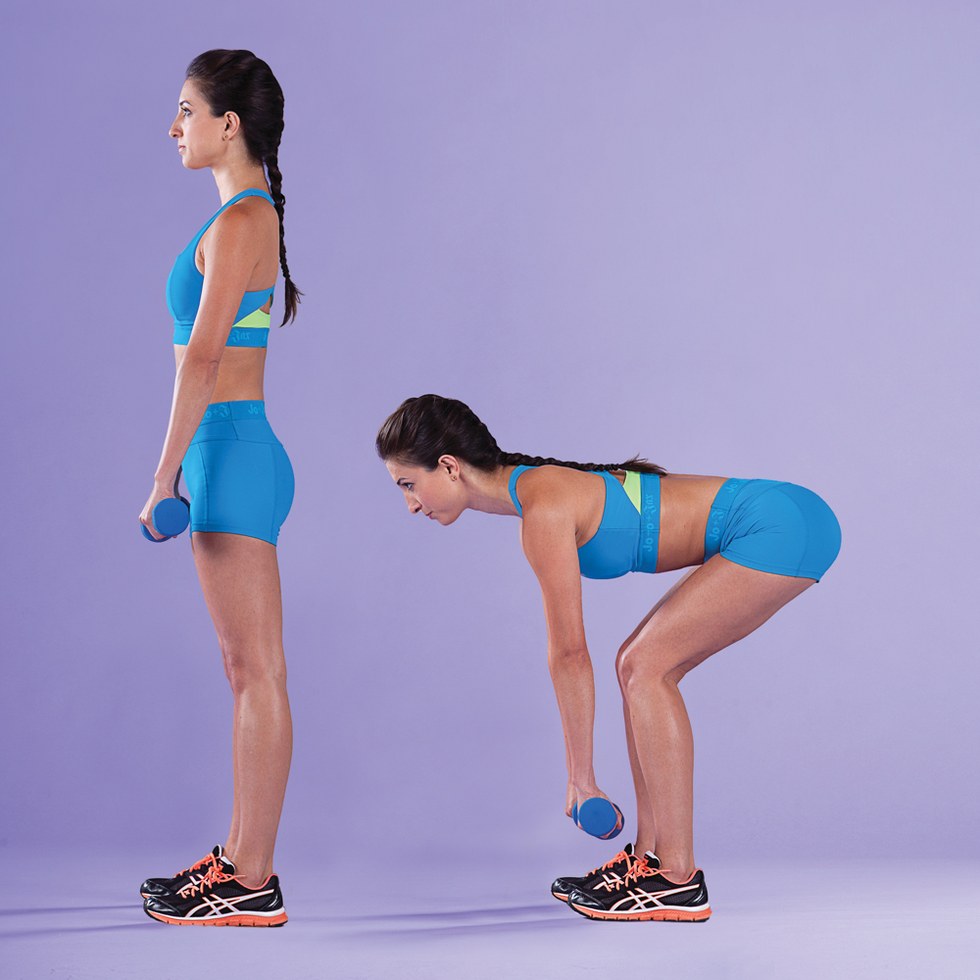 Sander says: "In the flat back position, let your legs be relaxed, but pull your abs in."
Single-Leg Bridge
Lie on your back with one leg reaching straight up to the ceiling, and the opposite foot flat on the floor with the knee bent.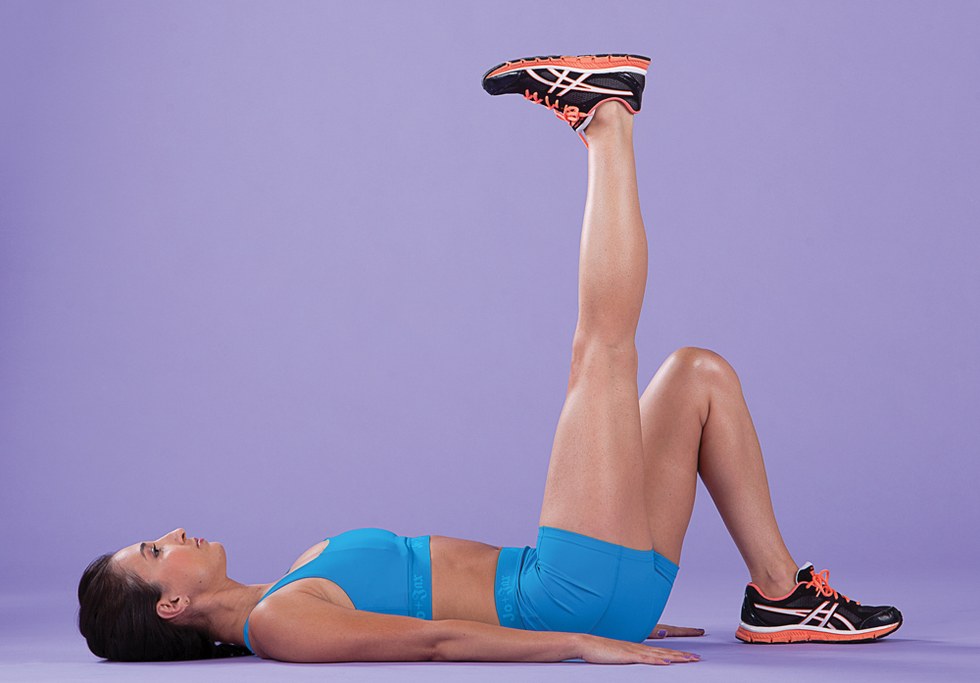 Slowly raise your hips until your knees, hips and shoulders come into a straight diagonal line, then return to the floor. Switch legs after a set of 15–20 reps. You should feel the burn in your supporting leg.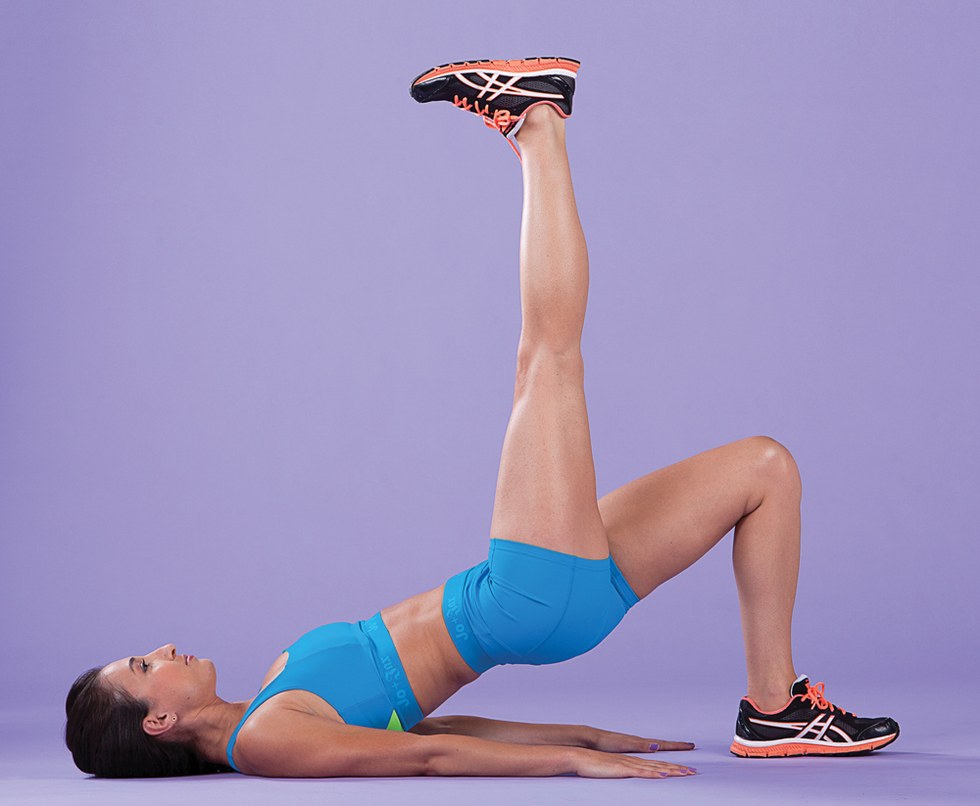 Sander says: "Don't use that leg in the air for momentum—keep it perpendicular to the floor the whole time. This is a small, controlled movement."
Quadraped Hamstring Curl
Start on your hands and knees, making sure your hips are over your knees and your shoulders are over your wrists. Reach one leg straight back, lifting it off the floor so it's parallel to the ground and in line with your hip.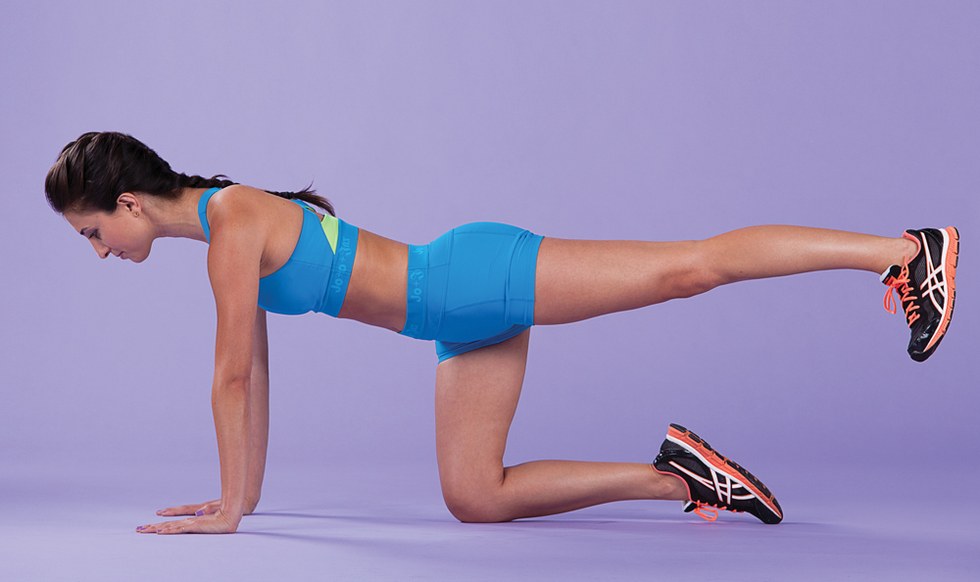 Without letting your quad drop or your hips move, engage your glutes and bend your working knee until your shin is perpendicular to the floor, then straighten. Switch legs after a set of 15­–20 reps.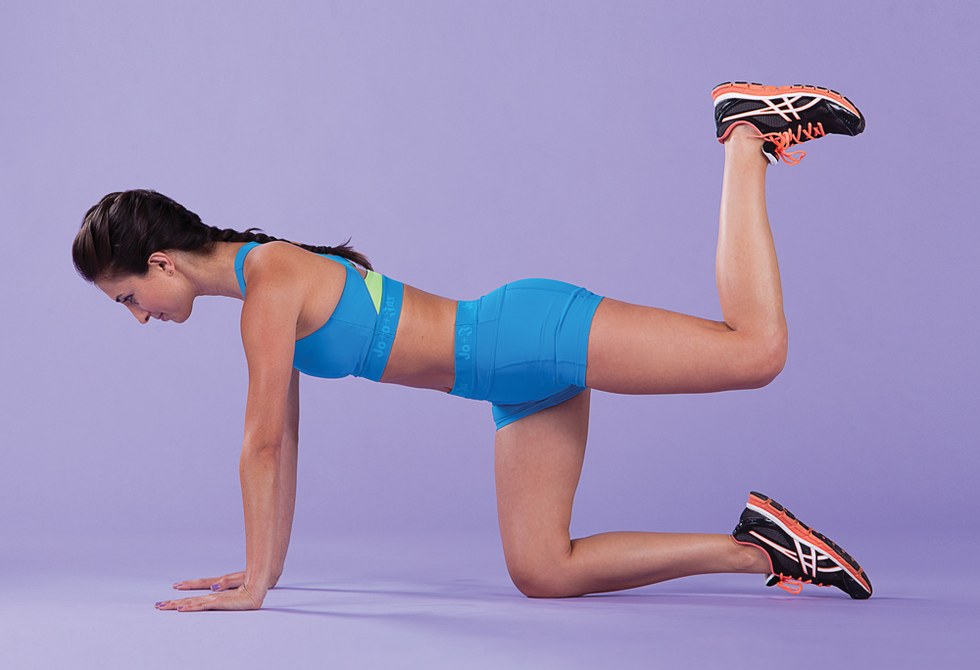 Sander says: "Keep your abs pulling up the whole time so your back doesn't arch."
Hamstring Rollout
Start by lying on your back, with your knees bent in tight and a stability ball under your heels, as close to you as possible.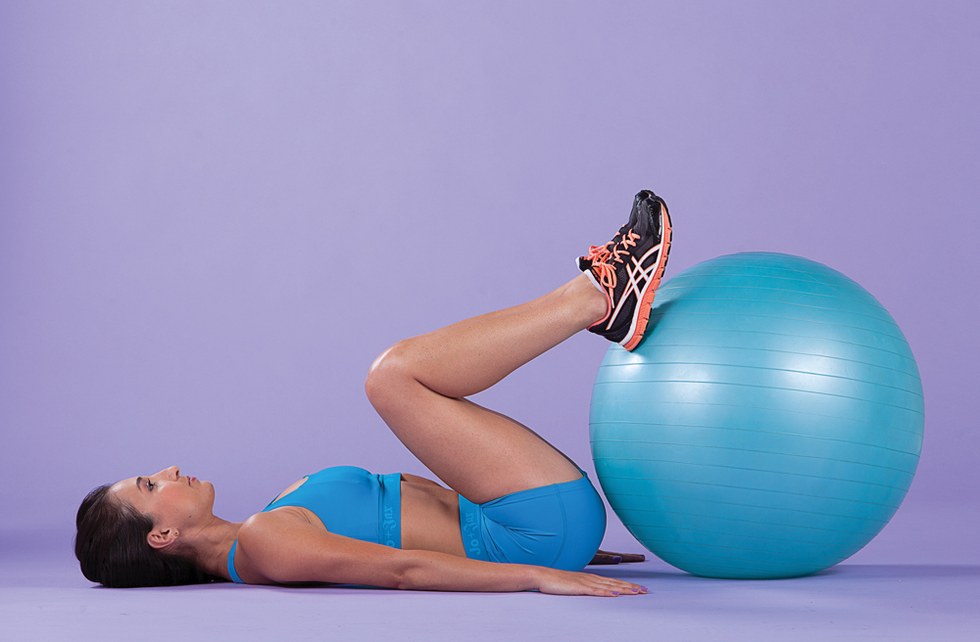 As you exhale, press your feet into the ball to lift your hips. Keep your shoulders and neck relaxed—there should be space between your chest and chin.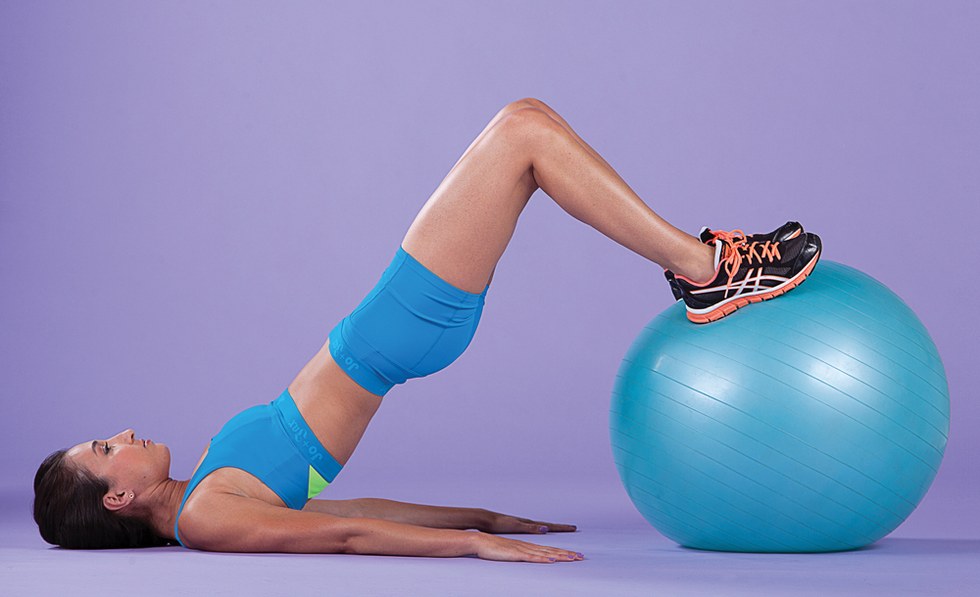 Keeping your core engaged, straighten your legs to roll the ball away from you, and then draw it back. Repeat 15–20 times. The goal is to keep your hips up in the air the entire time, but if you need to modify the exercise, you can come down between repetitions.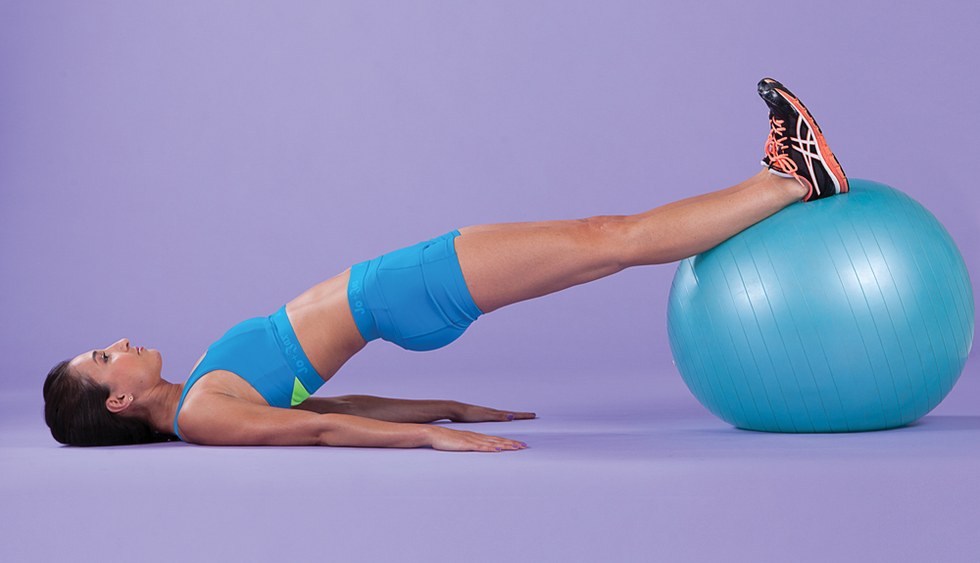 Sander says: "You have to engage your glutes for this one, or you'll get a charley horse in your hamstrings."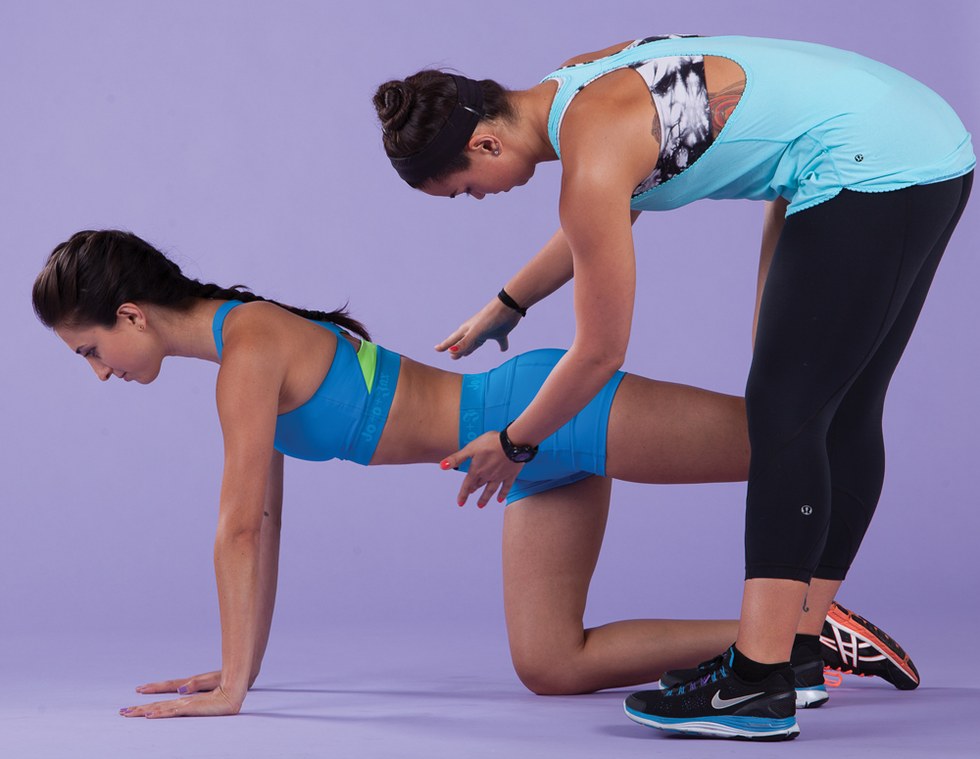 Watch it! Click here to see Jessica Sander walk our fabulously fit model, Elizabeth Yilmaz, through these moves.
Jessica Sander, a personal trainer certified by ACE, AFFA and Stott Pilates, holds a BFA in dance from Towson University. Elizabeth Yilmaz is a freelance dancer based in NYC.
Photography by Erin Baiano. Hair and makeup by Chuck Jensen for Mark Edward Inc. Modeled by Elizabeth Yilmaz. Clothing provided by Jo+Jax.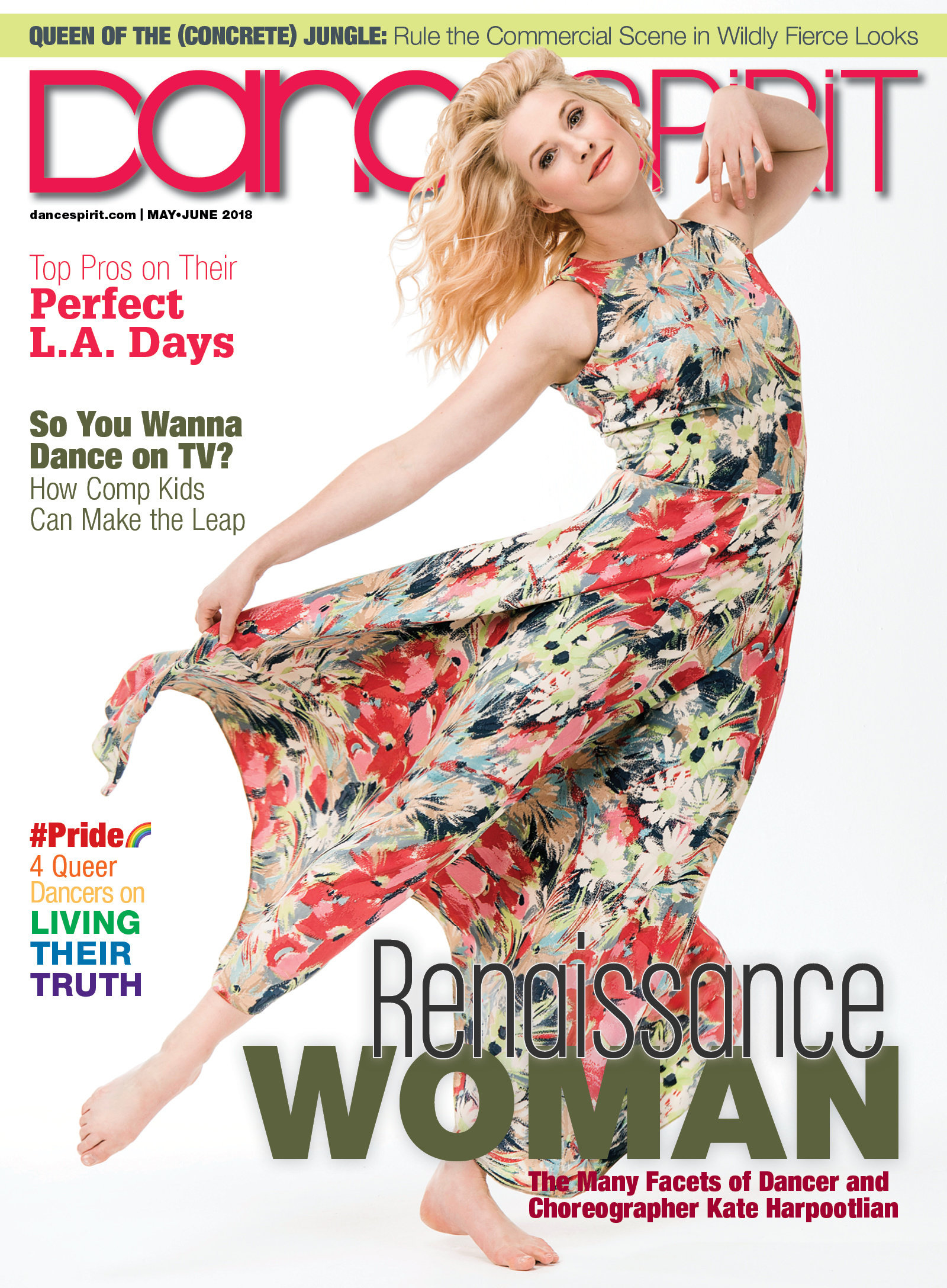 Get Dance Spirit in your inbox