Gesundheit!
Spring is nearly here! Get ready for longer days, pretty flowers—and pollen. According to the U.S. Food and Drug Administration, roughly 35 million Americans suffer from pollen allergies. But how can you be sure you're dealing with allergies, and not the common cold? This chart from the National Institute of Allergy and Infectious Diseases (NIAID) can help you recognize the difference.

Runny nose? Check the color of your mucus. If it's clear, you could have allergies, but if it's yellow or green, it's probably a cold.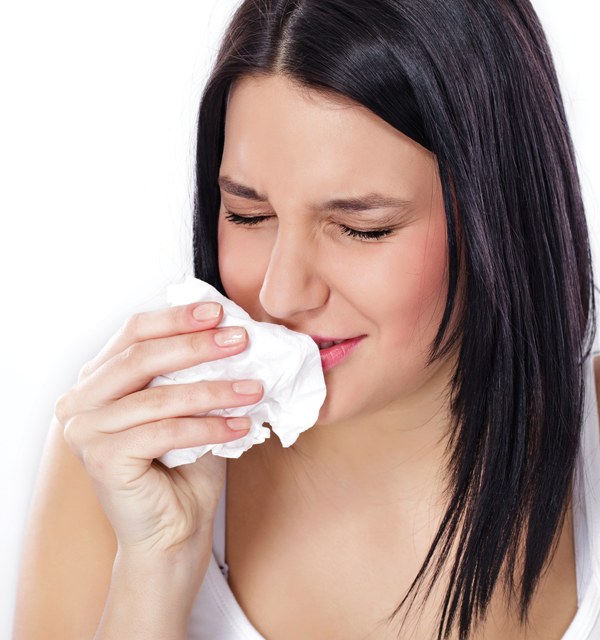 (Photo by Igor Mozjes/Thinkstock)
Colds usually last less than two weeks, whereas allergies can last anywhere from days to months, depending upon the length of exposure to allergens.
How to deal? Whether you have a cold or allergies, the NIAID recommends antihistamines for itchy eyes and sneezing, and decongestants for sinus swelling and discomfort. If your symptoms indicate allergies, nasal steroids and immunotherapy (allergy shots) can further reduce symptoms, and allergy testing can help you pinpoint which allergens to avoid.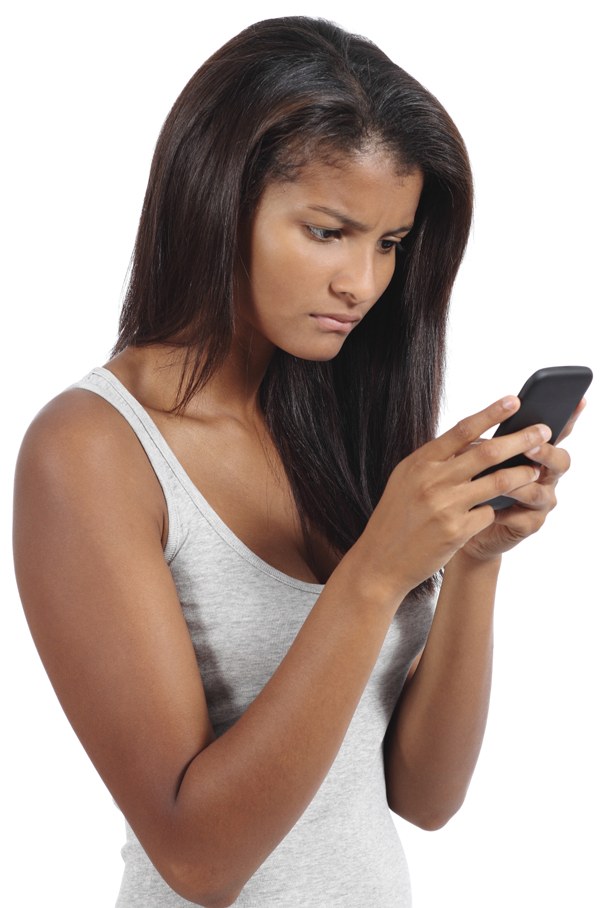 (Photo by Antonio Guillem/Thinkstock)
FOMO Frenzy!
FOMO, or "Fear of Missing Out," is the feeling that our friends might be having better experiences than we are. Thanks to social media, we're constantly distracted from our own lives by the possibility that something more interesting may be happening.
If you find yourself checking your phone during every rehearsal break instead of chatting with your dance buds, you could be letting FOMO rule your life. Take an online test at ratemyfomo.com, recently developed by researchers at the University of Essex, to get your FOMO in check.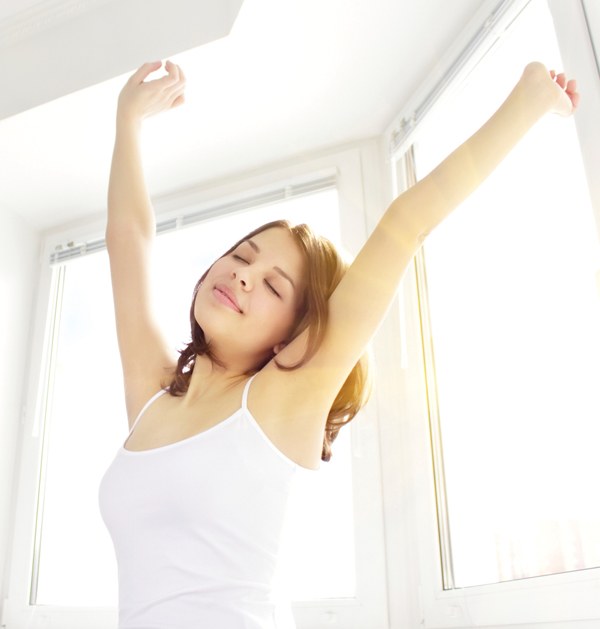 (Photo by Anton Maltse/Thinkstock)
Did You Know?
Getting morning sunlight can help us fall asleep at night. Research suggests that the blue light in morning sunlight helps regulate when our bodies naturally wake up and fall asleep. As soon as we're exposed to it, our bodies begin a gradual, day-long process that eventually helps us fall asleep. The bottom line? Get some morning sunlight when you can. Your body will thank you for it later!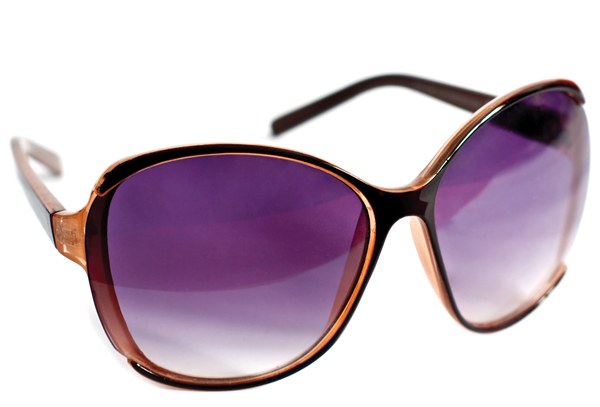 (Photo by Roman Gorielov/Thinkstock)
Are your sunglasses really protecting your eyes? Check the label for phrases like "99–100 percent UV absorbent" or "UV 400" to be sure they block most UV rays.
Feb. 10, 2014 11:38AM EST
Jan. 01, 2014 11:55PM EST
Imagine posting on Instagram, Twitter or Facebook and getting thousands of "likes" and dozens of comments—in minutes. For Sophia Lucia, Hayden Hopkins, Mia Diaz and Ashi Ross, that's what using social media is like every day. These four dancers have become internet sensations, thanks to their exceptional technique, winning personalities and eagerness to interact with their fans online. But is being "internet famous" really all it's cracked up to be? Dance Spirit spoke to Sophia, Hayden, Mia and Ashi to get the scoop.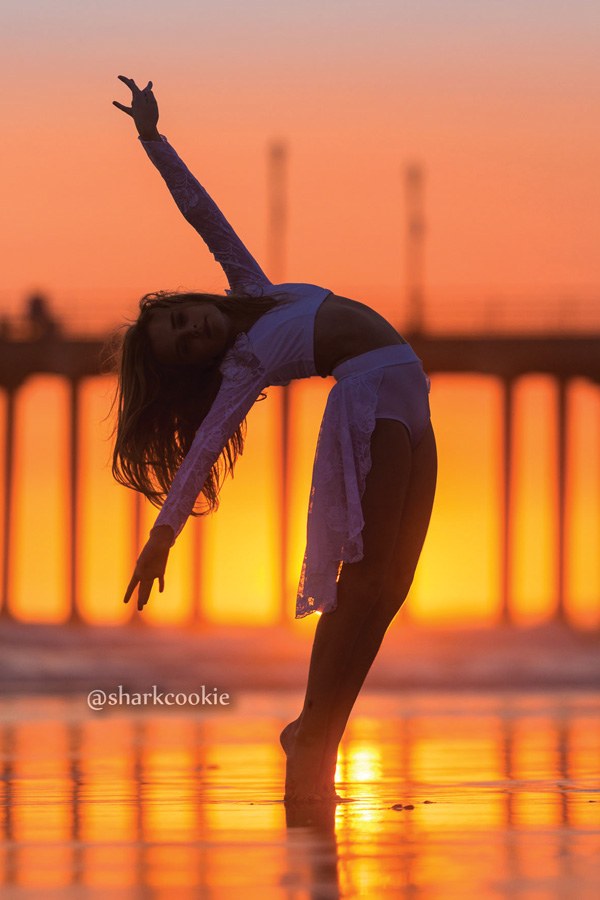 Mia (David Hofmann)
The Perks
The biggest benefit to online fame is definitely visibility. Having a devoted fan base and lots of easily accessible photos and videos online can lead to an array of opportunities, including professional jobs.
"People can Google my name and learn all about me," says 12-year-old Mia, a Miami native who trains at Stars Dance Studio. At press time, Mia had more than 312,200 followers on Instagram, 29,900 followers on Twitter and 6,400 Facebook fans. "I've gotten job opportunities when people found me online and emailed to see if I was available—film and TV auditions, assisting jobs with choreographers, appearances at charity events."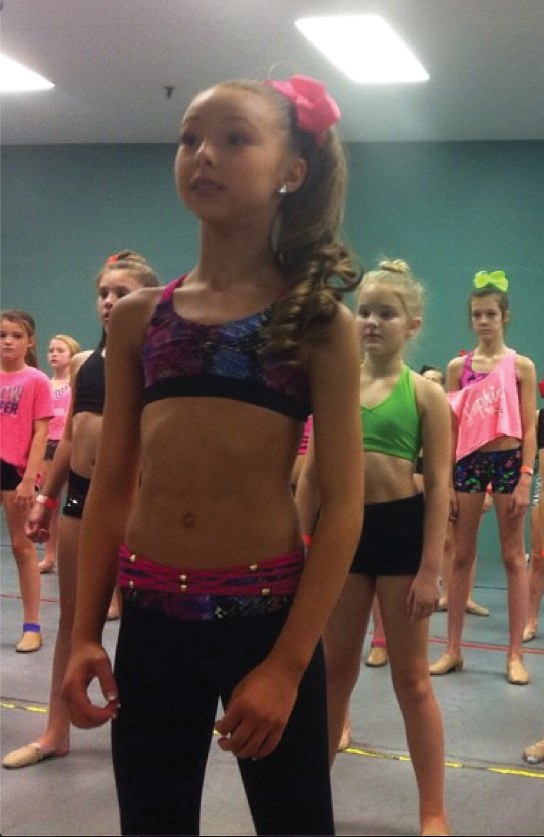 Sophia
Similarly, 11-year-old Sophia got the opportunity to perform on "So You Think You Can Dance Ukraine" after being spotted on YouTube. An alum of "Dance Moms" who trains primarily at San Diego Dance Centre, Sophia also uses her social media following—more than 433,800 Instagram followers, 54,800 Twitter followers and 58,900 Facebook fans—as a platform to promote her touring appearances and her California Kisses clothing line.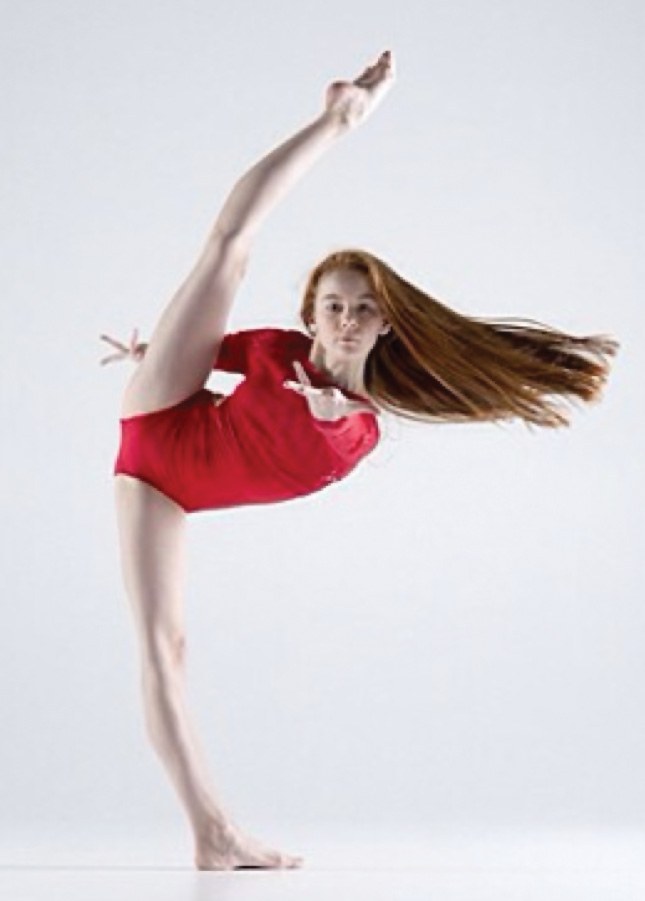 Ashi (Primal Studios)
For 14-year-old Ashi, an Australian who has appeared in professional productions of Mary Poppins and Chitty Chitty Bang Bang at Sydney's Capitol Theatre, on the TV show "Dance Academy" and as a backup dancer on "Australia's Got Talent," social media fame has led to photo shoot opportunities, a Details Dancewear Australia sponsorship and an offer to attend International Ballet of Houston on scholarship next summer. Ashi currently has more than 148,600 followers on Instagram, 2,300 followers on Twitter and 6,100 Facebook fans.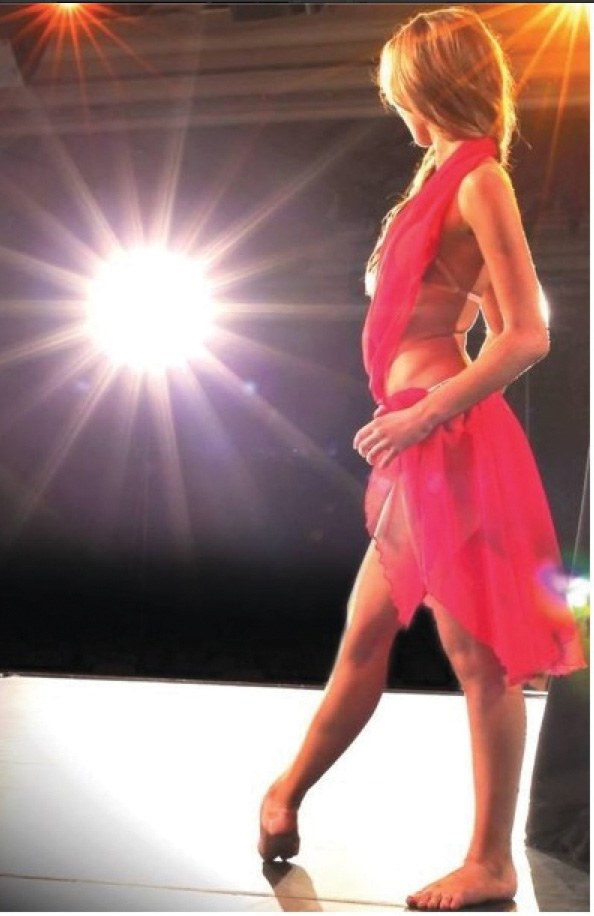 Hayden
Social media is also a great place to network with fellow dancers. Sixteen-year-old Hayden learned the power of her network firsthand when she won Dance Spirit's annual Cover Model Search in 2013 after using social media to get the word out about the competition. But beyond her CMS win and the other perks from her online fame—including dancewear sponsorships and teaching and travel opportunities—Hayden genuinely enjoys using social media as a social outlet. "I love that social media has allowed me to meet so many other dancers," says Hayden, who has more than 99,600 Instagram followers, 8,600 Twitter followers and 11,900 Facebook fans. "People will come up to me at conventions and introduce themselves, which is really cool."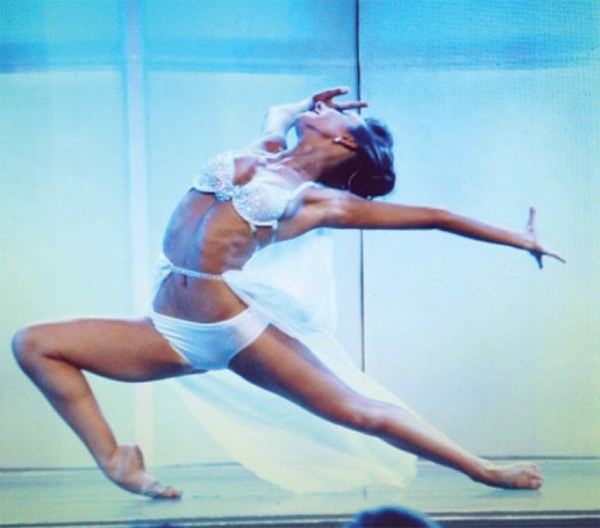 Hayden
The Drawbacks
If the upside to putting yourself out there online is increased visibility, the downside is…increased visibility. Sharing pictures, videos and thoughts with thousands of people inevitably leads to a few negative responses. "People can be cruel," Hayden acknowledges. "They'll write things they'd never say to my face—comments about my body, about my costumes and about me." How does she deal? "I try not to let it mean anything. Those people don't actually know me."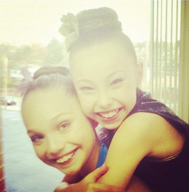 Sophia and Maddie Ziegler of "Dance Moms"
"Kids can hide behind a computer screen and bully others, and it makes me sad," Sophia says. "When people do that on my photos, it hurts, and it makes my family hurt, too. I tell myself, Haters are gonna hate, and you have to deal with it—but I also want to prevent more bullying from happening." To do her part, Sophia has started using her social media accounts to speak out against cyber-bullying.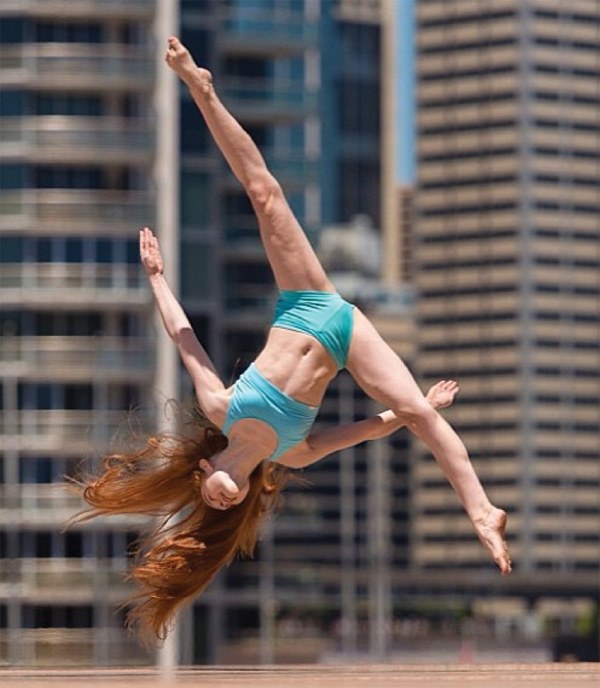 Ashi
"When you're in the public eye, you have to have a thick skin," Mia says. "If there are rude comments on my pages, I delete them. I'd rather focus on the positive than on the negative." Ashi agrees: "Sometimes people are mean and critical, but if I see a bad comment, I just delete it. If someone continuously writes rude things, I block him or her. What keeps me inspired and motivated is that I have so many followers who are supportive."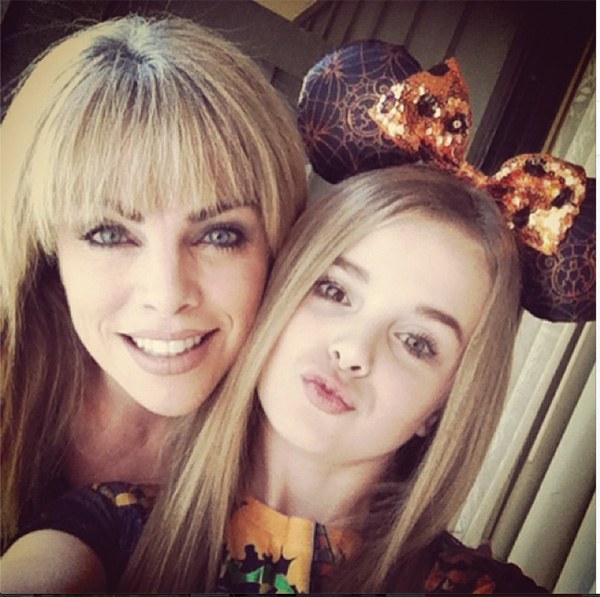 Mia and her mom
The Bottom Line
It may be fun to be an internet celebrity, but it also takes work. Hayden, Sophia, Ashi and Mia all share new photos, videos and written posts at least once a day, every day. They do their social media postings themselves, or with a little help from their moms—especially Sophia and Mia, who, because they're under 13, are required by the social networks to have parent-supervised accounts.
They have to consider what fans want to see and be thoughtful about how much of their private lives they share. "Some pictures don't make the cut to go online," Mia says. "You have to be careful about what you post because you don't know who's out there looking at it." Sophia is vigilant about not sharing pictures with bad technique—"If my foot isn't pointed, someone will comment on it," she says—while Hayden tries not to post pictures where she looks too thin, also to avoid negative feedback.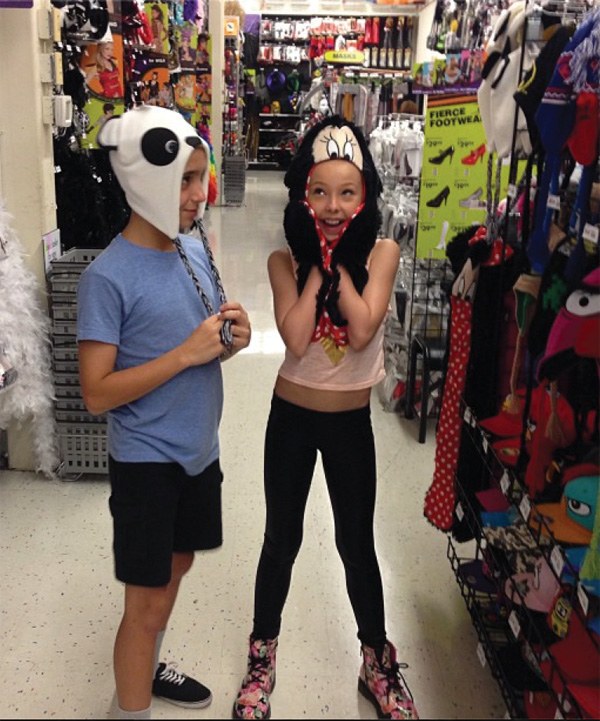 Sophia and her duo partner, Gino
What gets the most "likes"? Dance pictures and videos are at the top of the list, but fans also want to see life outside the studio. "I share a lot of things going on in my life," Sophia says. "Pictures of my family, my dogs, me hanging out with my friends—I'm a normal girl, and people like to see that."
Interacting with fans is a big part of the job. Mia, Sophia, Hayden and Ashi take the time to reply to comments and share fan-made videos and images with the rest of their followers. They run contests, too. "I've done contests on Instagram to give away California Kisses outfits and autographed pictures," Sophia says. "For my birthday, we asked fans to make an edit of me, and I picked my favorite to win a prize." And, of course, there are the face-to-face interactions, from meeting followers casually at dance conventions (or while out shopping, which has happened to Ashi) to running workshops, appearing at events and video-chatting with fans.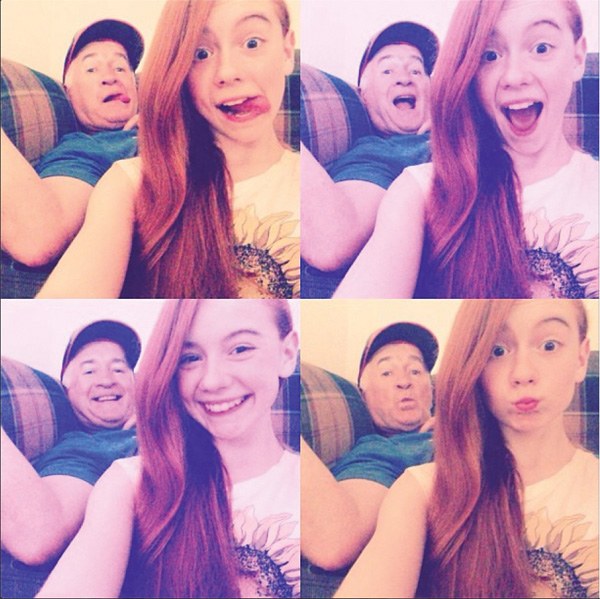 Ashi and her dad
In the end, Sophia, Hayden, Mia and Ashi aren't on social media to be famous—they're on it because they enjoy it. "I love seeing other dancers' pictures and sharing my own," Hayden says.
Sophia agrees: "It's fun to interact with my fans and my friends online, and it's great to have a way both to give back—like trying to stop cyber-bullying—and to inspire other dancers to go for what they want in life," she says. Mia also sees social media as a way to reach out: "I want to be known as a positive role model," she says.
"I never thought I'd get as many followers as I have now," Ashi says. "I'm really grateful for everyone who follows me."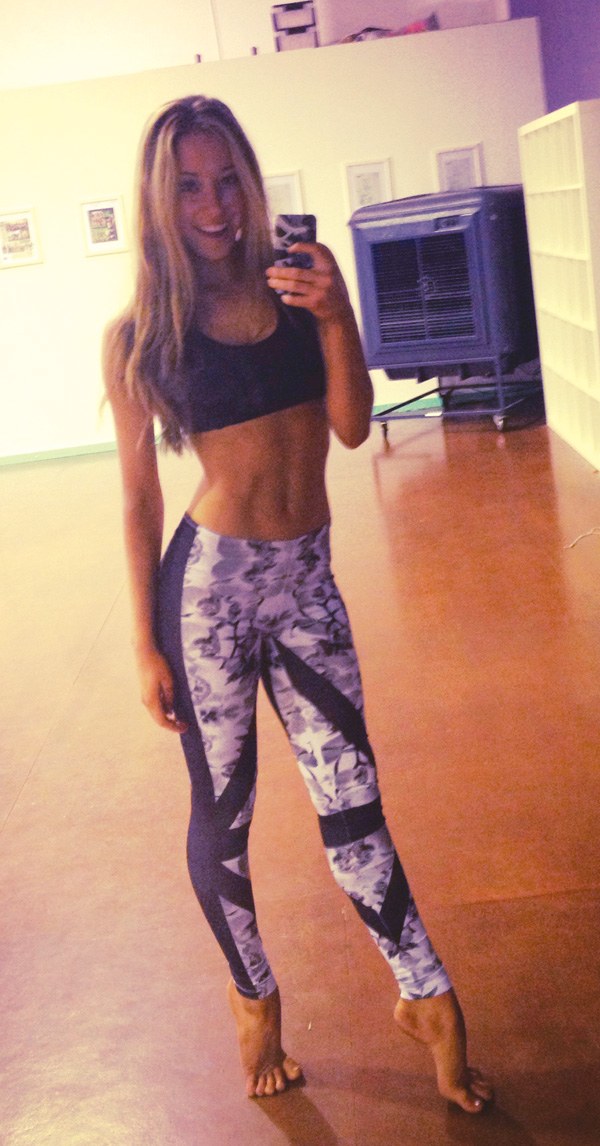 Hayden
FROM SELFIE TO SUPERSTAR
No one starts out with 100,000 social media followers—and very few people make it that far. So how did these four dancers become online sensations? While dedicated posting and quality content are important, it also takes a little luck to stand out from the crowd.
"I started my Instagram when I was 14," Hayden says. "At the time, I already had dance videos on YouTube and had maxed out my friends on Facebook, so Instagram was another way for people to follow me." She did a lot of in-person networking at conventions that year, meeting as many other dancers as she could. "I won a couple Nationals and started putting dance pictures online. I gained followers pretty quickly!"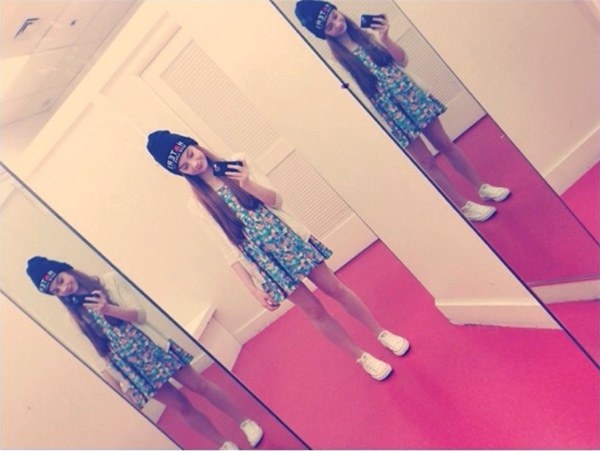 Ashi
Ashi's turning point came when she reached 10,000 followers. That was when Instagram started featuring her on its "Popular" page, putting her in front of even more avid dance fans. Her numbers went through the roof, bringing her to almost 140,000 followers for her year-old account.
TV helped launch Sophia into the internet stratosphere. "I was so happy to hit 10,000 followers in October 2012," she says. "Then I did 'Dance Moms,' and my numbers just blew up." More media appearances—including a performance on "Dancing with the Stars" in May 2013 following her Guinness World Record–breaking 55 pirouettes in March 2013—helped her online popularity continue to grow.
When Mia launched her Instagram account, she was already very popular on YouTube. After she won first overall Junior lyrical solo at Hall of Fame's Boca Raton regionals in 2011, the competition posted a video of her winning routine, "Ave Maria," on its site. The same video was shared on YouTube, where it became wildly successful and led to more videos and more fans. Joining Instagram was a natural next step, and it only took Mia a year to get to 100,000 followers.

JOIN THE MOVEMENT
Build your own online community by posting with some of social media's most popular "theme day" hashtags:
#MusicMonday
Share songs you love with your followers.
#TiltTuesday
Post a photo of yourself rocking your best side tilt! (Just be sure to wear a tasteful outfit with this wide-legged pose.)
#TutuTuesday
Ballerinas unite to share gorgeous tutu pictures on this theme day—so add yours.
#WayBackWednesday, #ThrowbackThursday and #FlashbackFriday
For these days, pull out pictures from an old recital or the first time you wore pointe shoes.
#FridayReads
For bookworms, here's when you can tell your friends and fans about the best dance book (or Dance Spirit article!) you read recently.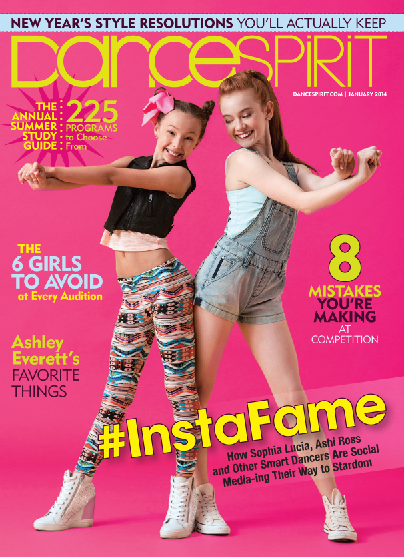 The new issue! Cover shot by Erin Baiano.
The funnest day in the Dance Spirit office every month is "new issue day." Even though we've just wrapped up months of working on a particular issue, it's still crazy exciting when we actually get our copies and get to hold them and gawk at them and bask in their new shininess.
The January 2014 issue arrived the other day and, in accordance with our little tradition, we all squealed and flipped through every page with an insane amount of excitement. This issue is an especially big deal because we've got some major dance celebrities on the cover: Sophia Lucia and Ashi Ross. They may be young and teeny-tiny, but these two girls collectively have hundreds of thousands of followers on Instagram, Twitter and Facebook. They're kind of a big deal.
We got a little peek at why people are so obsessed with Sophia and Ashi during their cover shoot in NYC. Ashi flew in all the way from her home in Australia (crazy!) and Sophia took a cross-country flight from San Diego, where she lives. The two of them hit it off right away, striking cute, fun and silly poses for our photographer, Erin Baiano. They had about a billion outfits and pairs of shoes between the two of them (I was hugely jealous of Sophia's wacky leggings and Ashi's high-waisted shorts that tie in the back) and, best of all, we got to shoot them on the hottest of hot pink backgrounds (a personal dream come true).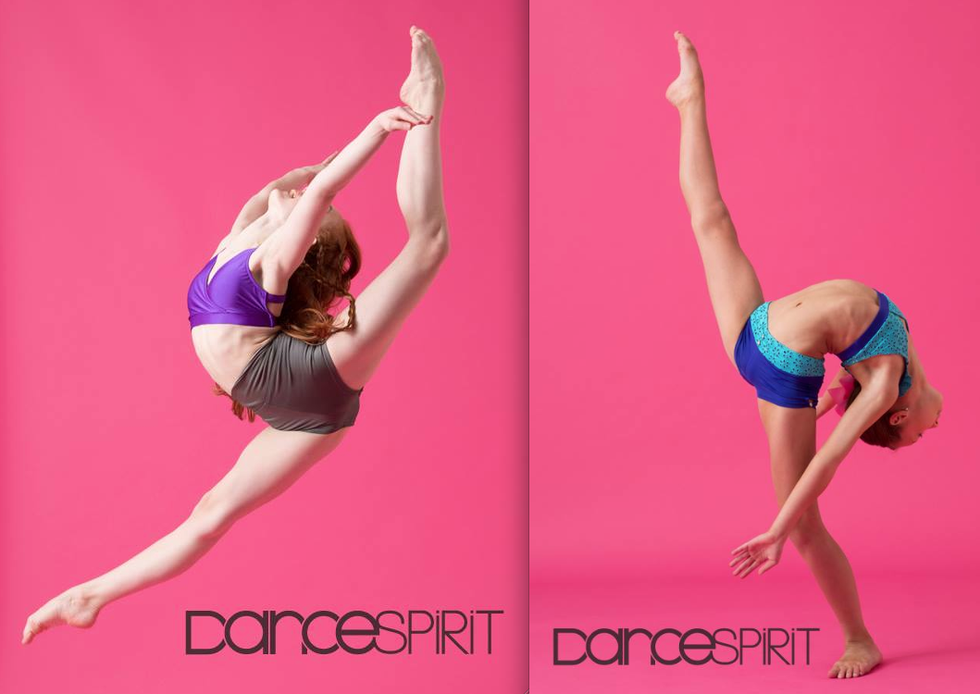 Ashi on the left, Sophia on the right, awesome across the board. Photos by Erin Baiano.
As always, there's lots for your viewing and reading enjoyment:
The January issue is available now online, and will be at your local Barnes & Noble and favorite dance retail stores on December 31.
Happy reading!
Photo Galleries
Dec. 11, 2013 11:36AM EST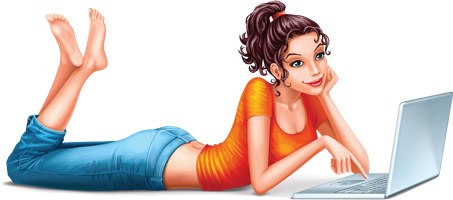 Last March, Kendall Shepherd, coach of the Lake Oswego High School dance team, led her group to competition victory. "We were thrilled to win for the second straight year," she says. But the enthusiasm quickly turned to disappointment. "We hadn't even left the arena before the backlash started. Within hours, my girls saw updates on Twitter about the unfairness of the competition, saying the trophies were awarded based on popularity, not dancing." The team's big day was tainted.
You've probably posted online about an accomplishment, whether it's a competition win or a pirouette record. You're riding high—until someone posts a negative response. You can get 50 compliments about your routine, but it only takes one mean-spirited comment to deflate your excitement. Dancers have a natural instinct to share their work, and everyone is entitled to his or her own opinion. But poor internet etiquette has an instant, hurtful impact. So what's appropriate online behavior? Read on.
Don't Stop Posting
Hannah Frederick, a student at Broadway Dance Center in NYC, knows the frustration of getting negative responses—but that doesn't stop her from posting performance videos online. "It's impossible to make destructive comments feel good," she says. "But when you shut yourself off to criticism, you stop growing."
You may worry about someone writing a nasty response to something you've put out there. But the internet is a fantastic forum for reaching a wide audience. "Today's online media give people powerful opportunities for feedback," says Stefan Becker, a licensed mental health therapist whose clinical work includes youth counseling. "When you post your performances, you have an instant audience." Hannah adds: "It's important to share what we can give the world. It takes courage, but it's worth it."
Master the Art of Humble Bragging
It's natural to want to share your victories, but there's a fine line between being proud of yourself and bragging. Instead of filling your news feed with posts like "Just did 10 pirouettes in class! I'm the new record holder at my studio!" try: "So thankful to my teacher for helping me reach my pirouette goal." Showing gratitude changes the tone of your post. Being humble makes you more likeable online, where it's hard to figure out a poster's tone.
Don't Feel the Need to Respond
When negative comments are made, it's hard to undo the damage, and harsh words are more likely to stick with you than happy ones. But don't take it too personally, and if you're receiving mean comments, the best thing to do is say nothing in return. "A negative remark is felt as an attack by the person on the receiving end," says psychologist Amy Stern Stoffelmayr. "If your response is defensive, that escalates negative feelings." Sometimes people just want a reaction, and a back-and-forth exchange fuels that fire. "The commenter feels attacked and responds, so it continues and builds emotional distress," Stoffelmayr says.
If you feel it's important or beneficial to respond, proceed with caution. Imagine you're face-to-face with the person you're writing back to. "Ask yourself if you'd make the same comment to them personally," Becker says. Then, wait 24 hours before you respond. "If you find yourself wanting to lash out, think about why you're feeling angry," Stoffelmayr says. Give yourself a chance to cool down, so your comments are thoughtful and not impulsive.
If You Want to Critique Someone Else
Maybe you're watching a friend's routine online and feel you can offer advice, or your cousin posted a photo of a wobbly arabesque and you've got the perfect tip to help her. Go ahead and comment—but choose your words wisely. "Online criticism is very public," Becker says. While constructive criticism is often appreciated, telling someone she "might want to speed up her spot to stay on the music during her fouettés" isn't the same as posting that she "stinks at turning."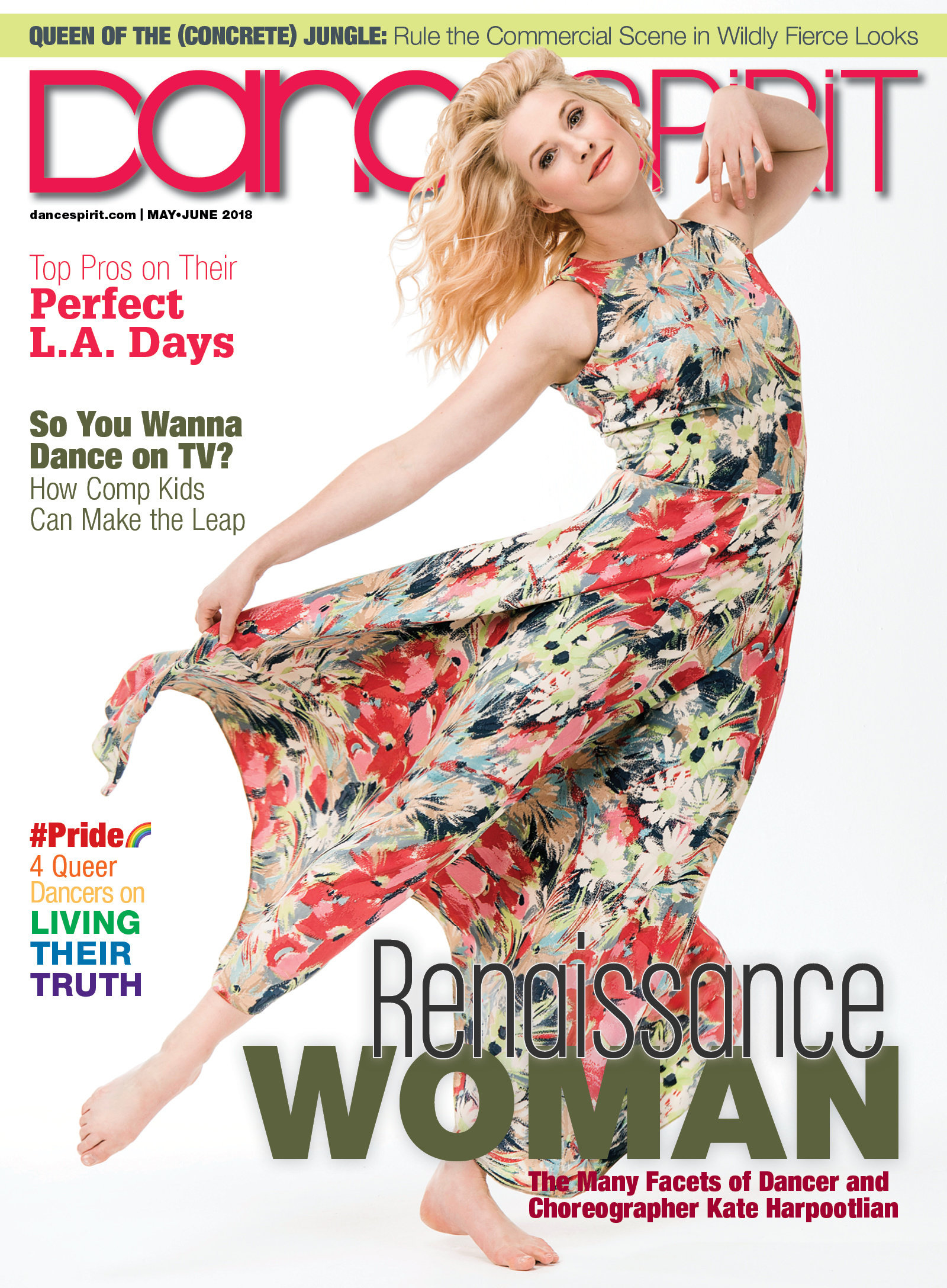 Get Dance Spirit in your inbox