Mar. 23, 2017 05:36AM EST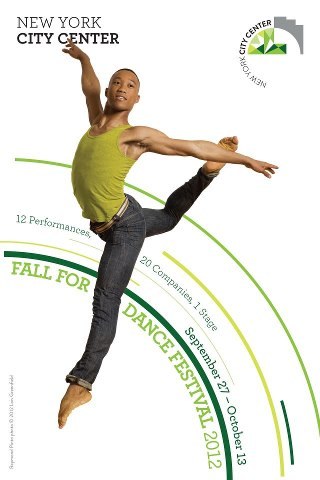 20 companies, 12 performances, $15 a ticket: By the numbers, New York City Center's Fall for Dance festival looks pretty impressive. When you add in the fact that the annual event often features troupes rarely seen in NYC, and that it seems to ignite the city's passion for dance—hordes of people line up every year to snag FFD tickets—the picture gets even better.
The festival opens tonight with a program featuring Jared Grimes, Martha Graham alum Fang-Yi Sheu, Nederlands Dans Theater and the BalletBoyz. (Enough bold-faced names for you?) But even if you weren't able to get tickets, swing by City Center this evening to hang out at Lounge FFD. Every night of the festival it'll offer great food, fun music—and, if you arrive at the right time, maybe even a chance to dance with some of the evening's performers.
Miraculously, there are still a few tickets available to the October performances—but we're guessing they won't last long. Get 'em while you can!
Fall for Dance—one of the best offerings during NYC's packed fall season—has ended until next year. The whirlwind festival presents some of the world's best companies, first during two free evenings at the Delacorte Theater in Central Park, and then through a series of $15 performances at New York City Center. It's no surprise that tickets disappear like whoa. (And it makes us super happy to know that New Yorkers anxiously wait for their chance to go see some seriously good dancing.)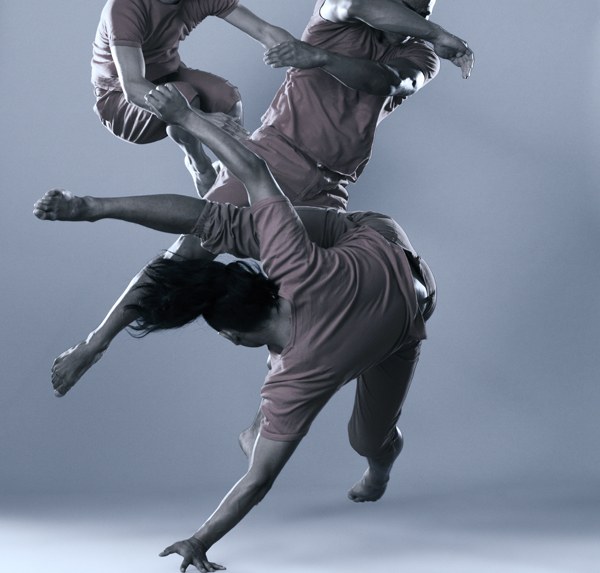 Black Grace (photo by Duncan Cole)
Here at DS, we love Fall for Dance because it gives us a chance to see some of our favorite American companies, along with international groups that don't come through very often. There are also always a few gems that we didn't already know about, but that completely blow us away. Read on for my top five pieces from Fall for Dance, 2014.
Black Grace is New Zealand's leading contemporary dance company. Their work pulls from traditional Samoan dance and storytelling, as well as contemporary movement. The two pieces they performed—Minoi and Pati Pati—showcased the company's powerful athleticism, perfect unison and mesmerizing cannon, along with some beautiful singing and chanting.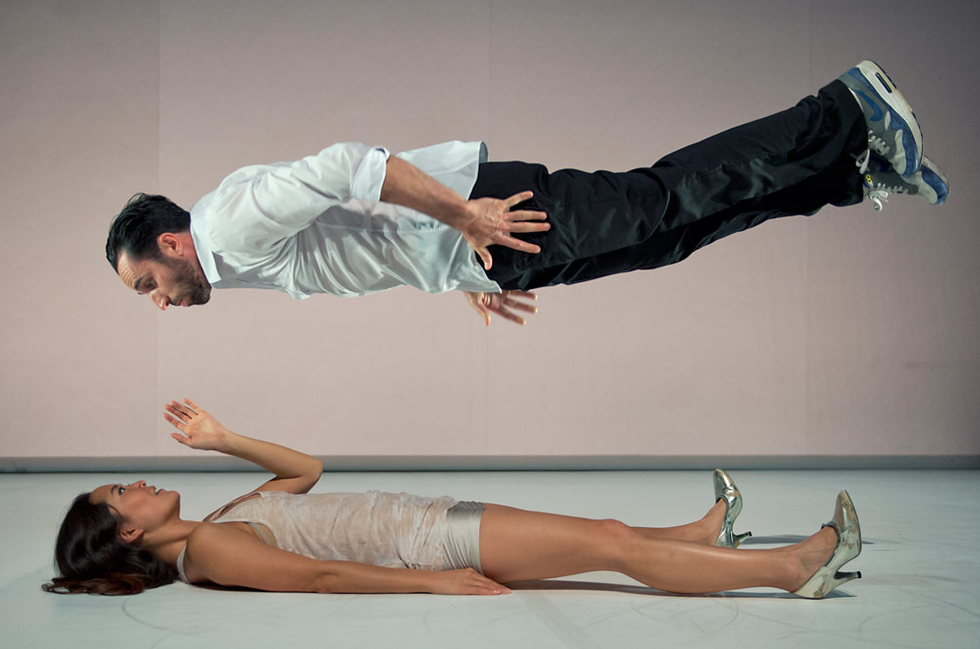 Sébastien Ramirez and Honji Wang (photo by Nika Kramer)
After I picked my jaw up off the floor, I was left wondering who the heck Sébastien Ramirez and Honji Wang are. It turns out they're a collaborative duo from Europe, under the name Wang Ramirez. Wang is a contemporary dancer with strong ballet and hip- hop training, while Ramirez is an award-winning b-boy. Their piece, AP15, was AMAZING, and pretty much defined fluidity and precision.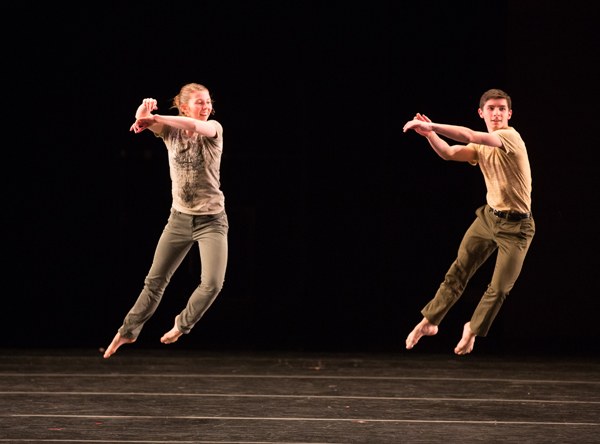 Cleo Person and Dean Biosca in Torrent (photo by Rosalie O'Connor)
The Brian Brooks Moving Company performed Torrent—commissioned by Julliard in 2013—with members of Julliard Dance. The performers poured on and off of the stage, assembling and reassembling to form groups and lines. Given the title, I was expecting something dark. Instead the piece was non-stop, joyous dancing. The best part? I couldn't tell the difference between the company members and the Julliard students.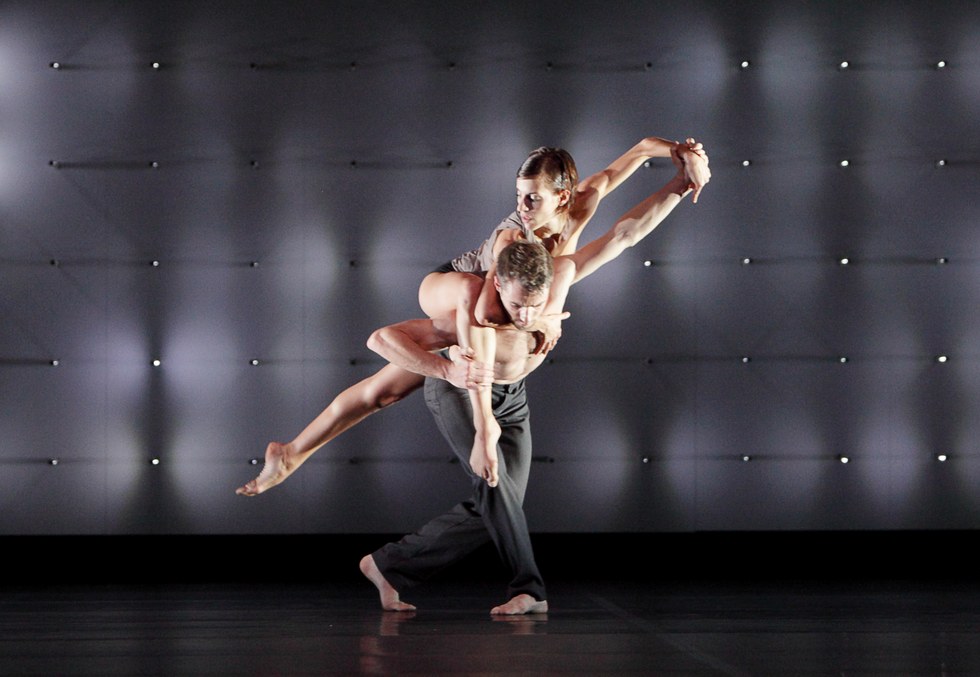 Catarina Carvalho and Alexander Whitley (photo by Ravi Deepres)
I'm not going to lie, I was very excited to see Wayne McGregor | Random Dance live—and McGregor's ferocious choreography and brilliant lighting for Far did not disappoint. I was especially impressed with the men. Besides having bodies cut from stone, they were also super flexible and expressive.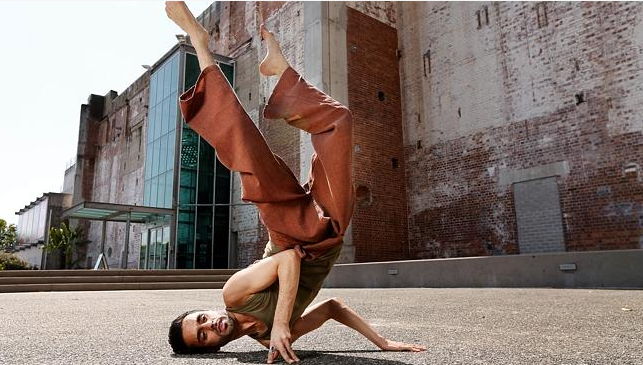 Aakash Odedra (photo by Jeff Camden)
Lastly, Aakash Odedra performed Nritta, a classical Kathak variation. Odedra also choreographs contemporary work, and often draws on his training in classical Indian dance. His performance was so fast and precise he seemed slightly otherworldly—but completely amazing.
Yes, the days are getting shorter, Nutcracker rehearsals are starting and you're back in school. There are lots of potentially tedious things about September. Fortunately, fall also means a ton of dance events are taking place in most major cities around the country. Here in NYC, Fall for Dance is one of the biggest, and believe us when we say that people go completely nuts for those $15 tickets. (Instantly doesn't even begin to describe how quickly they disappear.)
I was lucky enough to squeeze into the opening night performance at the Delacorte Theater in Central Park. The show included Hubbard Street Dance Chicago in Nacho Duato's Gnawa, New York City Ballet's Maria Korowski and Amar Ramasar in the pas de deux from William Forsythe's Herman Schmerman, Bill T. Jones/Arnie Zane Dance Company in D-Man In the Waters (Part I) and Bend in the Road, and collaboration between Lil Buck and former NYCB principal Damian Woetzel.
My highlights? Gnawa was the definition of fierce, particularly Kellie Epperheimer and Jesse Bechard in the central pas de deux. Hubbard Street is simply the best and strongest ensemble you can find. In Herman Schmerman, I was reminded that Maria Kowroski has perfect legs, and I learned that Amar Ramasar has great humor onstage. I got to see Bill T.'s company live for the first time and D-Man In the Waters (Part I) was an absolutely fearless, gasp-inducing joyride.
Check out the slideshow below, and we'll see you at the rest of the Fall for Dance shows!
[portfolio_slideshow nowrap=0 thumbs=true timeout=4000 showtitles=true showcaps=true showdesc=true]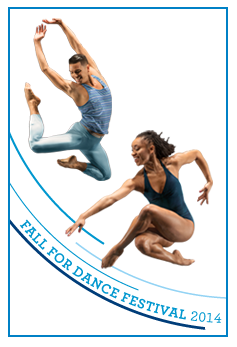 How'd it get to be August? Curse you, Summer, and your incessant need to fly by! Don't get us wrong: We know it ain't over yet (despite the recent influx of back-to-school commercials). Nevertheless, August always seems to bring a sense of nostalgia—anticipation of the end, reflection on memories made...
But today, on this second day of August, we're nipping the sentimental melancholia in the bud, because we're seriously excited for Fall. Fall for Dance, that is.
Here's a quick overview for FFD newbs: Fall for Dance is an annual NYC festival that brings together renowned dance companies from across the globe. It's basically a goodie bag of dance: Each program is so varied—ballet, modern, tap, hip hop, you name it—that there's truly something for everyone. Plus, with tickets at only $15, it's kind of the perfect opportunity to get a sense of which styles and companies you love, and which aren't so much your faves.
The festival kicks off with two free (yes, free!) performances at The Public Theater's Delacorte Theater in Central Park, September 13 and 14 at 8 pm. Then, tickets for the remainder of the festival, which will take place at New York City Center from October 8–18, will go on sale the following Monday, September 14, at 11 am. Check out the program lineup below, featuring 27 (!) different companies and artists.
Delacorte Theater Performances
Bill T. Jones/Arnie Zane Dance Company: D-Man in the Waters (Part 1) by Bill T. Jones
Hubbard Street Dance Chicago: Gnawa by Nacho Duato
Lil Buck: Bend in the Road (world premiere)
*Additional Company TBA
Program 1 (October 8 and 9 at 8 pm)
Black Grace: Minoi and Pati Pati by Neil leremia
San Francisco Ballet: Variations for Two Couples by Hans van Manen
Russell Maliphant/Sadler's Wells London: Two x Two by Russell Maliphant
Mark Morris Dance Group and Music Ensemble: Words (festival commission) by Mark Morris
Program 2 (October 10 and 11 at 8 pm)
Lucinda Childs Dance Company: Concerto by Lucinda Childs
Semperoper Ballett Dresden: Neue Suite by William Forsythe
Sara Mearns & Company: Stairway to Paradise by Joshua Bergasse
Alvin Ailey American Dance Theater: Minus 16 by Ohad Naharin
Program 3 (October 14 and 15 at 8 pm)
Trisha Brown Dance Company: Son of Gone Fishin' by Trisha Brown
Company Sébastien Ramirez & Honji Wang: AP15 by Sébastien Ramirez and Honji Wang
Vuyani Dance Theatre: Umnikelo by Luyanda Sidiya
*Additional Company TBA
Program 4 (October 16 and 17 at 8 pm)
Brian Brooks Moving Company with Juilliard Dance: Torrent by Brian Brooks
The Australian Ballet: Ostinato (world premiere) by Tim Harbour
BJM - Les Ballets Jazz de Montréal: Closer by Benjamin Millepied
Rennie Harris Puremovement: Students of the Asphalt Jungle by Dr. Rennie Harris
Program 5 (October 18 at 8 pm)
Wayne McGregor|Random Dance: FAR by Wayne McGregor in collaboration with the dancers
Pontus Lidberg Dance: New Lidberg (festival commission) by Pontus Lidberg
Aakash Odedra Company: Nritta by Aakash Odedra
The Sarasota Ballet: Les Patineurs by Sir Frederick Ashton
Jul. 30, 2013 11:55AM EST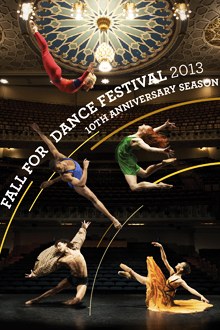 If you have friends who aren't really sure about this whole dance thing, you take them to a Fall for Dance performance. The annual NYC festival—celebrating its 10th birthday this year!—puts together deliciously appetizing samplers of all different styles of dance, from hardcore ballet to hardcore tap. Everyone's pretty much guaranteed to find something they connect to. Oh—and tickets are just $15.
This year's Fall for Dance programs were just announced, and they're pretty spectacular. Kicking off with two free performances hosted by the Public Theater at Central Park's outdoor Delacorte Theater (September 16-17), the festival will then settle into New York City Center for two weeks of shows (September 25-October 5) featuring 20 companies from around the world. The popular Lounge FFD, which transforms the atrium next to City Center into a party-ready food/drink/dance venue, will also be back this year.
The complete lineup is below. Tickets go on sale Sunday, September 8 at 11 am. As usual, they're sure to sell out pretty much instantly, so mark your calendars!
Delacorte Theater Performances
New York City Ballet: Red Angels (1994) by Ulysses Dove
Paul Taylor Dance Company: Esplanade (1975) by Paul Taylor
Ronald K. Brown/Evidence: Upside Down (1998)  by Ronald K. Brown
Streb Extreme Action Company: Human Fountain (2011) by Elizabeth Streb
Program 1
Richard Alston Dance Company: The Devil in the Detail (2006) by Richard Alston
Gabriel Missé and Analía Centurión
Sara Mearns and Casey Herd: festival commission by Justin Peck
DanceBrazil: Fé do Sertão (2013) by Jelon Vieira
Program 2
Nrityagram: Vibhakta (2008) by Surupa Sen
605 Collective: Selected Play (2013) by various choreographers
HeadSpaceDance: Light Beings (2012) by Mats Ek
Dance Theatre of Harlem: Gloria (2012 by Robert Garland
Program 3
American Ballet Theatre: The Moor's Pavane (1949) by José Limón
Colin Dunne: The Turn (2013) by Colin Dunne
Ballet Hispanico: Sombrerisimo (festival commission) by Annabelle Lopez Ochoa
Introdans: Sinfonia India (1984) by Nacho Duato
Program 4
Dorrance Dance: SOUNDspace (2013) by Michelle Dorrance
Doug Elkins Choreography, Etc.: Mo(or)town/Redux (2012), Doug Elkins
The Royal Ballet: festival commission by Liam Scarlett
Program 5
Sidi Larbi Cherkaoui/Sadler's Wells London: Faun (2009) by Sidi Larbi Cherkaoui
BODYTRAFFIC: o2JOY (2012) by Richard Siegal
Les Ballets Trockadero de Monte Carlo: Black Swan Pas de Deux
Alvin Ailey American Dance Theater: Home (2011) by Rennie Harris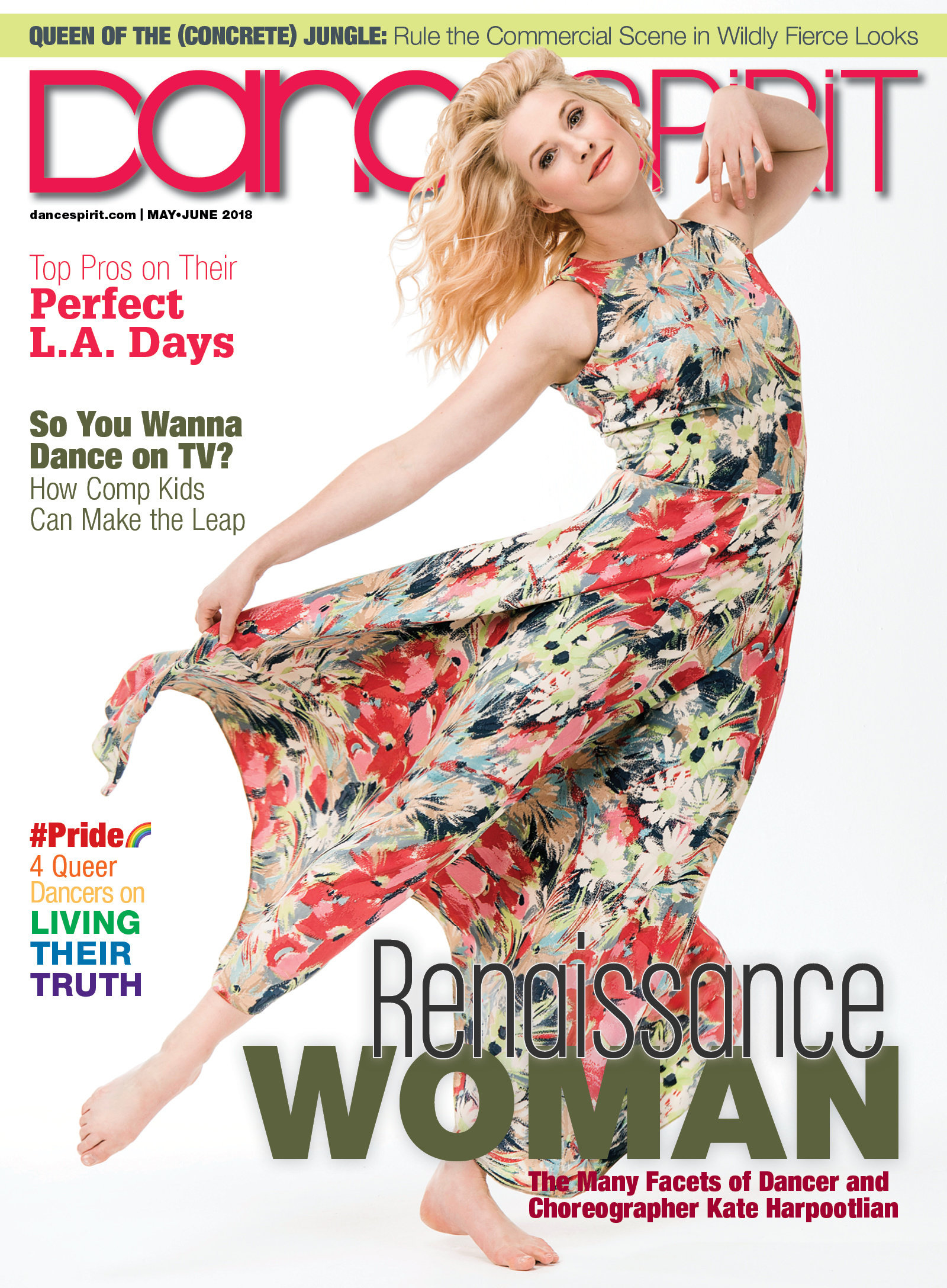 Get Dance Spirit in your inbox