Photo by Jayme Thornton
Harper Watters is a ballet dancer for today's generation. A social media maestro and a charismatic performer, the Houston Ballet soloist is equally at home in front of the camera hosting his hit YouTube series, "The Pre Show"; interacting with fans on his crazy-popular Instagram account; or showing off his beautiful classical technique onstage. It's a multifaceted identity that's proven to be invaluable to his career—and it's taking him to places he never even dreamed of.
Keep reading...
Show less
Photo by Be More Media, courtesy Jose Ramos
Jose Ramos' resumé reads like a VMA attendance list: Jennifer Lopez, Chris Brown, Ciara, Diddy, Rihanna, Nicki Minaj and Beyoncé have all enlisted his incredible skills as a choreographer and dancer. With clientele like that, it's no wonder that Ramos goes by the nickname " Hollywood." But while his life sounds like a fairytale now, Ramos had to work hard to end up in the "happily ever after" stage of his story.
Keep reading...
Show less
Quick: Name a dance-y movie or TV show. Chances are Britt Stewart was featured in it. The Colorado native has performed in all three High School Musical movies, Fame, No Strings Attached and Teen Beach Movie. Her TV credits include "Bunheads," "Glee" and "Dancing Fools." Plus, she's rocked out behind Rihanna, Demi Lovato, Janet Jackson, The Veronicas, Vanessa Hudgens and, most recently, Katy Perry. Want to know more about this hard-working, versatile dancer? Read on for The Dirt. —RZ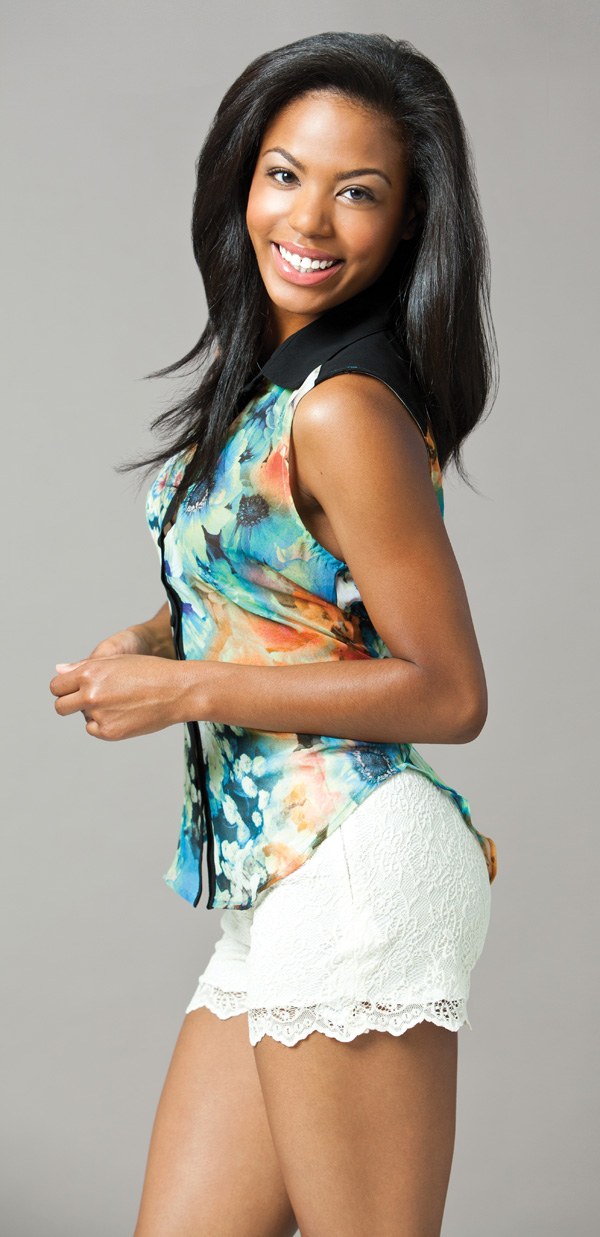 (courtesy Britt Stewart)
What did you want to be when you were a kid? "A pediatric surgeon"
Performer you would drop everything to see: "Prince--I think he is brilliant as an artist and a performer."
Must-see TV show: "Grey's Anatomy--I've been a fan since Season 1."
Who is your dance crush? "Patrick Swayze"
Favorite movie: "Dirty Dancing of course!"
Biggest guilty pleasure: "watching cooking shows"
Something most people don't know about you: "I still have to wear my retainer at night...shhhh!"
Who would play you in a movie? "Kerry Washington"
What are your pet peeves? "Water around my bathroom sink--I know it's weird!"
What's your most embarrassing onstage moment? "I split my pants while filming a scene in the film No Strings Attached."
What has been your proudest career moment so far? "dancing for Janet Jackson"
Jun. 06, 2013 12:05PM EST
As you guys know all too well, high school can feel like one of the most dramatic places on earth. Boys and classes and friendships—they all churn together into this crazy roiling sea that's pretty darn hard to navigate. And that's true of your run-of-the-mill high school.
But at a performing arts high school, the drama is even more intense. A bunch of teenage artists? Pursuing incredibly difficult dreams? We're talking about some serious tension right there.
Fame High is a new documentary that captures all of the competition, excitement and heartbreak that goes on inside the Los Angeles County High School for the Arts—aka "the Fame high school of the West Coast." (If you haven't heard of it, believe me when I say it's legit: alums include Alvin Ailey American Dance Theater star Matthew Rushing, singer Josh Groban, and "Saturday Night Live" cast member Taran Killam.) The film follows several of the school's most talented students over the course of 16 months.
Fame High opens in theaters in NYC and L.A. tomorrow. But you can also buy the digital version of the film right now. Check out the trailer below.
Sep. 04, 2012 12:57PM EST
It seems like Fame really is gonna live forever. First there was the iconic 1980 film. Then there was the spin-off TV series, which starred none other than Debbie Allen. Next came the (not so hot, frankly) 2009 remake of the movie. And now, thanks to Nigel Lythgoe, we're about to get a remake of the small-screen show.
With the blessing of Ms. Allen herself, Nigel's revamping the '80s TV hit, which followed a bunch of students at the New York City High School for the Performing Arts. Apparently the new series will also feature a group of artsy students. (But if you're getting all giddy imagining your favorite dancers dolled up in '80s-style scrunchies and off-the-shoulder sweatshirts, you're in for a disappointment: It's getting a modern makeover, and will be "set against the backdrop of present-day obsession with celebrity and fame.")
Will Allen appear on the new show? She's not sure yet. But man, oh man, do we hope she at least makes a cameo—preferably doing something like this (RIP, Gwen Verdon!!):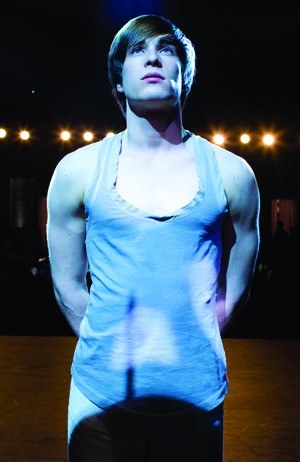 Paul McGill in "Fame" (Saeed Adyani)
Triple threat Paul McGill, one of the brightest stars in the new remake of Fame (and one of the "Broadway Babies" from DS's 2007 July/August issue), has had the kind of career every Broadway hopeful dreams about. The Pittsburgh native started training in tap, jazz, ballet and tumbling at age 3, and later added acting and voice classes to his schedule. By his junior year of high school, he'd landed his first Broadway musical, La Cage aux Folles. Paul moved to NYC for the gig and enrolled at the Professional Performing Arts School (where the original Fame was shot!). In 2006 he earned the coveted role of Mark in the Broadway revival of A Chorus Line, and shortly before the show closed, he discovered that he'd won the part of Kevin in Fame. We asked Paul to document the shooting of the hot new film for DS. Read on to find out more about Paul's adventures on the set—including a super-emotional moment with legend Bebe Neuwirth! —Margaret Fuhrer
Thursday, December 4
It's my first day of shooting! We film the "audition" dance sequences today, along with a few dance scenes that jump around in time—I transform from a sophomore to a freshman over the course of the day. I'm not used to shooting out of order, since I come from a theater background. It's something I'll have to adjust to.
Wednesday, December 10
I've been shooting with Bebe Neuwirth for a week, and today is my final day on set with her. Our early small talk has turned into genuine conversation by now. When the cameras are off, we laugh and play and dance around. When the cameras are on, we make eye contact and communicate. The things we've discussed build my respect for her as a performer and as a person.
After lunch, we do a close-up shot of my face. I have no lines, but am supposed to look sad and upset. When they call "rolling," Bebe, who is off-camera, begins a heart-wrenching improvised speech, creating a scenario in which she's the first one to tell me that I've broken my back—as I really did during the Chorus Line run—and might never dance again. It strikes a chord. I'm broken, and it translates to the screen. Immediately after they call "cut," she holds a Post-it to her forehead that reads, "They made me say it!" and flashes a huge apologetic smile. I smile back at her with understanding. I want to hug her. It amazes me that she took the time to think of me as a person and not just an actor. It's great when you find out that someone you have idolized your whole life is even more awesome in person. I'll never forget this week with Bebe!
Wednesday, December 17, 2008
I guess 5 a.m. start times are standard in show business. Exhaustion is setting in already. Good thing our two-week winter break starts tomorrow!
As of yesterday, we've filmed 12 hours of footage for what will ultimately be a two- or three-minute lunch scene. We've been in the same outfits for the past four days, crammed into a middle-school cafeteria in Pasadena. It's getting a bit frustrating, but we find ways to entertain ourselves without getting into too much trouble.
Tuesday, January 13, 2009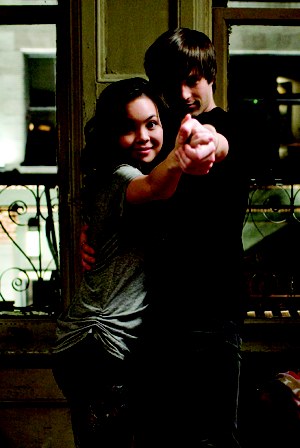 Anna Maria Perez de Tagle and Paul McGill in "Fame" (Saeed Adyani)
Winter break was perfect. It was great to be back home in NYC. I feel such overwhelming gratitude and appreciation for where I currently am in my life.
These next two weeks are going to be intense. We're filming graduation, then going straight into shooting Halloween. Two huge productions—but they'll be exciting, too!
It's freezing out, and one thing I have to remember is to keep my muscles warm on set. Deidre Goodwin told me stories about learning that lesson the hard way when she was filming Chicago—you just never know when they're going to say, "Okay. GO."
Today we dance for 12 hours straight with one lunch break and one five-minute break. And guess what? I get to wake up bright and early to do the same thing again tomorrow! Although it's very difficult, I love it and am learning so much about movies and Hollywood—I wouldn't trade this life for anything.
You can see the Hollywood sign from this school where we're filming. Magic.
Tuesday, February 3, 2009
We film the karaoke scene today with Megan Mullally and Kelsey Grammer. What a ball! My face and stomach hurt so badly from laughter at the end of the day. Megan is a nonstop talker; Kelsey is quieter but strikes with wit.
Tuesday, February 10, 2009
It's our last day on set in L.A. and everyone's emotions are out of control. What an experience this has been in Tinseltown. I can't believe how quickly it's gone!
A German TV crew arrives to do an interview with me and some of the other cast members. We have the brilliant idea to pretend that we hate each other and are all spoiled divas. Paul [Iacono] and Kay [Panabaker] play dueling DJs with their laptops, and Asher [Book] counts out $100 bills from his per diem. The interviewer is weirded out and awkward. "Let's just start rolling, then," she says. We all crack up and let her in on the joke. I love this cast.
Friday, February 20, 2009
Finally, we arrive for our shooting days in NYC! When I get to my trailer, it's parked outside of my apartment building. Perfect. We do some filming at the park where I used to hang out in high school, on 45th Street between 9th and 10th Avenues. It's like going back to my childhood.
After we finish, we head over to Times Square to film a scene from freshman year. BAM! The energy that you get from this city is invigorating. Everything is so alive here!
Saturday, February 21, 2009
It's the final day on set before wrapping the film. Luckily for me, the last scene I have to shoot is also my most challenging. There aren't any lines, but there are plenty of emotions. I give it my all.
It's sad to see everyone go, but I'm so proud of what we've accomplished together. I'm eternally grateful for this amazing chapter in my life, short as it was (I still can't believe that we completed all the rehearsals and shooting in just three months!). All in all, I'm coming out of this movie a little closer to knowing who I am and who I want to be.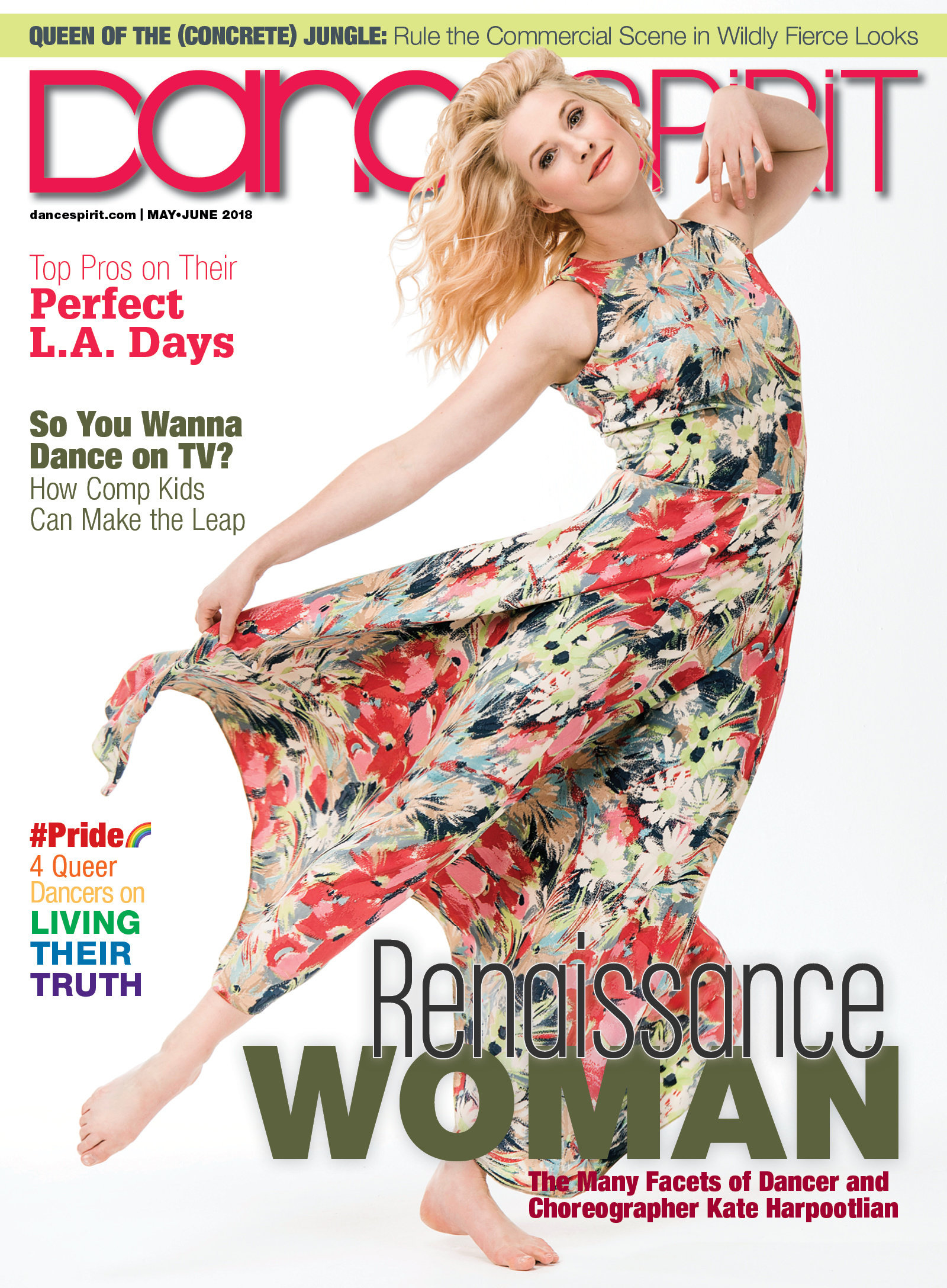 Get Dance Spirit in your inbox