Yo 2018, I'm really happy for you and Imma let you finish, but the 1970 Oscars had the BEST DANCING OF ALL TIME!
Keep reading...
Show less
Feb. 11, 2013 12:12PM EST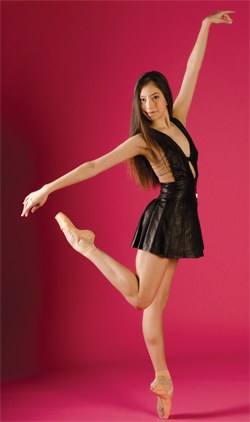 All photos by Richard Battye
Odds are, the first time you saw Alys Shee, she was doing fouettés. There's a now-famous YouTube clip of her nailing dozens of them, peppering the string with musical triples and doubles.
Oh, and that video was taken when Alys was 13. Yup: At an age when most dancers are still adjusting to pointe shoes, Alys was mastering feats that make many principal dancers shake in their tutus. So you probably won't be surprised to hear that today, at 18, Alys has already won multiple medals at prestigious competitions, including the junior gold at last year's Helsinki International Ballet Competition; spent a year as a member of American Ballet Theatre's second company; made guest appearances in leading roles in works like Don Quixote and Le Corsaire at ballet companies around the world; and, this past fall, joined the Birmingham Royal Ballet, where she's a rising star.
Alys is blessed with a ballet-ready body—legs for days, luxurious extensions, an innate turning ability—but it's not just her natural talents that have landed her on the dance world's A-list. This is a girl who, rather than enrolling at a big ballet school, carved a unique training path. This is a girl who was savvy enough to have her own website before she was old enough to drive. This is a girl who has been as fearless about taking charge of her career as she was about those fouettés. Alys is, in other words, a girl on her way to becoming a thoroughly modern prima.
The Gutsy Student
Before she devoted herself to ballet, Alys tried "pretty much everything else"—from skating to Irish step dancing to tap. But when her aunt put her in ballet classes at a church in her hometown of Toronto, Canada, Alys knew she'd found her calling. "There was just something about it," she says. "I was in love."
By 9, she was training seriously at Toronto's Academy of Ballet and Jazz, run by Nadia Veselova Tencer, who became a mentor. In theory, the natural next step would have been a move to Canada's National Ballet School. But the NBS schedule conflicted with Alys' academic classes. Since her parents didn't want her to put school on the back burner, Alys decided to continue studying with Tencer.
That's not to say she took things easy. "I'd go from 4 in the afternoon until 10 at night," Alys remembers, "and I'd take all the different levels, from the beginner classes to the advanced ones."
She also took as many classes as she could at another local studio, Dance Teq—which is where former Royal Winnipeg Ballet star Evelyn Hart first spotted her. "One of my friends was teaching at Dance Teq, and he pulled me into his class and said, 'I think this little girl needs you,' " Hart says. "I saw this tiny 12-year-old, with huge eyes and a giant bun, doing everything as well as—if not better than—anyone else. I instantly had a soft spot for her." Hart admired Alys' courage. "She had no fear; she was just dancing," Hart recalls. "And those beautiful long limbs—you took one look at her and thought, She has everything!" After the class, Hart talked to Alys' mother about taking Alys on as a private student.
"Evelyn and I started with an hour and a half five days a week," Alys says, "and then it was two hours, and then we added Saturday, and then it was three hours. Eventually we were just working until we felt we were done." Hart's advice provided the perfect counterpoint to the group classes Alys continued to take at the Academy of Ballet and Jazz. "The Academy gave me strong technique, and then Evelyn made sure I understood everything from within my own body," Alys says.
The Stage Beast
Alys' unconventional training program was doing wonders for her technique—but it didn't give her many opportunities to perform. "I needed a way to get onstage and learn what that was like," she says. "Also, I knew I wanted to eventually dance all over the world, in Europe and America—and to get visas to travel, I was going to need to have proof of my talent." The solution to both problems? Ballet competitions, which gave her chances to perform and to earn the medals that would streamline the visa process.
And earn medals she did: junior silvers at the Moscow International Ballet Competition, Cape Town IBC and USA IBC, plus the grand prix at the Star of the 21st Century IBC and, to cap it all off, her Helsinki IBC junior gold. "She took to the stage like a duck to water," Hart says. "She's a stage beast." Alys was also able to make many friends at competitions, despite the high-pressure, cutthroat environments. "From the time she was a young teen she had a good sense of who she was, so she could talk to people," Hart says. "I call her my bunny—she's this sweet thing who gets along with everyone."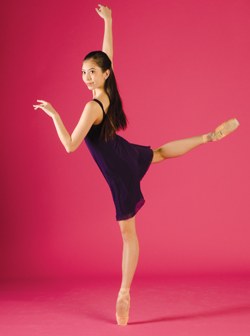 The International Explorer
Alys spent two summers at American Ballet Theatre's NYC intensive, and eventually auditioned for second company ABT II. She earned a contract, and, at 15, began a whirlwind year in NYC. "There was a lot of emotional growth," Alys says. "You're figuring out that this isn't school—you don't have a teacher constantly correcting you. You learn not to rely on anyone else for success."
Though she enjoyed her time at ABT, Alys was feeling the pull of Europe. "Everything is so close over there—you can hop on a train and see all these different companies." She also wanted to flex her contemporary muscles. "European ballet companies have a lot of young choreographers who are working in a wide range of styles," she says. "They're cool and experimental."
Alys had connections to Birmingham Royal Ballet—friends she'd made through an exchange between The Royal Ballet School and ABT II had joined the company. So she sent a YouTube clip to director David Bintley, who invited her to take class with the troupe. Assistant director Marion Tait was impressed by the teen's abilities. "She was extraordinary," Tait says. "And she was calm in class, not unnerved by the pressure." The company offered Alys a contract.
Since joining, Alys has had moments in the spotlight—she was quickly cast as the Hungarian Princess in Swan Lake and the Winter Fairy in Cinderella—but she's also had to figure out how to be the perfect second villager from the left. "The biggest learning curve for Alys was becoming a member of the corps de ballet," Tait says. "Her first role was as one of 18 swans in Swan Lake, and she had trouble constantly looking in one direction and staying in line." She doesn't suffer, however, from the look-at-me syndrome that plagues many competition veterans. "She's not flashy," Tait says. "Your eye goes right to her—but she draws it in a subtle way."
The Smart Dancer
Alys' dream of traveling the world is coming true: She's toured the U.K. with BRB, and she's done lots of guesting on her own. She danced both her first Kitri (in Don Quixote) and her first Medora (in Le Corsaire) at South African Ballet Theatre. How does she land those guesting jobs? "It's mostly connections I've made at competitions," she says. "The Cape Town IBC director is connected with the South African Ballet Theatre, so that's where those invitations come from. And once you start guesting, you meet more people who invite you to guest."
It also didn't hurt that Alys Shee was becoming a well-known name in the ballet world, thanks to her website, YouTube channel and use of social media, as well as several well-timed newspaper profiles. She claims she fell into it all accidentally—"The website was a school project!"—but Hart gives her more credit. "She called the Toronto Star when she was 12 to tell them she was going to ABT's summer program, and it was a great opportunity for a story," Hart says. "She was so smart about it."
Regardless, today Alys fully understands the importance of branding yourself. "In Evelyn's day, the only way to see a Russian ballerina was if she came to your city and performed," she says. "Now everyone can see you online. It's important for dancers to be aware of the influence of the internet."
The Normal Kid
When she's not living the ballet dream, Alys is a down-to-earth teenager, albeit a remarkably independent one. She lives on her own in Birmingham and spends a lot of time Skyping with her family and her boyfriend, a dancer with The National Ballet of Canada. "She's a normal kid," Hart says. "There's this very mature artist, and then there's this sweet young woman who loves to laugh—and looks great in a killer pair of heels."
Alys recently finished up high school online and started online university courses. But when it comes to dance, her future is wide open. "I've never planned on being in a certain company or living in a certain place," she says. "It's just about working with people I admire, and growing along the way. That's how I've always approached things."
"Alys may have had an easier path if she'd followed the usual route, joined a big school and then its company," Hart says. "But because she did it her way, she's been to South Africa, Moscow and Helsinki; she's performed in amazing venues and joined a great company. And my bunny's done it all on her own."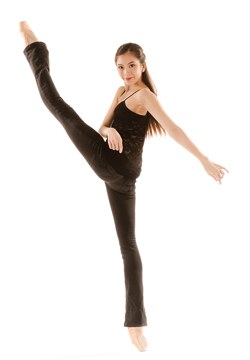 FAST FACTS
Birthday: July 4, 1994. "I was at intensives in NYC for four summers, so I got fireworks on my birthday four times!"
Most-played on her iPod: The Killers' Hot Fuss album
Favorite movie: A Beautiful Mind
Favorite dance movie: "I used to be so in love
with Center Stage. My favorite character was Sascha Radetsky's, of course!"
Must-see TV shows: "The Walking Dead," "Dexter," "The Big Bang Theory"
Favorite food: "That's a toss-up between baked goods—cookies, brownies and cupcakes—and McDonald's. My standard order is chicken nuggets, fries and a large Coke."
Who would play her in a movie? "Angelina Jolie—but really because she's one of the only actresses I know! I'm pretty out of it. To see her do ballet and get all Black Swan would be fun though."
Non-dance hobby: "I love to bake. My specialty is chocolate chip banana bread.
I also like to make cookies for the whole company."
Three ways to describe her dancing: "Graceful, musical, a work in progress"
Three words that describe her personality: "Loud, bubbly, sarcastic"
Her advice for DS readers: "Make sure you're always true to yourself. Don't do things because you're told to do them, but because you believe in them. And stay healthy—no career is worth sacrificing your health."
THOSE FABULOUS FOUETTÉS
Alys Shee's YouTube fans aren't the only ones bowled over by her turning talent. Count mentor Evelyn Hart as part of that group, too:
"I remember when we were working on the Black Swan pas de deux for a competition. I said, 'Let's leave the fouettés alone and focus on the artistic part for a while'—because when I was dancing, those fouettés were like Mount Everest. So we focused on the artistic side of it first. Then one day I said, 'OK, let's just take a look at the fouettés.' And she got up and did 32 doubles, with no trouble at all. I was like: 'OK, that'll do!' As a teacher,
there are some things you just don't touch."
Follow Alys where it all started—online!
Twitter: @pddprincess
YouTube: youtube.com/user/pddprincess
Her website: alysshee.com
Ballet
Feb. 11, 2013 12:00PM EST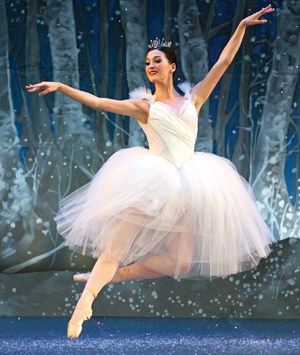 Emily Mistretta in The Nutcracker (Gene Schiavone)
If you're a talented small-town ballet student, you've probably wondered: Should I leave my local studio to study at a top-notch school? At the bigger institution, you'd have more intense training, which would help when it came time to audition for companies. But if you left you'd miss your family and friends—and the super-personalized attention you get from your local ballet teacher.
If you're thinking about making the leap from a local studio to a major training program, read the stories of these four dancers who did. You'll find out how it worked—or didn't work—for them.
Emily Mistretta, corps member, Boston Ballet
Inland Pacific Ballet Academy in California, where I trained for years, is a great school, but I felt I had more to learn than it could teach me. Every time I went away to a summer intensive, I thought seriously about staying for the school's year-round program. I was always conflicted, though; I wanted to finish high school at home.
After I graduated high school, I went to Boston Ballet School's summer session, and the school invited me to come year-round. I went home to California for two weeks, discussed it with my family, and got right back on a plane to Boston! I knew it was a great opportunity.
When I first got to Boston, I felt like I was behind. The other dancers had been in full-time ballet schools for years, while I'd only been doing ballet in the evenings. The schedule was intense—we danced for about eight hours a day—and I had a lot of self-doubt: Did I make the right decision? How's this going to turn out?
Luckily, I was able to make friends quickly. That's pretty much what saved me. And as a trainee, I got instant exposure by working with the company. I was so happy when I got my contract!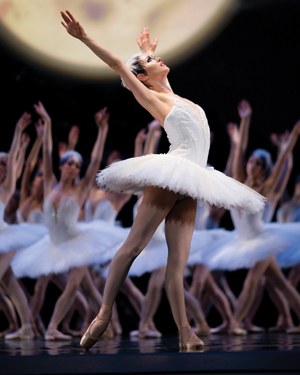 Sarah Van Patten in Swan Lake (Erik Tomasson)
Sarah Van Patten, principal, San Francisco Ballet
When I decided I wanted to be a ballet dancer, my parents said a big institution like Boston Ballet School would have the best teachers. So I started taking classes there when I was 8. But I had a different teacher every day, and I was one of about 30 kids in my class.
Then, when I was 11, I attended a summer program with Jacqueline Cronsberg at Ballet Workshop of New England. I immediately started learning variations and doing real dancing. I had long classes with Jacqueline every day, and was given lots of one-on-one attention. Her training is Balanchine, which puts a lot of emphasis on performance. That suited me.
When I told my parents I didn't want to go back to BB, they assumed I'd given up on a dance career. If I didn't want the big school with all the prestige, they thought, I'd just do dancing as a hobby. But it was the opposite. I wanted more time with my teacher. I wanted to be dancing more.
I was much happier at Ballet Workshop of New England. But everybody is different. You have to have these experiences for yourself, and be honest about how you feel.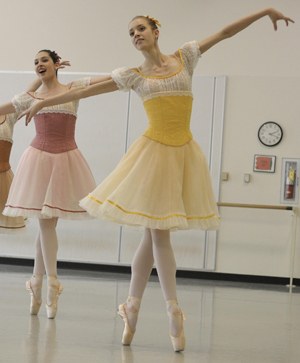 Leah Slavens (front) dancing at PNB School (Rex Tranter)
Leah Slavens, Pacific Northwest Ballet School's Professional Division
I went to Ballet Center of Houston from age 4 through my senior year in high school. I got to dance all kinds of big roles, and the teachers trained me really well. But the studio could only offer so much. They don't have a lot of funding, space or time. I guess that's why the decision to go to Pacific Northwest Ballet School after graduation was so easy.
It was a shock coming to a professional school with such a difficult training program. It was also hard to leave home, get an apartment and do everything that grown-ups do without having the experience of college dorm life. I just went straight into living on my own, having to cook for myself and take care of my own finances. A lot of kids my age don't have to pay their own bills yet! And it's hard only seeing my parents twice a year.
Part of me wishes I'd left home sooner, before I graduated high school. I feel a little bit behind ballet-wise sometimes. Then again, I'm glad I waited, because I feel more mature and ready to start a new phase of my life. It makes it easier that my friends at home have graduated and moved away too, so I don't feel like I'm missing anything.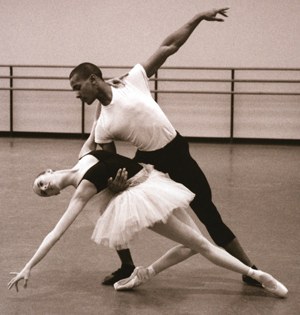 Faye Arthurs rehearsing with Craig Hall for the 1999 workshop performances at SAB (Rosalie O'Connor)
Faye Arthurs, corps member, New York City Ballet
Growing up in Pennsylvania, I took classes at Pittsburgh Youth Ballet School, where I learned a lot of George Balanchine repertory. I loved those ballets so much! But I declined invitations to the School of American Ballet's summer session—SAB is the home of Balanchine technique, and feeds into New York City Ballet, Balanchine's company—a few times because my parents weren't ready for me to go. It wasn't until I was 15 that they finally said OK.
After that summer, SAB asked me to stay for the year. I agonized over the decision. But I eventually thought, "Well, it's now or never!" I had gotten to a certain place at my smaller school and was antsy to try something bigger.
It was hard the first year to be away from my family. You have to grow up so quickly, not only emotionally but practically—you have to do your own laundry and get yourself places on time. But I saw my father once or twice a month when he was in New York for business, which was helpful.
The biggest change from living in Pittsburgh was being able to see live performances all the time. SAB students get free NYCB tickets, and I went every night. That inspired my decision to join the company. You see the actual life of a dancer in a way you can't at a small school.
SIGNS YOU SHOULD STAY
You don't want to be "just a number." If you enjoy getting lots of personal attention from your teacher and don't want to fight for a spot at the front of the class, consider sticking it out at your local studio.
You get anxious if you're away from family and friends for more than a few days. Leaving home and a tight-knit group of friends can make you homesick—and too distracted to focus on your training. Skyping, texting and phone calls will be your new norm. If the thought of that makes you break out in hives, you might not be ready to make the jump.
It just doesn't feel right yet. Trust your gut. Bigger schools don't always mean bigger rewards. If it seems like the pros of uprooting yourself won't outweigh the cons, try waiting a year or two before taking the plunge.
SIGNS YOU SHOULD GO
You want more than what's offered at your home studio. You're ready for more intense training, different teachers and the chance to work with professional dancers.
You have your heart set on getting into a specific ballet company. Most companies hire dancers from their schools, so it helps to already be in their programs. You'll also get to watch performances and maybe even dance in some of them as a student at the company's school.
You're a risk-taker. If you're the type of person who enjoys, rather than dreads, new challenges, you'll probably adapt quickly to the sink-or-swim environment that defines most larger schools. Go for it!
Jan. 10, 2013 12:50PM EST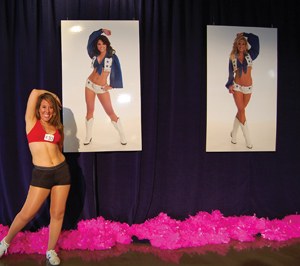 Author Jen Jones Donatelli at the Dallas Cowboys Cheerleaders tryouts (courtesy Jen Jones Donatelli)
It was the audition of a lifetime. I'd always dreamed of being a Dallas Cowboys Cheerleader. Though I knew the odds were probably against me—I'm a little older and curvier than the average NFL cheerleader—this year I decided to go for it. With more than a decade of dance experience under my belt, I figured I could survive the audition. Plus, the first-round format seemed simple enough: We'd freestyle for about two minutes in groups of five, and those who caught the judges' attention would progress to the next round. Piece of cake, right?
Not so much. Once I found myself under the bright lights of Cowboys Stadium, reality set in. As "Call Me Maybe" blasted over the speakers, I completely froze. I started doing the same four eight-counts over and over—along with an unflattering squat move that came out of nowhere. It was humbling, to say the least.
Whether you're a dance teamer or a ballerina, freestyling can be intimidating. "Suddenly you have all this freedom, and you don't know what to do with it," says Caroline Rocher, a dancer with Alonzo King LINES Ballet. But if you want to dance professionally—or audition for a college dance program—improvisation is a must-have skill. Directors in all styles and environments "want to see your personality and how you move," says Rocher, whose audition for LINES required dancers to improvise after learning a series of combinations. "You need to be prepared." DS talked to the experts about how to master freestyling.
Feel the beat. 
Shaping Sound co-founder Teddy Forance recommends listening to music as much as possible to get into the freestyle groove. "Being able to dance to any music is huge," says Forance, "because odds are every audition will play something wildly different." Take time to play around on Pandora, familiarizing yourself with different styles of music.
In her Beginning Improvisation for Dance Majors class at The University of Arizona, instructor Ariella Brown plays everything from jazz to lyrical to get dancers flexing their freestyle muscles. "I constantly switch up the music and ask them to adapt to and embody it," Brown says. While dancers tend to match their movement to the music's tempo and vibe, Brown also challenges them to push against it: "If it's an upbeat piece, I ask them to dance slow and liquid-y. It's about being unpredictable."
Pull out your bag of tricks.
Though freestyling shouldn't mean doing one trick after another—particularly those old standbys, fouettés—Forance says showing off can work at certain auditions. "If it's a commercial audition and they need one or two seconds of a dancer doing something really striking, that's when you throw in your power moves," he advises. He adds that music video auditions are another place for trick-oriented freestyling, as video directors often want "a half-second clip of dancers doing spectacular things."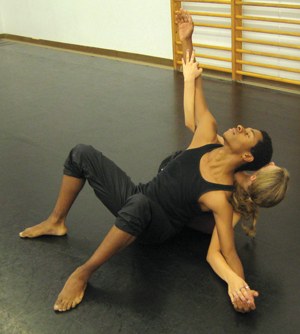 Ashley Hammond and Kevyn Butler go with the flow in Ariella Brown's Beginning Improvisation for Dance Majors class at the University of Arizona (Ariella Brown)
Make up a story. 
Coming up with a theme for your freestyle can help guide your movement and add a new dimension to it. "When I improvise, I try to work with ideas and images, not just technical steps," Rocher says. "I try to tell a story through my movement rather than just making something up."
This technique is also popular at The University of Arizona. Brown remembers a professor handing out lists of phrases such as "I'm sorry" or "I can't breathe," which dancers had to use as inspirations for their improv. Says Brown, "The people who took it to interesting artistic places were the ones who stood out."
Make sure technique comes first.
In an audition setting, some dancers default to super-sexy moves in an effort to stand out while freestyling. But most directors aren't interested in watching you bump and grind. They want to see that you have the solid technique necessary to pull off their choreography. Beautiful lines and clean pirouettes are more likely to get their attention than those moves you learned from The Pussycat Dolls' videos.
Try something new.
Yes, you want directors to get a sense of your signature dance style. But successful improvisation also means pushing past your limits. "Going into your comfort zone and only doing what you know can be dangerous," Rocher says. That type of movement quickly looks stale, and you're more likely to repeat yourself. Instead, think of "exploring and challenging your body," Rocher says. Or try channeling another dancer you admire—one whose style is totally unlike yours.
Get out of your head and into the groove.
Brown says many dancers overthink freestyling. Improv inspiration comes more easily when you stop spinning your mental wheels and relax into the music. If you have a hard time getting out of your head, practice freestyling in a low-pressure setting—on your own in the studio or with a few of your dance friends. The more experience you have, the easier it will be to let loose in the audition setting. "Practicing will get rid of the fear; otherwise, you'll feel uncomfortable, and that will read to the person auditioning you," Brown says.
Show your style from beginning to end.
Once you're comfortable freestyling, you don't always have to confine your improv to the "official" improv section of the audition, especially in commercial settings. "Don't just stand there when you walk onto the floor," Forance says—that's the perfect time to bust out a few off-the-cuff moves before beginning the given combination. "People who kill it own the stage from the second they walk on to the second they walk off."
Dec. 11, 2012 12:43PM EST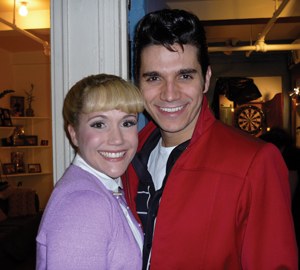 Amanda Lea LaVergne as Sandy with Derek Keeling as Danny Zuko in the Broadway revival of Grease
What's your dance goal for 2013? Whether it's finally nailing a quadruple pirouette, making your studio's senior competition team or booking your dream job, DS is determined to help you get there. So we asked a few of our favorite industry insiders, "What can dancers do to have the best year ever?" Here's what they had to say.
1. "Be fearless. I spent years terrified I'd make a mistake. But I didn't realize I was boxing myself in. You will mess up—that's life. Take a chance. Be 'strong and wrong' instead of sticking to what's safe." —Amanda Lea LaVergne, dancer in Annie the Musical
2. "See everything you can. Art exhibits, concerts, movies—they give you food for your mind. Then, share what inspires you. That's how art evolves." —Caroline Fermin, Gallim Dance
3. "Be versatile now to work more later. Dancers do steps; true artists rock people's souls. You can make a beautiful black and white painting, but adding color makes it a masterpiece. Add new colors to your palette by learning every style you can. Eventually you'll have a rainbow of choices to pull from." —William Wingfield, "So You Think You Can Dance"
4. "Nourish your body with good foods, quench it with water, test it to its limits and rest it when it asks for it. Your body is your greatest asset, but it can be your biggest weakness if you don't treat it kindly. Take care of it." —AL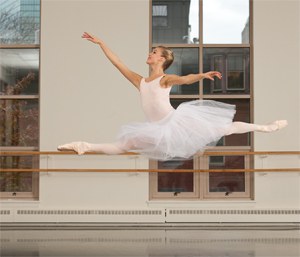 Keenan Kampa (Photo by Gene Schiavone)
5. "Make a plan of action. Carve out a road map with your agent to achieve your goals in 2013. If you're not represented, ask an established dancer to share his or her path with you. That will give you insight into what steps to take." —JC Gutierrez, dance and on-camera director at McDonald Selznick Associates
6. "Present yourself well in class and rehearsal. Be clean, smell nice and be comfortable in what you're wearing. It makes such a difference." —Keenan Kampa, Maryinsky Ballet
7. "Incorporate a yoga class into your schedule. You'll feel balanced and connected to your breath." —Tyce Diorio, choreographer
8. "Read the news. Keep your mind sharp and stimulated. Knowing what's happening all over the world puts everything in perspective." —KK
9. "Don't worry about other dancers. If you keep working on yourself and stop comparing yourself to others, you'll progress faster. Plus, you'll have more fun!" —Zoey Anderson, dance major at Marymount Manhattan College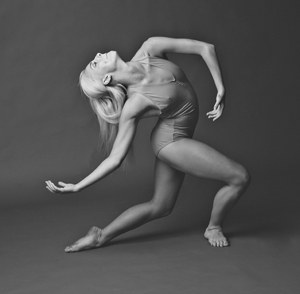 Zoey Anderson (Photo by Vanessa Millecam Photography)
10. "Research dance history. Look up dancers from film, Broadway, etc., and study what made them great. That was helpful for me as a teenager, and I still do it today." —TD
11. "Find something besides dance that brings you joy. Every experience you have furthers who you are as an artist." —Ryan Steele, Specs in Newsies on Broadway
12. "Try new, crazy things. Go to that audition, learn that difficult move or take that Bollywood class. Sitting back, waiting and wishing will get you nowhere." —ZA
13. "It's easy to get caught up in the day-to-day, but it's important to take some time to have fun." —JG
Oct. 08, 2012 12:17PM EST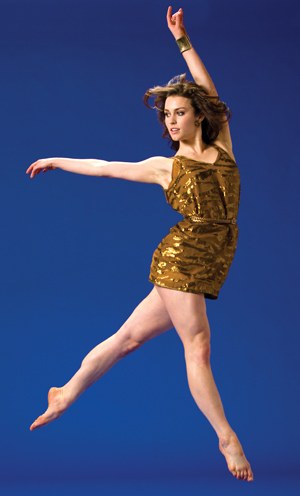 Photography by Joe Toreno
Kathryn McCormick's dance life seems pretty fairytale-esque: The 22-year-old native of Augusta, GA, was the top girl on "So You Think You Can Dance" Season 6, which earned her a gig on the Academy Awards. She later nabbed a recurring All-Star role on "SYTYCD," and this past summer she made her big-screen debut as the leading lady in Step Up Revolution.
But despite the eventual successes, the beginning of McCormick's life in L.A. was anything but a dream. Her first gig on the movie Fame turned out to be a bust, and it took a series of failed auditions before she finally won the hearts of the judges on "SYTYCD." Still, she refused to give up on her dance dreams—and she told us why in this exclusive Q&A.
How did you get started dancing?
Kathryn McCormick: I started before I was even born—my mom danced while she was pregnant with me! A few years later, she opened a dance studio, The Dance Connection, in Georgia, and I started taking lessons there when I was three. Later, my mom closed the studio, so I switched to the studio she grew up at, Augusta West.
Eventually I got into competitions and conventions. I remember taking class from [Step Up Revolution co-star] Misha Gabriel and thinking, "He's so hot!" After graduation, I traveled as a Tremaine Dance Convention apprentice.
At what point did you decide you wanted to make dance a career?
KM: When I turned 18 I didn't even know if I was capable of dancing professionally because I didn't know anyone who'd done it. I decided not to go to college, which was hard. But I didn't want to waste that time when I could be pursuing something I really wanted to do. It was a leap of faith, but I wanted to dance.
How did your parents feel about your decision?
KM: They were supportive. My mom had wanted to dance professionally but didn't because she had kids so young. My dad had gotten close to becoming a pro golfer, but he had to support our family, so he went into the cable industry. My parents wanted me to pursue my dreams since they didn't get to pursue theirs.
What did you do to get closer to your dream?
KM: I decided to train at a ballet school and teach at my studio to save money to get to L.A. I knew my technique wasn't strong enough—there was so much I didn't know about my body that I needed from ballet. I was the oddball in class with a ponytail and tan tights.
When did you get your big break?
KM: Keith Clifton, a choreographer I'd met doing competitions, offered to recommend me to his dance agency, McDonald/Selznick Associates in L.A. I didn't even know what a dance agent was!
I met with them and they gave me a contract right away. I didn't realize it was going to be the beginning of something huge. Two weeks later, I got an audition for Fame.
Very appropriate! Did you book it?
KM: I booked a gig as one of 30 featured dancers, which meant I had to move to L.A. for four months. My first week in L.A., I found out they'd cast too many dancers, and I was only going to have one day of work. I hung up the phone so discouraged. I had no friends, no car and no reason for being there.
How did you deal with that disappointment?
KM: I started riding the bus to EDGE Performing Arts Center every day, taking as many classes as I could in hip hop and other styles in which I didn't have much experience. But I didn't book any jobs for six months, so I did extra work on movies like Couples Retreat while my family continued to help me financially.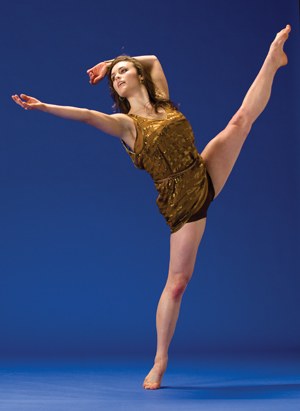 Perseverance seems to be a recurring theme in your dance journey—you auditioned for "SYTYCD" three times before you made it. 
KM: The first time, I went with a group to audition for Season 5 just for fun. When I got in front of the executive producers, I was a mess. I got cut right away. Then my mom invited me to join her on a trip to Denver, adding, "By the way, 'SYTYCD' is having an audition while we're there. You should try again." This time, I got further and danced for the judges. When I got cut, I never thought I'd audition again.
What changed your mind?
KM: A few months later, my mom convinced me to audition for Season 6. When I got on the floor, the music kept messing up. I remember standing on my mark and getting so anxious. I told myself, "Don't do this. Get out of your head." I said a prayer, and when I opened my eyes, the music came on. After I danced, the producer said, "We want to see more of that!"
You made the show and got paired with Jonathan "Legacy" Perez. What was your reaction?
KM: My first thought was, "Oh no, he's a B-boy. We're so different." But I couldn't have asked for a greater partner. He changed me as a performer. I used to be so technical—
I didn't like to freestyle. Legacy taught me to let the moment take over. He'd do things like throw his keys at me to try to get me to react spontaneously. He'd say, "I'm going to press play and you're going to dance." I was so uncomfortable. Finally, when I let myself go and freestyled, he was in tears. He showed me how to trust myself.
And then you came back to rock it as an All-Star.
KM: I didn't expect to be the last Season 6 girl standing. After the show, I auditioned for Burlesque and was cut right away, which was humbling. So when "SYTYCD" asked me to be an All-Star, that blew my mind.
How does being an All-Star differ from competing?
KM: People think you must not be nervous anymore. Not true! As an All-Star, the pressure's on: You have to be confident to support your partner. It's about learning to be selfless in your dancing, which is a different mindset, but it's just as challenging.
When did you get word of the Step Up Revolution role?
KM: In July 2011 my agent said they wanted me to audition for the role of Emily. I went in and hit it off with the casting director, and then I met with the director and producers. It's a different energy than a dance audition—all eyes are on you in this tiny shoebox. I left feeling like I didn't get the part, but ended up getting a callback where I had to pair up with the male lead, Ryan Guzman.
What was the final audition like?
KM: There were just two chairs and some cameras, and we had to do a scene while they shot different angles and tested our chemistry. Before Ryan and I went in, I was shaking, but once we got inside, everything clicked. We had a moment, and I felt so connected to Ryan and so comfortable.
How did you find out you got the part?
KM: Two days later, I got a call from [director] Scott Speer, Adam Shankman and Jen Gibgot on three-way. Scott was like, "Hey, I wanted to thank you for coming out. We appreciated your time. I'm sorry, but…you got the role of Emily!" He tricked me and I was speechless.
I freaked out. Auditioning alone was conquering a fear—I never even thought about actually getting the part.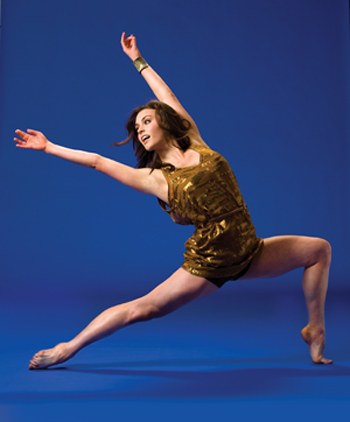 Did you do anything to prepare once you knew you'd been cast?
KM: Two days after I found out, I texted Scott asking, "What do I do now?" I thought you had to memorize the whole script right away! He told me to eat healthy and get in the best shape possible. I thought, "That's it?" But when he said the 3-D could be unforgiving, I put on my running shoes and ran around the block!
What were rehearsals like?
KM: The first month was dance training, from 9 to 5 every day. The mob would be in a room with Ryan, then Ryan would run over and do a duet with me, and then I'd go back and learn mob choreography. It was crazy having so much time to learn something. It allowed me to dive into the character more.
Which scene was the most real for you?
KM: When Emily is doing her final audition and it's supposed to be a duet but winds up being a solo. Emily's not always 100 percent in her dancing, so I had to let myself wobble or fall, which was hard with my perfectionist mentality. [Choreographer] Travis Wall would say, "No, that's too spot-on. You have to mess up." I needed to have that insecurity because that's how Emily was feeling.
What was it like seeing yourself on the big screen?
KM: The first time I saw the movie I was with Ryan, Misha and Scott. My heart was pounding. I didn't let myself be critical—I was just like, "I'm going to enjoy this."
Is acting part of your career plan now?
KM: The film definitely pushed me in a new direction. I'm dancing and taking acting classes and trying to do it all. Along with being a "SYTYCD" All-Star again, I just did a music video for a group called Vienne to bring awareness to human trafficking, and I have a few more projects in the works. I'm trying to train so I'll be ready for whatever comes next.
KATHRYN'S CO-STARS DISH
Stacey Tookey ("SYTYCD" choreographer and friend): "Kathryn is always at the top of my list when I'm looking for a dancer or assistant. She's completely invested in whatever she's doing—a quality I don't often find in young dancers. She's the perfect mix of passion, talent and beautiful spirit—you could say
she's my muse."
Jonathan "Legacy" Perez ("SYTYCD" partner): "We carried each other into the Top 10—as soon as I saw she was my partner, I was like, 'Let's go all the way.' She looks ahead and doesn't let anything discourage her."
Misha Gabriel (Step Up Revolution co-star): "I was completely inspired by Kathryn's work ethic on set. She pushed everyone around her to become better. Even though her technique is exquisite, Kathryn works at it like she doesn't have it yet. Watching her dance in the film is mind-blowing."
Oct. 07, 2012 11:50AM EST
Misty Copeland with Herman Cornejo in Alexei Ratmansky's Firebird (Gene Schiavone)
When it comes to dance, the general rule of thumb is that the younger you begin training, the better. Serious ballet dancers, for example, are often expected to be career-ready by 16. But what if you didn't start dancing at age 2? Is there room in the professional dance world for late starters?
The short answer: Yes! Read on to hear from six dancers who started dancing later than their peers—and still became pros.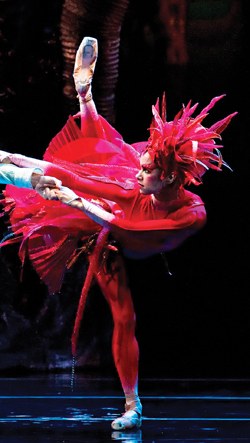 Misty Copeland with Herman Cornejo in Alexei Ratmansky's Firebird (Gene Schiavone)
Misty Copeland, soloist
at American Ballet Theatre
Age she started dancing: 13
How did you get started? I auditioned for the dance team at my junior high school, and the coach told me my potential as a dancer went beyond that local team.
When did a professional career start to feel possible? When I discovered American Ballet Theatre. I memorized every company member's background and studied videos.
What kept you going through the tough times? The encouragement I got from the people around me. And ABT was the light at the end of the tunnel. Watching videos and seeing live performances kept me motivated.
Were there benefits to starting late? I didn't feel burnt out at the age of, say, 15. Everything was so new that I was always eager for more.
Do you have advice for other late starters? Be mindful of how you treat your body, especially early on. You're in a different place physically than a 7-year-old beginner. Consider cross-training to help develop your technique more quickly.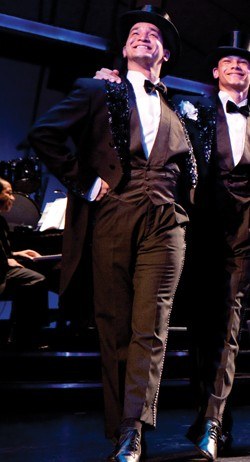 Richard Riaz Yoder in Duke Ellington's Sophisticated Ladies (Scott Suchman)
Richard Riaz Yoder, Broadway performer
Age he started dancing: 17
How did you get started? I saw a couple of my high school show choir friends doing a time step and got them to teach me. When I showed my mom, she took me to a teacher who owned a studio for adults. At 17, I was actually the youngest person in my first class by 20 years!
Did you ever doubt yourself? I was weird in that I wasn't self-conscious at all in those early classes. Even if I didn't know what the heck I was doing, I was going to do it as best I could.
What obstacles did you encounter? Learning dance terminology was hard. I had a teacher early on in college who asked us what dance steps we knew—and I didn't know any. So I went home and memorized the name of every tap step. I wasn't sure what they were, but I knew the names of every one.
Were there benefits to starting late? I was able to make sure I got high-quality training from the beginning. I've seen dancers who, early on, had bad habits thanks to poor training.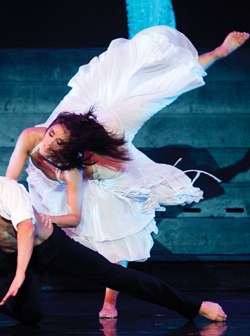 Janette Manrara with Robbie Kmetoni in Burn the Floor (David Wyatt)
Janette Manrara, Burn the Floor
Age she started training seriously: 19
How did you get started? My family is from Cuba, so salsa dancing was always a part of my life. I started studying musical theater at 12. Then the dance teacher at my musical theater school opened his own studio, and I started taking dance classes every day.
What obstacles did you have to conquer? The worst was seeing parents or other students look at me with confused faces. They didn't understand why a girl in her 20s was taking ballet with 12-year-olds.
When did you know you wanted to dance
professionally? As soon as I set foot outside of "So You Think You Can Dance"! Being on the show during Season 5 opened so many doors for me.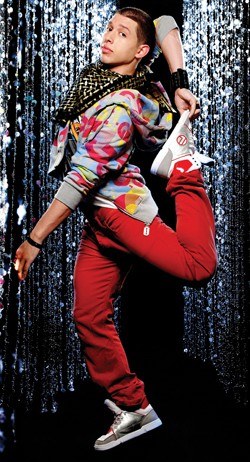 (Mike Ruiz/FOX)
Phillip Chbeeb, hip-hop dancer
Age he started dancing: 16
How did you get started? I was a jack-of-all-trades kid—I did everything from basketball and track to theater. After a (now) comical incident when I took a line drive to my face playing baseball, I had to ease off sports for a while. That's when I took my first dance class.
What obstacles did you encounter? I had to learn when to incorporate my own natural tendencies into someone else's choreography—and when not to. I had to figure out how to break movements down into pieces: the bounce, the pivot. That helped me become more aware of my body and its subtleties.
Were there any benefits to starting late? In a way it's good that dance isn't "my life." I'm inspired by things outside of dance, and I think that helps me better express myself.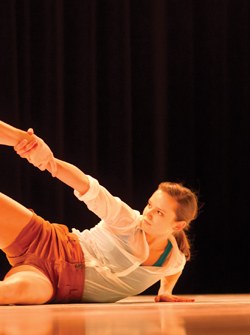 Alice Klock and Jason Hortin in Jonathan Fredrickson's Untitled Landscape (Todd Rosenberg)
Alice Klock, Hubbard Street Dance Chicago
Age she started dancing: 11
How did you get started? I was home-schooled, and my mother wanted me to get out and meet people my age, so she asked, "What about ballet?"
How did you catch up? I worked outside of class. In academic classes like math, the more you study on your own, the better you'll do in class. It was the same for me with dancing.
Were there benefits to starting late? I'm actually glad I started when I did because I developed as a person before I became a dancer. This is a life-consuming art.
Do you have advice for other late starters? Never compare yourself to other people in class. I learned so much from dancers who were three or four years younger than me because I didn't let age get in the way.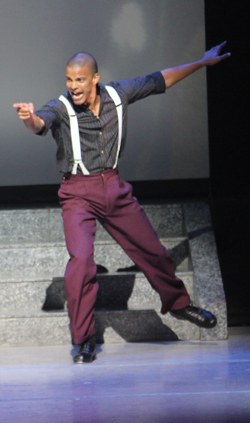 Michael Wood (Jack Hartin/courtesy Abhann Productions)
Michael Wood, tap dancer
Age he started dancing: 18
How did you get started? When I was auditioning for musical theater college programs, a friend told me about Oklahoma City University's dance program. I figured, why not? And I got in!
What kept you going? My parents. I couldn't always feel myself getting better, but whenever they came to see my performances, they'd say, "You've come further than you think."
Did you have any breakthrough moments? During my junior year of college, a teacher said, "Michael, I think ballet has finally clicked for you." And that was exactly what happened. One day I stopped feeling like I was trying to do ballet, and just started doing ballet.
Do you have advice for other late starters? There's so much emphasis in this industry on what you can do at what age. But it's all hot air. If you want to do it, just do it.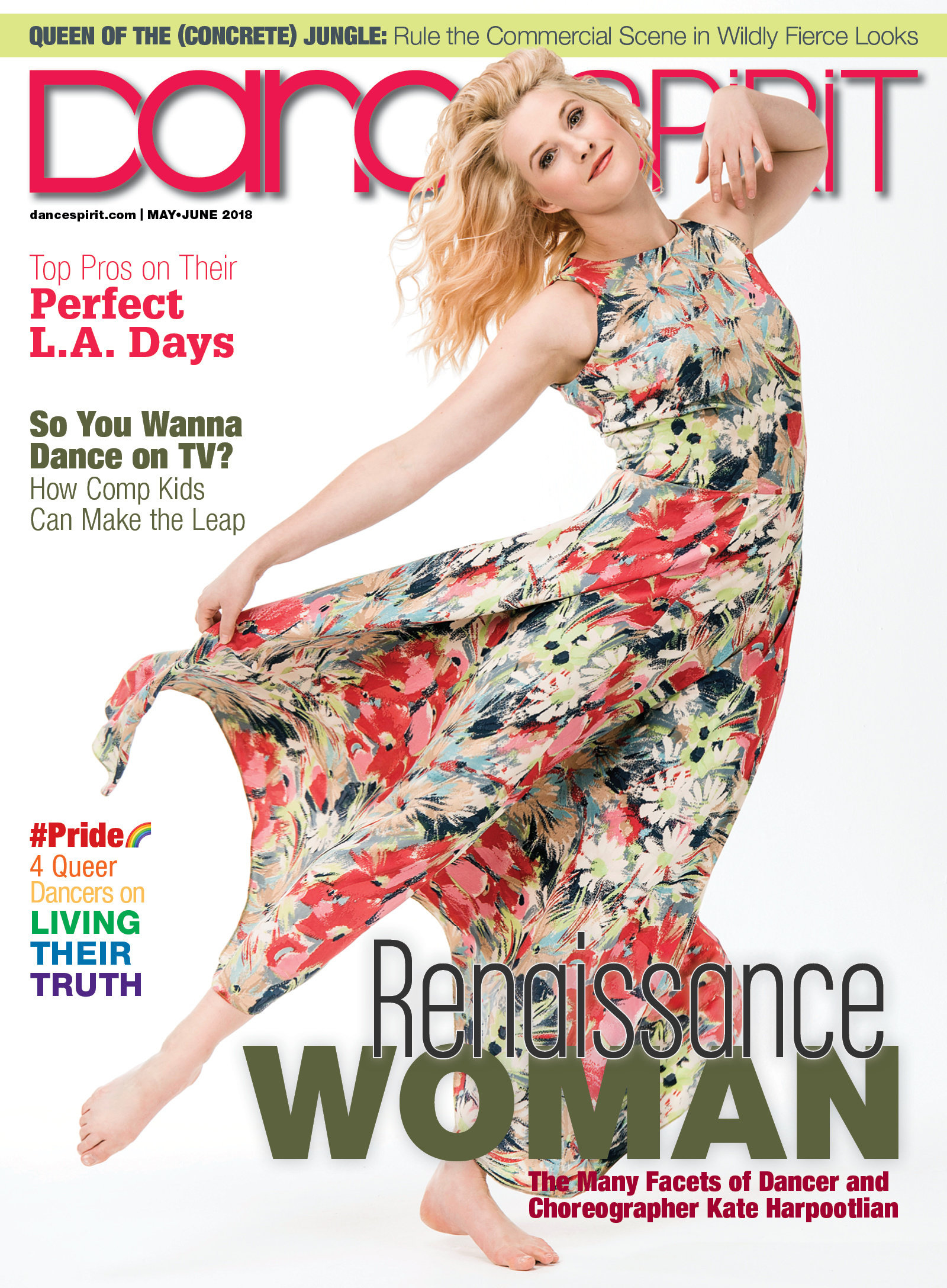 Get Dance Spirit in your inbox