Jul. 16, 2018 05:10PM EST
Fik-Shun and Cyrus getting in on the Fortnite fun (via Instagram)
A year (and five seasons) after being released, the video game sensation, Fortnite, is here to stay—and so is the totally unexpected dance craze it's launched. The game's comical dance moves have sparked legions of real-life recreations by everyone from professional actors to World Cup players.
And now even seasoned dancers like "SYTYCD" stars Fik-Shun and Cyrus have jumped on the Fortnite train:
Dance News
Sep. 11, 2017 10:19AM EST
JT Church and Robert Roldan in Travis Wall's "The Mirror" on "So You Think You Can Dance" (Michael Becker/FOX)
Dance News
Jul. 18, 2017 02:03PM EST
Jun. 07, 2017 12:16PM EST
Junior hip hop group The Lab. (Mitchell Varble, NBCUniversal)
Dance News
Mar. 23, 2017 07:01AM EST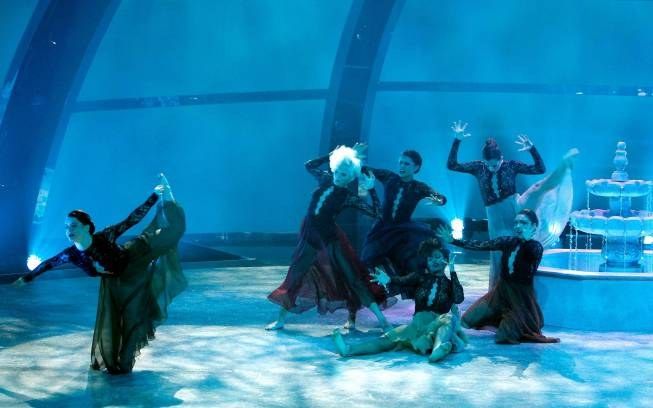 Stacey Tookey transforms the girls. (Adam Rose/FOX)
This episode didn't start off well: For the second week in a row, it was bad news bears for the boys. Tucker (no!) has an infection in his knee and can't compete this week. Then, who's in danger? Almost all of my favorites! Amy, Malece, Jenna, Tucker, Nico, Alan. Sigh… As soon as the dancing started, though, the episode got much better. This group is the Top 12 for a reason, and number after number just looked amazing! It was hard to choose, but here are my top 5 moments from this week's show:
1. The battle-for-your-life solos. Not that I ever want to see amazing dancers in the bottom, but one perk is that we got to watch them dance! Tucker, it seems, had made a miraculous recovery and danced flawlessly. Amy showed off her firecrackery self. Malece was beautiful, and Alan was just too cute. Can't we keep them all?! (P.S. Can we discuss how the judges saved Jenna AGAIN? Not that I don't love me some Jenna, but this is getting a little predictable.)
2. Hayley found her inner Gypsy. It's no secret that Hayley is one of the most technically perfect dancers on the show, and when combined with Nico's charm and Sean Cheesman's choreography, it's magical. Then there was that leg grab/lift/throw/flippy thing. Whoa!!! I'm going to go ahead and dub that the best leg grab/lift/throw/flippy thing on "SYTYCD" ever. But seriously, it was amazing. Standing ovation!
3. Pirates of the Paso Doble. Jenna and Tucker (who apparently coats himself in Axe body spray before rehearsals. All bad.) were paired up for this striking Jean-Marc Genereax number. Due to Tucker's injury, Alex Wong (yay!) fills in. Jean-Marc is certainly at his best when he's choreographing a paso. And I missed you Tucker, but these two made a great pair. Fierce pirate fun, I say. And, as if it couldn't get any better, Nigel told the Best. Joke. Ever. "Why are pirates called pirates? Because they argghhhhh." I'll be giggling at that one all day.
4. Fik-Shun and Amy waltzed it up. Confession: When a couple pulls the Viennese Waltz, it's often my cue to take a break and get a snack. But these two kept me captivated. As Amy said, it was the perfect way to rap up their partnership. So lovely—and so different from their kooky personalities! Mary said there were technical issues, but I certainly didn't notice them. And we knew after this piece (because Nigel and Kenny Ortega essentially told us so) that Amy would be saved, and we'd say goodbye to Malece. Way to ruin the surprise, guys!
5. Stacey Tookey turned the girls into women. My goodness, I love Stacey Tookey. You know who else I love? These girls! The final six formed such a cohesive, technically strong group, and as Mary said, there was no weak link. This fountain of youth-inspired dance will go down as one of my favorite group routines. I couldn't take my eyes off the TV. Another well-deserved standing ovation!
When it came down to elimination time, Nigel gave Malece and Alan the boot, but told them he still wanted them to go on tour. So here you have it, boys and girls, your TOP TEN DANCERS! Amy, Aaron, Jasmine, Hayley, Fik-Shun, Makenzie, Jenna, Nico, Paul and Tucker will kick off the tour on October 1! We'll be there. Will you?
We can't wait for the All-Stars to join the show next week. But in the meantime, enter our "SYTYCD" finale sweepstakes contest—you could win a trip to the Season 10 finale! And don't forget to let us know what you thought of this week's episode in the comments!
Dance News
Dec. 16, 2016 07:00AM EST
Kida Burns (Joe Toreno)
Precision. Musicality. Charm. Swag. Kida Burns' talents were on full display during the finale of "So You Think You Can Dance: The Next Generation" in September. He was his All-Star partner Fik-Shun's equal in the two routines the pair revisited for the finale: Misha Gabriel's bee-themed piece and Kida's own feel-good robot number. He returned to his animation roots with a solo that was pure joy. He even stole the spotlight in Luther Brown's group hip-hop routine, which featured all of the season's finalists and All-Stars in that genre.
Dancer to Dancer
Nov. 09, 2016 04:32PM EST
Jul. 21, 2016 07:00AM EST
Forget Choreographer's Carnival—let's give it up for Shoe Carnival!
The shoe mega-retailer is the latest brand to jump head-first into the very smart and hugely entertaining "let's feature dancers in our commercials" venture. (See also Microsoft, Target, Under Armour, Microsoft again and Virgin America.)
The national television commercial, choreographed by Jamal Sims and directed by Tim Milgram, features just a few of our favorite hip-hoppers, including former DS cover girl Simrin Player, "So You Think You Can Dance" champion and All-Star Fik-Shun, Kaelynn Harris, Taylor Edgin, Josh Killacky, Richard "Lil Swagg" Curtis, Austin Spacy, BJ Das, Kaity Martinez and Marvin Ryan.
Fancy feet grooving in fresh footwear? Going back to school never looked so fun! Check it out.
Dance News
Sep. 14, 2014 07:00AM EST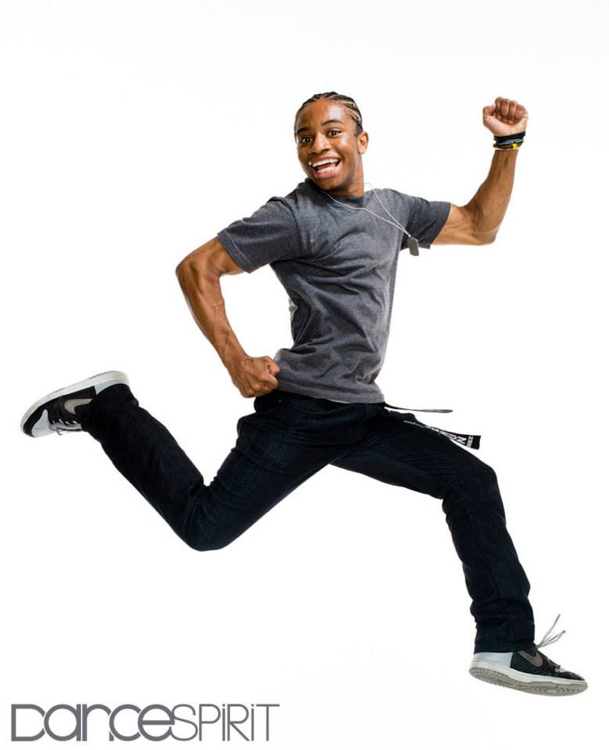 (Photo © Joe Toreno for Dance Spirit)
Remember this guy?
JOKES. Who could possibly forget the amazingly talented—and downright adorable—Du-Shaunt "Fik-Shun" Stegall?
He won our hearts last year on the "So You Think You Can Dance" stage—conquering one style after another alongside his beautiful partner in crime (and fellow Season 10 winner) Amy Yakima. And even though the two have passed their crown (crowns?) on to Season 11 champ Ricky Ubeda, we certainly haven't fallen out of love with this so-good-it's-unreal dancer. (After all, you never really stop being America's favorite dancer. We just keep collecting more and more favorites!)
At World of Dance CityWalk 2014, Fik-Shun's live performance demonstrated that he doesn't just still got it—he's got it and so much more. It's wonderful to see "SYT" alums continue to develop as artists after the show, and Fik-Shun is no exception. This performance demonstrated a whole new level of musicality and originality. Plus, it's still got that humorous showmanship that we all fell in love with back in 2013. Check it out!
Dance News
May. 26, 2014 07:00AM EST
It's that time of year again: As our beloved drama series wrap up their seasons, the summer TV lineup is just getting started. And that means the return of two of our favorite competition shows—"So You Think You Can Dance" and "America's Got Talent." Eeeee!
It all begins with the Season 9 premiere of "AGT," tomorrow night at 8pm/7c on NBC. Sure, it isn't technically a dance show. But lately, they've been featuring a lot of really great dancers (like our January cover girl, Sophia Lucia!). And last year, a dancer—Kenichi Ebina—won the whole darn thing. Sure, he was the first dancer in eight seasons to win, but we're hoping that now other great dancers will be inspired to give it a go—fingers crossed!
Here's the "AGT" trailer:
Next, of course, is the long awaited premiere of "So You Think You Can Dance" Season 11, which will air Wednesday at 8/7c on FOX. We are SO very excited. Gosh, we're still getting over how much we loved shooting season 10 winners Amy and Fik-Shun for our December 2013 cover! (We'll never get over them<3)
We just can't wait to see the talent on this year's show (maybe some of you guys!). And we'll be following the show, episode by episode, so be on the look out for our recaps.
Here's the "SYTYCD" trailer:
Now mark your calendars, set your DVRs, and get ready for a fantastic week (and an awesome summer). Happy Memorial Day!
Dance News
Get Dance Spirit in your inbox
Nov. 16, 2013 07:30AM EST
Making it to the Top 20 of "So You Think You Can Dance" is really, really hard, so most will never know what it's like to hang out with America's Favorite Dancers. One of the perks of working at Dance Spirit is that we get to do just that every year! That's because, the morning after the finale, the "SYTYCD" winners spend a day shooting their DS cover with us in L.A. And it's always a ridiculously fun-filled day.
Season 10's Amy Yakima and Fik-Shun made this year's shoot—complete with sky-high jumps and out-of-this world isolations—one of our favorites. See them climb all over each other (and a hanging bubble chair) in this behind-the-scenes video: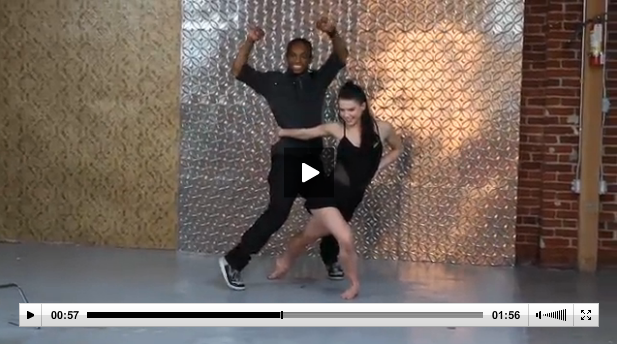 Dance News
Sep. 11, 2013 09:35AM EST
Amy and Fik-Shun!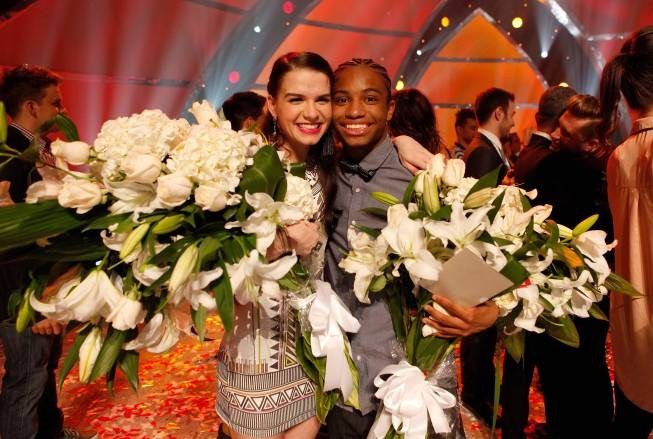 Your winners! (Adam Rose/FOX)
Congratulations to Amy Yakima and Du-Shaunt "Fik-Shun" Stegall, winners of "So You Think You Can Dance" Season 10. Not only will they each take home $100,000, but they'll spend today with Dance Spirit editor in chief Alison Feller and art director Josephine Daño at a photo shoot for our December cover.
The finale was packed with the best performances of the season. Here are some of the winners' standout routines from last night:
Amy and Travis
Fik-Shun and tWitch
And finally, Amy and Fik-Shun!
We couldn't be happier for these two outstanding dancers. And we can't sign off without mentioning Jasmine and Aaron—they, too, were phenomenal and we can't wait to see them (and the rest of the Top 10!) on tour this fall.
Now it's your turn! What did you think of the finale? Did the right dancers win? Tell us in the comments below!
Dance News
Sep. 10, 2013 10:56AM EST
Tonight's the night! In just a few short hours, we'll know who "So You Think You Can Dance" Season 10 will crown America's Favorite Dancers. Will it be Fik-Shun and Amy (Am-Shun)? Aaron and Jasmine (Aarmine)? Fik-Shun and Jasmine (Fik-mine)? Aaron and Amy (um...Aamy)? AHH WE CAN'T WAIT.
The best part, of course, is that the two winners will be on the December cover of Dance Spirit. (In fact, our trusty editor in chief and art director are en route to L.A. for the shoot as we speak.)
To tide you over while you wait for 8 pm EST to roll around, we thought we'd put together a little gallery of all our "SYTYCD" champion covers. It's kind of crazy to think we've been doing this for four years now, right? Memories!
(By the way: Be sure to "like" us on Facebook and follow us on Twitter, because we'll be posting outtakes from the "SYTYCD" shoot tomorrow. Don't miss out!)
[portfolio_slideshow nowrap=0 thumbs=true timeout=4000 showtitles=true showcaps=true showdesc=true]
Sep. 04, 2013 09:25AM EST
You voted last night, right? I hope so, because it was your last chance!
Last night, Season 10's Top 4 contestants—Amy, Fik-Shun, Jasmine and Aaron—duked it out dance-style for the title of America's [Latest] Favorite Dancer, a $100,000 prize and, what we think is the best part, a spot on the December cover of Dance Spirit.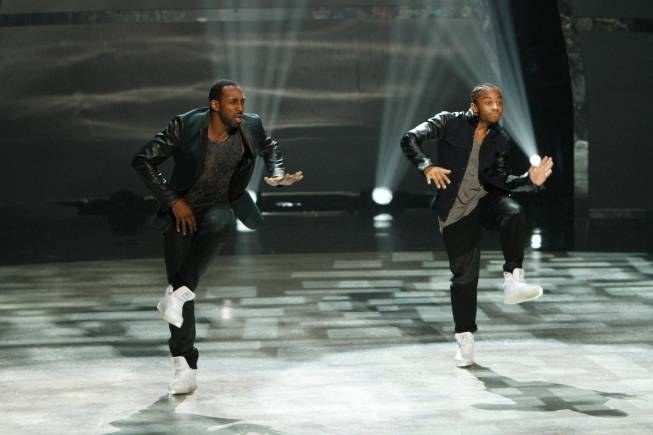 These two...I can't get enough! (Photo courtesy FOX)
As always, the evening included plenty of highs (Gabby Douglas didn't have much to say as a guest judge, but she's the cutest ever and rocked that yellow dress!) and a few lows (the moment when tWitch and Fik-Shun's duet ended and I was sad because I wanted it to go on forever).
Here are my Top 5 Moments from last night's performance finale:
1. Aaron and Amy's jazz fusion routine. Ray Leeper, where did this choreo come from?! I adore Ray and I think he's one of the greatest men in the entire competition and convention industry. (Seriously, sweetest, most genuine guy ever, plus he's always so beautifully tan.) This was a total deviation from his usual jazzy stuff and it really worked on these two. Hot Amy killed it in that costume and is Aaron a dream partner or what?
2. Jasmine and Comfort's hip-hop routine. Fun fact: The entire DS staff watched last night's episode together. And we're a chatty bunch, so we sort of missed the intro to this routine and all the rehearsal footage. By the end, after watching All-Star/my hip-hop alter ego Comfort booty pop her way through this piece, we all looked at each other and asked, "Wait, who choreographed this?" We were psyched to see NappyTabs giving their piece a standing O from the audience. This routine was all about girl power and Jasmine worked it hard, keeping up with Comfort juuuuust fine.
3. tWit-shun/Fik-witch. Oh my godddddd. You're familiar with my love for tWitch by now. And then these two together? It was just so good. One of the DS editors said tWitch and Fik-Shun looked like Will and Jaden Smith up there, having the best time ever. Right? Right. This piece was the funnest.
4. Amy and All-Star Robert falling in contemporary love. Thank you for this, Stacey Tookey. I love Amy. I looooove Robert. I loved them together and enjoyed being taken into the happy-magical world they created onstage.
5. Mark Kanemura's back! Mark Kanemura's back! His choreography for his piece with Jenna a few weeks ago was possibly my favorite of the entire season. And while I actually didn't adore last night's piece for Jasmine and Amy quite as much, I do love that Mark is potentially becoming a regular choreographer on the show. I also love that he used Jasmine and Amy to "tell the age-old story of Siamese twins from the fierce jungles of Saturn." What? Doesn't matter. Mark, you are the quirkiest and we love you for it.
Bonus #6: No one was eliminated last night! It was just a fun, enjoyable show where everyone was safe and got to dance full-out. Though is it just me or are these dancers starting to look tired? Get them massages, stat, Nigel!
Fess up: Who got you to pick up the phone last night? Any predictions for next week? I've got mine, but I'll keep them a secret for now. OK fine, I won't: Looking at last night's performances as well as the entire season leading up to the performance finale, I think Amy and Fik-Shun are worthy of the America's Favorite Dancers title.
Agree? Disagree? Tell me in the comments!
Dance News
Aug. 21, 2013 09:27AM EST
This week, the Top 8 were choreographed by—and partnered with—eight "So You Think You Can Dance" All Stars. I kind of love it when "SYTYCD" throws us a curveball like that. And it's a risky premise: Artists are usually at the top of their game as either dancers or as choreographers, but rarely as both at the same time. So what, I wondered as the show began, would we get? Mediocre dancing of beautiful pieces? Or vice versa? Something in the middle?
Well, a little of all of the above, it turns out. Read on for my Top 5 highlights from last night's episode.
1. Guest judge Jenna Elfman was kind of meh—but hey, she started out as a dancer! I love these kinds of discoveries. According to Wikipedia, she was in a Depeche Mode video and was also a "legs girl" for ZZ Top, whatever that means. We need concrete evidence of all this, STAT. (Wait—is she the girl on the left at 2:33 in this video? Please, please say yes.)
2. Fik-Shun and Allison's contemporary routine. It was based on society's prejudices about interracial couples—a not-so-veiled reference to Allison's relationship with a certain other "SYTYCD" All Star. Was it earth-shattering choreography? No, not really. Was the lantern theme—meant to represent the two of them "being in the dark"—especially effective? Nope. But it was a solid routine with a powerful message, and I like that Allison let Fik-Shun be himself at critical moments, playing to his strengths while carefully hiding his flaws.
3. Hayley and Dmitry's rumba. (Was Aaron's self-unbuttoning shirt earlier on actually Dmitry foreshadowing? Discuss.) There's nothing better than a good ballroom number, and it's rare that we get one that actually tells a story—in this case, the story of a woman who's just discovered her fiancé is cheating on her. The rumba suits Hayley's laser-focused technique well, though I do agree with Jenna that she could loosen up a tad. And I looooove when Mary talks dirty ballroom technique to me: "The international Latin rumba is so difficult, mainly because you can fall off-balance so easily with that type of leg action, but you [Hayley] did it beautifully." Don't stop, Mary! Don't ever stop.
4. Jenna and Mark's jazz number. Direct Mark quotes from the rehearsal footage: "I want to pull inspiration from so many different places that it's just an explosion of my head." "I'm totally not a vegetarian when it comes to dancing. I literally want it bloody. I just want it raw." "So bring out your inner Indian, and let's go to space." Somehow, all that translated to "Rich Man's Frug" by way of Lady Gaga (fitting, since Mark has been a Gaga dancer since forever) with that ineffable Markness layered over the top, and I loved every crazy moment of it. The red carpet/tongue! Amazing. And yes, Jenna looked great, although frankly it took serious effort to tear my eyes away from Mark. (Which is theoretically a problem in a routine that's supposed to be showing off the contestant...but I don't care. I love it.)
5. Amy and Travis' contemporary piece. This was Travis at his best: A classic, not-too-complicated story, with admirable, if not groundbreaking, choreography. I've also missed Travis as a dancer (at least since the end of "All the Right Moves"—R.I.P.!). And Amy is just so ridiculously great. I mean come on, those synchronized triple pirouettes that extended to second—good grief, kids!
In the end, Tucker and Jenna went home. Sad news. But at this point in the competition, every elimination is sad news.
What did you all think of the show? Did the right people go home? Let us know in the comments—and tune in next week, same time, same place for our recap!