Wowza.
Last night's "Dancing with the Stars" episode—round one of the two-part finale—was a lot of things. Fully clothed was not one of them. We got a 90-minute show chock full of makeout sessions, bare chests, lingerie, and gold unitards. Oh, yeah, and a whole lotta dancing. This show meant business: Each of the four remaining couples took the stage twice. Here are the top moments you may have missed:
James Maslow and Petra Murgatroyd's onstage kiss: From the rehearsal clips it wasn't exactly clear who was directing whom, especially when James choreographed a passionate kiss mid tango. The performance itself was pretty steamy (the kiss was no exception), and featured a bare-chested James under a silver blazer. (I'm not complaining.)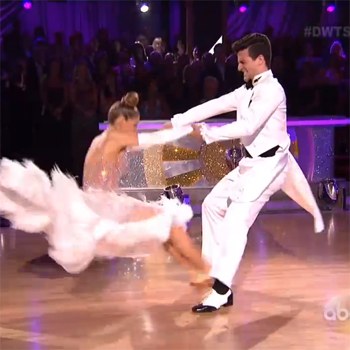 Are we sure Mark's OK?
Mark Ballas' injury: When we saw Mark at the top of the show, his arm was in a sling, and in the behind-the-scenes footage before his quickstep with Candace Cameron-Bure we found out why: Rehearsing with a strained rotator cuff Sunday morning, Mark went down after a bad lift and was rushed to the hospital. He took it like a champ though, and during one of last night's commercial breaks, he was cleared to dance.
The awkward video when figure skaters Tara Lipinski, Evan Lysacek, and Kristi Yamaguchi talked about Meryl Davis', um, blossoming, since dancing with Maksim Chmerkovskiy, plus the duo's sizzling freestyle. Forget Romeo and Juliet's bedroom scene—this routine took passion to a whole new level. Maks was shirtless, Meryl was in lingerie, and even co-host Erin Andrews asked why they didn't make out at the end—they so wanted to. (I, however, would like to know why the gorgeous Meryl didn't point her toes?)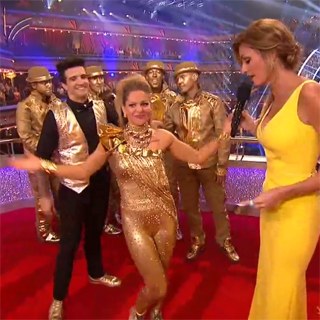 I want one.
When DJ Tanner (yes, Candace was introduced that way!) and Mark took on Center Stage:  I may prefer Cooper Nielson's choreography to Jamiroquai's "Canned Heat," but Candace looked stellar in that gold unitard, and Mark didn't collapse—everybody wins!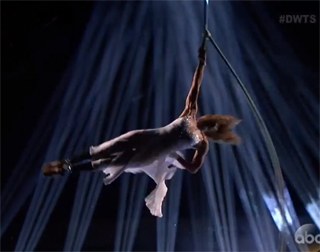 Amazeballs.
Amy Purdy's ridiculously amazing aerial feat. During Derek Hough and Amy's freestyle routine set amid what seemed like 18 fog machines, Amy took to the sky—literally. Seriously: She spun around in the air holding a rope with ONE HAND. I don't think I was the only one whose jaw dropped.
The results: Only three couples can perform tomorrow night during the two-hour finale event. Ultimately, James and Petra bid adieu. Something tells me America will miss James' torso.
Be sure to tune in tonight at 8pm/7pm central for the finale!
For those who've followed along in my one-episode-per-week challenge, this week is for the very last episode of "city.ballet." For those who haven't, now is the perfect time to watch the entire series from the beginning (especially if you're stuck inside because of the snow). In the finale, we get a look at the New York City Ballet dancers outside of the studio. Turns out, they're more than just beautiful dancers; they're also interesting humans.
FUN FACT:
Principal dancer Ashley Bouder didn't go straight to college after high school, but she's back in school now. And her major isn't dance—it's political science!
QUOTE OF THE WEEK:
"You don't become an artist by just doing your field, by just being in your bubble. That's why I think having an outside life is so important. Because that's what will inspire you to be the best artist you can be in your field." —Sara Mearns, NYCB principal
Watch every episode now at dancemagazine.com (Click "Related" in the upper right hand corner of the video to navigate between episodes.)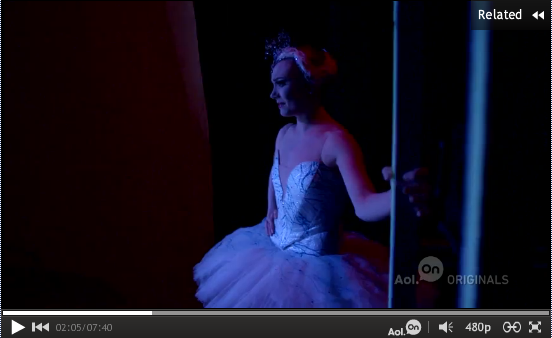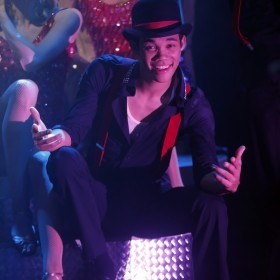 Roshon Fegan on the final episode of "Shake It Up," "Remember Me" (by Kelsey McNeal/Disney Channel)
At Dance Spirit, we say there's no such thing as too many dance-y TV shows! But sadly, we'll have to say goodbye to one of them with the series finale of Disney's "Shake It Up" this Sunday. To commemorate the end of this fun-filled show, DS chatted with "Shake It Up" star Roshon Fegan about his time on the show and what he's up to next.
Dance Spirit: Do you have a favorite episode of "Shake It Up"?
Roshon Fegan: Yes, my favorite episode is "Future It Up." In the episode I had a chance to play the old and "fluffy" version of my character, Ty. It was very funny.
DS: Is your personality similar to Ty's?
RF: We're very similar. We both dance, crack jokes and stay fly for the ladies.
DS: How would you describe your dance style?
RF: My dance style is from the soul, freestyle and emotion heavy. I just dance what I feel.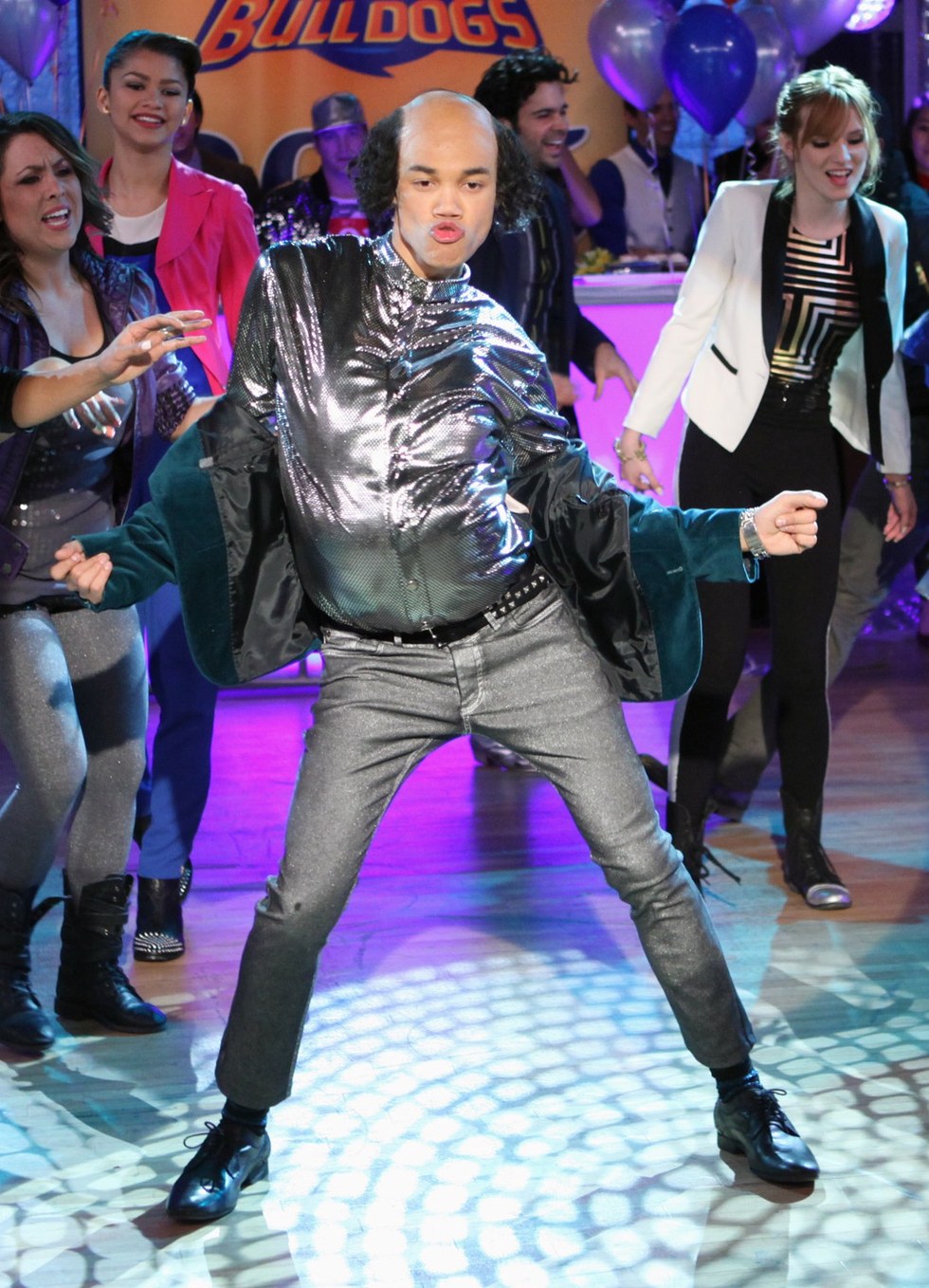 Roshon plays his character, Ty, 22 years in the future on his favorite episode, "Future It Up" (by Adam Larkey/Disney Channel)
DS: What was the biggest lesson you learned while on the show?
RF: I've learned that being on a TV show is a collaborative effort and everyone has to do their absolute best in order for the show to be its greatest. The thing I'll miss most is my "Shake It Up" family. We've had great fun together.
DS: What's next for you?
RF: I'm working hard on my music career. Since I've been on "Shake It Up," I've been writing my own music and getting it ready to release to the world. It's a new chapter in my career, and I can't wait for everyone to hear what I've been working on. I produce all my own music at Grand Vault Studios in L.A., which I opened to create a place for me and others like me—dancers, singers, musicians—to work, create and rehearse their craft.
DS: What advice would you give to future triple threats who'd like to follow in your footsteps?
RF: Always remember that there's no wrong or right way to become successful. You just have to believe in yourself,  work as hard as you can and love what you do. If you love what you do and you never let anything stop or change you, then everything else will fall into place on its own. Be yourself and believe you're great.
Catch the "Shake It Up" series finale, "Remember Me," this Sunday, November 10 at 9 pm ET/PT on Disney Channel.
Our winner, Kathryn Thies (left), and her friend Samantha Simmons on the red carpet before the "So You Think You Can Dance" Season 10 finale. (courtesy Kathryn Thies)
Thousands of you entered our sweepstakes to win an all-expenses paid trip to the "So You Think You Can Dance" Season 10 finale. And while we wish we could've sent you all, we had to choose just one winner and randomly selected Kathryn Thies. (Lucky girl!)
We caught up with Kathryn to hear all about her trip of a lifetime.
Dance Spirit: What was your reaction when you learned you'd won a trip to the finale?
Kathryn Thies: Disbelief. And then super excitement. It still didn't feel real a week later. I don't think it actually really hit me until the day before the trip.
DS: Who did you bring as your guest?
KT: I brought my friend Samantha, who I've been friends with since high school. Her place used to be the midway point on a long drive I made on a regular basis. I always used to stop for the night and we usually ended up watching "SYTYCD." I was super excited to share the trip with her!
DS: What was your favorite part of the trip?
KT: I felt so lucky and spoiled this trip! I tried a lot of awesome new food, learned a lot and laughed a lot.
DS: What was the most unexpected part of the trip?
KT: We got to sit front row at the finale!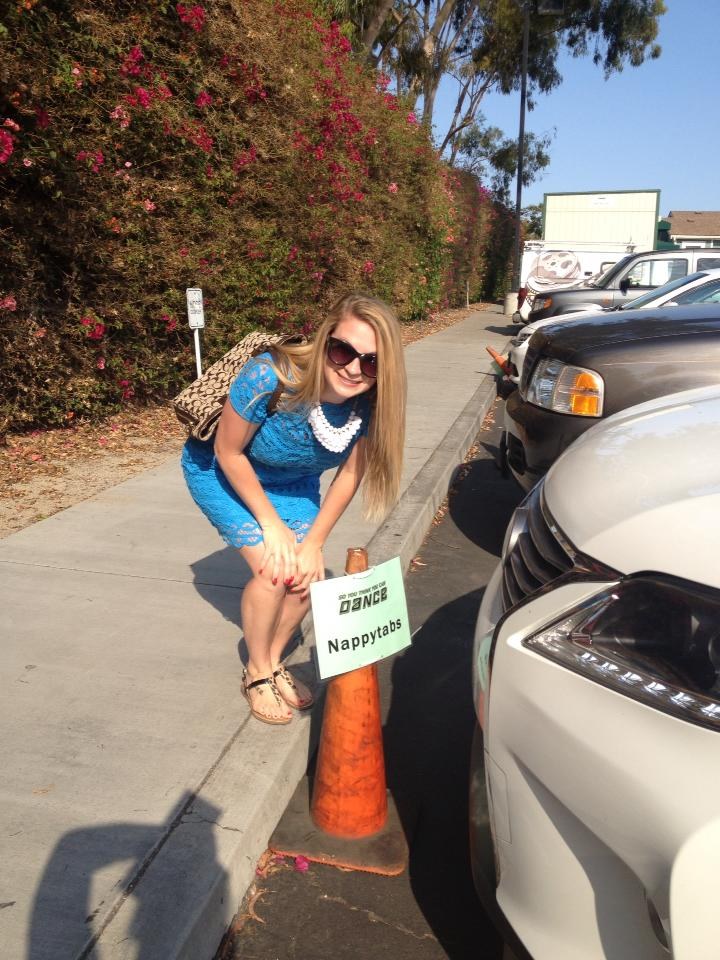 Reserved parking for Nappytabs!
DS: Do you have a favorite memory from the night?
KT: There was such a talented group of dancers this season. Seeing them perform in person was even cooler than watching them on TV.  At the end, seeing Allison and tWitch together made my heart melt! And seeing the choreographers pride in the dancers after the taping stopped was awesome, too.
DS: What was it like watching the show live vs. on TV?
KT: We were front row, so you could see every little detail and every movement. Somehow, it's just all more exciting in person! I also got a thumbs up from my favorite dancer (I went a little fan-girl and shouted his name as he left stage, so he turned and gave me a thumbs up).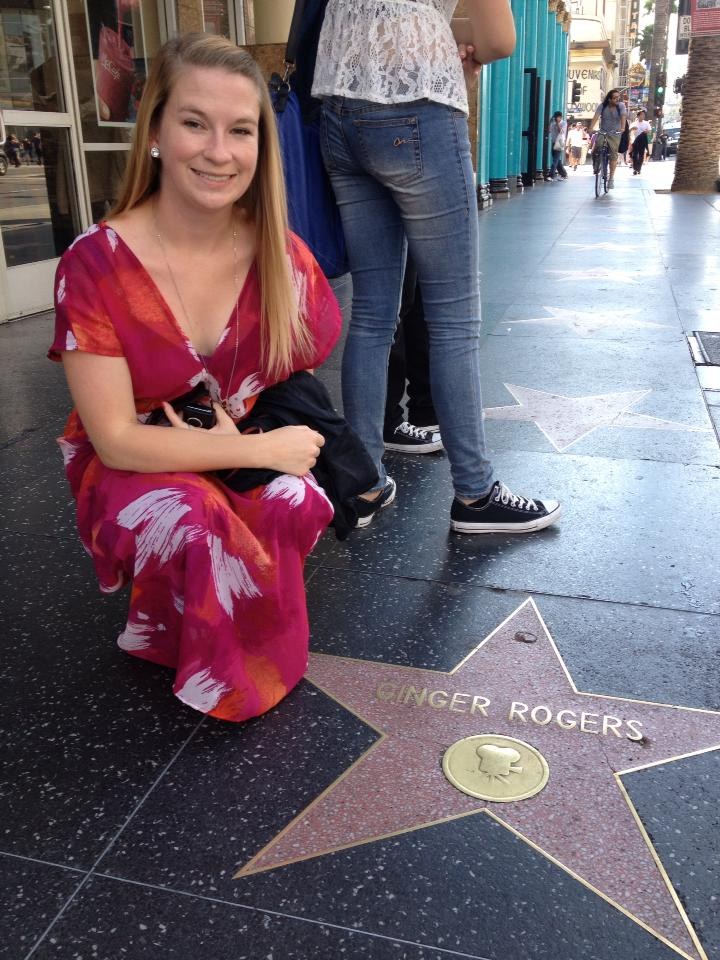 Kathryn visiting Ginger Rogers star on the Hollywood Walk of Fame.
DS: After watching the live performances, which dancer is your favorite?
KT: Aaron and Jasmine have been my favorites from the very beginning. I think all four finalists were awesome in different ways, but Jasmine's grace blows me away and Aaron's ability to master all of the genres made them my favorites.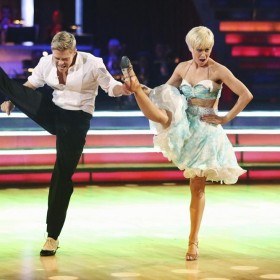 Kellie and Derek perform their "Instant Dance" to surprise music on last night's finale. Check out how together they are! (ABC/Adam Taylor)
Kellie Pickler and Derek Hough!
On last night's "DWTS" finale, these two blonde cuties nabbed the coveted Mirrorball Trophy. And they certainly earned it at Monday night's finals, snagging a perfect score with their fun quickstep and moving the judges to tears with their freestyle. But the competition was tough, and we were left guessing until the bitter end about whether Zendaya and Val Chmerkovskiy would steal the prize.
In case you missed it, check out the video of their awesome quickstep here:
Then, watch their fun "After Party" on "Good Morning America" this morning:
What do you think? Did Kellie and Derek deserve the prize? Or were you rooting for someone else?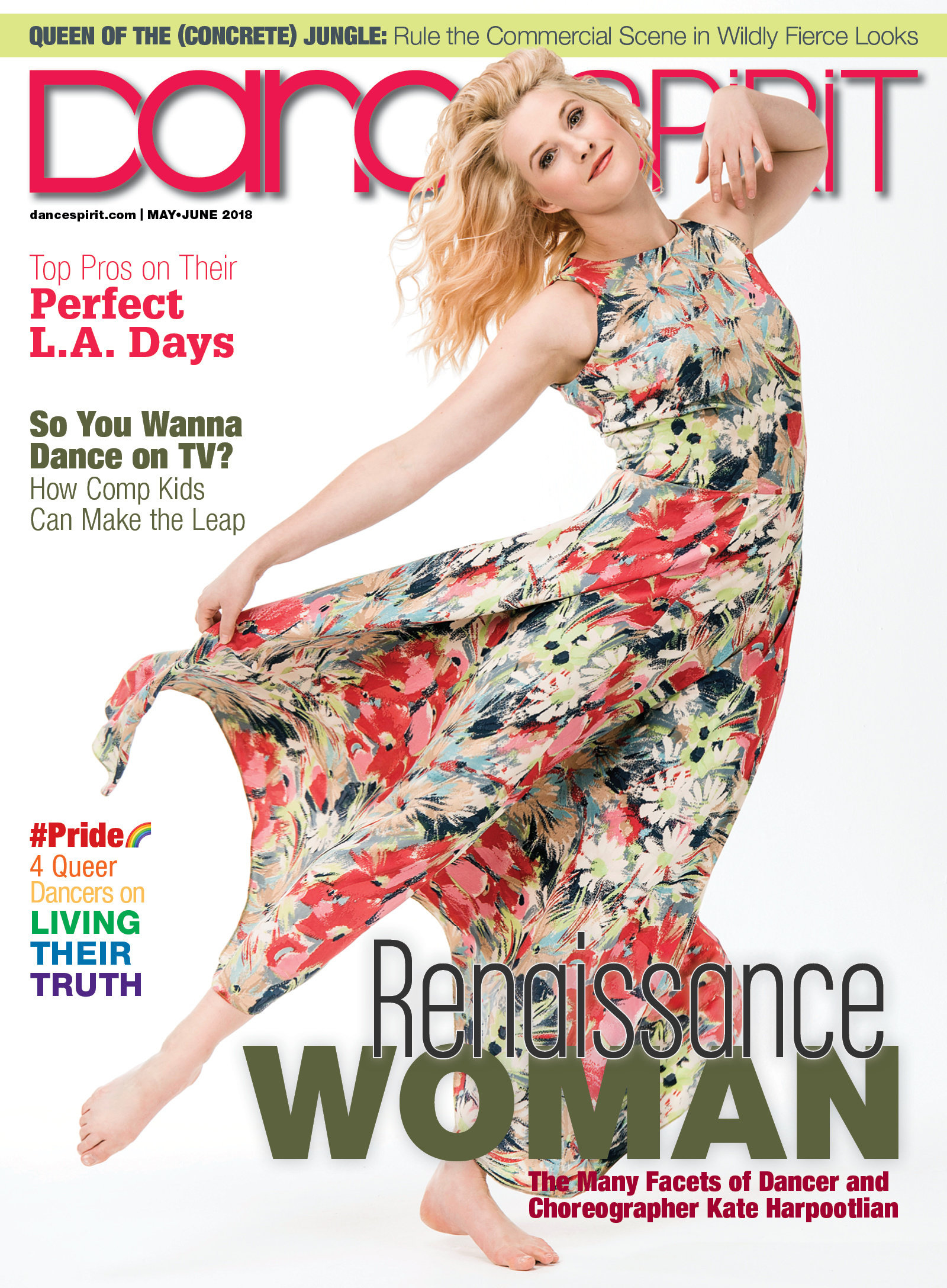 Get Dance Spirit in your inbox