Fourteen-year-old Kennadi Boese is a teenage dance superhero. For one thing, she's successfully living a double life. One day, she's studying dance and going to school in Colorado like a normal teenager; the next, she's booking major L.A. gigs like the Kids' Choice Sports Awards. It's not just Kennadi's schedule that's super-powered: Her turns are effortless and endless, and she's crazy-versatile (flamenco, anyone?).
"It doesn't matter where you're coming from or how long you've been dancing. You can always accomplish your dreams, because you are capable of more than you think!"— Kennadi Boese
Keep reading...
Show less
Here at DS, we're big believers in our Sunday #MomentofZen. It's important to take a day to recharge and prep for the week ahead, especially when it comes to setting goals. Which is why we thought it was the perfect time to introduce our Sunday Spotlight Roundup. Maybe you've been wanting to master a new leap in jazz class, or prep your pointe shoes differently—no matter the goal, we've got you covered with these in-depth, how-to articles, covering everything from convention tips to Balanchine technique.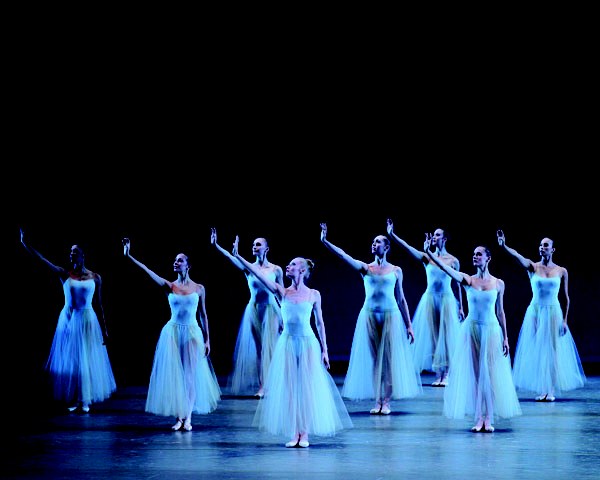 New York City Ballet in George Balanchine's Serenade (by Paul Kolnik)
For the bunheads:
Did you start at a new studio that teaches Balanchine technique? Our "Dancing Balanchine" spotlight focuses on all the beautiful intricacies of his style and choreography.
Have your pointe shoes been dying faster than usual? "Shank Strategies" offers tons of super helpful advice on how to customize your shoes.
Are you constantly wondering when you'll be getting that first pair of pointe shoes? "Am I Ready for Pointe?" helps you determine if your strength and technique are solid enough.
For the competition and convention regulars:
Not feeling too hot about your competition routine? We broke down all the problems you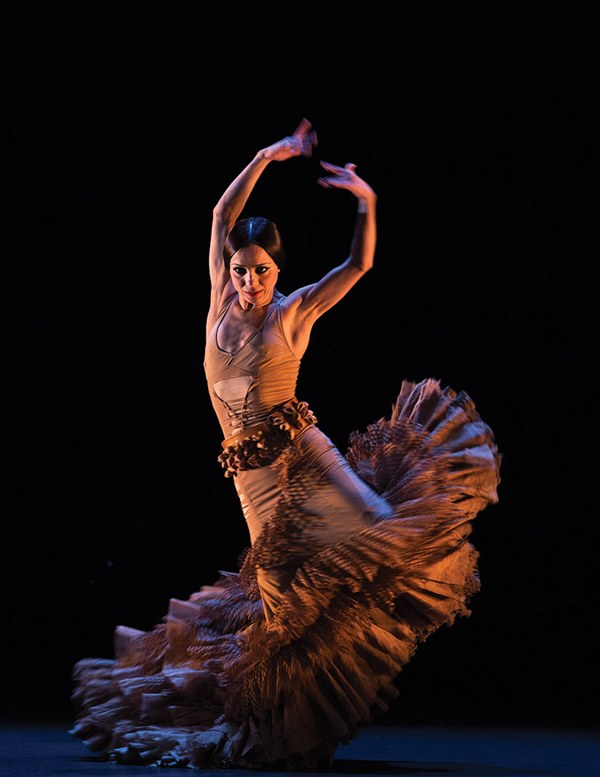 Olga Pericet in Pisadas (photo by Javier Fergo, courtesy Jerez Festival)
might have with your new piece  (and the solutions).
Only dance on marley at home? Sometimes the floors at conventions can prove to be the biggest challenge. We rounded up the best tips on how to deal.
For dancers wanting to try a new style: 
We explain how to execute a perfect Switch Firebird jazz leap.
Curious about finger-tutting in the hip hop scene? We asked the pros to walk us through a sequence.
Looking to spice up your dancing? Learn all about the passionate, musical world of Flamenco.
World Dance
Oct. 01, 2014 01:00PM EST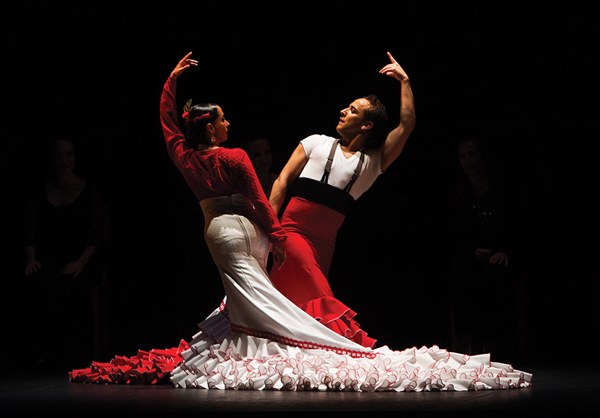 Belén Maya and Manuel Liñán in Los Invitados (photo by Javier Fergo, courtesy Jerez Festival)
With its precise, tap-style footwork and intricate hand and arm movements, flamenco dance embodies both the grounding heaviness of life's challenges and the uplifting nature of the human spirit. It's also based on an extremely complex rhythmic structure. But that complexity shouldn't scare off dancers new to the style, especially those looking to improve their sense of timing.
Because flamenco dancers are in constant dialogue with their music—particularly when performing with live musicians—they have a highly developed sense of rhythm. For example, while the musicians perform one beat, a flamenco dancer might tap out a counter rhythm with her feet, creating appealing syncopation.
How can you channel that flamenco vitality, and use it to develop your own coordination and timing? Dance Spirit talked to star flamenco dancers at southern Spain's famous Jerez Festival to find out.
Play with the Beat
Trying to pinpoint the rhythm of a complicated piece of music can be difficult. Dancer Domingo Ortega recommends making a game out of identifying everyday rhythms, so that your ears get used to picking up different beats. "It may seem silly, but I love playing with the beat of almost anything I hear," says Ortega, who has taught and choreographed flamenco around the world. "When I'm driving, for example, I'll create a counter rhythm to the clicking of the turn signal." Don't be afraid to drum out a beat with your fingers on a tabletop, or to clap along to a song while standing in line at the grocery store. If you involve rhythm in your daily life, that sense of timing will come more naturally to you in the dance studio.
Study with a Metronome
If you're rhythmically challenged, a metronome can help you get on the beat—and stay there. Even flamenco pros swear by the simple device. Belén Maya—daughter of dance legend Mario Maya and one of the most renowned female flamenco dancers of the last 10 years—relies on a metronome to help her maintain coordination in the studio. "The metronome gets me to keep a steady speed when I'm doing rhythmic foot exercises," she says. Over time, its consistent beat will work its way into your head—and your body.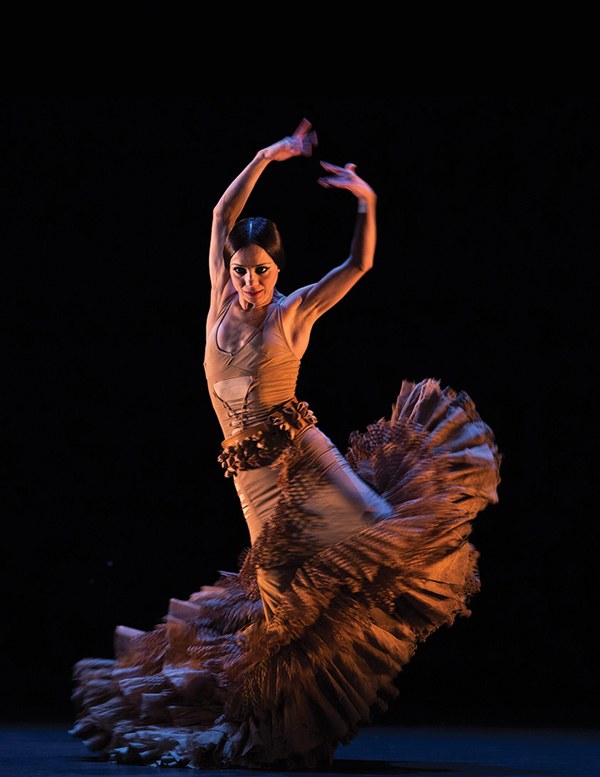 Olga Pericet in Pisadas (photo by Javier Fergo, courtesy Jerez Festival)
Forget Counting
Acclaimed flamenco dancer Joaquín Grilo says great performers "make the body, the interpretation and the rhythm independent of one another," being sure not to place too much emphasis on any one piece of the puzzle. If you devote all your mental energy to counting out the rhythm, the other facets of your performance will suffer.
"You can count when you're learning a piece, or if there are steps you have yet to fully grasp," Ortega says. "But it's impossible to count and perform. If you count, you're no longer responding to the music—you're focused on nothing but the rhythm." When preparing for a performance, give yourself plenty of time to practice intricately syncopated choreography. After enough repetition, the rhythm will become something you feel instinctively, rather than something you have to count to understand.
Learn from the Greats
One of the best ways to learn timing and rhythm is to take class from dancers who are already masters. Expert flamenco dancers can help you understand rhythm from the inside out. Even as an established artist, Maya still takes classes with a variety of teachers. "It keeps my mind agile, and it prevents me from becoming repetitive in my rhythms," she says.
Don't live in a flamenco hotspot? No worries: There are all kinds of video resources available online—films of flamenco rhythm masters that you can study on your own time. Follow the example of up-and-coming flamenco dancer Alberto Sellés, who has found old videos of dance masters to be invaluable resources: "These dancers are the pillars of our artform, and by watching their videos, I can learn from them, too."
In Compania Rocío Molina's newest production, Oro Viejo, flamenco sensation Rocío Molina's tight, salmon-colored dress, blonde hair and decorative hair clips make her look like a cross between an 18th century Spanish lady and a porcelain doll. With a fan in hand, she twirls across the stage then stops momentarily to draw attention to her dramatically arched arms. The furious movement of her hand propels the fan so quickly that it becomes a blur of pink and white reflected light. Finally, she pauses in silence, turns to the audience and gives her forehead and outstretched leg two gentle taps with the fan as if to say: Although my dance is rooted in tradition, it is playful, powerful—and present.
At just 25, Rocío is causing a stir in the flamenco world. While her choreography maintains classic flamenco elements at its core, it's refreshingly modern with partner lifts and touching—both off-limits in traditional flamenco. Because of this unique and daring blend, Oro Viejo was an undeniable success at the 2009 Jerez Flamenco Festival, one of Spain's largest and most important annual flamenco festivals. The four-person piece also garnered the young dancemaker the honor of best choreography at the Bienal de Sevilla, a month-long festival held every two years.
With innate talent and charming, inventive movement, it's hard to imagine this successful artist being anything other than the stunning performer she is now. But Rocio, who was born in flamenco-rich Málaga, Spain, to a ballerina mother and painter father, explains, "I was really serious and boring as a little girl! But when I was 3 years old, I started dancing at a party. From then on, I always said I wanted to be a dancer." So she started taking ballet lessons, and by age 7, she was hooked on dance. She adds, "Even though I liked classical ballet, there was something in me that favored flamenco."
Following her passion, Rocío moved to Madrid at age 15 to continue her flamenco studies and begin her professional career. Two years later, in 2001, she joined world-renowned flamenco dancer María Pagés' company. By 2003, she'd begun her solo career, performing internationally with legendary dancers, like Israel Galvan, Mario Maya and Manuela Carrasco, who she cites as her one of her favorite flamencas. And by age 21, she had established her eponymous troupe, which to date has produced four flamenco shows choreographed by—and starring—Rocío.
Rocío says she decided to choreograph so early in her career to take flamenco in new, more contemporary directions. Her movement often strays from the flamenco cannon and incorporates contemporary and classical Spanish dance with an aesthetic that Rocîo describes as "continuous circular movement. Strong, fresh, dynamic and versatile."
But this success and style wasn't achieved effortlessly. "Everything has developed the way I've wanted it to, but that's because I've fought for it. I've always gone directly after what I want. I've had to face challenges along the way—fear, a bad performance—but I've worked past them." Among these challenges Rocîo says making the leap from dancer to choreographer was one of the toughest, especially since she felt the need to "create a completely new, unique and transparent yet personal dance language."
As Rocío sees it, these ups and downs are just part of life. She says her strong sense of self balances her in the face of obstacles and thinks making conscious decisions and sticking by them is paramount to reaching your goals. She also cites consistency and discipline as keys to success. "Know at all times who you are," she says. "Be motivated and inspired, but don't be hasty. When you're young, you always want more, and you want to get from A to C without passing B, but you can't skip anything. You have to be patient."
Coming from a young woman who has already accomplished so much at such a young age and who will continue to tour with her own troupe, her advice might seem ironic. But her unique blend of dedicated training, out-of-the-box style and can-do attitude has worked wonders for this fabulous Flamenca.
FUN FACTS:
Favorite flamenco dancer: Carmen Amaya
Favorite non-flamenco dancer: Pina Bausch
Favorite film: Spirited Away
Favorite ice cream: stracciatella
Non-dance Hobbies: hiking, reading, playing squash
Photo courtesy Compania Rocio Molina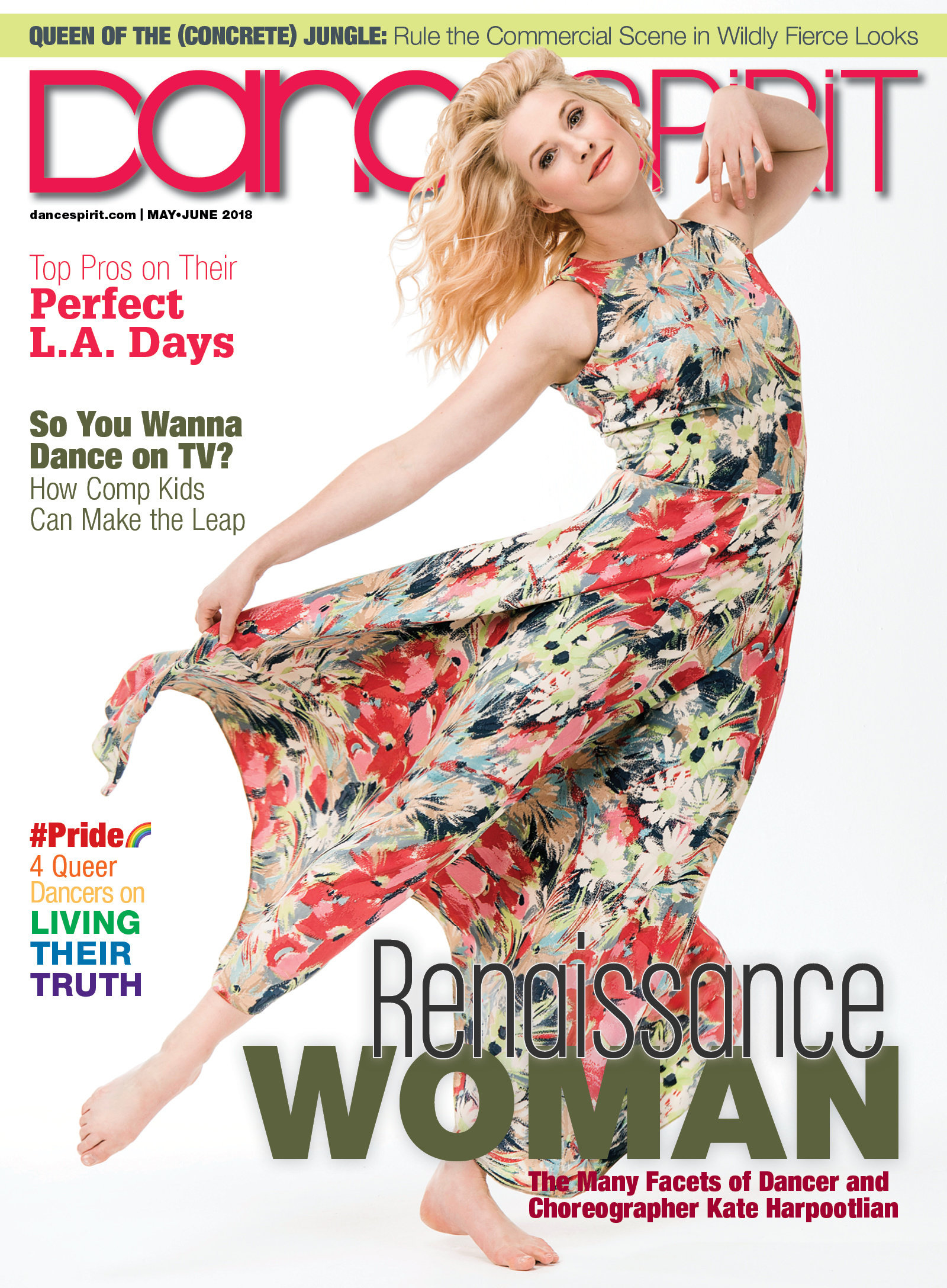 Get Dance Spirit in your inbox