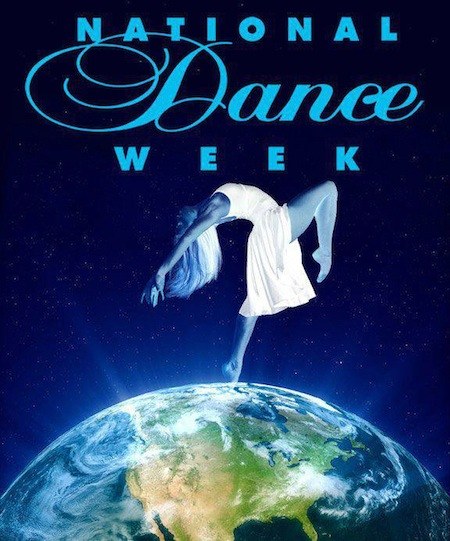 It's the most wonderful tiiiiiiime of the year...or it's about to be: National Dance Week officially kicks off tomorrow, and runs through May 4.
How can you get involved in the fun? Let us count the ways! First of all, studios and organizations have planned celebrations ranging from traditional performances to full-day festivals. Visit the National Dance Week website to find out what dance-tastic events are happening in your area.
And no matter where you live, be sure to participate in NDW's third annual dance mob contest. The rules are simple: Start by learning this year's official routine, created by choreographer extraordinaire Gregg Russell. Then teach it to a group from your studio or school, or even just a bunch of dance-inclined friends. Make a video of your posse performing the routine, upload it to YouTube, and submit the link to the official NDW site. Winners will be chosen in the following categories: most votes, most interesting location (get out of that dance studio!), most creative, most participants, and best spirit.
The deadline for submissions is June 4, so get on it, everyone! Check out the official choreography below:
Are you tired of hearing about politics these days? Yeah, we know. But here's something that, whatever your political leanings, is guaranteed to put a big smile on your face: Choreographer Celia Rowlson-Hall and partner Mia Lidofsky orchestrated a giant #PantsuitPower flash mob in support of Hillary Clinton, with hundreds of dancers getting down in their finest, yes, pantsuits. And it was just the happiest happy that ever happied.
How did Rowlson-Hall and Lidofsky make the whole shebang, which took place in NYC on Sunday, happen? They issued an open invitation to "all dancers, movers and shakers of all ethnicities, ages, and genders." Rowlson-Hall spent hours upon hours over the course of nine days teaching the nearly 200 volunteers—including such luminaries as Martha Graham principal Peiju Chien-Pott—the choreography, which they set to Justin Timberlake's "Can't Stop the Feeling." They raided pretty much every one of NYC's thrift shops for pantsuits in all shapes, sizes and colors. And they organized a 10-camera shoot in Union Square to document all the action.
The result is awesome, you guys. The discourse surrounding this election has been incredibly ugly, but this is a beam of bright, beautiful sunshine.
The official video of the event just went up, so enjoy—and if you're over 18, please get out there and vote on November 8.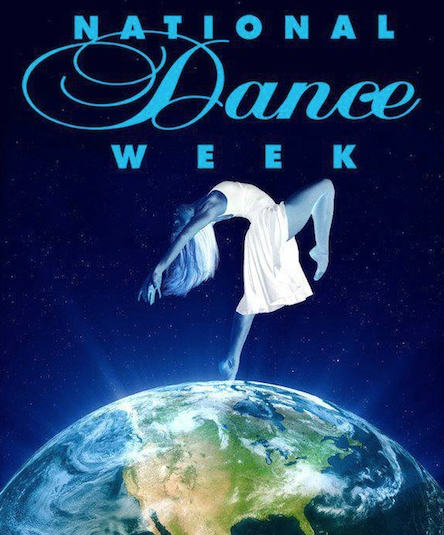 Remember back in February, when we told you to start gearing up for National Dance Week 2015? Well it's finally here, folks! In fact, it started yesterday and runs until May 3. But don't worry—even if you forgot to get a head start, there are still plenty of ways to participate. Here's how:
1. Get local. Dancers across the country are holding events all week to celebrate. Click here to find out what's going on in your area.
2. Submit a video. The NDW Foundation is still accepting entries for this year's dance mob contest. To make a submission, grab a group of friends, learn the 2015 choreo by Michael Rosales (below), film it and upload it to NDWF's website. Contest winners will be announced two weeks later, but with the chance to spread the love of dance around your community, it's really a win-win situation, amirite?
3. Just dance (it'll be OK). Believe it or not, the best way to celebrate National Dance Week is to...well...dance! Whether you're training in ballet class, performing on stage, flash-mobbing on the streets or dance-partying in your living room, take a moment this week to appreciate what we (completely unbiasedly) think is the coolest art form out there. And while you're at it, snap some pics and post them to Twitter or Instagram with #NationalDanceWeek. Happy dancing!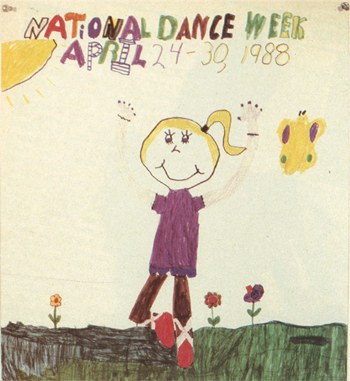 Kim Lavongha, age 7, won one of the first NDW poster contests ...d'aawwwww!
April may be a couple months away, but it's not too early to start prepping for National Dance Week, which runs April 24–May 3. To give you some ideas, the NDW Foundation has already begun announcing the ways you can get involved in the celebration of dance and fitness:
1. Participate in the NDW essay and poster contests. Essays should be 250–500 words and answer one of two prompts: 1) Why is dance so important in your life and how has it helped you in other aspects of your life?; or 2) Why is dance important enough to both individuals and communities that we should we take a week to celebrate it? (If you're feeling a little less left-brain–inclined, feel free to design a poster that addresses the topic: What does dance look like?)
2. Learn the choreography for this year's flash mob contest, and start teaching it to your friends, siblings, classmates, grandparents, strangers off the street. (OK, maybe not strangers...but you get the picture!) The moves were created by Michael Rosales, and though the hip-hop choreo is basic enough for beginners to pick up, it's also a great base for more-advanced embellishments. Once you get your crew together, upload your video to YouTube and send it to NDWF. People will vote on their favorites during NDW, and winners will be announced two weeks later.
3. Produce a dance event, hold a fundraiser for your studio...the possibilities are just about endless! Visit National Dance Week's website to find out more.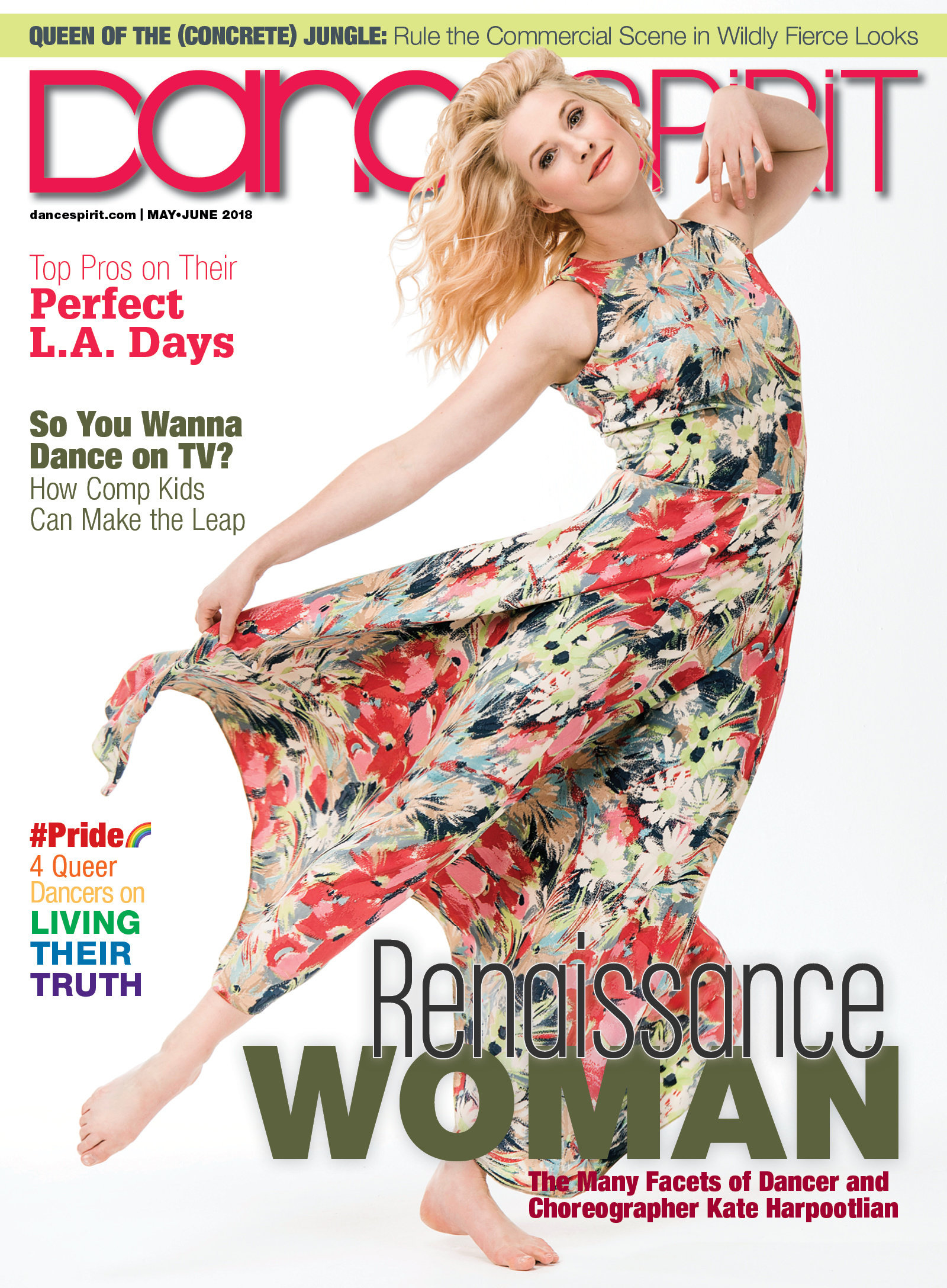 Get Dance Spirit in your inbox