Jennifer Lawrence with her Red Sparrow dance double, ABT's Isabella Boylston (via Twitter)
Guys, how excited are you for Red Sparrow? The fabulous-looking thriller, starring Jennifer Lawrence as a ballerina-turned-spy, has dancers everywhere buzzing—in no small part because a real star dancer, American Ballet Theatre principal Isabella Boylston, acts as Lawrence's dance double. (The film's ballet bona fides don't end there, btw: Your boyfriend Sergei Polunin makes an appearance as Lawrence's partner, and Justin Peck provided the choreography.)
Red Sparrow got us thinking about some other famous onscreen dance doubles—and about the controversy they've inspired. (Always credit your dancers, filmmakers!) Here are a few of our all-time faves.
Keep reading...
Show less
Whether you're a musical theater buff or someone who lives for the Step Up franchise, you have to admit that dance movie scenes are often (all too) representative of real life. Here are five of our favorite scenes that, despite being silly and/or fantastical, somehow manage to reflect how we feel.
1. Did you just get cast in your dream role? Ace a test? Is "You Can't Stop the Beat," from Hairspray, running through your mind right now? It's an amazing anthem to sing to yourself when you feel unstoppable.
2. The warehouse dance scene in the original Footloose is legendary. This is how we deal with casting disappointments when nobody's watching.
3. "Good Morning," from Singin' in the Rain is so cheerful that it's easy to forget the song is sung by exhausted people who have just pulled an all-nighter. But anyone who says they don't do a victory dance when they come up with a great idea is lying.
4. Does the audition scene in Flashdance perfectly capture all of our audition anxiety? YES. But like any successful dancer, Alex shows exactly why she's unique—and it wins her a spot at a prestigious art school. Also, her high-cut leo and legwarmers are everything.
5. "We Go Together" from Grease perfectly encapsulates our feelings at the end of the school year or a summer intensive, or after a show closes: We're both relieved and sad that everything is over, but we know we've had an amazing bonding experience with our friends and colleagues.
Want more Dance Spirit?
Is it Friday yet? WOMP. If you, like us, are suffering from a severe case of the Mondays, we've got a little something to ease your pain (or at least distract you from whatever productive thing you "should" be doing).
You know we love a good dance-in-movies supercut, and today, we're sharing perhaps the most epic montage yet. It features 88 dance scenes in just over three minutes (88!)—and it's set to Walk the Moon's "Shut Up and Dance," which is pretty much always good advice.
The coolest thing about this supercut is its range: It has your classic dance flicks—Dirty Dancing, Center Stage, Footloose, Save the Last Dance, Flashdance, White Nights—and a number of movies you wouldn't automatically associate with dance. Like who'd have thought to include Perks of Being A Wallflower in a dance supercut? Or what about She's All That, or (500) Days of Summer? This supercut genius thought outside the box, and we're pretty pleased with the results.
Now that we've given you a head start, it's time to test your dance-in-movies chops. Watch the supercut, and see how many of the 88 scenes you can name. (Or, you can cheat and read the comments—the movies are listed frame by frame.)
October 31 is only four days away! But don't freak out if you haven't chosen a costume yet. DS has got you covered. Here are some dance-y costume ideas to get your creative juices flowing:
1. The cast of "Glee"! The show is coming to an end soon, so don't miss this chance to portray ditzy Cheerio Britney S. Pierce or preppy Rachel Berry. (Photo courtesy FOX)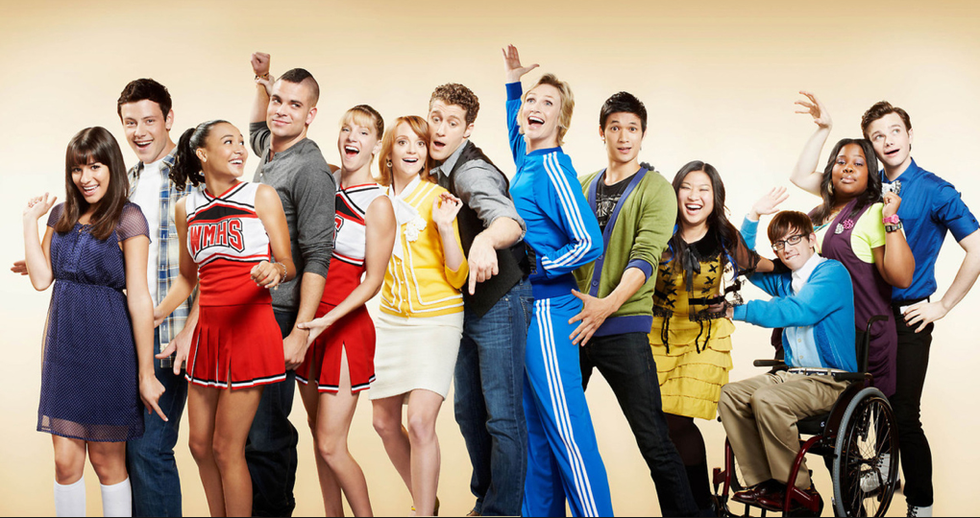 2. Flash back to the 80s for a "Flashdance: The Musical"-inspired look. Only dancers can look this good in head-to-toe spandex. (Photo of Jakob Karr by DRGphotography)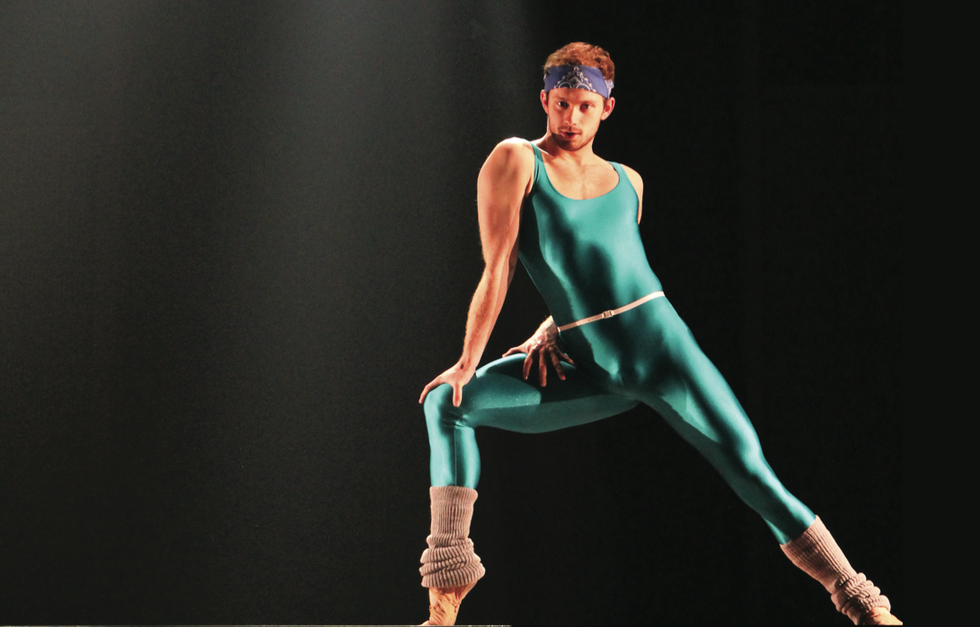 3. Newsies. Seize the day in a plaid shirt, suspenders and newsboy cap. Add a rolled-up newspaper to complete the look. (Photo by Deen Van Meer)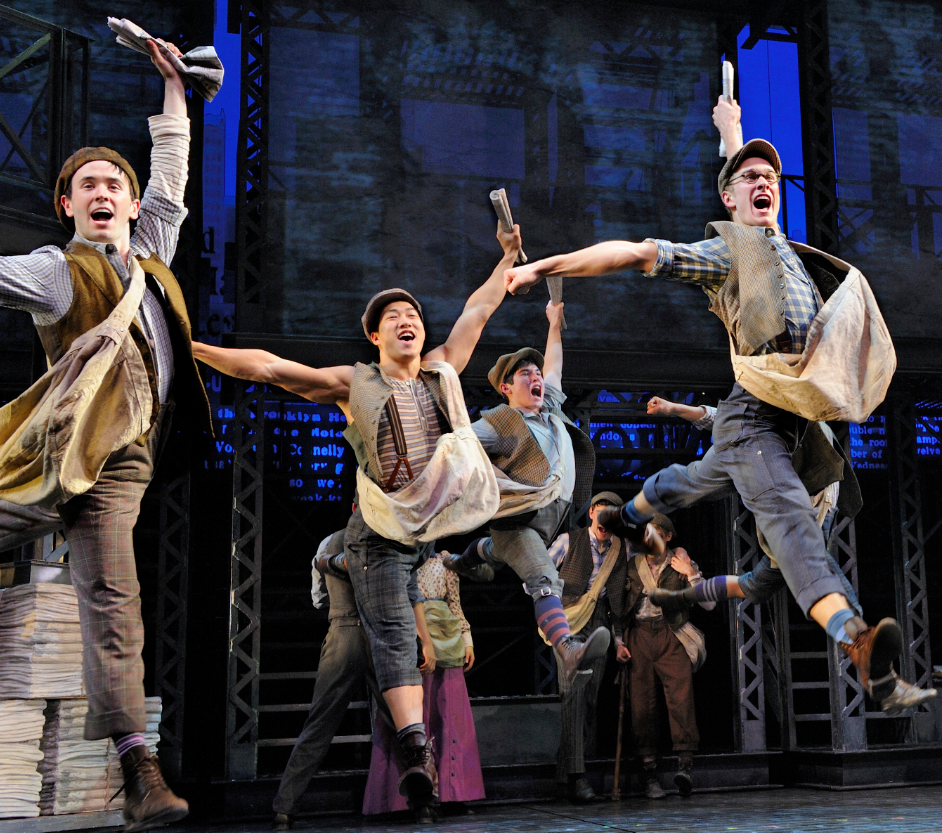 4. The Abby Lee Dance Company. Looking the part of this "Dance Moms" crew only requires your favorite matching Jo+Jax shorts and top. Cold in those tiny outfits? Throw on a hot pink sweatsuit. (Photo by Scott Gries)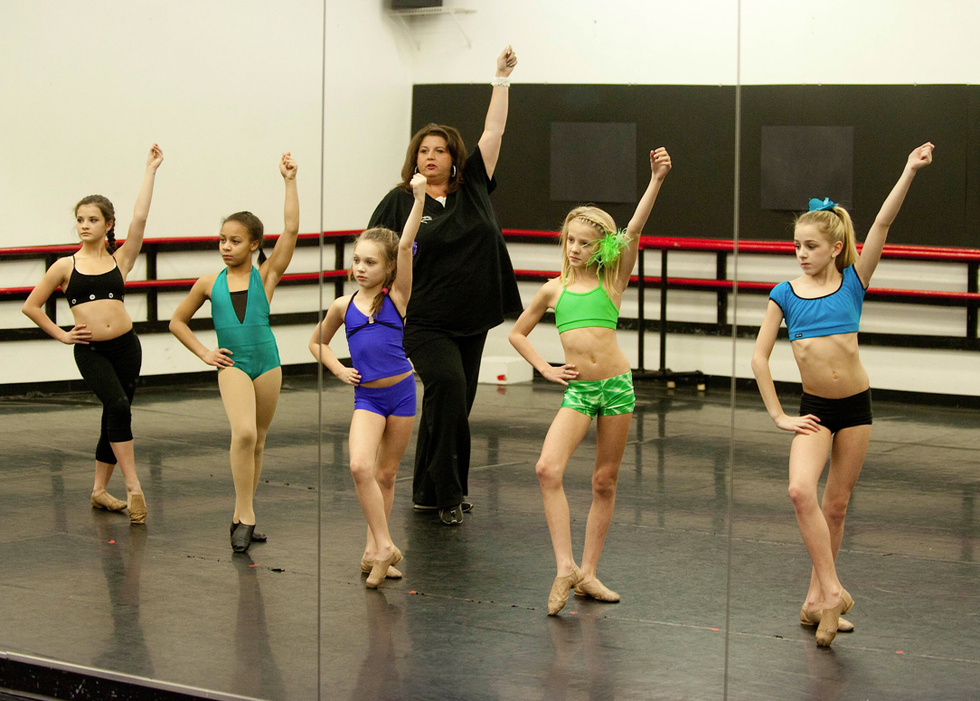 5. The many looks of Beyoncé. Because who didn't watch Baddy Bey's Pepsi commercial over and over on repeat?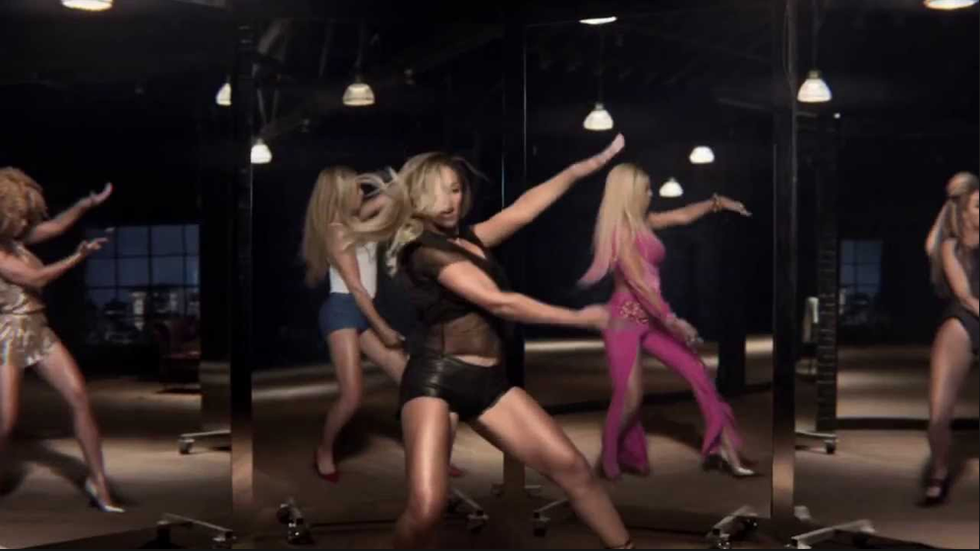 6. The Bellas from Pitch Perfect. Get all done up in an up-do and scarf. Then get your girlfriends together to rehearse your harmony and synchronized moves.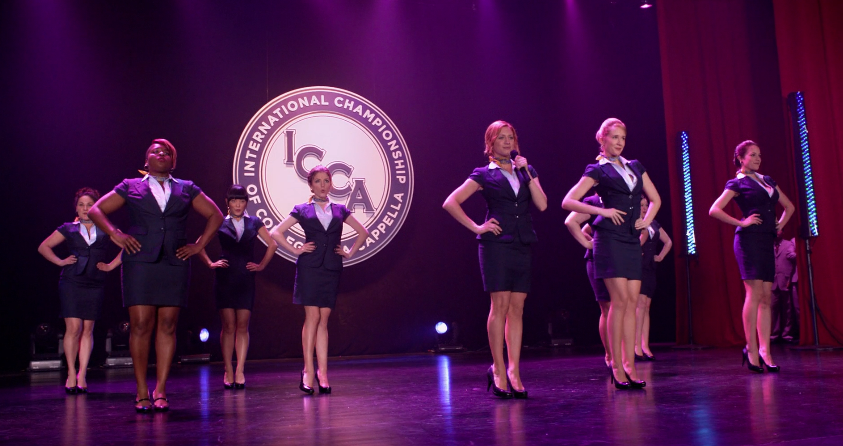 7. "Revolting Children" from Matilda the Musical. Create your uniform with a grey blazer and sweater vest. Don't forget to practice your British accent! (Photo by Joan Marcus)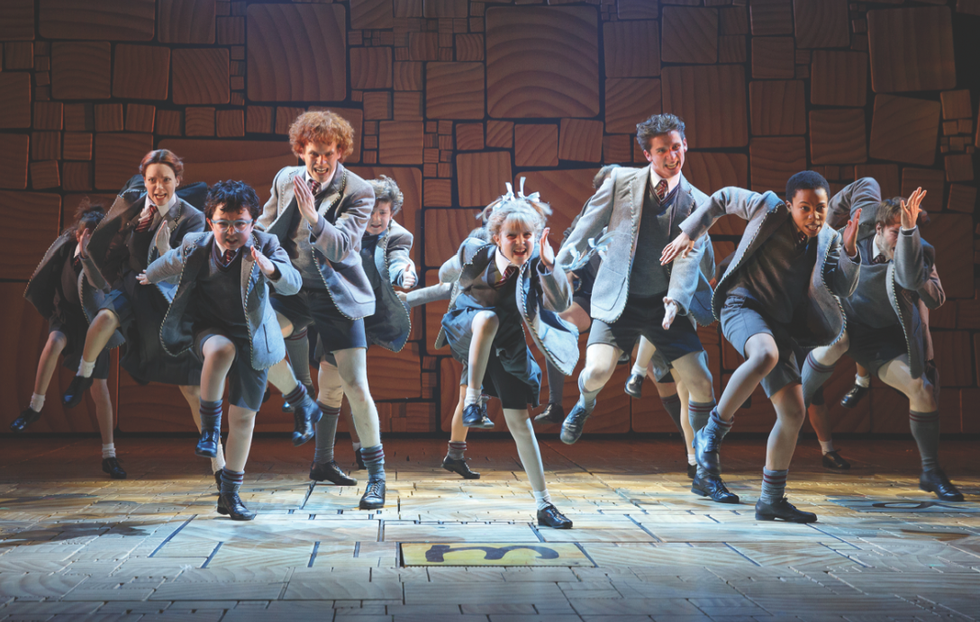 8. The Mob from Step Up Revolution. A classic black suit + killer dance moves = best group Halloween costume idea ever.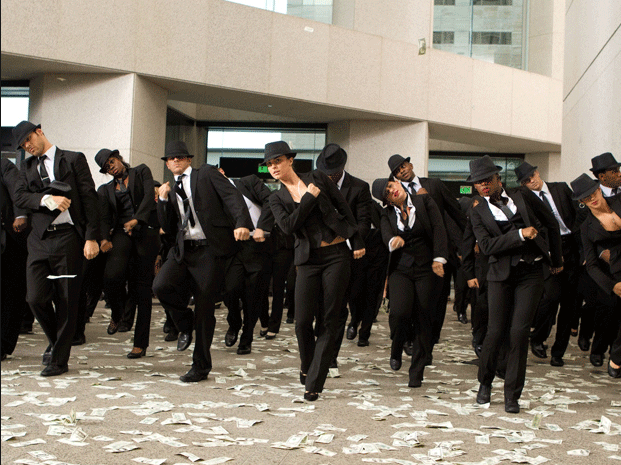 9. The next generation of hip hop! Channel our November cover stars in harem pants and a ton of accessories. (Photos of Emily Hoffman, Simrin Player, Taylor Knight and Jordyn Jones by Erin Baiano)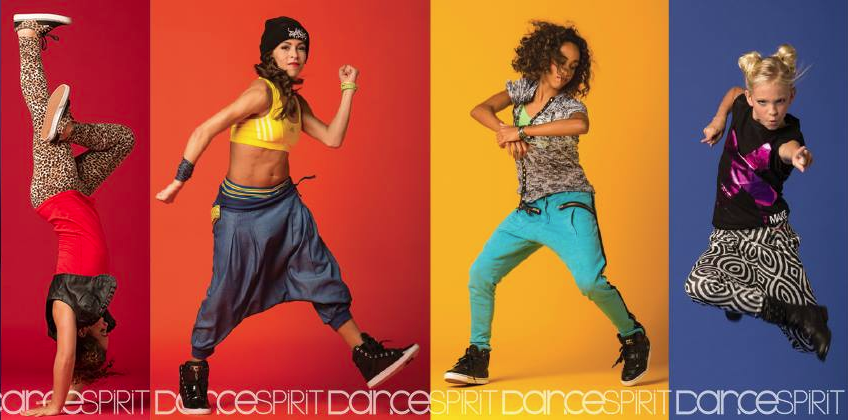 10. What does the fox say? Ring-ding-ding-ding dingeringeding.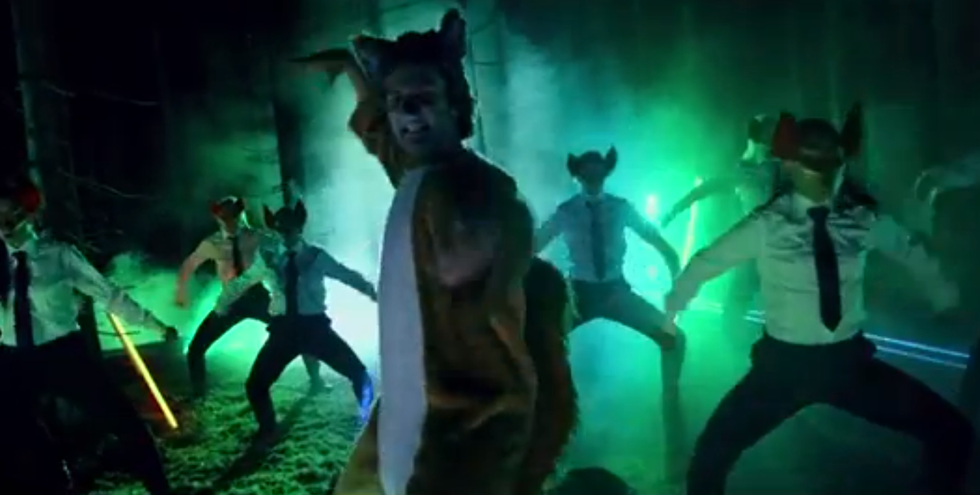 Jun. 11, 2013 03:44PM EST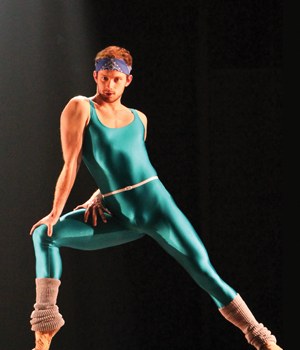 Jakob Karr in Flashdance: The Musical (DRGPhotography)
Jakob Karr, with his amazing extensions, and Kamille Upshaw, with her captivating stage presence, made names for themselves by snatching up award after award on the competition circuit. The two were hired for their first professional dance jobs in 2007—performing together during the halftime show of an alpaca auction in Virginia. And from there, their paths continued to cross: They both moved to NYC for college and then traveled internationally with Rasta Thomas' Bad Boys of Dance. But this past year, Jakob and Kamille switched gears and joined the touring cast of Flashdance: The Musical. Now the two friends are officially in love…with musical theater. "From the first day, I just thought, this feels right," says Jakob. "This is something I could love doing over and over again."
It's not unusual for competition dancers to discover they're destined for musical theater. And with the number of dance-heavy shows on Broadway today, technical dancers are more in demand than ever before. But it takes far more than a killer solo and an impressive collection of platinums to make it on the Great White Way. Read on before you book your ticket to the Big Apple.
Dance This Way
So what kind of dancers do Broadway casting directors covet? Annie choreographer Andy Blankenbuehler says the key is versatility, which many comp kids have in the bag. "The biggest asset young competitive dancers have is the ability to mimic a choreographer's style," he says. "At a convention, students take class from five or six teachers, each with very different styles. They're smart enough to adapt accordingly."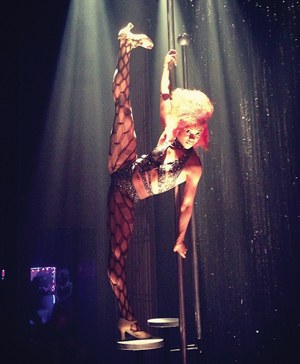 Kamille Upshaw in Flashdance: The Musical (Courtesy Kamille)
Being a smart dancer also means knowing your strengths and understanding what kind of dancing is expected from you at an audition—a lesson Jakob learned the hard way. "My very first audition was for Mary Poppins, and it was so humiliating," he admits. "They made us tap, and I'm probably the world's worst tapper. When I had to perform for the casting directors, I just did time steps over and over again. Believe it or not, I didn't get the job." Do your homework before the big day, and take classes in any styles you're unfamiliar with so you won't be taken by surprise.
Sing Out
No matter how many dance styles you've mastered at your studio, don't expect a job offer unless you can carry a tune. "I can maybe hire one person per show who can't sing. Maybe," says Blankenbuehler, who's worked on productions including In the Heights and Bring It On: The Musical. And rocking out in the shower or along with your car radio doesn't quite cut it. "Just as your body is your instrument for dancing, your vocal cords are your instrument for singing, and you have to know how to work them," says former comp kid and "So You Think You Can Dance" alum Ariana DeBose, who's currently in the ensemble of Motown: The Musical. "Find a vocal coach," she says. "Then choose at least three songs and work on them until you can present your best you no matter what."
Kamille walked into the Flashdance audition—her first musical theater audition—armed with only one semester of voice lessons from The Juilliard School. But she decided confidence would be her greatest weapon. "I figured they were looking for someone who could sell the performance," she says. "You don't need to be able to belt like Whitney Houston to be in an ensemble. Even if you don't feel like you have the best voice, prepare something that showcases your personality." For Kamille, that was Estelle's "American Boy." Jakob's first audition song? " 'Happy Birthday to You,' " he says. "I was as clueless as they come, but the next time I had a song prepared. And now I see a vocal coach whenever I'm in New York."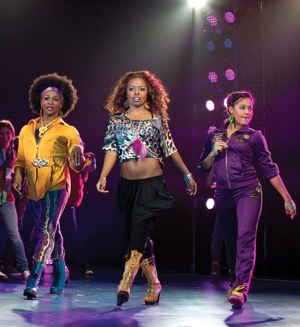 Ariana DeBose (right) in Bring It On (Joan Marcus)
Acting 101 
While some studio kids may have taken voice lessons in addition to dance class, there's a third component they must master before being a true triple threat: "You have to be a performer," Blankenbuehler says. "In a musical, dancers won't necessarily have to sing solos, but they will always have to project emotions."
Newsies dancer John Michael Fiumara, a past New York City Dance Alliance Senior Outstanding Dancer, says the hardest thing about his transition to musical theater was getting into character. "I never really thought of myself as a musical theater person, but just to be safe, I took voice lessons throughout my dance training," he says. "The biggest challenge for me in Newsies was understanding the story and imagining myself as my character, Specs. But the directors told me they chose me because they liked the flavor I gave to the role and the look on my face when I danced." Unfamiliar with acting? Sign up for a class or join a local community theater production.
Create Connections
Even if they've never had an acting or singing lesson, competitive dancers have a built-in resource many others don't: a wide network. "It's amazing how many people I danced with at competitions who are doing Broadway right now," John says. "Competing as a kid gives you so many connections to help you get there." Blankenbuehler, who teaches at NYCDA conventions nationwide, commends the rare dancer who approaches him to ask about upcoming auditions. "The resources are there—you just need to take advantage of them," he says.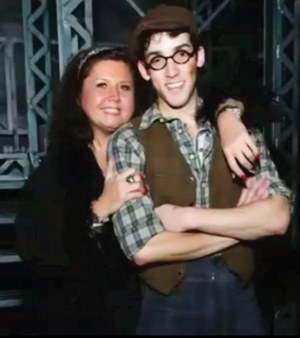 John Michael Fiumara with childhood teacher Abby Lee Miller on the Newsies set (courtesy John)
Once you've left the competition circuit, viewing every audition as a chance to expand your network will make lasting impressions that may lead to more auditions. John auditioned twice for Newsies to no avail, but the casting directors remembered him and called him back for a third, invitation-only audition when the role of Specs opened up. And a casting director from an unsuccessful audition for the show Memphis called Ariana back to audition for what would become her Broadway debut, playing Nautica in Bring It On. "That's how a lot of auditions happen," Ariana says. "You go in for one thing and you don't get the job that day, but they'll like you for something else. That's why I never turn an audition down."
"You're probably going to get a lot of 'no's' before you get a 'yes,' " adds Kamille, who auditioned for many shows while taking a short break from the Flashdance tour this spring. "This industry is hard. You audition more than you work."
Nailed It
After countless auditions and callbacks, nothing beats the feeling of finally nabbing that role. "I got the call and had to leave for the Flashdance tour the next day," Kamille remembers. "There were so many emotions happening at once. But jumping into it like that has been one of the highlights of my career."
If you're a comp kid who's caught the Broadway bug, these dancers prove it's never too late to start tuning your vocal cords, brushing up your acting chops and getting into musical theater auditions. "I didn't grow up singing or acting—I was at a ballet barre in a dance studio," Jakob says. "But with musical theater, I get to do what I love and get paid for it. I'm a part of this world now, and I hope to be part of it for the rest of my life."
Mar. 28, 2012 02:34PM EST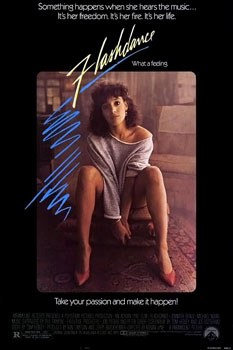 What a feeling! Have you heard that Flashdance, perhaps my favorite of the '80s dance movies (I mean, come on—it single-handedly inspired the off-the-shoulder sweatshirt look), might be heading to Broadway? Nothing Great White Way-related is confirmed yet, but the pre-Broadway run will begin in Toronto on July 31.
No word on who'll play welder-by-day, dancer-by-night, wannabe-ballerina Alex Owens. But Sergio Trujillo (of Memphis and Guys and Dolls fame) is set to choreograph, and I'm guessing his takes on the movie's iconic dance sequences will be the highlight of the show. Let's just hope whoever ends up starring in the musical doesn't need a dance double!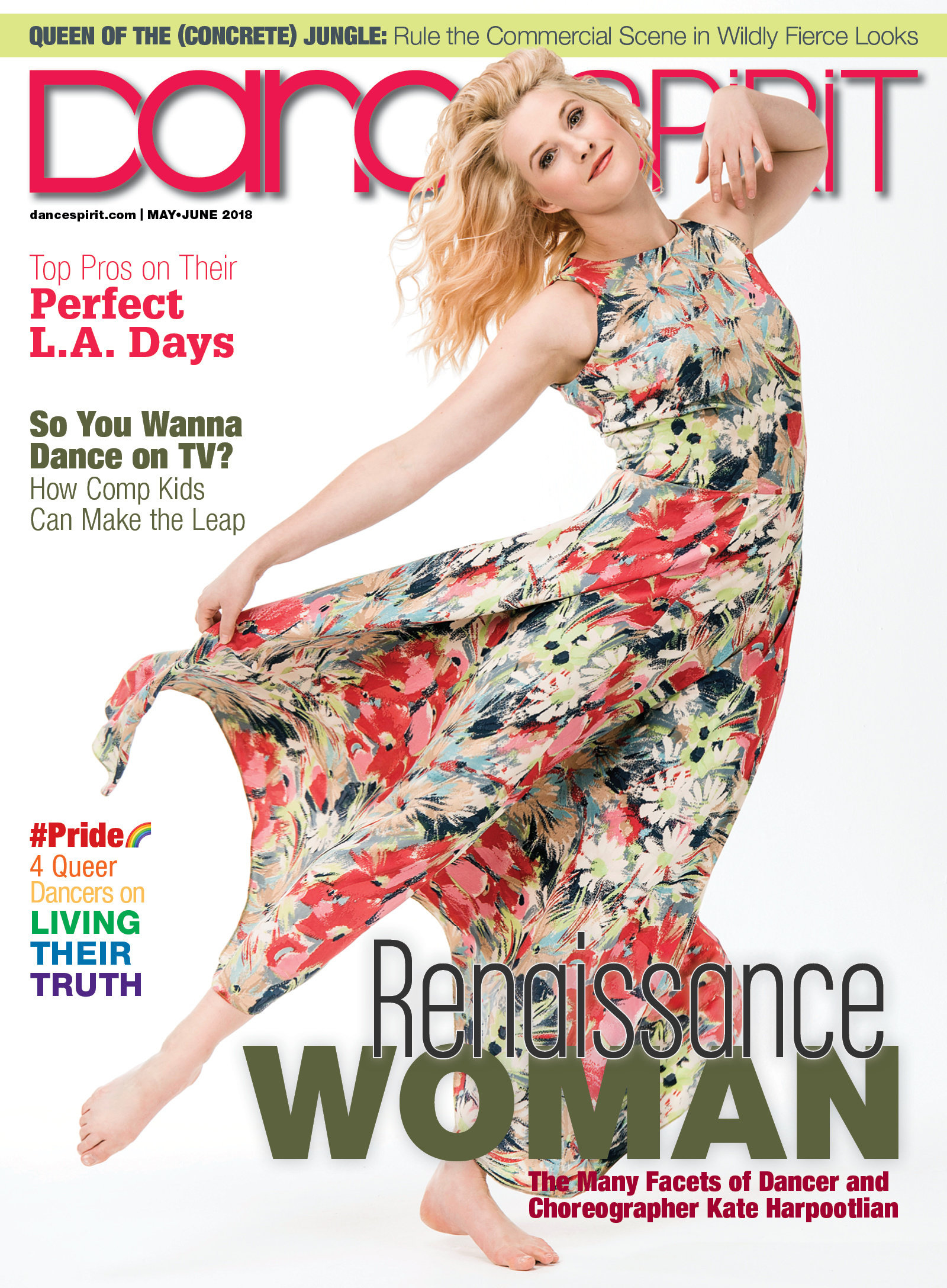 Get Dance Spirit in your inbox