Thinkstock
You know that feeling: At 2 pm, like clockwork, your energy dips and your hunger spikes. The "midday slump" can be a busy dancer's worst enemy. Luckily, you can avoid it by managing your hunger over the course of the day with strategic snacking. We broke down the best times to satisfy your hunger—and what to eat to keep you dancing.
Keep reading...
Show less
Thanksgiving leftovers are easily the best part about the holiday. But digesting rich foods can sap your energy. We spoke with Emily Cook Harrison, a registered dietitian at the Centre for Dance Nutrition in Atlanta, for the scoop on the best Turkey Day leftover recipes for performance power. She suggested a number of delicious combinations, all of which are easy to prepare and transport.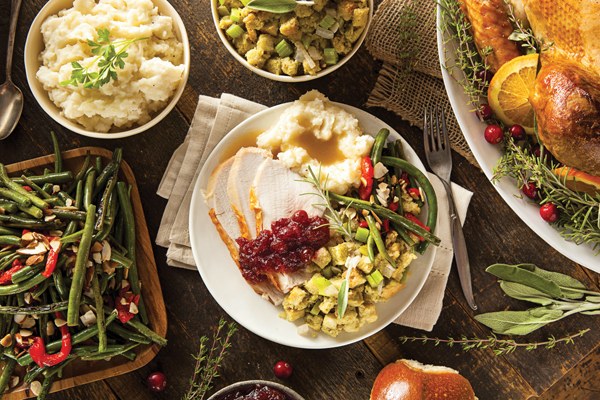 (Photo via Thinkstock)
1. Cranberry-apple relish on multigrain toast
The giant bowl of cranberry sauce sitting in the fridge keeps for up to a week and can be transformed into an energy-rich breakfast treat. Harrison suggests chopping some tangy Granny Smith apples and mixing them in with the sauce. For an extra kick, shave a bit of ginger and sprinkle it in. Cranberries outrank almost every fruit when it comes to antioxidants, and with the toast's carbohydrates, you're sure to feel energized.
2. Wild rice and turkey salad
It's a given that there's always too much turkey at Thanksgiving—this dish is a great way to use up what's left. Simmer 1 cup of wild rice in about 2 cups of water for 35–40 minutes (if you have some vegetable stock, use it instead of water for added flavor). Chop up any leftover vegetables (celery, spinach and kale work especially well) and sauté them with olive oil. Shred or slice some lean, white turkey meat and add it in. Once the rice has cooked, mix all the ingredients together. The vegetables paired with the turkey offer both antioxidants and protein, and the rice's high magnesium content promotes sharper memory.
3. Day-after dip
Sweet potatoes are one of the most delicious Thanksgiving foods—and they're also one of the best carbohydrates for you. Heat up any leftover potatoes, and chop up a mix of almonds, pecans and pumpkin seeds. Once the potatoes are warm and easily mashable, put all the ingredients into a food processor and blend for a delectable dip. Serve it with everything from crackers to fruit.
Bye-Bye Bad Habits
Everyone has bad dance habits, and getting rid of them can feel next to impossible. According to Art Markman, a psychologist at the University of Texas at Austin, trying to break your bad habits isn't enough—you have to replace them with better ones, instead.
Why? For starters, if you know you've got a habit to break, like constantly looking in the mirror during class, it only seems natural to say, "I need to stop doing that." The problem with this is that it's a negative goal—something you inherently don't want to do. And since it's a habit, it's nearly impossible to unlearn, because your body and mind are so used to it.
Markman says it's much easier to learn something new than unlearn something old, so try developing a better habit to replace the bad one. If you catch yourself looking in the mirror too frequently, practice using your head to complete your épaulement—and make sure to follow the line with your eyes. A little modification can go a long way.
Did You Know?
Reaching for your laptop or scrolling through an endless feed of Instagram pics is tempting, especially during a holiday break, when you have more downtime than usual. But it's important to limit your screen time. A number of studies have shown that our short-term memory has limited storage, and according to Erik Fransén of KTH Royal Institute of Technology in Sweden, even a single session on the internet can affect our ability to retain information. That means if you OD on @real_world_ballerina's Instagram feed, the choreo that was fresh in your mind before break may be harder to remember once you're back in class. Browse wisely!
Do you feel overtired, have a hard time catching your breath during grand allégro or seem unable to remember the choreography you learned an hour ago? If you're experiencing these symptoms, don't assume that you just can't keep up. There might be a good reason for your sluggishness: iron deficiency.
Iron deficiency occurs when the body doesn't absorb enough of the essential mineral, causing a wide range of issues. It's a common problem for female athletes, but one that's relatively easy to fix. Here's how dancers can identify, overcome and prevent iron deficiency.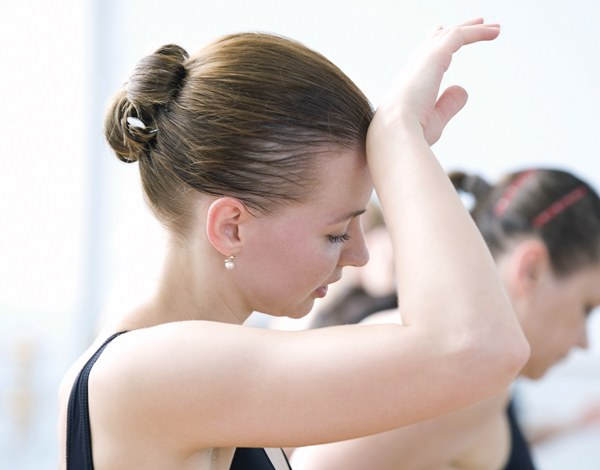 (via Thinkstock)
Why You Need Iron
"Iron is important because it helps carry oxygen in our blood to the tissues in our body," says Dr. Eleni Lantzouni, who specializes in adolescent medicine at the Children's Hospital of Philadelphia. "An athlete's need for iron is higher than that of any other person," Lantzouni adds. "And teenagers need more than any other age group, since they're still growing." Female dancers in particular require adequate iron in their diets to make up for the amount lost during their monthly periods.
If you're iron deficient, you tend to cramp more often because your muscles aren't getting enough oxygen. You can also experience "brain fog"—your thinking may not be as quick and sharp as it could be, making you less likely to pick up combinations or remember and apply corrections.
Iron deficiency may also mean a greater chance of injury. "When you don't get as much oxygen to your tissues and organs, you faint easily," Lantzouni says. "You can get out of breath and your heart rate might accelerate, causing palpitations or other symptoms." If you push through severe fatigue, your muscles might not respond as quickly as they would otherwise, making injuries more likely.
Symptoms of Iron Deficiency
Fatigue is the number one sign that you're low on iron. "You feel more tired, and you aren't capable of getting to the end of a variation with the same oomph," says Emily Cook Harrison, registered dietitian at The Centre for Dance Nutrition in Atlanta. Your aerobic capacity is diminished due to iron's role in transporting oxygen throughout our bodies.
Other symptoms of iron deficiency include a weakened immune system. "You may get sick more often, and can be more susceptible to cold and flu viruses," Harrison says. Your complexion, your gums and the beds of your fingernails could look paler than usual. You might also have circles under your eyes. "With a decrease in immune function, you just feel kind of bad and rundown," she says.
If you're experiencing any of these symptoms, go to your doctor. A simple blood test can determine if you're iron deficient.
How to Increase Your Iron Intake
There are plenty of ways to get more iron from your diet. Red meat and chicken are good sources of easily absorbable iron. Broccoli, beans, nuts, grains and leafy green vegetables provide iron as well, although you might need to eat a variety of these foods to get the iron you need. "If you're vegetarian, have orange juice with your meals," says Lantzouni. "Vitamin C seems to increase iron absorption." Heating iron-rich vegetables can help, too. "If you cook them down a tiny bit, you're actually going to make the iron more absorbable," says Harrison. "Sauté kale in some broth or olive oil, or bake it to concentrate the nutrients."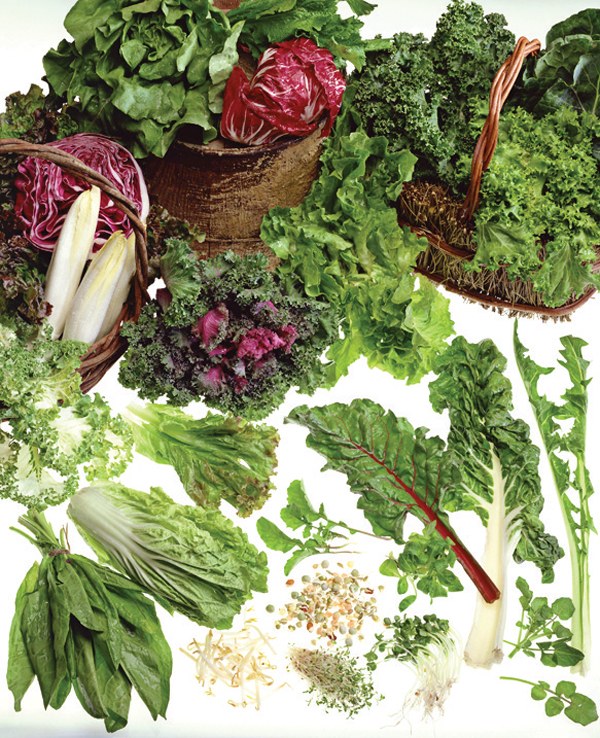 Dark, leafy greens are a great source of iron (Photo Jumpiter Images/Thinkstock)
Multivitamins can be useful, but getting iron from food is preferable. And if you're also taking calcium, avoid taking the two supplements at the same time. "Iron and calcium compete for absorption," Harrison says.
Emily Cook Harrison, registered dietitian at The Centre for Nutrition in Atlanta, recommends this iron-rich kale salad:
Mix a little bit of lemon juice and olive oil with a quarter teaspoon of maple syrup.
Massage the dressing into a handful of kale and add dried fruit (cranberries, raisins or apricots) to taste.
"This kale salad takes just five minutes to make! It's a really popular recipe with my dancers," Harrison says. "The vitamin C and acid from the lemon juice help with the absorption of the iron in the kale, plus the dried fruit is another good source of iron."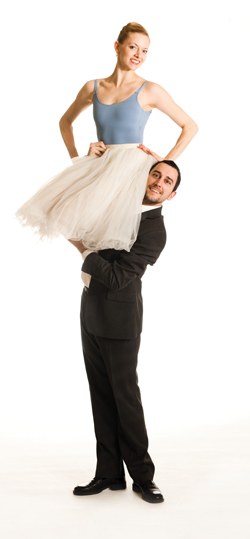 Aaron Ingley and Julia Erickson are partners on and off stage—and now, in business. (Nick Coppula)
When Julia Erickson and Aaron Ingley fell in love with dance—and each other—they had no idea their passion would result in a successful food business. Well into their professional ballet careers, the pair became dissatisfied with the lack of nutrition and plethora of artificial ingredients in energy bars. And so they created their own, appropriately named Barre.
The two started their dance careers nearly 3,000 miles apart—Ingley at the Southern Academy of Ballet Arts in Tallahassee, FL, at age 13, and Erickson at the Pacific Northwest Ballet School at age 7. They met when Ingley went to study at PNB in 1996, and they started dating a year and a half later. Ingley became a member of Pittsburgh Ballet Theatre in 1999, and Erickson joined him in 2001. She's now a principal with the company, while Ingley, who left PBT in 2008, recently graduated from University of Pittsburgh and is a freelance dancer.
For years, they discussed their frustration with energy bars, which tasted bad, didn't have enough protein and were full of questionable ingredients. Erickson found that the snacks that gave her proper fuel—like granola and trail mix—made a mess of her costumes or the studio floor. One night in 2010, she came home from work determined to make a better option. "I've always been a foodie," she says. "And I love experimenting in the kitchen."
Erickson reached for staple performance-enhancing ingredients she already had: dried fruits, like dates for their antioxidants and cranberries for their anti-
inflammatory properties; raw nuts, like pecans, which are rich in potassium, calcium and iron; oats for fiber; and a pinch of sea salt for natural electrolytes, so she could skip the sugary Gatorade. She began making a different version every couple of days, and she and Ingley quickly knew she was on to something. "The bar tasted really good," she says. "I ate it before rehearsal and it gave me awesome energy without making me feel bloated. Once I figured it out, I wanted to share it with the dance community."
She started bringing variations of the gooey snack into the studio to share with her co-workers, and many of them said they would buy it if it were on the market. With the PBT dancers as their willing guinea pigs, Erickson and Ingley perfected the recipe for Barre's debut flavor, called Pirouette Cinnamon Pecan. They spent days in their kitchen cooking, shaping and packaging what would be the first batch of Barre bars for sale. Many of their dancing friends even donned hair nets to help. The new products were sold for $2 apiece at the PBT summer program. "We sold a lot and saw that there was a market," Erickson says. "The students were really into them." They decided to officially go into business.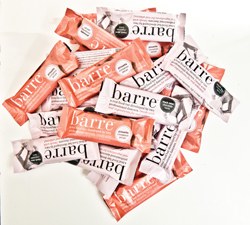 Since business classes aren't part of a classical ballet dancer's training, the pair was unsure what the next step would be. So Erickson approached PBT sports dietician Leslie Bonci, who was immediately on board. She directed them to a food lab to have the product analyzed; the food lab suggested a manufacturer, who introduced them to a company that produces packaging. Then, they organized meetings with Pittsburgh philanthropists to raise start-up money.
Barre made its official debut at the 2011 Dance Retailer News Expo in Las Vegas—less than a year after Erickson threw away her trail mix. "We felt like everyone in the dance retail world was a bit taken aback—in a good way," Erickson says. "It was a great affirmation that as dancers ourselves, we understand what dancers need, and we're able to meet those needs."
Currently, Barre has three flavors, all made with ingredients everyone can pronounce. They're sold across the country, including at Steps on Broadway, the NYC boutiques for Freed, Gaynor Minden and Sansha, select Whole Foods Market stores and Giant Eagle grocery stores.
Erickson and Ingley attribute much of their success to their passion for their product and their ability to "tap into the dance network." All of the Barre team members—who distribute samples at Whole Foods, design the Barre packaging and photograph the product—are current or former dancers. "Barre didn't start with the business in mind," Ingley says. "It started with the dancer's performance in mind." That's why Barre contributes a portion of all its proceeds to arts education programs.
Despite their remarkable success, the couple remains humble, admitting they're still learning as they go. "When we sit here talking about it like this, I feel like we own a real company," Ingley says. Erickson laughs, putting her hand on his. "I think we do!"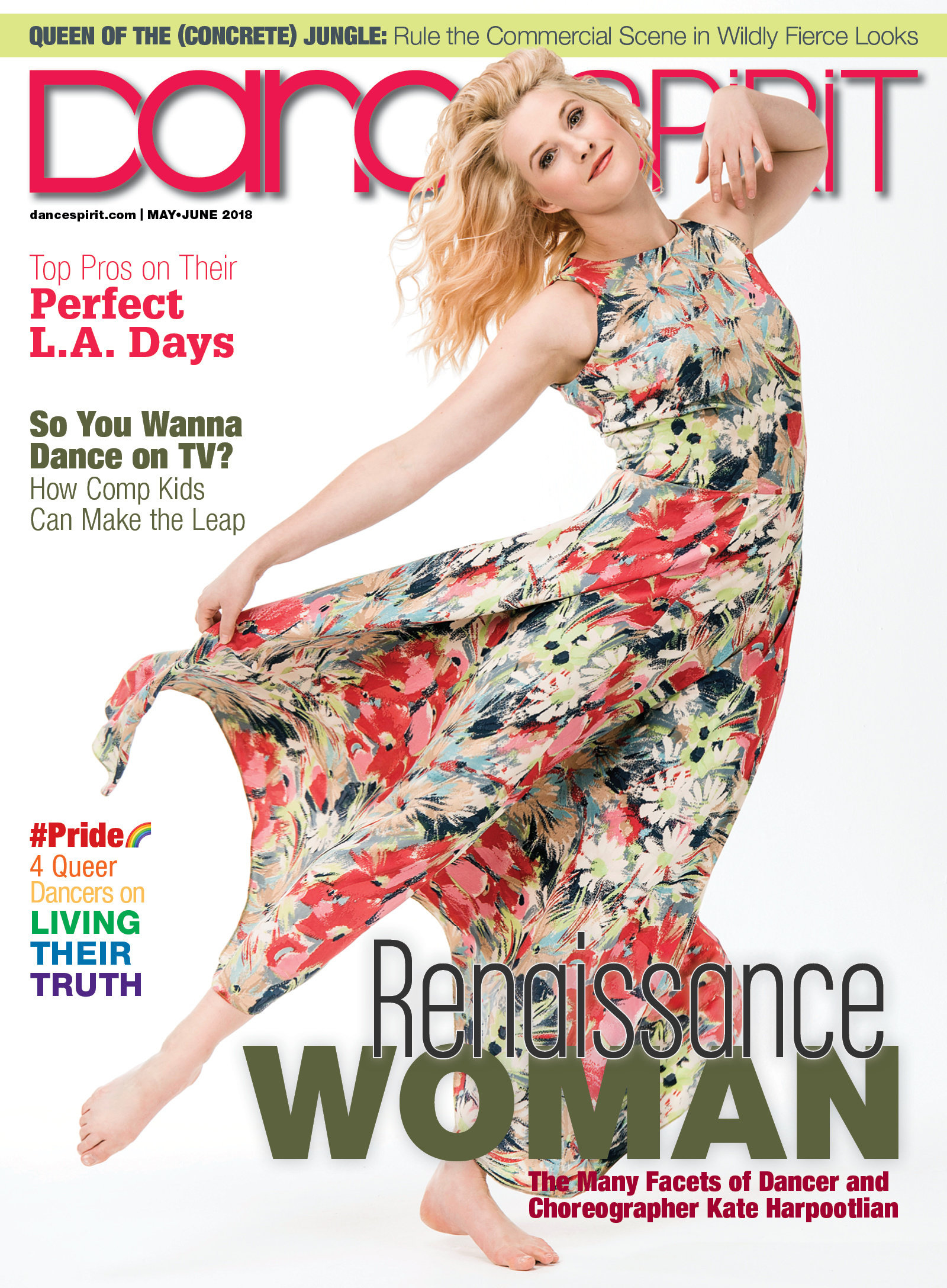 Get Dance Spirit in your inbox