In case you missed the best night on TV—a.k.a the live broadcast of the Tony Awards—Dance Spirit's got your back. Here's a rundown of the show's highlights, a couple of its more cringe-worthy moments, and some of our favorite (and least-favorite) red carpet outfits.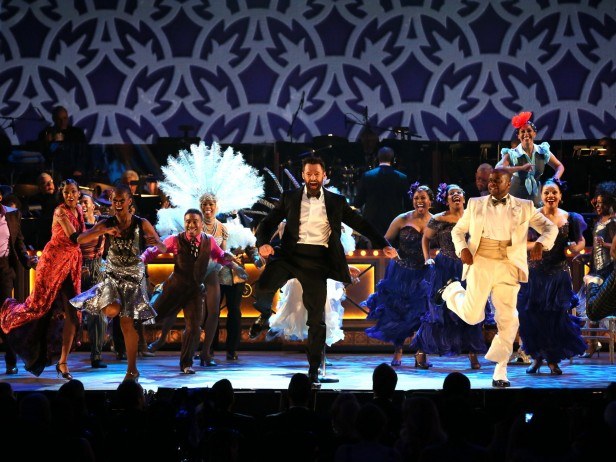 Hugh Jackman with the cast of After Midnight
(photo Sara Krulwich/The New York Times)
The Highlights: 
–Hugh Jackman as host. It's great to see Wolverine back on the Radio City Music Hall Stage, singing and dancing with the stars of Broadway. He even cut a rug with Dulé Hill and the fabulous cast of After Midnight. Sure, his opening number (with all that awkward hopping) wasn't as fabulous as NPH's extravaganza last year, but his serenading of the female best actress nominees—in both the play and musical categories—stole my heart.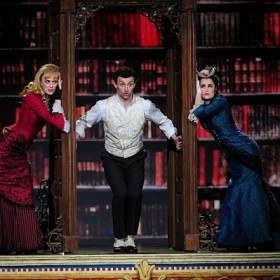 Bryce Pinkham (center) and the cast of A Gentleman's Guide to Love and Murder
(photo Heather Wines/CBS)
–The performances, obv. After Midnight, Aladdin and Bullets Over Broadway were especially impressive—so. much. tap. dancing.  And here's to genie James Monroe Iglehart's win for best featured actor in a musical. But I was especially enamored with the performance from A Gentleman's Guide to Love and Murder—the Tony winner for best musical. In case you chose to take your bathroom break during the number, you can re-watch it here. There's not much movement, but the witty trio really brought down the house.
–The crazy Music Man rap. My viewing party went pretty nuts when Hugh Jackman busted some rhymes from The Music Man—and then even more nuts when LL Cool J and T.I. joined in. The beats—commemorating the song "Rock Island" from 1957's The Music Man, supposedly the first-ever rap—came courtesy of Questlove of The Roots. (Pretty cool.) Here's the song in the 1962 film; compare it to the Tony Award shenanigans here.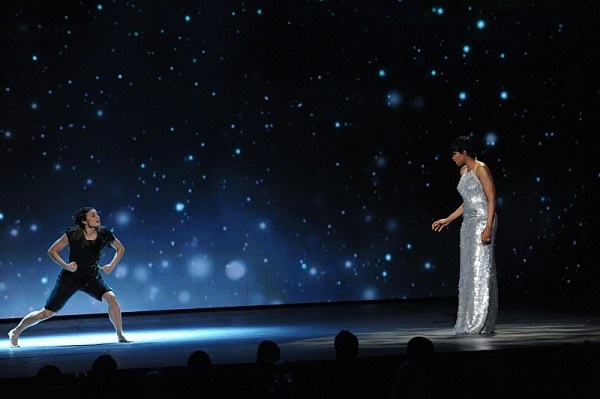 Melanie Moore with Jennifer Hudson in Finding Neverland. (photo Heather Wines/CBS)
–Melanie Moore as Peter Pan. When Finding Neverland hits the American Repertory Theater in Cambridge, MA, this summer, "So You Think You Can Dance" Season 8 winner (and DS cover star) Melanie Moore will get the opportunity to work with Mia Michaels again: Mama Mia will be choreographing the new musical. The full cast has been announced (helloooo, Jeremy Jordan!). Unfortunately, Jennifer Hudson, who sang in last night's preview, is not in the show.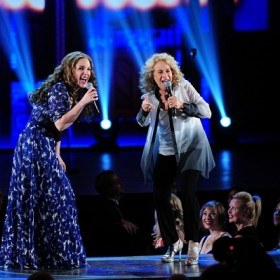 Jessie Mueller (left) with Carole King. (photo Heather Wines/CBS)
–Jessie Mueller and Carole King together (again) on one stage. I certainly felt the Earth move under my feet during this performance. Jessie Mueller is fantastic as the iconic singer/songwriter Carole King in Beautiful, and I suspect she'll be fantastic in roles to come. Congrats on your Tony for best leading actress in a musical, Jessie!
–The dreamy Matthew Bomer announcing a new Tony Awards partnership with his alma mater, Carnegie Mellon University. Next year the Tonys will celebrate one elementary, middle or high school theater teacher who really makes a difference. Know someone who you think deserves special recognition? Read about the new award here.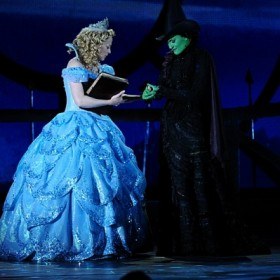 Jenni Barber (left) and Christine Dwyer (photo Heather Wines/CBS)
The Missed Opportunities:
–Wicked's 10th anniversary performance. Yes, Christine Dwyer and Jenni Barber sang an amazing rendition of "For Good." But weren't you just a little disappointed that Idina Menzel and Kristin Chenoweth didn't pop out to sing a line or two? I mean, we know Idina was there—she sang something from her new musical If/Then. Lame, Tony Awards. Lame.
–The absent-from-TV award for best choreography. Remember last year, when we got to see Jerry Mitchell accept his choreography award on TV? Apparently the producers forgot about that precedent, and After Midnight's Warren Carlyle received his award for best choreography during a commercial break. Boooooo! Maybe if we give his acceptance speech video a ton of online views, the producers will get the point for next year.
The Best Dressed: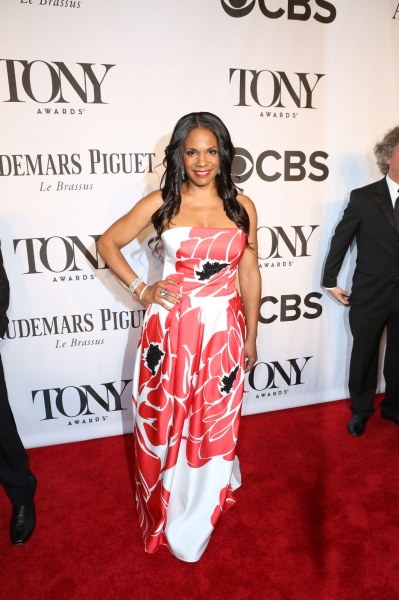 The history-making Audra McDonald, who took home her sixth Tony Award. She also became the first performer to win in all four acting categories (featured musical, featured play, leading musical and leading play). Yeah, she's legendary—and stylish to boot, in this pretty printed gown. (photo Walter McBride/Broadway World)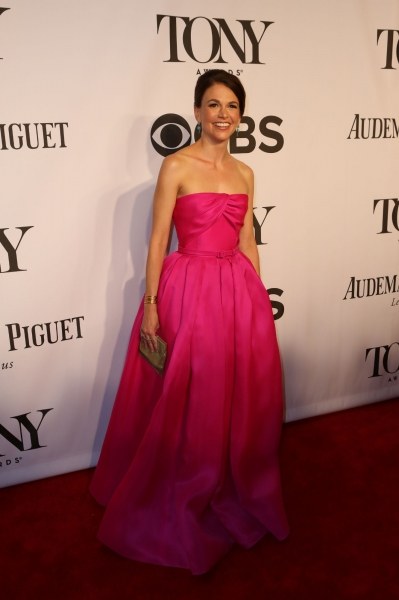 The always effortlessly gorgeous Sutton Foster. She didn't leave with a win, but her performance for Violet was strong.
(photo Walter McBride/Broadway World)
And the Worst: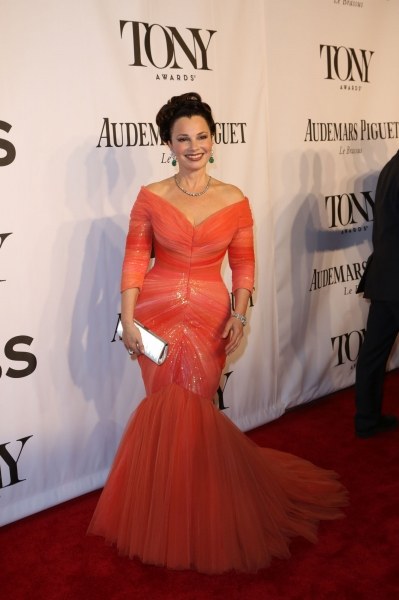 The flashy Fran Drescher. She may be on Broadway in Cinderella, but believe it or not, this over-the-top tangerine dress is not a costume.
(photo Walter McBride/Broadway World)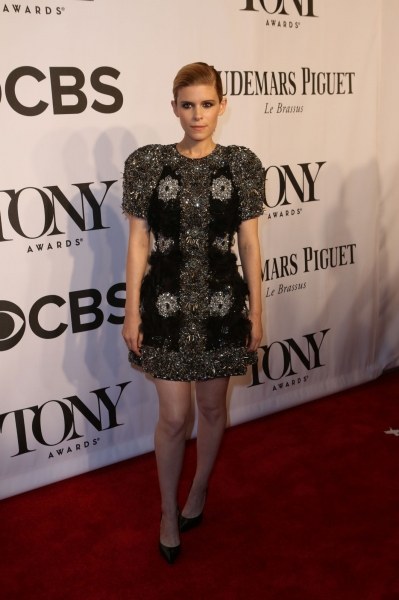 The weighed-down Kate Mara. This dress just looks heavy. Here's hoping Netflix turns "House of Cards" into a musical so Kate can redeem her look as a Tonys presenter next year.
(photo Walter McBride/Broadway World)
What did you think of the telecast? Which performance was your favorite, and who did you think was best dressed? Was any show or artist robbed of an award? We want to hear what you have to say!
Jan. 02, 2014 10:34AM EST
...Carly Rae Jepsen!
The "Call Me Maybe" singer will take over the title role of the Rodgers & Hammerstein musical on February 4.
Did you see that one coming? We didn't, either. (And a part of our hearts will always be dedicated to the lovely, Tony-nominated Laura Osnes, who's performed the role since the show opened last spring.) But we know the girl can sing. And maybe she'll have great chemistry with new stepmother Fran Drescher, who'll step into the show the same day. We'd watch that, maybe.
As always, new casting = new ghetto Photoshopping opportunities for us, yay! Cinderella with bangs—interesting: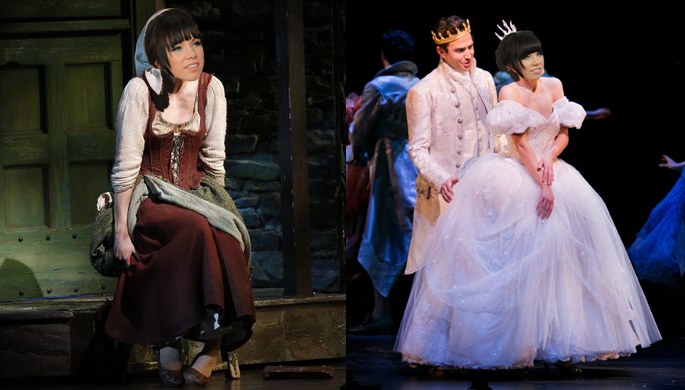 Original photos (L to R): Carol Rosegg/AP, Sara Krulwich/NYTimes
Dec. 30, 2013 07:00AM EST
You probably know Fran Drescher by her famous laugh. But how's her evil cackle? We're about to find out.
The sassy comedian, best known as the star of the TV show "The Nanny," is about to make her Broadway debut as the Stepmother in Rodgers + Hammerstein's Cinderella. She'll be tackling the role from February 4 through April 13.
Why does that get us excited? Well, for one, it'll be interesting to find out if her singing voice is as entertaining as her speaking voice (please, please, let it be so). But the real reason? The real reason, my friends, is this: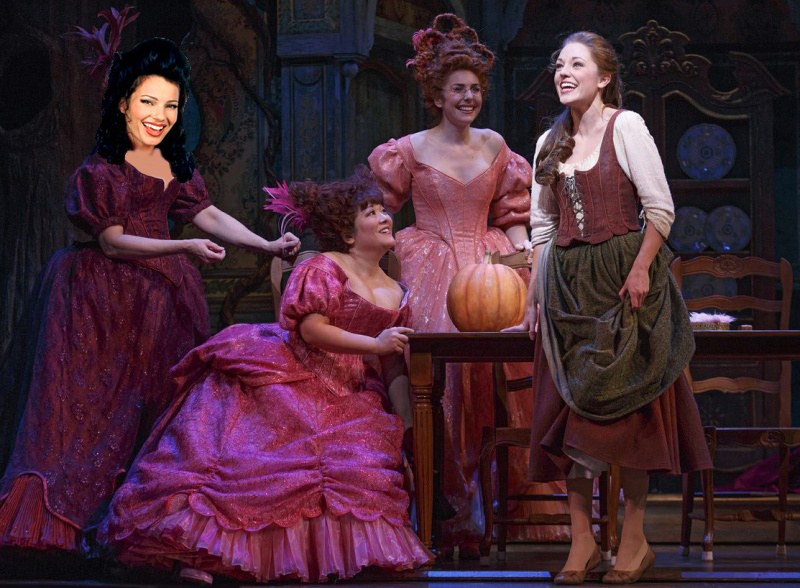 I mean it LOOKS like she'll be a natural, right? Right?? (original photo by Carol Rosegg)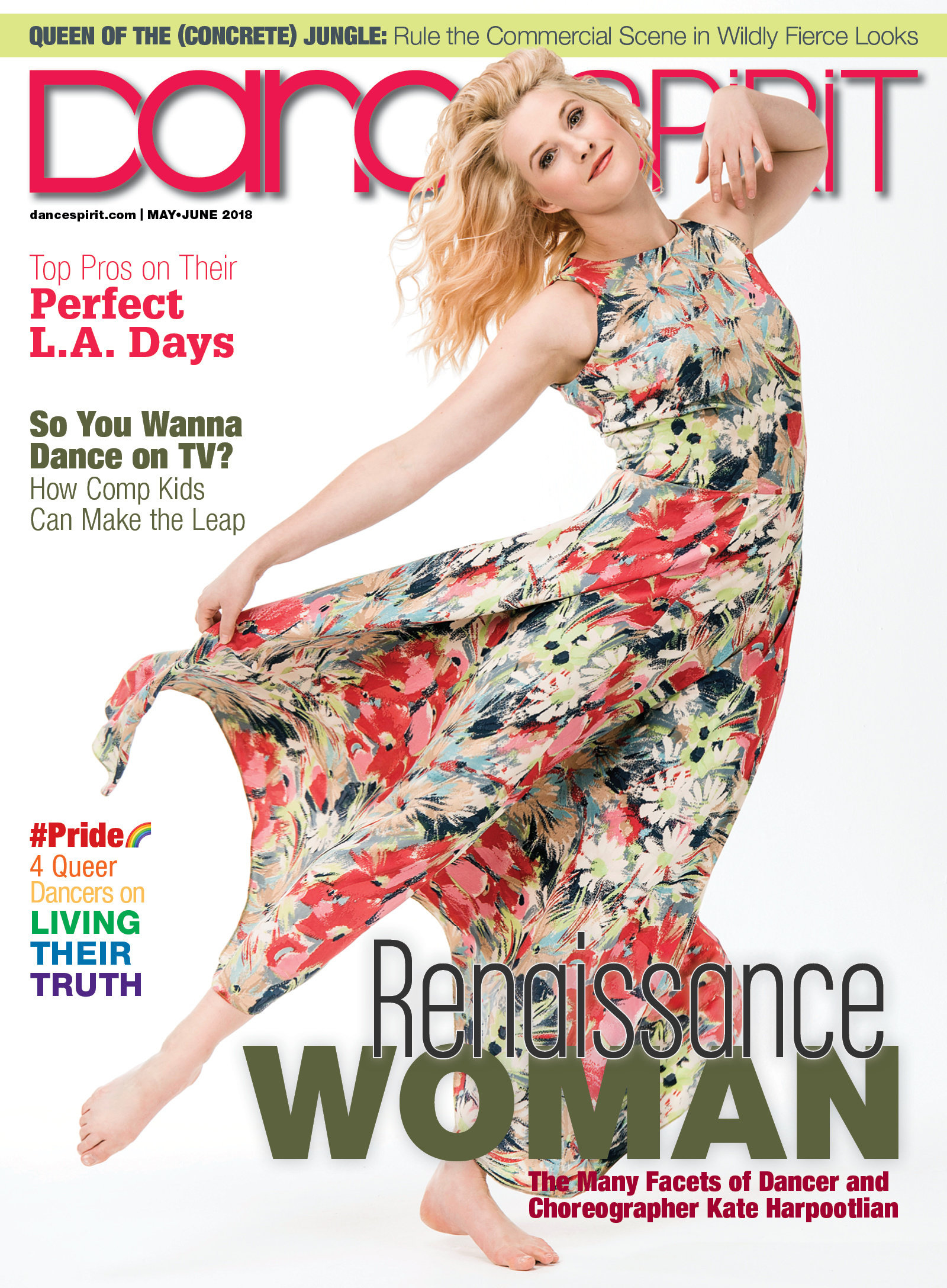 Get Dance Spirit in your inbox