Addison Ector and Shanna Irwin of Complexions Contemporary Ballet (@rachelnevillephoto, via Instagram)
If you find yourself anywhere near NYC's über-chic Park Avenue between Monday, August 14 and December, you'll want to hightail it to PurePoint Financial's new Financial Center to check out a surprising collaboration with one of the dance world's shining stars.
Keep reading...
Show less
During her senior year at the University of North Carolina School of the Arts, dancer Mimi Healy was moved up to a new technique level. She was thrilled—but her best friend, who remained stuck in a lower level, wasn't. It was a situation pretty much guaranteed to generate awkwardness. But Healy chose to talk to her friend about it a couple of days later, diffusing the tension. "We decided together that your level does not define who you are as a dancer," she says.
As if dance's technical demands weren't stressful enough, uncomfortable social situations in the studio can also create anxiety—and they're often difficult to navigate. Feeling socially awkward? Read on for advice about how to cope with common sticky dance scenarios.
I just switched to a new studio, and everyone there is already friends!
Joining a different studio—or moving up a level at the same studio—may be what's best for your technique, but it also means figuring out how to fit in with a new class. "When I switched studios, I tried to be outgoing and introduce myself to new people, but there were already established groups of friends," says Sabrina Shultz, now a dancer at First State Ballet Theatre. Dr. Nadine Kaslow, a psychologist who works with dancers, encourages patience in these situations. "Start by befriending people who may not already be in a clique—but don't give up on trying to slowly connect with everyone," she says.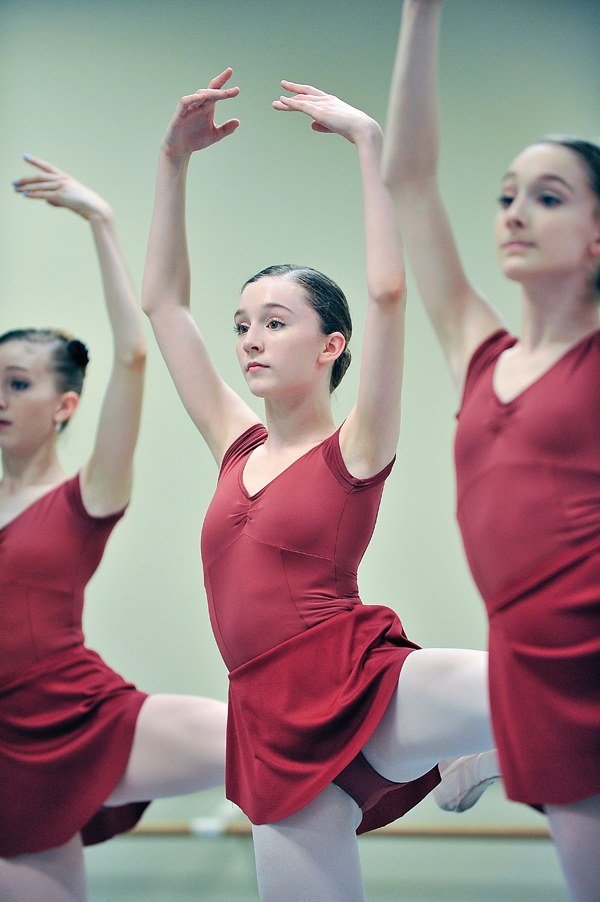 Sabrina Schultz (center) works hard with her friends in class but also takes time to maintain strong friendships with peers outside of the studio. (Photo by Tisa Della-Volpe)
I got a part my friend really wanted, and now she's mad at me!
If you're cast in a role a friend coveted, Kaslow suggests reaching out to her right away to clear the air. "Say to her, 'I know this must be really hard for you, but I don't want this to hurt our friendship. How can I be supportive of you?' " Take time to talk about your feelings, and let your friend know that you're there for her.
I'm the teacher's pet, so no one likes me!
"I can remember sitting at lunch at a summer intensive and having people poke fun at me for being the teacher's pet," Healy says. If getting attention from the teacher is causing tension between you and your classmates, speak up about your feelings. You can also show them that just because the teacher likes you doesn't mean you're perfect. Make a point of going to your class' turning phenomenon for fouetté advice, or of asking the resident Gumby for stretching tips.
Everyone in my class goes to the same high school—except me!
Shultz found herself in this kind of situation, and wasn't able to share school memories with the girls in her class. Talk to your friends about events you can attend together. "Sometimes my friends invite me to a school dance," Shultz says. Kaslow also suggests making regular nondance plans with your dance friends.
Some of the girls in my class went to the same summer program, and they came back best friends. I feel so left out!
It's hard not to feel isolated when your classmates return from an intensive as a newly minted clique. When Healy was faced with this situation, she took the opportunity to make a new friend. "The two of us weren't invited to hang out with the other group, but that actually ended up bonding us, and we became really close," she says. And try to be patient. Over the course of the year, as your whole class goes through rehearsals and performances together, odds are you'll start to feel connected to the girls from the summer group again.
Most importantly, if anxiety about social situations is interfering with your school work or your dancing, find someone you can talk to—a parent or, if the problem is serious, a health professional. "If you're dreading dance class because of social tension, don't keep it inside—that will hurt you the most," Kaslow says.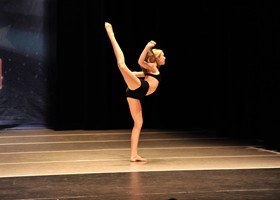 Katie performing a solo routine. Photo courtesy The Dance Zone.
At 16, Katie Wolfe's life revolves around competitions and conventions. When she isn't competing in her hometown of Las Vegas, she's traveling to competitions around the country with her studio, The Dance Zone, or taking extra dance classes to hone her technique.
Katie knows what she wants—a professional dance career—and she's making some big sacrifices to achieve it. She even made the controversial decision to homeschool this year instead of continuing to attend her local public high school. Read on to learn how Katie navigates the fast-moving comp scene while keeping up with her schoolwork and non-dance friends. —Ashley Rivers
A Day in the Life
While most of my friends wake up and head straight to school, an average day for me starts with my job, babysitting from 7 am until 8:30 am. Then I come home to begin my schoolwork. This year I started online schooling, which I love. I have seven classes and I meet with my teacher in person on Thursdays.
Up until the middle of last year, I went to a public school where I was in all honors classes. But on top of my dance schedule—I'm at the studio from 2:30 to 8 pm on weekdays and from 8 or 9 am to 3 pm on Saturdays—school was just way too much stress for me. My parents could see how hard I was working to keep up, so they agreed to let me try homeschooling. I'm still getting all the credits I need to go to college and I plan to graduate this June, a year early.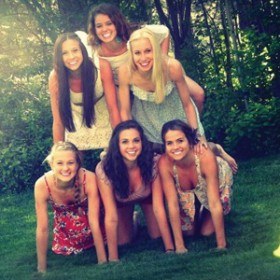 Katie relaxing with girlfriends in Tahoe, CA. Photo courtesy Susan Wolfe.
The biggest challenge about online school is making yourself actually do the work every day. It takes a lot of self-motivation, but I'm pretty good about it. And since I have dance, I really don't miss the social scene at school.
At The Dance Zone, we take ballet every day no matter what, even though we don't compete ballet pieces. It's the base of all dance technique, so it lays the foundation for everything we do. We take a lot of jazz, too, plus some hip hop and tap. I love competing and the rush that comes with it, but I also enjoy taking classes at my studio because that's when I'm growing the most.
In class, my peers inspire and push me every day. If we see someone taking risks in a combination, that inspires us to take even more risks ourselves. And then we get so much out of just a simple class combination. Most of us plan to make dancing a career, so we save the joking and laughing for outside the classroom. It's a really positive, supportive atmosphere, and we always try to set a good example for the new, younger dancers on the team.
The Heat Is On
Every fall, our studio brings in guest choreographers like Jacki Ford, Joey Dowling or Andy Pellick, who teach us most of our competition dances for that year. For each routine, the choreographer will come in and teach the piece in one or two days—about five hours total. Then it's up to us to spend the year cleaning and perfecting the routine. When we work with a choreographer for the first time, sometimes we'll have to practice for months to perfect his or her style. After we learn the piece, we take notes or write down counts so that we can remember them later in rehearsals. That's the hardest part—perfecting our timing and style so that we match each other. But we practice so much that by the time we get onstage, it's in our bodies—we can't forget it.
Our dance teachers do all of the casting before the choreographers arrive. At the beginning of every year, we fill out a form saying whether we want a solo or if we'd be interested in a duo or trio. Then they watch and see who looks best together and make their decisions.
There's never any drama. Our teachers are really good about fixing any issues that come up right away and not making a big deal about it. Everyone is super-positive and very kind.
In all, I'll probably compete eight or nine dances this year—a solo and trio in addition to group numbers. I think competing a solo is a lot less stressful than a group number.
Competing with a group takes much more preparation: going to lots of rehearsals and making sure everyone has all the costume pieces and looks the same. And if you mess up on a group dance, it's harder to hide. With solos, there's less to worry about. I mostly practice my solo on my own, and then occasionally work one-on-one with a teacher. And if I mess up, I can wing it or improvise—which I've done multiple times!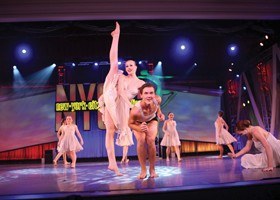 Dancing in a group routine at NYCDA National with her studio, The Dance Zone. Photo by ProPix/NYCDA.
I think we all get a little nervous before the first time we compete a number onstage. By the time we get offstage, though, we already know if we did a good job or not. We can just feel the energy. But awards all depend on what the judges are looking for. When we do win, it's exciting. But really, that's the same feeling I get just by being onstage performing—losing yourself in the adrenaline and the moment. When we don't place the way we wanted to, we might get a little upset. But the way we feel about our performance is just as important. No matter what happens, we let it go and start fresh in classes the next day.
Looking Forward
My schedule doesn't leave a lot of time for a social life, but dance is totally worth it to me. I'm always with my dance friends—we're like a big family. And on weekends, I can hang out with school friends that I've known my whole life. This year, I even got to go to a homecoming dance. There are times when my newer friends or people that I've just met don't understand how serious I am about dance. They may say, "You have to dance again?" or "Why can't you hang out today?" Sometimes I wish I could do more, but I'm not going to miss class, rehearsal or a competition just to hang out. I'm so focused on my career and my future. Most of the time, I'd rather just go to dance.
I'll only be 17 when I graduate, so I'm not yet sure what I'll do next. My long-term goal is to join a contemporary ballet company. It would also be fun to dance on a cruise ship or maybe even be a Radio City Rockette. Right now, my parents are helping me look into colleges.
When it's time to stop competing, I think I'll always miss it. But I'll still be dancing. And I'll be excited for the new challenge of dancing professionally!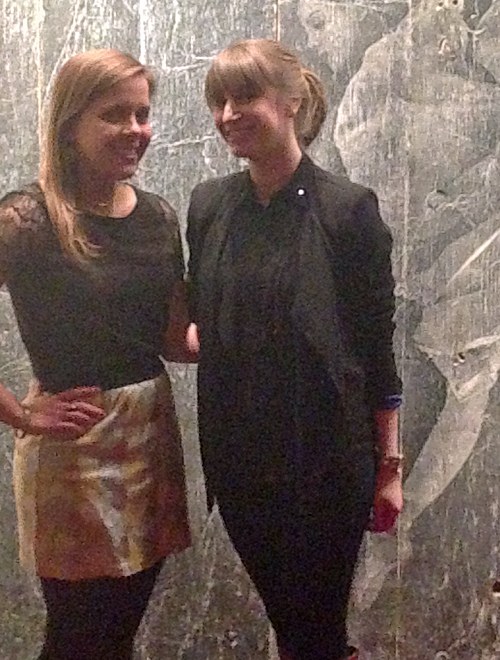 With Jules (left) during NYCB's intermission
Before the curtain rose on New York City Ballet's Saturday matinee of Coppélia, I glanced to my left and noticed that my friend sitting next to me, Jules, was bobbing her head to the ballet's overture. I laughed—I was doing the same. It's funny how music that we all dance to can get in our heads and just stay there. Jules and I did parts of the ballet at our home studio—probably 15 years ago—and we could have gotten up and performed the choreography we learned right there in the audience. (I'm sure the people behind us were thankful we stayed seated.)
No surprises here, but back then, Jules and I looked nothing like the stars we saw Saturday, especially the lovely Tiler Peck and Lauren Lovette. (When I grow up, I'd like Tiler's port de bras and Lauren's banana feet, please!) In our day, we barely looked like the kids onstage in Act III. But seeing those 24 School of American Ballet cuties on Saturday brought back a lot of memories. It also made me think about how lucky we dancers are to have a group of friends—friends, outside of acquaintances at school or work, who will be there for us whenever, where ever.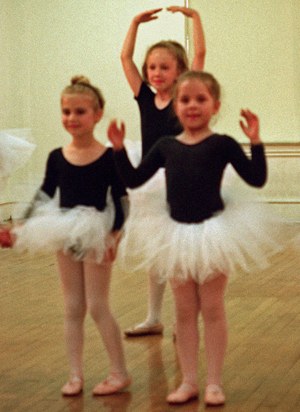 Me and Jules in a studio showing in our early days.
I don't remember meeting Jules. I started ballet at age 4—she was 5—and I guess that was it. She's just always been there. As we got older, we both had our separate lives: We lived in different school districts so we each had our during-the-week groups. (A few of Jules' school friends also started to take ballet with us—they all became my "ballet friends," too.) I also started taking classes at a few other studios in the area, but one thing was certain: My ballet friendships from the beginning had real staying power.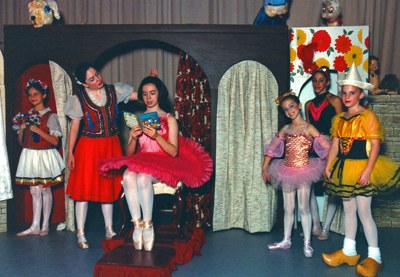 A partial cast photo of Main Line Ballet's (our studio's) take on Coppélia. I'm the one in the pink tutu on the right. Gotta love those shiny tights!
We went our separate ways after high school—Jules went to college in Pennsylvania (a few hours from home) and I headed up to The Boston Conservatory. We kept in touch and saw one another over some holiday breaks, though the distance plus hectic college lives made it tough.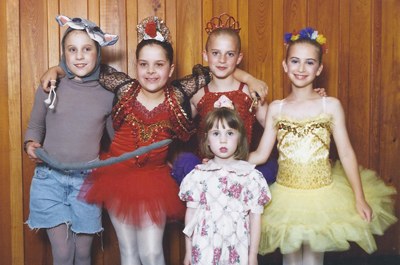 After a recital, YEARS ago. I'm on the right in yellow, with Jules in red and my baby sister, Julia, in front.
Now that we're both out of school and more settled, we've been able to visit with each other more often. It's pretty cool to see how different all of my ballet friends' lives have become, and how we're still able to continue our friendship—and share a continued interest in dance. Today, Jules lives in Philly and just got her PhD in environmental science, and she teaches biology at Drexel University. And of course, I'm at Dance Spirit in NYC! We both take dance classes when we can—the last time Jules visited we took class together. It was just like old times.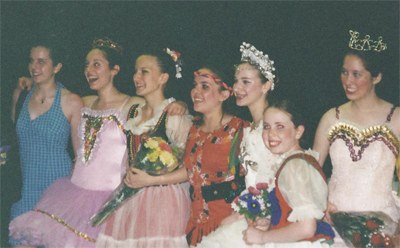 Most of the gang after a spring recital in high school. I'm in white—Jules is on my left and Julia is on my right.
Seventeen-year-old Maya* was bullied all through middle school. Here, she shares her struggle to rise above it and move on.
As told to Rachel Zar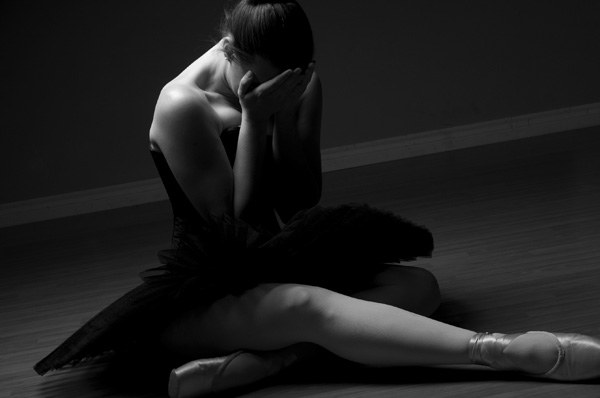 (iStock)
I've had the same group of girlfriends—the "popular" kids—by my side my entire life. From the beginning, we sat together in class, we ate lunch together and, after school, we went to the same studio for dance class. We were inseparable.
But in sixth grade, everything changed. My so-called friends began to turn on me. To an outsider, it may have seemed like everything was fine—we still hung out all the time—but they took every opportunity to ridicule me. It started small: They'd crack jokes about how skinny I looked in dance class or about my big forehead. They'd say things like, "Your forehead's bigger than China" or "Why aren't you smarter with a forehead that big?" They'd speak about me in Spanish, pretending they didn't know I understood every word. Things progressively got worse. One girl used an app on her phone to create fake text messages from me and send them to other people. It wasn't enough that they suddenly didn't like me—they wanted everyone else to turn their backs on me as well.
Once, they even told a guy I'd never met that I was obsessed with him—and that I was secretly making videos about how much I liked him. He lived in my neighborhood, and one day at the pool, he spotted me, called all his friends over and told them how obsessed with him I was. I was mortified.
Whenever I'd confront the girls, they'd act as though I were imagining things. "You're like a sister to us," they'd say. "We love you!" But then it would all just start again.
It hurt so badly, and I would come home from school in tears almost every day. I remember several evenings in seventh grade, telling my mom, "That's it, I don't want to go back to school." She would comfort me and say, "Don't let them get to you. They're just jealous." But I didn't believe that.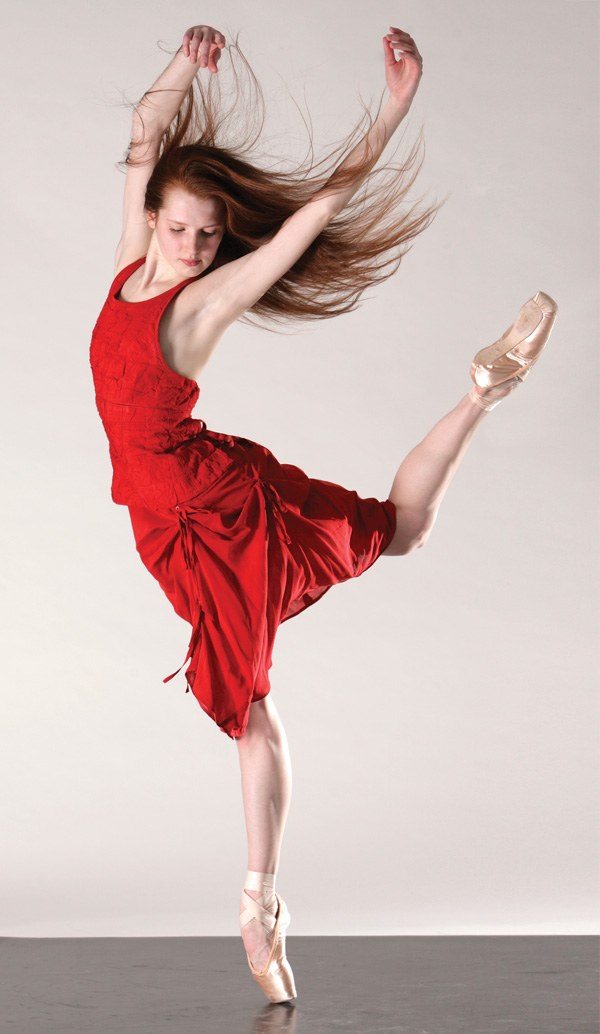 (iStock)
Finally, my mom suggested I talk to my school counselor. When I did, the counselor brought the bullies in for a controlled conversation. I thought we might be making progress, but afterward they called me a "snitch," a "tattletale" and a "baby." I told my mom I didn't want to talk to the counselor anymore. She told me that instead of focusing on the bullies, I should put all my energy into dance. But that was hard to do when they were also at the studio—and it didn't help that at competitions they were constantly placing higher than me.
I tried to take my mom's advice to heart, and instead of letting them ruin my confidence, I used what was going on to fuel my dancing. I channeled my frustration into emotion onstage. And it was working—my performances were improving.
Still, my social life was getting worse. I'm a loyal person, and I'd never really considered giving up on my lifelong friends altogether. But once, fed up at the studio, I confided to another girl in my dance class that I was being bullied. We went to the same middle school, so I asked if she would introduce me to her friends. Little by little, as I started to get to know her friends and then their friends, I found that I really liked these people and they were a lot like me. I stopped worrying about what the bullies thought of me and rediscovered my usual, outgoing personality.
I thought my old friends might miss me now that I had moved on. But they didn't seem to care. They didn't even say hi to me in the hallways. It was as if I'd never existed.
My new friends were better, more responsible students—so in addition to being happier, my grades went up. I also joined an anti-bullying club at school, where we discussed ways to end bullying in our school.
I remember seeing a younger boy with autism walking the halls with a "kick me" sign on his back. I told him to walk with me, and took the sign off his back. I even confronted the kids who had put it there—something I'd never been able to do with my own bullies. I asked them, "How would you feel if someone did that to you?" I could feel myself becoming more confident.
Freshman year, I transferred to a new high school. Finally, I was no longer in school with my former bullies. But they still took dance classes with me—and they still do to this day. I'm never mean to them, but I have no interest in getting close to them again. In ballet class, I don't stand near them at the barre. Instead, I move to the other side of the room and focus on myself.
In 2010, my hard work in dance class paid off, and I scored well at a national competition, placing above the bullies. Though I'd been congratulating those girls on their wins for years, they didn't have one nice word to say to me afterward. Instead, they joked that I didn't deserve it.
I'll never be happy that I was bullied in middle school, but I'm glad those girls pushed me out of their group. If I'd stayed close with them, I might have become a mean girl, too. And I don't want to be like them. I'm happy and doing well at school, and I've come a long way with my dancing. I know now that I'm a stronger person—and dancer—because of what I went through.
*Name has been changed.
Dance Team
Apr. 09, 2013 05:24PM EST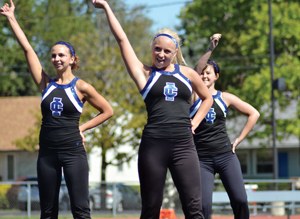 Members of the Illinois College dance team
Being on a dance team comes with a lot of perks: You get tons of performance opportunities and, often, a built-in group of best friends. But it's not always a high-kicking blast. "Dancers bring a lot of passion to everything in their lives," says Jessica Walz, who advises the dance team at Hawaii Pacific University. "When you get a bunch of them together, conflict can creep in." Whether you're on a student-run team or your team comes equipped with a coach or advisor, certain situations require a little extra guidance.
DS spoke with seasoned pros about the most common dance team issues—and how to handle them, no drama required.
One girl on the team is always late to practice. Another one keeps missing practice completely—and she has a million excuses.
Here's where it becomes important to have a clear set of team rules and consequences that apply to everyone on the team, even the captain. Most faculty-run teams, like Sandy Hinton's at McLennan Community College, have formal agreements or contracts everyone signs at the beginning of the year. Right from the start, team members know exactly what's expected of them, as well as what will happen if they don't measure up. On Walz's team, late dancers have to run up a nearby set of 1,200 stairs (up the side of a volcano!). "The first month or two, three or four dancers will have to do it," Walz says. "By the third month, no one is late anymore."
Student-run teams can write a contract together to make sure captains never feel like arbitrary dictators or need to fight with teammates when issues come up. Because all team members agree to the consequences, everyone is equally accountable to each other; there's no room for drama or hurt feelings.
Outline your team's attendance policy in your contract, as well as the consequences for too many unexcused absences (three tardies equal one absence, for example, and three missed practices means you have to sit out the next performance). Include a clause about what happens if a teammate's excuses are legit, like being very sick or doing required academic activities.
Our captain is rude and condescending, and no one likes her. (Think Big Red from Bring It On.)
Learning how to be a good leader can be tough, especially when you're in high school or college and have a million other responsibilities weighing on you. Unfortunately, sometimes all it takes is one stressed-out captain to crush team morale.
Kate VonDeBur, a junior at Illinois College who currently leads rehearsals for the school's dance team, experienced this herself as an underclassman. "We tried to make our captain happy by coming to practice as prepared as we could," Kate says, "and we found that the more prepared we were, the less stressed out and overbearing she was. She had good intentions." You can also offer to assist with small tasks, like taking attendance, or you can (tactfully) mention that sometimes teammates might take her comments the wrong way. Definitely don't talk to everyone else behind her back and let the problem intensify—that won't end well for anyone.
Chloe Cunningham, a junior at Dickinson College who served as the school's Synergy Dance Team captain, recommends getting to know your captain better as a person. "Our team would go to the cafeteria together for meals after practice," she says. "That way, we could all hang out without the pressure of rehearsals. If a captain is still rude outside of practice, chances are she's just rude." If that's the case, your best bet is to take a deep breath and be polite until the next captain steps in.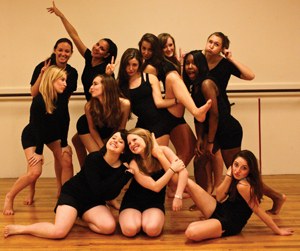 The Synergy Dance Team
getting silly in the studio
My teammates take corrections personally when they come from their peers.
It can be weird to acknowledge that your teammates can see your weaknesses. "On our team, we establish the fact that we all love each other no matter what, but if somebody needs to be called out for doing a wrong move, they're going to be called out," Chloe says.
Kate ensures that no one feels bullied in her rehearsals by splitting the team into groups and assigning each teammate one person to watch and give corrections to. "I try to make us all codependent," she says, "so that the girls rely on each other to get better. Nobody's being overly criticized, and nobody's being overly critical. We're all doing it." Walz's team at HPU also does this, with an easy rule to keep things constructive: When it's time to critique, each dancer tells her partner "one negative and two positives," Walz says.
One of my teammates is partying too hard and it's affecting her performance.
Figuring out how to navigate the college social scene in a healthy, dance-friendly way is an issue all students face. On Hinton's and Walz's dance teams, dancers promise to follow strict codes of conduct outlined in their team contracts, and teammates hold one another accountable with severe consequences for inappropriate behavior, like suspension from the team.
Student-run groups without a close faculty advisor can also outline appropriate team conduct, but if a teammate is determined to rebel, enforcing the standards as a team might be tricky. Be specific in your contract regarding social situations and even social media, but know that sometimes your teammate may need to learn the consequences of her behavior on her own. And whether you're of legal age or not, excessive partying will affect your dancing.
One of our teammates is failing. We have to have a certain GPA to perform and she's dangerously close to the cutoff. 
If you have a faculty advisor, this is an issue to let her handle, since students can't officially request to know one another's grades. If you don't, though, and you hear that a teammate's grades are slipping, try setting up team study sessions or designating members of the team who excel at certain subjects to be team tutors. Be sure to approach your struggling teammate privately, though, because if she's working hard and still having trouble, she might feel embarrassed.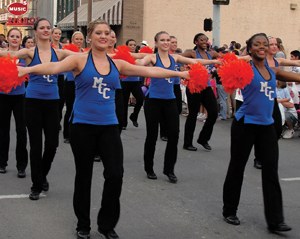 The McLennan Community College dance team
Some teammates don't like each other, and their personal differences are interfering with rehearsals.
"Some of the girls on my team just don't get along," Kate says. "When that pops up in rehearsal, I try to pull the focus back to the dance. I'll say, 'Let's run this with the music,' because then they have to stop talking."
According to Hinton, running a tight rehearsal is the best way to keep the drama outside. "Having your practice planned solves 90 percent of your problems," she says. "When the team walks in the door, the dancers will be so busy they won't have time to worry about anyone else."
If drama does find its way in, address it with a conversation immediately after practice. "When it starts festering in the studio and you don't discuss it, it builds until eventually someone snaps," Walz says. "You don't all have to be best friends, but you have to figure out how to work together."
Kate stops upperclassman/underclassman conflicts before they happen by doing team bonding early in the year. Walz does this, too, by pairing upperclassmen with underclassmen in a buddy system—each first year member has an older girl to look out for her and show her the ropes. "We have what I call buddy day," she says. "They have to show me that they went out and grabbed lunch or did something fun together, just to check in with each other. One year, two of my girls partnered up and posed for all of these pictures baking cookies together or taking walks together. It was really funny, but to this day, they're still great friends."
CRAFTING YOUR CONTRACT
You can avoid most team conflicts by writing a contract at the beginning of the year that each team member must agree to and sign. Here are a few things you'll want to include:
Attendance policies for both practices and performances

Cost requirements for being on the team (you may need to pay expenses out of pocket or be asked to fundraise)

Grade requirements or academic standards team members must uphold

A code of conduct

Social media rules

Consequences for breaking the contract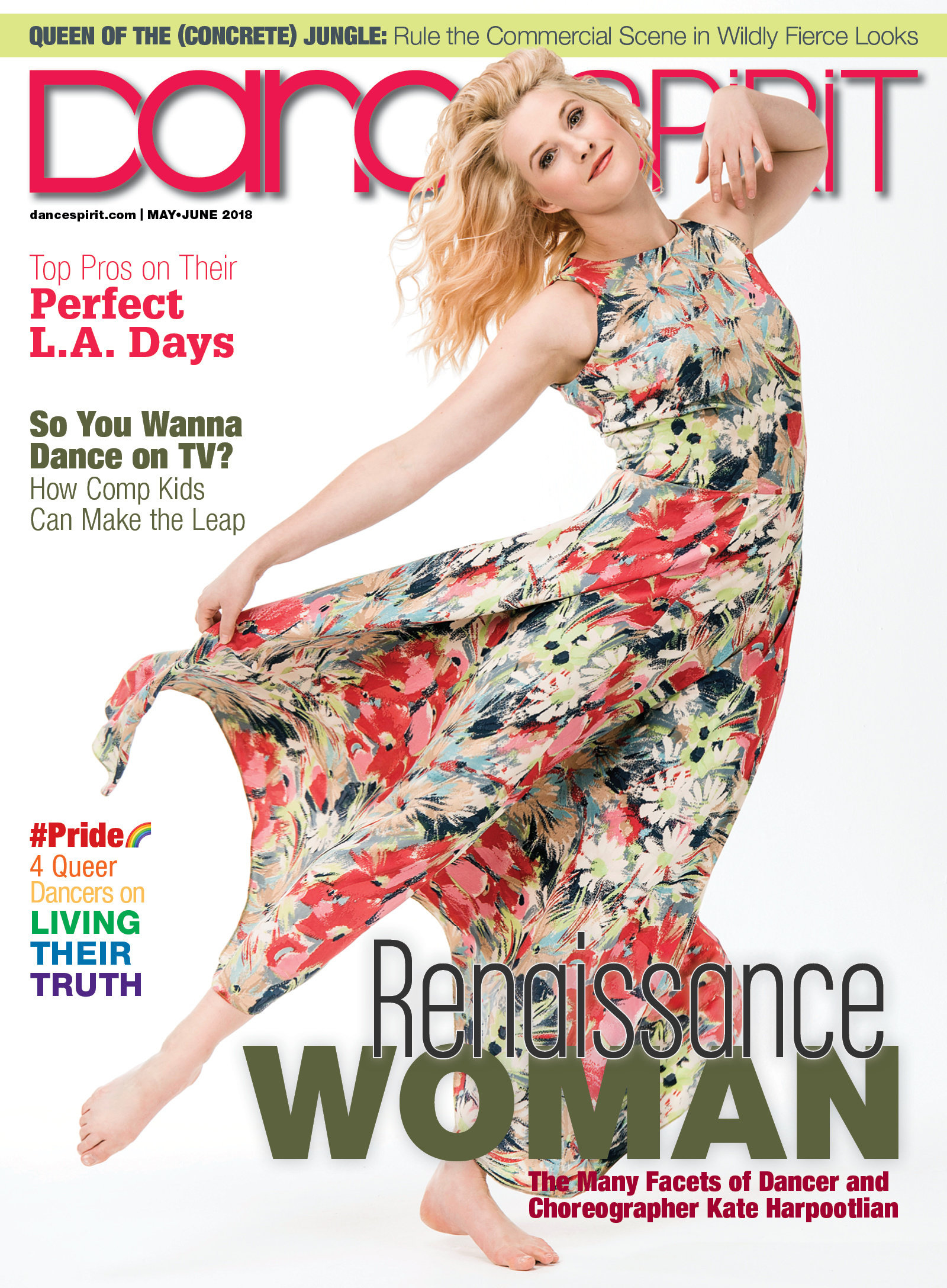 Get Dance Spirit in your inbox