Apr. 20, 2012 11:48AM EST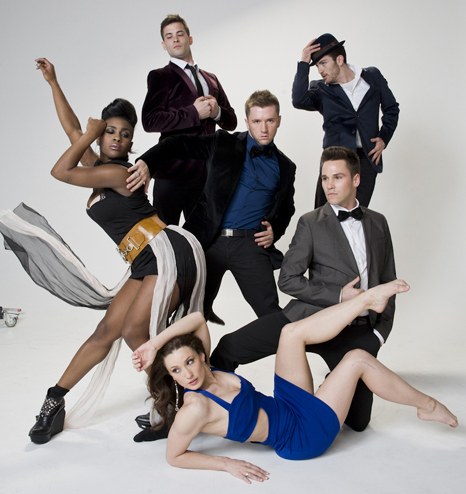 (Clockwise from left) Taja Riley, Kyle Robinson, Travis Wall, Teddy Forance, Nick Lazzarini and Jaimie Goodwin. All photos by Joe Toreno.
Travis Wall had a vision. He wanted to spend his days doing what he loves—creating movement—with his best friends. And rather than waiting for some director or choreographer to potentially make that happen for him, 24-year-old Travis took action.
Enter Shaping Sound, Travis' contemporary company. It's stacked with 26 talented dancers who include the leading man's roommates (Nick Lazzarini, Teddy Forance and Kyle Robinson), longtime muses (Jaimie Goodwin and Taja Riley), fellow "So You Think You Can Dance" alums (Allison Holker, Melanie Moore and Noelle Marsh) and favorite rising stars (former Dance Spirit Cover Model Search winners Kaitlynn Edgar and Alexa Anderson among them). Now, not only has the company put on two successful shows in L.A., but the dancers are also the stars of the Oxygen network's "All the Right Moves," a reality docu-series premiering with an eight-episode arc this summer. The show follows Travis, Nick, Kyle and Teddy as they launch the company and live together in Hollywood.
So where did the idea for a company come from, and how exactly is Travis making his lofty dance dreams come true? DS flew to L.A. this spring to sit down with the company's co-founders (Travis, Nick and Teddy), plus Kyle, Jaimie and Taja, to find out.
Dance Spirit: Let's start at the beginning. How do you all know each other?
Kyle Robinson: Teddy and I grew up competing with each other. I was older, so I would always hand down my title to him.
Nick Lazzarini: And I grew up competing with Travis.
Taja Riley: I've known Travis since I was 7. He's been my mentor since I walked into his mom's studio, and the rest is history.
Jaimie Goodwin: I started training at Denise Wall's Dance Energy [Travis' mom's studio] when I was 12. Travis and I were dance partners and we clicked immediately. Travis has always included me in his dreams. I've been there for it all.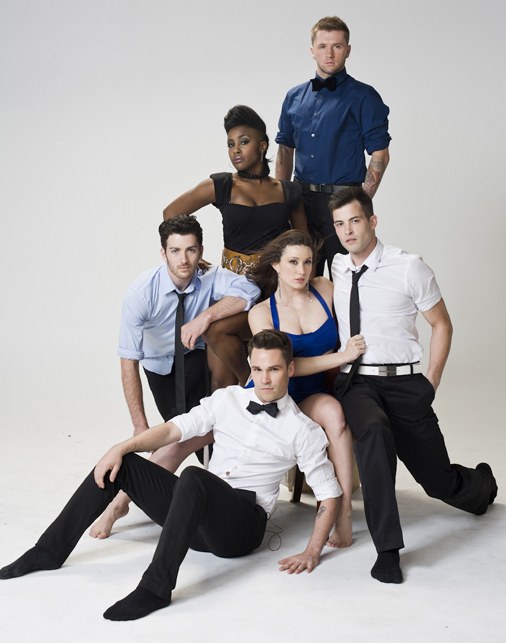 DS: Travis, why did you want to form your own company?
Travis Wall: When I first started getting hired to choreograph, I always had the same group of dancers with me. I wanted to create a company where if you hired Travis Wall, you knew what you were getting—this group of dancers.
Jaimie: Travis has always dreamed about doing something like this. I've been hearing about it since I was little! He would be like, "We're always going to be dancing together. We'll have our own company someday."
Teddy Forance: I remember Travis saying, "I don't want to just be a dancer. I want to be choreographing and in control of what's happening onstage."
DS: What was the next step?
Travis: I held an audition in L.A. last fall to put the group together. Four hundred dancers showed up, and 40 came to the callback.
DS: Did everyone have to audition? Even your best friends?
Travis: Everyone auditioned. [Travis, Nick and Teddy were all judges.] My friends knew they'd be in the company, but I wanted to see everybody dance. Plus, there were lots of people I hadn't seen in a while, like Noelle Marsh. I wasn't planning on using her, but she danced her life out for me at the audition. I had to hire her!
DS: What were you looking for in Shaping Sound dancers?
Travis: If I put you onstage by yourself, could you hold an entire audience's attention? I was looking for great personalities—ultimately, it's a company of best friends. Of course, it's also important that my dancers be technically strong. I grew up dancing with Jaimie—I like girls with pretty feet, nice long legs and open hips.
DS: Is being in Shaping Sound a full-time job?
Travis: If we have a show coming up, we rehearse heavily for a month, but I still allow everybody to do side jobs. I understand dancers. They need to make money. And I want their faces on TV! I want them on "Glee"! That makes our company better known. Plus, on the weekends we're all away on conventions—most of us teach or assist.
DS: Who does the company's choreography?
Travis: I did most of it for our premiere show in December, but Teddy and Nick had some pieces, too. It's a combined effort. I want everyone to choreograph! Eventually, I also want to hire guest choreographers.
DS: Any choreographers you're dying to hire?
Travis: Crystal Pite!
DS: What are your goals for the group?
Travis: It would be amazing for an artist like Jason Mraz to hire our company to go on tour with him and create a visual show while he's performing. I want Shaping Sound to be a brand name, like The LXD or the Jabbawockeez. Our mission is to really push contemporary dance on TV and in movies as much as possible. There are no limits to what we can do.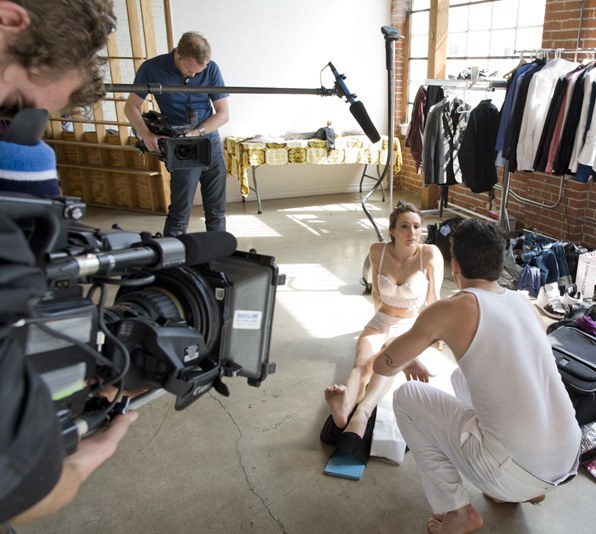 DS: Let's talk about the reality show, "All the Right Moves." Most of you have been on camera plenty doing things like "So You Think You Can Dance." How does this compare?
Jaimie: When you're watching your own life on TV, it forces you to learn a lot about yourself and see things from new perspectives. It's a huge gift to know we have the opportunity to share our talents with the world. Plus, being on a reality show with all of your friends—it's the greatest thing!
Teddy: I'm on cloud nine, just trying to soak it all up. I'm learning so much about who I am and where I want to go.
Taja: I never thought I'd be so exhausted from simply talking about my feelings! Every moment of my career is being eagle-watched through a lens and shown in peoples' homes. I've become more aware of the things I say and how I represent myself. I'm proud to be part of a change in the way people view art.
Travis: It's a lot of fun, but it's a roller coaster. I need to remember not to play to the cameras. They're supposed to be flies on the wall. They're on us all day—there are lights and cords all over our house. But there are no hidden cameras in the bathroom or anything!
DS: How real is your reality? Is anything scripted?
Travis: It's all real. And we don't need scripts—the four of us guys in one room is enough! We fight like brothers because we are like brothers. We also love each other like brothers. You're watching longtime relationships. We're not a bunch of strangers who were thrown in a house together.
Nick: It's hard work. You'll have an amazing conversation with someone and think you're ready to move on and a producer will come in and say, "That was great, now make that answer shorter and don't forget about where the cameras are." Now I know how the Kardashians feel!
ON SET WITH SHAPING SOUND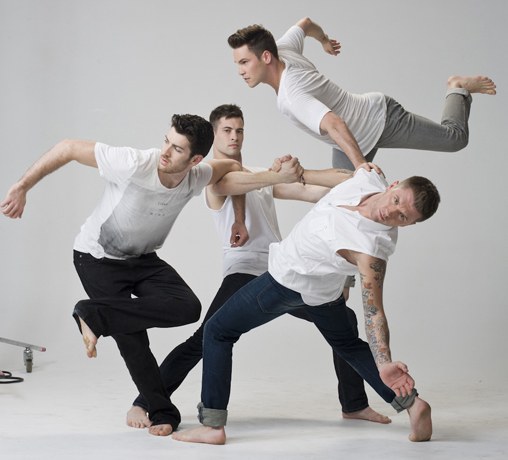 In the weeks leading up to the Shaping Sound cover shoot for Dance Spirit, it looked like the shoot day would be crazy. We were planning to pack L.A.'s Snow Studio with six dancers, two DS staffers, one hair and makeup guru, a photographer, his assistant and two dogs—plus an entire team of Oxygen channel producers, cameramen and sound guys. And on the morning of the shoot, Teddy and Kyle drove up in a U-Haul. They brought in their own props from Shaping Sound's December 2011 premiere, including a giant gold frame and a plush red velvet chair.
The shoot marked the first official day of filming for Oxygen's docu-series "All the Right Moves," so not only did Travis, Nick, Teddy, Kyle, Jaimie and Taja have to worry about getting their moves right for DS photographer Joe Toreno, they also had to do so while wearing microphone packs and staying in frame for the video cameras.
So was the day as crazy as we thought it would be? Not at all. That's what happens when you're working with a team of creative professionals—things just flow.
Travis carefully styled the dancers' looks for each shot and kept a close eye on every pose and shape, but everything worked because everyone rallied together to make it happen.
The dancers laughed—a lot—and supported each other throughout the day. When Taja curved her torso, showing off her unbelievably toned six-pack abs, Teddy hollered. When Jaimie—who is on the injured list recovering from knee surgery—threw her leg behind her into a perfect penchée, Travis went wild. Nick was the class clown, making jokes and demanding that everyone "smize more" (smiling with the eyes, à la Tyra Banks). Meanwhile, everyone bonded over crushes on Kyle, the quiet yet oh-so-dreamy one. (With his dark eyes and killer smile, we're happily on board the crush train, too.) There was no sense of competition, no asking to be "in the front."
By the end of the day, the concept of Shaping Sound made complete sense: Why would these dancers work individually when, together, they can create something truly magnificent? And that's exactly what they did that day.
Why "Shaping Sound"? Travis explains:
"I was on an airplane and I looked outside the window from the tarmac. There were these metal things on the edge of the runway, curving up. I wondered why it wasn't a flat wall, and then I realized there was a residential neighborhood on the other side of the wall. The walls were made that way to shape the sound from the planes upward rather than into the neighborhood. I thought that would be the coolest name for our dance company, since musicality is one of our biggest assets. So now we're Shaping Sound."
GET TO KNOW THE SHAPING SOUND DANCERS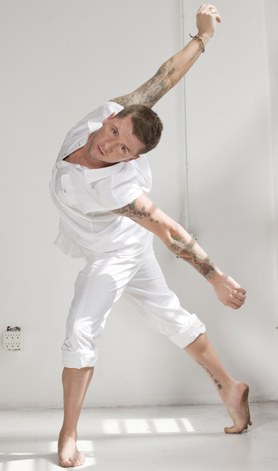 Travis Wall
Age: 24
His impressive background: Travis has been dancing "since birth" and grew up at his mom's studio (Denise Wall's Dance Energy). He competed, won numerous titles, moved to NYC at age 12 to do The Music Man on Broadway and was the "So You Think You Can Dance" Season 2 runner-up. He's been choreographing since he was 16, and he was the winner of the 2009 Capezio A.C.E. Award.
How he describes his choreography in one word: "Inspired"
Who would play him in Shaping Sound: The Movie? Zac Efron
Dance crushes: Sarah Pippin, Jayci Kalb and Melanie Moore. "And Kyle!"
Career highlight: Being nominated for an Emmy Award for his work on "So You Think You Can Dance"
Dream job: Choreographing for Beyoncé
His best advice: "No matter how high you go or how far you travel, always bring your friends with you."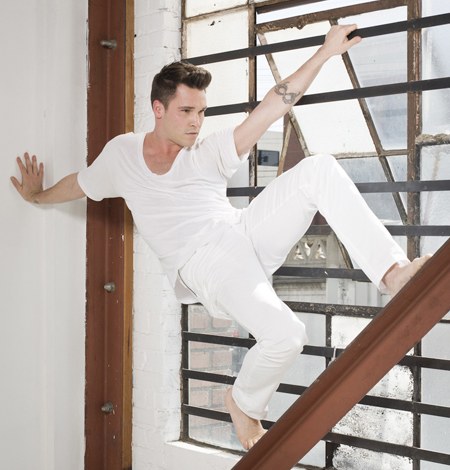 Nick Lazzarini
Age: 27
His impressive background: Nick grew up doing ballet, jazz, tap, acro, hip hop and lyrical. He competed and got his professional start early performing on the PBS kids show "Adventures with Kangaroddy." At 19, Nick moved to L.A., where he auditioned for "SYTYCD"—and won! He spent five years in NYC taking classes and auditioning for everything from Cedar Lake Contemporary Ballet to Broadway. Eventually he moved back to L.A. to work professionally.
Who would play him in Shaping Sound: The Movie? Misha Gabriel
Dance crush: Kyle Robinson
Career highlight: Winning "SYTYCD" Season 1
His best advice: "Have a strong knowledge of the basics. If you don't have a solid jazz and ballet background, your contemporary is going to suffer."
Did You know? Nick Lazzarini is the first dancer to appear on three Dance Spirit covers! Congrats, Nick!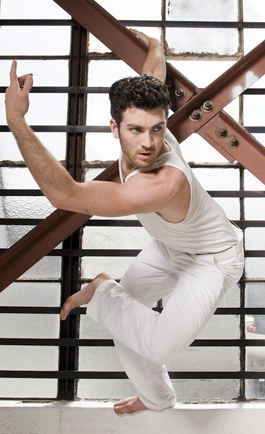 Teddy Forance
Age: 24
His impressive background: Teddy's family has owned a dance studio for 78 years, so he was "born into the bloodline." He competed throughout high school and spent his senior year dancing with Mia Michaels. He moved to Greece to work with the recording artist Anna Vissi, and then booked the Cirque du Soleil Delirium tour, under Michaels' direction. Since then, Teddy has worked with Janet Jackson, Kylie Minogue, Lady Gaga and Florence + the Machine.
How he describes his dancing in one word: "Instinctual"
Who would play him in Shaping Sound: The Movie? Orlando Bloom or Elijah Wood
Dance crushes: Cindy Salgado, Jillian Meyers, Dana Wilson and Mandy Moore
His best advice: "Dive headfirst with love and patience into any creative process."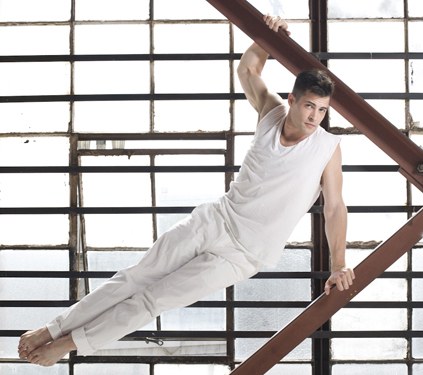 Kyle Robinson
Age: 25
His impressive background: Kyle started dancing at 11 at a competition studio. He worked with Aszure Barton & Artists and Hell's Kitchen Dance before graduating from The Juilliard School. He was recently on the first national tour of West Side Story.
Dance crush: Stacey Tookey
Who would play him in Shaping Sound: The Movie? Tom Hardy. "But I would be the dance double."
Career highlight: Going on as Riff in West Side Story at a tour stop in Arizona
His best advice: "Follow your passion."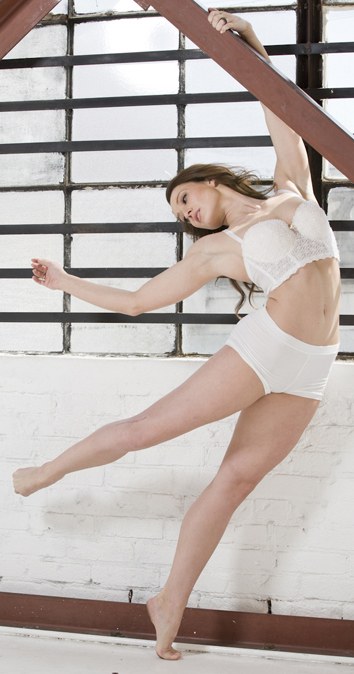 Jaimie Goodwin
Age: 24
Her impressive background: Jaimie grew up competing with Denise Wall's Dance Energy and says things "fell right into place" after graduation. She was spotted at a convention by Tyce Diorio, who hired her to do a McDonald's commercial. From there, she auditioned for "SYTYCD" Season 3, where she became a Top 10 finalist, and eventually an All-Star on Season 8. She was a dancer in High School Musical 3: Senior Year and toured Europe with the Bad Boys of Dance. She's done episodes of "Glee" and is a "groupie" in the Rock of Ages movie, out this June.
How she describes her dancing in one word: "Elegant"
Who would play her in Shaping Sound: The Movie? Rachel McAdams
Dance crush: Bryan Tanaka (her boyfriend!)
Her best advice: "The most valuable attribute a dancer can have is self-discipline. Stay determined and even the biggest speed bumps won't stop you."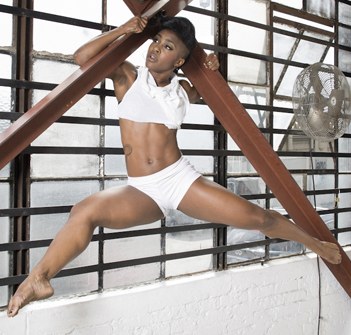 Taja Riley
Age: 20
Her impressive background: Taja started dancing when she was 7 at Denise Wall's Dance Energy, and began competing at age 10. She moved to L.A. at 16 to work with Brian Friedman, Mia Michaels and Wade Robson. By 17 she was dancing backup for Janet Jackson. She went on to work with Ne-Yo, Annie Lennox and Nicole Scherzinger. Taja has also performed on "Glee" and on the first season of "The X Factor" in the U.S.
How she describes her dancing in one word (or three): "Flows like water"
Who would play Her in Shaping Sound: The Movie? Stacey Dash
Dance crush: Hefa Tuita. "Always and forever."
Career highlight: Performing in Dublin, Ireland, with Nicole Scherzinger. "We finished the last number, but the crowd didn't know we were going to do an encore, so they started chanting ole, ole, ole, ole in unison. I cried. It was one of my proudest moments."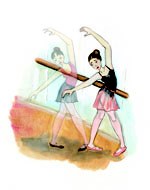 When I was 16, my best friend quit dance. She wanted to be a cheerleader and participate in student government—activities that our rigorous dance schedules didn't allow time for.
It was the right decision for her, but I was devastated. I couldn't understand what could be more rewarding than dance or how anyone could survive without a daily dose of pliés. But worst of all, she was my person—the one who stood next to me at the barre, the one who encouraged me, the one with whom I exchanged cards on opening night. We had tons of inside jokes, not to mention a decade of shared memories.
So how do you cope when your best friend says au revoir to dance? It isn't easy, but don't despair. There are ways to make sure your friendship and your dance career survive. 
Making the Adjustment
The hardest part of losing your dance bud can be the initial blow. "Depending on the depth of the relationship, it can be a real loss," says Dr. Joshua Rosenthal, Psy.D., a child and adolescent psychologist in NYC.
That was certainly the case for Hanna Tadevich, 16, whose friend recently quit dancing after they took class together for seven years. "I was mad at her for a while," says Hanna, who trains at Chicago Festival Ballet (CFB). "We were best friends, and ballet was where we spent time together."
When you get the news, remember that your friend isn't quitting because she wants to hurt you; she is simply acting in her own best interest. Fill the void by broadening your social circle. Try sitting with someone new during breaks or carpooling with a dancer who lives nearby. Hanna became friends with older students who inspired her. You can do the same by enlisting an advanced dancer to be your mentor. Stand next to her in class and ask her for pointers. 
Maintaining the connection
Remember, even though your friend quit dance, it doesn't mean she's quitting your friendship. "At the time, it might feel like all or nothing," Dr. Rosenthal says. "But it doesn't mean the relationship has to end."
Still, you'll need to make an extra effort to maintain your bond, especially if you and your dance buddy attend different academic schools. Let her know you care by occasionally sending her a text message or posting a comment on her Facebook page. Make a weekly or monthly standing date, even if you just do homework together. Invite her to your performances and reciprocate by attending her extracurricular activities. You might even try finding a new hobby to share. Hanna and her friend joined a church group and a community choir, so they still get to see each other regularly and have shared interests. 
Sorting out Your Feelings
Without your friend around, "You might have feelings of sadness, loneliness or jealousy," Dr. Rosenthal says. "When you feel something, it's a message. It's your right to feel abandoned, but it's your responsibility to question that feeling rather than just acting on it." In other words, it's OK to be upset—change is hard—but it's also important to deal with your emotions. "Dance becomes a family unit for a lot of students, and suddenly it feels like there is a family member missing," says Kenneth von Heidecke, director of CFB. "A lot of dancers become despondent." If this is how you feel, von Heidecke recommends talking to someone you trust about what you're going through.
If you're feeling lonely, anxious and sad, it may be because your support structure is gone. Eventually, you'll build a new one, but in the meantime, von Heidecke encourages his students to find ways to rediscover their joy. "Stop and reflect on why you went into dance. Was it the music? The physicality?" he says. "Focus on what drew you so strongly in your heart—that's the best medicine."
You can even use your feelings as an opportunity to grow as a dancer. That's what Ashley Michalek, 18, did when her best friend stopped dancing. The competitive nature of Ashley's relationship with her friend had always helped motivate her. "She helped push me to the next level," Ashley says. But as Ashley began to adjust, her teacher, von Heidecke, saw a measurable improvement in her mental focus. "She re-channeled her thinking into the idea that she was there for herself, so she concentrated on her own needs," he says. "You should never worry about who is or isn't in class. Class is for you—be absorbed in what you need." Von Heidecke says it's common for students whose friends dropped dance to acquire a higher level of self-discipline.
If your friend's decision inspires feelings of jealousy, your emotions might have more to do with an internal struggle about your own choice to dance than about  the lack of your friend's companionship. As Dr. Rosenthal points out, some dancers may envy their ex-dance buds who have more time for other activities, like going to football games or participating in school clubs. If you feel this way, it's time to reevaluate why you dance. Would you rather be at the studio or doing something else? Answer honestly, then decide whether or not to take a break from dance. Just be sure you do what's right for you.
Moving Forward
So what happened to my friend after she quit? We actually became closer than ever, and we're good friends to this day. We set aside regular coffee and movie dates—much more intimate settings than a studio. During our last year of high school, she even returned to class so we could perform together in a special number just for the seniors.
Regardless of the path your friends choose, be happy for them. After all, true friendship really does transcend studio walls.
Illustration by Lealand Eve
A group of girls go out after practice and don't invite you. When you score a top award for your solo, you hear others whisper that you didn't deserve it. After your worst day in rehearsal, another dancer corrects your technique in front of the entire cast.
Chances are you've seen things like this happen, to yourself or someone else. Maybe you've even acted this way toward others. In a high-pressure environment where dancers are often competing against each other to be cast in the best roles, jealousy and stress can drive girls to their cattiest. DS enlisted experts to get to the bottom of the mean-girl phenomenon.
Naming the Beast
Any action that hurts someone's relationship with others—teasing, gossiping, spreading rumors or deliberately excluding someone—is called relational aggression. It can be as subtle as rolling your eyes or as overt as insulting someone's appearance in front of others or behind her back.
Experts say that relational aggression is more common in girls than boys and peaks in middle school, though research as to why this is the case has offered a number of possible reasons. Dr. Cheryl Dellasega, author of Mean Girls Grown Up, says that relational aggression tends to be more common in activities where bodies are on display such as dance, swimming and gymnastics. This leads to comparisons, jealousy and self-esteem issues. Girls who are mean to others benefit by boosting their own self-esteem—they might get a laugh from others or bond with fellow dancers by excluding or insulting someone else.
How To Respond
If you're the victim of mean comments or actions, immediately talk to someone outside the studio (a parent, an older sibling or a friend) about what happened and how it made you feel. "Come up with a plan for yourself including things you can do [next time]," says Dellasega. Some options are to walk away, say "that hurt my feelings" or make a joke.
The textbook response to bullying is to give an "I statement," such as "I felt really upset when you insulted me in front of everyone." In real life, though, that might not be the best approach, especially for teens, says Dr. Laura Martocci, a sociology professor at Wagner State University. "Oftentimes, bullies don't care, [because] they're trying to make you miserable," she explains. "It's also making [your] feelings totally contingent: 'I feel bad when you do this, so you should stop doing that because I can't feel good about myself.'"
Instead, take control of the situation by reacting in the best possible way that suits you. If you're shy, confidently ignoring mean comments can be the most comfortable response. Using sarcasm—like saying, "you don't have to blow out my candle to make yours brighter"—allows you to stand up for yourself and turn around the situation. Throwing back another insult, on the other hand, will only put a bully on the defensive and escalate the situation.
If you're confrontational, try turning your enemy into a friend by talking to her outside of the studio one-on-one, suggests Dellasega. Explain that her behavior bothers you, and ask if there is something you've done to upset her. Tell her that you'd like to try to work together instead of against each other, and keep the situation neutral by asking her what she thinks you both could do to change things. After she responds, work together to come up with some guidelines for the future. For example, if she has something to say about your performance, ask her to speak to you individually and directly, rather than talking to others about it.
When Enough Is Enough
When another dancer's behavior is affecting your happiness in class, it's time to talk to your teachers so they can address the behavior or mediate a group discussion. "Your teachers should address things as they happen—[something] as simple as eye-rolling—with that person immediately after class," says Diane Scarcella, a regional director for The Ophelia Project, a national organization that educates teens about relational aggression.
If there's a widespread problem with relational aggression in your school or studio, you'll need the leadership of instructors to change the culture. Teachers and coaches should demonstrate appropriate behavior themselves and make it a school-wide standard.
Start traditions that promote respect like applauding each other after class and making an effort to genuinely congratulate fellow dancers on a good performance or competition. Instructors at Linda Dies Dance Unlimited in Warren, PA, worked with Scarcella on a studio-wide project to curb meanness. They've adopted the motto "It's cool to be kind," and posted a mission statement including standards of respect, tolerance and understanding near the entrance of the studio. A lobby bulletin board displays dancers' positive achievements outside of dance, and they've also made it a classroom rule that dancers are not to correct each other; it's the teacher's job to give corrections, no matter how experienced the students.
Juggling Jealousy
Jealousy and insecurity are major contributors to the mean-girl phenomenon. In the dance world and the real world, there will always be someone who is better than you at something, so learn to accept your natural feelings of envy. "There's nothing wrong with looking at another dancer and saying, 'Wow, she can do that better than I can.' It's what we do with [that knowledge] from that point on," says Dr. Cheryl Dellasega. Instead of reacting to envy by putting others down, channel your envy in a positive direction. Harness those feelings to motivate yourself to work harder at achieving your own goals. Or, ask that fellow dancer to share the secrets of her success with you.
Learn More!
For more on relational aggression, check out these websites:
relationalaggression.com

opheliaproject.org

relationalaggression.net

clubophelia.com
Take the Lead
Dr. Cheryl Dellasega gives straight answers on how best to react in two common studio scenarios.
Q. What should I do if the meanest girl of all gets the lead role?
A. Ask yourself, did she get [the role] because she's mean or because she's talented? Having people recognize her abilities is going to make her feel more secure and decrease that mean behavior. However, if she gets something that everyone else wants and people treat her badly because of it, it may reinforce her thoughts of "See, I'm right. None of them are my friends anyway." It's how you respond that determines your future—if you're going to be mean and nasty to her, then [her] mean behavior is likely to continue. If you're the bigger person and say, "Hey, congratulations," or "I know you worked really hard to get that," it may improve your relationship with her. Be gracious; this scenario will repeat itself throughout life. It's important to learn that people are always going to get things that you want, and they aren't necessarily going to be the nicest people.
Q. What should I do if I get the lead and others are talking about me behind by back?
A. Win them over by helping them feel secure and recognizing that they are talented too. If you see that other girls are talking about you and are resentful of you, make a point of approaching them one-on-one and saying, "Listen, I wouldn't be where I am now without your support. I just want to thank you for being a part of this group, because we all work together to make everybody look good."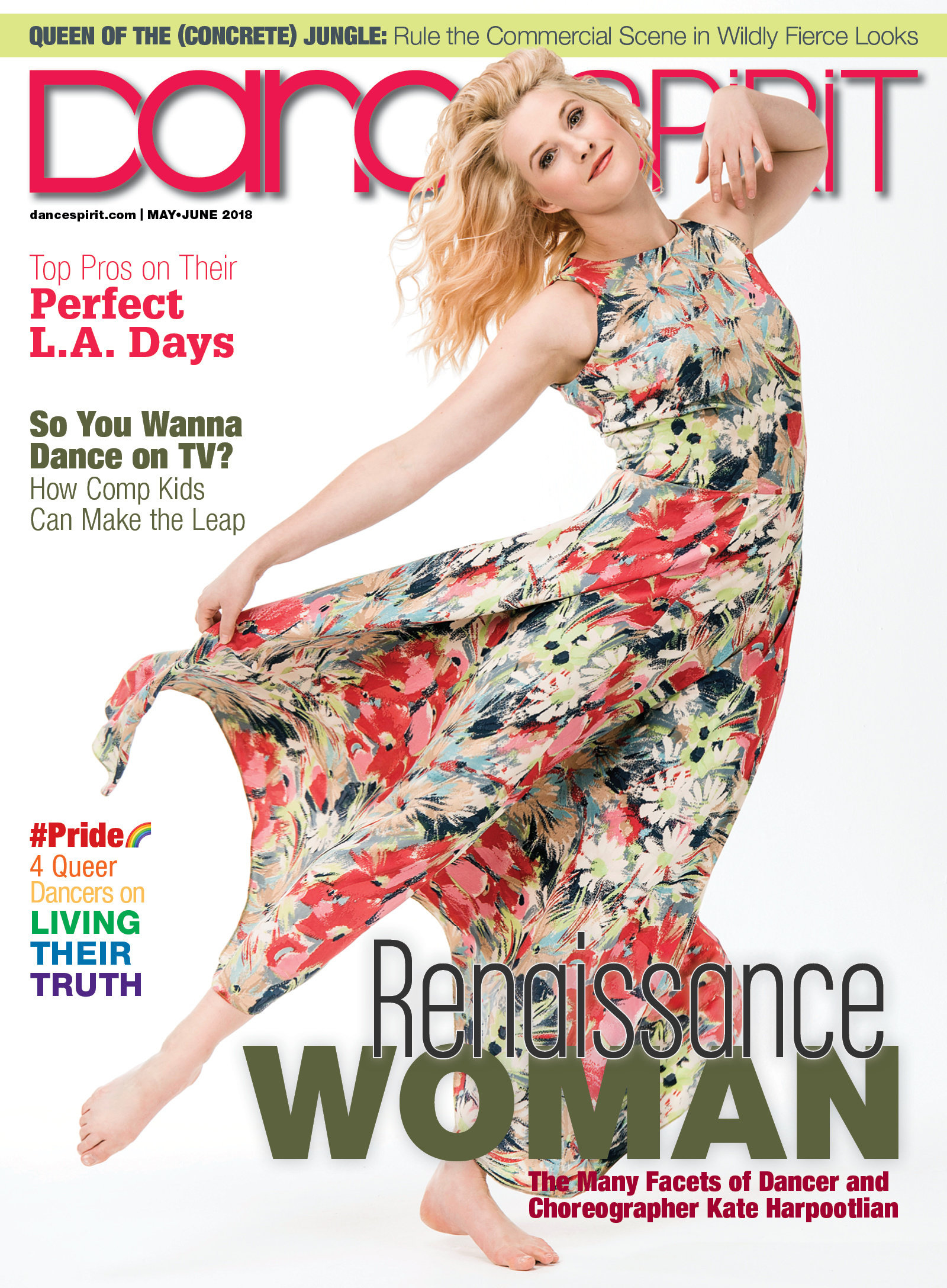 Get Dance Spirit in your inbox