You know Galen Hooks as the choreographer who creates the stellar dance moves for dozens of viral videos, and the dancer who's performed for everyone fromthe Biebs to Rihanna. But now she's gearing up for two different roles; director and composer.
Hooks' new dance film, " Wait for Me," was written, composed, directed, styled, and choreographed by the versatile artist. And though the overachiever could've easily danced in it, too, she chose instead to feature an army of all-star dancers including Ashley Everett, Jasmine Harper, Kyle Robinson, Melinda Sullivan, and Kenny Wormald. Read our exclusive interview with Hooks and discover what prompted this shift towards directing.
Keep reading...
Show less
How crazy has the rise of the class video been? Within the past year or so, we've basically come to expect that L.A.'s top commercial choreographers will put out a new internet-breaking vid every week. Here are five of our all-time favorites. (And be sure to read a whole lot more about the class video trend in the May/June issue of Dance Spirit.)
Keep reading...
Show less
As a choreographer, how do you turn a complicated concept into a dance? Just ask Galen Hooks, whose latest project with director Sarah Wilson Thacker considers Alzheimer's disease and the ways we hold onto our sense of self.
Dance Spirit spoke with Hooks about what it was like to create the film.
DS: How did you come up with this idea?
Hooks: My friend Sarah, who's a director, asked me what I had been thinking about lately, and I ended up describing all these abstract concepts about how we can prepare for things in life but that life doesn't owe us anything for that preparation. That resonated with her, and she wanted to run with it. It was scary for me, because I usually start creating from a song rather than huge concepts. But from a director's point of view, she was game to tackle complex issues. She said it reminded her of Maslow's Hierarchy of Needs (which includes safety, love and self-esteem among other ideas). That's where it came from.
DS: Then what happened?
Hooks: We decided to use paper as this metaphor, because you can mold it and shape it, but it can also be torn up or blown away. Usually the next steps fall into place easily, but for this project everything was unknown. We had to find the right song and have discussions with a set designer. When it came time to choreograph the video, I just couldn't figure it out.
I asked Tony Testa for feedback and he helped come up with the idea of the hand opening like an egg—life starting. He hit the nail on the head. He also helped us resolve this piece in a hopeful way.
DS: When did you realize that this could relate to people with Alzheimer's disease?
Hooks: It wasn't until I was watching the second-to-last edit that I realized this was a story of Alzheimer's disease. When I watched it through that lens, it really hit me. The Alzheimer's Association of Orange County has given us a lot of support. This whole project was special because it really has a message. It felt good to do something that uses dance to touch people.
Hierarchy from Sarah Wilson Thacker on Vimeo.
Legends: They're talented. They're inspiring. They stand the test of time. But true legends are also really, really rare. Which makes indisputable icons like Janet Jackson all the more precious.
In Janet Jackson's world, the best way to celebrate a chart-topping, genre-defining, multiple-decade-spanning career is, naturally, to put out yet another bound-to-be-incredible album (due out this fall), and mount yet another highly-anticipated tour (the Unbreakable World Tour, which kicks off in August).
Last night, the BET Awards honored Jackson's accomplishments with its first-ever Ultimate Icon: Music Dance Visual Award. Naturally, the JJ party involved a huge, delectably dance-y performance set to Janet classics. Masterminded by a team of choreographers including Gil Duldulao, JaQuel Knight and Galen Hooks, it featured not only Jackson's amazing team of tour dancers, but also her friends Ciara, Tinashe and Jason Derulo. (Ciara's Janet impression is almost eerily on-point.)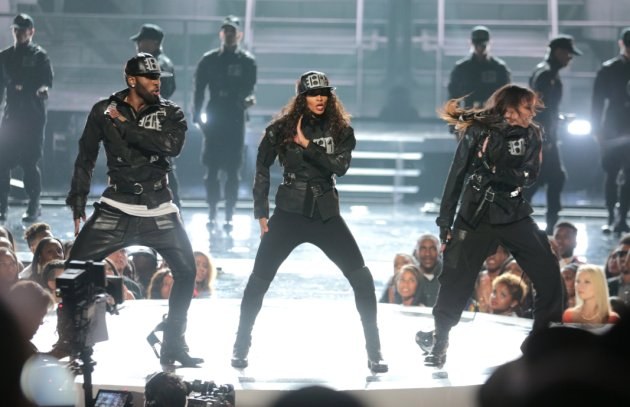 (From left) Derulo, Janet Jackson Ciara and Tinashe nailing it (Mark Davis/BET/Getty Images for BET)
Our only regret? Jackson didn't perform. But she did make a lovely, gracious acceptance speech. And she came out looking like this, which is basically the equivalent of a mic drop: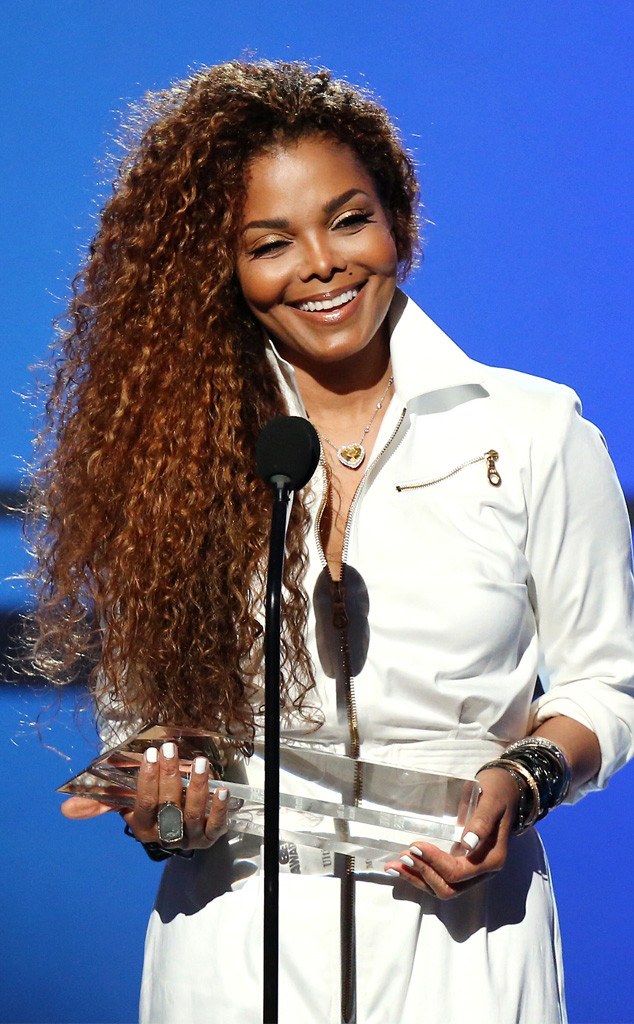 I mean. (Mark Davis/BET/Getty Images for BET)
Watch the whole performance:
Jan. 10, 2013 12:34PM EST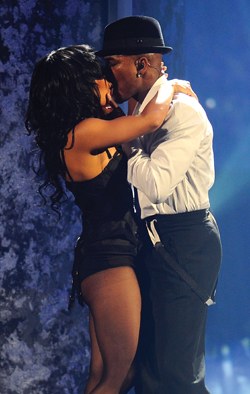 Galen Hooks and Ne-Yo at the 2010 American Music Awards (Kevork Djansezian/Getty Images)
When Galen Hooks danced with Ne-Yo at the 2010 American Music Awards, they paused mid-routine—and kissed. "It was the first time I had to kiss somebody onstage," Hooks says. "Not only was it televised, but I was really shy about it!" Plus it was, you know, Ne-Yo.
Performing a passionate duet is one thing—but having to kiss your partner in the middle of the choreography can be awkward and nerve-racking, especially in front of an audience. Read on to see how some of your favorite dancers handled their first onstage kisses.
Galen Hooks
Hooks played two characters in Ne-Yo's music videos and was on the creative team that choreographed the AMA number. "It was my idea to have the kiss happen," Hooks admits. "It made sense for the story. When my character kisses him, she goes from being nice to being evil. It was all in fun."
They didn't rehearse the kiss during the tech run-through, though. Instead, they stood without making eye contact and waited a few seconds before moving into the next segment. "We only did it on the actual show," Hooks says. "It was just part of the choreography. There was no romance to it." Watching the kiss, you'd never guess it was so polite. Ne-Yo grabbed her face and pulled her close. "But there was no tongue or anything!" Hooks laughs. "He's a true gentleman—very respectful."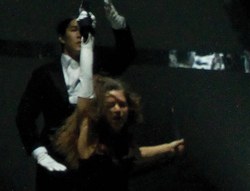 Tiffany Maher and Cole Horibe in Mia Michaels' routine for the Top 14 on "So You Think You Can Dance" Season 9 (Adam Rose)
Tiffany Maher
Tiffany Maher, runner-up on "So You Think You Can Dance" Season 9, calls her first onstage kiss—in the Top 14 routine choreographed by Mia Michaels—her "Spiderman kiss": Cole Horibe hung upside down, spinning, while Maher swung by a rope attached to her wrist. "I had to grab him and smack his lips to mine," she says. "In rehearsal, we'd smack heads, or I'd end up kissing his nose, or he'd end up kissing my eyeball." Plus, Maher and Horibe weren't star-crossed (spinning) lovers: "He's like my brother," she says. "It was the hardest kiss of my life!"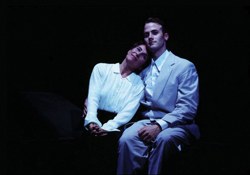 Bret Shuford with Andrea Marcovicci in Lady in the Dark (courtesy Bret Shuford)
Bret Shuford
As Prince Eric in The Little Mermaid, Broadway veteran Bret Shuford kissed Ariel countless times onstage. But his first professional kiss happened years before in a regional theater production of Lady in the Dark, featuring cabaret star Andrea Marcovicci. Shuford played Marcovicci's high school sweetheart and had to kiss her during a flashback scene. "She's twice my age," says Shuford, who was 22 at the time. "When we got to that part, I was supposed to be the one kissing her," he remembers, "but she was the one kissing me! I just went with it."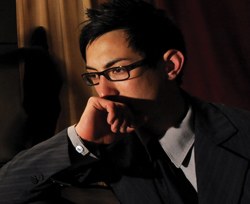 Peter Chu in Dark Matters (Eric Beauchesne/Kidd Pivot)
Peter Chu
Peter Chu was going over his choreography before the premiere of Crystal Pite's Dark Matters at the National Arts Centre in Canada. Pite, who was also his partner for the work's last duet, gave him a note. "By the way," she said, "I think you should kiss me."
Chu was so nervous that he ran back to his dressing room and started practicing the kiss on the back of his hand, all the time worrying that someone was going to walk in on him. "It's a beautiful show with amazing dancers," he says, "but I was more stressed about how to kiss her! You don't want to bump teeth or anything." So how did it go during the performance? "It was a passionate, desirable kiss," Chu says. "Very honest."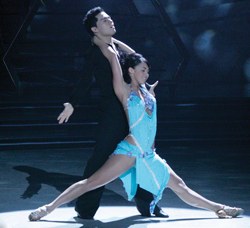 Lauren Gottlieb and Dominic Sandoval performing their rumba on "So You Think You Can Dance" (KELSEY MCNEAL/FOX)
Lauren Gottlieb
On Season 3 of "SYTYCD," Lauren Gottlieb and Dominic Sandoval wowed the crowd with their rumba. But it wasn't their dancing that got all the attention—it was their kiss (the first ever on the show)! "When we practiced it in front of the choreographers, they flipped out," Gottlieb says. "They thought it was way too much."
Gottlieb and Sandoval decided to run with it. "We went for the shock factor," Gottlieb says. "But I was young—19—and my boyfriend and whole extended family were in the audience!" Gottlieb was also overwhelmed by the millions of people watching at home. Her nerves caused an awkward moment at the end when they were both breathing so hard their lips came apart. "He tried to go back in and my head was moving away," she says.
The Juliets|For some ballerinas, the first onstage kiss is a gentle peck on the lips in
The Sleeping Beauty or an innocent smooch in La Fille mal gardée. But these ballet dancers were thrown into the deep end, having to bring the passion in Romeo and Juliet.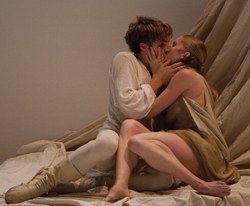 Carla Körbes with former Pacific Northwest Ballet principal Lucien Postlewaite in Roméo et Juliette (Angela Sterling)
Carla Körbes
In Jean-Christophe Maillot's Roméo et Juliette, Pacific Northwest Ballet principal Carla Körbes has to do more than just kiss her partner. "There's a section where we're rolling around in bed kissing," Körbes says. "Then we go under the covers." She and her partner, Lucien Postlewaite, rehearsed it in the studio so they wouldn't feel awkward later. "It was more like acting than a ballet kiss," she says. "It felt like a movie experience."
Luckily for Körbes, what shows on film doesn't always show onstage. "The first time, my nose was kind of running and I was crying during the second act," she says. "We were kissing and all of a sudden there was snot everywhere! At that point we didn't know what was happening, but when we got offstage, we were dying laughing."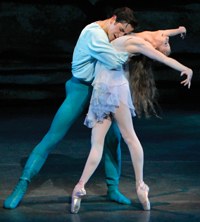 Sterling Hyltin and Robert Fairchild in Peter Martins' Romeo + Juliet (Paul Kolnik)
Sterling Hyltin
"When you're doing something like Romeo + Juliet, everything from an arabesque to the kiss is full of meaning," says Sterling Hyltin, a principal with New York City Ballet. Hyltin was 21 when Peter Martins choreographed the tragic love story for her and NYCB's Robert Fairchild.
"I didn't know if he would kiss me in rehearsals," she says. "But it happened from the get-go. It was happening in the music, so that's what we did." Six years later, Hyltin says she and Fairchild save the kiss for the stage. "All that matters is the moment," Hyltin says. "If you really believe what you're doing, there's nothing strange about kissing somebody you don't kiss in real life."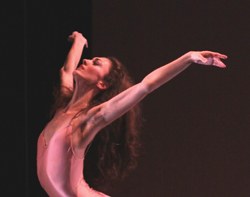 Victoria Jaiani in After the Rain (Herbert Migdoll)
Victoria Jaiani
At 18, Victoria Jaiani danced her first Juliet with Joffrey Ballet. "They hired Jason Reilly, then a principal from Stuttgart Ballet, to come dance with me," she says. "He was an incredible partner and everything worked out well, even though we only had a few days to rehearse before we got onstage."
The first time they rehearsed full-out in the studio, Jaiani felt comfortable. "You get so involved and live in the moment," she says. "It felt natural to kiss him. It would've been weird not to. I wanted to be kissed." Jaiani remembers the first show, at the end of the balcony scene, when her Romeo unexpectedly gave her an extra goodnight kiss. "I was surprised because we hadn't rehearsed it that way," she says. "It just happened."
Apr. 25, 2011 08:55AM EST
Daniel "Cloud" Campos
Where you've seen him: In LXD webisodes; as Kid Darkness in Step Up 3D; dancing on Madonna's Re-Invention and Confessions tours; as a featured dancer in Shakira's "Did It Again" music video.
Why he's hot: Cloud brings a whimsical, elegant touch to his b-boying—think a modern-day Fred Astaire or Gene Kelly, both of whom Cloud credits as major influences on his dance style.
What he's doing now: Cloud is branching out by creating and directing his own short dance films. Check out "Welcome Home" online and fall in love with his charismatic character.
Why the nickname? "Growing up, I loved looking at clouds," Cloud says. "I get lost in them—the way they move across the sky, constantly changing forms, shifting and creating pictures. Clouds take me to another place. I think that's a great goal to have as a dancer, to be able to take someone away with your movement."
Scotty Nguyen
Where you've seen him: Working as the associate director and choreographer for A. R. Rahman's Jai Ho world tour; dancing on the Spice Girls' Reunion world tour; as a featured dancer in The Wedding Singer and iPod commercials.
Why you need to know his name: Scotty landed his first dance job at the young age of 13—and it was a big one: dancing with Michael Jackson. He's trained in hip hop, krumping, popping, b-boying and martial arts, and he recently choreographed Ringling Bros. and Barnum & Bailey circus shows!
What he's doing now: Scotty and his girlfriend, Tracy Shibata, directed and performed in "There Goes My Baby," a short dance film that uses visual trickery for a mind-bending dance experience. He's also launching his own line of dance-inspired footwear this summer called New Street Order.
Khasan Brailsford
Where you've seen him: On tour with Beyoncé, Rihanna, Keyshia Cole and Paulina Rubio; dancing at awards shows and in music videos with Lady Gaga, Christina Aguilera, Queen Latifah and Kelly Rowland; as assistant choreographer for Beyoncé's "Video Phone" music video featuring Lady Gaga.
Why you need to know his name: Khasan, a former competition dancer at Dance Precisions in Placentia, CA, trained on scholarship at EDGE Performing Arts Center. His dancing oozes maturity and sophistication with a sexy edge.
What he's doing now: Dancing on Kylie Minogue's Aphrodite tour.
Galen Hooks
Where you've seen her: Pretty much everywhere! Choreographing and dancing with The LXD; dancing in Step Up 3D; as a choreographer and dancer for 17 Again; as associate co-choreographer for the Broadway revival of Dreamgirls; dancing backup for Janet Jackson and Ne-Yo; choreographing for Usher and The Jonas Brothers.
Why you need to know her name: Galen is conquering the industry—which she's been a part of since she was 7, when she performed with a dance group that was named "Star Search" junior champion. She's worked with more than 40 major artists, but she's also a brainy babe: Galen attended Penn State University while simultaneously touring with Snoop Dogg. She graduated with a BA in law and society!
What she's doing now: Choreographing Volkswagen and Skechers commercials, working on a dance-inspired photo and video project with photographer Carlos Serrao and working with AFTRA and Dancers' Alliance (an organization created by dancers to standardize non-union work) to help unionize music videos and tours.
Rich and Tone Talauega
Where you've seen them: There's a chance you haven't seen them—they're behind the scenes, working as two of Hollywood's most in-demand choreographers.
Why you need to know their names: Together, these brothers have choreographed more than 150 commercials, music videos, films, live tours and performances. Their long resumé includes projects for Madonna, Jennifer Lopez, Chris Brown, Usher, the Backstreet Boys, the Black Eyed Peas and Britney Spears. If you book commercial jobs, it's likely you'll be working with these powerhouses.
What they're doing now: Rich and Tone continue to stay busy: Earlier this year they choreographed a dance-centric commercial campaign for Old Navy and worked on the Super Bowl Best Buy commercial featuring Ozzy Osbourne and Justin Bieber. They've choreographed Chris Brown's recent performances and music videos and they're on board to create several numbers for Cirque du Soleil's Michael Jackson tribute tour. This summer, the brothers will be in Europe working on the 3-D feature film Street Dance 2.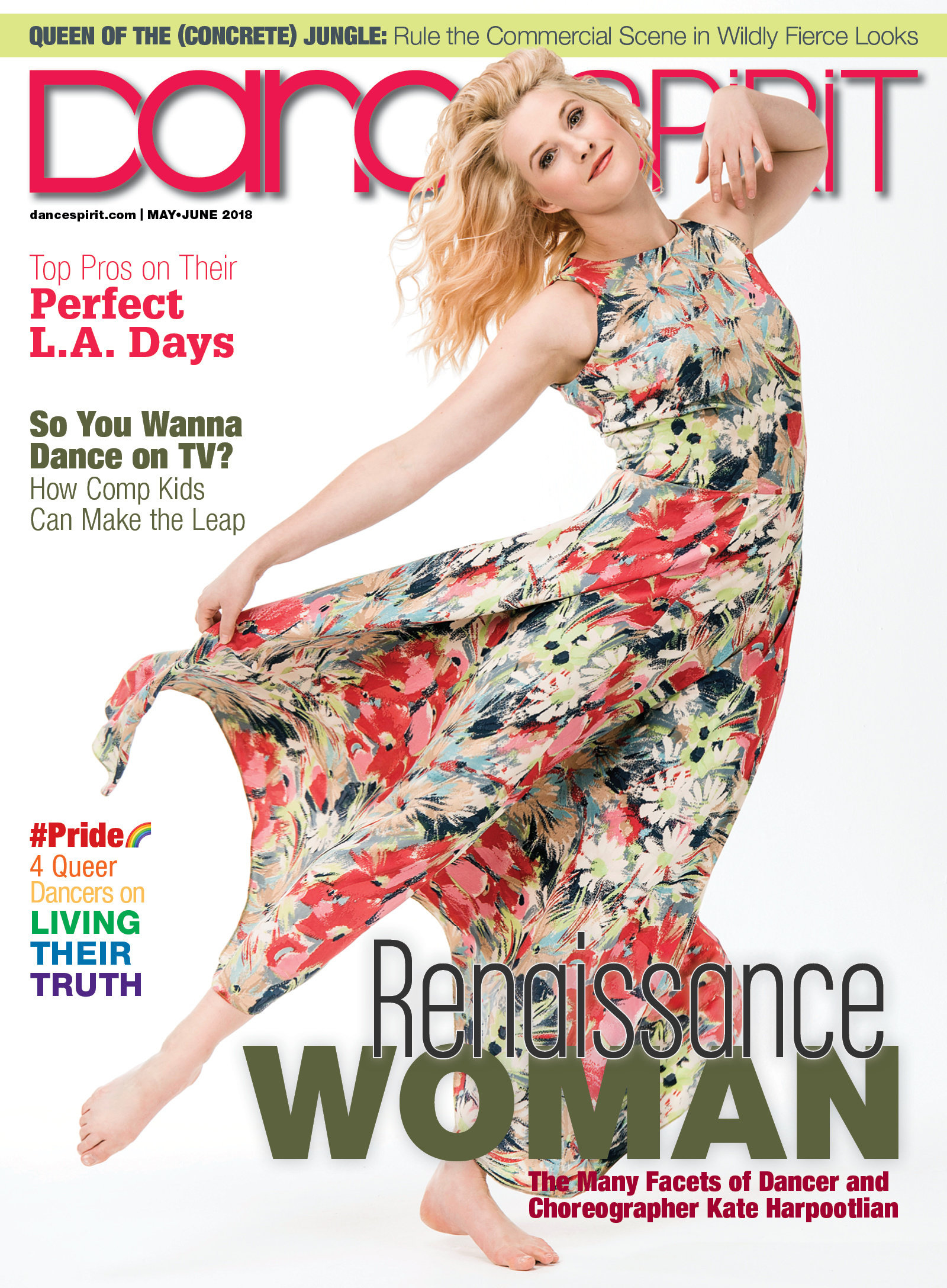 Get Dance Spirit in your inbox