Site Network
Dec. 19, 2018 03:14PM EST
ABT Studio Company dancers Joseph Markey and Chloe Misseldine in the latest episode of "No Days Off." Screenshot via YouTube.
If you've ever wondered what it's like to be a member of American Ballet Theatre's Studio Company, you're in luck. The latest episode of "No Days Off," a documentary web series profiling young and inspiring athletes, spotlights 17-year-old Joseph Markey, a first-year Studio Company member. The doc not only underscores the physical aspects of Markey's training, but also the artistic refinements he must make on his road to becoming a professional dancer.
17-Year-Old Is The FUTURE of Dance www.youtube.com
Keep reading...
Show less
Just for Fun
Aug. 24, 2018 12:50PM EST
Gillian Murphy spent some time in Canada this summer. Image via Instagram
@gillianemurphy
We'll admit it: As excited as we are for fall performance season to start, we are in deep, deep denial that the end of summer is in sight. And we're also experiencing some serious FOMO looking at the vacation photos flooding our Instagram feeds from some of our favorite dancers and choreographers. So where in the world do they go to unwind before gifting us with yet another season of incredible dance?
Keep reading...
Show less
So, I haven't been pirouetting much for a few years now. But when I was dancing, I used to have this amazing recurring dream, which still haunts me:
I go to do a pirouette. It becomes clear that I am exactly, perfectly on balance. I have a realization that as long as I keep spotting, I'll be able to turn...forever. Spot. Spot. Spot. Spot. Spot...
Today, I discovered that American Ballet Theatre principal Gillian Murphy is living my dream IRL. Her REALITY is a beautiful fantasy world in which pirouettes just go on for, you know, however long she feels like it.
Here's the proof, as documented by fellow ABT principal Daniil Simkin:
There's no question that dance has pretty much taken over when it comes to mainstream advertising (and if you need a refresher—Exhibits A, B and C). And while we're all for dance (and dancers!) getting the recognition they deserve, it can be exhausting to watch brands get it wrong over and over. Which is why these new ads, featuring NYCB's Ashley Bouder, ABT's Gillian Murphy, Lauren Froderman and Dakota Moore, are not only super-tantalizing, but absolutely stunning, too. While we're not super familiar with Acer (we know it's an electronics company based in Taiwan), we must applaud the team behind these beautiful Instagrams. See for yourself below, and prepare to be mesmerized.
Keep reading...
Show less
Alvin Ailey American Dance Theater's Sean Aaron Carman and Michael Jackson Jr. (courtesy NYC Dance Project)
Every NYC Dance Project image feels like a glimpse into something greater: a dance that's happening behind a curtain, in a private moment. Take, for example, one of Les Ballets Jazz de Montréal dancer Céline Cassone's photos, a commanding shot of her on pointe in passé, her fiery red hair flung upward over her face. Or, the image of Misty Copeland that perfectly portrays both her incredible strength and her ineffable grace. NYC Dance Project's photographers have taken powerful photos of dozens of famous subjects. But what inspires their iconic images? And how do you capture such stunning shots?
Keep reading...
Show less
Everyone knows it's not only the steps or technique that make a ballerina memorable. It's the emotion—and the ability to tell a story—that truly captivates an audience. And American Ballet Theatre's latest video is here to help. It takes us inside this season's production of The Sleeping Beauty, complete with luscious footage of the ballet itself and a few wise words on really getting inside Aurora's head, straight from some of ballet's leading ladies.
Because let's face it, getting into character is easier said than done. I mean, it's a little tricky to relate to a princess who sleeps for 100 years when you can't even squeeze in a power nap. And who has time for a prince when you've got rehearsals? It takes a lot of focus and imagination to play a convincing character, especially in a fairy tale story like The Sleeping Beauty.
In the video, principal Gillian Murphy talks about all the famous Auroras she looks up to and says: "Be inspired by that huge history of iconic Auroras and ballerinas, but also you have to make it your own." Cassandra Trenary, a soloist, credits Artist in Residence Alexei Ratmansky with helping the dancers dive deep into their roles. "He (Ratmansky) is able to give you a story behind every single movement. Whether it's a variation or a pas de deux, you're not just taking your partner's hand. It's like, that's the love of your life! Just keep that in the back of your mind."
Note taken. So long story short, don't be afraid to ask your teacher or director for guidance if you're struggling, take inspiration from others who have played the role and always trust your gut to make your portrayal authentically you.
As for the production itself, this Sleeping Beauty is absolutely dreamy (pun intended)—principal Stella Abrera (also featured in the video) says it's "kind of like watching a very old painting from the Louvre slowly come to life." This "new meets old" ABT Ratmansky version of SB premiered last season, but if you missed it check out the video for an exclusive behind-the-scenes look. Or, see it live when it runs at the Met June 27-July 2!

We've all had that amazing pirouette dream.
You know the one I'm talking about: The one where you go into a turn, realize you're perfectly, absolutely, unshakably on-balance, and just. keep. spotting.
5 turns. 6 turns. 7. 8. 9. TEN.
But there are a select few superhumans who live that dream every day. And Sophia Lucia is one of them.
Yes, we already knew she could pull out dozens of turns in tap shoes. These days, however, her pirouettes on pointe are just as insanely impressive.
Instagram don't lie:
YUP.
Want this to be your reality? Click here for turning tips from Sophia and other experts in the field.
(Fun fact: In the clip above, Sophia is rehearsing one of the "Odalisque" variations from Le Corsaire. There's gorgeous video out there of another dream pirouetter, American Ballet Theatre's Gillian Murphy, doing the same solo as a baby ballerina. If you want to sustain your turning high, you should watch it immediately—main pirouette sequence starts 24 seconds in:)
Cloud & Victory is a ballerina's go-to for the cutest classwear, as well as amazing pictures of some of our favorite dancers holding pizza (see below). What makes C&V even cooler, though, is C&V Sessions—a collection of interviews with some of the dance world's brightest stars. Most recently, American Ballet Theatre principal and all-around superstar Gillian Murphy sat down to dish on everything from her start in ballet to her husband, former ABT principal Ethan Stiefel. The cool thing about C&V Sessions is how candid and real they are. Gone are the generic questions and cookie-cutter answers. Instead, we get to see the dancers as their relaxed, reflective and authentic selves. Below are some highlights from Murphy's interview. Be sure to check it out in full here!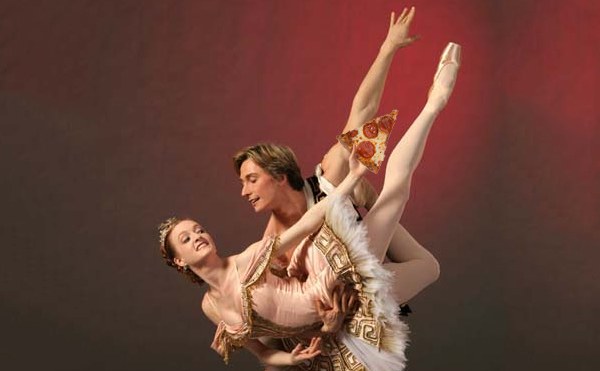 There's no time like pizza time (photo via C&V)
C&V: You strike me as someone who's quite sure of herself from a young age – after winning a Prix scholarship you chose to stay back to train at North Carolina, and you deferred joining the ABT to finish high school. It takes a certain amount of faith in yourself to say, hold up, I think maybe this approach would be better for me as opposed to jumping headfirst into every opportunity.
Gillian Murphy: I think I've always had a fair amount of confidence. But I've also always had a sense of priorities
In the case of choosing to go to North Carolina School of Arts for my final year, it was a priority for me to be in an environment I loved with my friends and a teacher who was phenomenal, who was looking out for me and helping me. It wasn't so much that I didn't want to go to one of the more famous schools of the world. I knew NCSA was the best place for me.
In terms of asking ABT if I could join a few months later and graduate from high school, I just felt strongly that I needed a high school diploma.
So I guess it wasn't confidence – maybe a little bit! I think I was confident that if they wouldn't agree to that then I could dance in another company, even if it was a smaller company. But it was that important to me to graduate from high school.
I think you need a certain level of confidence to get out there and perform but every dancer also has his or her share of insecurities.
May. 17, 2013 12:11PM EST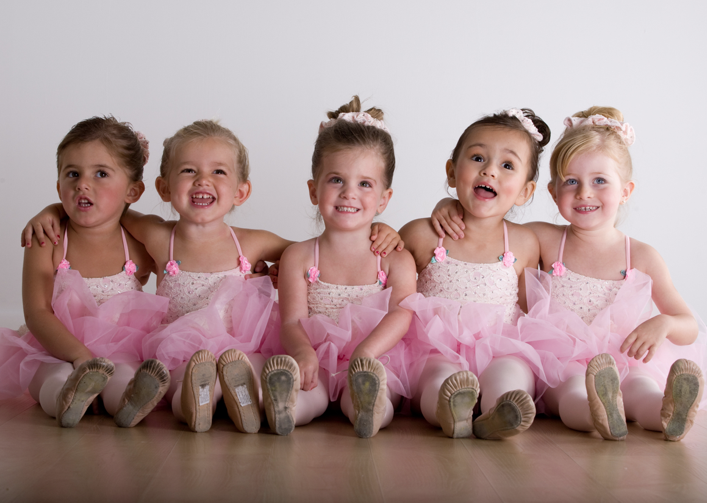 They're all gonna be great turners someday. Well, except that munchkin on the left. (photo Heather Donlan Photography)
Not all of us are born with Gillian Murphy's innate turning ability. But if you're having trouble with your pirouettes, try this neat trick: Smile while you're turning.
Easy peasy, right? Here's why it works:
First, many dancers frown in concentration as they turn, especially if they're struggling. But that stiffens the muscles in your neck and jaw, which makes spotting nearly impossible—and, in turn (hah! see what I did there?), clean pirouettes difficult. Smiling will relax your face, allowing you to spot more naturally.
But there's another advantage to putting on a happy face. A recent study showed that tension in the jaw was often connected to tension in the hips and pelvis. So relaxing your jaw will also loosen up your hip joints, creating more space for rotation and making for a cleaner, better-balanced passé.
Cool, right?
Feb. 07, 2013 11:26AM EST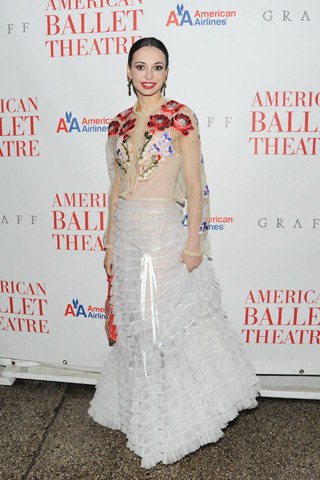 So, remember when New York City Ballet honored designer Valentino at a big gala that was attended by a gazillion movie stars, and it was awesome?
Well, American Ballet Theatre just announced the details of its Metropolitan Opera House gala this May, and it sounds like it's going to be equally glittery. Yay!
Providing the high-fashion connection is Christian Dior Couture, which is sponsoring ABT's gala. No word yet on whether or not that'll involve designing costumes for the ballets performed, but hey, at the least our favorite ballerinas will probably be decked out in some gorgeous Dior gowns at the dinner afterwards.
And what high-wattage stars will be attending? Honorary chairs Caroline Kennedy and Blaine Trump, for starters. But take a look at this honorary committee list: Kim Cattrall, Jennifer Love Hewitt, Stacy Keibler, Lea Michele, Kelly Rutherford, Zoë Saldaña, Ashlee Simpson, Aaron Sorkin, Stephanie Szostak and Uma Thurman. Straight A-list.
Finally, of course, there are the stars us nerds care about most: the company's principal dancers! And the gala cast list is enough to make your knees weak: Roberto Bolle, Herman Cornejo, Irina Dvorovenko, Marcelo Gomes, David Hallberg, Paloma Herrera, Julie Kent, Gillian Murphy, Natalia Osipova, Veronika Part, Xiomara Reyes, Polina Semionova, Hee Seo, Daniil Simkin, Cory Stearns, Ivan Vasiliev and Diana Vishneva. We haven't heard what they'll be dancing yet, but frankly even if they all just came out and stood next to each other onstage we'd be happy.
See you on the red carpet on May 13! Or, uh, no, we probably won't be walking the red carpet. But we'll definitely be stalking it. Close enough!
Get Dance Spirit in your inbox
Jul. 11, 2012 11:02AM EST
Remember a couple of days ago, when we talked about how superstar Ethan Stiefel gave his last performance with American Ballet Theatre on Saturday? Well, some forward-thinking audience member filmed Stiefel's farewell bows for those of us who weren't able to see him say goodbye in person, and wow—it's a doozy of a video. Get the tissues ready. (I lost it when his fiancée, ABT principal Gillian Murphy, came out and gave him the world's most adorable congratulatory kiss.)
Best wishes, Ethan! You'll be missed around here.
Dec. 17, 2010 01:50PM EST
No dancer is perfect. Maybe you're more flexible on your right side than on your left, or perhaps you just can't seem to nail all four sounds in your double pullbacks. Don't despair—even the pros have weaknesses and off days. The key is finding new tactics to help you continue to improve. We got 16 of the most talented people we know to dish about exactly what you need to do—from daily tricks to life lessons—to become the best dancer you can be.
Alex Wong
As dancers, we put our bodies through a lot of stress, so it's important to get enough sleep. Your body needs to replenish and recharge itself. When I get enough sleep, my body and mind are rested and are more able to learn new information.

Don't hide under bulky dance clothes. It's important for you and your teachers to see what's going on underneath them. Once your body is warm, ditch the warm-ups and stop covering up.

Learn what you're good at and work to make that even better. Don't stop when you've reached the same level as everyone else. If my feet aren't good enough, if I'm not flexible enough or if I'm too short, I know that I'd better make up for it with something else!
Desmond Richardson
Stay hydrated. I like Zico coconut water. It replaces your lost electrolytes quicker than regular water and has more potassium than a bunch of bananas!

Eat well. Make sure you're eating enough proteins and lean meats and not eating too much sugar. When my body is at its best, I'm at my best.
Keltie Colleen
Watch other dancers. Instead of staring at yourself in the mirror, take a look around. See what things your peers are doing and copy what you love. You don't just learn from your teachers—you learn from your classmates, too.
Joey Dowling
Learn how to follow directions. You can get a job just by listening to a director in an audition and simply doing what he or she asks you to do.

Be realistic about what you look like, how you eat and how much you exercise. If you want to get into a ballet company, the reality is that you need the right body type. As you grow up, your body will go through changes and you may not even notice. Put in the work to stay in shape. You don't want to get cut at auditions because of your body.

Be different!
Gillian Murphy
Be intellectually curious. Read, go to museums and attend live performances as often as you can. These experiences will expand your imagination and thereby your artistic taste and dimension as an individual and dancer.
Heather Morris
Figure out what makes you happy when you're performing. Then keep doing it.

Perform—whether it's singing, acting or dancing—as much as you possibly can, wherever you can, so you can get over your nerves. You don't want to be shocked or nervous when you're called upon to perform.
Ida Saki
Try cross-training. As dancers it often feels like we have no time to do anything extra, but participating in different activities has done wonders for my dancing.

It's OK to step down a level in order to go back to basics. If you notice you're not turning out your leg all the way, don't be afraid to lower it in order to strengthen your turnout.

Create scenarios in your mind as you're dancing. What are you moving through? Pudding? Water? Sand? What are you surrounded by? Thinking these things through will give your dancing more depth.
John Jasperse
Respect your body's pain. I see young dancers who feel like they have to push through their pain. Don't mistreat your body—this career requires longevity. In a funny way, injury is your best teacher because it's your body's way of telling you something is wrong. Pay attention to your injury instead of getting angry about it. Learn what you're doing wrong to your body so that you can prevent it in the future.
Tiler Peck
Strengthen your core muscles so you're able to engage your legs for fast footwork while keeping your upper body free and lyrical.

You don't want your pointe shoes to be louder than the music. I bang the bottom of my shoes before every show so when I jump, the shoe is softer and doesn't make as much noise.

Find certain moments in the choreography to flourish in. You can't dance a ballet at the same energy level throughout the whole piece or you'll get tired. Find moments that you can put all your energy into to highlight the steps.
Chelsie Hightower
Keep nutrition bars in your dance bag. Lärabars are my favorite.

Be a good person. Choreographers may hire people based on their talent, but they re-hire them because of the type of person they are. There are thousands of talented dancers out there—it's who you are that makes you stand out.
Jeanine Mason
Introduce new types of exercise to your routine. Yoga and Pilates have helped correct injuries and alignment issues I've had with my body.

Be ambidextrous. If you're only exercising one side of your body, your muscles will build unevenly.

Make your own trail mix. Raisins and almonds are great sources of energy. I also include M&Ms!
Brenda Bufalino
Put your whole self into practicing. Work on the rudiments of technique, but don't practice mechanically.

Learn a variety of time steps. It will help you choreograph and compose in different time signatures and improve your improvisation.
Andy Blankenbuehler
The best tips for becoming a great dancer might be things you don't learn in the studio. Watch people's body language on the street. Watch how fearless children are. Watch how people interact. Those are the kinds of real life things that we should aspire to capture in our dancing.

Learn about music. Know the difference between a quarter note and a sixteenth note, and know what a crescendo is. Learn the terminology and then see how it applies to your dancing. Music is your roadmap.

Real life is about many different emotions—frustration, relief, impatience, joy. Strive to show all of these in your dancing. Don't just dance performances about angst and anger. That's limiting and unoriginal. Audiences are moved by new interpretations of things they recognize from their own lives. To be great dancers and great performers, we need to be great analysts of life.
Debbie Allen
Dancing isn't a hobby, it's a way of life. Being a dancer defines how you spend your time and your money. To dance is to be disciplined.
Julie Kent
Don't skimp on meals. Develop good eating habits now and they will last you your whole life.

The most interesting part of your dancing is you! You need technique in order to express yourself, but it is not the end goal. Use your own personality in your dancing, and it will be more rewarding for you and more enjoyable for everyone to watch.
Misha Gabriel
Develop good networking skills. Some choreographers don't like to hold auditions, so make a point of getting to know choreographers by taking their classes. You'll create long-lasting professional relationships.

Stay aware of the quality of your dancing. Don't get wrapped up in booking jobs and building your resumé—you have to keep training, taking class and building your dance skills.