Jul. 20, 2018 11:14AM EST
Jun. 05, 2018 11:48AM EST
Gisele Bethea (with partner Slawek Wozniak) earned a gold medal at the 2014 USA IBC. (Jim Lafferty)
A very elite group of young ballet dancers—including Elisabeth Beyer, Madison Penney, Quinn Starner, and Robbie Downey—are super busy right now prepping for the USA International Ballet Competition, which kicks off June 10th. One of the most prestigious comps in the ballet world, the USA IBC is held every four years in Jackson, MS, and boasts a ton of luminary alums, including Gisele Bethea, Alys Shee, Daniil Simkin, Jeffrey Cirio, Sarah Lamb, and Rasta Thomas (to name just a few).
So, what does it take to impress the judges at such a high-profile event? USA IBC jury chair John Meehan, a professor of dance at Vassar College, talked about the qualities that make a competitor stand out:
Dancer to Dancer
Mar. 23, 2017 02:11PM EST
American Ballet Theatre apprentice Gisele Bethea was nothing short of amazing at her March 2016 cover shoot, with her jaw-dropping feet and insane extension (not to mention her bubbly personality kept everyone smiling all day!). Check out some behind-the-scenes footage below.
Mar. 23, 2017 09:26AM EST
Once every four years, some of the ballet world's best and brightest gather in Jackson, MS, to face off in the super-prestigious USA International Ballet Competition. The event's list of alums is kind of ridiculous: Boston Ballet's Misa Kuranaga and Jeffrey Cirio, The Royal Ballet's Sarah Lamb, American Ballet Theatre's Daniil Simkin and Sarah Lane, The Washington Ballet's Brooklyn Mack and Maki Onuki, Birmingham Royal Ballet's Alys Shee...and that's just the tip of the iceberg.
The 2014 USA IBC kicked off on Saturday, and this year's roster of competitors includes a lot of familiar names. In the senior women category, there's Joy Womack, the vibrant ballerina who became the first American to join the Bolshoi Ballet (though she left last fall after becoming frustrated with the company's politics—an unhappy ending to a fairy-tale story):
Joy Womack for Cloud and Victory (yup, she's a model, too!)
Among the junior women, there's the astonishingly self-possessed Gisele Bethea, who grabbed our attention last year when she took home the Youth Grand Prix Award at the Youth America Grand Prix:
Bethea at the 2012 World Ballet Competition USA (Siggul/Visual Arts Masters)
And the junior men group features First Position star Aran Bell, who may have been an adorable munchkin in the film but has since grown into a mature, sophisticated technician:
Aran Bell in class at the Carreño Dance Festival (Photo Rachel S. O'Hara/Sarasota Herald-Tribune)
Merde to all the competitors! Click here for the full list—and stay tuned for information about winners.
Apr. 13, 2016 05:37PM EST
(Nathan Sayers)
Gisele Bethea stands in the center of a rehearsal studio at American Ballet Theatre's headquarters, breathing hard. The ABT apprentice (who was then a member of the ABT Studio Company) and her partner have just finished running a pas de deux from La Bayadère. With her impossibly long legs and regal bearing, Gisele makes a picture-perfect Gamzatti, the ballet's spurned princess. But while she executes the choreography beautifully, the good-natured dancer has a harder time capturing Gamzatti's devious personality. "Remember, she's not sweet," says ballet mistress Nancy Raffa. "She just came out of a big catfight!"
Cover Story
Feb. 18, 2016 11:36AM EST
It's hard to define star quality. You just know it when you see it. And our March cover girl, Gisele Bethea—now an apprentice with American Ballet Theatre—has had it from the very first time we laid eyes on her. Even as a teeny-tiny bunhead, she just glowed onstage. (Which you noticed as soon as you stopped gawking at those INCREDIBLE FEET.)
But you don't have to take our word for it. Thanks to the internet—specifically, the impressively comprehensive YouTube channel of Gisele's longtime mentor, Slawomir Wozniak—we have a digital record of the budding ballerina's progress. And while you can definitely see her technical polish improve with each year, it's evident even in the earliest clips that she's got something very, very special.
Let's start with this video of Gisele at 12—12!!—in the fiendishly difficult wedding variation from The Sleeping Beauty. She's all sweetness and elegance:
I especially love this clip from the 2013 Youth America Grand Prix, in which she gives us triumphant fire and flash in a variation from Esmeralda:
Here she is channeling the ballet heroine she was named for at the 2014 International Ballet Competition in Moscow. Gisele was the competition's youngest-ever entrant, but her beautiful, musically sensitive performances earned her the silver medal:
And because we just can't get over how gorgeous her cover shoot images are—here's grown-up Gisele in all her glory!
Photos by Nathan Sayers
Dec. 24, 2015 07:00AM EST
Dear Santa,
Hi! How are you? Busy, I bet! Har har. (Ho ho?)
Look, I know I'm late—it's Christmas Eve, and I'm sure you're dealing with all kinds of #reindeerprobz—but I thought I'd reach out to you anyway. Because I'm not just some girl who'll be happy with a Kylie Lip Kit and Adele tour tickets. (Actually, if you can get me either of those things, you are an actual MAGICIAN and I will worship you forever. But I digress.)
No, Santa: I'm a dancer. And that means I have special gift needs. Needs that I want to make sure don't go undocumented.
And so here, in no particular order, are the things I really, actually, genuinely want for Christmas. Take notes.
1) Sophia Lucia's pirouettes. I'd settle for half her average, actually.
2) Gisele Bethea's feet. Gimme.
Via @giselebethea
3) The Fraternal Twins' swagger in general, and facial expressions in particular.
4) Yanis Marshall's everything. Just...everything.
5) Speaking of everything: all the things from Maria Kochetkova's t-shirt line.
5) To be adopted into tWitch and Allison's too-cute-for-words family. (I can make myself useful! I'm great with babies!)
6) Tickets to Hamilton sometime before next summer. Again, you'll need to work some magic here, but I believe, Santa. I BELIEVE.
7) My very own pointe shoe Christmas tree. (And, on a related note, several air fresheners.)
WANT. (screenshot via YouTube)
8) Another season of "So You Think You Can Dance." Ideally with Mia and, since he seems to be back at it, WADE.
9) For the following people to make cameos in Center Stage: Dance Camp:
Zoe Saldana

Ilya Kulik

Susan May Pratt

The girl who said "Did you see how on I was?"

That old salsa club lady

Warren Carlyle—specifically, Warren Carlyle doing this

Channing Tatum (a little series crossover never hurt nobody)

AMANDA SCHULL, OBVIOUSLY. WHERE IS AMANDA SCHULL???
10) To live inside the Bieber "Sorry" video. Forever.
Got it? K thanks Santa! Safe sleighing! Tell Dancer and Prancer I say hi!
Sep. 01, 2013 12:26PM EST
Yes, she's got textbook-perfect lines. But 14-year-old Gisele Bethea isn't just a beautiful ballet robot. It was the fierce fire of her Esmeralda variation at this year's Youth America Grand Prix Finals—on top of her gorgeous facility—that helped earn her the competition's Youth Grand Prix Award. Gisele was also one of the youngest dancers invited to the prestigious Moscow International Ballet Competition last June.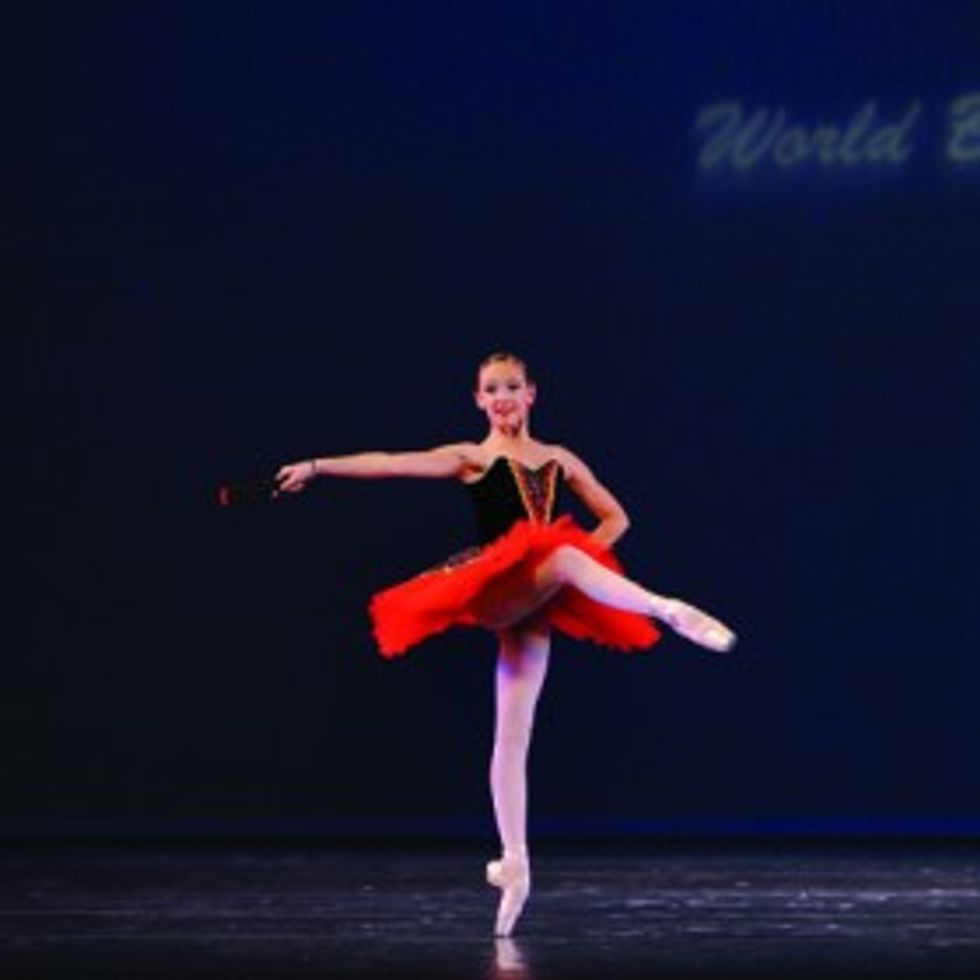 Gisele at the 2012 World Ballet Competition USA (by Siggul/Visual Arts Masters)
"When I was little, I wasn't a fan of ballet. But then I started to realize how amazing ballet class is. You start out at the barre, and by the end of it  you're flying."
FAST FACTS
Birthday: January 31, 1999
Age she started dancing: 4. "But I didn't get serious about ballet until I was 10."
Current studio: Master Ballet Academy, Phoenix, AZ
Favorite dancer of all time: Svetlana Zakharova. "I love watching her dance the Black Swan pas de deux."
Favorite food: The pesto chicken panini from Café Zupas in Phoenix
Non-dance hobbies: "I wakeboard and snowboard, and ride motorcycles at the sand dunes."
If she were a superhero, her power would be: "Flying. I've always wanted to know how that feels! I'd also be really stretchy, like Elastigirl in The Incredibles."
Must-see TV shows: "When I have time to watch TV, I go right to TLC for 'Four Weddings' or 'Say Yes to the Dress.' "
Dream dance role: "The title role in Giselle. It's incredibly difficult—not every ballerina is able to do it. I guess it's kind of ironic that I was named after it!"
The best advice she's ever received: "My teacher told me, 'Once you become mentally strong—once you learn to think to yourself, Yes, I can do that—you really can do anything.' "
Dancer to Dancer
Get Dance Spirit in your inbox