Jelani Alladin (left) as Kristoff and Patti Murin (right) as Anna in Frozen (photo by Deen Van Meer, courtesy Samuel Deangelis)
Everyone's favorite animated Disney movie—starring Anna, Elsa, Olaf, and, of course, "Let It Go"—is headed to the stage. Frozen begins previews this month at Broadway's St. James Theatre and will officially open in March. The good news? It'll feature all of your favorite movie moments. The even better news? There'll be tons more dancing in the show than in the film, thanks to choreographer Rob Ashford (of Thoroughly Modern Millie, How to Succeed in Business Without Really Trying, and live television events "The Sound of Music Live!" and "Peter Pan Live!" fame). Dance Spirit spoke to Ashford to get all the cool details.
Frozen begins previews February 22nd and opens March 22nd.
Keep reading...
Show less
Mar. 01, 2014 07:17PM EST
Broadway's getting a serious makeover this month, with many exciting shows opening across NYC. In addition to revivals of Les Misérables (opening March 23) and Cabaret (beginning previews March 21), three brand-new, dance-filled shows are debuting on the Great White Way. Here's what you need to know about them.
Disney's Aladdin
After the success of the danciest show on Broadway, Newsies, Disney is introducing another larger-than-life production: Aladdin. Based on the cartoon, this show adds even more over-the-top characters and catchy songs—some of which were written for and then cut from the 1992 movie. "There are so many types of dance in this show," says ensemble dancer Ariel Reid. "We open with 'Arabian Nights,' which celebrates the Middle Eastern experience. Then there's 'Friend Like Me,' which has classic Broadway-style tap, with the men doing all kinds of tricks and flips. We have a 34-person cast onstage, and the audience just eats it up."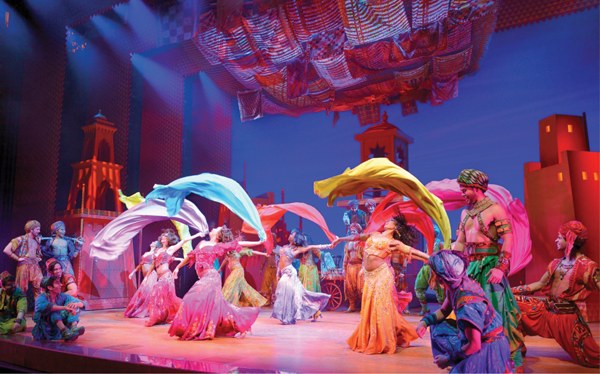 "Arabian Nights" in Disney's Aladdin (photo by Deen Van Meer)
If/Then
Obsessed with Idina Menzel? The stunning actress you loved in Wicked, in the Broadway and movie versions of Rent and on "Glee" returns to Broadway in this new musical about fate in modern-day NYC. Choreography is by the adventurous Larry Keigwin, who describes the movement as "pedestrian, but a heightened pedestrian."
"I've tried to pull extraordinary from the ordinary," he says. "This show has a super-captivating story about the intersection of chance and choice. Everyone can relate to it."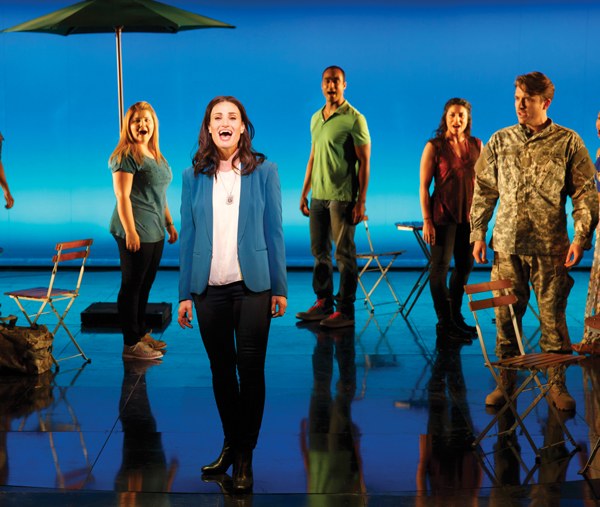 Idina Menzel (in blue) in If/Then (photo by Joan Marcus)
Rocky
Put up your dukes! A musical based on the iconic Sylvester Stallone flick Rocky is fighting its way to Broadway this month. The much-anticipated show features fight-scene choreography by American Idiot and Once alum Steven Hoggett and dance scenes by Rock of Ages' Kelly Devine.
"The film translates well to the stage. It's both an emotional journey and a theatrical experience," Devine says. "The choreography is very character-driven. I asked myself, How would these people boogie at their local disco? The movement is free and loose, and it's heavily influenced by '70s TV shows like 'Soul Train.'"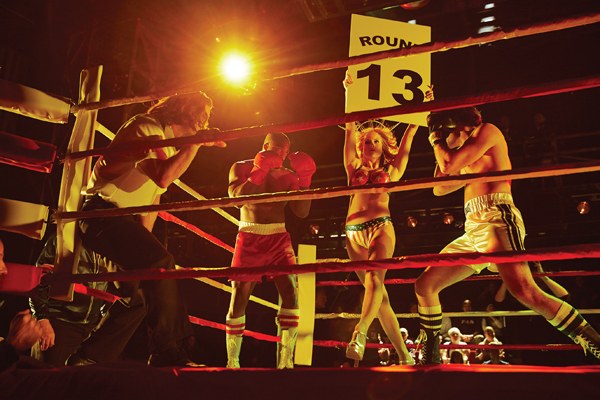 The musical version of Rocky includes "Eye of the Tiger," a classic song featured with the movie. (Photo by Morris Mac Matzen)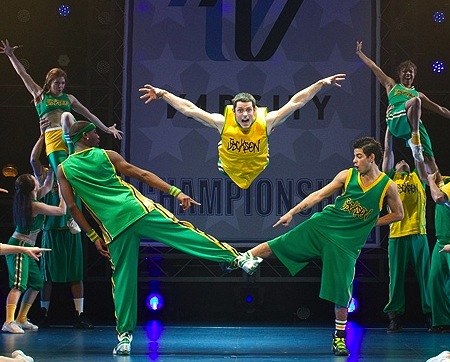 I have bad news. Bring It On: The Musical, one of the most entertaining, most dance-tastic musicals on Broadway is closing on December 30. Silver lining: You still have 35 days left to see the show!
Why should you do that, you ask? With moves by super-star Broadway choreographer Andy Blankenbuehler (who's also choreographed In The Heights and the current revival of Annie), these dance numbers are full of high-flying cheerleading stunts and hard-hitting hip hop like you've never seen on the Great White Way. Plus, the stage is crowded with beyond talented young dancers making their Broadway debuts. Just like the movie it's based on, this tale is full of quirky, laugh-out-loud one liners and, though the story is different, it still concludes with a nail-biting cheerleading competition. Won't have a chance to get tickets? Check out this awesome video montage to get a peak at its greatness:
Plus, get excited for Dance Spirit's February issue, which features one of the stunning stars of Bring It On: The Musical—and find out about her exciting next step!
On November 8, Annie opened on Broadway. This was one of my favorite musicals as a kid—I think I had all the songs memorized by the time I was 9—so I've been dying to see the show since it was announced. Plus, after chatting with the show's star, Lilla Crawford, for our November issue, I became even more obsessed. (She's so sweet!) After months of waiting, I finally got to see this revamped classic last week. Did it live up to my expectations? Absolutely!
While I would love to recap every moment from the show, I'll stick to my 5 favorite song-and-dance numbers. Here they are:
"It's the Hard Knock Life." This is the first time we get to see the kids' singing and dancing chops. They blew me away! It's hard to believe these youngsters are really between the ages of 7 and 11. (Are we sure they're not just really short grown ups?) I think the best moment is when the bigger girls strap mop suits on the smaller ones and use them to mop the floor " 'til it shines like the top of the Chrysler building!"
"Little Girls." This has always been one of my favorite Annie songs, but Katie Finneran as Miss Hannigan brings it to a whole new, hilariously sloppy level. Not to mention, little Emily Rosenfeld as Molly has the funniest final pose. Now that I think of it, the smallest of the orphans actually has a lot of scene-stealing moments. (Did I mention how awesome these kids are?)
"N.Y.C." It's clear that choreographer Andy Blankenbuehler had some fun with this one. There are jugglers, there are acrobats, there's fabulous dancing. This vision of New York City at night has all the makings of a carnival. Now I understand why Lilla Crawford told me this was one of her favorite numbers.
"I Don't Need Anything But You." This is when Annie debuts her new look: a short haircut and her character's classic red dress. I almost cried at how cute the chemistry was between Annie and Daddy Warbucks.
"New Deal for Christmas." And I thought these kids couldn't get any more talented. They can sing, they can act—and they can really dance. Bring on the tap shoes!
Don't miss this amazingly fun, kid-friendly show. Go to anniethemusical.com for tickets!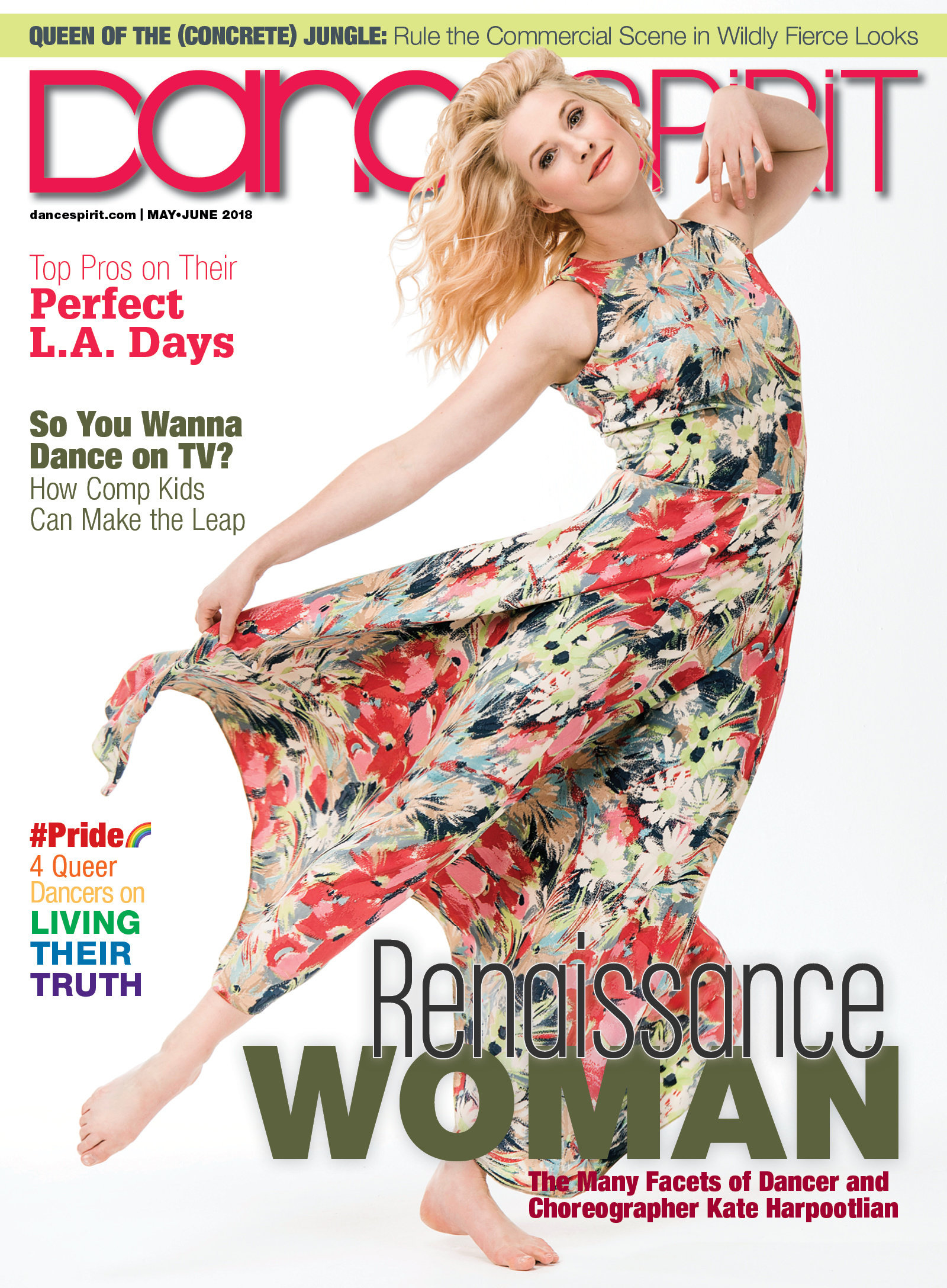 Get Dance Spirit in your inbox