Gretchen Smith in rehearsals for The Most Incredible Thing (Paul Kolnik, courtesy New York City Ballet)
New York City Ballet soloist and resident choreographer Justin Peck is never not busy: This year alone, he's created works for San Francisco Ballet, Miami City Ballet and NYCB. But Peck's latest ballet for his home company, The Most Incredible Thing, is his biggest production yet. Based on the Hans Christian Andersen fairy tale, it features 50 dancers; a score by Bryce Dessner, of the band The National; and costumes and sets by popular artist Marcel Dzama. Dance Spirit caught up with NYCB corps de ballet member Gretchen Smith, a Most Incredible Thing cast member, to get the scoop on Peck's new work. —Olivia Manno

Keep reading...
Show less
Pulling back the curtain on tried and true ballerina habits never gets old. We've pored over the contents of New York City Ballet dancers' travel cases (Weird heating pads! Notes from fans!), drooled over American Ballet Theatre principal Isabella Boylston's amazing style, (Helloooo 70s flair!), received our daily dose of #fitspo from international ballerinas with enviable workout gear (Black and neon, together, forever.) and gone completely bonkers for the delicious diets of the women at the National Ballet of Canada (Homemade kombucha. 'Nuff said.).
Now it's time to whip out our notebooks once more, because New York City Ballet principals Sara Mearns and Megan Fairchild, along with corps member Gretchen Smith, have revealed what they eat in a day. Aside from being co-stars in two absolutely stunning Cole Haan advertising campaigns, these lovely ladies know what it takes to fuel their bodies for weeks of hard dancing. Check it out below, and the full story here:
Project Resilience ambassador Alison Stroming (Dave Brewer, courtesy Stroming)
Artist and philanthropist Everett Dyson had always loved theater. But the rise of American Ballet Theatre principal Misty Copeland put ballet on his radar, too. Realizing that many young dancers have, like Copeland, lived through difficult circumstances, he recently founded Project Resilience, a scholarship for students who've received minimal support in their ballet training. Each year, one dancer will receive a scholarship to help pay for his or her summer intensive at American Ballet Theatre, Dance Theatre of Harlem or Houston Ballet.

Dyson's goal is to eventually support one dancer's intensive tuition at each program, or even multiple dancers per school. With big stars behind the project (yep, Misty's an ambassador, as is another iconic black ballerina, Lauren Anderson), Project Resilience will hopefully continue to grow.
Dance Theatre of Harlem dancer Alison Stroming feels honored to be one of Project Resilience's ambassadors. "I want every young dancer to have the chance to follow their dreams," she says. "I knew Project Resilience was something I could relate to." —Nicole Loeffler-Gladstone
Want to support Project Resilience? Buy one of Covet Dance's cute "Ballerinas Do It Better" tops, created exclusively for the project. One hundred percent of the profits will go toward scholarships. Find them at projectresilience.us
Every July, New York City Ballet heads to Saratoga Springs, NY for their annual residency at the Saratoga Performing Arts Center, and every July, us members of the dance world watch in envy as NYCB company members' Saratoga photos start filling our Instagram feeds.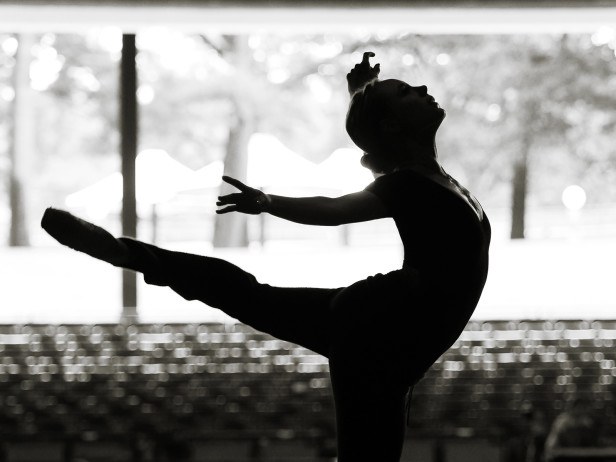 Sara Mearns rehearsing onstage at SPAC (Photo by Kyle Froman Photography)
They've got it all: Lake days! Home-cooked meals! Hikes through gorgeous meadows! Dancing their incredible rep on a giant, outdoor stage! And best of all, engagements! (Congrats to Chase and Lauren!!!!)
Here are some of our favorite moments thus far:
A photo posted by Reid Bartelme (@reidbartelme) on
(Via Marika Anderson's Instagram, Justin Peck's Instagram, Tiler Peck's Instagram, Gretchen Smith's Instagram, Reid Bartelme's Instagram and Ashley Bouder's Instagram)
Last fall, Cole Haan and three New York City Ballet dancers—Megan Fairchild, Sara Mearns and Gretchen Smith—collaborated on a line of the most ballerina of ballet flats. We loved the results: adorable shoes and beautiful campaign pictures. What's better than seeing some of our favorite ballerinas jump around in big, glossy advertisements?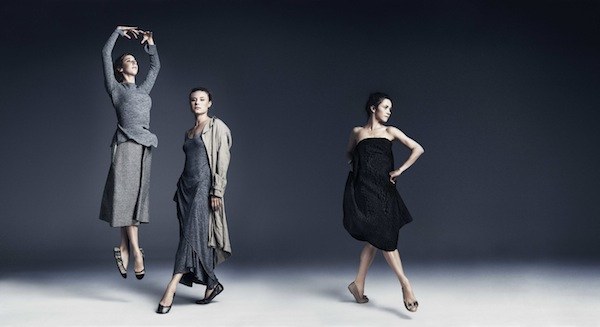 (From left) Gretchen Smith, Sara Mearns and Megan Fairchild modeling their ballet flat designs (Photo via Cole Haan)
Good news because not only are they keeping the collaboration going, but they've taken it to an entirely new level: "Prepare for Takeoff" guys! The campaign, which is promoting Cole Haan's ZerøGrand collection, once again features Fairchild, Mearns and Smith, but with an added twist–the trio is joined by two professional Parkour athletes, Jason Chu and Devon Spence.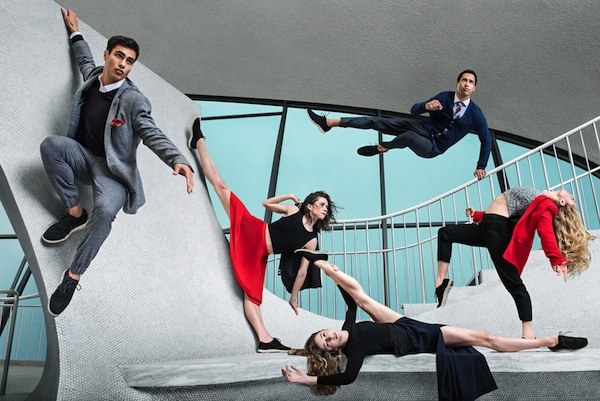 The unstoppable "Prepare for Takeoff" group (Photo by Sebastian Kim for Cole Haan)
The whole thing was shot at the TWA Flight Center in Queens, NY, and Cole Haan made sure it had tons of elements: breathtaking photos of all five artists jumping, jeté-ing, chassé-ing and kicking, profiles on each person and an amazing behind-the-scenes video of the photo shoot (check it out below!).
A good pair of flats can be a footsore dancer's bestest ally—and if they're cute, all the better. But adorable, comfy ballet flats designed by real ballet dancers? That sounds too good to be true.
Luckily for all of us, it's not. Cole Haan has teamed up with three New York City Ballet dancers—Sara Mearns, Megan Fairchild and Gretchen Smith—to create a line of beautiful ballet flats.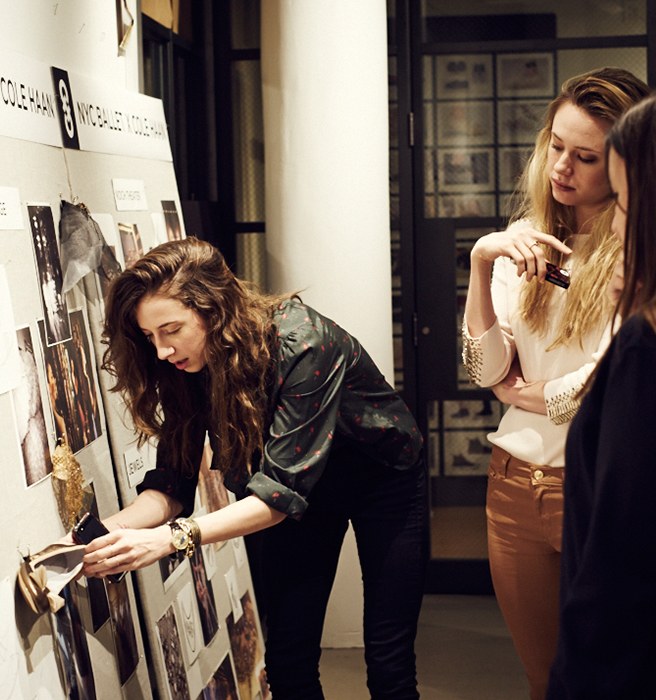 (From left) Smith, Mearns and Fairchild in the design studio (via Elle.com)
Naturally, the designs are all ballet-inspired, with sweet detailing like ribbons that crisscross up the heel and a print inspired by tutu tulle. Thanks to the input of Mearns, Fairchild and Smith, they're also super comfortable—dancers know what feet need, obviously. The cherry on top is that the collection launched yesterday, aka World Ballet Day. Cute!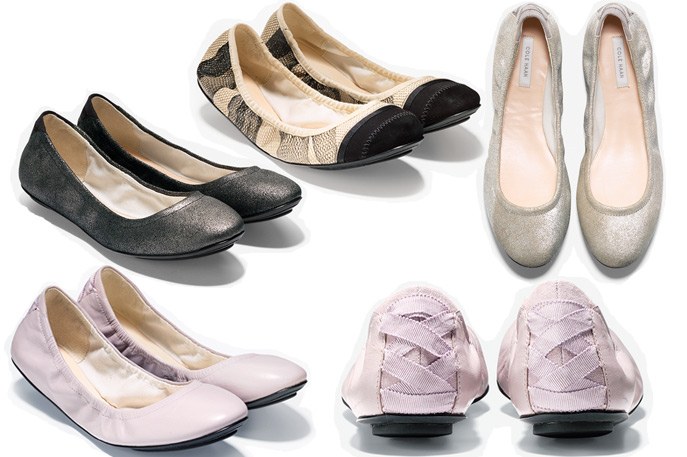 I WANT I WANT I WANT
The shoes are available in two styles: the Avery En Pointe and the Avery Printed Tutu. Dirt-cheap they're not, but sometimes perfect shoes are worth the splurge—especially when they'll make your hardworking feet happy.
Oct. 14, 2013 11:48AM EST
No, this is not yet another post about big-name designers dressing ballerinas in couture costumes.
Instead, today we're talking about ballet dancer fashion. How is it that, while there's nothing inherently glamorous about leotards and tights, somehow professional ballet dancers always manage to look sooooo cool? Seriously, it's an art form.
The Huffington Post recently went behind the scenes at New York City Ballet to get a peek at the unique looks of three dancers: corps member Gretchen Smith and principals Tiler Peck and Janie Taylor. Most of the piece is devoted to in-studio fashion—color-blocked legwarmers! custom-designed leotards!—but we also get a peek at the dancers' "people clothes," as Peck cutely calls them.
Take a look at the photos below. And if you're fascinated by ballerina fashion, check out the new Studio to Street column in our sister magazine, Pointe. Each month they photograph a different stylish ballet dancer—inside the studio and out. So far the fashionista list includes NYCB's Sara Mearns, The Joffrey Ballet's Victoria Jaiani and Cedar Lake Contemporary Ballet's Ebony Williams.
(All photos HPMG/Raydene Salinas)
[portfolio_slideshow nowrap=0 thumbs=true timeout=4000 showtitles=true showcaps=true showdesc=true]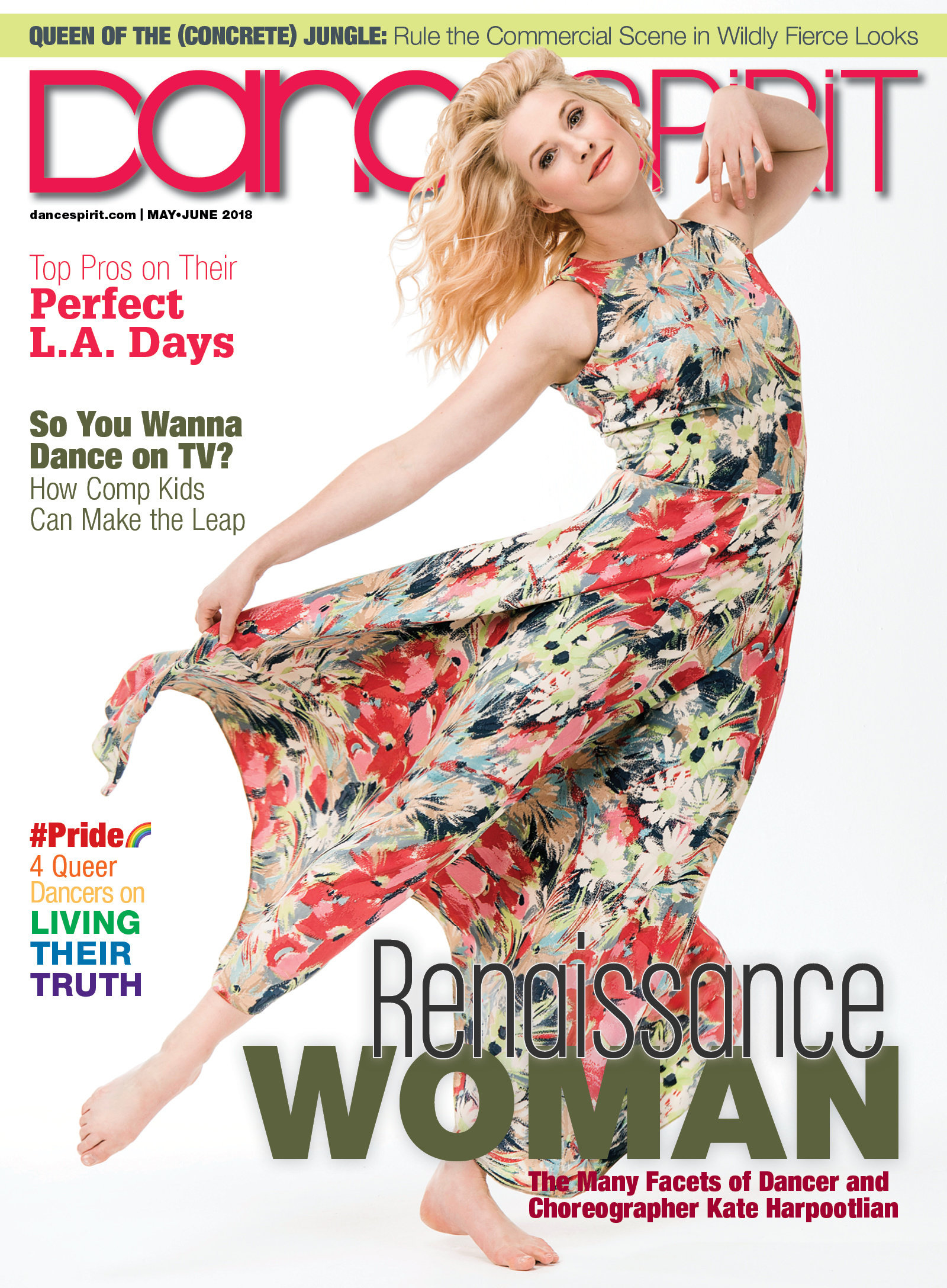 Get Dance Spirit in your inbox